Blue Vervain (Manitou Springs, CO)
Blue Vervain
56 Park Ave, Manitou Springs, CO 80829
719.685.2400
www.bluevervain.com
Tue 03/06/2007, 06:10p-08:30p
I was initially introduced to Blue Vervain by a coworker, and the restaurant has quickly become one of my favorites in Colorado Springs (well, Manitou Springs actually, but close enough). Blue Vervain first opened in 2002 in the Black Hills of South Dakota, but moved to Manitou in 2005. Officially, the restaurant is described as French-Italian, with touches of Asia and the Southwest.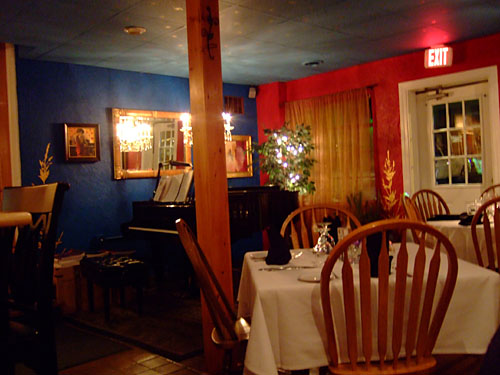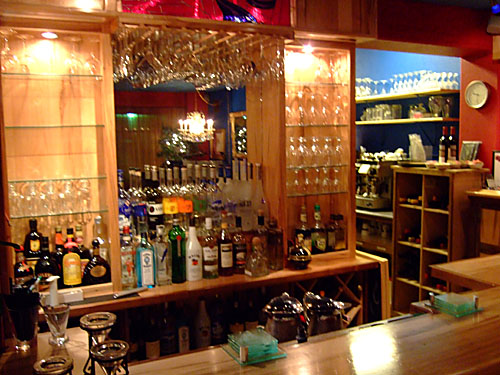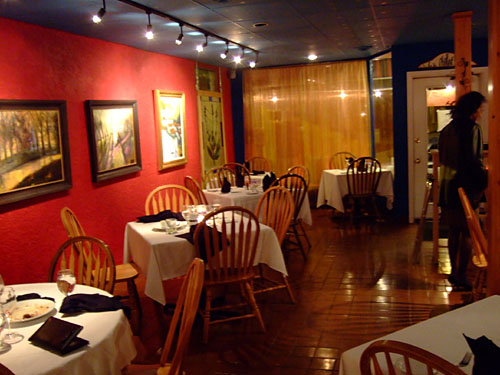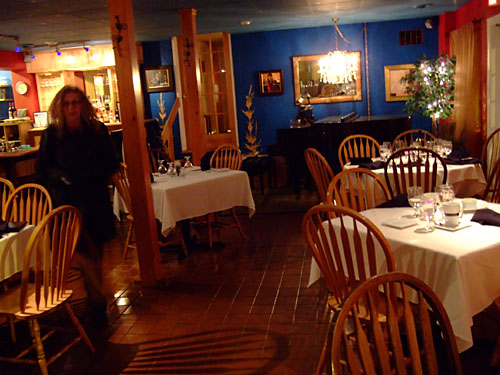 The decor is rustic and cozy, with about ten tables. There is also live piano music on certain nights. Much of the artwork on the walls is by local artists and is for sale.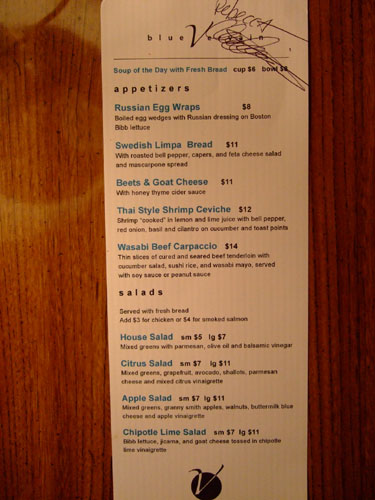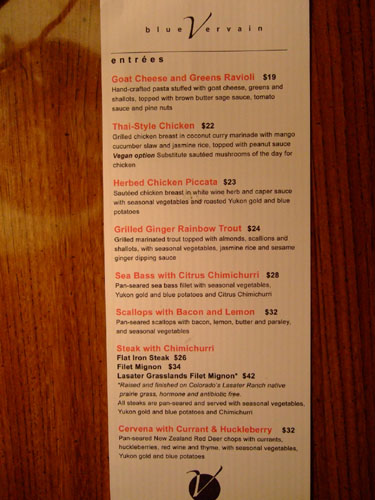 The menu is short but sweet. The dishes change relatively often, though some do stay on the menu longer than others. For example, I had the Steak with Chimichurri (one of the best filets I've ever had incidentally) on my first visit over two years ago. Note the signature of executive chef Rebecca Christensen; I also requested the signature of the pastry chef Elizabeth Christensen (they're sisters), who wasn't present at the time. Click for larger versions.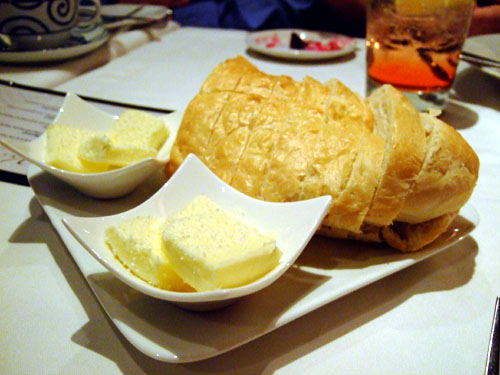 Bread was quite good, as was the lightly salted butter.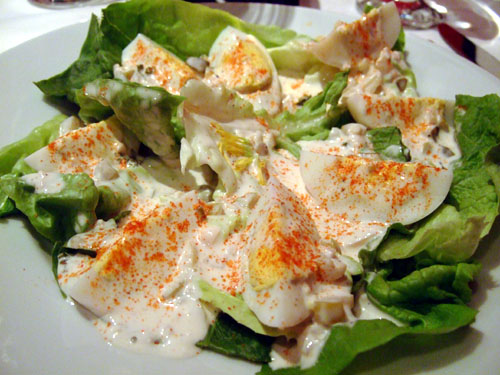 Russian Egg Wraps - Boiled egg wedges with Russian dressing on Boston Bibb lettuce
The eggs were nicely done and went surprisingly well with the tart, tangy Russian dressing. This dish was paired with a Pinot Grigio, di Lenardo - Fruili Doc Grave, Italy, 2004. I found it to have a somewhat bolder, fuller taste than most other Pinot Grigios I've had.
"Straw yellow, elegant and refined on the nose with complex fruit aromas."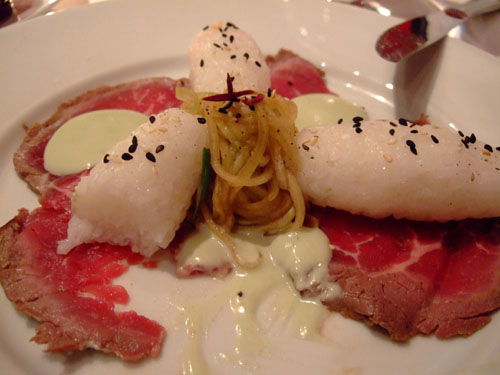 Wasabi Beef Carpaccio - Thin slices of cured and seared beef tenderloin with cucumber salad, sushi rice, and wasabi mayo, served with soy sauce or peanut sauce
Really liked the beef here, which was part seared and part raw, which gave it some nice complexity and texture. The wasabi mayo complemented the beef nicely. The sushi rice didn't have much flavor on its own but actually went quite well with the soy and peanut dipping sauces. I had this with a Pinot Noir, Cartlidge & Brown, California, 2005, which I found subtle and easy-drinking.
"Classic characteristics of sweet and sour cherries, a hint of forest floor, and a medium-bodied, soft, easy to understand, fragrant personality."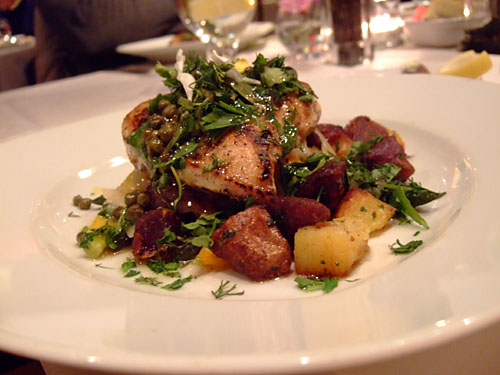 Herbed Chicken Piccata - Sautéed chicken breast in white wine herb and caper sauce with seasonal vegetables and roasted Yukon gold and blue potatoes
This was a dish ordered by a dining companion so I did not get to sample it unfortunately. However, she did say that it was the most tender chicken she's ever eaten.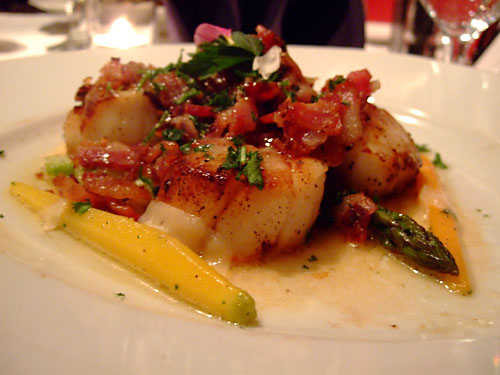 Scallops with Bacon and Lemon - Pan-seared scallops with bacon, lemon, butter and parsley, and seasonal vegetables
The scallops were large and expertly cooked. Lots of bacon gave the dish a saltiness which went well with the milder flavor of the scallops. The veggies were a nice addition. The wine here was a Shiraz, Rosemount Diamond, Australia, 2004. The server paired it instead of a white wine because of the strong bacon component.
"A medium to full bodied wine with generous ripe fruit flavors of blackberry, plum and cassis. Spice and cedar flavors develop with time in the glass."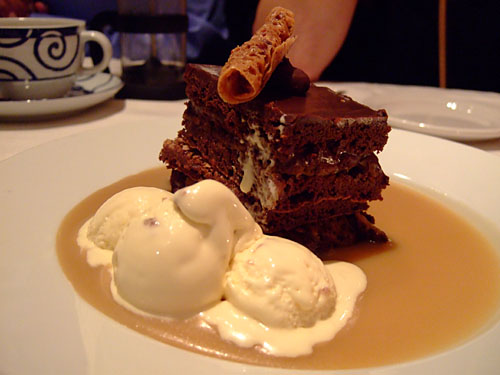 Brownie Cake
I believe we ended up ordering every dessert on the menu. First up, this cake was served with vanilla ice cream and indeed tasted very much like a brownie.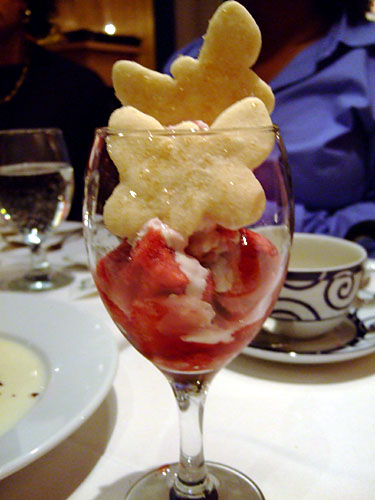 Pomegranate Sorbet
This didn't quite taste like pomegranate to me, but was a favorite among several members of my party.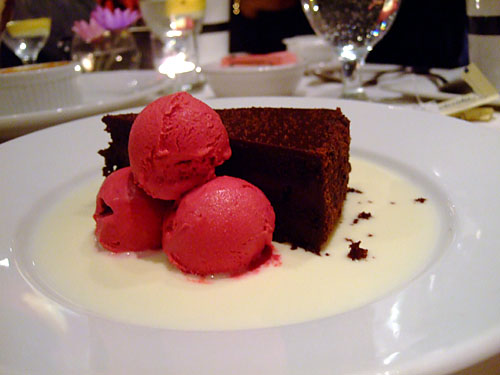 Beet Cake
This was the first dessert I had at Blue Vervain, and still the most memorable. The ice cream had a slight beet-y taste but the point was to eat it with the chocolate cake, which proved to be a sublime pairing.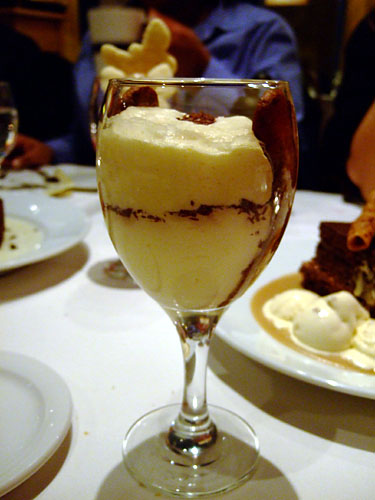 Traditional Tiramisu
A competently-crafted tiramisu, but got lost will all of the other flavors.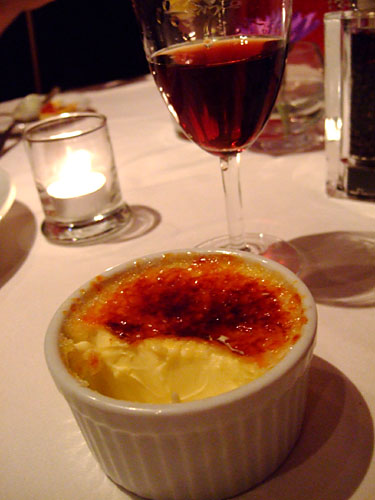 Crème Brulèe
Finally we have the crème brulèe, one of my old standbys. This one was nicely done, with a nice, hard caramelized top and a cool custard base. The wine in the background is a Grahams 20 Year Port, which exhibited typical spicy, raisin notes but was somewhat lighter-bodied than most Ports I've had.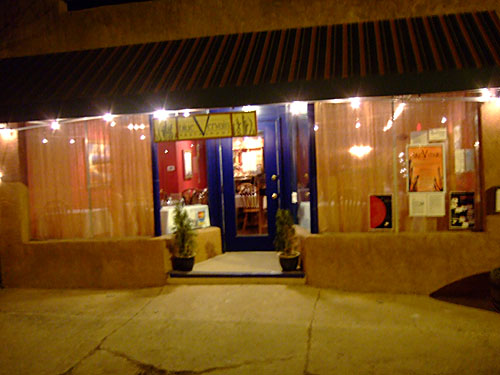 I've been to Blue Vervain a number of times during my travels to the Springs and once again, the Christensens did not disappoint, making the drive up to Manitou well worth it.