Arterra (San Diego, CA)
Arterra
11966 El Camino Real, San Diego, CA 92130
858.369.6032
www.arterrarestaurant.com
Tue 01/23/2007, 06:10p-08:30p
Yes, Arterra is indeed situated in a hotel. Not a good sign. A Marriott in fact.
Really
not a good sign. I've had the opportunity to stay at a number of Marriott's during my travels and have been rather unimpressed by their restaurants to say the least. So given that, I'm really not sure how this particular Marriott got such a good one!
In any case, Arterra is the creation of celebrity chef Bradley Ogden, who is best known for his eponymous eatery in Las Vegas. The original executive chef was Carl Schroeder, who late last year hung up his toque to venture out on his own. Taking his place is Brian Pekarcik, Schroeder's former sous chef. While it remains to be seen whether Pekarcik can continue Schroeder's legacy, he seems to be doing a great job at the moment.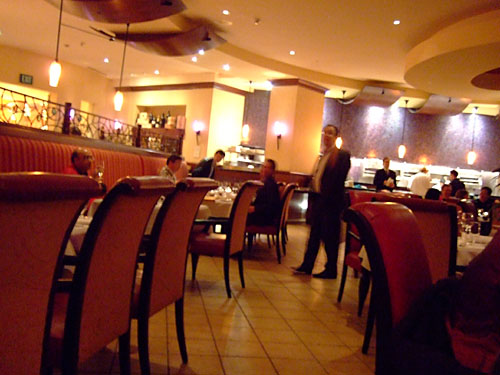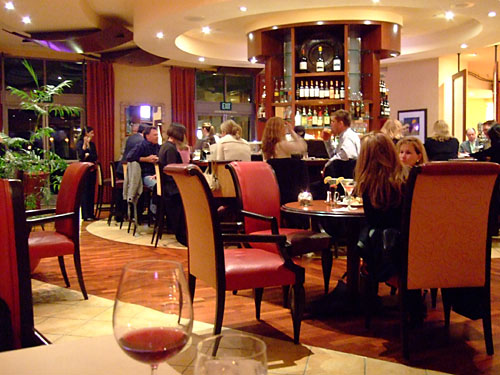 Since Arterra is a hotel restaurant, it has to serve breakfast, lunch, and dinner. As a result, the space is rather cavernous, though that means table spacing is quite generous. I was seated near the bar/sushi bar area of the restaurant (right photo). The bar was quite busy during the start of my meal and things got a tad loud, but things quieted down significantly as the night progressed.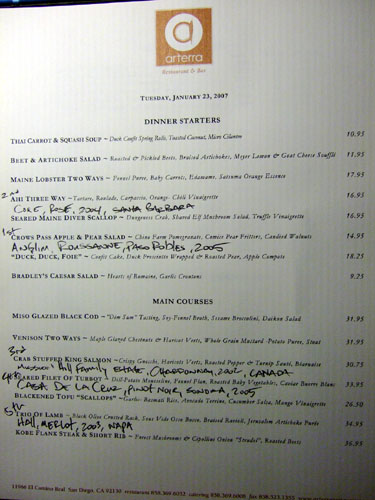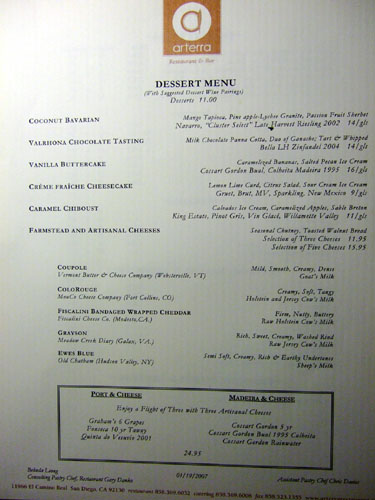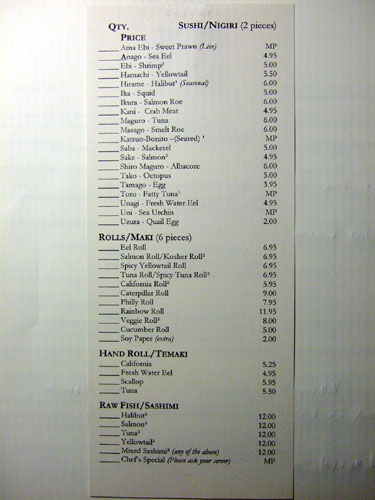 I had the 7-course Grand Tasting menu, which is comprised of smaller portions of items on the regular and dessert menus. We also have a sushi menu. Click for larger versions.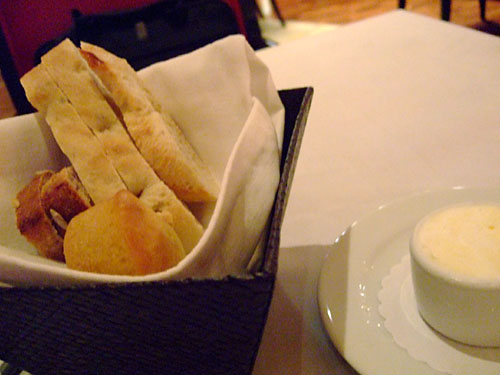 Four different types of bread were on tap, including a cornbread muffin (my favorite). The butter was smooth and spreadable (one of my pet peeves is when the butter is cold, hard, and difficult to spread).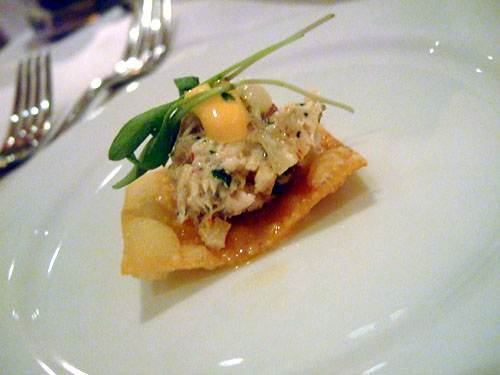 Amuse Bouche: Swordfish Salad
Think of your classic tuna salad, only more complex and luxurious. A great way to kick off the meal. Delish.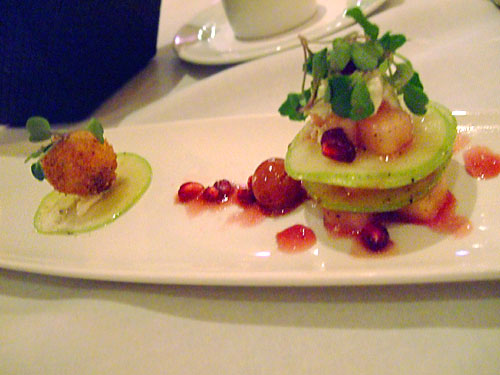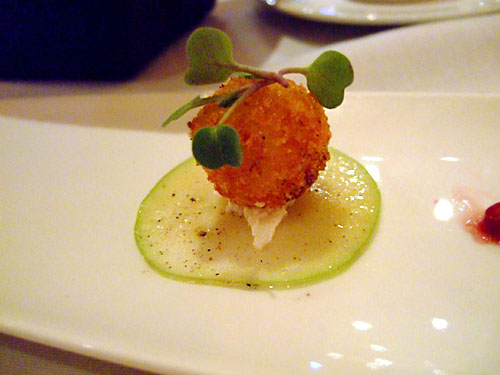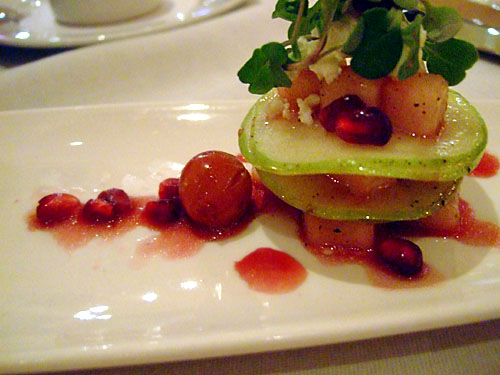 1: Crows Pass Apple & Pear Salad - Chino Farm Pomegranate, Comice Pear Fritters, Candied Walnuts
Anglim, Roussanne, Paso Robles, 2005
The spherical piece of the left was a goat cheese fritter I believe. Overall I got too much fruit from this dish and would've liked to have more contrast. The Anglim had a fruity aroma and taste that went well with the fruit in the dish; it also showed slight minerals and was actually quite enjoyable.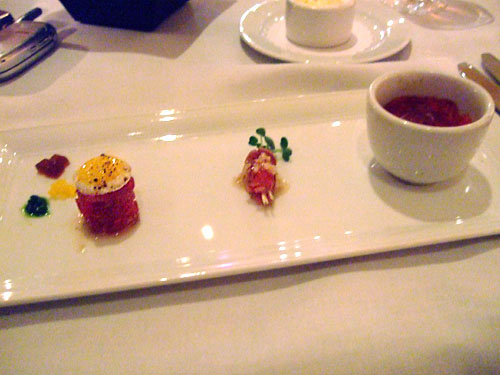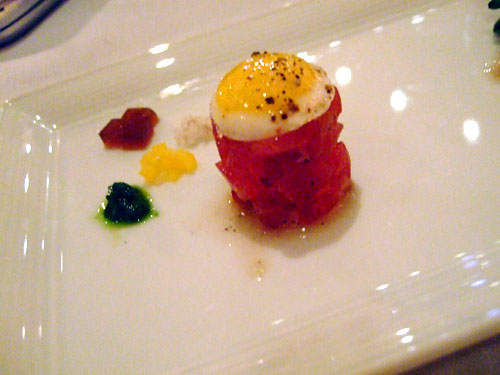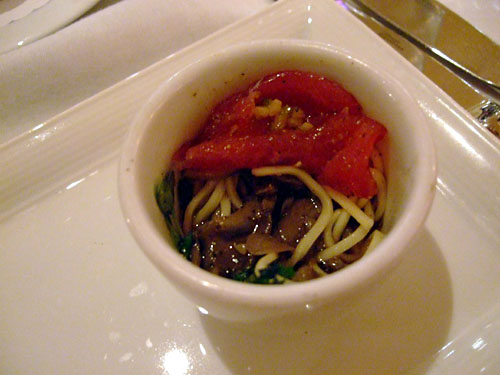 2: Ahi Three Way - Tartare, Roulade, Carpaccio, Orange-Chili Vinaigrette
Core, Rose, Santa Barbara, 2004
I first tried the tartare (that's a quail egg on top) by itself and found it to be merely competent; but once I mixed in the condiments (pesto, onion, I'm not sure what else), the flavors really came to life. The roulade was a savory bite, I wish I could've gotten a few more! But the standout in the threesome for me was the carpaccio. I've would've never thought to serve it with soba noodles and mushrooms in broth, but it really worked out well here. The paired rose was pleasant enough, though nothing really stood out for me.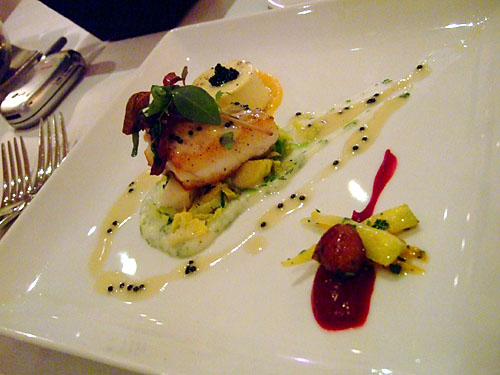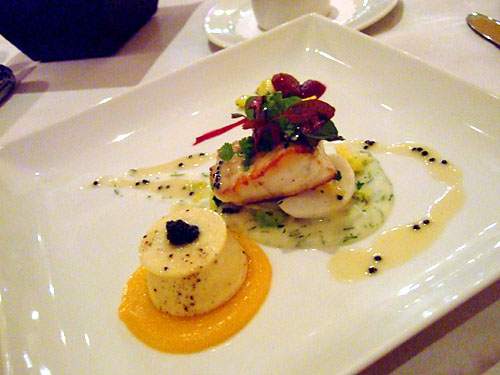 3: Seared Filet Of Turbot - Dill-Potato Mousseline, Fennel Flan, Roasted Baby Vegetables, Caviar Buerre Blanc
Casa De La Cruz, Pinot Noir, Sonoma, 2005
This was actually my first experience with turbot. I normally shy away from it but no longer! The texture of the fish was unlike any other I've had before, almost firm and spongy. The taste was also rather unique. Loved the fennel flan and all the complements they put with the fish too. The paired Pinot was sort of the quintessential Californian expression of the varietal, with a lot of cherry and tobacco notes.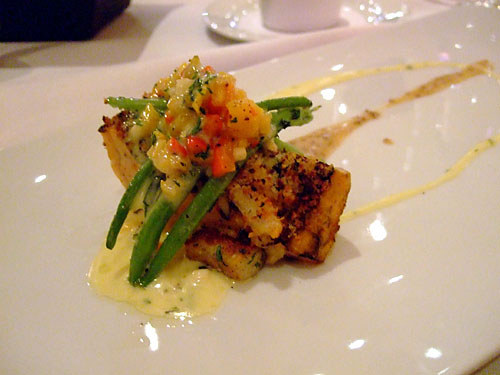 4: Crab Stuffed King Salmon - Crispy Gnocchi, Haricots Verts, Roasted Pepper & Turnip Sauté, Béarnaise
Mission Hill Family Estate, Chardonnay, Canada, 2002
Garnished nicely with haricots verts and pepper "salsa," the salmon itself was quite creamy, good but not outstanding. The best part of the dish was the gnocchi, which was simply the best I've had. However, I felt the Chardonnay I had with this was a bit too lean and earthy.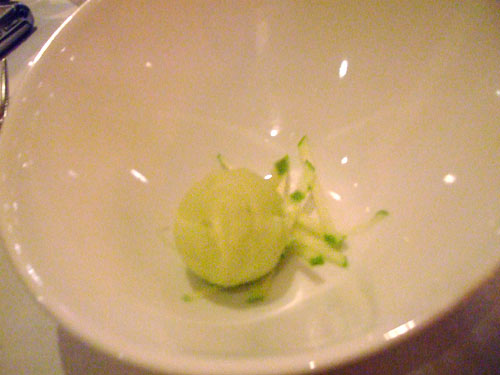 Intermezzo: Green Apple Sorbet
Like biting into an apple. Super-intense yet spot-on flavor. Brilliant.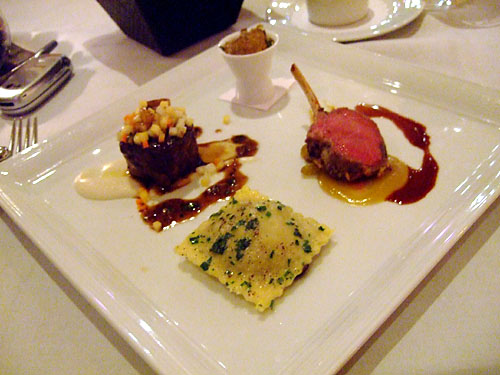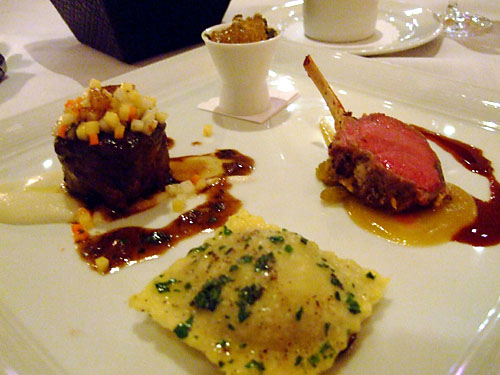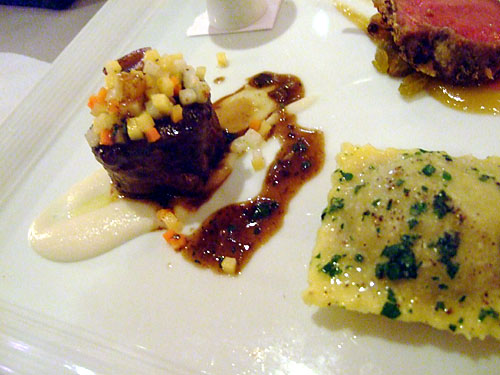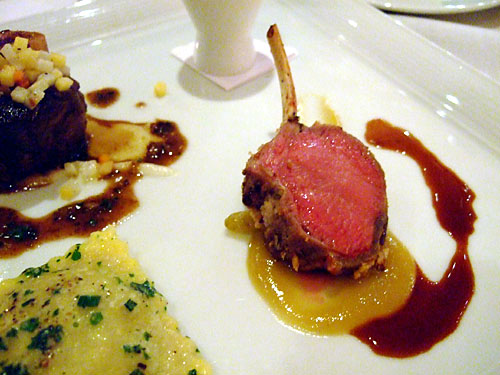 5: Trio Of Lamb - Black Olive Crusted Rack, Sous Vide Osso Bucco, Braised Ravioli, Jerusalem Artichoke Purée
Hall, Merlot, Napa, 2003
The rack was prepared rare, the way I prefer, but the taste was too sweet for me, perhaps due to the sauce. The ravioli was not only the biggest I've ever had, but also the best, with a juicy, flavorful filling of tender lamb. As for the osso bucco, I've never tasted it before, but perhaps I'll be having it more after this. Rich, creamy meat that just broke apart on touch, talk about falling off the bone! The cup in the background was filled with mint jelly. As for the Merlot, I'm generally not a fan, but I liked this. In fact it was my favorite wine of the night: luxurious, jammy, notes of fresh berries, chocolate, and cherry.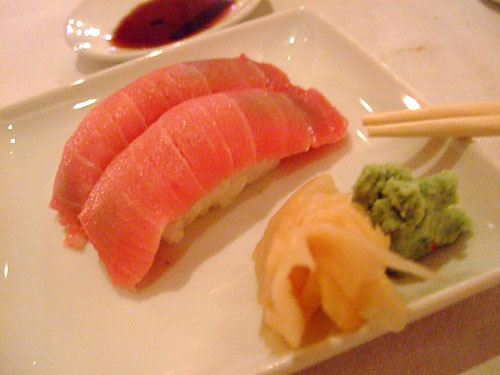 Sushi à la Carte: Toro
I was seated in plain view of the sushi bar, so naturally I was tempted to order something. At first I had trouble as there was only one sushi chef, and he was very busy. But as the night progressed, things slowed and I could get my order in. The toro wasn't as oily as I'm used to, though it did have the rich taste and melt-in-your-mouth goodness that I expected.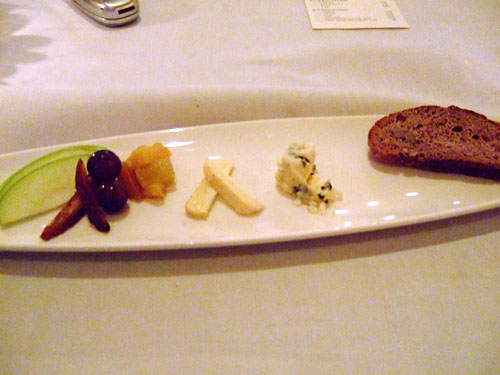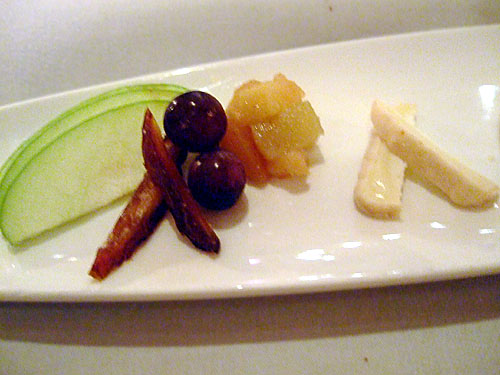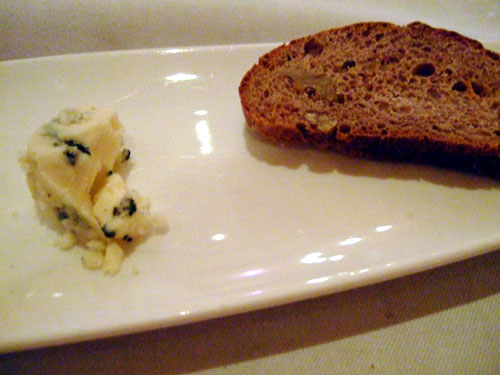 6: Cheese Tasting - Grayson, Meadow Creek Diary (Galax, VA) & Ewes Blue, Old Chatham (Hudson Valley, NY)
I used to regard the cheese course with derision, but now it's something that I actively look forward to. So I was a bit let down when I received only two selections, though the two I received were indeed quite good. I'd have to give the nod to the blue though. Nice selection of accoutrements too.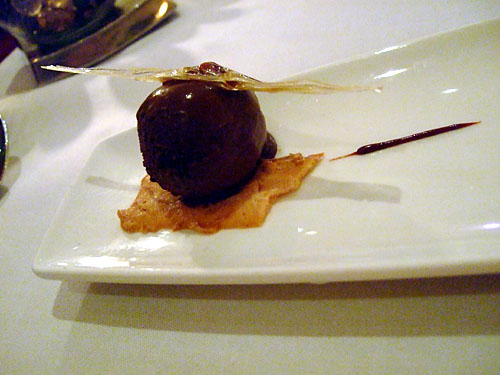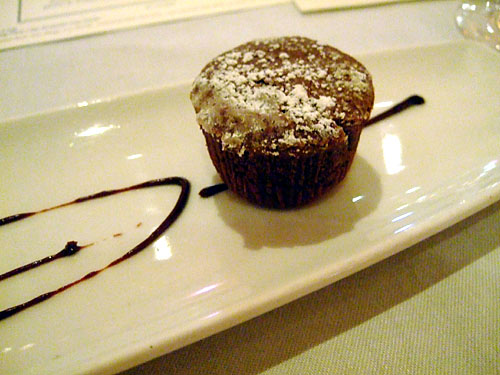 7: Valrhona Chocolate Tasting - Milk Chocolate Panna Cotta, Duo Of Ganache; Tart & Whipped
Bella Late Harvest Zinfandel, Dry Creek Valley, 2004
I'd describe the item on the left as ice cream-like, though richer and denser. The piece of the right was filled with liquid chocolate and was thus similar to those molten chocolate cakes you see everywhere. The Zin was a super-concentrated, thick wine with tons of berry that went superbly with the chocolate. The wine was actually complementary (I guess they figured I was already spending quite a bit!).
Don't let the fact that Arterra is located in a Marriott of all places put you off. It is a genuinely good restaurant, with some of the best presentation I've seen in a while, hotel or not. I now know that it is indeed possible to have world-class dining in a mundane hotel chain, but Marriott needs to work on improving quality across all its locations. In that regard, it still has a long way to go.