Plate (Colorado Springs, CO)
Plate
9420 Briar Village Pt, Colorado Springs, CO 80920
719.475.8000
www.platecolorado.com
Mon 01/08/2007, 09:00p-10:10p
Without a doubt, Walter's Bistro is one of my favorite restaurants in the Springs. Unfortunately, I was unable to dine there this past trip; however, I did pay a visit to Plate, the new restaurant from Walter Iser and Ryan Blanchard, Walter's Bistro's executive chef. During my visit, the dining room was surprisingly unfull. Maybe it was just that I came rather late (9:00), but that certainly doesn't bode well for the longevity of the place. Perhaps the restaurant's rather remote Northern location is not conducive for customers. I certainly hope Plate sticks around.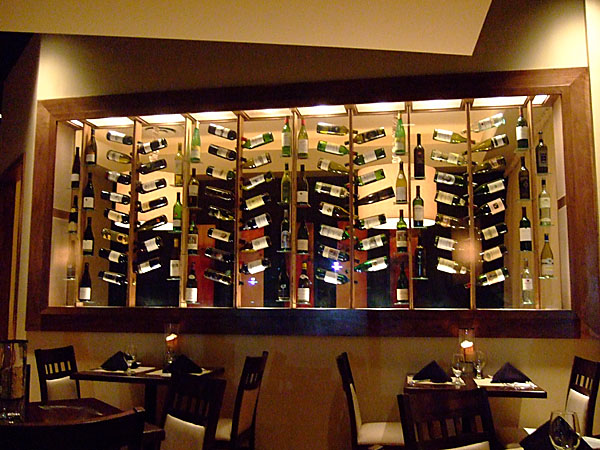 An artful "wine rack" complements Plate's decor, one of the best I've seen in the city. Speaking of wine, I had a Santa Julia Viognier, Mendoza 2002 with my meal, along with a Champagne-tini (Chambord and Iceberg vodka, topped with sparkling wine) to start.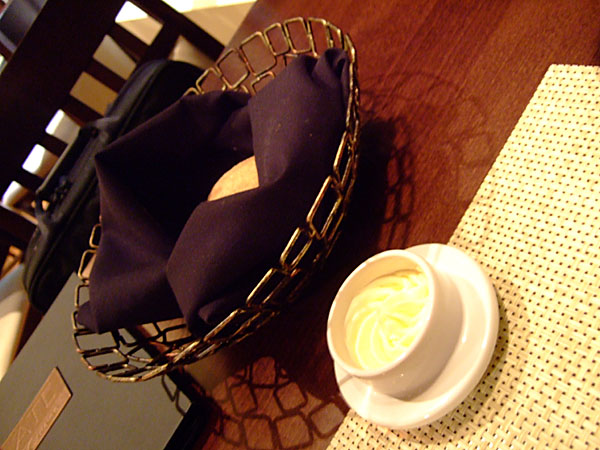 The bread is ciabatta style, very similar to the kind I had at Walter's. The butter is smooth and salty, just the way I like it.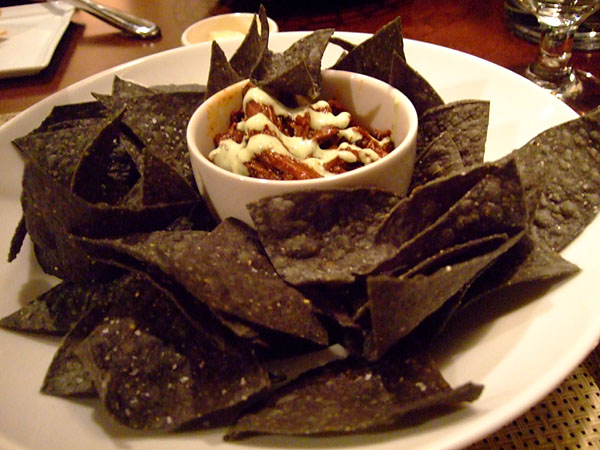 Barbacoa: Spicy beef with blue corn tortillas
The only other time I've had barbacoa was at Chipotle, the fast casual chain. The meat here was similar, though I'd say fattier and more luxurious, and went surprisingly well with the tortilla chips. The chips proved to be quite tasty themselves and I eagerly finished up the whole plate, even when the topping ran out.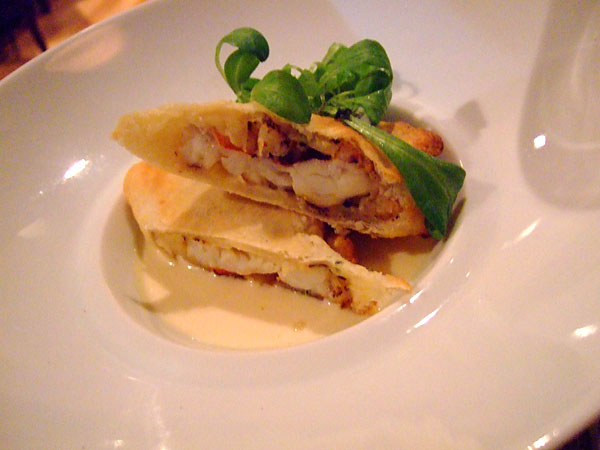 Lobster Wellington: With a brandied cream sauce
A take on the classic beef Wellington: tender lobster stuffed in a puff pastry in a rich cream sauce. Delicious.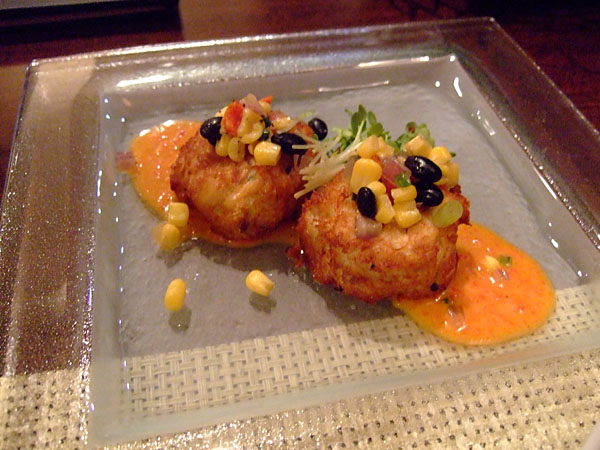 Crab Cakes
As I've stated before, I'm weary of ordering crab cakes, though I often can't resist. Well I'm glad I did here! The cakes had a generous amount of crab and paired superbly with the corn salsa.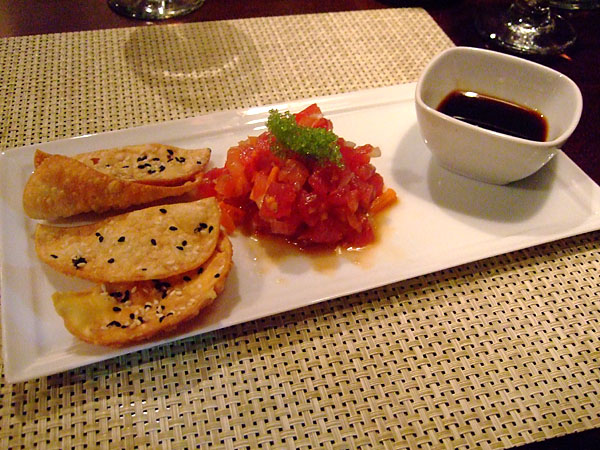 Ahi Tartar: Sesame wonton chips and soy glaze
The tuna itself seemed to be mixed in with some tomato and was pleasant, though not stellar. It was nice to scoop the tartar onto the sesame chips, although I didn't make much use of the soy glaze.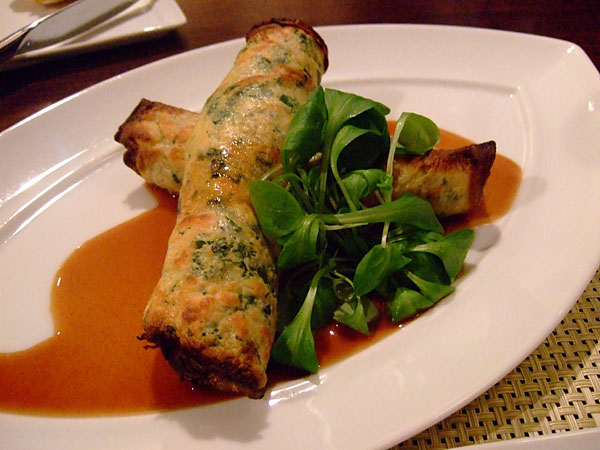 Potato Crepe
These were stuffed with mushroom and quite delectable, though rather heavy.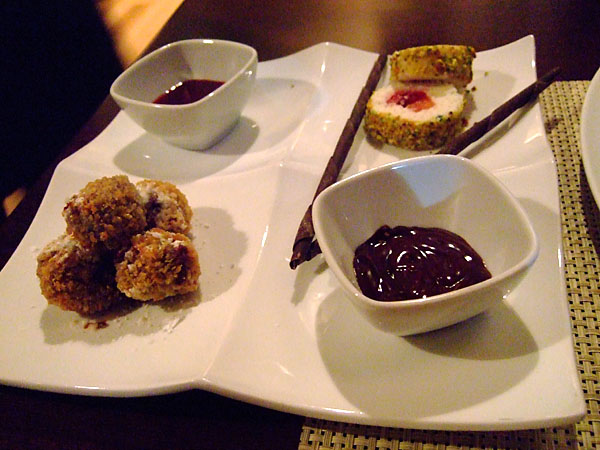 Cheesecake Tempura & Fruit Sushi: With fresh berries, chocolate fondue and chocolate chopsticks
This instantly struck me as the most fascinating item on the dessert menu. I'm a huge sushi fan, so how could I resist? The "tempura" was quite good though the "sushi roll" didn't have quite enough fruit for my tastes.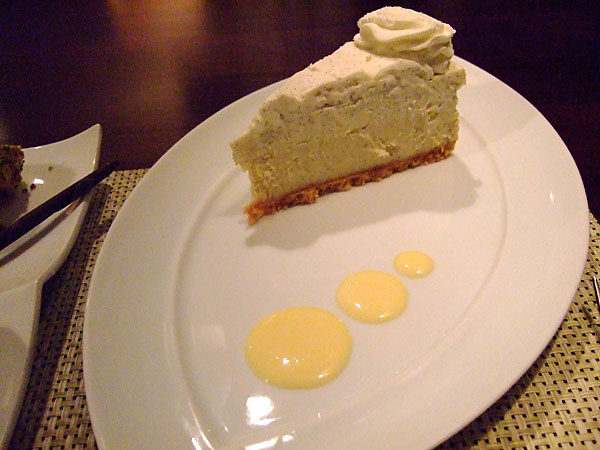 Vanilla Bean Cheesecake
This was actually a special item not listed on the menu. I nearly never order cheesecake at a restaurant but I'm glad I did here! This was simply the best cheesecake I've had in recently memory. I was afraid it would be heavy but this was light and airy, with an absolutely wonderful vanilla flavor.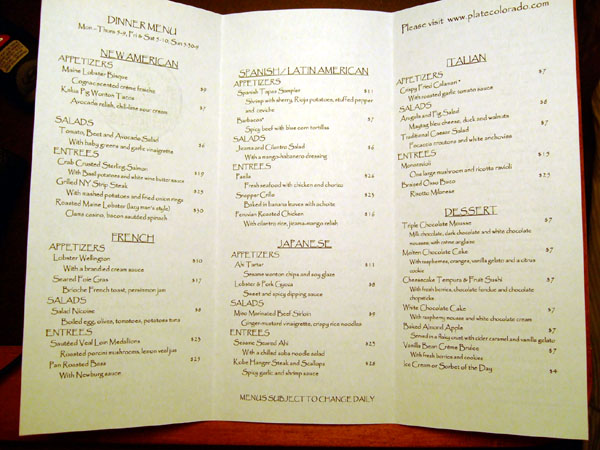 Plate's menu is centered around different types of cuisine: New American, French, Spanish/Latin American, Japanese, and Italian. I made sure to order one item from each region, though next time I'd probably order fewer dishes but try the entrées (I did all appetizers). Click for larger version.