Charles Court (Colorado Springs, CO)
Charles Court
1 Lake Ave, Colorado Springs, CO 80906
719.577.5733
www.broadmoor.com/charles-court.php
Thu 03/08/2007, 06:35p-08:30p
Charles Court was the first restaurant I ever visited in Colorado Springs, nearly two years ago. I even remember what I had: escargot in cream sauce with puff pastry, buffalo filet, tasting of chocolate. But what's even crazier is that I think my server this last visit was the same I had on my first visit! She did say that I looked familiar...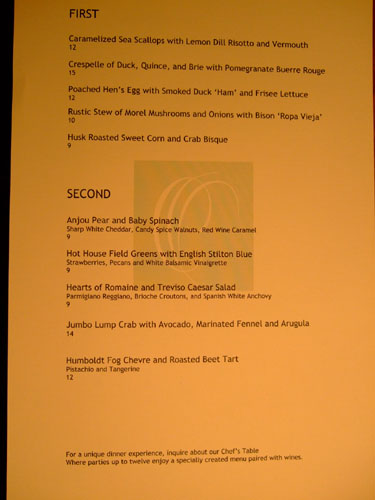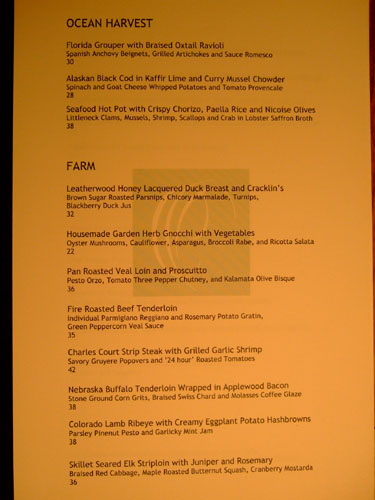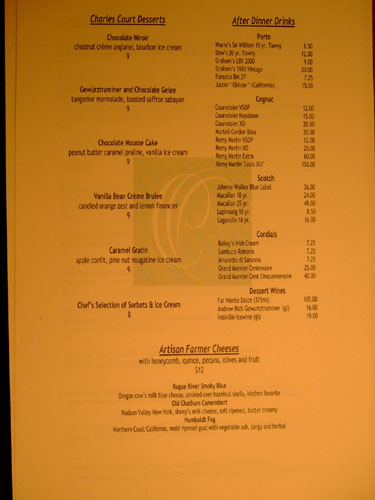 The dinner and dessert menus, completely different from my first visit (which is a good thing). Click for larger versions.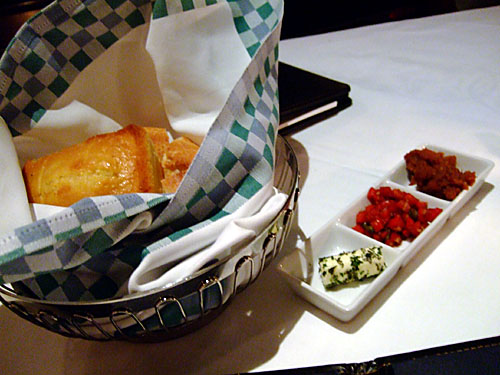 I had three varieties of bread: grape and herb focaccia, French baguette, and cactus cornbread. The accompaniments were herbed butter, tomato & pepper salad, and caramelized tomato with onion.
Amuse Bouche: Roasted Parsnip Soup
I'm not a huge soup fan, but this was nice enough and a tasty way to start the meal. For all the following savory dishes, I ordered a half-bottle of Pinot Grigio, Santa Margherita, Valdadige 2005, which was actually quite full-bodied and kept its own with the strong flavors that followed.
"This dry white wine is pale straw-yellow in color. The clean, intense aroma and dry flavour with pleasant golden apple aftertaste make Santa Margherita Pinot Grigio a wine of great character and versatility."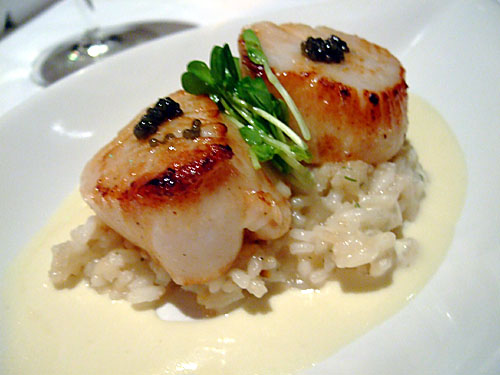 Caramelized Sea Scallops with Lemon Dill Risotto and Vermouth
These were firm, expertly-cooked scallops. The lemon and dill flavors complemented yet did not overwhelm the scallop taste, while the caviar provided a salty foil. The risotto was creamy and decadent.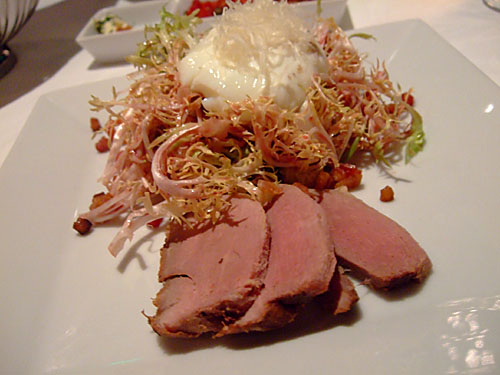 Poached Hen's Egg with Smocked Duck 'Ham' and Frisee Lettuce
The duck really did taste like ham, could've fooled me! I also liked the poached egg, which had a great texture and yolk.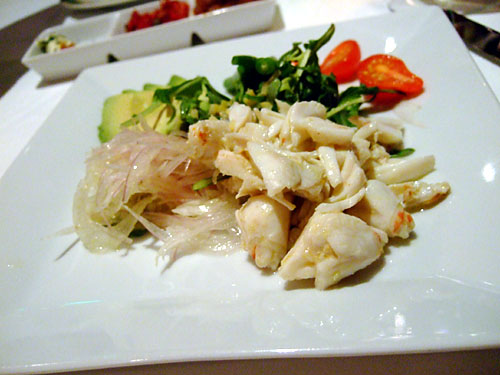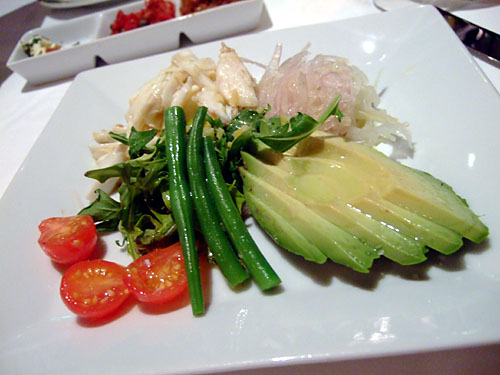 Jumbo Lump Crab with Avocado, Marinated Fennel and Arugula
A generous helping of pure crab meat, which was great alone and even better when eaten with the tomatoes, onion, and avocado.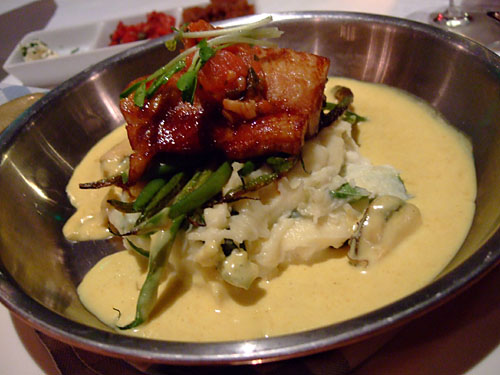 Alaskan Black Cod in Kaffir Lime and Curry Mussel Chowder - Spinach and Goat Cheese Whipped Potatoes and Tomato Provencale
This actually reminded me of the miso-marinated cod at Nobu (not necessarily a bad thing). It was very creamy and tender, and I really liked the potatoes with green beans. I'm not a fan of cod in general, but I liked this.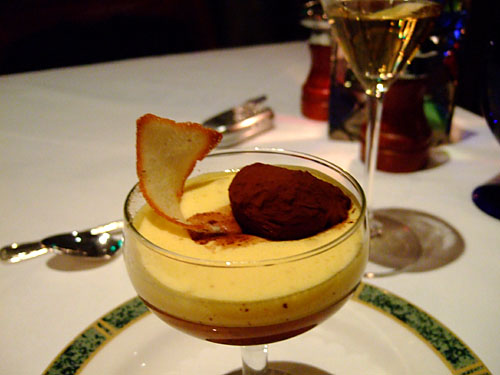 Gewürztraminer and Chocolate Gelée - Tangerine Marmalade, Toasted Saffron Sabayon
Loved it! The chocolate was sweet and dense while gelée was subtle and light. The wine in the background is a glass of Iniskillin Vidal Ice Wine, Niagara Peninsula, Canada. It had a strong peach and honey aroma, along with a super long, lingering finish.
"Sublime aromatics of fresh lime, apricot, grapefruit and peach blossoms with a slight mineral edge. A racy interplay of sweet and tart offer up echoing flavours of lemon, lime and candied apricot."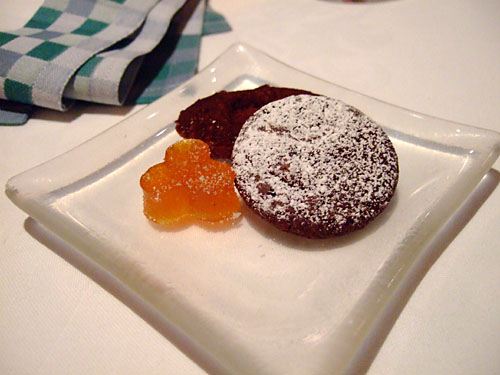 Petit Fours
Apricot gelée, brownie cookie, financier chocolate. All very nice and a great way to close out the meal.
A lot has changed in the Springs over the course of two years, but thankfully Charles Court continues to deliver. I had a great meal here on my first visit, and I'm glad to say that this last one was even better.