Walter's Bistro (Colorado Springs, CO)
Walter's Bistro
146 E Cheyenne Mountain Blvd, Colorado Springs, CO 80906
719.630.0201
www.waltersbistro.com
Wed 03/07/2007, 06:40p-08:10p
Walter's is definitely one of my favorite places in the Springs, and I make an effort to come in on a regular basis. In fact, I tried to go during my last visit to the Springs, but they were closed! Walter's is owned by Walter Iser, with Ryan Blanchard as executive chef. The duo also has a new venture in the north part of town, which I've visited before:
Plate
.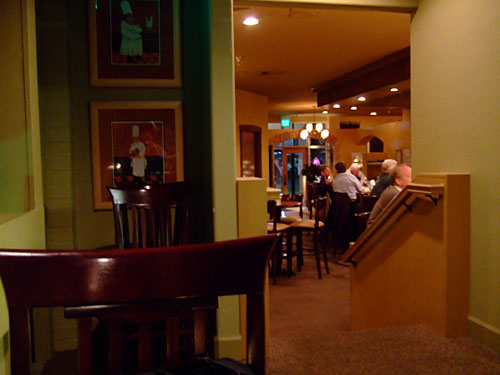 Walter's consists of four main rooms: the back room where I was sitting, the bar area which can be seen above, and two dining rooms to either side of the bar. The kitchen was immediately to my right.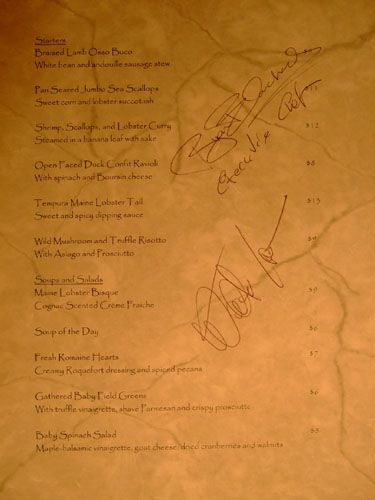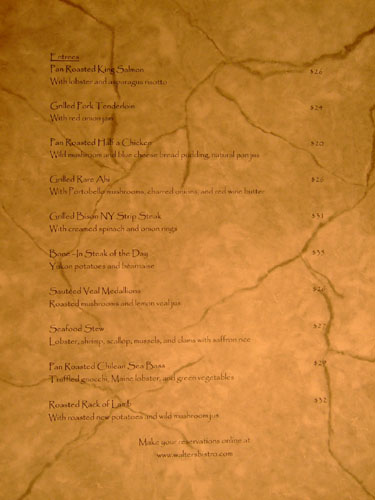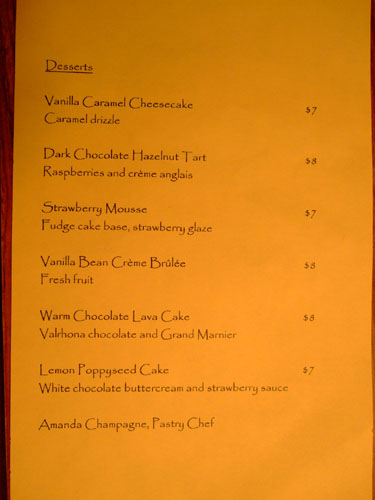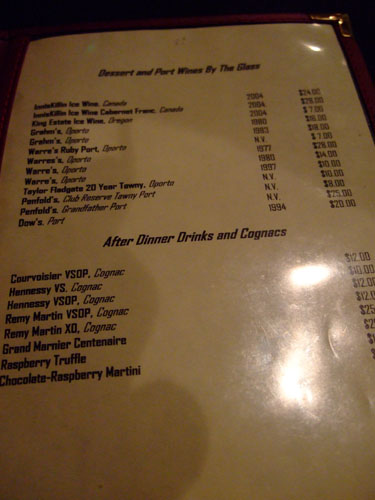 The dinner (signed by chef Blanchard and Walter), dessert, and after dinner drink menus. One thing that I do appreciate about Walter's is that the menu is different every time I visit. Click for larger versions.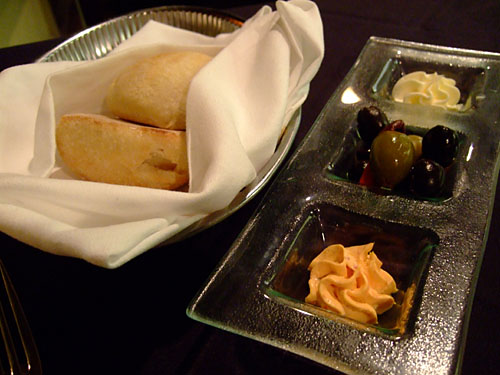 The bread is the ciabatta type and is served warm. The accoutrements consisted of roasted red pepper butter (my favorite), olive salad, and unsalted butter.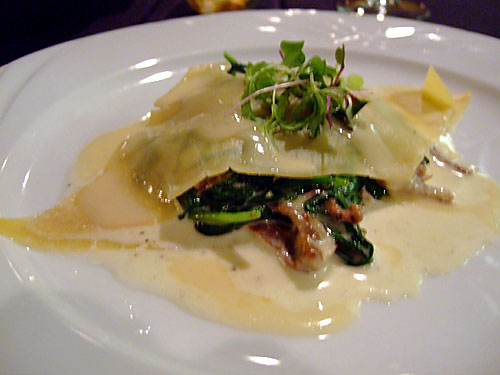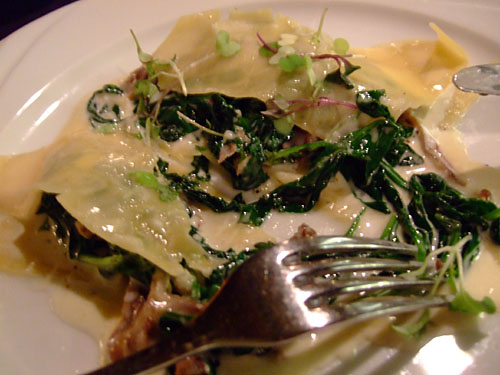 Open Faced Duck Confit Ravioli - With spinach and Boursin cheese
I wasn't quite sure what an "open faced" ravioli would be like, but I really enjoyed this dish. The sauce was very creamy and cheesy, and went well with the duck and spinach. I had this with a St. Christopher Piesporter Goldtropfchen Reisling, Mosel, 2005; the wine was light, fruity, sweet, and easy drinking. Loved it!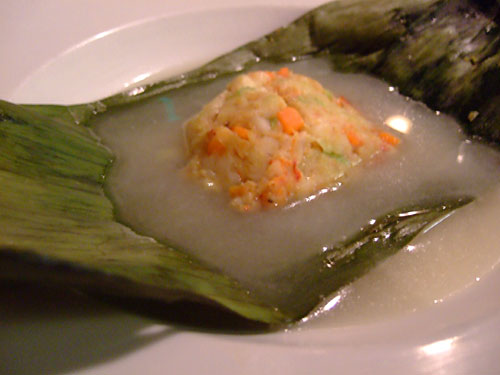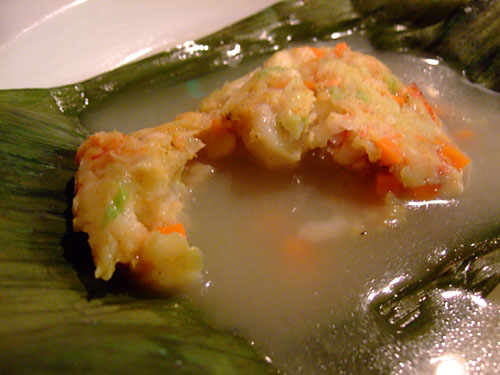 Shrimp, Scallops, and Lobster Curry - Steamed in a banana leaf with sake
This wasn't quite what I expected from a "curry." In fact I'm not sure I've seen anything quite like it, with the shrimp, scallop, and lobster formed into a brick (with very little filler). The flavors were very subtle and a bit muddled; I had a hard time picking up the individual components.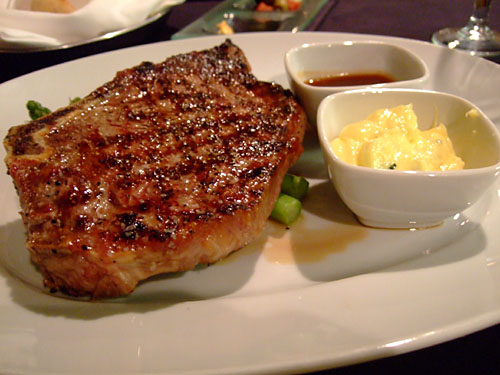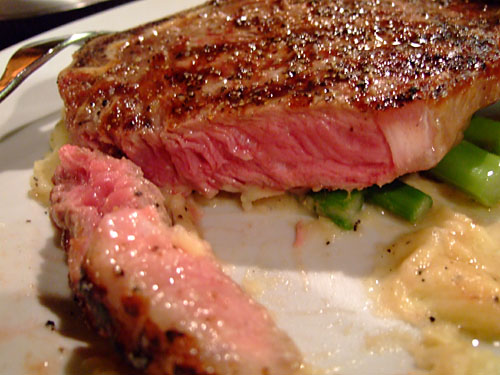 Bone-In NY Strip Steak - Yukon potatoes and béarnaise
Came with demi-glace and Béarnaise dipping sauces. The steak was quite flavorful, but had a bit too much fat and tendon for my liking. Another reminder of why I usually much prefer filets. The asparagus and mashed potatoes were nice accompaniments. The wine I had with this was a Penfolds Koonunga Hill Cabernet Sauvignon, Australia, 2002, which I thought was very full-bodied and almost overpowered the steak.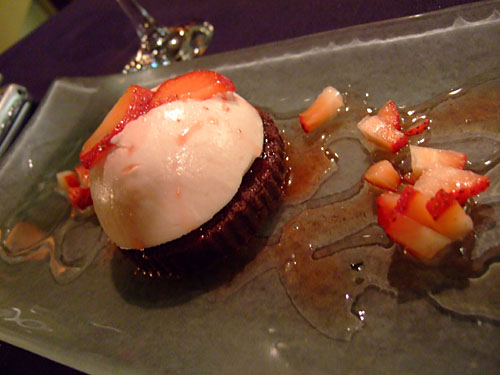 Strawberry Mousse - Fudge cake base, strawberry glaze
The mousse was light, airy, with a subtle strawberry taste. The hard fudge cake base was a nice contrast to the smoothness of the mousse. Yum! I had the King Estate Ice Wine, Oregon, 2004 with this. It had apricot and peach on the nose, honey on the palate, and silk on the finish. Delish!
This must have been my fourth visit to Walter's, but unfortunately it was also the most disappointing, mainly due to the curry and the steak. However, the number of great experiences I've had here will definitely keep me coming back in the future!