Penrose Room (Colorado Springs, CO)
Penrose Room
1 Lake Ave, Colorado Springs, CO 80906
719.577.5733
www.broadmoor.com/penrose-room.php
Fri 03/09/2007, 06:50p-08:45p
The Penrose room is another Broadmoor restaurant that I visited early on. My earliest visit was a bit of a letdown, as I felt the place was a bit tired, a bit staid. Apparently I wasn't the only one to feel this way, and so the Broadmoor decided to renovate the place, updating the decor as well as the chef. The new chef is Bertrand Bouqin, who also runs the Broadmoor's
Summit
restaurant. His goal was to turn the Penrose Room from a Mobil four-star to a Mobil five-star establishment (the hotel itself is five-star).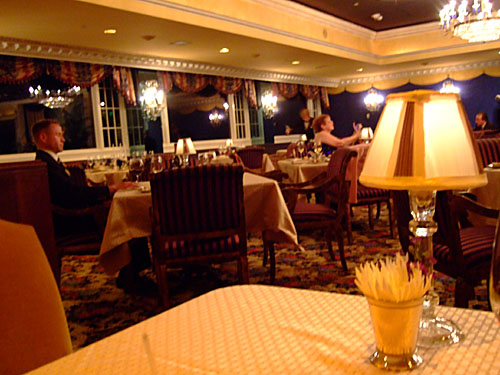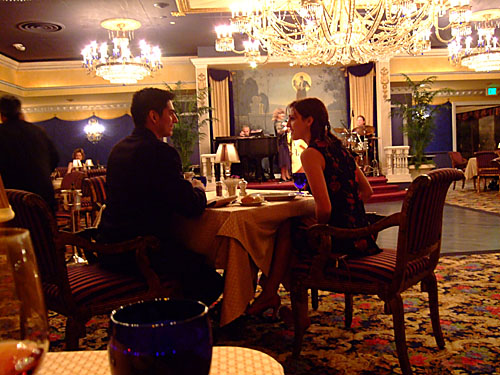 The dining room exudes old-world elegance, and is one of the only places in the Springs that requires jackets for gentlemen (I didn't bring mine so I had to borrow one of theirs). There is also live music and dancing nightly.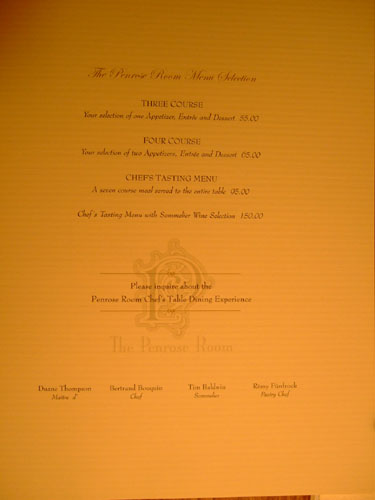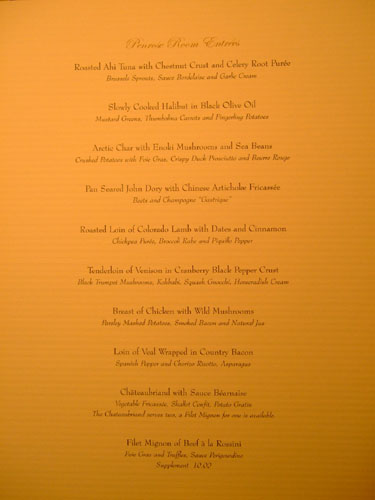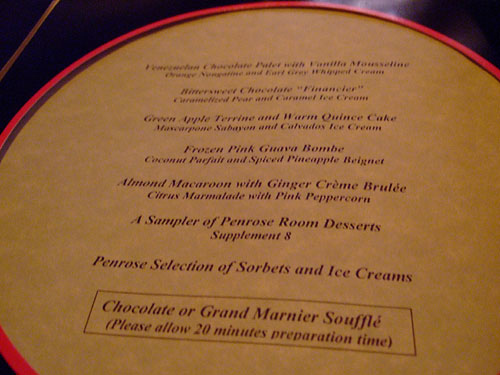 The prix fix dinner and dessert selections are shown above. I had the seven-course Chef's Tasting Menu with wine pairing. Click for larger versions.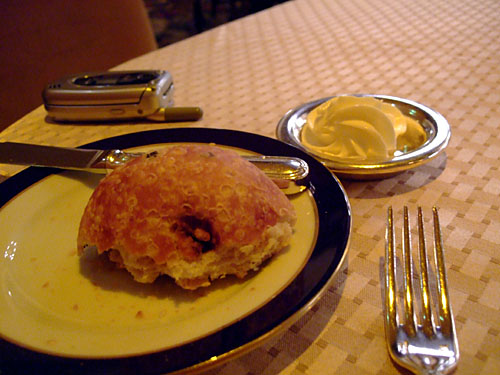 Two types of bread were offered: rye and roasted tomato. The butter was soft and spreadable with a subtle saltiness.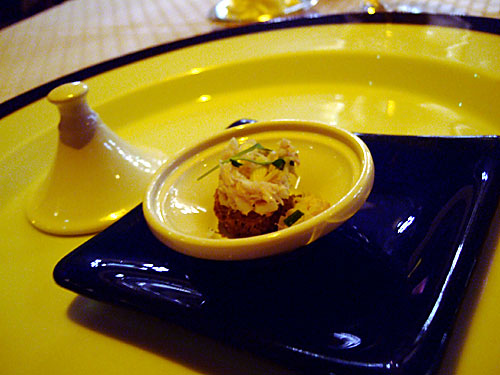 Abuse Bouche: Peekytoe Crab Salad on Rye
A nice little morsel to start the meal. My apologies for the photos; the restaurant had some difficult lighting which gave every picture a yellowish cast.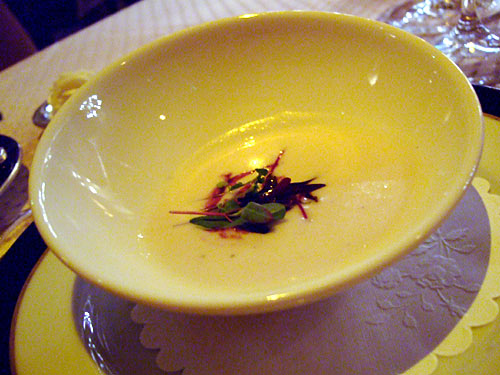 1: Roasted Salsify and Green Apple Soup - Port Reduction and Foie Gras
Yves Cuilleron, La Petite Cote, Condrieu, France
I'm not a fan out soup generally but I did enjoy this. It was very rich and creamy, with a strong, unique flavor to it.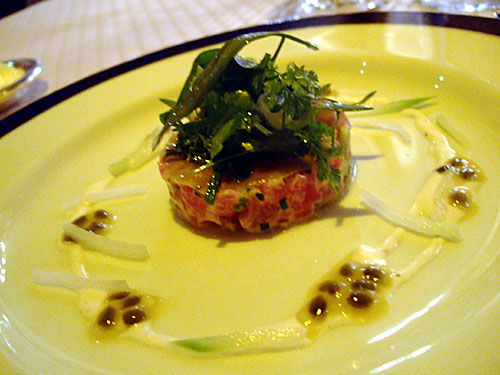 2: Ahi Tuna Tartare with Passion Fruit and Celery Gelée - Radish, Nutmeg Cream and Herb Salad
Hirsch, Veltliner #1, Grüner Veltliner, Austria
One of the best tartares I've had in a while, a little tangy from the passion fruit, with the nice herb salad on top. The drier, herbal notes of the Grüner Veltliner paired well.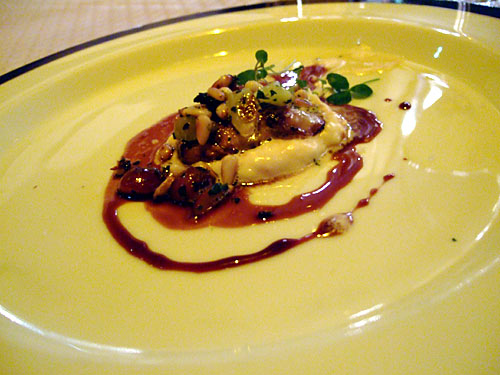 3: Sautéed Foie Gras with Parsnip Purée - Grapes, Pine Nuts and Watercress
Maximin Grunhauser, Riesling, Mosel-Saar Ruwer, Germany
One of the best pieces of foie I've ever had. I believe I'm starting to develop a bit of a taste for foie gras, at least when served hot. It went perfectly with the Riesling, which incidentally, I just had a week prior at
Providence
in LA. It loved it there and loved it even more here!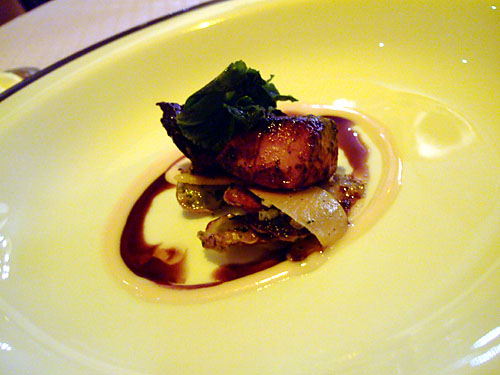 4: Slowly Cooked Halibut in Black Olive Oil - Mustard Greens, Thumbolina Carrots and Fingerling Potatoes
Chateau Rayas, Reserve, Chateauneuf-Du-Pape, France
This was quite good; I loved the mustard green tang and the crunchy, smoky potatoes. Apparently this is one of Chef Bouquin's signature dishes and I can see why.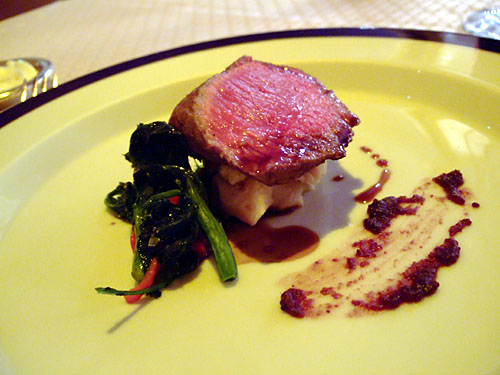 5: Roasted Loin of Colorado Lamb with Dates and Cinnamon - Chickpea Purée, Broccoli Rabe and Piquillo Pepper
Simi, Landslide Vineyard, Cabernet Sauvignon, Alexander Valley, California, USA
This was quite literally one of the best pieces of lamb I've ever had and went well with the Simi, which was pretty much exactly what I'd expect from an Alexander Valley Cab.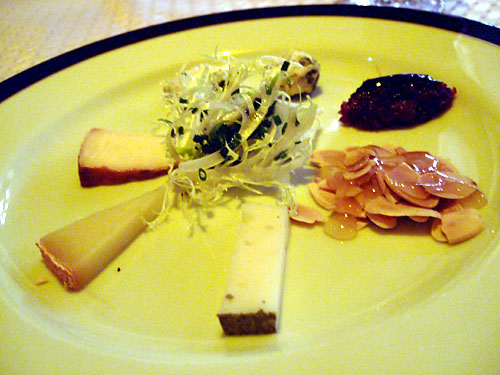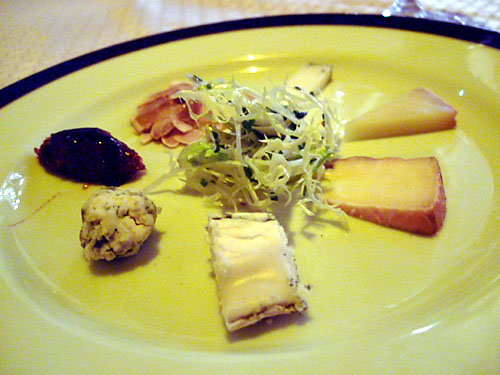 6: Market Cheeses
Taylor's, Quinta d'Vargellas, Portugal
Served with marmalade and pistachio, this was an excellent selection of cheese. Unfortunately I do not remember the names of any of them!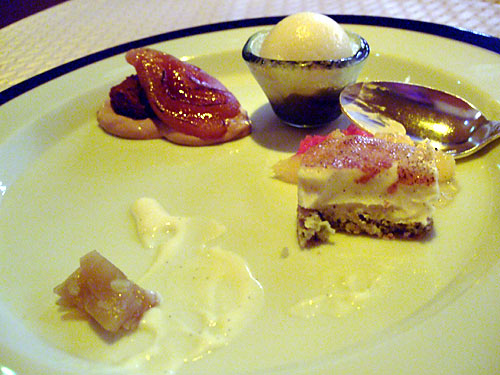 7: A Sampler of Penrose Room Desserts
Kracher, Beerenauslese Zwiegelt, Austria
I had a crème brulée, an apple tart, a sorbet, and something else than I can't recall. My favorite was the crème brulée, which had a great soft custard that contrasted sharply with the almost "graham cracker" base. Unfortunately I had already begun eating before I remembered to take a picture!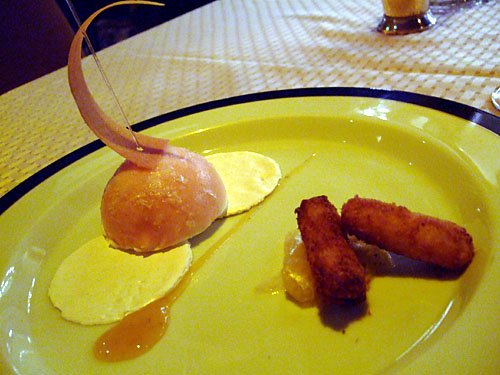 Frozen Pink Guava Bombe - Coconut Parfait and Spiced Pineapple Beignet
This dish was not part of the tasting menu but was added on by me. It had a delicate guava taste, though I wasn't a fan of beignets.
I am happy to report that the Penrose Room has improved dramatically since my last visit. My hat's off to Chef Bouqin and his crew; I can definitely see five stars in your future!