Brodard Chateau (Garden Grove, CA)
Brodard Chateau
9100 Trask Ave, Garden Grove, CA 92844
714.899.8273
www.brodard.net/chateau/overview.html
Sat 01/26/2008, 08:55p-10:00p
By now, almost everyone knows about the original Brodard in Little Saigon, and the
nem nuong cuon
that it's famous for. If you've ever eaten there, it seems like every table in the restaurant has a plate of the omnipresent spring rolls before them. I'm no exception, and consider myself a fan, so trying out this higher-end (and pricier) version was a no-brainer.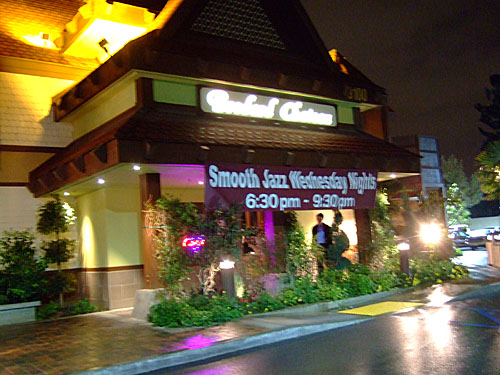 The entrance definitely carries more presence. I'm a bit surprised that they have "Smooth Jazz" Wednesdays though.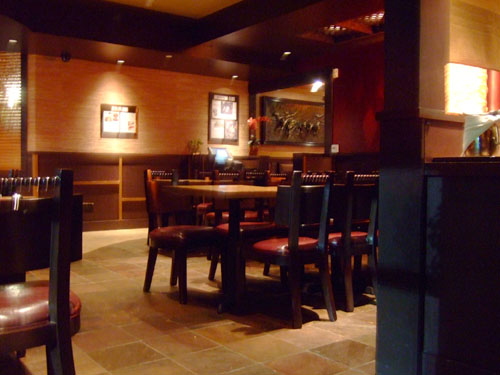 Awash in dark wood, the decor is chic yet warm, but with subtle elements that remind you you're in a Vietnamese restaurant. Much improved from Brodard proper.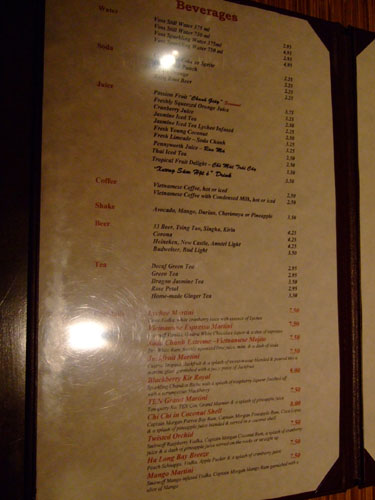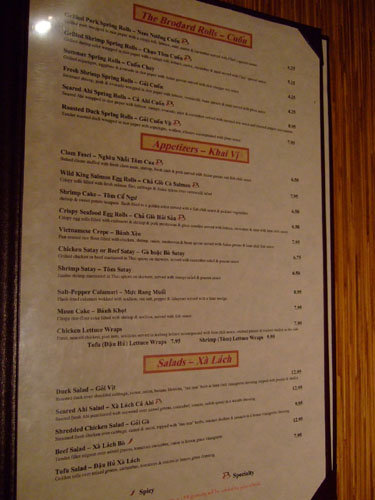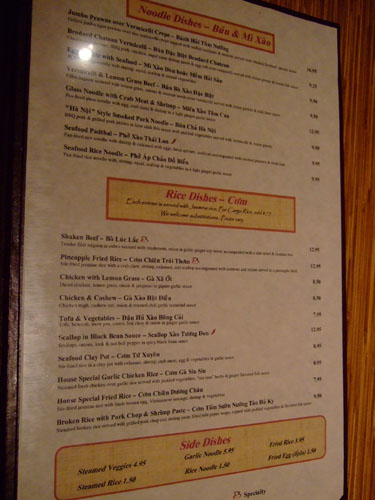 The menu contains a fairly large assortment of items, many of which can be found on the menu at the original Brodard. However, there are plenty of dishes unique to the Chateau as well. Click for larger versions.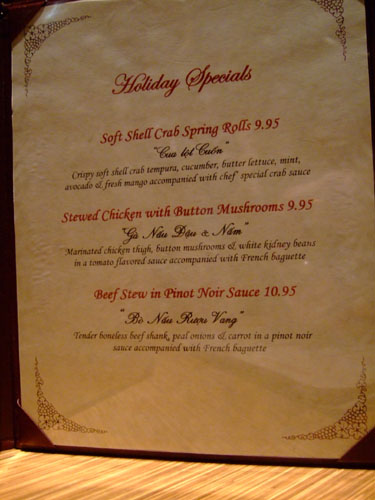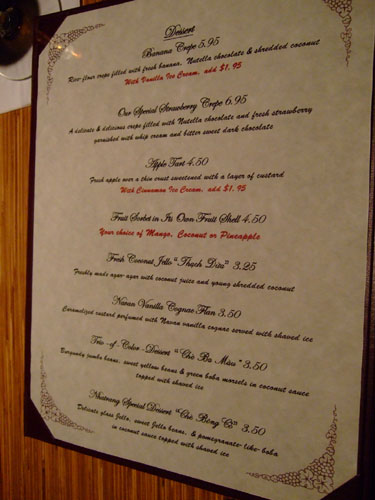 The specials and dessert menus. Click for larger versions.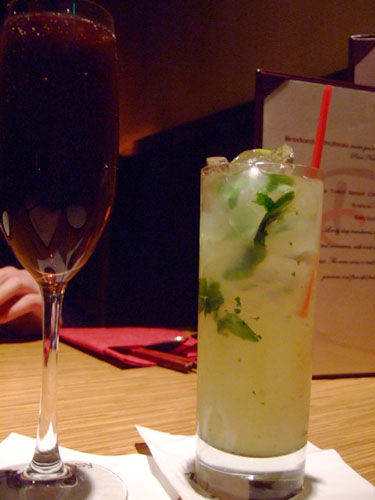 Blackberry Kir Royal: Sparkling Chandon Riche with a splash of raspberry liqueur finished off with a scrumptious blackberry. Hard to go wrong with this!
Soda Chanh Extreme - Vietnamese Mojito: Dry White Rum, freshly squeezed lime juice, mint, & a dash of soda. I'm not sure what made this a
Vietnamese
mojito, since the ingredients seemed run of the mill, but it was definitely tarter and more acerbic than I'm accustomed to.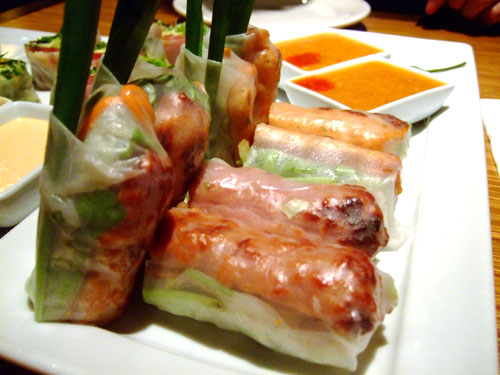 Roasted Pork Spring Rolls – Nem Nuong Cuon & Grilled Shrimp Spring Rolls – Chao Tom Cuon
Roasted pork wrapped in rice paper with a crispy roll, lettuce, mint, carrot & cucumber served with Chef's special sauce. Gilled shrimp cake, wrapped in rice paper with a crispy roll, lettuce, carrot, cucumber & mint served with Chef's special sauce. Both the pork and shrimp rolls were just like what I've had at Brodard, with the meat providing just the perfect crunch and textural element to complement the cool, crisp veggies. But the rolls would be incomplete without the special sauce, which is sweet, salty, sour and anything else you could ask for, all at the same time; it is a harmonizing agent of sorts, and ties together all the flavor elements into one cohesive whole. Fantastic! I must say that the rolls certainly were more expensive here though; at the original, you get one more roll for about the same price. And according to my dining companion, the rolls are bigger there too.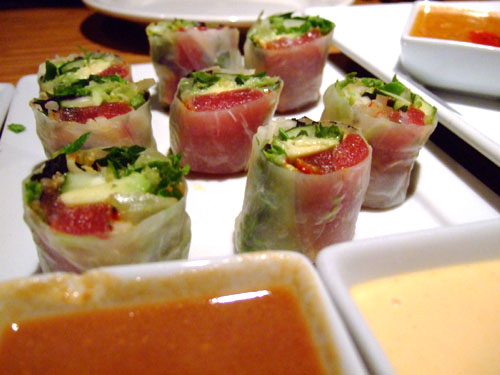 Ahi Spring Rolls – Ca Ahi Cuon
Seared Ahi wrapped up in rice paper with lettuce, fresh mango, avocado, mint & cumber served with a mustard soy sauce and roasted pepper mayonnaise. Now in addition to the two "classic" rolls above, the Chateau also offers several other interesting
cuon
that are not present at Brodard, such as these ahi tuna rolls. The pairing of tuna and avocado is a classic one, and here it worked relatively well. However, the rolls themselves didn't have much in terms of unique flavor. As such, use of the sauces was almost a prerequisite. The mustard soy and pepper mayo did also pair nicely with the other rolls as well.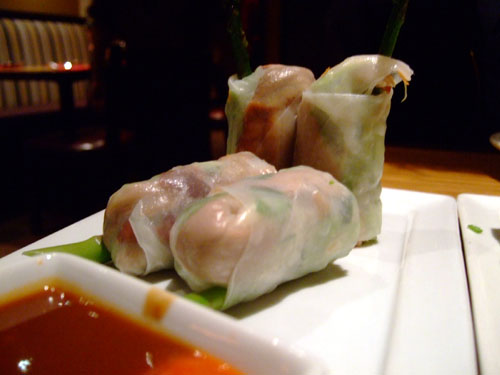 Roasted Duck Spring Rolls - Goi Cuon Vit
Tender roasted duck wrapped in rice paper with asparagus, scallion, cilantro accompanied with plum sauce. The duck was prepared in a bold, slightly sweet style, which proved to be a fitting foil to the veggies. The plum sauce was reminiscent of the sauce used for Peking duck, and was a bit too sweet for use with the other rolls.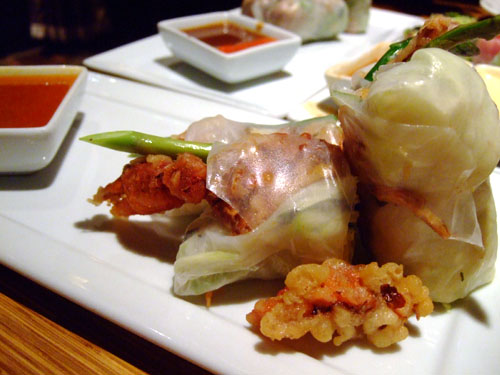 Soft Shell Crab Spring Rolls - Cua Lot Cuon
Crispy soft shell crab tempura, cucumber, butter lettuce, mint, avocado & fresh mango accompanied with Chef's special crab sauce. Soft shell crab didn't seem like it belonged in a spring roll, but it worked surprisingly well, with the savory deep fried crab tempered by its cucumber and lettuce accoutrements. This was my favorite of the rolls outside of the originals.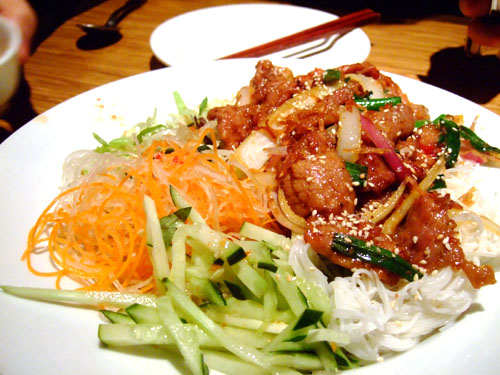 Vermicelli & Lemon Grass Beef - Bun Bo Xao Dac Biet
Filet mignon sautéed with lemon grass over vermicelli served with Asian greens & a limed-fish sauce. We weren't quite full by the rolls themselves, so we decided to order something else. I was about to go for the classic
bo luc lac
, one of my favorites, but I'm glad my dining companion convinced me to try something new. The beef was actually similar to what I'd expect from shaken beef, and was quite flavorful as well as tender. It was very nice to have the contrast between the meat and the cool vermicelli and crisp, refreshing veggies. A lovely dish.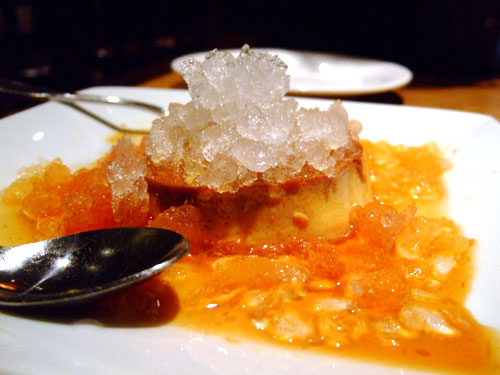 Navan Vanilla Cognac Flan
Caramelized custard perfumed with Navan vanilla cognac served with shaved ice. This was almost like a flan. It had a bit too much ice for my tastes, and wasn't particularly inspiring.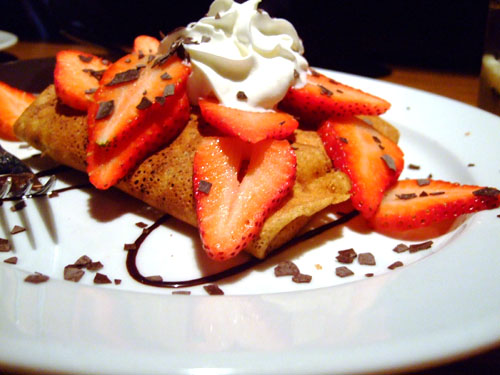 Our Special Strawberry Crepe
A delicate & delicious crepe filled with Nutella chocolate and fresh strawberry garnished with whipped cream and bitter sweet dark chocolate. The crepe was quite tasty, with the flavors of the chocolate, strawberry, and whipped cream all melding nicely. I just wish they put in more Nutella!
Food-wise, Brodard Chateau pretty much offers the same level of quality as Brodard; I couldn't tell the rolls apart. You do get a choice of dishes not found at Brodard however, and much improved ambiance, though you do pay for it. So if you just want your fix of
nem nuong
, you might be wiser to stay with the original. Otherwise, give Brodard Chateau a shot.