Veritas (New York, NY)
Veritas
43 E 20th St, New York, NY 10003
212.353.3700
www.veritas-nyc.com
Thu 12/06/2007, 09:40p-12:00a
Veritas has the dubious distinction of being my first restaurant experience in New York. Given my severe time and location constraints, I couldn't go all out (e.g. Masa, Per Se), but I still wanted a Michelin 1-star experience.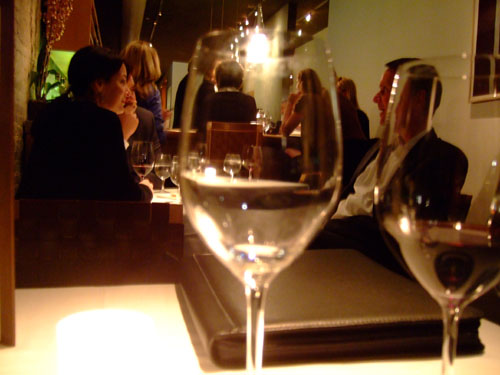 Veritas is a fairly small space, elongated with around a dozen tables, though most of the action was taking place at the bar (manned this particular night by Wine Director Tim Kopec). I was at one extreme of the restaurant, seated right near the window, which put me at a rather conspicuous vantage point. I will note that even at 11:00p, the place was quite packed; perhaps New Yorkers simply eat later? I will also note that the crowd was definitely an older one. I believe the person closest in age to me was a young-ish man seated at the adjacent table. From what I gathered from their conversation, he was a Wharton-educated hedge fund guy, which is pretty much exactly the type of person I'd expect in a place like this.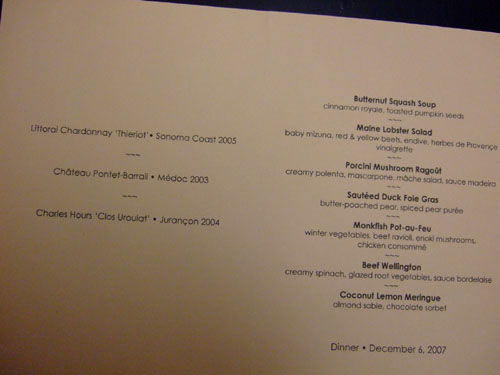 The standard menu at Veritas is a three-course prix fix. Naturally, a mere three courses wouldn't be enough to satisfy me, so the seven-course tasting it was. The tasting menu was not actually printed, so I asked if they could do so, which they did with no fuss at all. Click for larger version.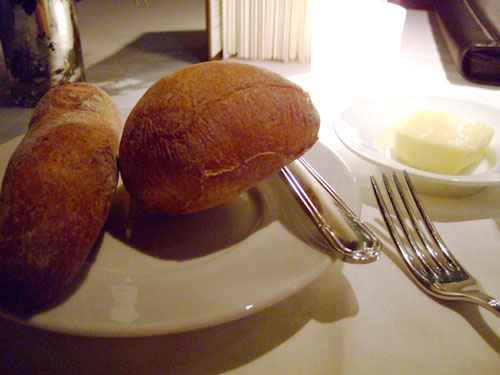 Three types of bread were offered: ciabatta, whole wheat (both shown), and rosemary olive (which ended being my favorite). I must point out the whole wheat variety must have been the hardest piece of bread I've ever encountered. I'm not sure if this is intentional or not, but it's dangerous. When I was trying to break bread, my hand accidentally slipped, causing the bread to brush against the edge of my thumb. Amazingly, this actually drew blood! I had to excuse myself to the restroom to clean up. This marks the first occasion for me where eating bread has resulted in injury.
Being a "wine" restaurant, I was disappointed to find out that Veritas actually offers very little by the glass, meaning that wine pairings for each course were not an option (no half glasses either). I thus asked my server to bring out one white, one red, and one dessert with the meal. The first of the trio was the Littorai Chardonnay 'Thieriot', Sonoma Coast, California, 2005. I'm not a huge Chard fan, but I must say that this was one of the better ones I've had, with strong citrus fruit flavors, but powered by a mineral tinge; the wine was rather viscous in the mouth, with a lingering finish.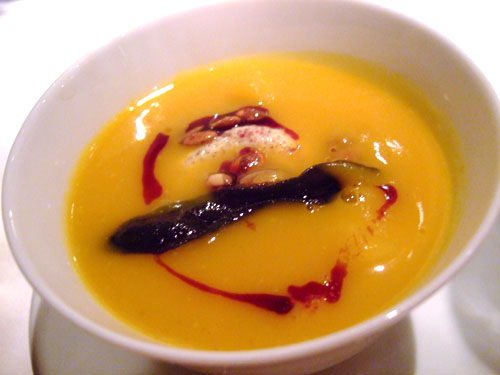 1: Butternut Squash Soup
Cinnamon Royale, Toasted Pumpkin Seeds. Butternut squash soup is not something that would normally appeal to me, but I was pleasantly surprised here. The squash did not overpower as I feared it might, and the cinnamon added a welcomed hue. Texture-wise, we're talking smooth, velvety, and very easy drinking.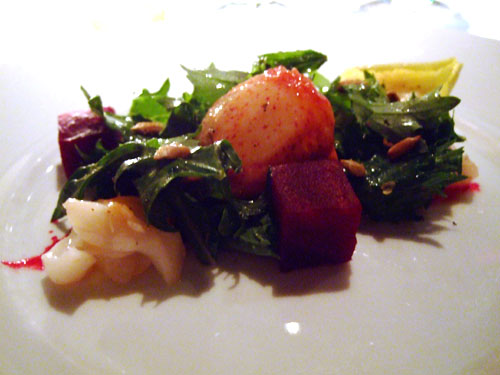 2: Maine Lobster Salad
Baby Mizuna, Red & Yellow Beets, Endive, Herbes de Provençe Vinaigrette. I liked everything on the plate except the beets. I'm not a fan of the root, and I've not yet found a savory preparation that I've really enjoyed. In any case, the lobster had the substance I was expecting, and was complemented well by the mizuna and vinaigrette (Herbes de Provençe is a medley of herbs such as thyme, basil, marjoram, bay leaf, and rosemary).
At this point, the red wine, a Château Pontet-Barrail, Médoc, Bordeaux, France, 2003 was brought out to accompany the richer dishes to follow. It was a Cabernet-dominated wine, fairly fruit-forward, soft, relatively light in the mouth, and easy to understand.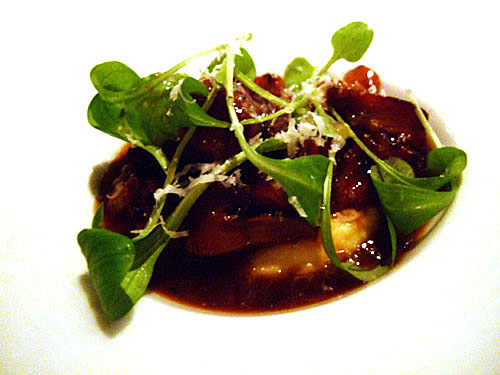 3: Porcini Mushroom Ragoût
Creamy Polenta, Mascarpone, Mâche Salad, Sauce Madeira. No surprises here, this dish was rich, creamy, and intensely flavored, just as I expected. This definitely seemed like a "winter" dish, one meant to be devoured on cold, crisp, Manhattan nights like this.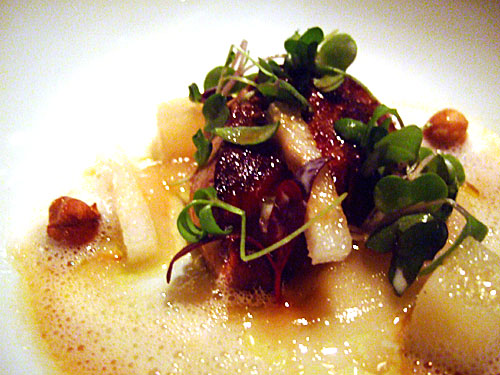 4: Sautéed Duck Foie Gras
Butter-Poached Pear, Spiced Pear Purée. This was a competent, though very safe, presentation of foie gras. The chunks of pear were a nice addition but I felt like I could've had this at nearly any contemporary French/New American restaurant. Also, the foie would've been better served by a sweeter wine; the Bordeaux didn't quite work for me.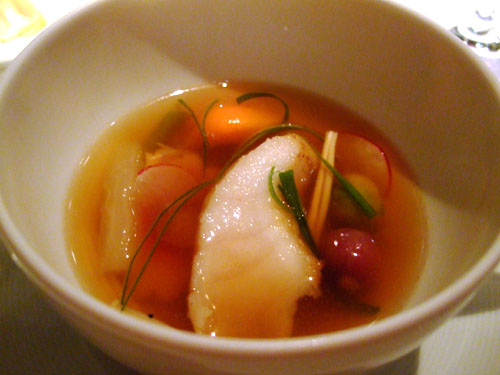 5: Monkfish Pot-au-Feu
Winter Vegetables, Beet Ravioli, Enoki Mushrooms, Chicken Consommé. This course, on the other hand, was much more unique. Even though I generally prefer strong flavors, the light subtleties of the fish worked wonders for me, as did the consommé. The vegetables, however, fell flat and were rather nondescript (again, with the beets!).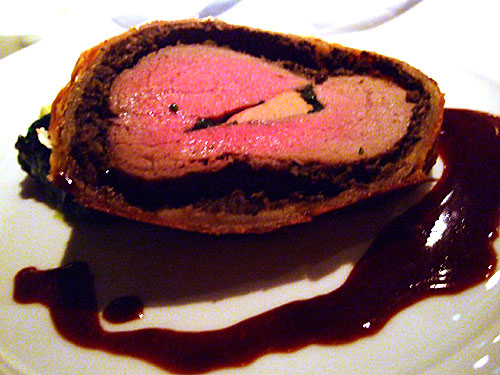 6: Beef Wellington
Creamy Spinach, Glazed Root Vegetables, Sauce Bordelaise. Surprisingly, this was actually my first experience with Wellington. In fact, I was rather shocked to find such a traditional dish at Veritas. In any case, the beef itself was quite tasty and played well with its mushroom and puff pastry wrapper, though I would've definitely preferred the meat to have been more on the medium-rare side. The small piece of foie in the middle was a nice touch, but not necessary.
Now for dessert, a glass of Charles Hours 'Clos Uroulat', Jurançon, 2004 was brought to the table. Jurançon is a region in South West France in the foothills of the Pyrenees; it's not particularly well known, and I'm not even sure if I've had a wine from the area before. I would describe the 'Clos Uroulat' as more off-dry than simply sweet, with slightly spicy notes of apple and honey.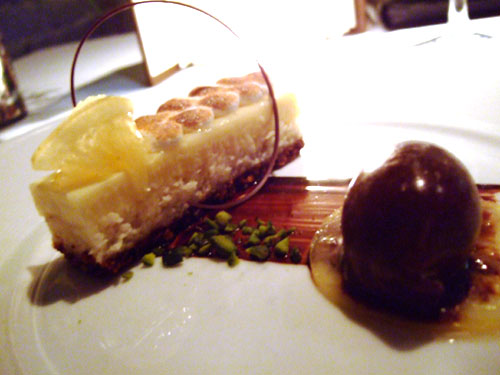 7: Coconut Lemon Meringue
Almond Sable, Chocolate Sorbet. The meringue and sorbet were good but fairly pedestrian. What made this course for me was the addition of pistachio. I'm not sure what the "almond sable" is supposed to be though; sometimes these food descriptions can get a bit too "creative:" cloud of rhubarb, anchovy blanket, galaxy of prawns, etc.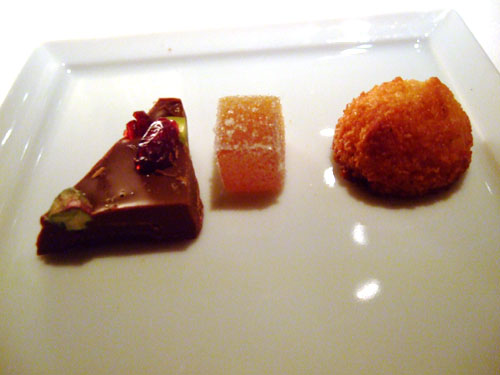 Mignardises
From left to right, we have chocolate with dried fruit and pistachio (excellent, again with the pistachio), pear-passion fruit gelée (forgettable), and coconut macaroon (superb, with a wonderful texture).
Overall this was a very solid meal, with top-notch ingredients and preparation, but I can't shake the feeling that the Chef, Ed Cotton, is holding back. Seeing as how Veritas is most known for its encyclopedic wine list, it seems like Cotton is purposely being conservative in his preparations, trying not to outshine the wine. Knowing the immense caliber of wines on Veritas' list, I must posit that such a feat is simply not possible. Veritas would be well served if Cotton and company were pushed to branch out a little.