Danube (New York, NY)
Danube
30 Hudson St, New York, NY 10013
212.791.3771
www.davidbouley.com
Fri 12/07/2007, 05:00p-06:05p
This was my last day in New York, which meant I had to catch a flight out of JFK at 9:00. Since I was going via subway, I had to leave around 6:30; thus, I had to find a restaurant that opened at 5:00. Danube was one of the most appealing choices, and just happened to be located only a few blocks from Greenwich Street. It is also interesting to note that this was my first foray with a restaurant that describes itself as Austrian.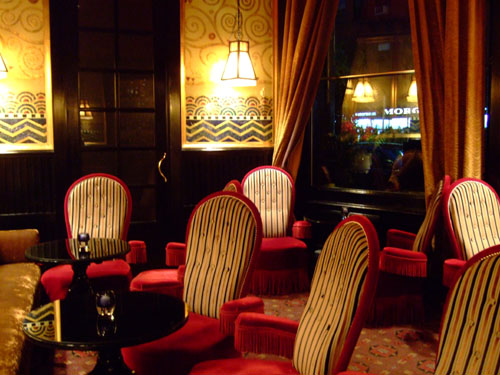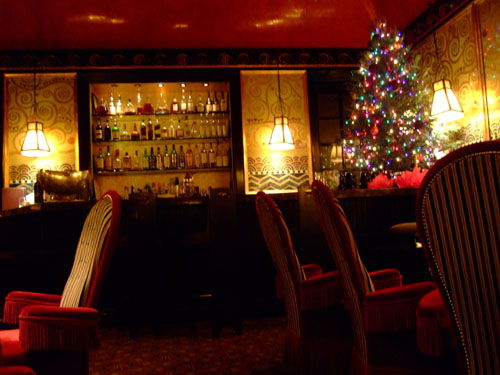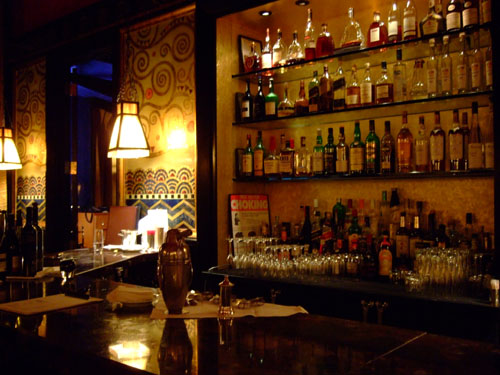 Danube's decor is lush and impressive, befitting of an Austrian castle I'd say. In fact, the restaurant's web site proudly claims it holds the number one spot for decor on the Zagat survey. Not quite, it's a 27, while there are five establishments rated 28 (Asiate, Daniel, La Grenouille, Per Se, and River Cafe if you're wondering). But in any case, I had no complaints. One enters through a lounge/bar area, before heading to the main dining room, which seats about 70.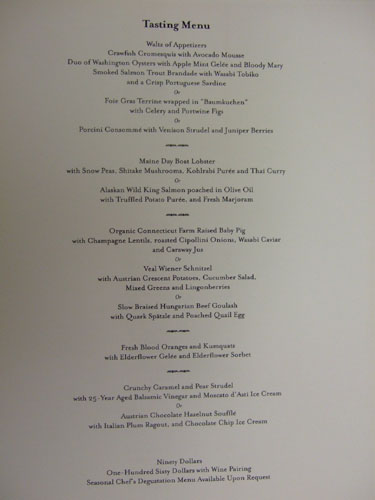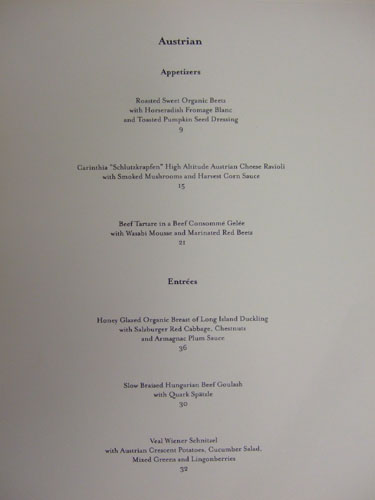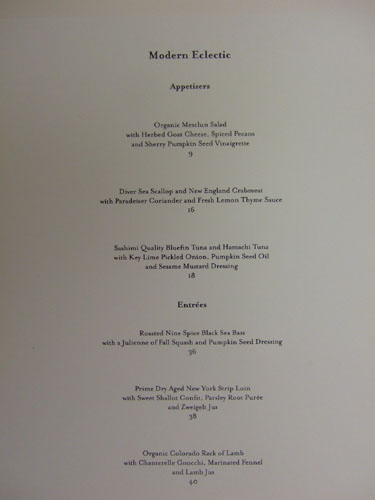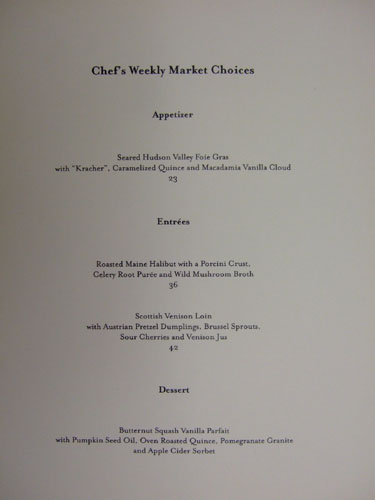 Under normal circumstances, I would've gone for the Tasting Menu (or more likely, the Seasonal Chef's Degustation Menu). But since I was strapped for time, I decide to go à la carte, building my own tasting menu out of appetizers. The menu is divided into an Austrian section and a lighter, more modern eclectic one. Click for larger versions.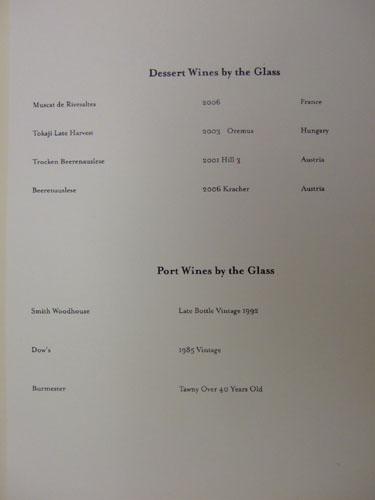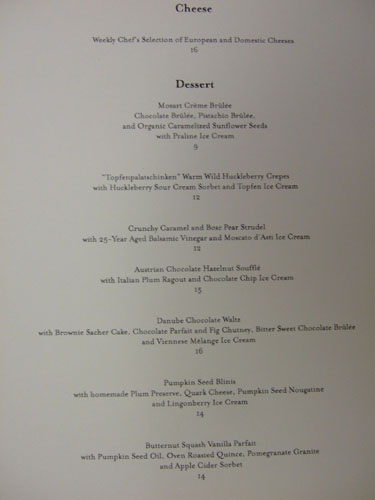 Danube offers an interesting selection of desserts paired with a small collection of dessert wines. Click for larger versions.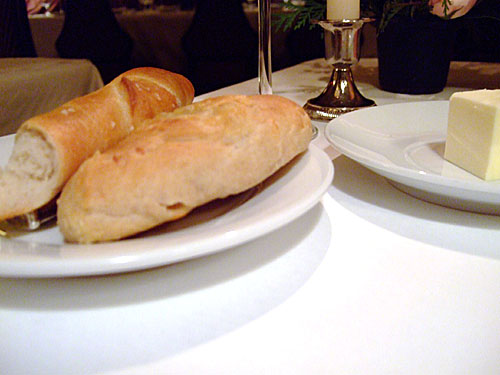 Four types of bread were offered: cheese, salted (both shown), poppy seed, and one more that I can't recall. All were quite tasty.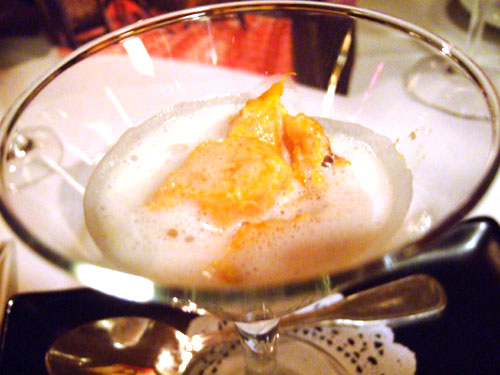 Amuse Bouche: Hokkaido Pumpkin
With Pumpkin Seed Foam. This was my first experience with this particular type of pumpkin. I'm not normally a fan, but this worked for me. The taste was more complex than your garden-variety pumpkin, with a subtle, rather than in-your-face sweetness to it. I had the dish with the restaurant's signature Danube cocktail: Austrian sparkling wine paired with elderflower syrup. I originally asked for a mojito, but was told they didn't have any mint. I then asked for a bellini, and my server recommended this instead.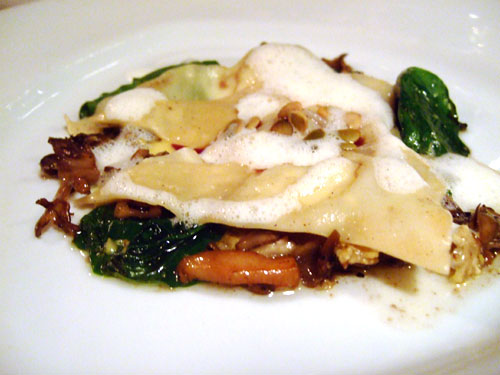 Carinthia "Schlutzkrapfen" High Altitude Austrian Cheese Ravioli
With Smoked Mushrooms and Harvest Corn Sauce. Very rich, dense, and hearty. I loved the mushrooms and spinach, though the ravioli wrapper itself was a bit insubstantial. This reminded me of the Open Faced Duck Confit Ravioli I had at
Walter's Bistro
in Colorado Springs. I paired a Grüner Veltliner, Buchegger-Gebling, Austria, 2006 with the course. Grüners are generally considered very food-friendly wines, and this was no exception. The wine had a strong mineral core, flanked by citrus and stone-fruit flavors.
Beef Tartare in a Beef Consommé Gelée
With Wasabi Mousse and Marinated Red Beets. The beef itself was encased in a gelée, which I felt didn't add much to the dish, except an interesting presentation element. I also thought that the beets were totally unnecessary. However, the tartare itself was fantastic, one of the best I've had actually. The beef was very finely minced with a selection of accoutrements that blended utterly harmoniously, while the wasabi mousse was a nice touch. Staying with the Austria theme, the wine here was a Zweigelt, Anton Bauer, Austria, 2006. If Grüner is Austria's signature white varietal, surley Zweigelt is the red equivalent. This example was medium in body, with red-fruit flavors laced with minerals.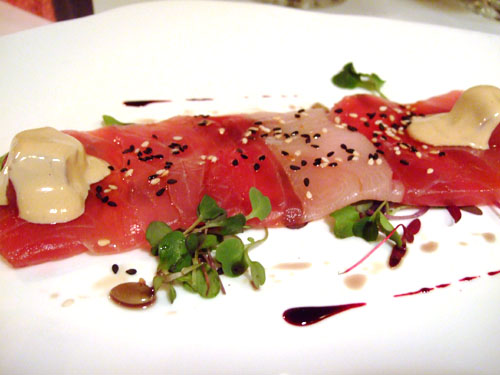 Sashimi Quality Bluefin Tuna and Hamachi Tuna
With Key Lime Pickled Onion, Pumpkin Seed Oil, and Sesame Mustard Dressing. This was my favorite course of the night. Even though the concept may not be the most original, execution was flawless. Fish quality was indeed "sashimi quality," and the sesame and mustard were natural complements. I also loved how they tiled the slices of fish together so seamlessly.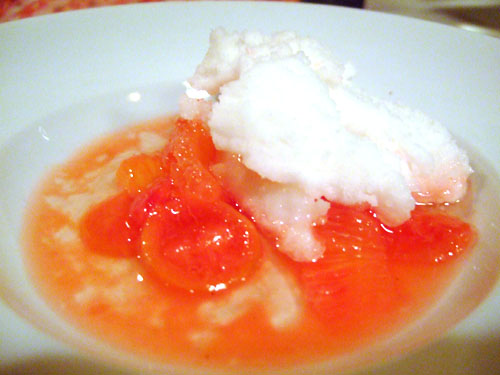 Pre-Dessert: Fresh Blood Oranges and Kumquats
With Elderflower Gelée and Elderflower Sorbet. This was a pleasant surprise, as pre-desserts usually come only with fixed menus; in fact, this was actually the same intermezzo that was in the Tasting Menu. As a palate cleanser, the dish worked very well, with sharp, cold, tangy flavors and textures that did surprise and tantalize the palate.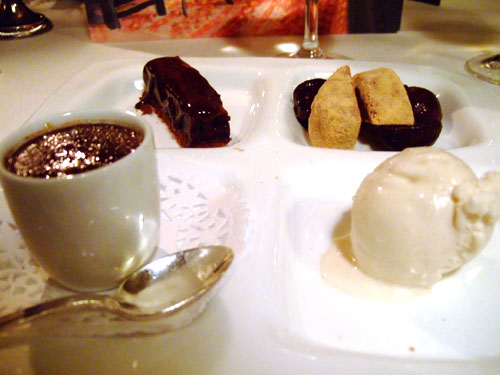 Danube Chocolate Waltz
With Brownie Sacher Cake, Chocolate Parfait and Fig Chutney, Bitter Sweet Chocolate Brûlée, and Viennese Mélange Ice Cream. My favorite was the brûlée, followed by the ice cream, though all were quite delicious. To complement this quartet, I needed something that would stand up to the rich chocolaty tones of the dessert. It was going to be TBA, no question, specifically, the Trockenbeerenauslese, Leo Hillinger Hill 3, Austria, 2001. This nectar was thick, viscous, with a dominant note of stone fruit and honey, a very representative TBA.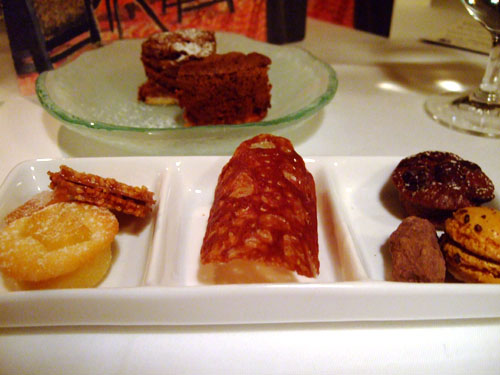 Mignardises
One of the best presentations of mignardises I've seen in a while. We have chocolate walnut cake in the back, tuiles, cookies, truffles, macarons, and macaroons (yes, they're different!).
I was pleasantly surprised by Danube. The service was top-notch (they did all they could to accommodate my time limitations), and I cannot fault the food. The blending of traditional Austrian-style dishes with contemporary fare works, in my opinion. And even though I ordered off the menu, I truly had a tasting menu experience. But next time I'm back, I'm definitely going to slow down and take it all in.