Asanebo (Studio City, CA)
Asanebo
11941 Ventura Blvd, Studio City, CA 91604
818.760.3348
http://www.yelp.com/biz/asanebo-studio-city (Yelp listing, restaurant has no web site)
Thu 01/03/2008, 08:15p-10:35p
The small stretch of Ventura Boulevard near Asanebo is literally teeming with Japanese restaurants: Ahi, Teru, Katsuya, Tama, Kazu, Dan, even the infamous Nozawa is there. One thing that sets Asanebo apart, though, is that it is the sole eatery in the area that has received a coveted Michelin star (others in Los Angeles are Matsuhisa, Mori, and of course,
Urasawa
).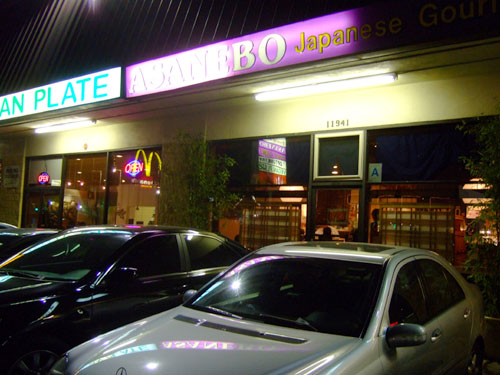 Asanebo's rather dingy strip mall setting definitely belies its pedigree. Interestingly enough, parking in the smallish lot is valet only. It did seem a bit pretentious though, especially when my car was parked 15 feet from the door. Both my dining companion and I noted the abundance of Mercs and Bimmers present.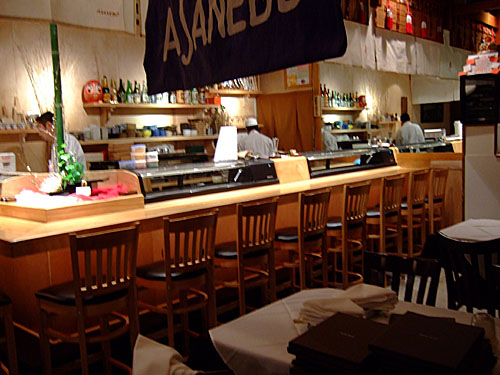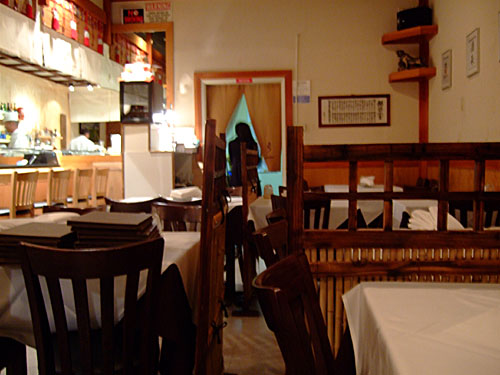 The decor is fairly typical for a Southern California sushi joint: lots of light wood, simple, straightforward, yet comfy and cozy. We were seated in the four-top closest to the window. Partially hidden by the hostess stand, it gave us some modicum of privacy.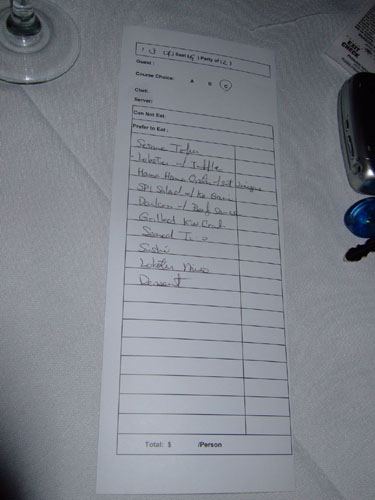 Asanebo offers plenty of à la carte selections, but naturally, we were here for the omakase. Three price levels are offered, with what we had, option "C," being the most luxurious. The menu was originally written in Japanese, but the hostess was kind enough to translate for us. Click for larger version.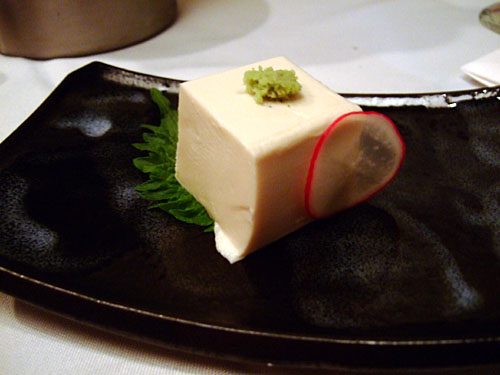 1: Sesame Tofu
This was unlike any tofu I've ever had before. Very thick and dense, it had a flavor note that we couldn't exactly identify; we only later found out that it was sesame. When eaten by itself, I found the sesame a bit too dominating, and needed to temper it a bit by adding soy sauce. Both the radish and wasabi also proved to be very helpful accoutrements.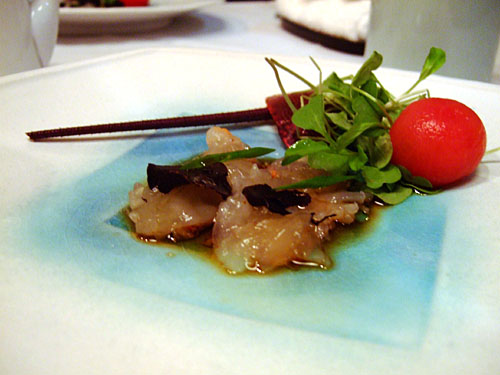 2: Lobster Sashimi with Black Truffle
I don't think I've ever had lobster prepared like this before, and I've been missing out! The sashimi had a nice, crisp bite to it, and a slightly sweet, yet fresh taste. The ponzu added to the experience, but didn't overpower; the black truffle was relatively mild by comparison. The course also came with what I believe was a peeled cherry tomato. The lack of skin gave the tomato a very intriguing mouthfeel, but what was more impressive was the burst of flavor that exploded in my mouth when I bit down; it was strangely impressive.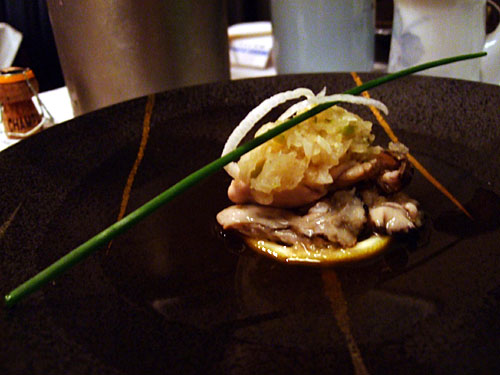 3: Hama Hama Oyster with Sweet Vinegar and Onion
Hama Hamas are harvested from Hamma Hamma River in Washington. Three rather large examples were presented on the plate here, along with a sweet, tart mixture of what I believe were onions. Now normally I prefer smaller oysters such as Kumamoto's for their crisper flavor, so I was pleasantly surprised by the Hama Hamas and their briny, mild flavor and firm texture.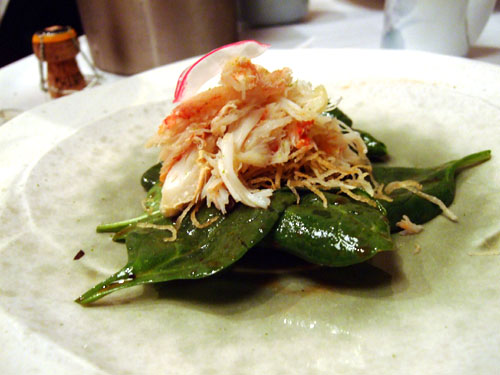 4: Spinach Salad with Crab
The spinach leaves were prepared in such a way that gave them a slightly crispy texture. Both my dining companion and I thought that the crabmeat could've have been a bit more tart (possibly by the addition of lemon juice), which I think would've better complemented the spinach's slight bitterness.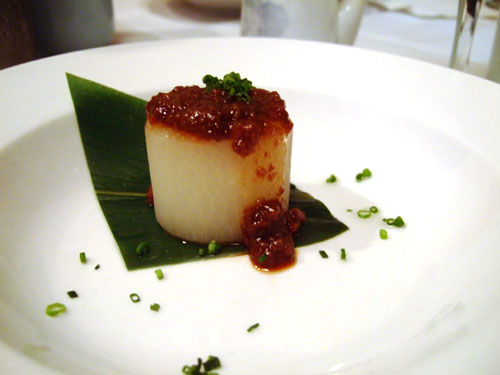 5: Daikon with Beef Sauce
Now this was interesting. We have a large cylinder of daikon (white radish) covered in a meat sauce. Our server told us the meat was "better than Kobe beef," but that claim proved to be hard to ascertain, given that we thought the preparation was akin to that of a Sloppy Joe. It was fairly tasty though, which definitely helped the dish, given the daikon's very mild flavor.
6: Grilled King Crab Leg
Did you know that the king crab isn't technically a crab? Mind blowing I know. In any case, this was the quintessential king crab leg, with a soft, sweet, and mildly briny flesh that easily picked away from the shell.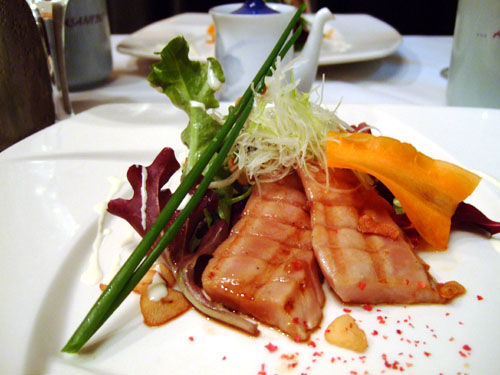 7: Seared Toro
I'm a huge fan of toro, but rarely have the opportunity to have it cooked. In fact, for me, not much compares to a good toro nigiri. With that said, this was a completely different experience than having it raw. Upon biting down on a piece, there was a near explosion of oil in the mouth. I don't think I've ever had fish that was so rich and unctuous! This was my dining companion's favorite course of the night, and one of mine as well, though I must say that I still prefer toro raw or lightly seared.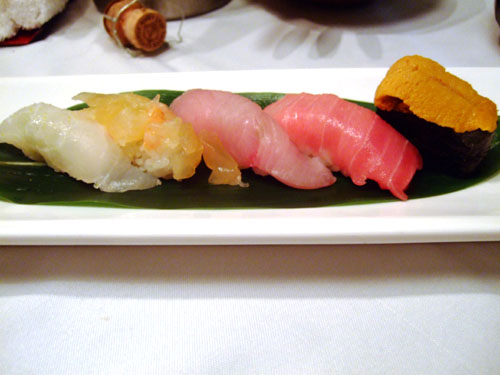 8: Sushi
From left to right, we have: whitefish (halibut I believe, clean, mild, fresh, exactly what I'd expect), lobster (my first time with lobster nigiri, similar to the sashimi above), hamachi (a textbook yellowtail), chu-toro (very nice, I could've mistaken this for o-toro), and uni (I'm not usually a huge fan of uni, but this was quite pleasant, with a great texture). Though all five pieces of nigiri were quite delicious, I would've liked to have sampled a few more varieties, such as sweet shrimp or salmon.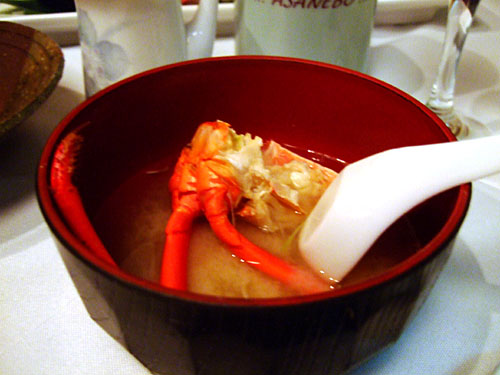 9: Lobster Miso Soup
This was a hearty preparation of the classic miso soup. It could've stood well enough on its own, so the lobster was a nice but unnecessary addition, one which added some interesting flavor notes that you don't typically find in miso soup. Unfortunately there wasn't too much meat on the lobster to be picked off.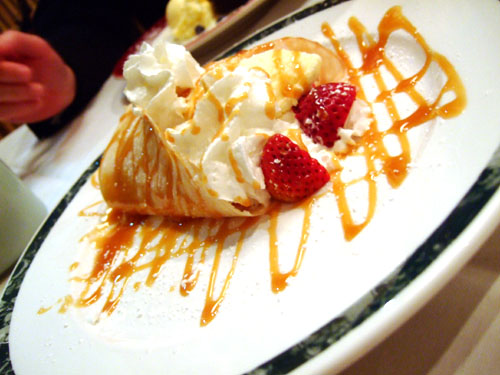 10a: Banana Crepe
Whipped Cream, Strawberries, Caramel Sauce. For the dessert course, we had a choice among the items on the normal à la carte menu, and this was my dining companion's choice. I did have a few bites however, and I must say that this was one of the better crepes I've had, not too heavy, yet still flavorful and satisfying.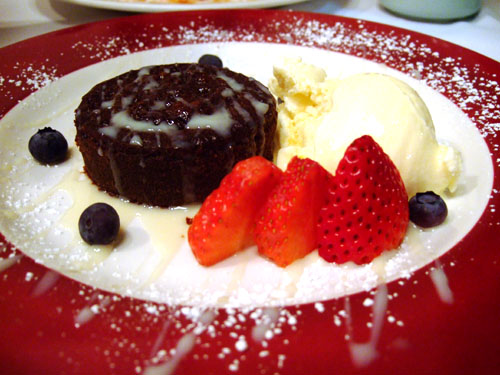 10b: Hot Chocolate Cake
Vanilla Ice Cream, Strawberries, Blueberries. This was my selection. It seems like nearly every restaurant has some sort of version of a hot chocolate cake. This example was quite dense, not too sweet, and played well enough with the vanilla ice cream. Tasty, but nothing special.
Based off this experience, I believe Asanebo can indeed stand out from the myriad of Japanese restaurants in Los Angeles. In terms of service, some of the courses were indeed brought out too quickly, but other than that faux pas, service was expedient and friendly. Also, I sensed a great commitment to quality, with an appreciation for the sanctity of ingredients and purity of preparation. I just wished there was more emphasis on sushi or sashimi. So next time I'm here, I'd probably eschew omakase and order off the menu.