Picasso (Las Vegas, NV)
Picasso
3600 Las Vegas Blvd S, Las Vegas, NV 89109
877.234.6358
www.bellagio.com/restaurants/picasso.aspx
Fri 01/25/2008, 06:00p-08:20p
Long before the advent of
Joël Robuchon
and Guy Savoy, Picasso was perhaps one of the first "serious" fine dining restaurants in Las Vegas. The opening of the Bellagio in 1998 ushered in a new era of luxury in Las Vegas, and Julian Serrano's Picasso was the perfect culinary complement to such unbridled opulence.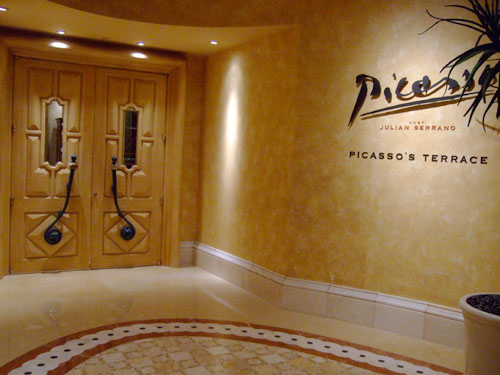 Picasso is situated along Bellagio's waterfront, across from Jean-Georges Vongerichten's Prime steakhouse. This location provides diners with superb views of the hotel's
Fountains of Bellagio
show.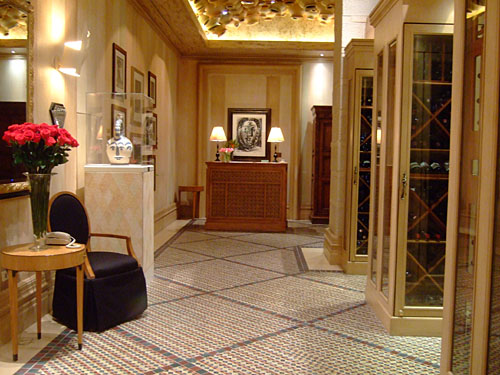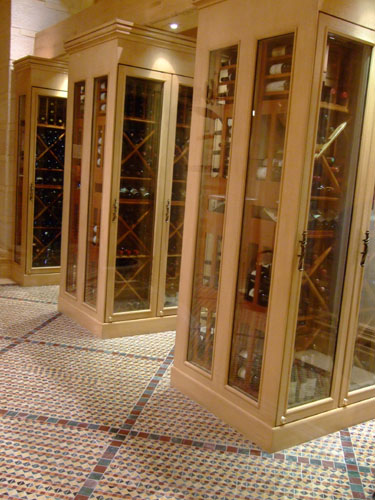 The main lobby affords patrons a good view of the restaurant's wine cellar, which holds over 1,000 bottles.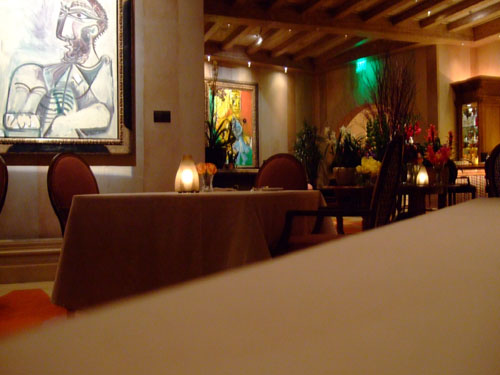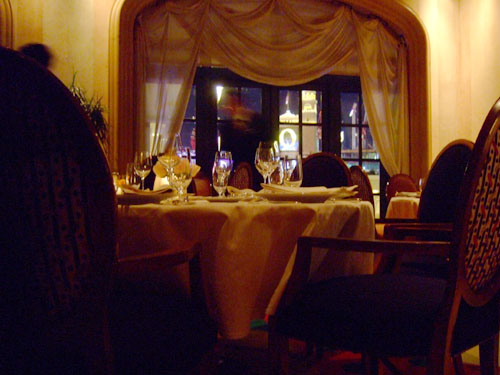 I found Picasso's dining room comfortable but a bit uninspired, though it was livened up by the presence of genuine Picasso paintings dotting the walls.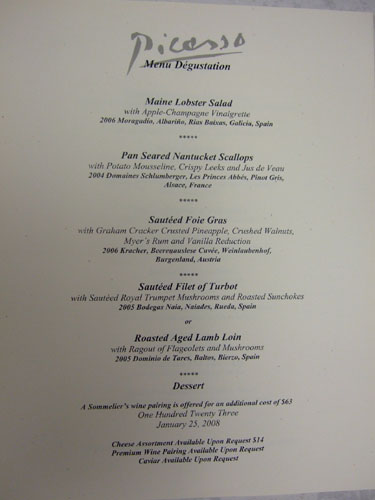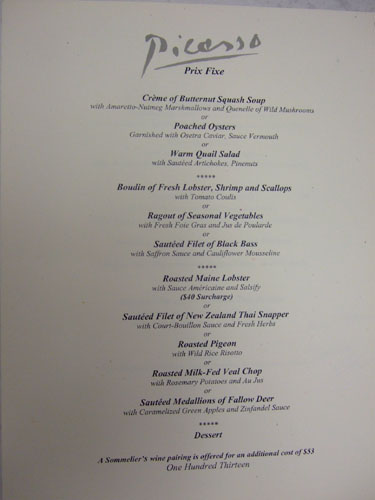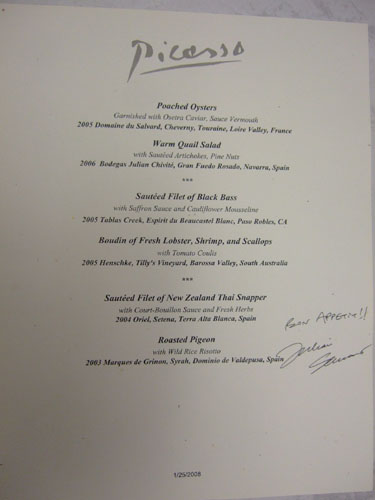 Picasso offers a four-course prix fix menu, or a five-course degustation (only five? How passé!). Given the minimal difference in the number of courses, we actually went for the prix fix, as it gave us a bit more flexibility. Note the signature of Chef Serrano. Click for larger versions.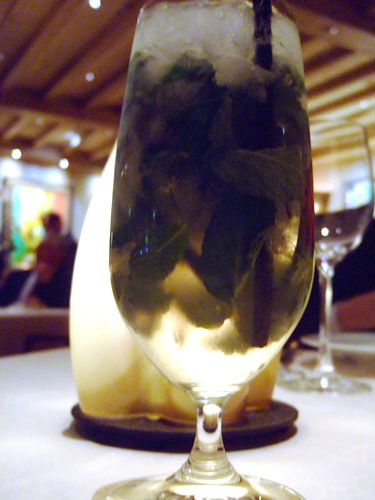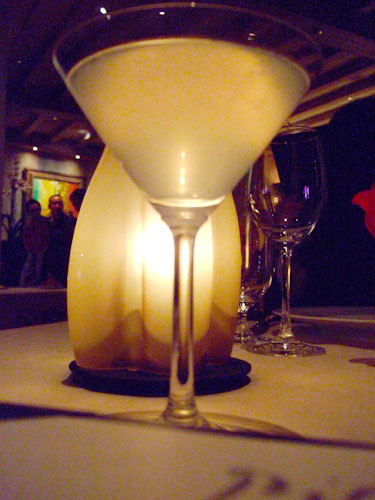 Of course, I started with a mojito (good, but nothing to write home about), while one of my dining companions enjoyed a pear martini.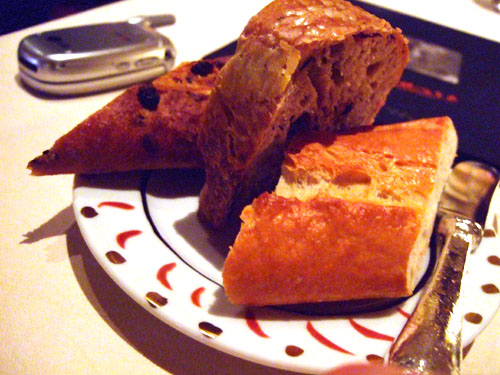 Three types of breads were offered: walnut raisin, black olive, and French baguette. The embossed butter was a nice touch.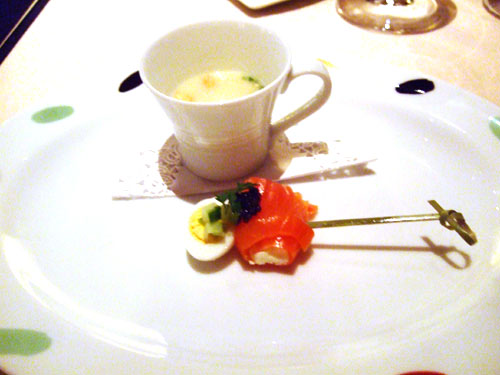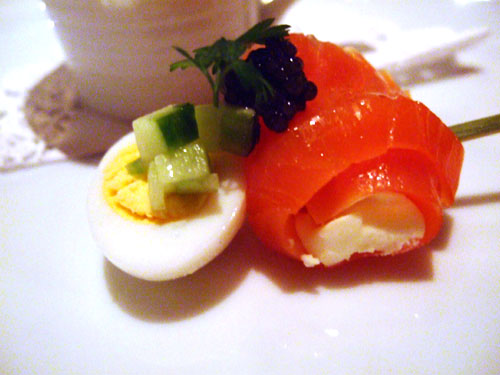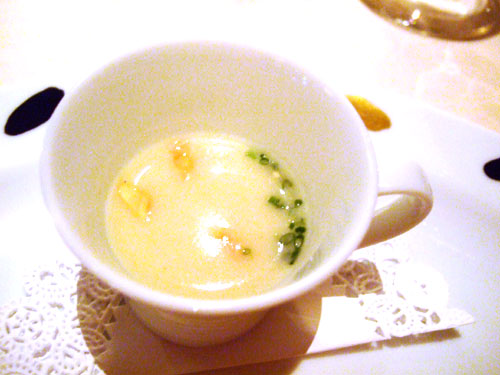 Amuse Bouche: Scottish Salmon
With Quail Egg, Caviar, Cucumber Salad, Crème Fraîche & Potato Leek Soup with Onions and Chives. The salmon had a firmer texture than expected, but matched wonderfully with its accompaniments. The egg and crème fraîche provided a mild creaminess that paired beautifully with the crispness of the cucumber and the salty tang of caviar. Meanwhile, the potato leek soup (smooth, savory, rich, and very satisfying) provided a nice temperature contrast.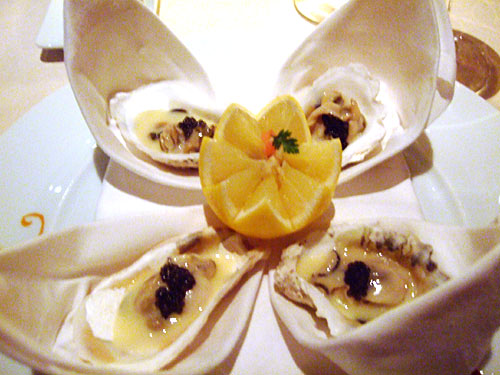 1a: Poached Oysters
2005 Domaine du Salvard, Cheverny, Touraine, Loire Valley, France
Garnished with Osetra Caviar, Sauce Vermouth. The poaching gave the oysters a firm texture that I thought was quite enjoyable, though one of my dining companions would disagree with this point. Compared to a raw preparation, I found the oysters to be milder, creamier, and less acidic. The flavor of the oysters themselves was tempered, allowing the caviar and vermouth to take a larger role. Lovely. The wine was tart, lean, and crisp, with mineral notes and a refreshing finish; it paired wonderfully with the oysters.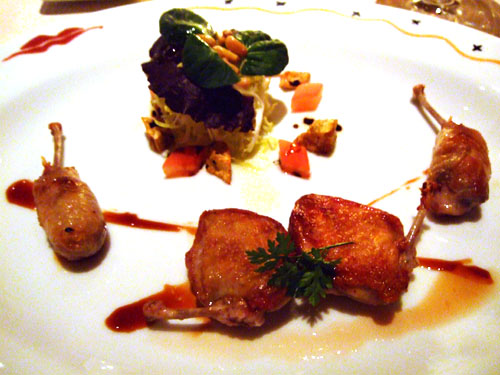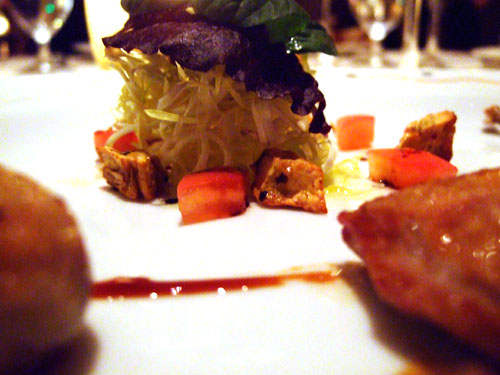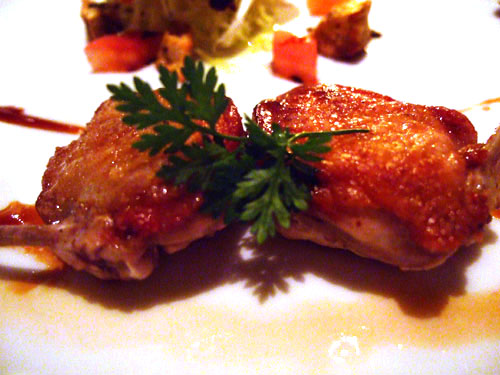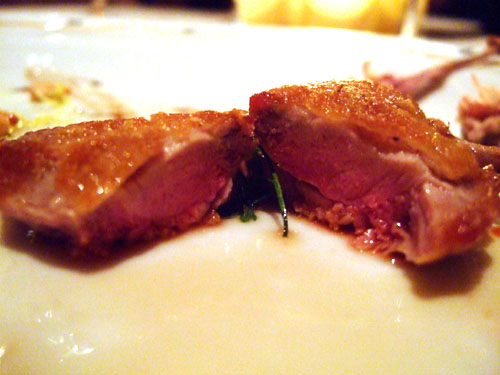 1b: Warm Quail Salad
2006 Bodegas Julian Chivité, Gran Feudo Rosado, Navarra, Spain
With Sautéed Artichokes, Pine Nuts. There were two distinct parts of the bird presented here. The sausage-like piece was noticeably fattier, oilier, and richer; my dining companions liked this better. Though both were excellent, I had a slight preference for the other preparation, which was firmer in texture and more complex in flavor, though not quite as succulent. This was my favorite course of the night. The wine here was a rosé, which showed typical acidity and mild tannins, along with hints of berry; it may have been a bit light for the quail however.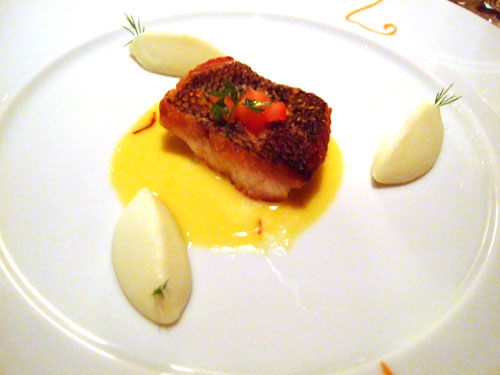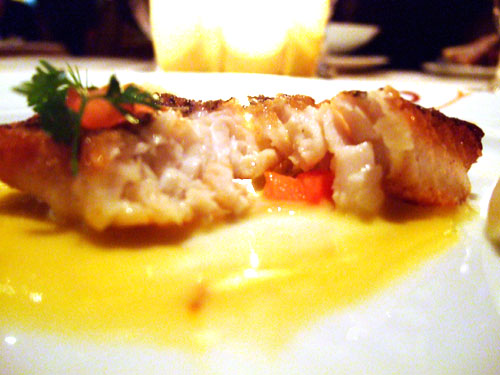 2a: Sauteéd Filet of Black Bass
2005 Tablas Creek, Espirit du Beaucastel Blanc, Paso Robles, CA
With Saffron Sauce and Cauliflower Mousseline. The bass had great texture, firm yet flaky, and was complemented nicely by the saffron sauce. I loved the fish's flavorful, crispy skin. The Tablas Creek was a Rhone-style white blend. Sharp and biting, it displayed notes of spice, stone fruit, and citrus. A good complement to the bass.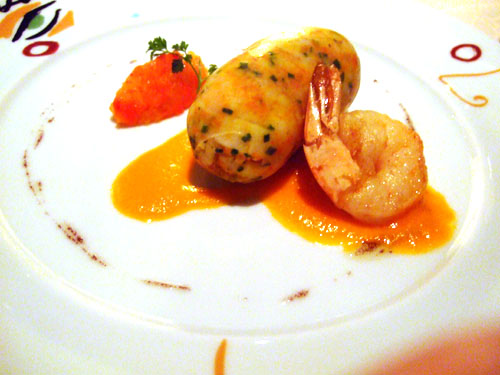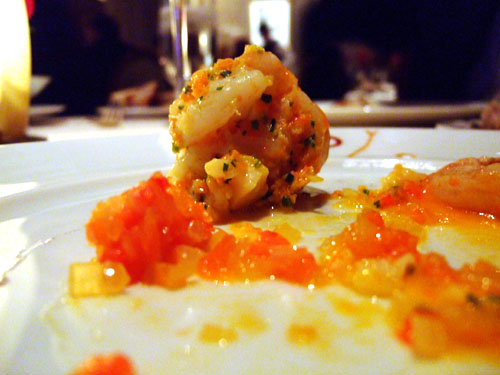 2b: Boudin of Fresh Lobster, Shrimp, and Scallops
2005 Henschke, Tilly's Vineyard, Barossa Valley, South Australia
With Tomato Coulis. Think of this as a seafood sausage. My first bite of the accompanying shrimp was disappointing, as it was overcooked and a bit tough. The boudin itself, however, was quite tasty, though I thought the dish could've done with less of the tomato coulis, which tended to hide some of the seafood's natural flavors. As for the wine, we had another white blend. The Henscke showed strong citrus flavors, which actually went quite well with the coulis.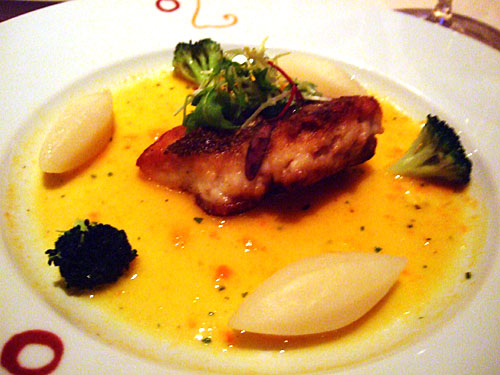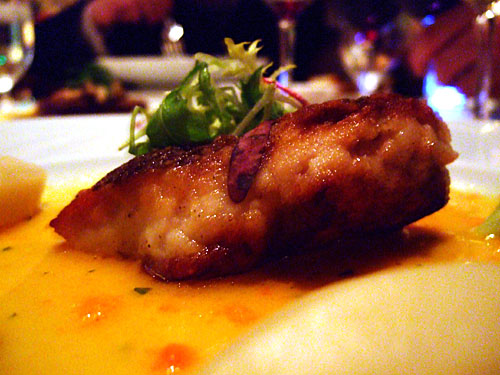 3a: Sauteéd Filet of New Zealand Thai Snapper
2004 Oriel, Setena, Terra Alta Blanca, Spain
With Court-Bouillon Sauce and Fresh Herbs. The fish was fresh and well prepared, with good texture, and very delicate in flavor. This mildness allowed the bouillon sauce and other accompaniments to come to the forefront, which paired deliciously with the Oriel. I thought the broccoli was a bit odd of a complement though.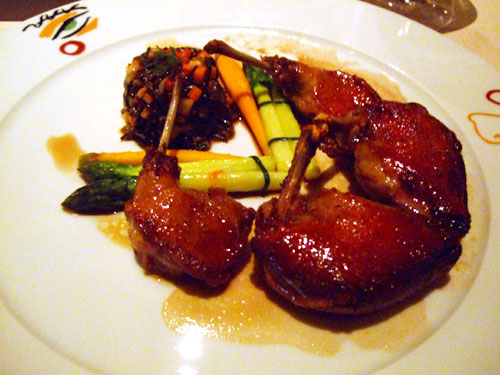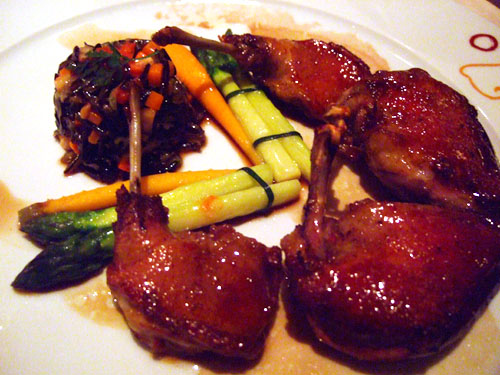 3b: Roasted Pigeon
2003 Marques de Grinon, Syrah, Dominio de Valdepusa, Spain
With Wild Rice Risotto. Given my propensity for squab, I was a bit let down by this pigeon (squab is merely a young pigeon). Texture-wise, the meat was tougher and stringier than I'm accustomed to, while the flavor was muted by comparison. I usually find squab to be immensely succulent and savory, which was not the case here. The bird wasn't helped by the vegetables and risotto, which seemed like afterthoughts. The Syrah was a decent effort, very smoky and meaty, if not a bit overpowering.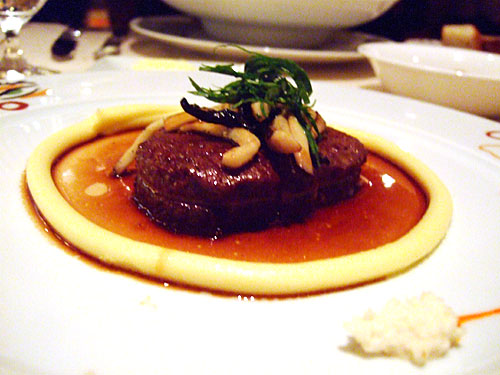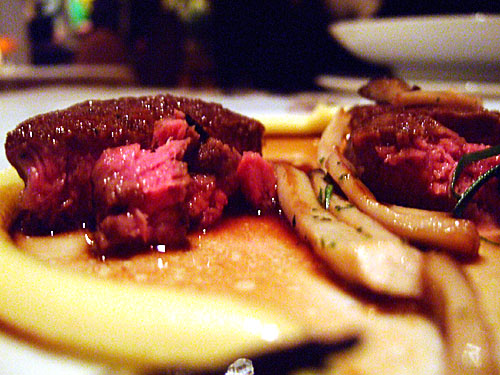 A5 Wagyu Beef
2000 Quest, Margaux, France
With Mushrooms, Mashed Potatoes. Prepared medium-rare, the beef was tender and fatty enough, but lacked the texture I prefer; it just didn't cut very well. In addition, the sauce was a bit overwhelming; for me, a good cut of beef should be able to stand on its own. See
CUT
for my definition of what a Wagyu steak should be. A letdown, especially for $160(!). The Quest was easy drinking and quite lovely, with soft tannins and notes of smoke and raspberry.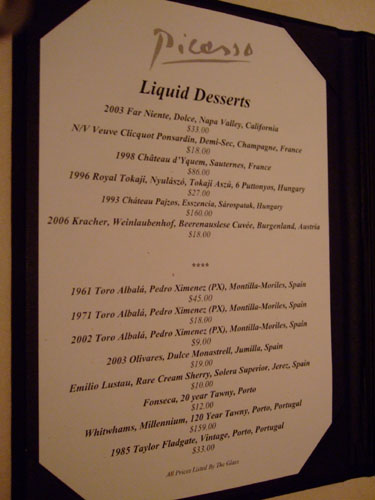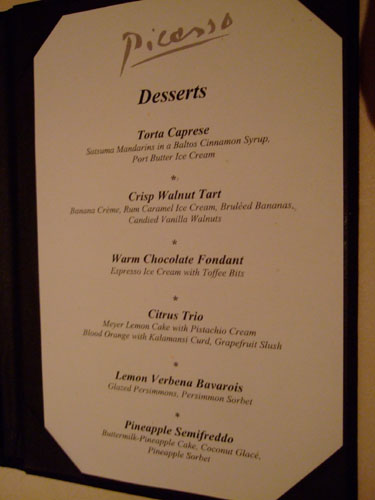 For dessert, we had a choice of items for the dessert menu. Disappointingly, the wine pairings did not include dessert wine. But since I had a four-hour drive back to Southern California ahead of me, I decided to forego it in any case. Click for larger versions.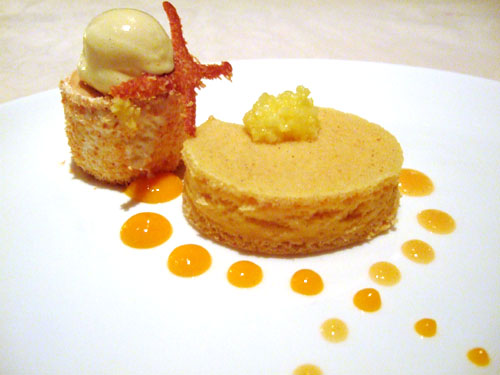 4a: Pineapple Semifreddo
Buttermilk-Pineapple Cake, Coconut Glacé, Pineapple Sorbet. My favorite dessert. A great assortment of textures and nuances, all held together by a common theme of pineapple.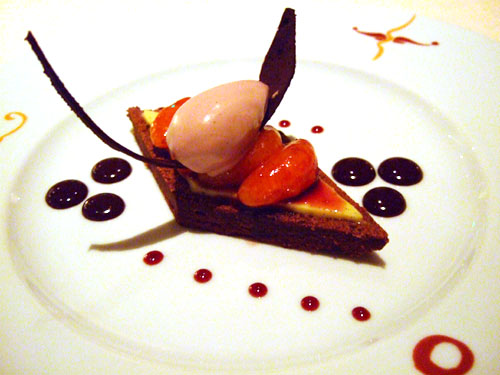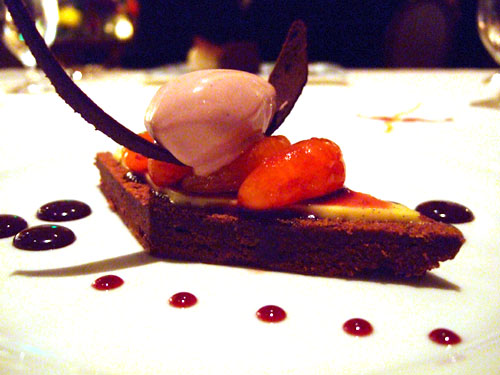 4b: Torta Caprese
Satsuma Mandarins in a Baltos Cinnamon Syrup, Port Butter Ice Cream. The cake portion was rich, dense, and flaky, while the ice cream and satsumas added another layer of substance and flavor. Very nice.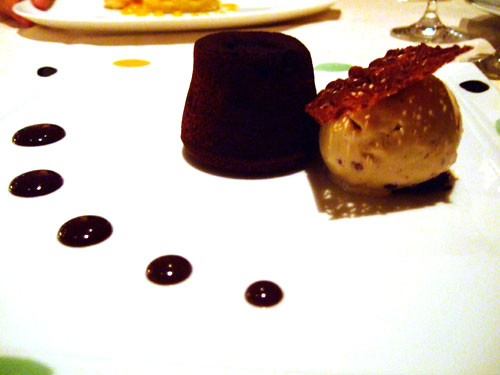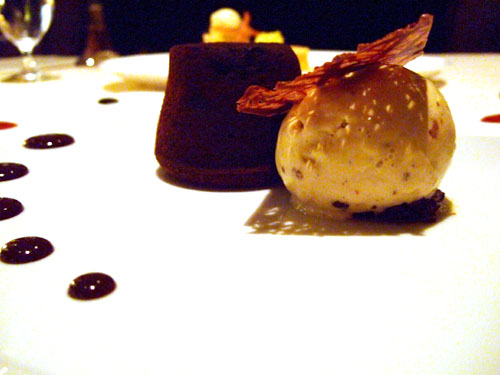 Warm Chocolate Fondant
Espresso Ice Cream with Toffee Bits. Good, but very similar to all the "warm chocolate cakes" I find at restaurants these days. The espresso ice cream and toffee did help mix things up though.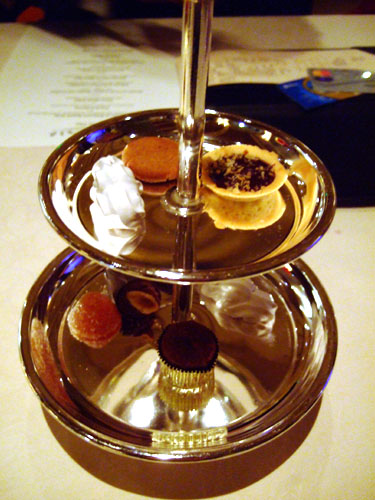 Mignardises
A nice selection of truffles, gelées, et al. A tasty way to end the meal.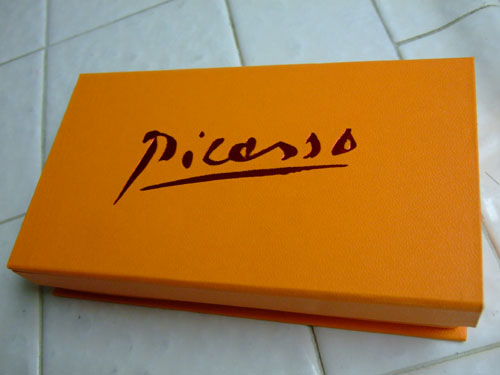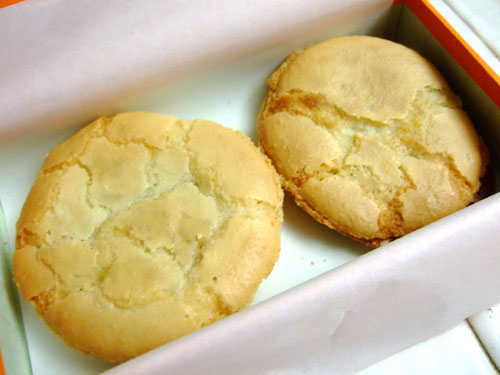 Take Away
These were cookies filled with a fruit marmalade-like substance. I thought they were quite good, if not a bit sticky. What really impressed me was the box, which seemed to be quite well made and featured a magnetic closure.
I remember that the last time I was in Vegas (which admittedly was a while ago), Picasso was considered the best restaurant in the city. At a price point of over $100, it was something almost unattainable to me. However, on this most recent trip, it seemed a bit pedestrian, like just any another restaurant, with good, but not spectacular food. Has my palate just evolved so much? Or has the restaurant indeed gone down a notch? To be sure, Picasso has indeed lost some of its luster, having been eclipsed by the likes of Guy Savoy, Joël Robuchon, and even Alex. My question is: will the restaurant adapt and improve, or will it continue to fade?