Craft (Los Angeles, CA)
Craft
10100 Constellation Blvd, Los Angeles, CA 90067
310.279.4180
www.craftrestaurant.com/craft_losangeles_style.html
Tue 01/08/2008, 06:00p-09:20p
Craft Los Angeles opened last year as the newest entrant into Tom Colicchio's growing restaurant empire. Colicchio, of course, is best known as the founder of the much-lauded New York eatery Gramercy Tavern; he was also a judge on TV's
Top Chef
.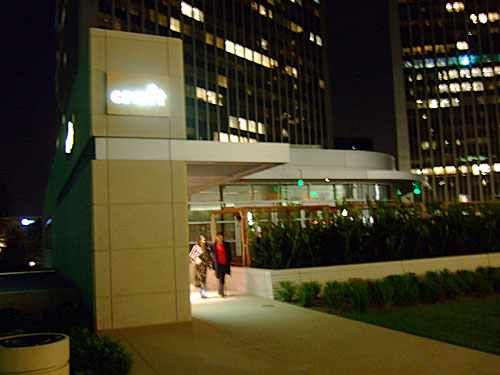 Craft is located in Century City, sandwiched between the Century Plaza Towers (the two triangular buildings that form one of the most recognizable landmarks of the neighborhood) and the newly constructed CAA building (a landmark in the making). As such, the restaurant sees its share of bankers and agents, especially during lunch service.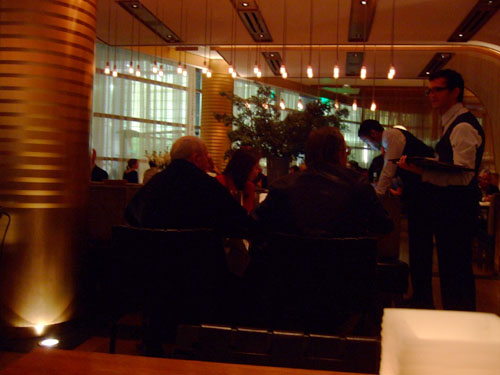 One enters the restaurant near the bar/lounge area before moving on to the main dining room (pictured). Anchored on one side by a private dining room and wine cellar, the room consists of a mix of booths, tables, and benches, and holds over 100 diners.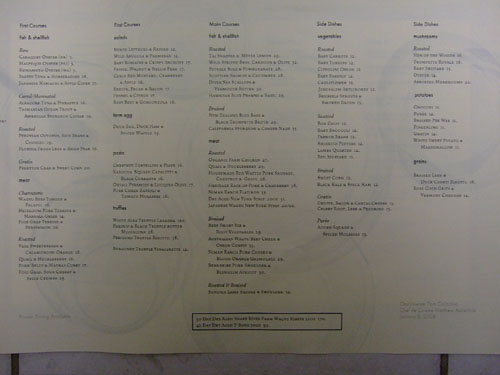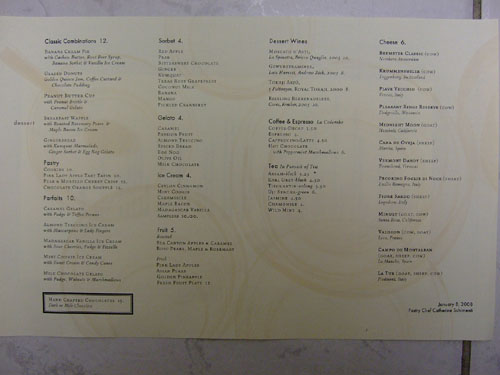 Craft's menu is diverse and should have something for everybody. Although it changes regularly, the menu maintains a core set of items; thus diners should expect a consistent gastronomic theme, while still being provided with a wealth of new items to try on each visit. The Chef de Cuisine is Matthew Accarrino, while Catherine Schimenti takes the role of Pastry Chef. Click for larger versions.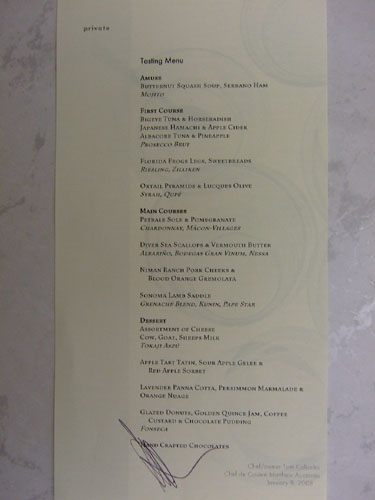 Of course, for me, ordering à la carte is virtually verboten. But Craft doesn't offer a tasting menu, or does it? I was told by the hostess that guests wanting such a menu usually call and arrange in advance. However, I asked nicely and the kitchen was kind enough to grant me my wish. Note that courses 2 and 6 were omitted from the custom-printed menu above. Click for a larger version.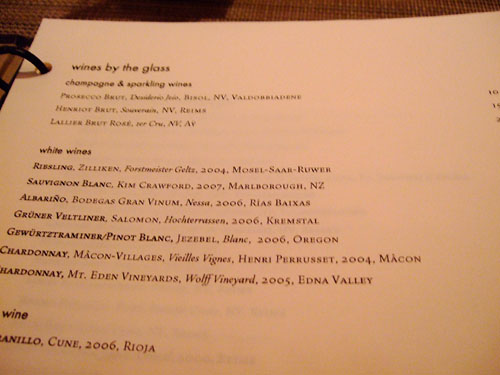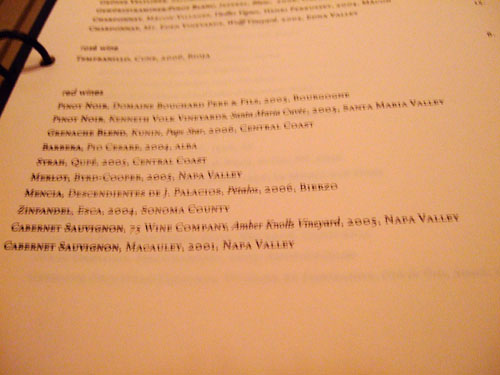 Craft presents a fair selection of wines by the glass, with nearly every conceivable varietal offered in some form or another. Click for larger versions.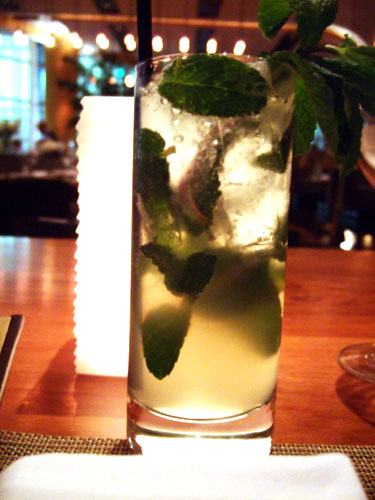 I think it's reached a point where I feel odd if I
don't
order a mojito to start! In any case, this was a fine example, though with more of an emphasis on the lime than the sugar. They didn't hold back on the rum, that's for sure.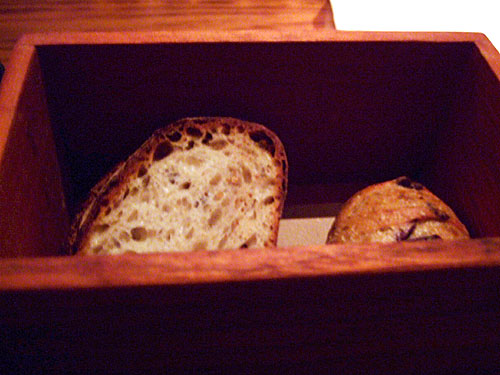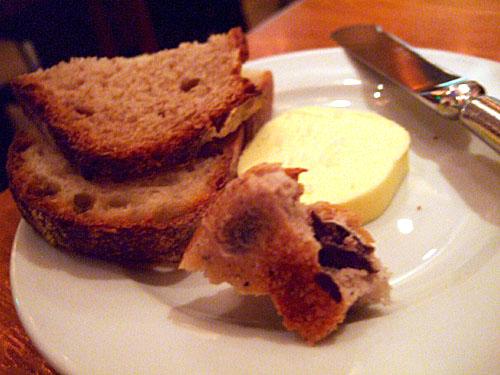 Three types of bread were offered: a standard wheat, olive (my favorite), and walnut-raisin. The butter was of soft texture and nicely salted.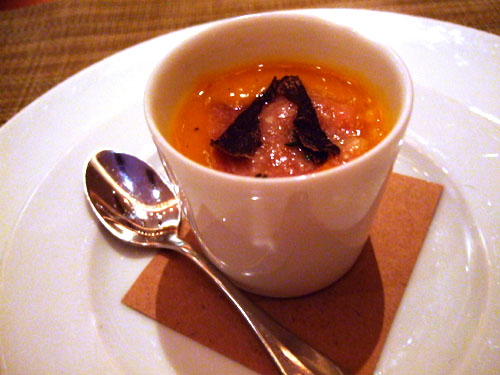 Amuse Bouche: Butternut Squash Soup
Serrano Ham, Black Truffle. This actually reminded me a lot of the butternut squash soup I had at
Veritas
. As with Veritas, the squash proved subtle and silky, while the truffle and ham added some stronger complementing notes.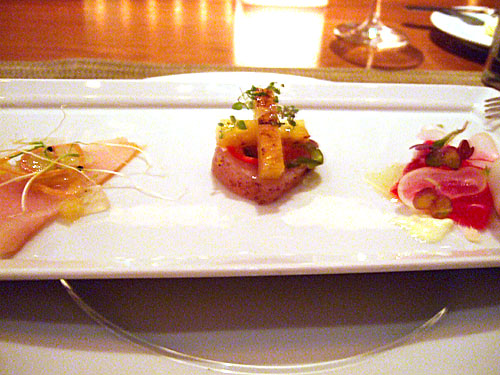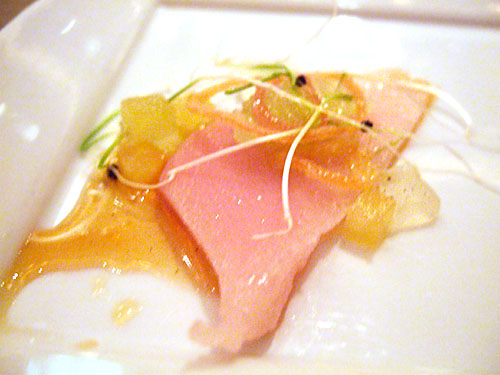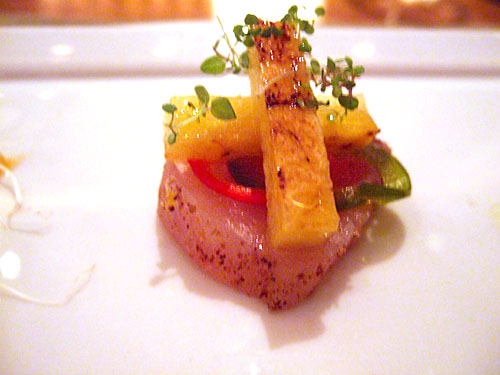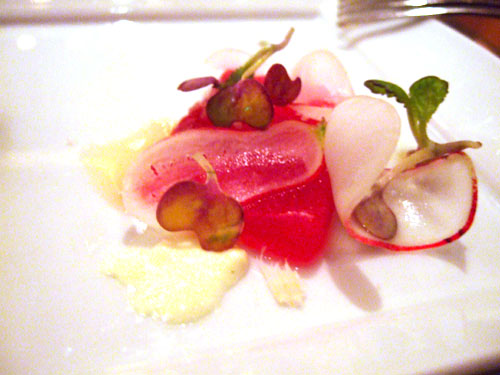 1: Sashimi Trio
Prosecco Brut, Desiderio Jeio, Bisol, NV, Valdobbiadene
From left to right, we have: Japanese Hamachi & Apple Cider (the pairing of apple cider fell flat for me, while the hamachi itself was a bit dull), Albacore Tuna & Pineapple (I was a bit skeptical of the pineapple, but it worked; great texture on the albacore; my clear favorite), and Bigeye Tuna & Horseradish (perhaps I've just been spoiled with toro, but I thought the tuna lacked sufficient fattiness and flavor; this was helped by the horseradish however). I'm a big fan of having a sparkler with sushi/sashimi, and the Prosecco worked brilliantly here. It's light citrus fruit notes paired beautifully with the various fishes and their accoutrements.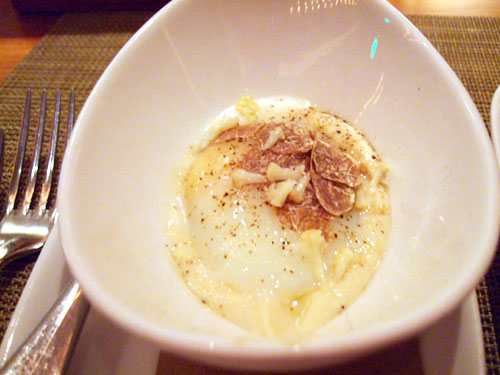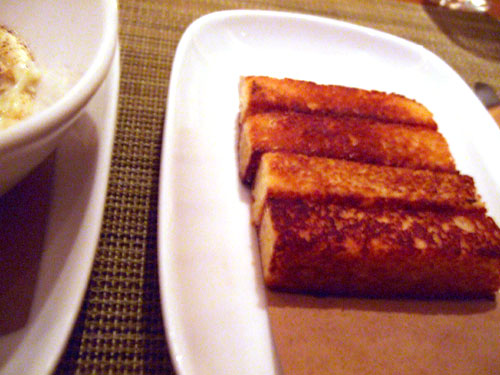 2: Duck Egg
White Truffle, Toasted Brioche. The egg, by itself, was rather nondescript and pretty much indistinguishable from a chicken egg to me, though the truffle did add a nice pungency to the dish. The brioche, on the other hand, was superb. I don't think I've ever had a preparation so rich and flavorful; it was a pleasure using it to mop up the runny bits of egg.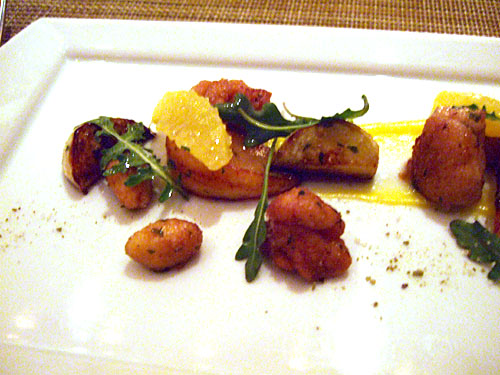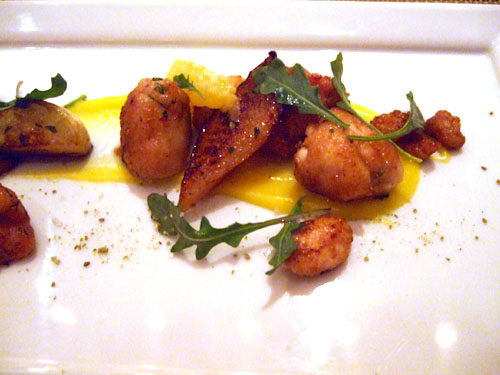 3: Florida Frogs Legs, Sweetbreads
Riesling, Zilliken, Forstmeister Geltz, 2004, Mosel-Saar-Ruwer
Asian Pear, Calamondin Orange, Cipollini Onion. At first, I actually had some difficulty visually discerning the frog from the sweetbreads (the frog's legs are the larger pieces). Taste-wise however, the difference was clear. The frog's legs were light, tender, and although I hate to be clichéd, they did taste a bit like chicken. Meanwhile, the sweetbreads had the mildly salty flavor and slightly crispy texture that I've come to know and love. This was one of the best dishes of the night for me. I did enjoy the paired Riesling, which had classic aromas and flavors of stone fruit and apple, while also projecting subtle mineral notes. The wine was light and refreshing, with a medium-length, balanced finish.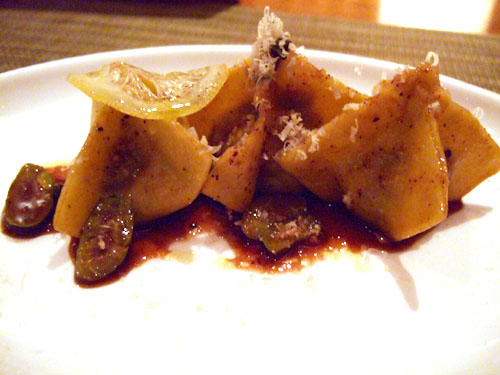 4: Oxtail Pyramids & Lucques Olive
Syrah, Qupé, 2005, Central Coast
Thick pasta shells concealed superbly flavored, super-tender morsels of oxtail, while the olive added a stark contrast. I imagine that the meat was probably braised or otherwise slow-cooked, to attain this kind of taste and texture. This was one of my favorites of the night. As for the Syrah, it was typical for the varietal, with an earthy, strong nose of meat and berry, wrapped around a core of black fruit and a bit of leather. It was a bit tannic but played well with the oxtail. As a side note, Qupé also seems to be popular at Michael Mina restaurants, such as the
original
in San Francisco, as well as
Stonehill Tavern
in Dana Point.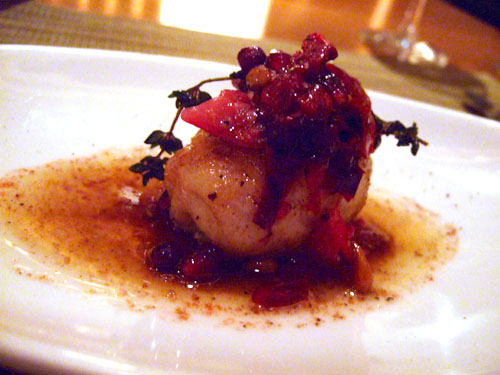 5: Petrale Sole & Pomegranate
Chardonnay, Mâcon-Villages, Vieilles Vignes, Henri Perrusset, 2004, Mâcon
Classic sole taste and texture here, which meant the dish could've gone with fewer trappings, though the pomegranate did add a tangy twist to the fish. I'm not a huge fan of Chardonnay, especially when done in the Burgundian style, but I found the Henri Perrusset quite drinkable, with appealing honey and floral aromas, leading to similar notes on the palate. It worked with the sole and especially the pomegranate accompaniment.
6: Unknown Fish
Unfortunately, the menu I received at the end of the meal was missing two items, and this was one of them (I was able to figure out the duck egg above). Perhaps it was the alcohol, but I cannot for the life of me remember what this dish was. I suspect this might have been the Scottish Salmon & Cucumber from the menu, but I can't be certain. The fish's texture was firm, not flaky, and not oily, while the sauce it was covered in had an almost minty, yet salty flavor to it. Overall quite tasty. This shall forever remain a mystery.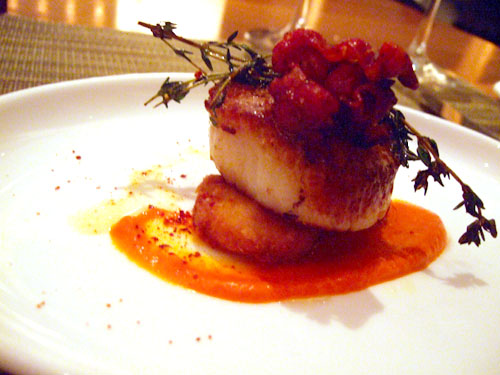 7: Diver Sea Scallops & Vermouth Butter
Albariño, Bodegas Gran Vinum, Nessa, 2006, Rías Baixas
Piquillo Pepper, Potato Cake. This was one of the best courses of the night for me. The scallop was perfectly cooked, with a fresh, briny flavor that stood by itself, while also working with the other elements of the dish. I loved the potato as well. The Albariño was light in weight, with slightly spicy and herbaceous notes, leading to a clean finish.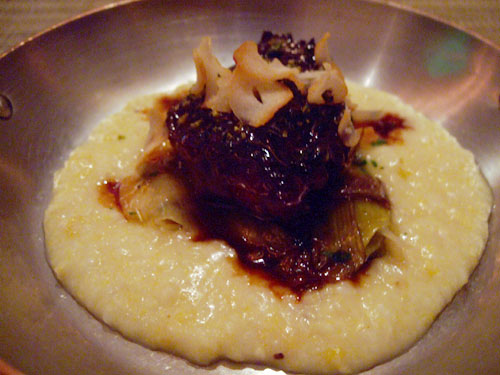 8: Niman Ranch Pork Cheeks & Blood Orange Gremolata
I almost never order pork at a restaurant (along with chicken), perhaps because the pork I usually have is generally tough and lacking in flavor. I'm glad to report that was not the case here. The meat itself was indeed very savory, while texture-wise, I was able to cut it using only my fork. The key was that pork cheek is a rich, fatty, succulent cut that originates, not surprisingly, from the pig's cheek; it's also typically braised, which definitely helps with tenderness.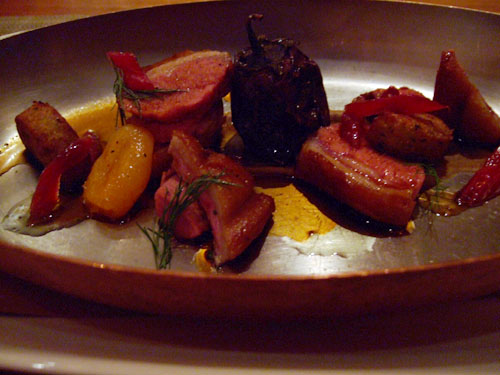 9: Sonoma Lamb Saddle
Grenache Blend, Kunin, Pape Star, 2006, Central Coast
The saddle of lamb is another name for the lamb loin, which is where the most tender and expensive cuts of lamb come from, such as loin chops and loin roasts. With that said, this was quite unlike any lamb chop I've had before, but unfortunately not in a positive way, as I thought the meat wasn't as tender or as succulent as I'm used to. The Kunin was soft and silky, with pronounced berry, meaty, and spicebox notes, leading to a lingering finish; it proved a capable complement to the lamb.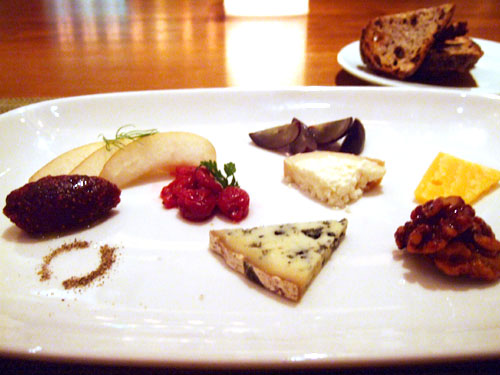 10: Assortment of Cheese
Tokaji Aszú, 5 Puttonyos, Royal Tokaji, 2000, Hungary
Cow, Goat, Sheep's Milk, with appropriate accompaninents. A nice presentation of fromage to transition into dessert; my favorite was the cheese in the foreground (unfortunately I don't recall the name). I used to be quite wary of cheese courses, but now they've become something expected, or desired actually. There is truly a lot you can do with cheese. Paired here was the omnipresent Tokaji Aszú. Rich and viscous, the Tokaji presents hints of stone fruit, citrus, and honey on the nose, while becoming heavier and more complex on the midpalate and finish.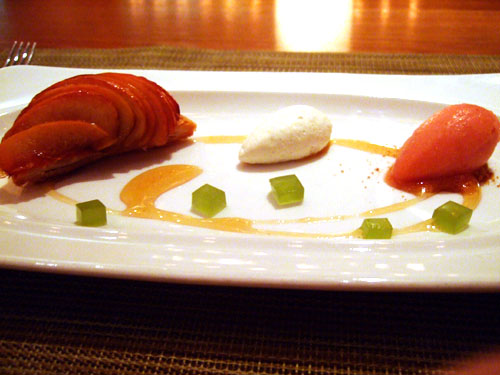 11: Apple Tart Tatin
Sour Apple Gelee, Red Apple Sorbet. The warm apple tart itself was good but a bit pedestrian, while I did quite enjoy the sour and refreshing nature of the apple sorbet. Unfortunately, I forget what exactly the item in the middle of the dish is.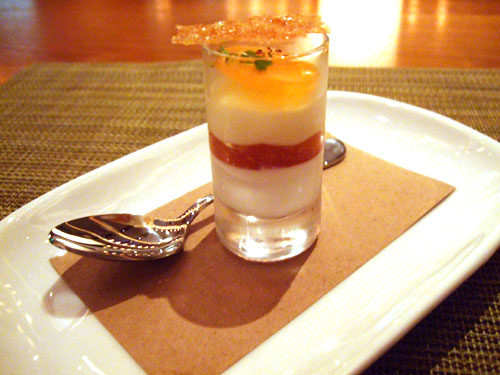 12: Lavender Panna Cotta
Persimmon Marmalade, Orange Nuage. This was sort of a mini-dessert, with the tart marmalade providing a nice contrast layer between the panna cotta. A tasty bite or two.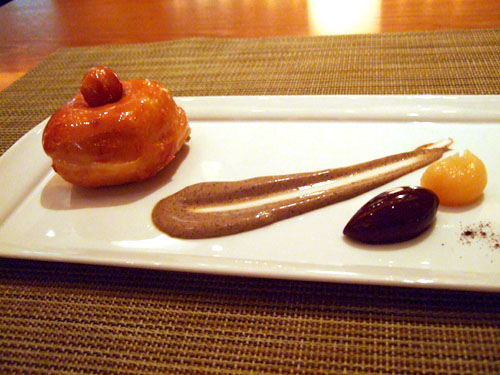 13: Glazed Donuts
Port, Fonseca, Bin No. 27
Golden Quince Jam, Coffee Custard, Chocolate Pudding. This glazed dougnut was a step above what you'd get at your local Winchell's and was a nice way to end the meal. It was further enhanced by the included complements; I especially appreciated the quince jam. It seems that one of the current trends in fine dining is a reversion to "simpler" dessert items such as doughnuts, churros, or cookies. Are we diners are just tired of contrived, overly complex dishes? Time will tell how long this trend lasts. The Port was nice enough, perhaps lacking the weight of a good vintage port, but still presenting rich, ripe notes of berry and spices. The dessert itself was fairly light, so the port worked.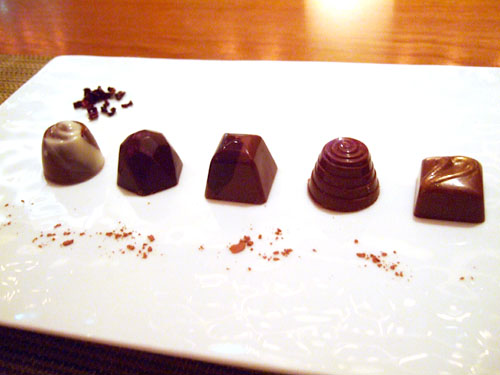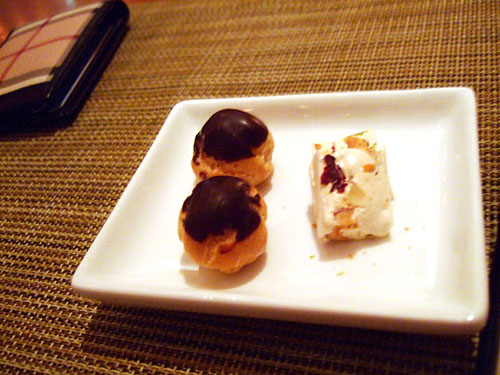 Mignardises
I was presented with a selection of five hand-crafted chocolates at the conclusion of the meal. My server described each one, but unfortunately all I remember is that one contained passion fruit. Nevertheless, all were quite good. Also, along with the check came another plate, this time with cream puffs and another item I can't recall.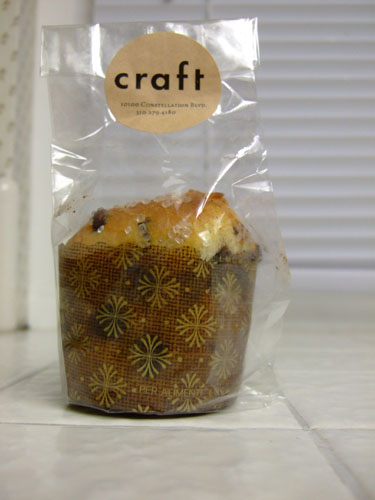 Take Away
This was a delicious chocolate muffin, which I had for breakfast a few days later.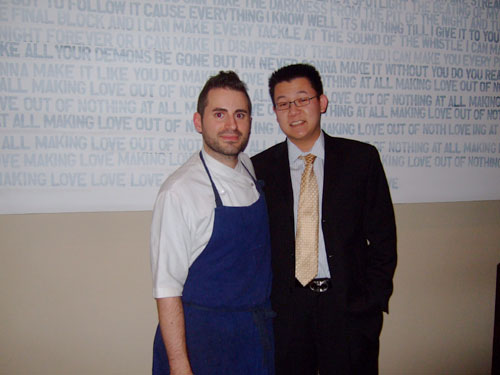 Chef Accarrino came out at the end of the night to personally thank me.
The tasting was a rather large amount of food, and by the end of the meal, I was struggling to get each bite down. This was quite literally the fullest I'd been since
French Laundry
. Coming in after eating a large lunch certainly didn't help things either. As a result, I think that although I did enjoy the meal, I didn't enjoy it as much as I could have had I come in with a decent appetite. The tasting menu did what was intended; it gave me a taste of the menu. But next time I'm back, I may just order à la carte!