Tagine (Beverly Hills, CA)
Tagine
132 N Robertson Blvd, Beverly Hills, CA 90211
310.360.7535
www.taginebeverlyhills.com
Wed 10/24/2007, 08:55p-10:35p
I'm usually stuck in class learning about financial accounting on Wednesday nights, but on this particular night I got out early and thus had the opportunity to sample a new restaurant. I didn't remember the last time I had Moroccan, so I was a bit excited about Tagine. Tagine, by the way, refers to a clay pot cooking vessel from North Africa as well as the slow-cooked dish prepared within it.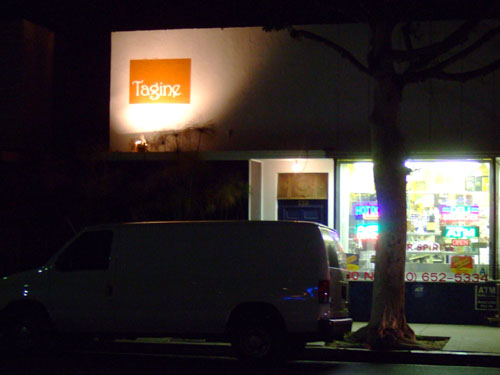 Tagine is located on a relatively quiet stretch of Robertson and is easy to miss. There is some street parking as well as valet across the street. On a side note, the restaurant is co-owned by none other than actor Ryan Gosling (
Fracture, The Notebook
); he wasn't there this particular night though.
The tasting menu is shown above. À la carte selections are also available except on Friday and Saturday. Click for larger version.
Tagine is easily the darkest restaurant I've ever eaten at (no, I haven't to
Opaque
). Thus, the photos aren't up to my normal standard of quality; I literally had to place a candle next to the dishes. Flash is not something I normally do, as I find it distracting to other restaurant patrons. Also, apparently Tagine has a no-photo policy so I had to be discreet. On to the food...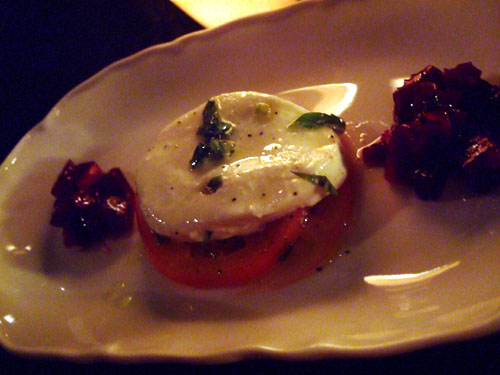 1: Fresh Mozzarella with Heirloom Tomato and Basil / Marinated Beets with Bermuda Onion
Both served with special house vinaigrette. Think of a Moroccan interpretation of the insalata Caprese. The mozzarella was nice, though I would've liked the basil to a bit more pronounced. The mounds of beets and onion flanking the insalata were not particularly memorable and seemed like afterthoughts.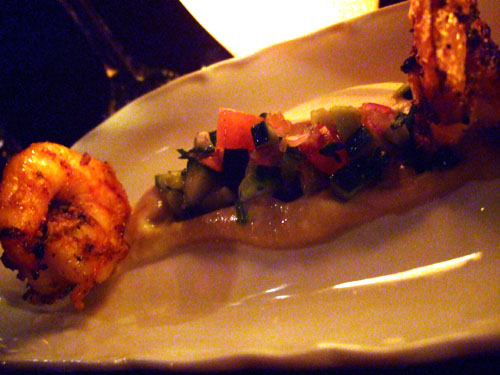 2: Marinated Grilled Shrimp
Served with hummus, cucumber and tomato salad. Interestingly enough, according to the menu, this was supposed to be a course of grilled chicken; I guess they ran out? I'm not complaining, since this ended up as my second favorite course of the night. The shrimp were nicely flavored and cooked right, while the cool tang of the salad proved to be a fitting foil.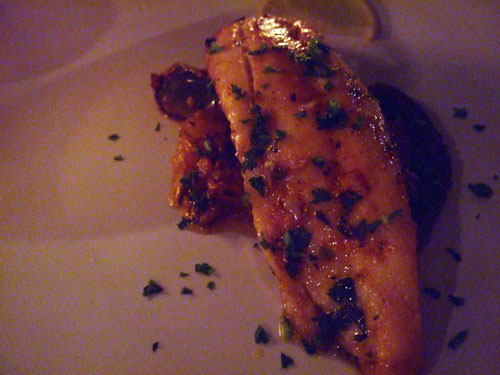 3: Pan Roasted Stripped Bass
Served with Chamula sauce. Decent texture, but I thought this had a rather strange taste. This was not what I expected for bass, and I'm not sure what exactly Chamula is either. One of the weakest dishes of the night for me.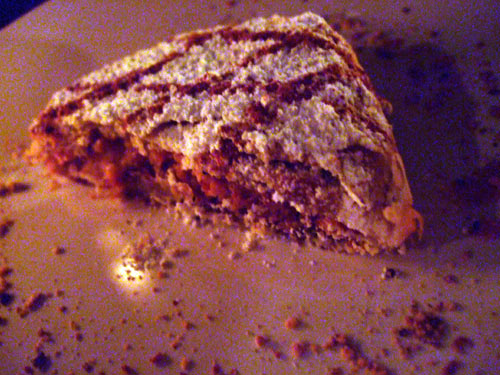 4: Bastilla
Filo dough stuffed with chicken, egg, almonds, topped with powdered sugar and cinnamon. I've read that this is one of the dishes Tagine is best known for. It combines sweet flavors with savory, to an effect I found rather disconcerting (similar to my reaction to Hawaiian pizza). The cinnamon in particular didn't sit well with me. Note also that this dish was served out of order according to the menu.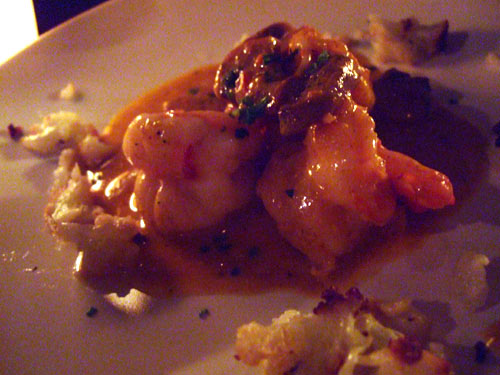 5: Shrimp Tagine
Light cream harissa sauce with mushrooms, served with roasted cauliflower. Finally, what we were all waiting for:
tagine
. This shrimp were superbly cooked and spiced, while the roasted cauliflower and mushroom provided perfect complements. The standout course of the meal for me.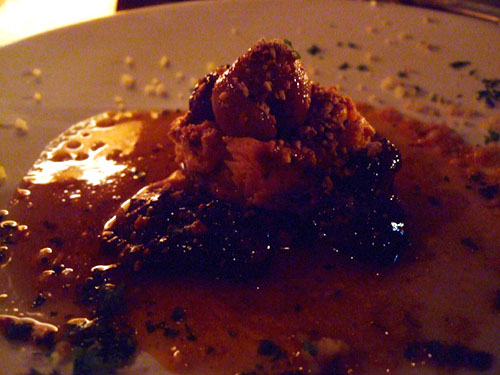 6: Grilled Salmon
Served with honey sauce, prunes, Persian figs and almonds. The salmon by itself would've probably been quite tasty, but it was overwhelmed by the sauce, which was overly sweet to me, and reinforced my aversion to mixing sweet and salty. This was my least favorite dish of the night.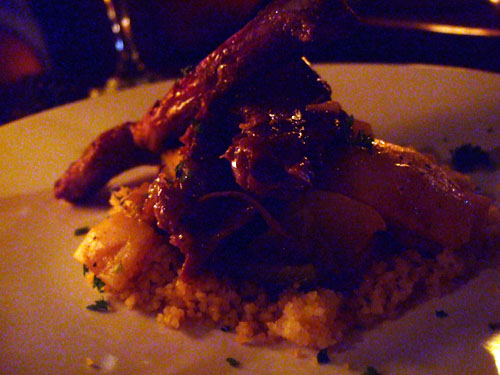 7: Oven Roasted Lamb and Grilled Lamb Chop
Served with lentils, couscous, and grilled eggplant. The chop was quite delicious and left me wanting more, while the roasted lamb was exceedingly tender and flavorful. A solid preparation of lamb. I could've used more couscous though.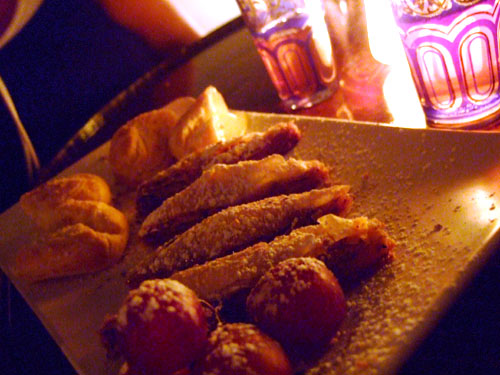 Mignardises: Baklava, Fruit Plate and Mint Tea
In addition to baklava and grapes (Concord?), we also had some sort of lemon tart. All in all, a nice way to end the meal, though I found the mint tea to be far too intense (I could only handle small sips at a time).
Food-wise, Tagine had definite highs (the shrimp dishes) and lows (the fish dishes). Some of the flavor pairings didn't sit well with me, though perhaps I just need some time to acclimate to the cuisine. Next time, I'd be interested to check out the à la carte menu.
However, I think the most work needs to be done in the service area. In addition to the menu gaffes, we were not provided new silverware for each course (so I had to set my knife and fork on the table, which was of dubious cleanliness), and the dishes came out far too fast (which meant I had to rush to avoid a plate pile-up). Finally, the ban on photo-taking was irksome to say the least. Sadly, this seems like a growing trend, as I encountered the same at Mori Sushi. At least with Tagine, I was able to surreptitiously take photos; at Mori, we were seated right at the sushi bar, so no dice (hence no blog - a shame, since there were some truly impressive photo opportunities there).