Natori (Tokyo, Japan)
Natori
5-17-7 Higashi-Nakano, Nakano-ku, Tokyo 164-0003
03.3361.2363
Restaurant has no web site
Sat 03/22/2008, 06:40p-08:10p
For the last meal of the trip, I wanted to do something special. I had originally planned to patronize a Michelin starred establishment, but figured I could visit them on any future trips to Japan. One of my professors recommended Natori, a small "mom & pop" style sushi restaurant. Places like this are not nearly famous enough to be rated by Michelin, and Natori is the type of restaurant where you really have to know someone to have the best experience, a real "neighborhood" type of place.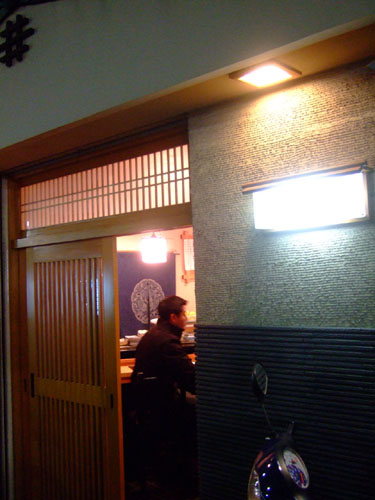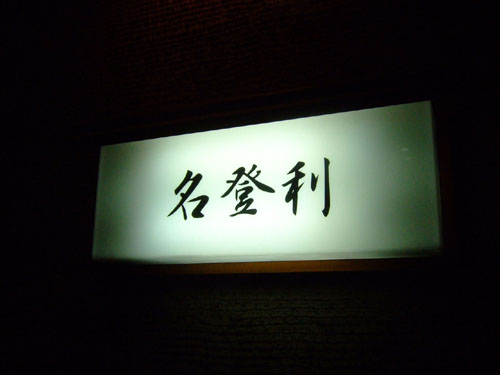 The restaurant is located in a sleepy residential area in the Nakano ward of Tokyo.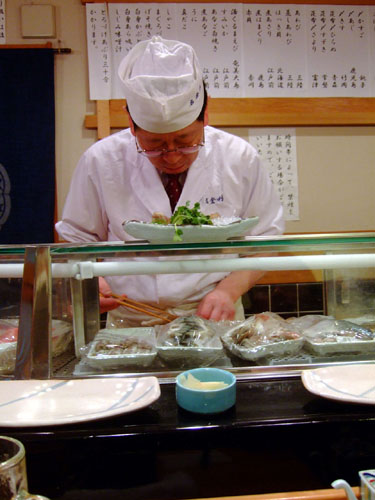 Natori is a small, with seating for eight at the bar, and a small table for two. The restaurant is manned by the
taisho
and his wife. Service throughout the meal was efficient, yet warm and gracious.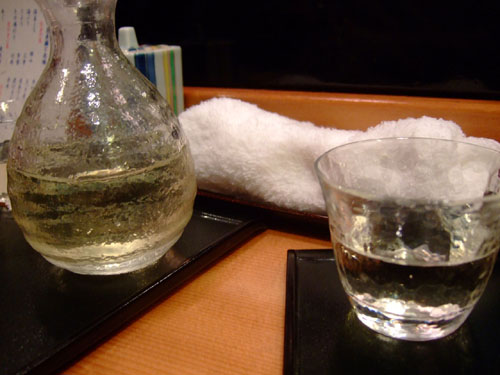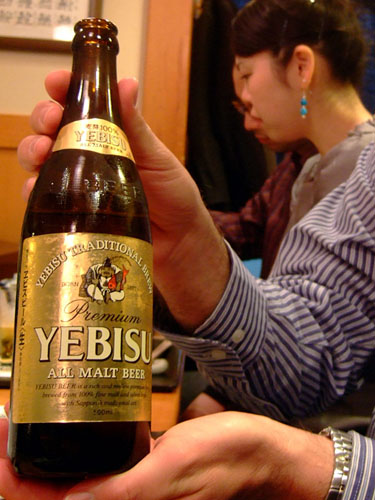 As far as drinks went, we tried Yebisu, one of Japan's oldest beers. Currently, the brand owned by Sapporo Brewery and is positioned as their "luxury" label. We also had sake, specifically, a
namazake
from Miyagi prefecture.
Namazake
is a non-pasteurized sake that's best served chilled.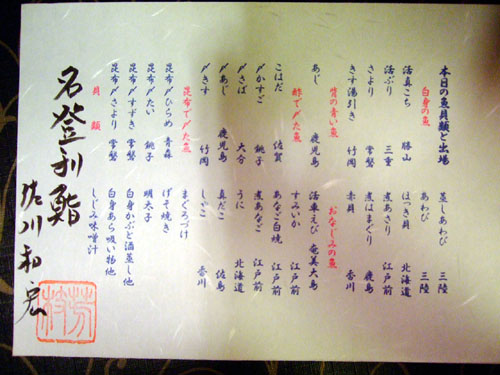 A copy of the menu was provided, though it didn't really help with ordering. It was pretty much an omakase meal. Note the stamp and fine signature of the chef.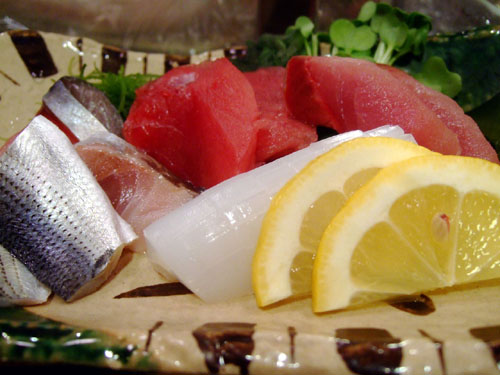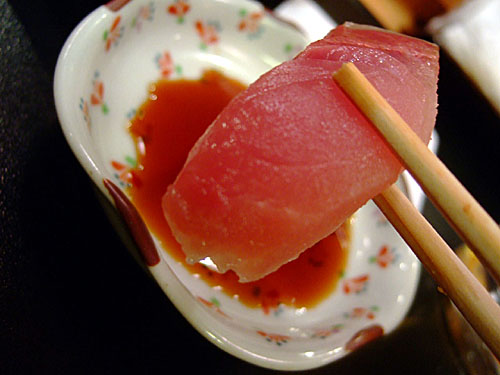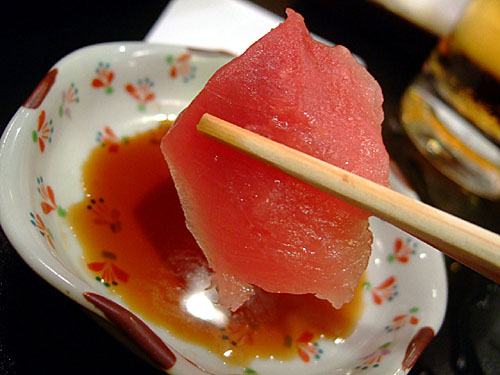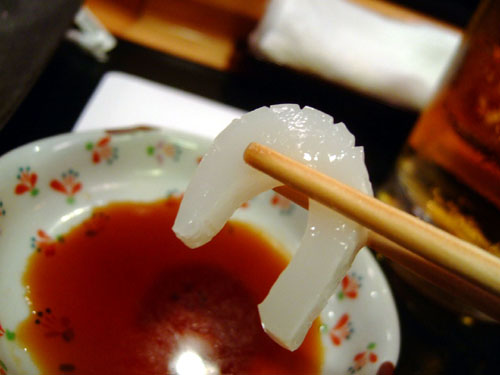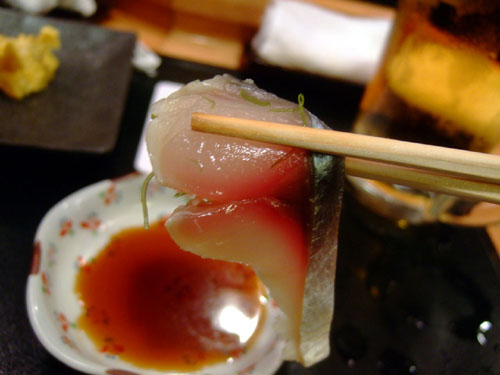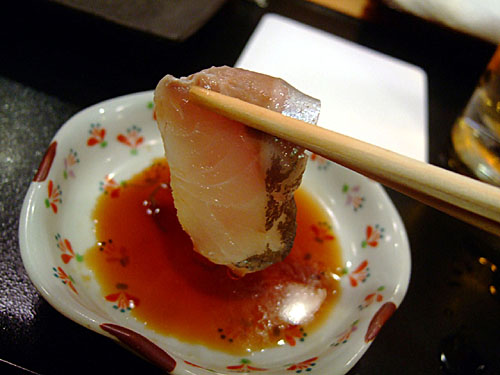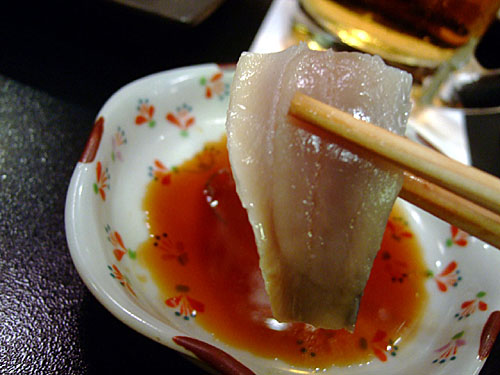 1: Sashimi
• Buri - Yellowtail, specifically, adult yellowtail, as opposed to hamachi or kanpachi. I've also heard the distinction between buri and hamachi as wild versus farmed. In any case, I found this fuller in flavor than most yellowtail I've had before, perhaps more multifaceted.
• Maguro - A textbook tuna, lean and clean.
• Ika - Squid, pure and fresh, with a creamy consistency.
• Seki Saba - "Seki" saba is mackerel from Saganoseki. The fish is considered the best example of saba available, as Seki saba can only be caught with rods and must be killed by
ikejime
(quickly draining blood by puncturing holes near the gills and tail, thus preserving freshness). For me, this results in a milder taste, with less of the fishiness that one typically finds with mackerel. Saganoseki also offers a Seki aji, which I had at
Go's Mart
.
• Aji - Horse mackerel. Although this wasn't Seki aji, it could've fooled me.
Very
nice.
• Kohada - Quite delicious. Gizzard shad is actually related to mackerel, and thus has a somewhat similar taste. To me, the texture is actually a bigger differentiator.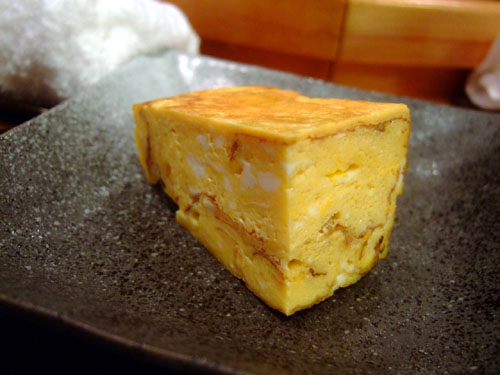 2: Tamago
This was simply the best tamago I've ever had. I don't know what was added, but whatever it was, it contributed some fantastic undertones to the dish and resulted in a tamago that was far more complex than I'm used to.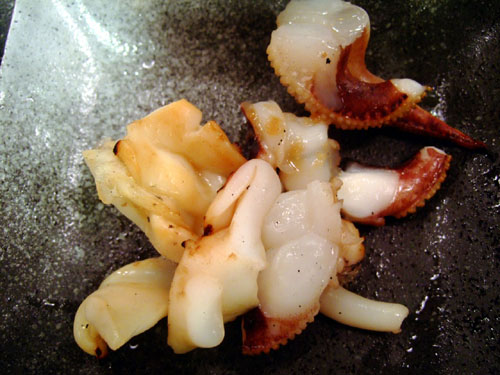 3: Grilled Squid
Cooked in a mixture of soy sauce, sweet sake, red pepper, and ginger. I loved how these ingredients drew out the flavor of the slightly sweet squid. Really nice, easily the best squid I had on the trip (and I had a lot of squid!).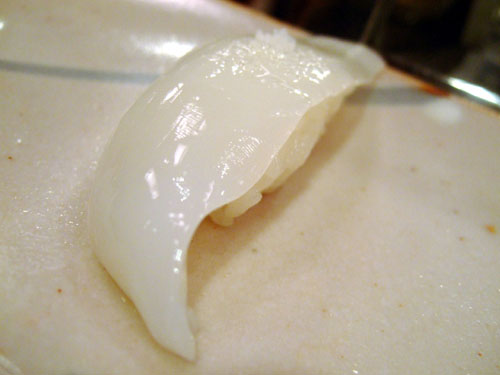 4: Ika
With salt and sudachi (a tart, small, green citrus fruit). I find ika to be soft, sweet, and creamy in nature. So it was great to experience the contrast provided by the salt and sudachi.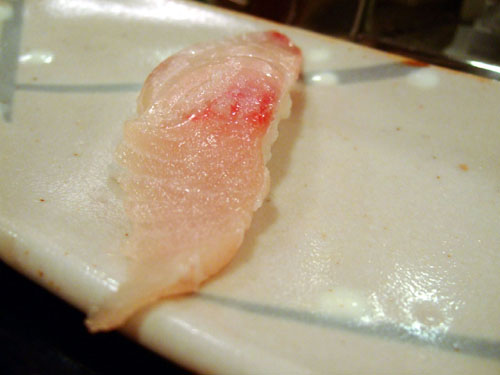 5: Buri
With salt and sudachi. Again, as with the ika, the additional accoutrements made this a totally different experience when compared to the buri sashimi I had above.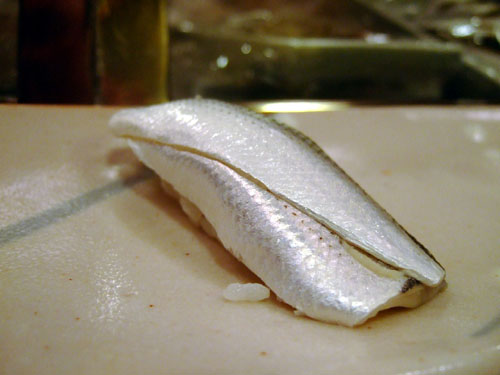 6: Kohada
Very similar to the kohada above, but now in sushi form. Compared to the sashimi, the addition of rice tempered the flavors of the fish.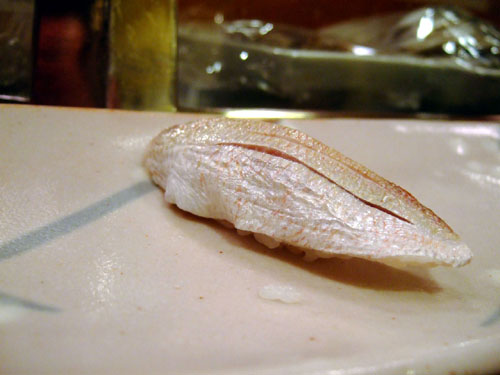 7: Kasugo
Young tai snapper, or sea bream, treated with vinegar. The vinegar treatment was a first for me. Compared to standard tai, this had a more robust, complex taste that lingered in the mouth.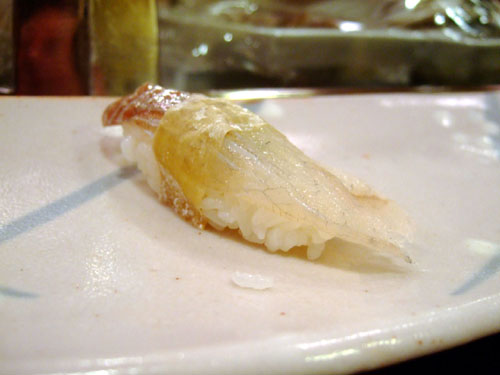 8: Suzuki
Sea bass treated with kelp,
kobujime
style. Another first!
Kobujime
refers to a method in which fish is placed on wet kelp in order to infuse its flavor onto the fish. In the process, moisture from the fish is also transferred to the kelp; note how the fish looks a bit dehydrated. The result is a super-concentrated flavor, enhanced with kelp. Very impressive!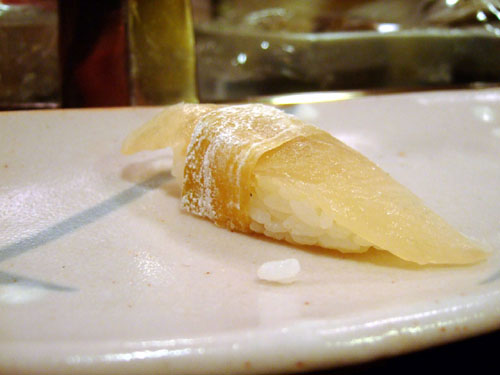 9: Hirame
Flatfish done
kobujime
style. As with above, this was excellent, showing me flavors and textures that I'd never really experienced with hirame.
10: Ikura and Uni
• Ikura - Salmon roe, briny globules that burst with flavor upon mastication.
• Uni - As with
Kyubey
, this uni was untreated with preservatives, and was almost uncharacteristically sweet.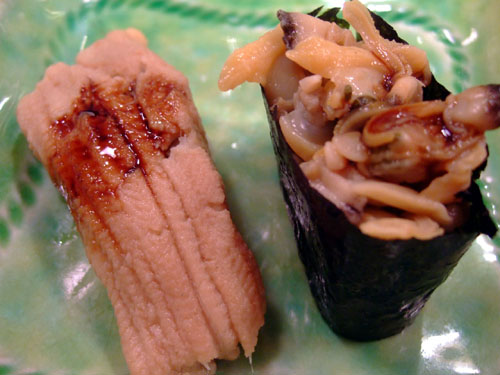 11: Anago and Asari
• Anago - Conger, or sea eel, from Tokyo Bay, near Haneda Airport. This is where the best anago come from. Here, the eel was lightly cooked to give it an incredibly soft texture that literally broke apart in my mouth.
• Asari - Otherwise known as cockle. I'm not sure if I've had this before, but I found asari to possess a slightly sweet taste and a squishy consistency. Quite nice.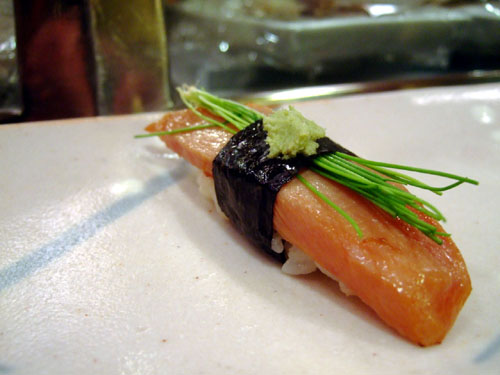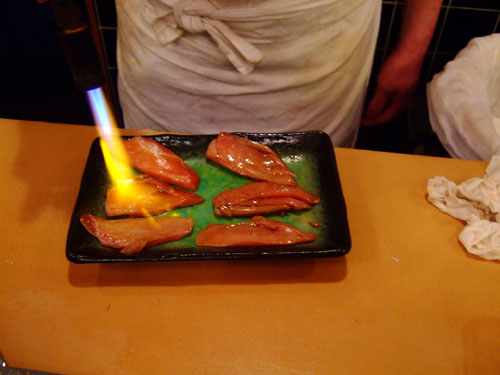 12: Toro
Seared toro, with
menegi
leek sprouts and wasabi. This was a favorite of many of my dining companions. I don't blame them; the combination of the rich fatty tuna and the sharpness of the wasabi and
menegi
made for a winning combination.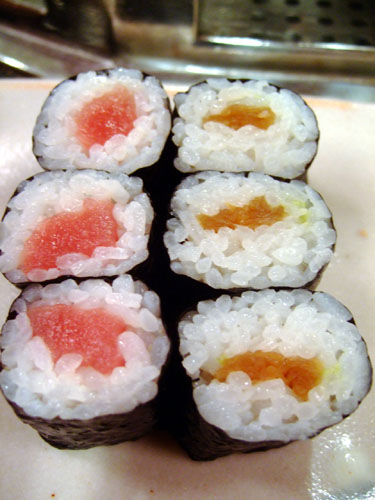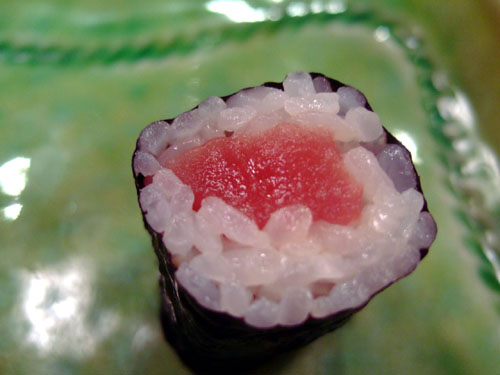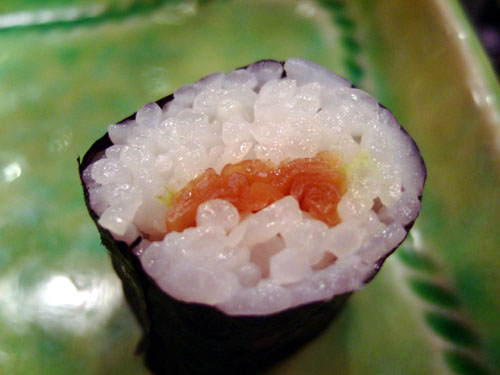 13: Hosomaki
• Tekkamaki - Filled with tuna. Not much I can say about this.
• Kanpyomaki - I don't think I've ever ordered this before.
Kanpyo
is dried gourd shavings, an ingredient often used traditional Edomae Japanese cuisine. The gourd had a somewhat tart taste and crunchy texture. It is often said that you can tell how good the sushi restaurant is by having the kanpyomaki (as well as tamago).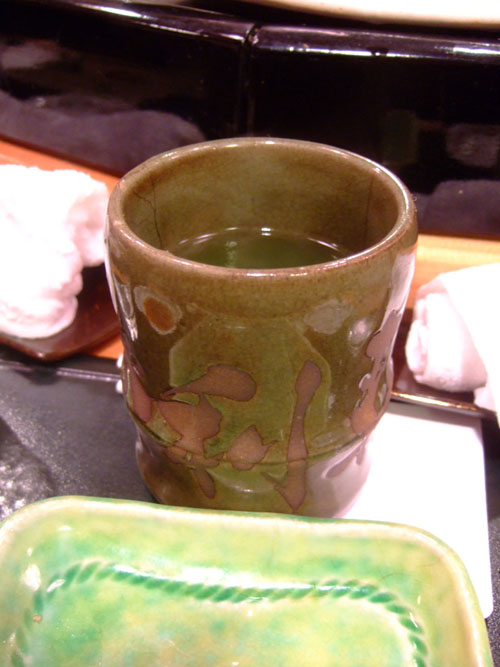 A nice mug of green tea closed out the meal. From what I gathered, the mugs were custom made for Natori.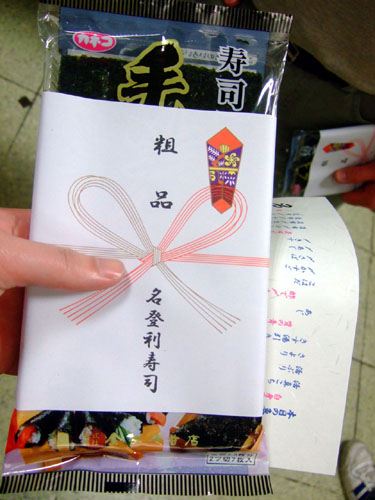 We even got a pack of nori as a gift to go.
At the end of the meal, we all received scarves, which
taisho
and his wife wrapped as headbands of sorts!
Looks like I did save the best for last! I'd put my experience here slightly above Kyubey. Although I had some truly stellar dishes at Kyubey, I felt that the average level of sushi here was more to my liking. This just goes to show that you don't have to be Michelin starred or even well known to be great. The unassailable quality of the food and the warm, neighborly atmosphere (it was almost like eating in someone's home) make Natori a clear winner in my book.