Aqua (San Francisco, CA)
Aqua
252 California St, San Francisco, CA 94111
415.956.9662
www.aqua-sf.com/aqua/
Fri 02/01/2008, 06:30p-08:10p
On my most recent trip to San Francisco, I was fortunate enough to be staying at the Ritz Carlton. Now since I had previously blogged about my experience at the hotel's
Dining Room
, I thought it'd be a good idea to try something new. Michelin two-star Aqua is where Michael Mina first made a new for himself, before he opened his
eponymous eatery
at the Westin St. Francis. Set near the Financial District, the restaurant has a reputation for being
the
place for power lunching.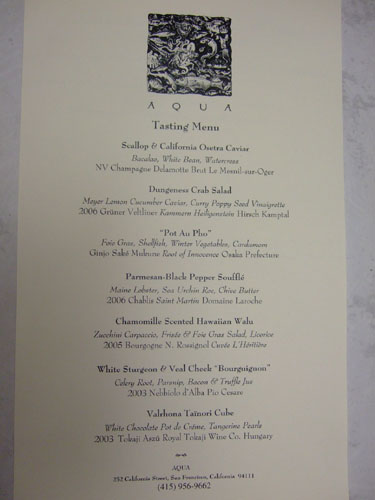 Aqua offers either a three-course prix fix, or a seven-course tasting menu with optional wine pairing (shown). Unfortunately, Executive Chef Laurent Manrique wasn't in this particular night, so no signature. Click for larger version.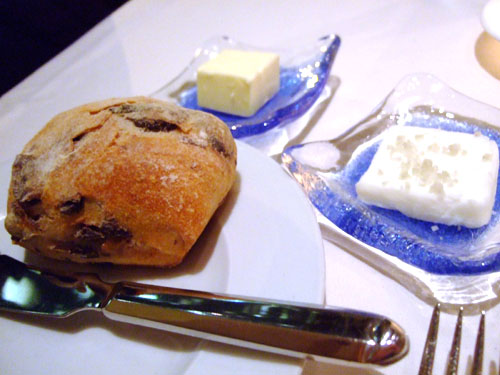 Three types of bread were available: olive (pictured), sourdough, and multi-grain. The two varieties of butter were cow's milk and goat's milk with sea salt.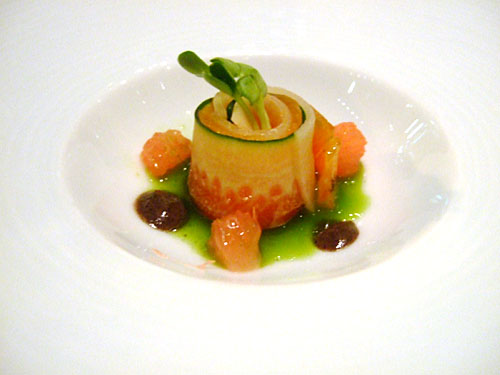 Amuse Bouche 1: Roulade of House-Cured Salmon
NV Cava D'Abbatis, Penedés Brut
Daikon, Grapefruit, Black Truffle Vinaigrette. The amalgam of the salmon and daikon made for an interesting pair, with the radish's slightly bitter crunch balancing the delicateness of the fish. The grapefruit and truffle vinaigrette in turn added contrasting sour and earthy flavors. The amuse was served with a complementary glass of Cava, which was a nice touch.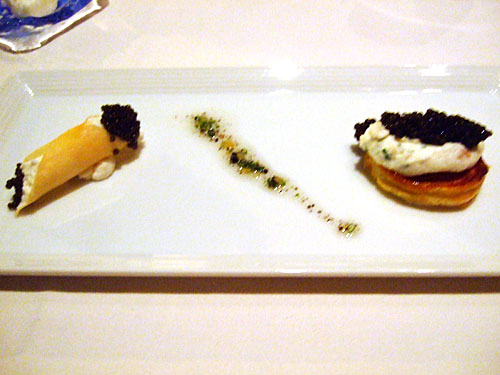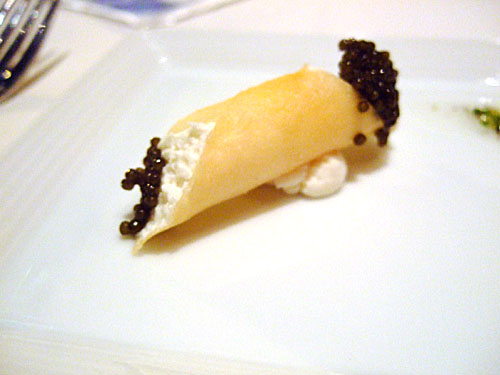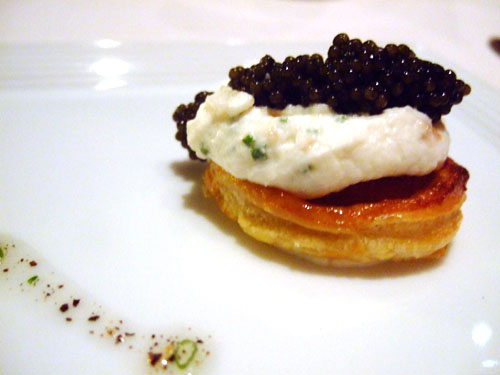 Amuse Bouche 2: Caviar
NV Champagne Delamotte Brut Le Mesnil-sur-Oger
Caramelized Onion Tart with Caviar and Crème Fraîche, Caviar Cannoli with Smoked Sturgeon Crème Fraîche, Black Pepper and Citrus Condiment. Champagne and caviar: the wine's crisp acidity complements the roe's delicate flavors and textures, what a classic combination! The cannoli was a pretty standard pairing of crème fraîche and caviar; it worked but wasn't particularly imaginative. But the addition of the onion tart to the equation added a sweet/smoky element and took the dish to another level. A heavenly bite!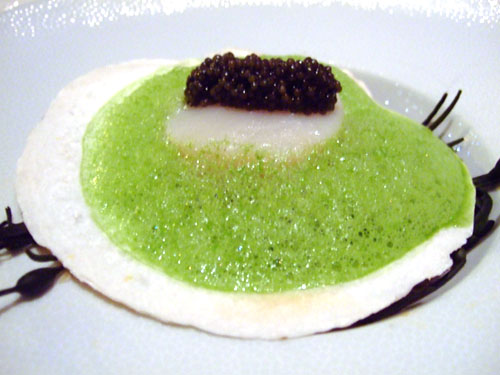 1: Scallop & California Osetra Caviar
NV Champagne Delamotte Brut Le Mesnil-sur-Oger
Bacalao, White Bean, Watercress, Arugula Foam. The scallop was only the slightest bit cooked, and thus had a great raw texture and briny flavor that went wonderfully with the generous dollop of caviar. I loved the presentation of the scallop in its shell as well. I must say that the foam was a bit odd though; I'm not sure it added much to the dish. Again, the Champagne, from the previous course, was a fantastic pairing.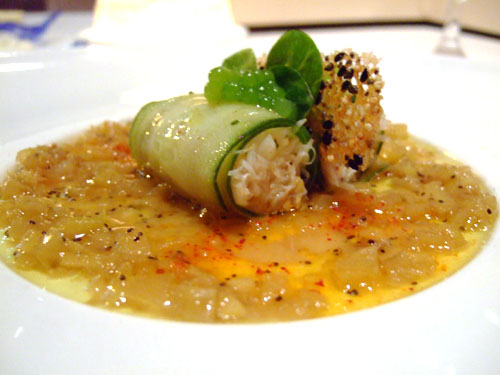 2: Dungeness Crab Salad
2006 Grüner Veltliner "Kammern Heiligenstein" Hirsch Kamptal
Meyer Lemon Cucumber Caviar, Curry Poppy Seed Vinaigrette. Another course with "caviar." The crab itself was crisp and fresh, with the cucumber adding an additional refreshing crunch. However, the vinaigrette overpowered the delicate nuances of the crab, and dominated the dish with its tart flavors. The paired Grüner was quite delicious, with citrus and stone fruit notes presiding over a medium body and slightly spicy finish. I think Grüner Veltliner may be becoming one of my favorite white varietals!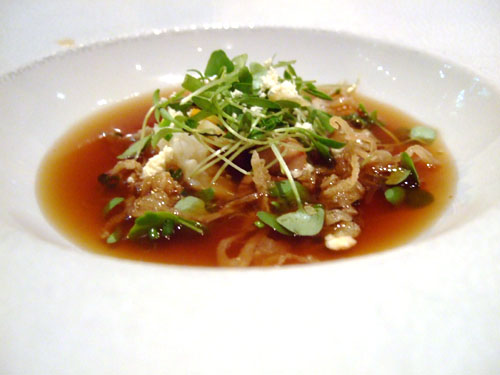 3: "Pot Au Pho"
Ginjo Saké Mukune "Root of Innocence" Osaka Prefecture
Foie Gras, Shellfish, Winter Vegetables, Cardamom. This faux Vietnamese play on the traditional French "Pot-au-feu" contained shrimp, scallops, as well as foie gras in a delectable duck and beef consommé. It actually was a pretty convincing rendition of pho! The sake did justice to this very Asian-inspired dish.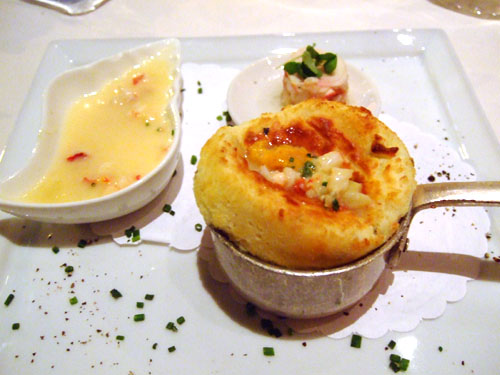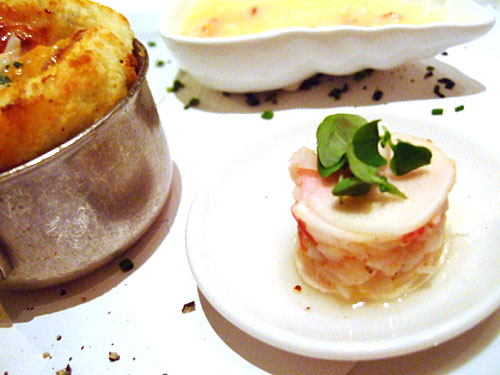 4: Parmesan-Black Pepper Soufflé
2006 Chablis "Saint Martin" Domaine Laroche
Maine Lobster, Sea Urchin Roe, Chive Butter. I'm usually not a fan of soufflés, but I thought this was wonderful. The ridiculously rich mixture of lobster, uni, and butter added depth and substance to the hot, cheesy soufflé, which was already quite good on its own! The black pepper provided a spicy finish to each bite. The Chablis was a great accompaniment, showing melon and honey flavors around a medium body and smooth finish.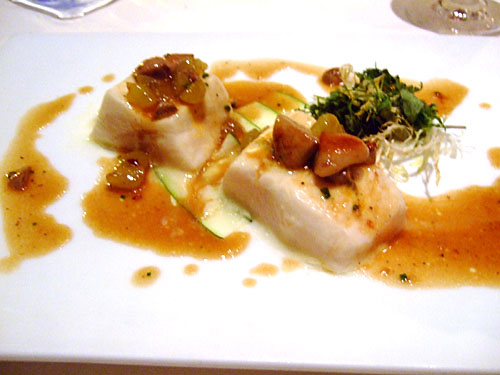 5: Chamomille Scented Hawaiian Walu
2005 Bourgogne N. Rossignol "Cuvée L'Héritière"
Zucchini Carpaccio, Frisée & Foie Gras Salad, Licorice. This was the weakest course of the night for me. I didn't particularly care for the texture of the walu, nor its taste, which was absent. The grape stock with foie gras dabbled on top didn't really sit well with me either; it just seemed a bit odd and excessive. The pairing of a red Burgundy was a bit surprising, but I suppose it makes sense given the richness of the foie gras sauce.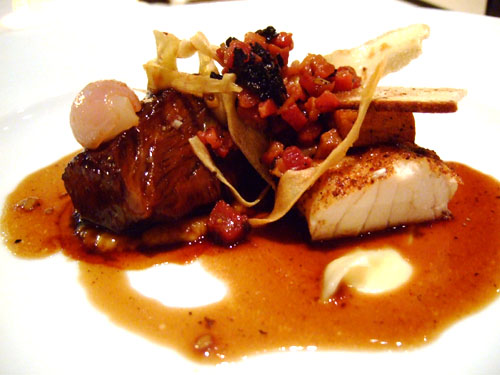 6: White Sturgeon & Veal Cheek "Bourguignon"
2003 Nebbiolo d'Alba Pio Cesare
Celery Root, Parsnip, Bacon & Truffle Jus, Cipollini Onion. The veal was incredibly rich and tender, actually too much so for my tastes. The sturgeon, on the other hand, showed good balance and a great, firm texture. It really stood up well to the other elements of the dish, as well as the paired Nebbiolo. The Pio Cesare was quite easy drinking, with big fruit and spice, moderate tannins, and a medium body.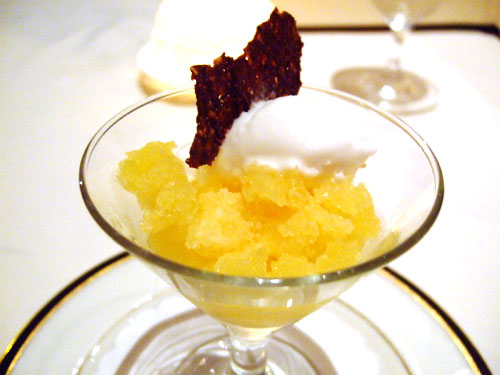 Pre-Dessert: Pineapple and Passionfruit Ice
Coconut Sorbet, Chocolate Tuile. Very fruity and refreshing, with the sorbet moderating the tartness of the pineapple/passionfruit ice. A breath of fresh air given the heavy course preceding it.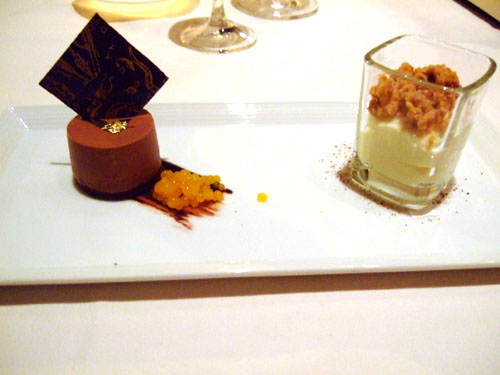 7: Valrhona Taïnori Cube
2003 Tokaji Aszú Royal Tokaji Wine Co. Hungary
White Chocolate Pot de Créme, Tangerine Pearls, Walnut Crisp. I loved the way the tangerine "caviar" cut the richness of the chocolate, but my favorite part of the dish was the walnut crisp atop white chocolate, which actually reminded me of a granola-yogurt parfait! The Tokaji did an admirable job here, demonstrating typical citrus, spice, and chocolate notes, leading to a slightly acidic, lingering finish.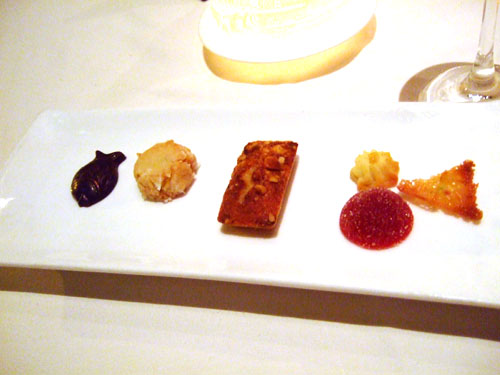 Mignardises
Every piece was quite delicious. A great way to end the meal!
Although there were some definite misses for me this night, I give Chef Manrique and company credit for a strong effort. The food isn't exactly on the bleeding edge, but I did appreciate the inventiveness and attempts at innovation I witnessed.