Imahan (Tokyo, Japan)
Imahan
2-7-1 Nishi-Shinjuku, Shinjuku-ku, Tokyo 163-0701
03.3345.1470
www.imahan.com/e-guide/daiichi_shop.html
Thu 03/20/2008, 07:20p-09:40p
As a foodie, how could my trip possibly be complete without sampling Wagyu beef? The nomenclature "Wagyu" refers to breeds of cattle that are genetically predisposed to large amounts of marbling. Apparently, to further enhance the quality of the meat, these cattle are massaged regularly and fed a diet of beer and sake. Although "Kobe-style" beef is quite popular now in the US, it is still rather rare to find the real deal. I'd had genuine Japanese beef before in the States, but wanted to try it here as well. The original plan had called for dinner at
Matsuzaka Akasaka
, but much to our surprise, the restaurant was closed due to a national holiday. After conferring with the hotel concierge, we decided to try out Imahan instead.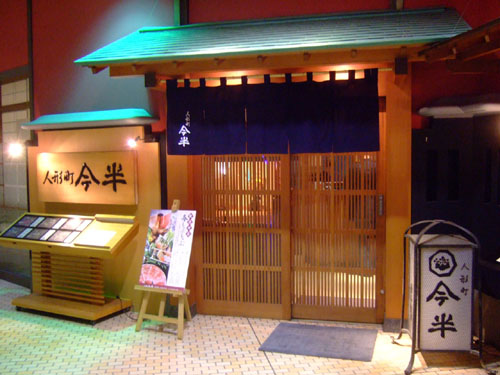 The restaurant is actually located on the bottom floor of the Daiichi Seimei building in Shinjuku. In addition, there are several other locations throughout Tokyo as well.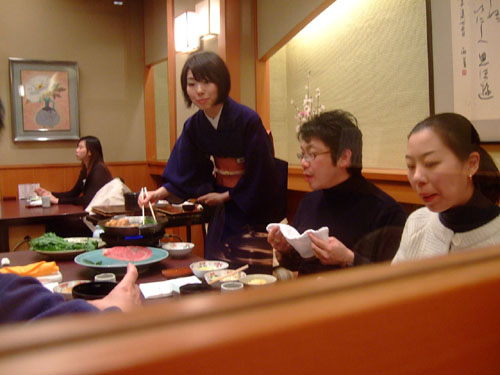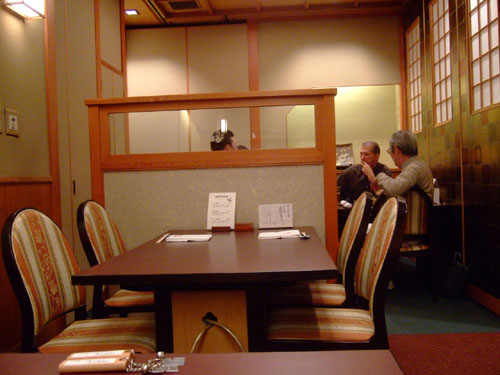 Pictured above is the Western-style dining room; there are also
kotatsu
rooms available.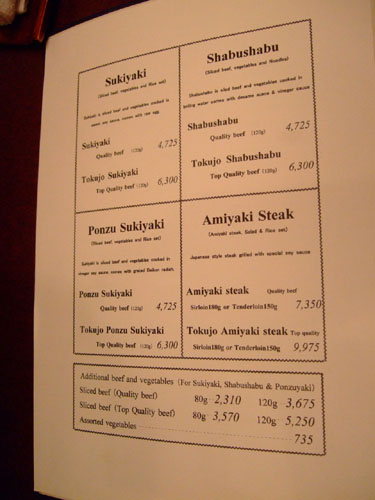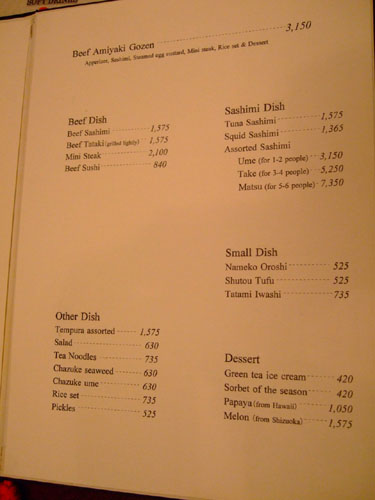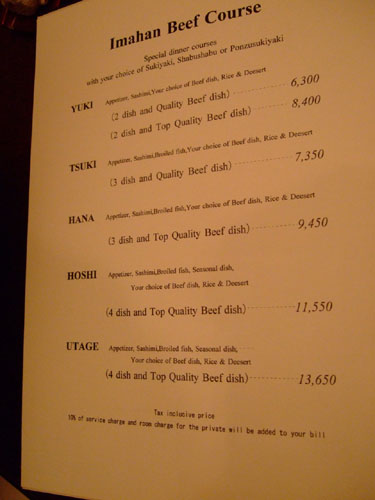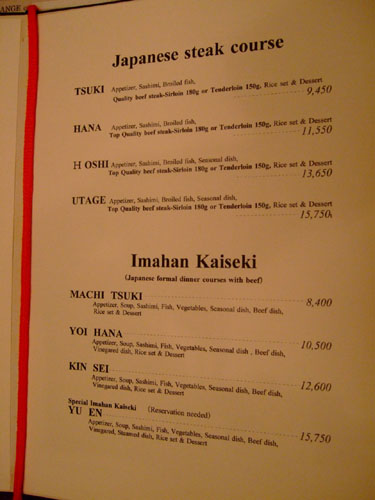 Here we see the main menu. Basically, there are four options for a course meal: sukiyaki, shabu shabu, steak, or kaiseki. Obviously, I had to order the most expensive option, the "Utage" steak course, while my dining companion had the "Hoshi" shabu shabu. Click for larger versions.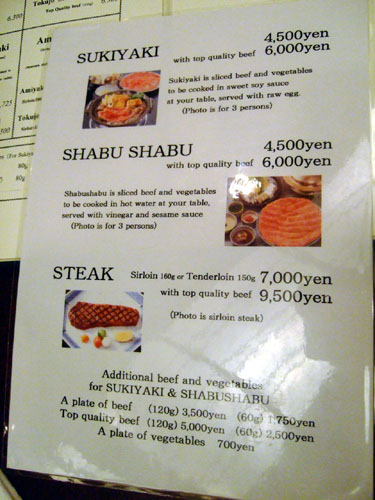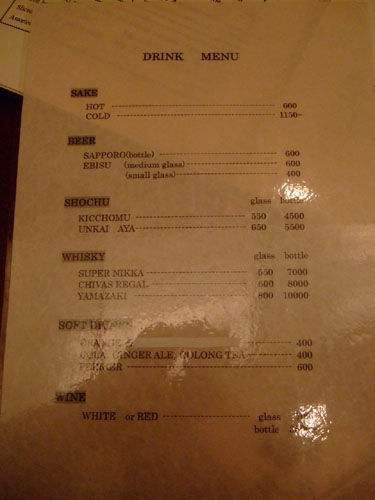 On the left is an abbreviated menu, I suppose for your typical Americans. On the right is a very short drink menu; I suspect there's a more expansive menu in Japanese. Click for larger versions.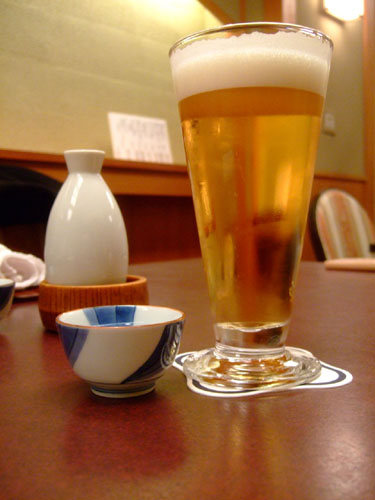 In any case, we drank hot sake (I always get cold but my dining companion wanted to warm up) and Ebisu beer (quite nice, my first time having it).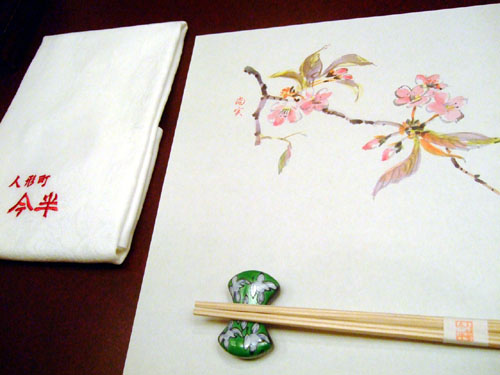 For some reason, I was given a special placemat.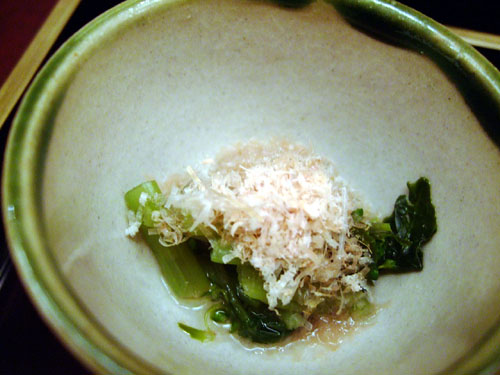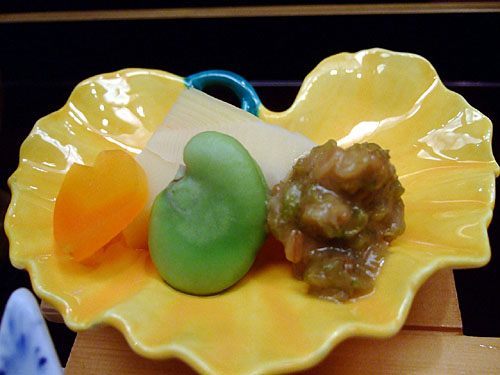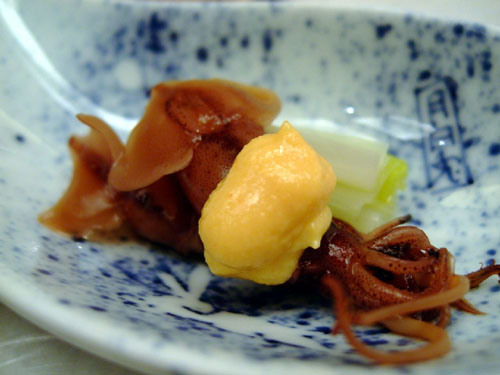 1: Appetizer
• Picked vegetables with
katsuobushi
- The dried bonito shavings did temper the bitter tang of the veggies, but this was otherwise unremarkable.
• Bamboo, carrot, fava bean, meat sauce - Not much going on here; fava beans must have been in season, as this was the third time I'd had them in five meals!
• Duo-color tofu paté - Rather bland, I couldn't really discern any difference between the two colors.
• Baby squid with sweet mayonnaise - Though the squid were perhaps a bit scary looking (my dining companion wouldn't eat hers!), they were actually quite tasty and went well with the sweet mayo (which reminded me of a similar sauce I had with appetizers at
Kaji
).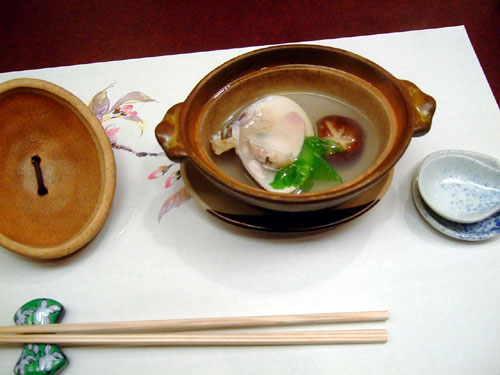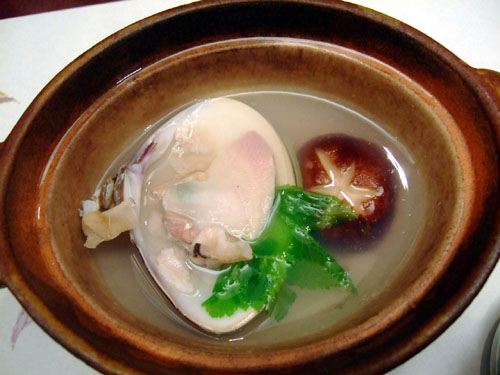 2a: Seasonal Dish
This was a clam soup with shiitake mushroom. The clam was quite hearty and imparted a great flavor and aroma to the soup, which was a pleasure to drink. Very nice.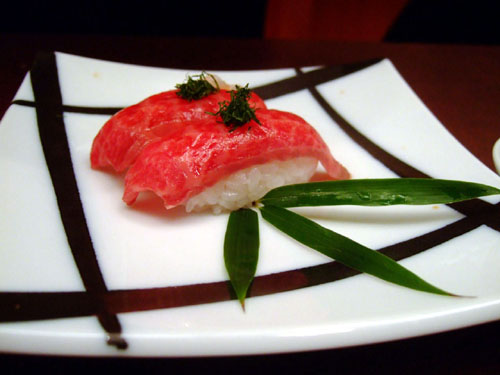 2b: Seasonal Dish
These beautiful slices of beef nigiri were my dining companion's. She said she didn't eat raw beef but this certainly changed her mind!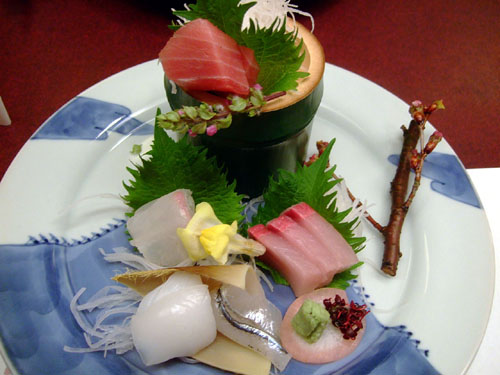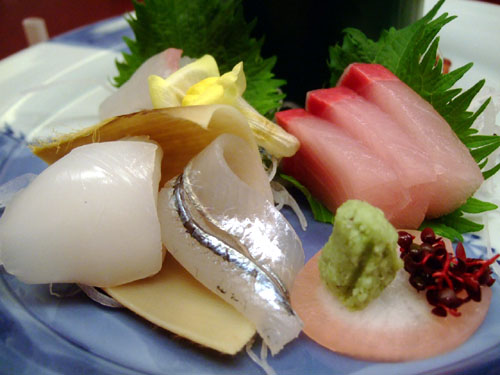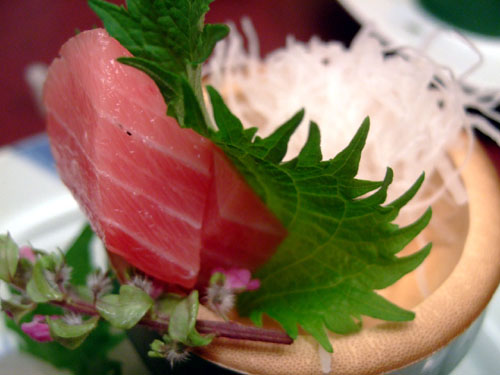 3: Sashimi
• Kanpachi - Greater amberjack or yellowtail, clean and lean.
• Sayori - Needlefish, delicious but not particularly distinctive.
• Ika - Squid, rich and creamy.
• Tai - Snapper, with a great snap to it.
• Chu-toro - Chu-toro is the less marbled fatty tuna, versus o-toro. There's a world of difference when I compare this with the o-toro I had at
Kyubey
a few night earlier.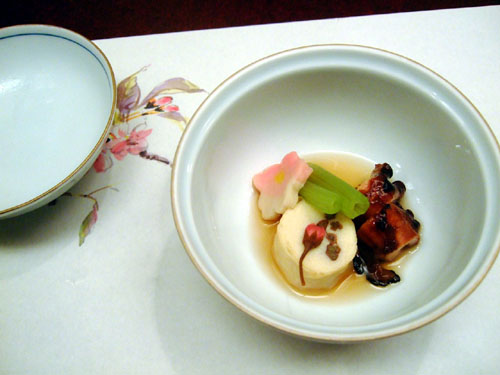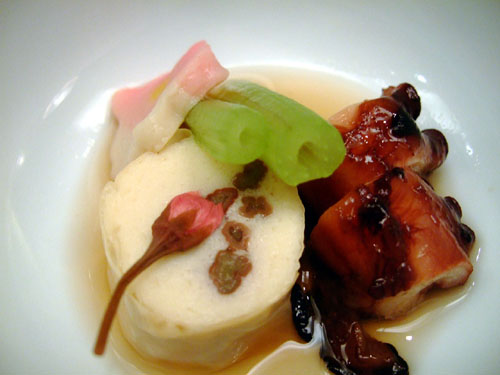 4: Broiled Fish
This was iidako octopus with some sort of tofu I believe. I thought the octopus was overpowered by its sweet sauce and didn't care for the tofu either. The weakest course of the night for me.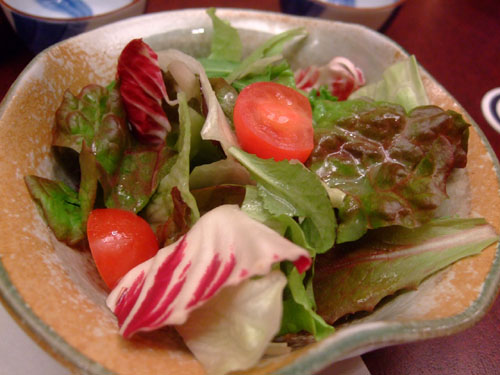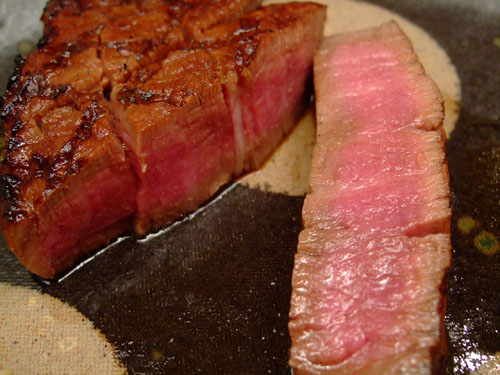 5a: Steak
Finally, the moment I'd been waiting for. Done medium-rare, this 150g (only 5.3oz!) tenderloin was amazingly tender, the tenderest steak I've had actually. In fact, I didn't even need to chew! This just glides down your throat, aided by copious amounts of juice. I will say however, that it wasn't as flavorful or beefy as the Kagoshima steak I had at
CUT
; it also wasn't nearly as heavy. The steak came with lemon and a mustard sauce; I tried both, but found them completely unnecessary.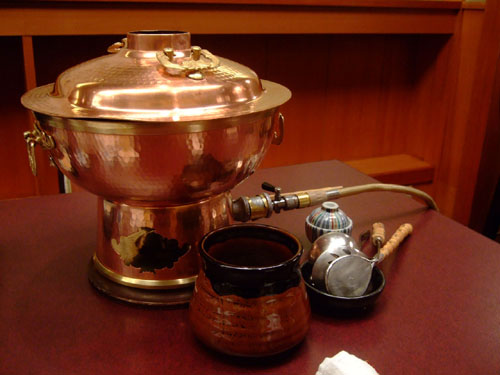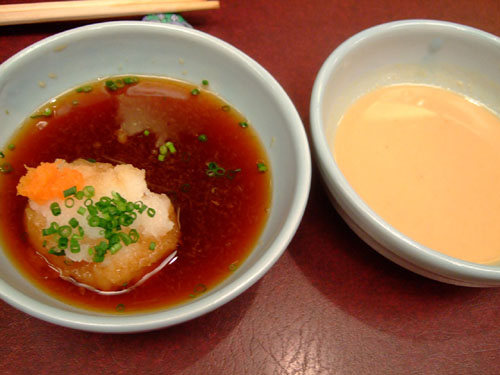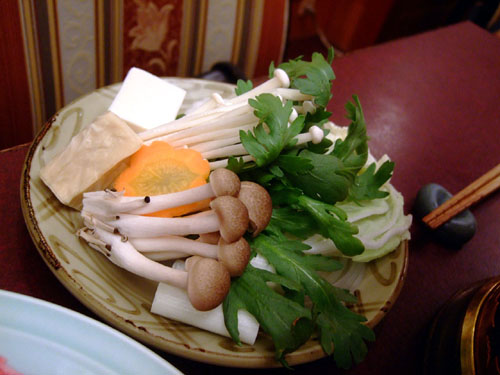 5b: Shabu Shabu
Look at that marbling, beautiful! I actually preferred to eat the beef raw, as I felt using the shabu shabu tended to overcook the meat. The accoutrements included were chrysanthemum leaves, shiitake and enokitake mushrooms, onions, cabbage, and tofu. Ponzu and
goma
(sesame seed) sauce were also provided.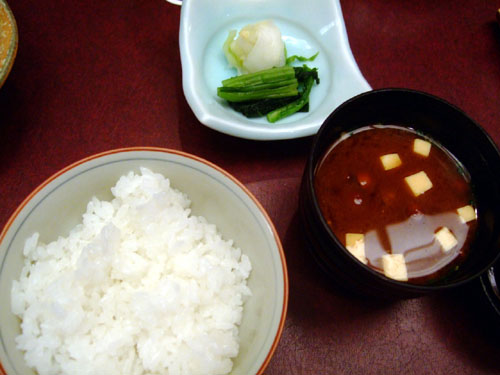 6: Rice Set
Along with the main courses, we were given a set of rice, pickles, and miso soup. Not much to say here; they were good examples of each.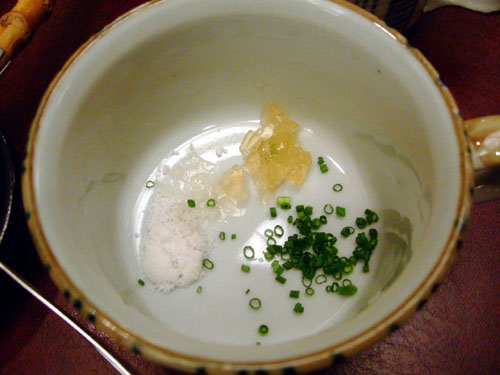 7: Soup
After the shabu shabu was finished, a soup was made using the broth, combined with noodles, pepper, salt, and scallions. This was simple yet surprisingly good.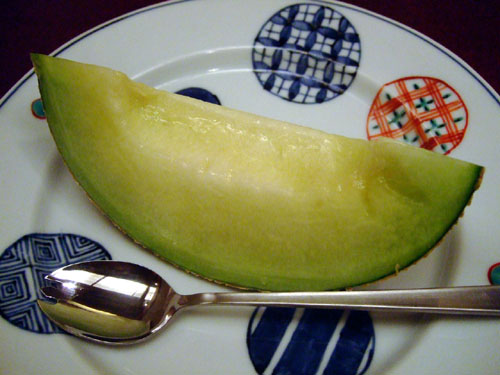 8a: Dessert
This was honeydew from Shizuoka, and quite possibly the sweetest, juiciest melon I'd ever eaten.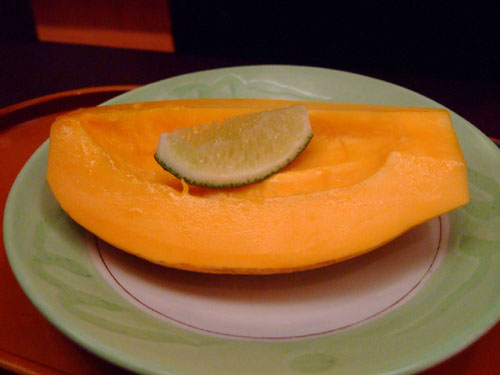 8b: Dessert
Papaya from Hawaii. I'm not a huge papaya fan, so I found this merely palatable.
Although Imahan wasn't my first choice of restaurant, I came away feeling quite satisfied. Sure, there were some weak dishes, but when it came to what really mattered, the beef, Imahan delivered.