Bistango (Irvine, CA)
Bistango
19100 Von Karman Ave, Irvine, CA 92612
949.752.5222
www.bistango.com/bistango.shtml
Wed 02/13/2008, 09:20p-10:35p
Of all the restaurants I've blogged about, I've been to Bistango the most number of times. If my memory serves me correctly, this was my fifth trip. That's quite an accomplishment; since I like to try new places, I don't return to restaurants often. Actually, I think the reason why I've been back here so many times is that other people have wanted to go.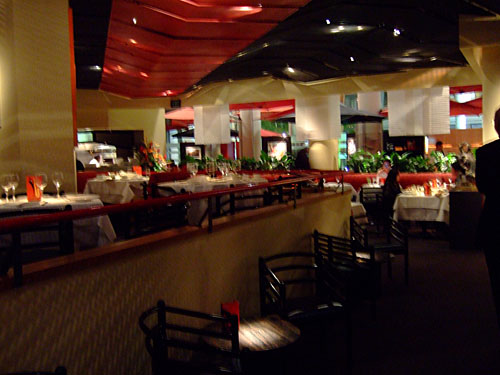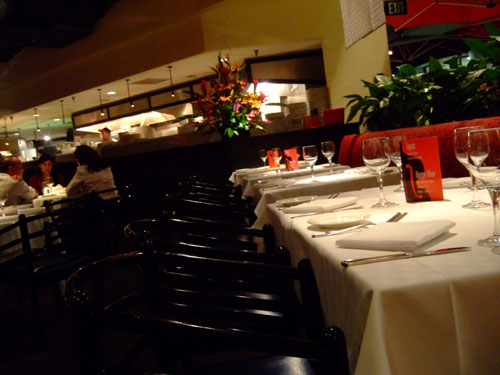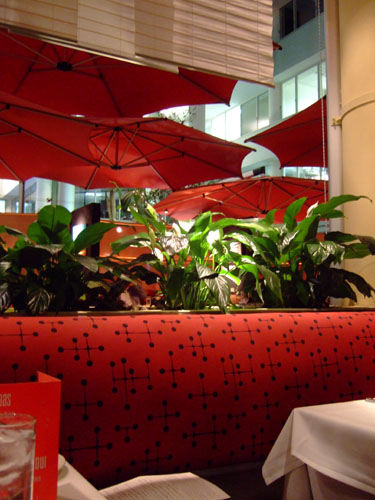 Highlighted by swatches of red, the main dining room is expansive, seating up to 200 guests, while the umbrella-covered atrium section holds dozens more. There is also a bar/lounge area, featuring live music nightly.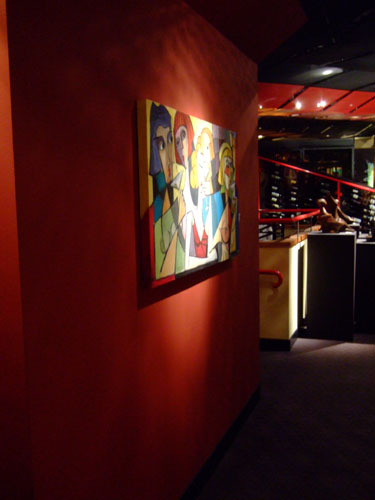 Bistango is part of the Dining As Art Collection program, and thus showcases art from emerging as well as established artists. All artwork is available for purchase.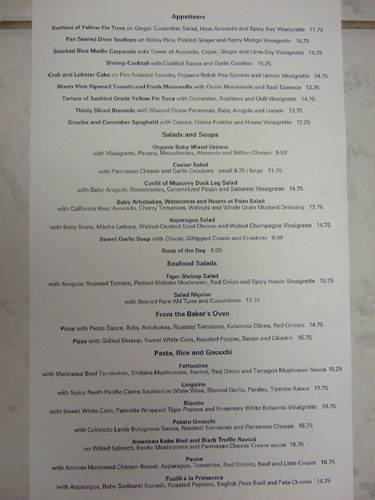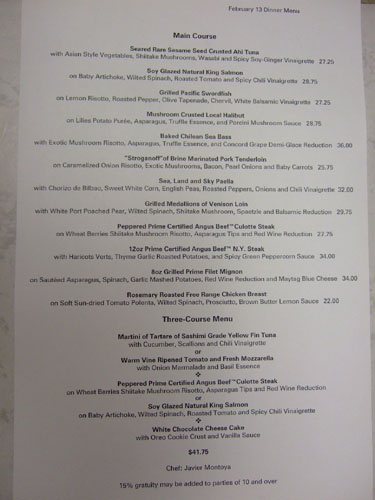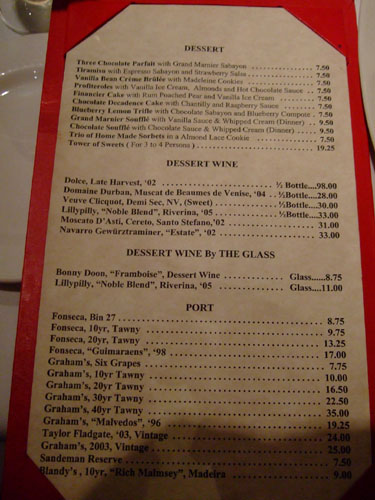 The menu features a large selection of items, perhaps too large, actually. My dining companion had the three-course prix fix menu, while I did all appetizers plus dessert (in order to try as many things as possible). The Executive Chef is Javier Montoya. Click for larger versions.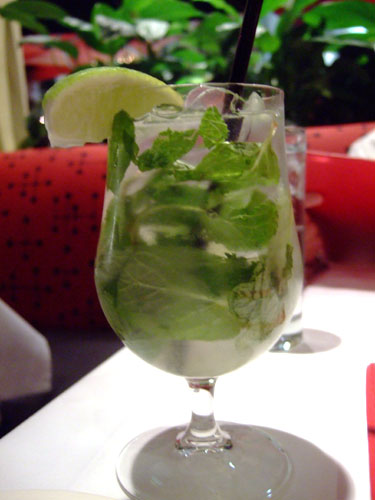 I started with a mojito, naturally. This sort of looked like a plant in a cup; I don't think they did enough muddling with the mint. Not particularly memorable.
Later on I had a glass of Bonny Doon "Pacific Rim" Riesling. This was actually non-vintage (first time I've seen a non-vintage Riesling),
not
a good sign. I found it rather heavy and dull, with none of the crispness, finesse, and bright citrus/floral notes that I find in many German Rieslings. In fact, I'm not sure I've ever had an American Riesling that really impressed me. My kingdom for a glass of J.J. Prüm Spätlese!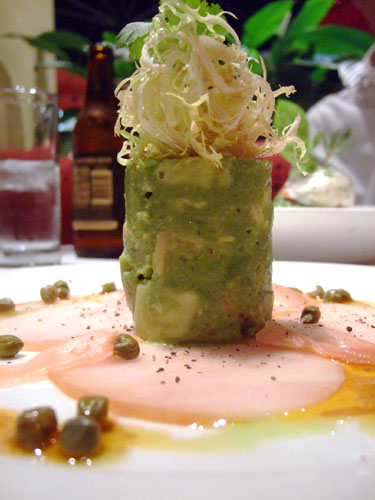 Smoked Blue Marlin Carpaccio
With Tower of Avocado, Caper, Ginger and Lime-Soy Vinaigrette. This was my second time having this dish, though when I ordered it, apparently I forgot that fact. In any case, the marlin was quite unlike any other fish I've had before. I wasn't particularly impressed; since it was smoked, it tasted like ham! However, I did enjoy the avocado, which had a smooth creaminess that complemented the rest of the dish well.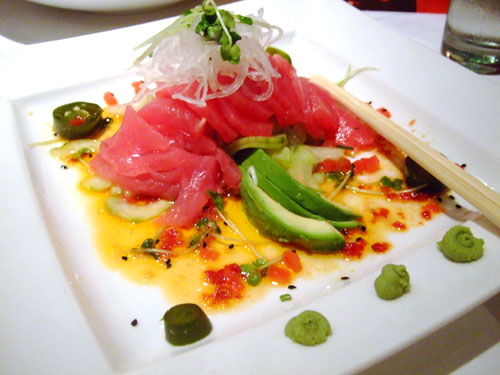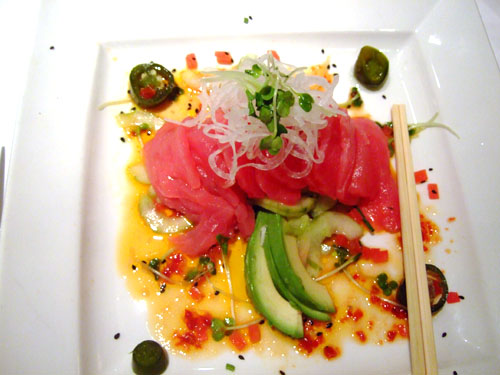 Sashimi of Yellow Fin Tuna
On Ginger Cucumber Salad, Hass Avocado and Spicy Soy Vinaigrette. A very pretty dish, and fortunately a good one as well. The tuna wasn't especially rich or flavorful, but it had great texture and a clean, refreshing taste. It was a joy eating the fish with all the various accoutrements. I must note that this was quite a generous portion for an appetizer.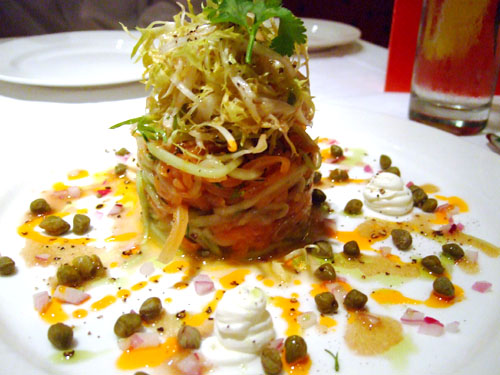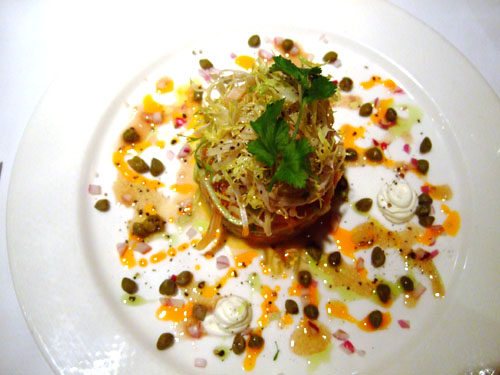 Gravlax and Cucumber Spaghetti
With Capers, Crème Fraîche and House Vinaigrette. This sounded interesting on the menu, but missed the mark for me. Making the salmon in "spaghetti" form managed to strip the fish of flavor. It was completely lost in the cucumber. Everything sort of melded together into something quite bland.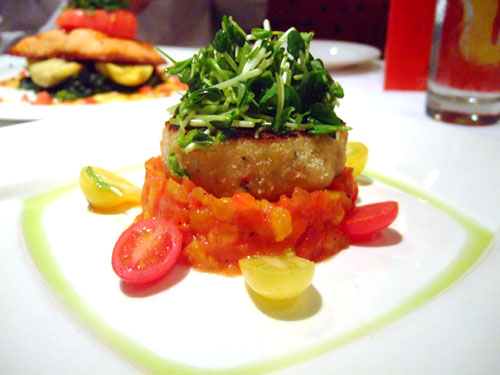 Crab and Lobster Cake
On Fire Roasted Tomato, Peppers Relish Pea Sprouts and Lemon Vinaigrette. The menu said this had crab and lobster, but I honestly couldn't tell. The cake seemed like all filler, with very little resembling either crab or lobster. In addition, the pepper relish was far too sweet for me. I'm a big fan of crab cakes, but this was a let down (in case you're wondering, the best crab cakes I've had are at Gulfstream in Newport Beach, served only on Saturdays apparently).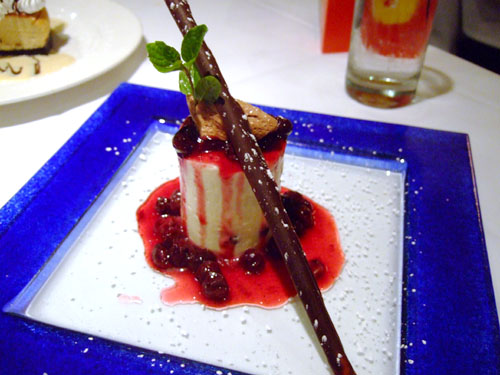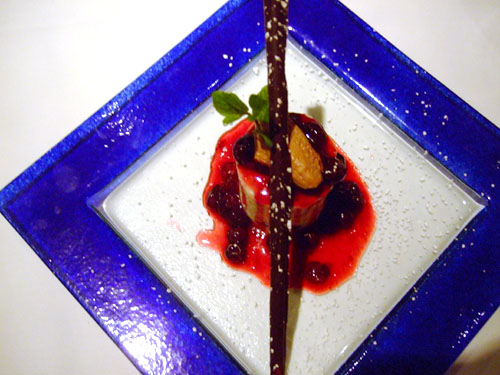 Blueberry Lemon Trifle
With Chocolate Sabayon and Blueberry Compote. Quite an untraditional trifle, but it worked for me, with the blueberry and chocolate beautifully complementing the cake. This was a lovely dessert.
The following comprises the three-course prix fix my dining companion ordered. Fortunately, I did get to have a few bites!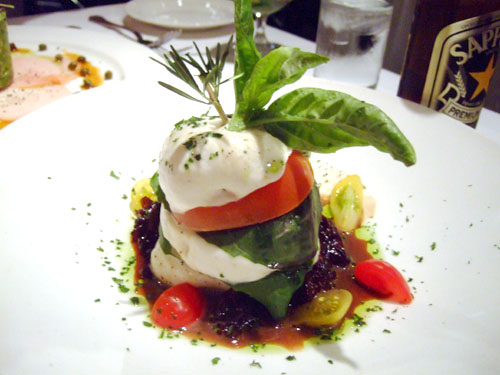 1: Warm Vine Ripened Tomato and Fresh Mozzarella
With Onion Marmalade and Basil Essence. This was basically an insalata Caprese, but it was surprisingly good. The mozzarella was delicious on its own, but the addition of the olive oil, pepper, basil, and tomato added layers of depth.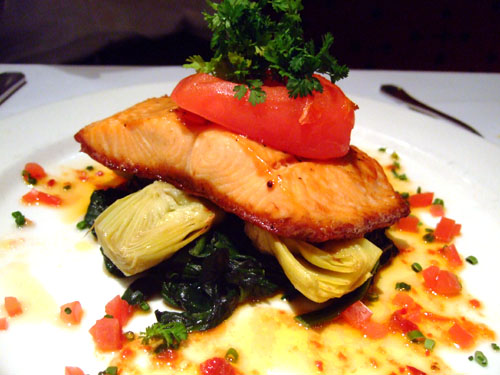 2: Soy Glazed Natural King Salmon
On Baby Artichoke, Wilted Spinach, Roasted Tomato and Spicy Chili Vinaigrette. Superbly cooked, the fish had a great salmon essence yet maintained a tender, juicy, firm and flaky texture. The artichoke was quite nice as well.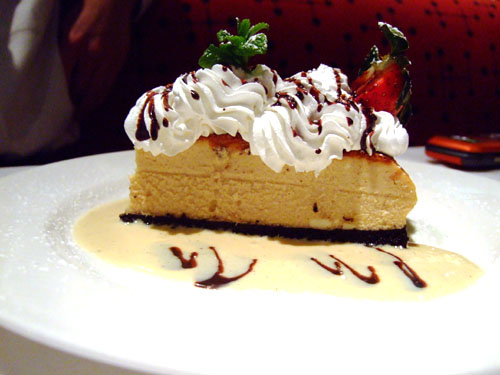 3: White Chocolate Cheese Cake
With Oreo Cookie Crust and Vanilla Sauce. This was a passable cheesecake, though the only thing special about it was the Oreo crust. They also went a bit overboard with the vanilla sauce and whipped cream in my opinion.
Overall, the meal fell below expectations. In fact, I'd say it was the most unsatisfying out of my five experiences here. Specifically, I was hoping for much more from the appetizers, which were completely lackluster with the exception of the sashimi. I don't think it's that the restaurant has worsened necessarily; but it may just be that my own palate has evolved. Such is my dilemma: with greater refinement inevitably comes greater disappointment.