Kaji (Kyoto, Japan)
Kaji
112-19 Yokokaji-cho, Ogawahigashi-iru, Marutamachi-dori, Nakagyo-ku, Kyoto-shi, Kyoto 604-0087
07.5231.3801
r.gnavi.co.jp/k356400/
Sun 03/16/2008, 06:00p-08:30p
Kaiseki is a traditional Japanese meal, oft considered the highest form of Japanese cuisine. The term originally referred to light meals served after tea ceremonies, but now applies to elaborate multi-course dinners such as the one here. Kaiseki often features seasonal and regional specialties, arranged and plated in ways that enhance the appearance and seasonality of the meal.
Fortunately for us, Kyoto is considered the prime location for this form of dining, so a kaiseki meal was a must. Kaji is owned by chef Kenji Kaji. Kaji is perhaps best known for his appearance on the Japanese TV cooking show
Iron Chef
. In it, he fought Iron Chef Michiba in the umeboshi (pickled plum) battle. Kaji managed to set a record for the highest number of dishes prepared, at eight, though this was still not enough to defeat Michiba. I watched the battle on
YouTube
and felt that Kaji deserved the win. It was the first battle for Michiba after recovering from an illness, so perhaps Michiba had to emerge victorious for political reasons.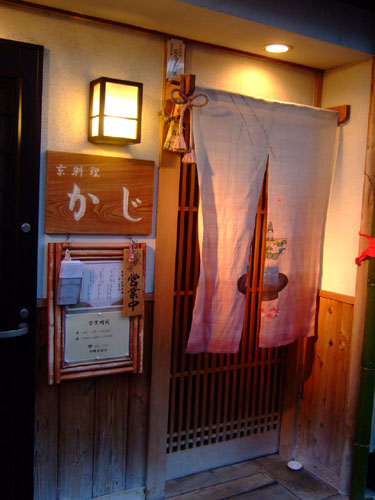 The main entrance. Note the small pile of salt near the doorway. Apparently, the origin of placing salt outside restaurants was to attract horses, and thus their riders, to the establishment. Salt is also viewed as an element of purification, so the salt may act to purify those who enter the restaurant.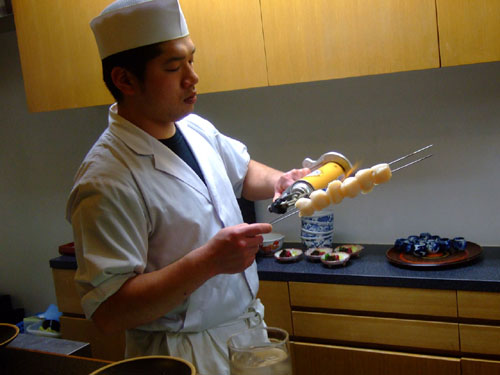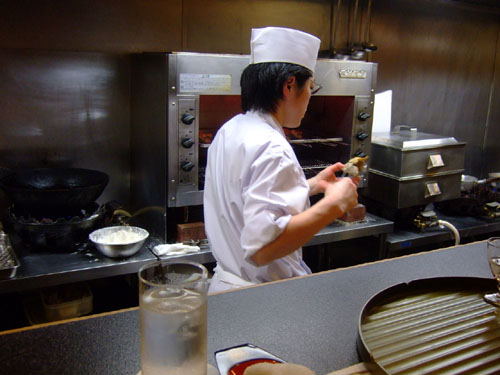 Kaji is a small restaurant, with bar seating for ten persons. These seats directly face the kitchen, and thus we were provided with a nice show along with dinner. There is also a small dining room upstairs.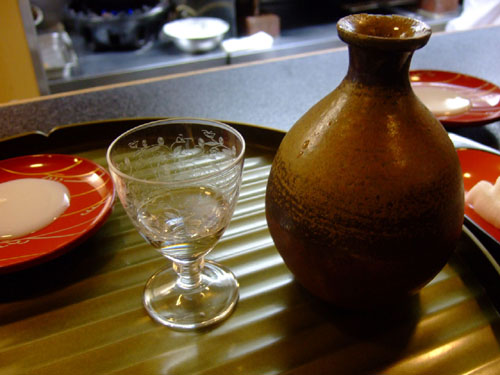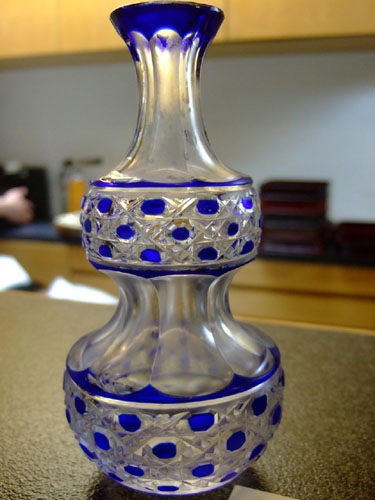 We ordered two types of sake. The first came in the ceramic tokkuri on the left, while the second was served in a glass flask. Unfortunately I don't recall the name of either, though both were quite delicious and paired well with the food.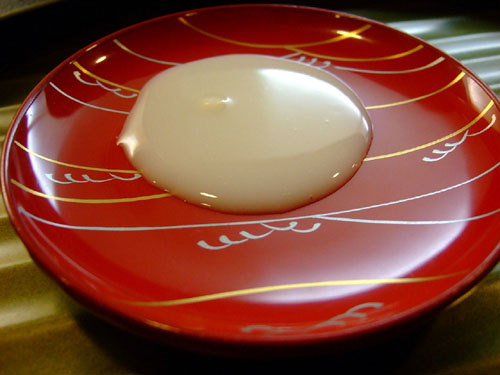 1: Aperitif
White sake, unfiltered. The sake was served in a sakazuki, which is a saucer-like cup we weren't quite familiar with. Humorously, we weren't sure if/how we were supposed to drink it. This was quite unlike any sake I'd had before; it was sweet and super thick, loaded with much more sediment than any nigori I'd experienced previously.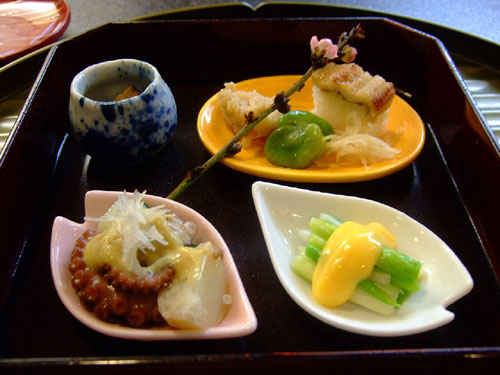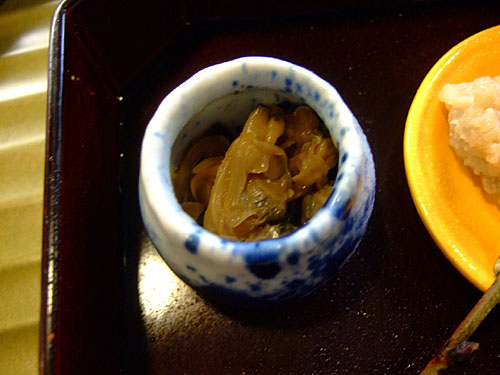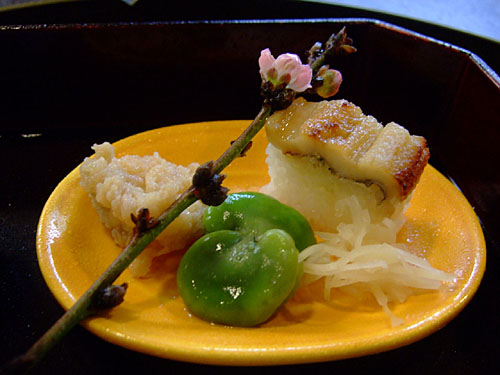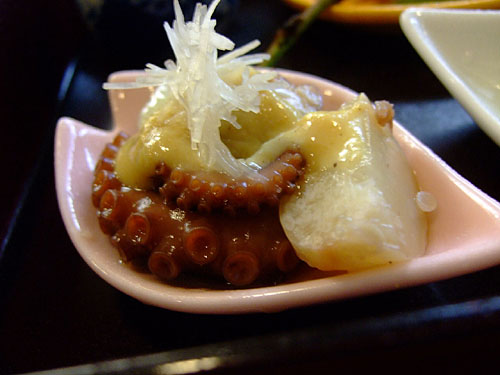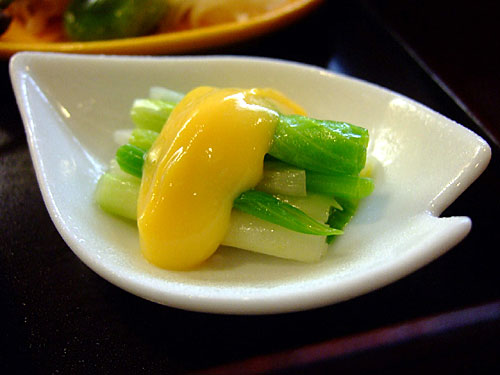 2: Appetizers
Served with plum bud decoration:
• Cooked Asari clams - Subtly sweet, slightly chewy, with a hint of the ocean.
• Monkfish fillet, deep fried and vinegared - I would've liked to have this served warmer. Perhaps we waited too long before eating, as the fried outer layer of the fish was a bit soggy.
• Fava beans - Not much to say about this, but it was nice.
• Small anago eel sushi - Very light and delicate, quite good.
• Urui mountain vegetable with sweet mayonnaise - My first experience with urui; it was almost scallion-like in nature if I recall correctly. The sweet mayo was a great accompaniment.
• Iidako baby octopus and wakegi scallion, with mustard vinegar miso - I think this was the best octopus I've ever had. I loved the fresh snap of the octopus and the perfect pairing of the mustard sauce.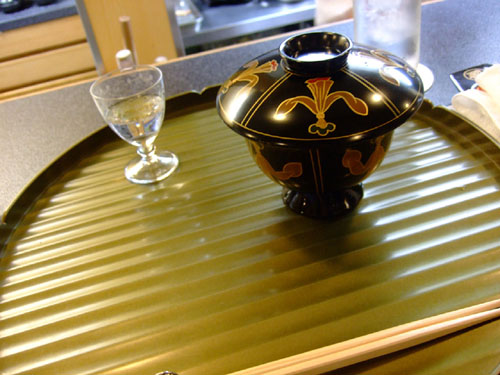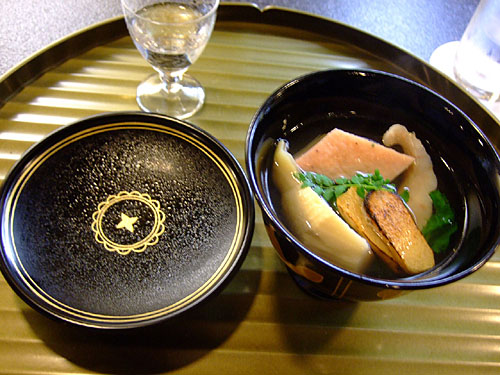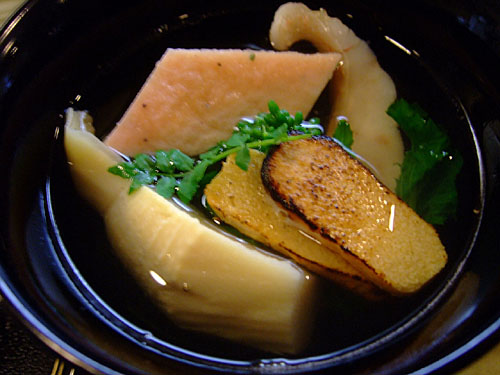 3: Clear Soup
With bamboo shoot, wakame seaweed, steamed triple colored paté (shiba ebi pink shrimp, eggs, and yomogi leaves), sake-steamed amadai white fish, baked karasumi mullet fish roe, and sansho tree leaves. A very nice soup. I especially enjoyed the paté and the karasumi. The bamboo was quite tasty as well. This was my first taste of karasumi, or sun-dried and salted pickled mullet roe. It had a strong, distinctive, salty flavor which stood in contrast to the milder tones of the rest of the soup.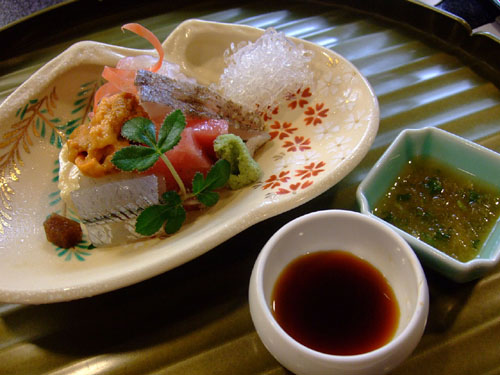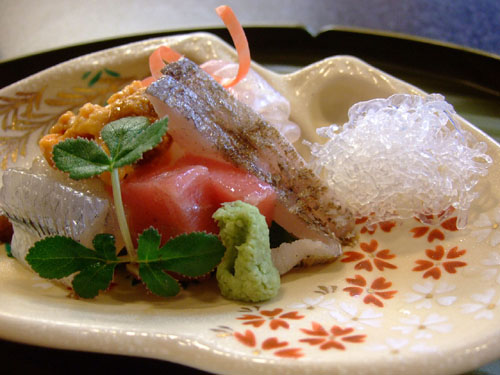 4: Sashimi
Tai, toro from small blue fin tuna, tachiuo, uni, sayori, yuba tofu skin, bofu leaves, shiso leaf, grated wasabi, twisted carrot strip. My favorites were the tachiuo (largehead hairtail, my first time having it) and sayori (needlefish). And although I'm not a huge uni fan, this was one of the best preparations I've had. The sashimi easily stood on its own, but was further enhanced with two dipping sauces: soy sauce with dashi stock, and spiced vinegar.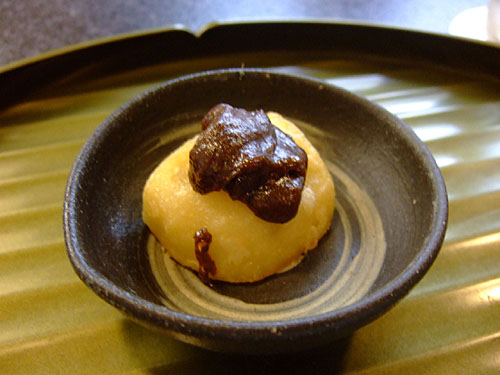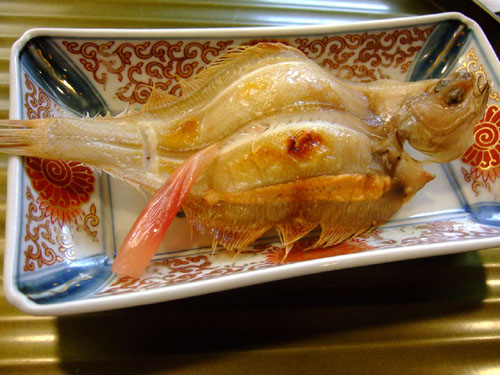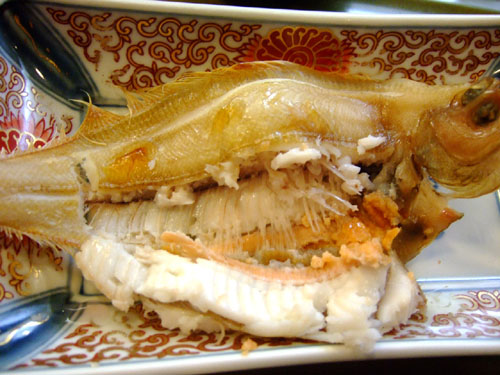 5: Grilled Fish
Sasa-garei (whole small flounder from Wakasa Bay north of Kyoto) with sweet vinegared myoga (a plant native to Japan known for its edible flower buds and shoots, which I found it quite tart). The fish was tasty, though a bit difficult to eat. In fact, some of my dining companions had trouble getting hold of the meat, so Kaji-san had to step in and help them! The fish was paired with a new potato with egoma seed paste, which gave the potato a slightly sweet flavor.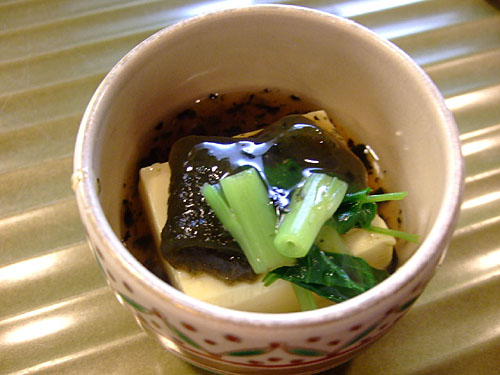 6: Middle Dish
Egg tofu, warabi cake with green seaweed, wasabi flower with thickened sauce. This was my first experience eating warabi, which is otherwise known as fiddlehead. The taste was like nothing I'd had before, and I found it a bit disconcerting. It tended to dominate the dish, and drew attention away from the tofu and wasabi.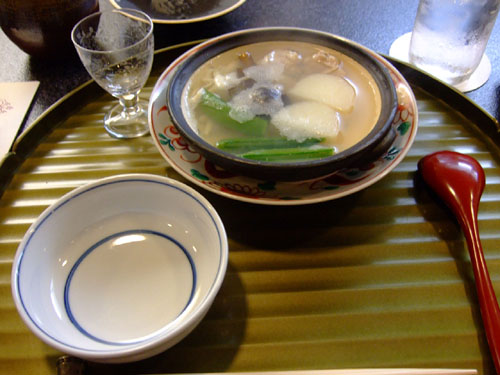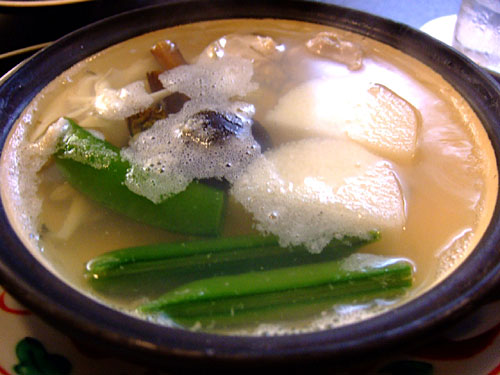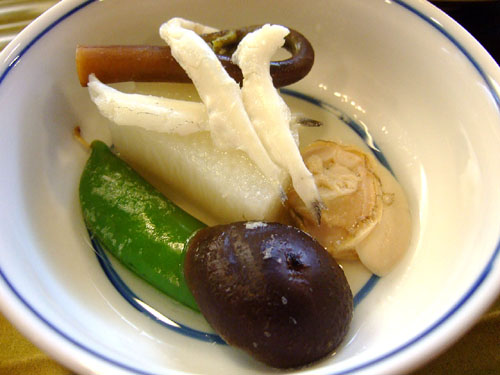 7: Small Hot Pot
Shirauo white fish, warabi bud, yam, shiitake mushroom, snap peas, hamaguri little neck clams, and sansho leaves, in clear clam soup. The warabi here was much less concentrated in flavor I thought. It was a nice addition to the hot pot, but my favorite items were the clams, peas, and mushrooms. Afterwards, I drank the remaining clam soup, which was fantastic.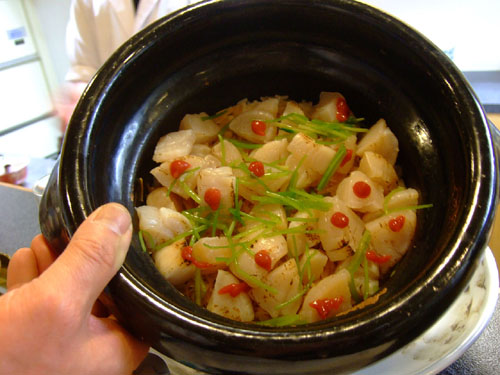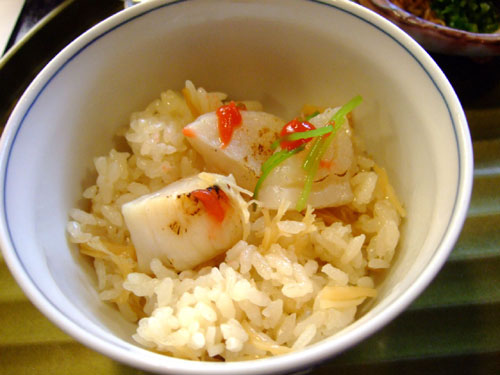 8: Rice Cooked in a Clay Pot
Fresh scallop, cooked with dry scallop, served with mitsuba leaves and a dash of plum paste. Here we have the scallops that we saw being cooked with a blowtorch above. The scallops were delicious on their own, well-cooked but not over-cooked, and proved to be fitting toppings for the rice. A funny thing happened with this course. Two large pots were cooked, and after we were done with our first bowls, we were offered more. We thought it'd be rude to refuse, so we just kept eating. At the end, we were all stuffed! I had three bowls myself. It was only later than we discovered that we were supposed to take the bulk of the rice to go.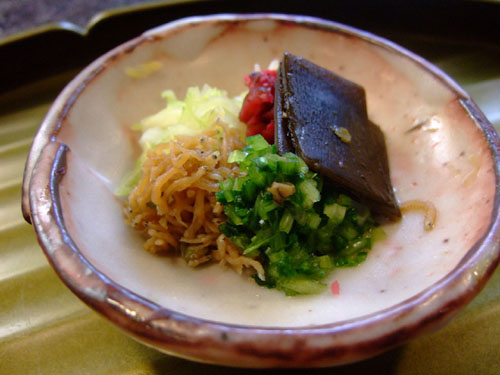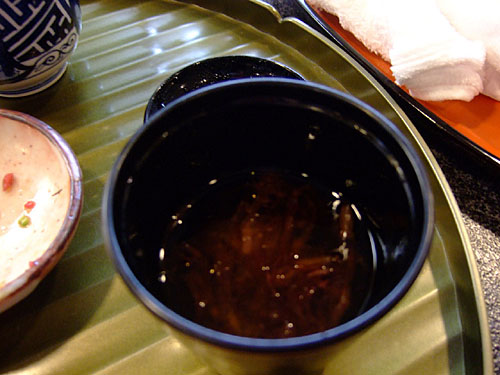 Along with the scallops, we also had a small plate of pickles: kombu seaweed, dried baby sardine, new cabbage, red shiba pickles. They provided a tart accompaniment to the rice. In addition, we also were served a soup of funori seaweed in red miso, which I was rather liked. It was akin to your standard miso soup, though more focused, with seaweed flavors.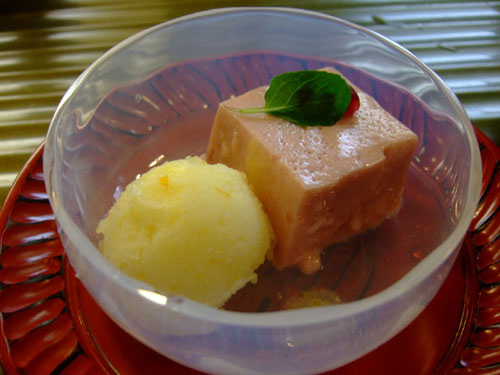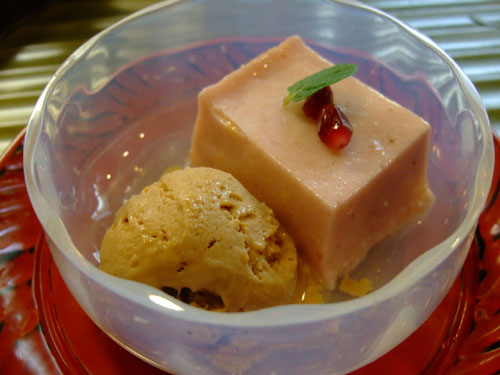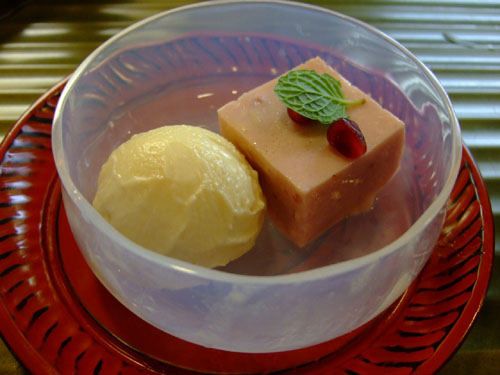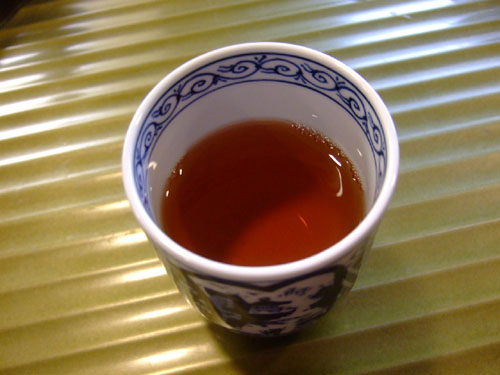 9: Dessert
We had a choice of three desserts: kinkan kumquat citrus sorbet (crisp and tart), kinako soy bean powder ice cream (thick and rich, with hints of red bean), or daiginjo-class sake lees ice cream (very intense, with strong notes of sake and alcohol). All three were served with a pomegranate-topped strawberry mousse. A cup of tea closed out the meal.
Overall, I was quite satisfied with this first foray into traditional kaiseki cuisine. I haven't had a meal quite like it before, and I definitely felt there were some tastes and textures that I hadn't experience previously. I sensed a great pride and respect for the ingredients used, and appreciated the simple yet complex techniques of preparation that preserved the character and integrity of the raw elements, while at the same time adding depth and layers of complexity. As for Kaji-san himself, it is obvious that he's dedicated himself to his restaurant and the preservation of Kyoto kaiseki cooking. During the meal, he was immensely humble as well as helpful, going out of way to translate for us the ingredient list from Japanese to English (using an electronic translator no less, as no English was spoken). Kaji-san, you're worthy of an Iron Chef in my book!