Catal (Anaheim, CA)
Catal Restaurant
1580 S Disneyland Dr, Anaheim, CA 92802
714.774.4442
www.patinagroup.com/catal/
Sat 03/24/2007, 09:10p-10:55p
Fine dining at Disneyland? I was a bit skeptical, but I'm happy to report that, yes, it is indeed possible. Much to my surprise, Catal is actually part of the Patina Group, which includes such SoCal staples as the namesake Patina in Downtown, Nick & Stef's, and Pinot Provence. The next Patina property we'll be visiting is probably Joachim Splichal's newest venture: Leatherby's Cafe Rouge at the Renee and Henry Segerstrom Concert Hall.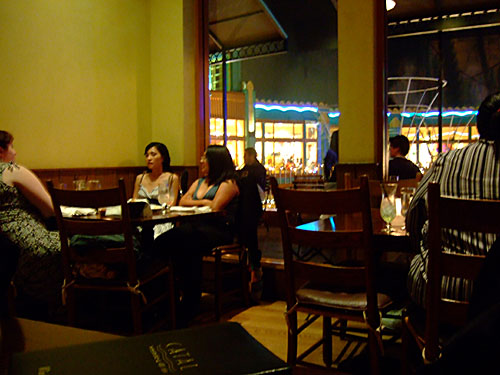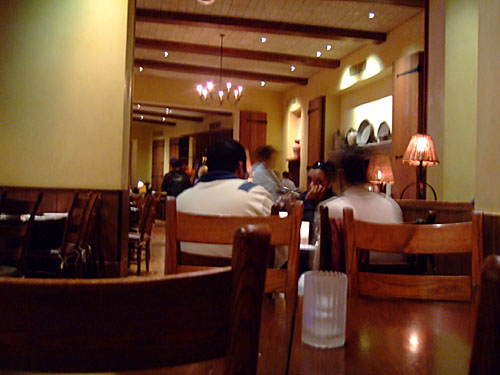 Catal consists of a number of rooms and outdoor patio terraces, separated by floor-to-ceiling windows. Our seat proved a good vantage point for enjoying the nightly Disneyland fireworks.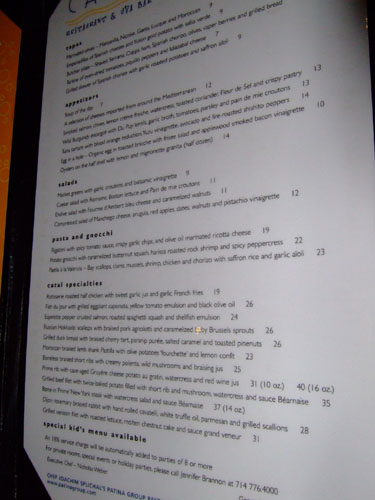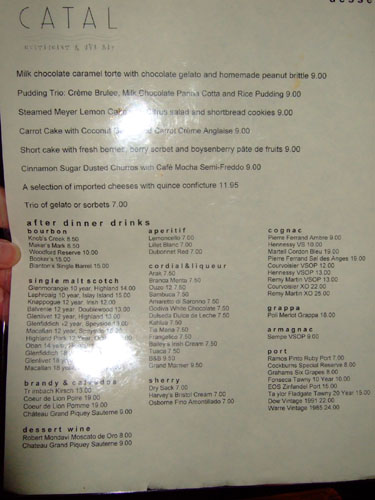 The dinner contains a variety of Mediterranean-inspired dishes created by executive chef Nicholas Weber. The dessert menu is not quite as innovative, but does have a decent sized drinks list, though I would've liked to have seen more dessert wines (late harvest, eiswein, etc.). Click for larger versions.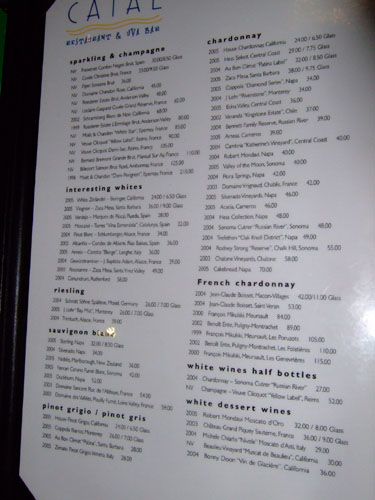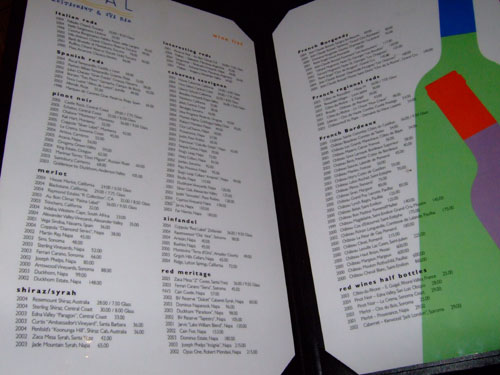 The wine list combines breadth with reasonable prices. Our table wasn't quite ready when we arrived, so we decided to order wine at the bar. I had the 2004 Schmitt Söhne Spätlese, Mosel, Germany while my dining companion had the 2005 Viognier, Zaca Mesa, Santa Barbara. We both agreed that the Riesling was better. Along with our entrees, we had the 2005 Echelon Pinot Noir, Central Coast and the 2004 Liberty School Cabernet Sauvignon, California. Click for larger versions.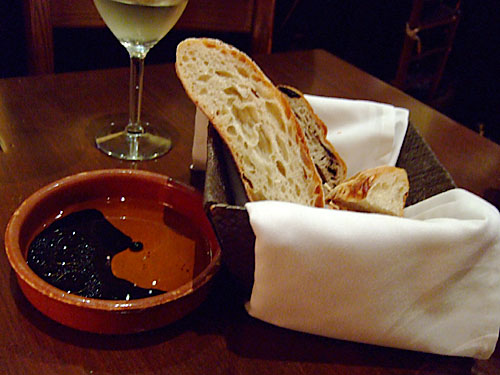 Several varieties of bread were offered. The dip was a mixture of olive oil and balsamic vinegar.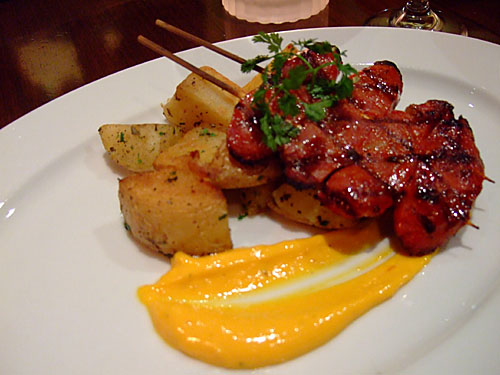 Grilled skewer of Spanish chorizo
With garlic roasted potatoes and saffron aïoli. While the chorizo was quite delectable, the real star for me here was the potato.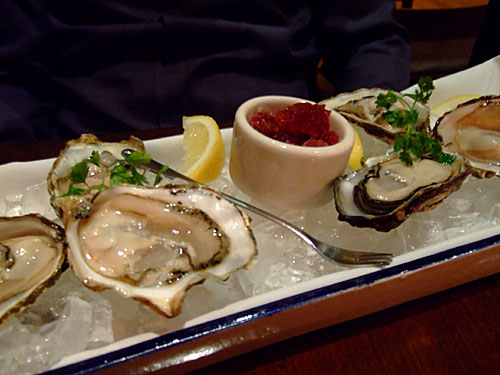 Oysters on the half shell
With the requisite lemon and mignonette granita. What we have here is a quintessential expression of oyster: briny, mineral-y, and subtly sweet.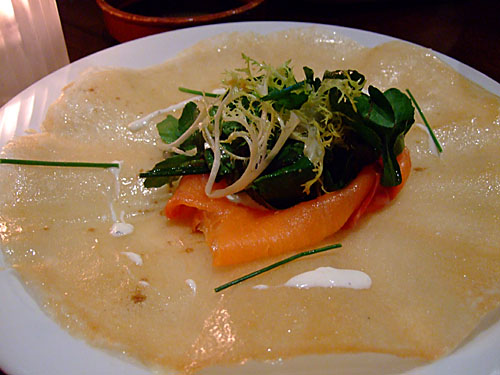 Smoked salmon
With chives, lemon crème fraiche, watercress, toasted coriander, Fleur de Sel and crispy pastry. The salmon was a bit sweet for my tastes. I prefer it more savory and I also had a difficult time discerning many of the flavors here. My dining companion quite liked the crispy pastry, though I wasn't nearly as big a fan.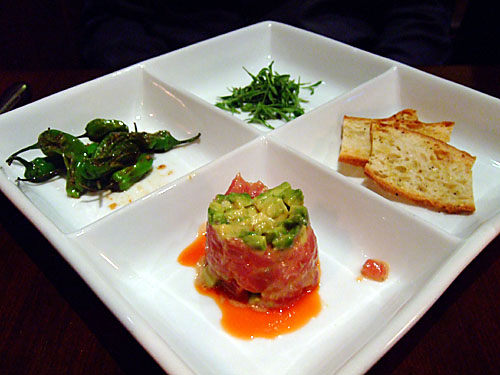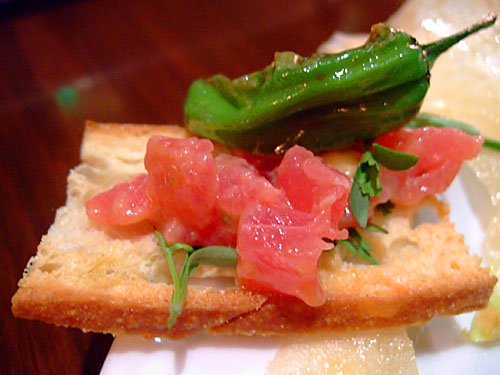 Tuna tartare
With blood orange reduction, yuzu vinaigrette, avocado and fire-roasted shishito peppers. Tuna tartares have become such a mainstay on menus nowadays, so it's not often that I'm pleasantly surprised like I was with this. The citrusy tang of yuzu and the slight shishito spice added just enough flavor to the tuna. Loved the compartmentalized presentation on this one!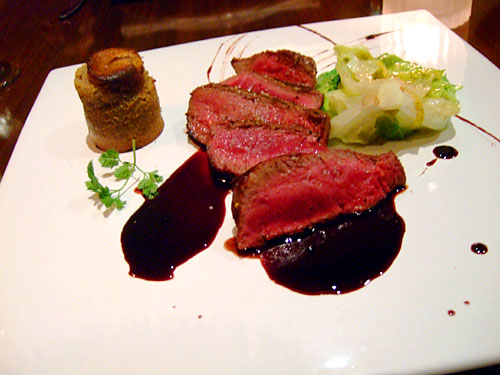 Grilled venison filet
With roasted lettuce, molten chestnut cake and sauce grand veneur. The meat turned out to be much more tender that I thought it would be, while the taste was mild, and not particularly gamy. The sauce and the lettuce complemented the venison well, but I wasn't a fan of the chestnut cake.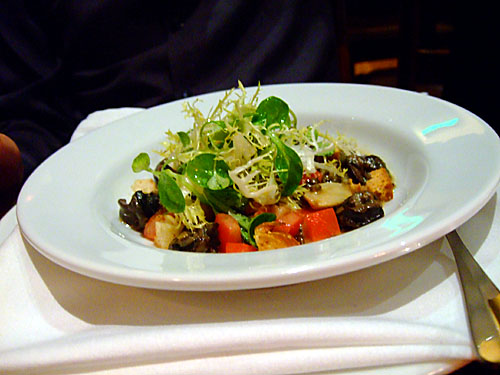 Wild Burgundy escargot
With Du Puy lentils, garlic broth, tomatoes, parsley and pain de mie croutons. I've never had escargot quite like this before. Unlike most preparations, this was actually quite light (perhaps too much so), without the heavy sauces that typically accompany snail. I still prefer the buttery, garlicky, stereotypical
bourguignonne
variation however.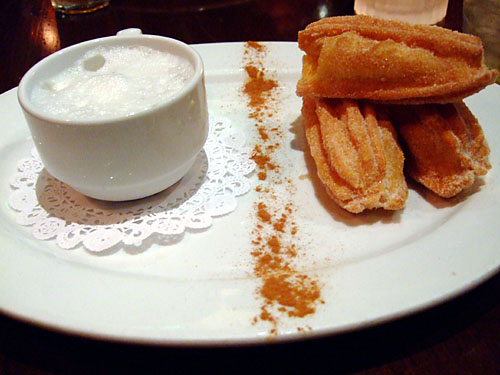 Cinnamon sugar dusted churros
With café mocha semi-freddo, which I used to dip the churros in. As for the churros themselves, they were among the best I've ever had. I ate this with Frangelico, a hazelnut and herb-flavored liqueur from Canale, Italy. It was actually my first experience with Frangelico and the combination worked pretty well.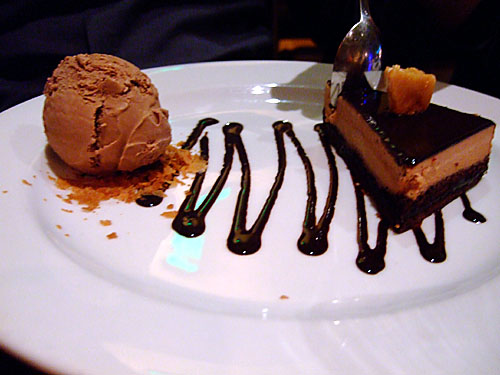 Milk chocolate caramel torte
With chocolate gelato and homemade peanut brittle. This proved a competently crafted construction of chocolate, thought not particularly distinctive. We had this with Dry Sack sherry.