Patina (Los Angeles, CA)
Patina
141 S Grand Ave, Los Angeles, CA 90012
213.972.3331
www.patinagroup.com/patina/
Fri 08/10/2007, 08:50p-12:20a
Patina is the flagship restaurant in Joachim Splichal's sprawling culinary empire. It is the second of Splichal's restaurants I've sampled (the first was
Catal
at Downtown Disney), but the first fine dining establishment. I had known of the restaurant for a long time, but just never got around to trying it. However, based on our experience, there looks to be a good chance we'll be dining at another Patina Group establishment, Leatherby's Cafe Rouge, which is, interesting enough, also located in a performing arts venue: the Segerstrom Concert Hall in Costa Mesa.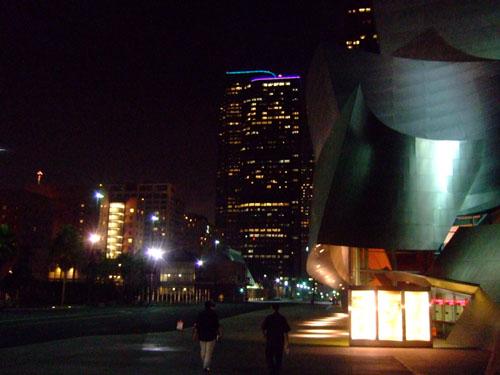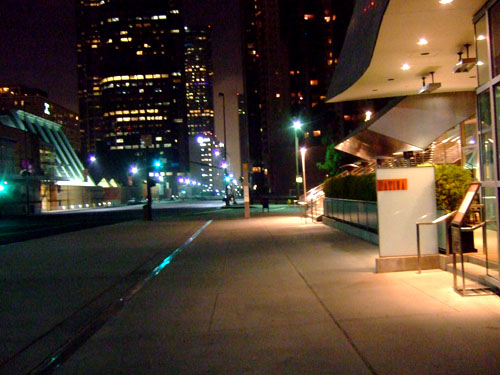 Patina is located on Grand Avenue, in the heart of Downtown LA, in the Frank Gehry-designed Walt Disney Concert Hall.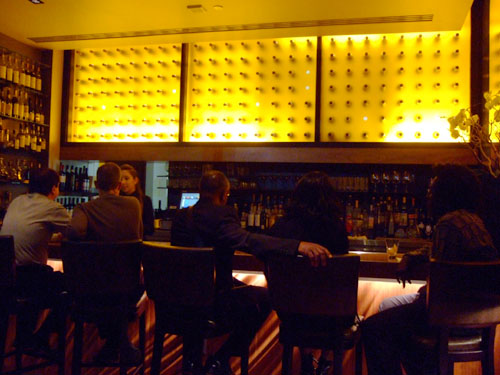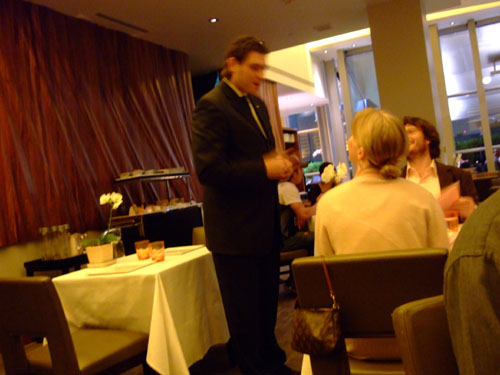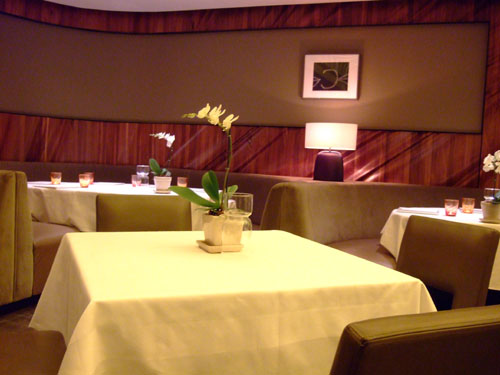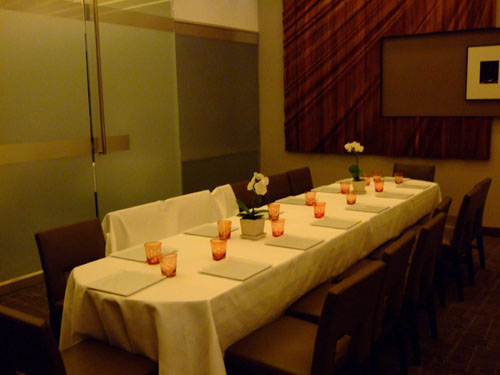 The interior is clean, contemporary, and awash in soft yellow light (which made for difficult photo-taking). The main dining holds about two dozen tables and booths, while a private dining room and chef's table are also available.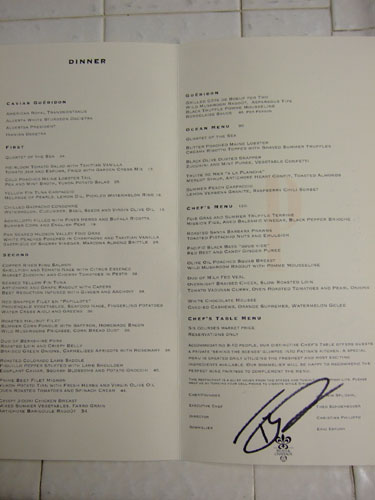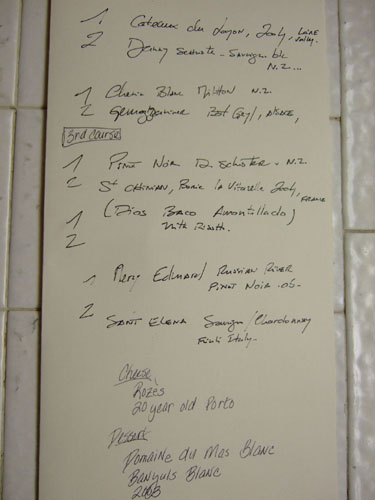 We enjoyed both the Chef's Menu and the Ocean Menu (we added on a halibut course to balance the number of courses). Note the signature of Executive Chef Theo Schoenegger. We also requested that the wine pairings be written down. Unfortunately, the pairings for the third course were left out. I've since sent an email to sommelier Eric Espuny but have yet to hear back. Click for larger versions.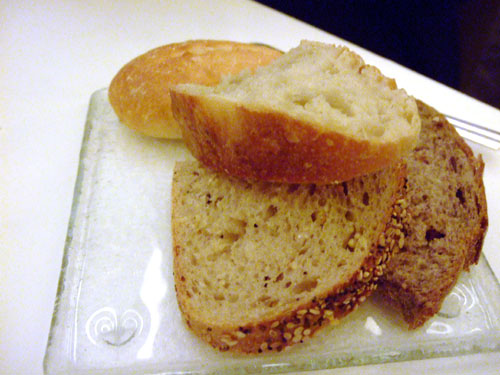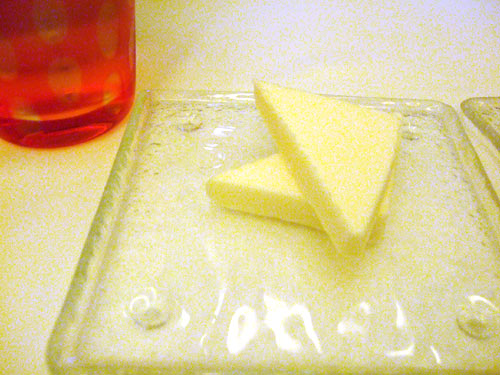 Four types of bread were offered: potato leek, ciabatta, walnut, and sesame.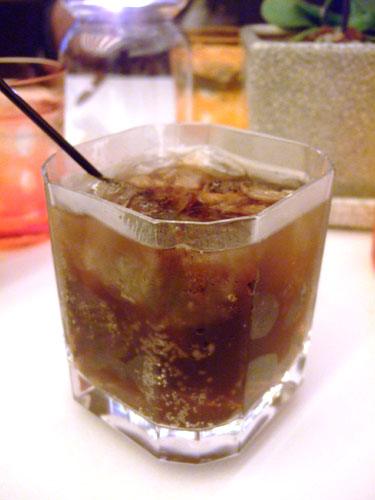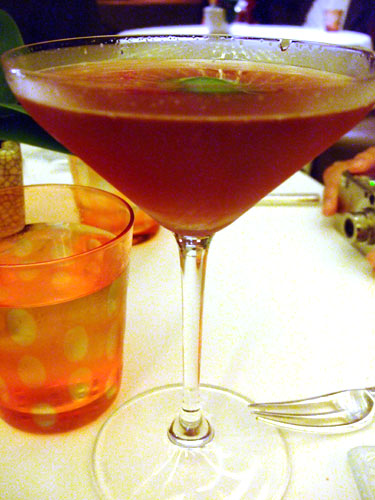 After being denied my signature mojito, I chose instead a Cuba Libre (rum, cola, lime juice), which proved to be noticeably better than your standard rum & coke. One of my dining companions ordered a Metropolitan (a cosmo with pomegranate vodka, pomegranate juice, and triple sec).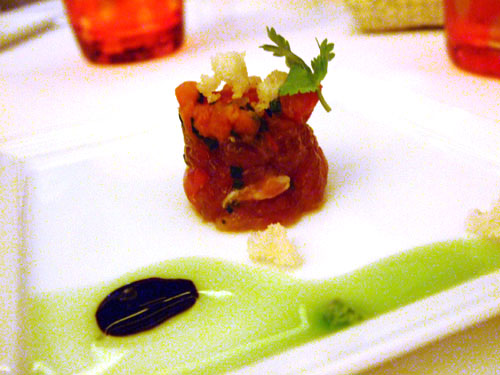 Amuse Bouche: Tuna Tartare
With soy, pickled onion tempura, and balsamic vinegar. Tuna tartare almost seems clichéd to me these days, but this was a genuinely good example, especially for an amuse. A good start.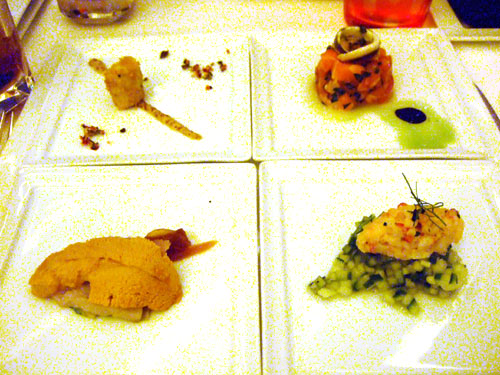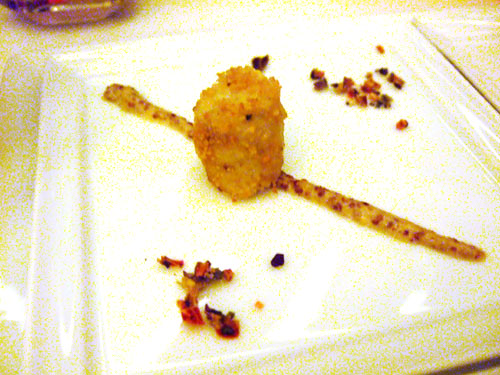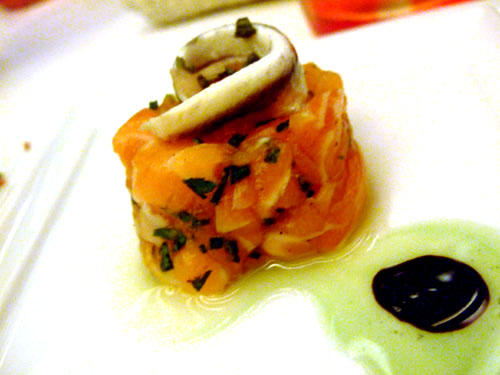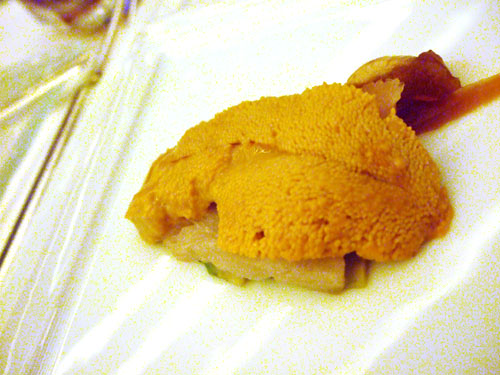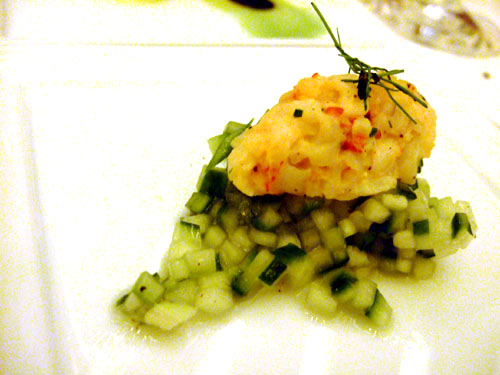 1a: Quartet of the Sea
Sauvignon Blanc, Daniel Schuster, Marlborough, New Zealand
The quartet consisted of (clockwise from top-left): crabcake (too much breading, weak mustard), salmon tartare (my favorite, fairly complex, with a resilient texture and a little spice), lobster salad (a bit too much cucumber, but otherwise quite good), and uni/hamachi sashimi (over avocado, with very fresh tasting uni). The paired Sauvignon Blanc was typical of the New Zealand style, with a noticeable dryness, restrained fruit, and good structure.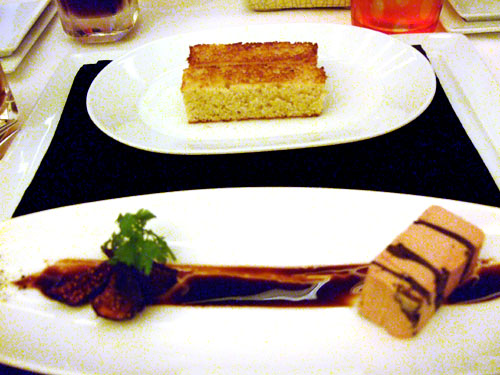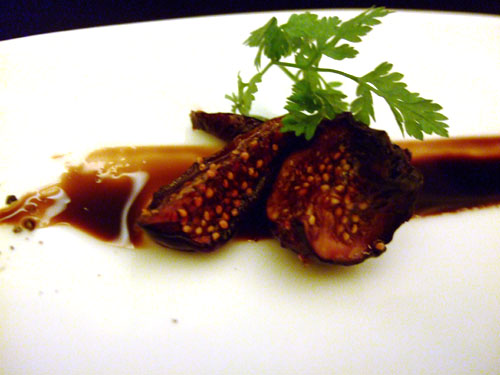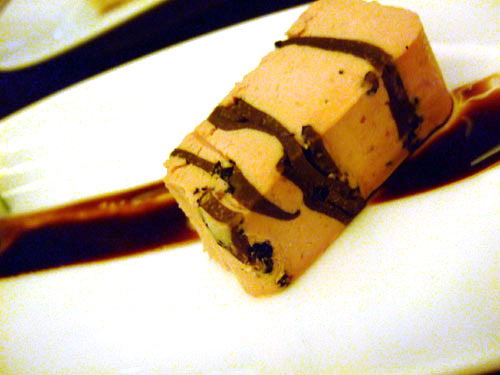 1b: Foie Gras and Summer Truffle Terrine
Unknown wine from Coteaux du Layon, Loire Valley, France
Mission Figs, Aged Balsamic Vinegar, Black Pepper Brioche. A very nice terrine of foie gras (though not up to
French Laundry
levels), I especially enjoyed the layers of truffle. The wine was also quite good: a sweet Chenin Blanc with heavy notes of Sauternes, it provided a classic foil to the foie.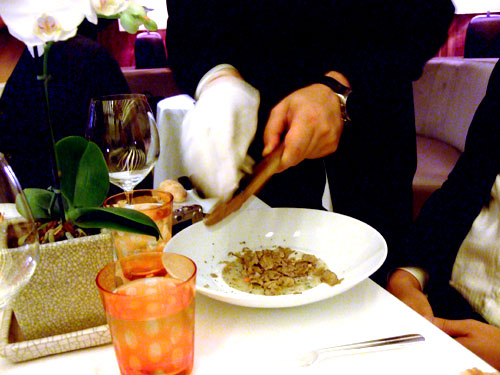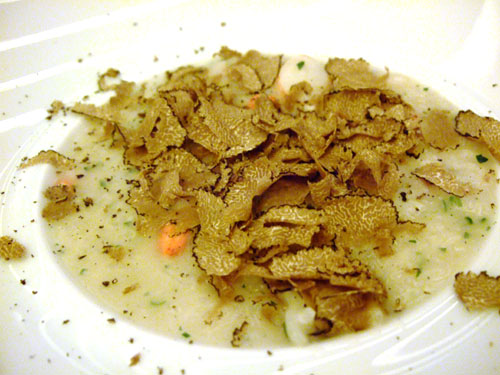 2a: Butter Poached Maine Lobster
Gewurztraminer, Domaine Bott-Geyl, Furstentum, Alsace Grand Cru, France
Creamy Risotto Topped with Shaved Summer Truffles. I used to scoff at risotto; "It's just rice, big deal!" I'd think. Well, this was a revelation. Creamy, flavorful, with huge chunks of lobster, the risotto stole the show. Note the liberal application of black truffle!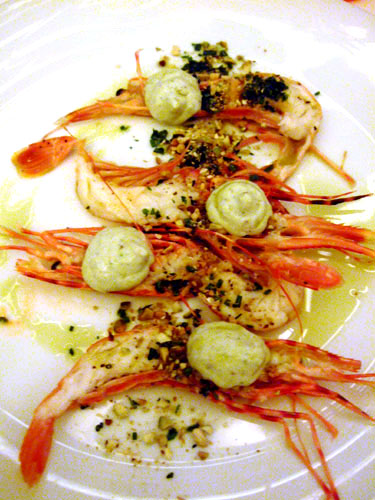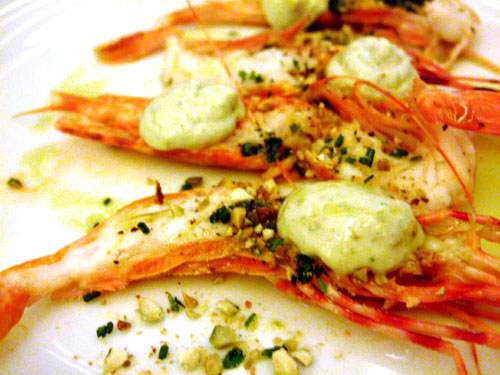 2b: Roasted Santa Barbara Prawns
Chenin Blanc, Millton, "Te Arai Vineyard", Gisborne, New Zealand
Toasted Pistachio Nuts and Emulsion. I liked the slight tang of the dill(?) cream, but wished that the prawns were a bit meatier. What a tease! The second Chenin Blanc of the night was completely unlike the first, with sharp acidity, slight minerality, and dry notes of stone fruit and honey.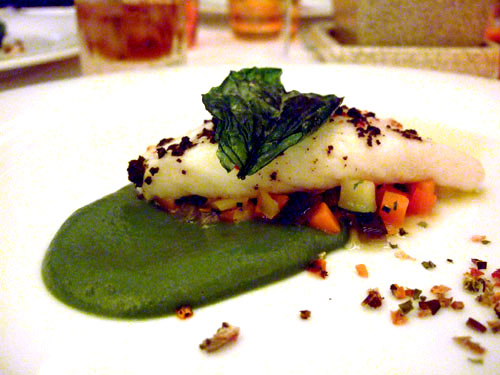 3a: Black Olive Dusted Snapper
Unknown wine
Zucchini and Mint Puree, Vegetable Confetti. This had a texture that was quite unlike any snapper I've had before, which wasn't necessarily a bad thing. The flavor was a bit too mild for me however.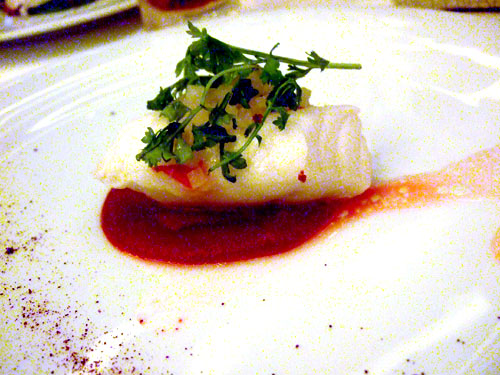 3b: Pacific Black Bass "Sous Vide"
Unknown wine
Red Beet and Candy Ginger Puree. One of the better preparations of bass I've had actually, with a nice texture. I found the beet puree to be a bit overpowering however. Interestingly enough, I believe this was actually paired with a red wine.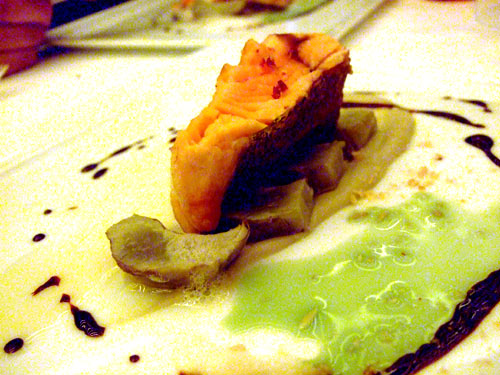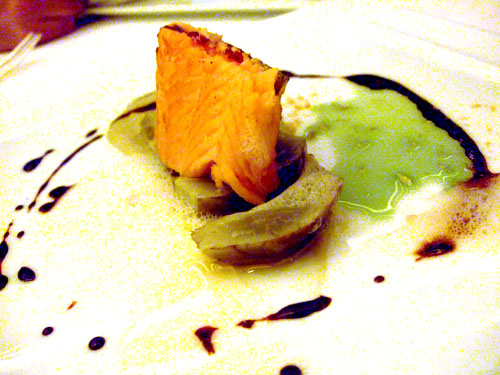 4a: Truite de Mer "A la Plancha"
St.-Chinian, Domaine Borie La Vitarèle, Languedoc, France
Merlot Syrup, Artichoke Heart Confit, Toasted Almonds. I thought this was salmon when I first saw it, but it turns out that Truite de Mer is simply sea trout. As such, it was similar in texture and taste to salmon. Loved the crispy skin.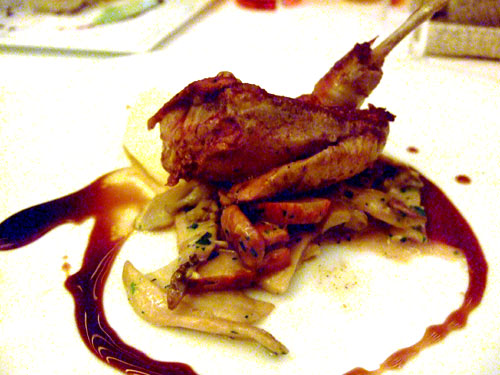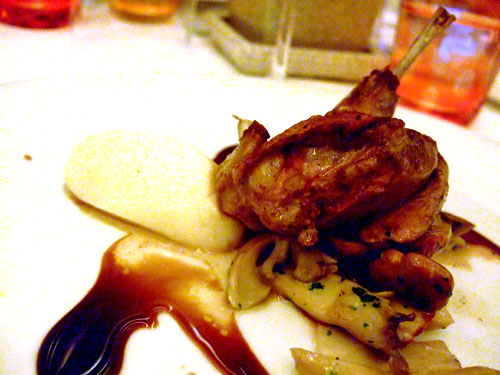 4b: Olive Oil Poached Squab Breast
Pinot Noir, Daniel Schuster, New Zealand
Wild Mushroom Ragout with Pomme Mousseline. Another nice preparation of squab, the bird has yet to let me down. Flavorful and tender, it went very nicely with the Pinot, which had notable hints of smoke, berries, and oak.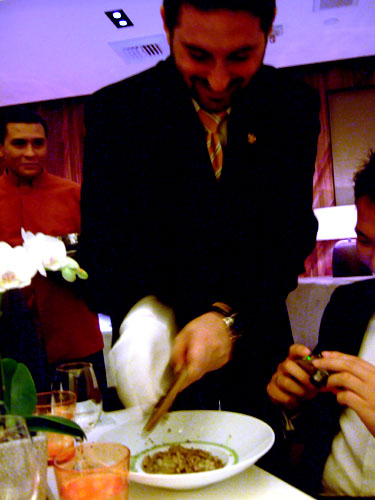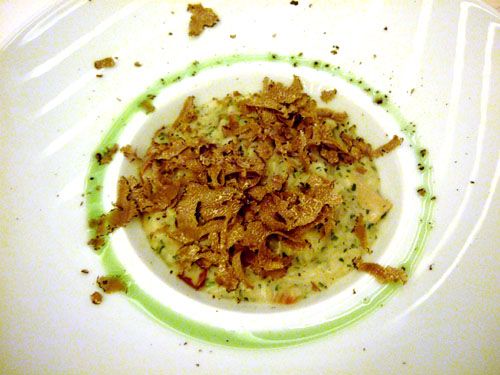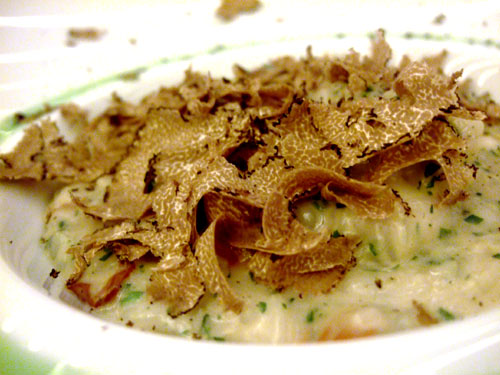 Special: Mushroom Risotto
Amontillado, Bodega Dios Baco, Jerez, Spain
Topped with Shaved Summer Truffles. Another fantastic course of risotto. I can't decide if I like this or the version above better. I really liked the big chunks of lobster in the first preparation, but the mushroom here perhaps pairs better with the rich, pungent earthiness of the truffle.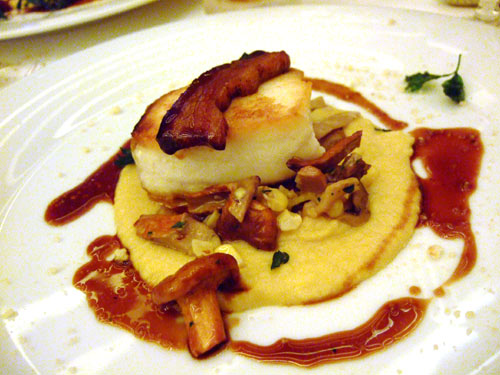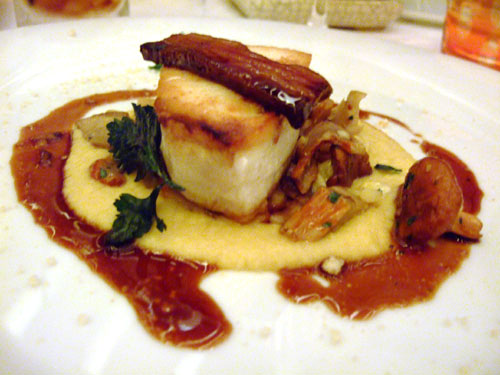 5a: Roasted Halibut Filet
Chardonnay-Sauvignon Blanc, Saint Elena, Venezia, Italy
Summer Corn Fondue with Saffron, Homemade Bacon, Wild Mushrooms Fricasse, Corn Bread Dust. I was actually not a fan of this dish, as I found the halibut too mild in flavor. This was helped out, however, by the mushroom and bacon, which were rather savory. The wine pairing, a mix of Chard and Sauv Blanc, was quite good.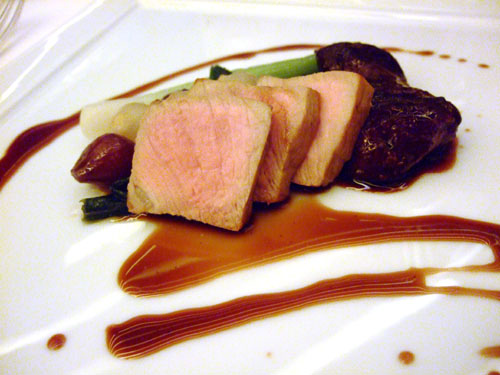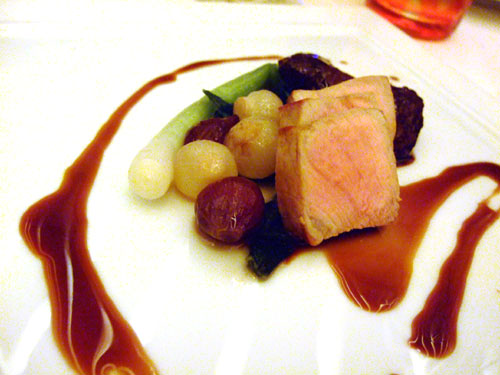 5b: Duo of Milk Fed Veal
Pinot Noir, Merry Edwards, Russian River Valley, Sonoma, 2005
Overnight Braised Cheek, Slow Roasted Loin, Tomato Vaduvan Curry, Oven Roasted Tomatoes and Pearl Onions. I liked the super-tender, fatty, flavorful braised preparation but thought that the loin was a bit dry. Nice Pinot with this one.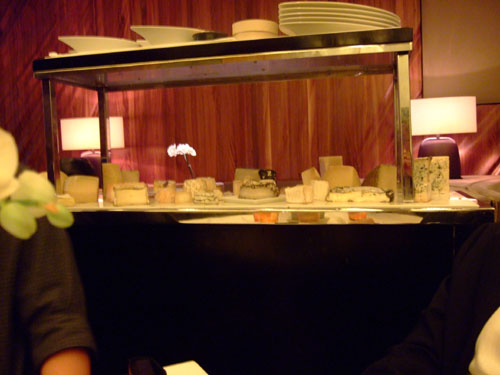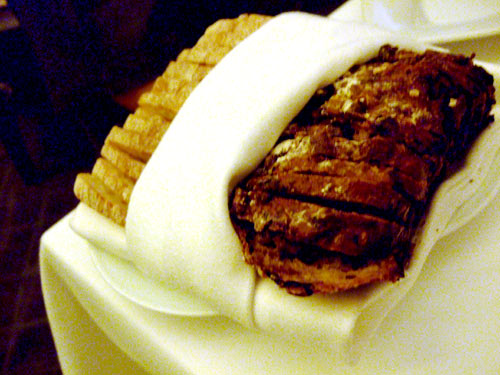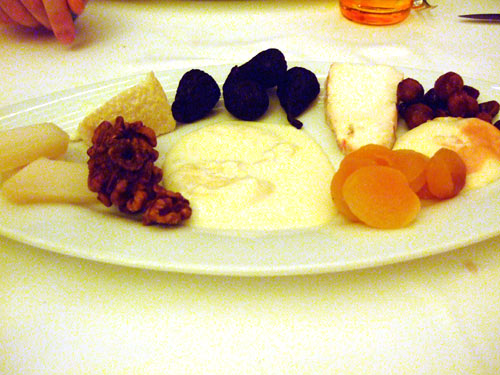 Fromage
Porto, Rozès, 20 Years Old
I'm pretty sure Patina had the largest selection of cheeses I've ever encountered. I do appreciate a nice cheese cart, a sight that's sadly becoming rarer and rarer these days. We were given five selections, from hard to liquid, cow to sheep to goat. All were quite good. Unfortunately, I only recall that the first cheese was an Abbaye de Belloc; the others escape me. The cheese was served with two types of nut and fruit bread, walnuts, figs, candied peanuts, and dried apricots.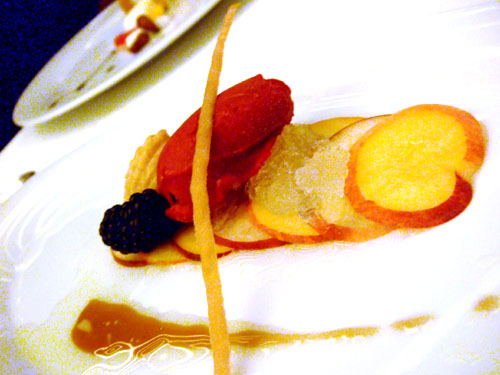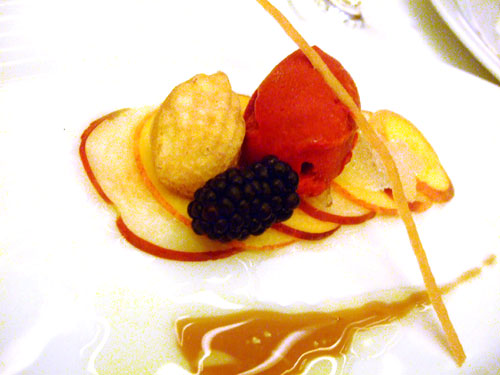 6a: Summer Peach Carpaccio
Domaine du Mas Blanc, Banyuls Blanc, Languedoc, France, 2005
Lemon Verbena Granite, Raspberry Chili Sorbet. The peach was quite sweet, especially when taken with the granite. Surprisingly, for something with chili, the sorbet wasn't particularly spicy. I did thoroughly enjoy the paired dessert wine, a sweet mix of Grenache, Muscat, and Malvoisie.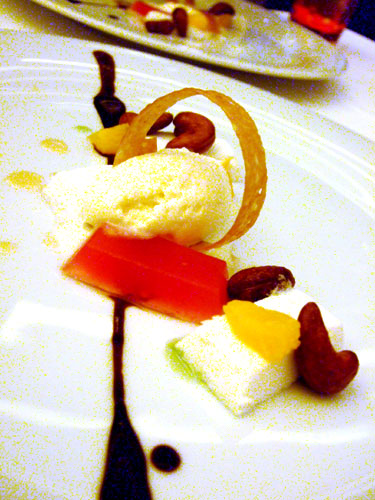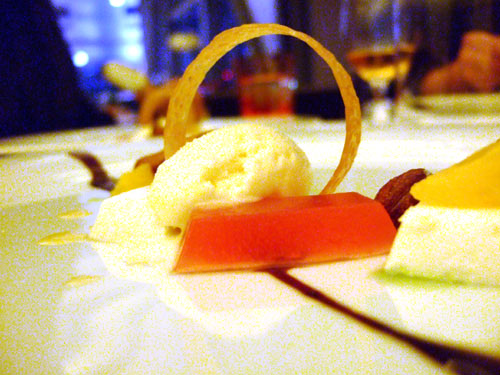 6b: White Chocolate Mousse
Domaine du Mas Blanc, Banyuls Blanc, Languedoc, France, 2005
Candied Cashews, Orange Supremes, Watermelon Gelee. This actually reminded me of the white chocolate dessert I had at
Providence
, though I think the execution was a bit better here.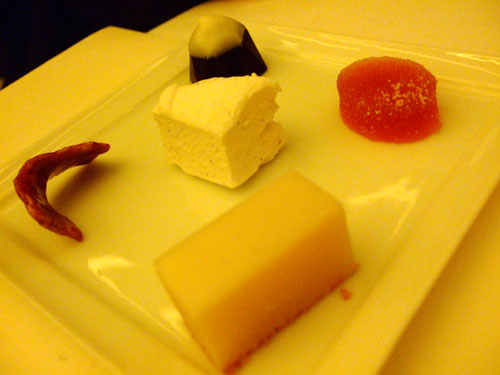 Mignardises
Dark chocolate truffle, rhubarb gelee, white chocolate cake, praline bitter, and marshmallow vanilla puff. My favorite was the truffle, though the praline was quite interesting.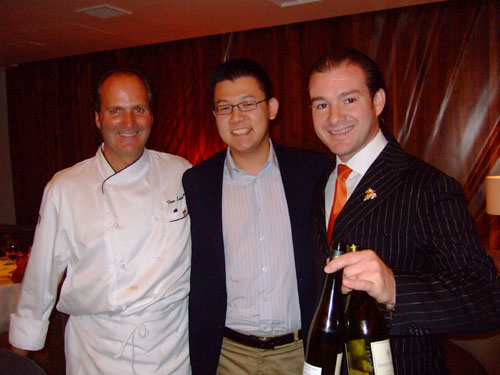 With Chef Theo and Sommelier Eric.