The Restaurant at Meadowood (St Helena, CA)
The Restaurant at Meadowood
900 Meadowood Ln, St Helena, CA 94574
707.967.1205
www.meadowood.com/winecuisine/the-restaurant/
Fri 08/22/2008, 05:50p-07:50p
Ever since its garnering of a two-star rating in the Michelin guide, The Restaurant at Meadowood had on my to-eat list in the Northern California region. The Restaurant offers refined Napa wine country cuisine, focused on ingredients sourced as locally as possible, prepared to let their natural flavor shine through.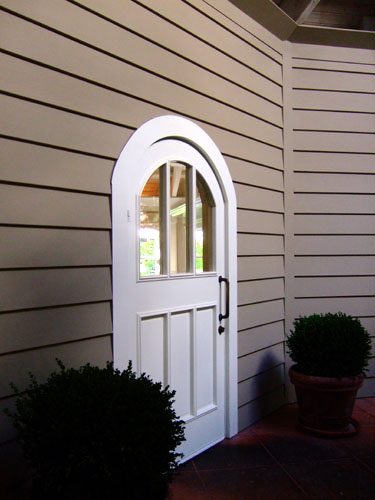 The Restaurant had no signage displayed, causing me to inadvertently wander into a wedding that was in progress nearby.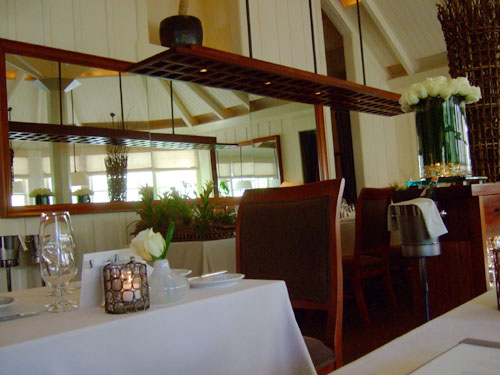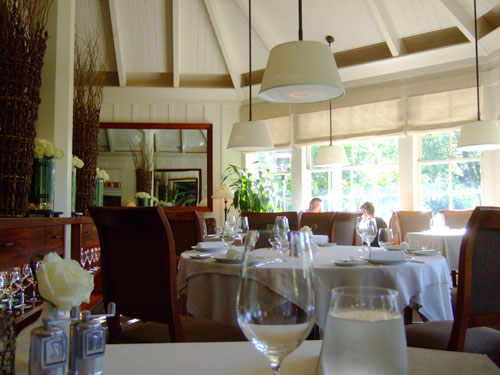 The interior is light and airy, with a slightly rustic charm. Large windows flood the room with light and offer a glimpse of the lush surroundings. Seating is also offered on an outside terrace deck.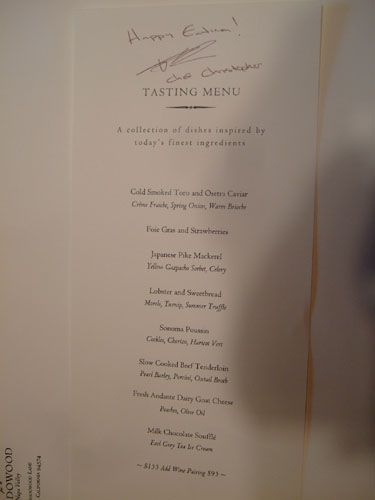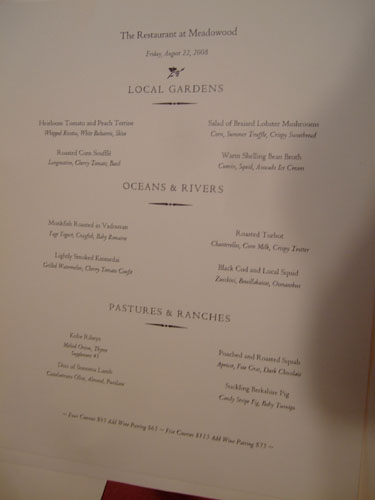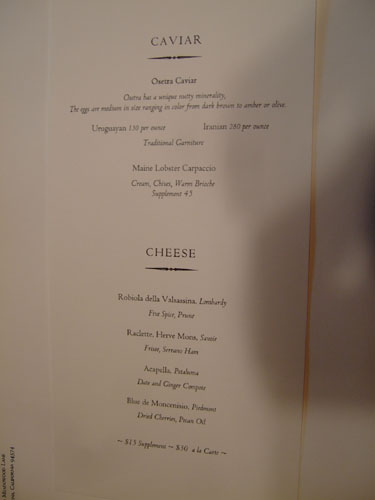 Standard four- or five-course prix fix menus are offered, or one may spring for the Tasting Menu like I did, at $155 plus an additional $95 for wine. Note the signature of Executive Chef Christopher Kostow, formerly of Chez TJ (Kostow is credited for turning that restaurant around and achieving its two-star rating). Click for larger versions.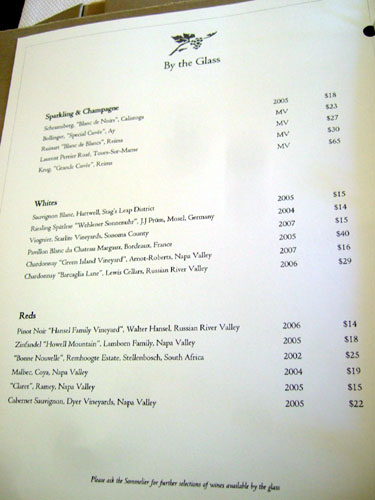 A tightly focused wine by the glass list is offered, with prices on the high side. Click for a larger version.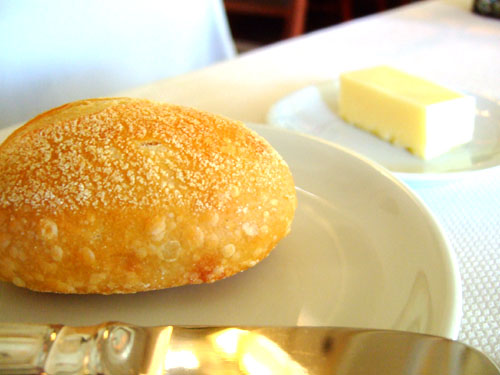 Sadly, only one type of bread was available. This was disappointing, especially for a two-star establishment. I don't except a
Robuchon
-level assortment, but three or four varieties would be nice.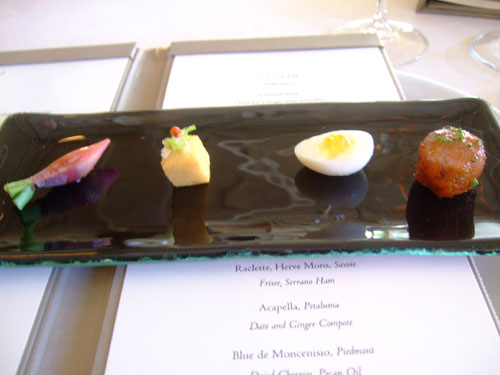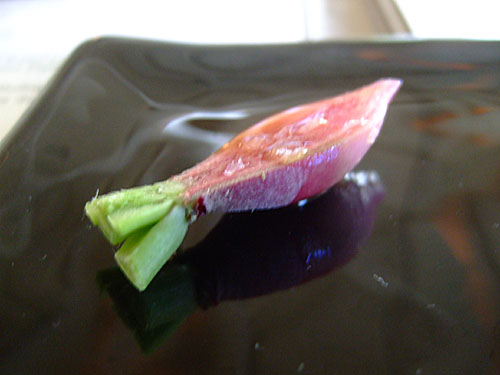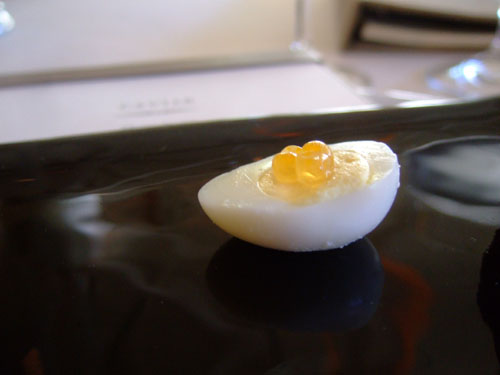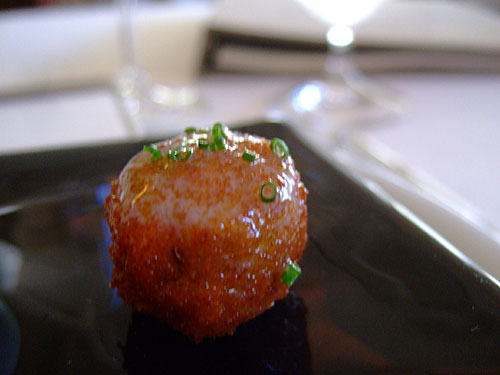 Canapés
A quartet of canapés to kick things off. Left to right, we have: (1) turnip with salt and olive oil; (2) I believe this was some sort of cheese, but unfortunately I don't exactly recall what; (3) quail egg topped with what looks like fish roe; and (4) scallop ball with chive. They were nothing mind-blowing but each had its own unique charm.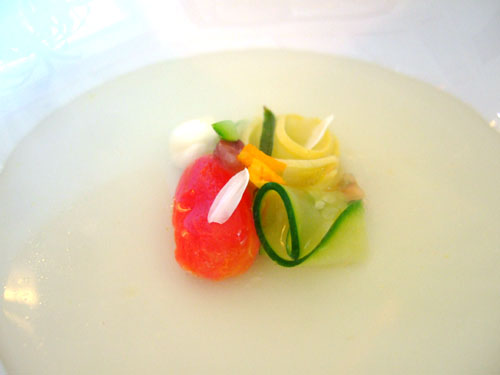 Amuse Bouche: Summer Squash Consommé, Cucumber, Tomato
The squash consommé had a bracing tartness and acidity to it, which tended to draw out the flavors of the accompanying ingredients. Quite refreshing and true to the name amuse bouche in awakening and arousing the palate.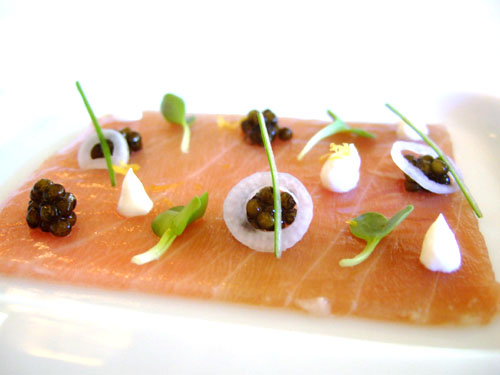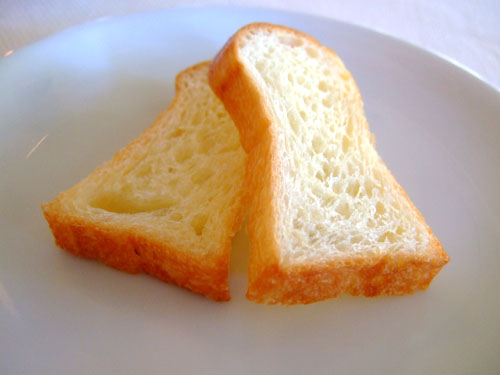 1: Cold Smoked Toro and Osetra Caviar
Crème Fraîche, Spring Onion, Warm Brioche. A beautiful, visually striking dish, the tuna itself was of medium fattiness I thought (probably a good thing here, as super-fatty toro would likely overpower the dish), and had a very soft, yielding consistency with virtually no tendon. Its mild flavor was drawn out successfully by the salty tang of caviar and richness of the crème fraîche. The brioche was largely unnecessary.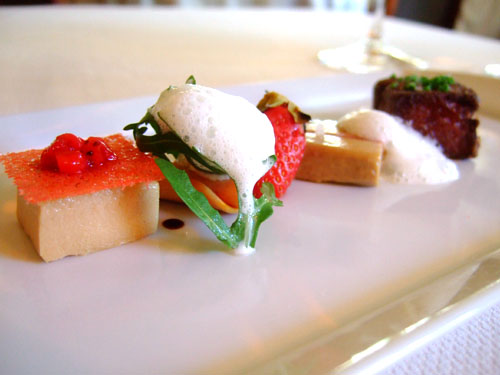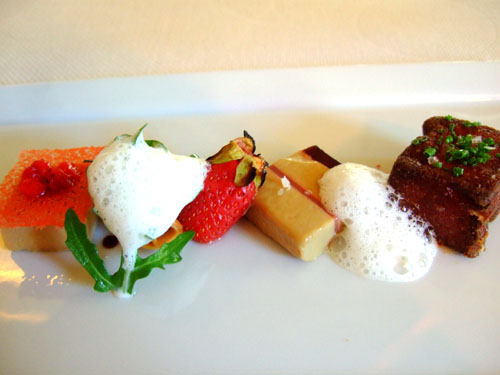 2: Foie Gras and Strawberries
There were actually four distinct preparations of foie on the plate, which unfortunately I can't recall the exact details of. On the left, we start with a terrine de foie gras; eaten with strawberries, it was one of the best preparations of foie since
French Laundry
. Next, covered by cocoa foam, was a fantastic, thin, rolled foie gras unlike any I'd ever had before (it was almost cheese-like). Then we have another pâté, sweeter and richer than the first, followed by a seared preparation, which was the weakest of the quartet.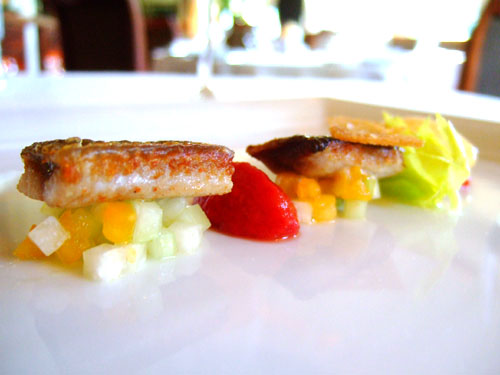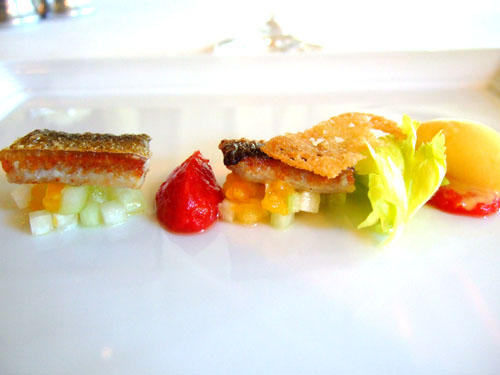 3: Japanese Pike Mackerel
Yellow Gazpacho Sorbet, Celery. I don't get to have cooked mackerel often, but the pieces of fish were wonderfully crisp and salty. Thus the contrast provided by the cool, tart sorbet and celery proved to be an interesting interplay between taste, texture, and temperature.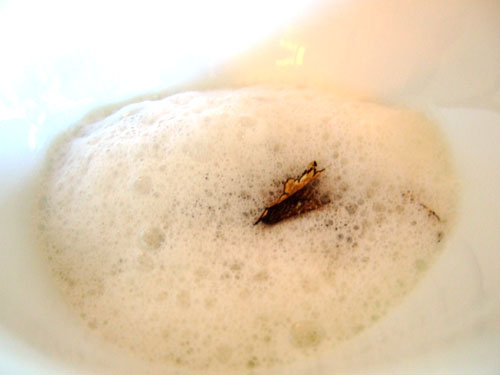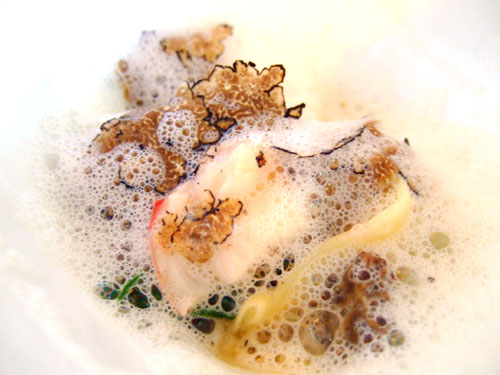 4: Lobster and Sweetbread
Morels, Turnip, Summer Truffle. First of all, the lobster was very well cooked, as to really retain its natural flavor and texture. Add to that the saltiness of the sweetbreads and morels, then the pungent earthiness of truffle, and you get a dish that's almost
too
luxurious. I was afraid the foam would overpower but fortunately it sort of bound all the flavors together. Very nice.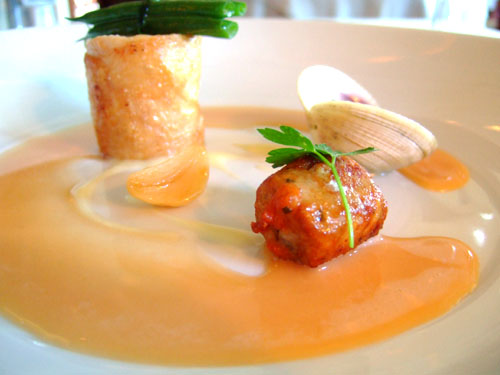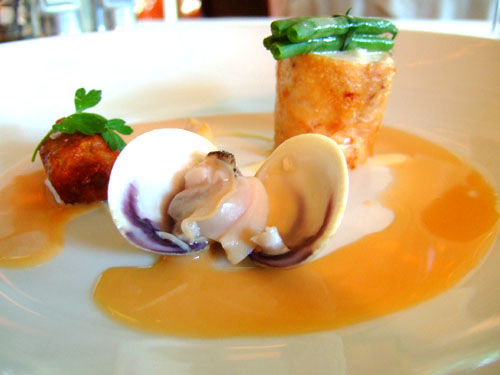 5: Sonoma Poussin
Cockles, Chorizo, Haricot Vert. Poussin is another name for Cornish game hen, which isn't game, but just a young chicken. Never mind the name, this was some of the best poultry I'd ever tasted, so flavorful, so juicy, yet delicate at the same time. I thought it'd be overshadowed by the chorizo (which was superb), but the poussin was really the star of this dish. The cockle was a tasty morsel but a bit redundant.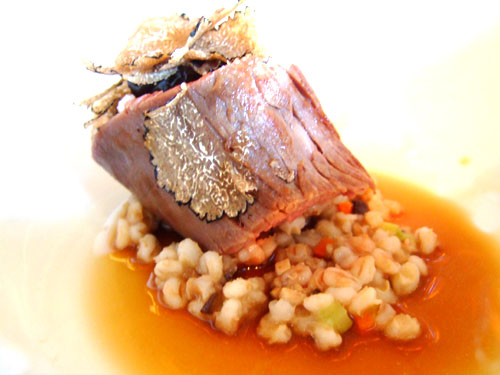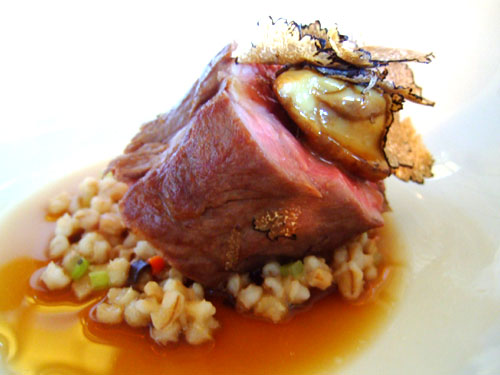 6: Slow Cooked Beef Tenderloin
Pearl Barley, Porcini, Oxtail Broth. The meat's consistency was quite unlike other tenderloins I've had, cut-with-a-fork soft and very juicy. Its flavor was quite mild however, which made the beef a good canvas for the pungent aroma of truffle and savory nature of the oxtail broth. Delicious.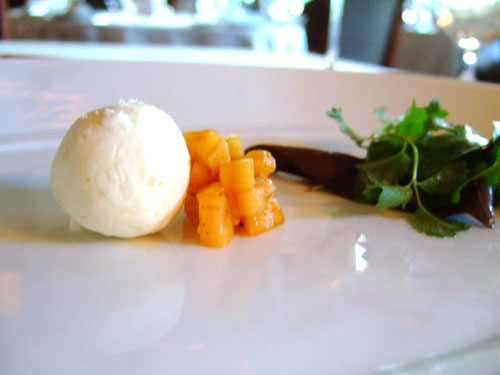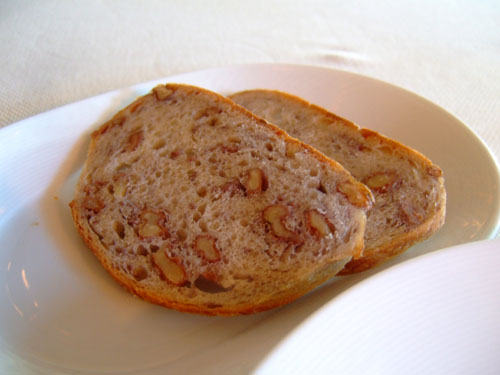 7: Fresh Andante Dairy Goat Cheese
Peaches, Olive Oil. The cheese was actually very mild, with only a slight tanginess and pleasant, smooth texture. It really let the other ingredients take center stage. I would've preferred a larger selection of cheese however.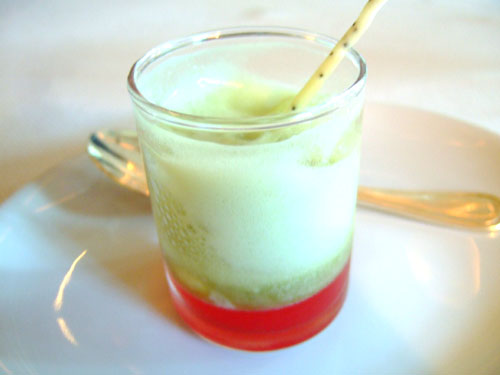 Pre-Dessert: Plum Sorbet, Yogurt, Citrus Soda
The soda dissipated quite quickly, leaving a layer of the sweeter sorbet topped with a cool yogurt. A nice segue into dessert.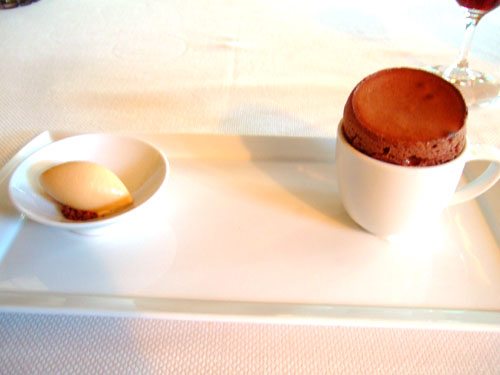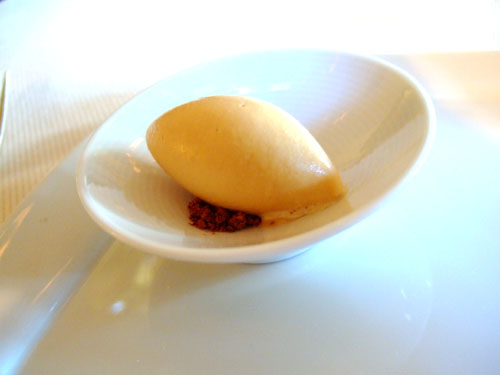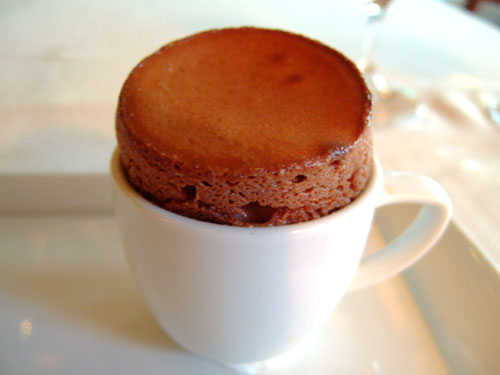 8: Milk Chocolate Soufflé
Earl Grey Tea Ice Cream. After having all the savory dishes, I expected something a bit more unique for dessert. Yes, the tea-flavored ice cream was a nice twist, but this didn't seem up to the level of the other dishes.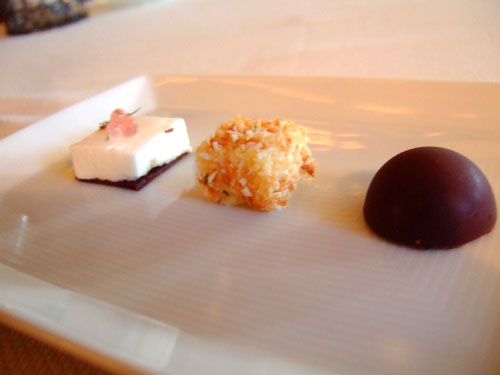 Mignardises
Some nice treats to round out the meal: raspberry marshmallow, lemon curd, raspberry filled bonbon.
Food wise, I'd say that The Restaurant is top notch. Many of the items I had would not seem out of place at Mr. Keller's place 10 miles south. In that sense, the awarding of two Michelin stars is definitely warranted, even more so than with
Cyrus
. My only real quibble was with service, and not actually the service during my meal. Notice that although I did order the wine pairing, I have listed no wines on this blog. That's because the sommelier (Andrew was his name I believe) has not provided me a listing of the wines, and this despite me calling the restaurant afterwards requesting it again. Nevertheless, the food was good enough to counter such a falter, and I look forward to visiting again. If any wine country restaurant is to challenge the Laundry in the vaunted three-star hierarchy, could Meadowood be the one?