Cyrus (Healdsburg, CA)
Cyrus
29 North St, Healdsburg, CA 95448
707.433.3311
www.cyrusrestaurant.com
Fri 05/11/2007, 06:40p-10:40p
A relatively new restaurant, Cyrus has quickly garnered accolades and made a big splash on the wine country dining scene, scoring two Michelin stars in the guide's first rating of Bay Area eateries. Located in remote Healdsburg in Sonoma Valley, Cyrus has become the premier dining spot in the valley. It's only real competition in the area is none other than the famed French Laundry across the hills (where, incidentally, we would be dining the next evening).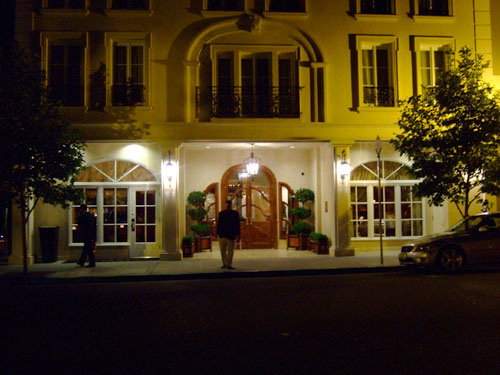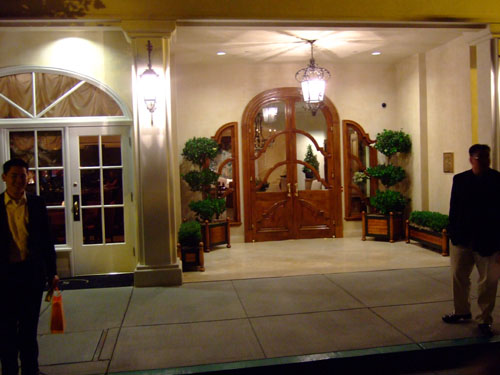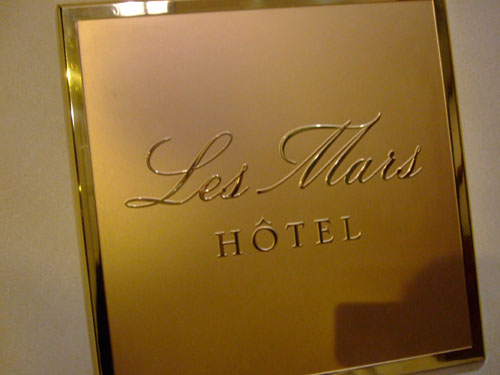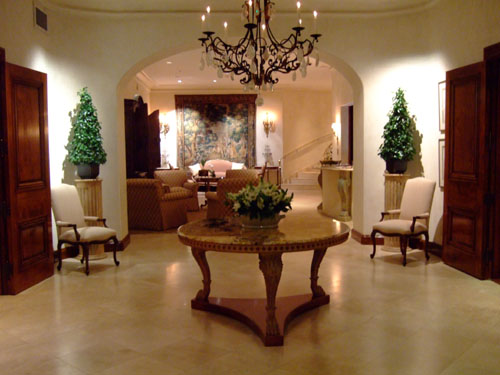 We actually had some difficulty finding the restaurant, as, in a rare lapse, Google Maps provided incorrect directions (turn
left
on North Street, not right!). Cyrus is located in the Les Mars hotel.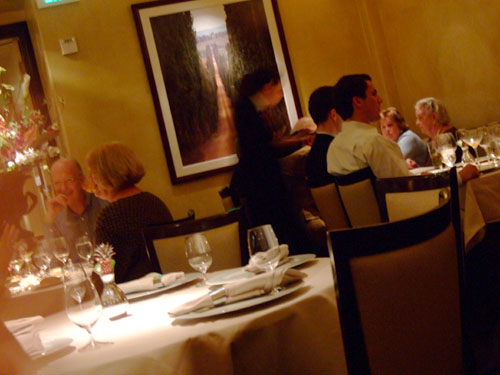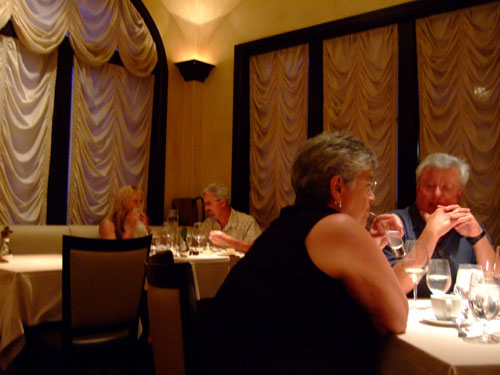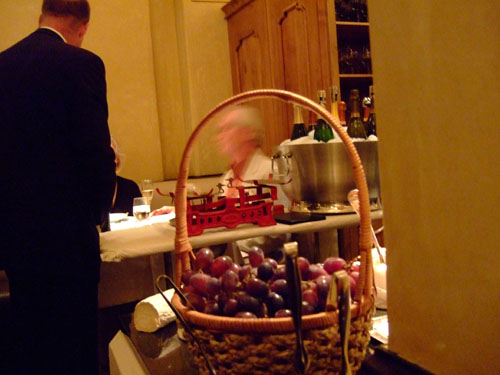 The decor is warm and inviting, with good table spacing. Noise was not an issue. One thing we did notice was that the restaurant definitely attracts an older crowd. The bottom photo shows the Champagne and caviar cart brought at the beginning of the meal. We wanted to start with some beluga caviar, which the restaurant did not have unfortunately.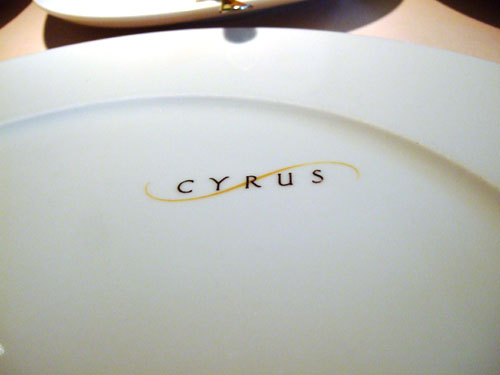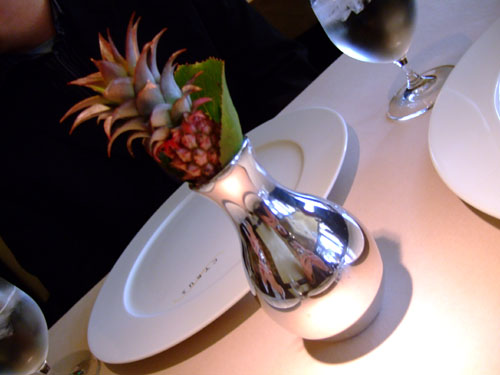 Customized place settings are a nice touch. The centerpiece reminded us of a miniature pineapple. An overhead light over the center of the table provided sufficient illumination for my photos.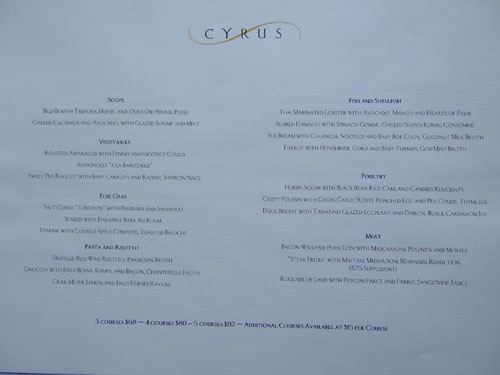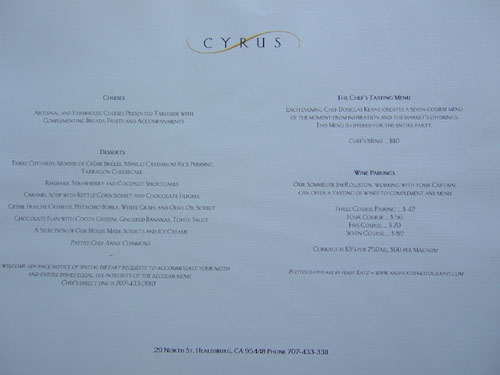 Diners usually choose from three-, four-, or five- course meals. Naturally, we had to go for the seven-course Chef's Tasting Menu, with corresponding wine pairings. That menu is shown below, signed by Executive Chef Douglas Keane and Maitre d' Nick Peyton, both of whom hail from San Francisco's vaunted Gary Danko restaurant. Click for larger versions.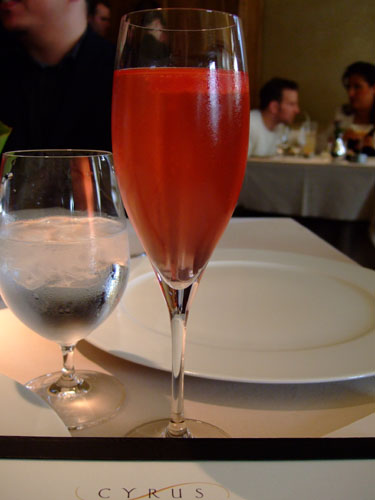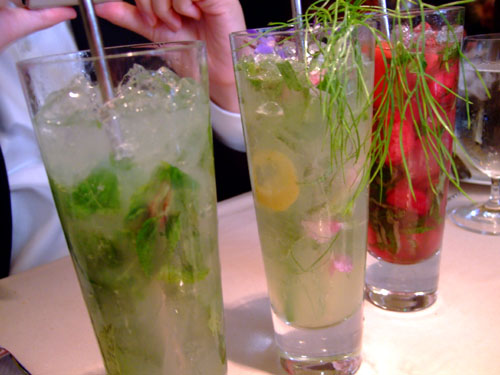 To kick things off we had a rhubarb and edelflower Champagne cocktail to start. Edelflower is small white flower commonly found in Alpine areas; the drink had a strong taste of ginger and did well to cleanse the palate.
We also requested three cocktails to go with our supplemental lobster course. We left it up to bartender Scott Beattie, who is well known for his groundbreaking cocktail program. First up was the classic mojito, a favorite drink of mine. This version was noticeably more complex that previous examples I'd had, relying on a more intricate interplay of rum, mint, sugar, and lime than a simple overriding sweetness. Next was the Frond Song, made with Sarticious Gin, Lemon Juice, Anise Hyssop, Herbsaint, Green Chartreuse, Fennel Fronds, Borage and Dianthus Flowers, and Seltzer. This was clearly the most adventurous and intense of the trio, with strong astringent grassy and herbal tones. Finally, we had the Rhubarbarella, crafted from Hangar One Buddha's Hand Citron Vodka, Shiso, Preserved Rhubarb, Lemon Juice, Ginger, and Galangal. This was perhaps the most accessible, with a taste not unlike rhubarb lemonade. Note the lovely metal straws.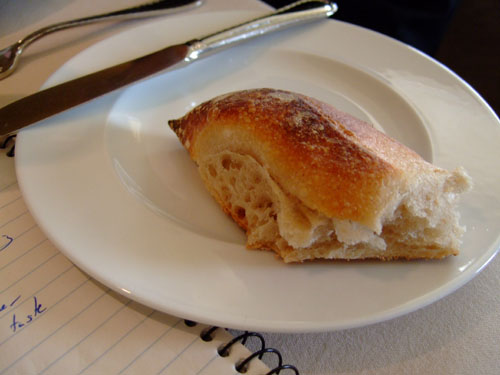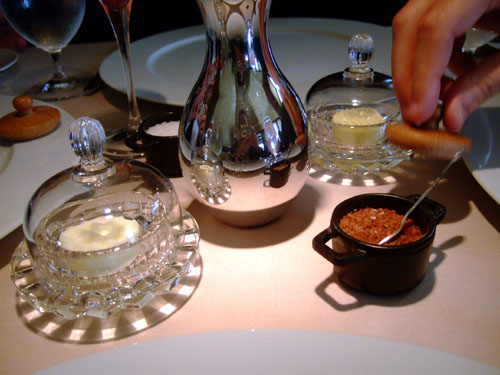 Served with two butters, as well as brown and white salts. The bread itself was quite good, and I ended up filling up on it, much to my detriment later on in the meal. Unfortunately only one type of bread was offered.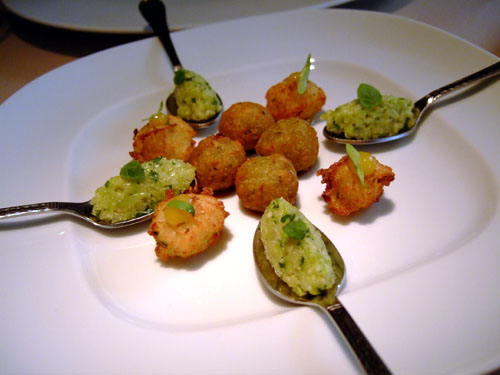 Canapés
We have an Asparagus Tartare with Pickled Radish (the asparagus taste was tempered by the radish I believe), a Fava Bean Falafel with Harissa, and a Yamaimo Frittata with Pickled Mango Coulis (yamaimo is a type of yam, the bite was akin to a curried Tater Tot).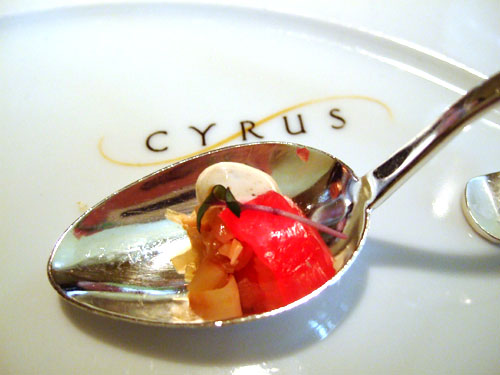 Amuse Bouche
The amuse was a spoon of bigeye tuna, pickled ramps, and crème fraîche. This had a strong curry component to it. I wish I could've gotten a larger serving so I could've examined the flavors a bit more.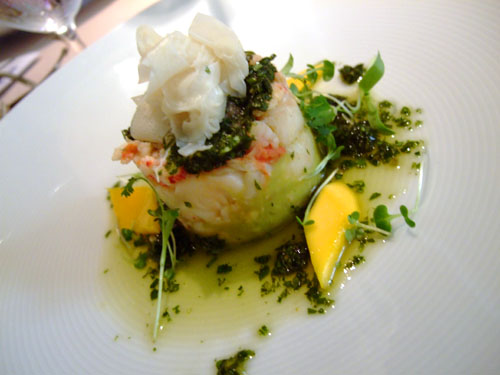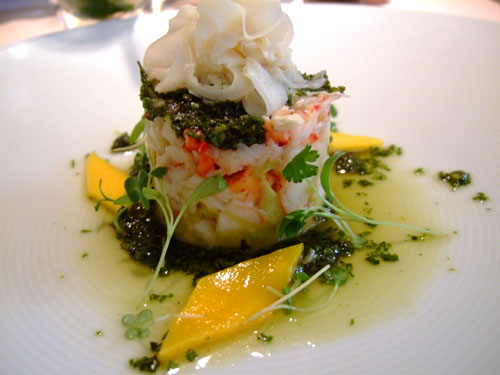 Supplement: Thai Marinated Lobster
With Avocado, Mango and Fresh Hearts of Palm. The lobster was exceedingly fresh in texture, with a subtle sweetness and even more inconspicuous notes of spice and herbs. The dark green component on top was a mixture of mint, cilantro, and basil. The lobster itself was marinated in Thai fish sauce, honey, shallots, and garlic. The result is phenomenal. This is Chef Keane's signature dish and I can certainly see why.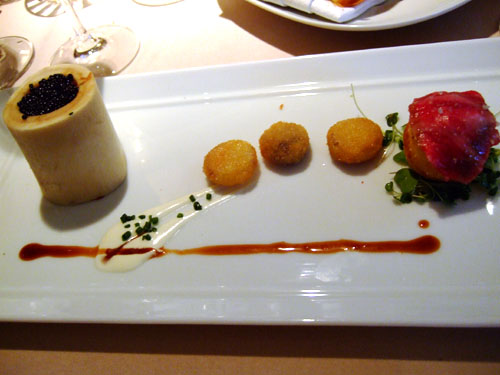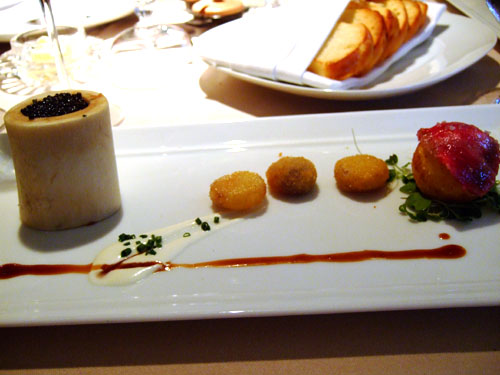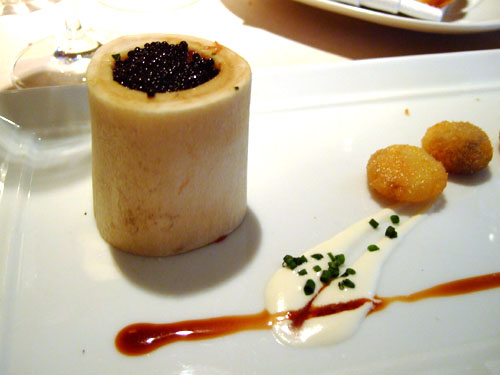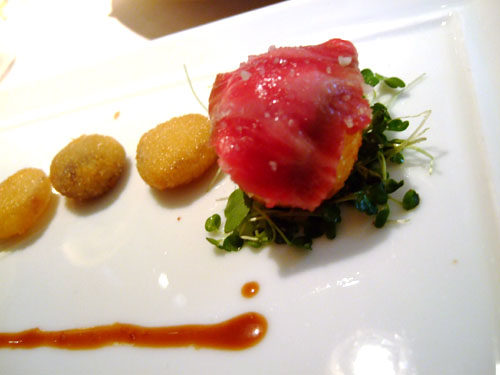 1: "Steak & Eggs"
Champagne Agrapart, "Grand Cru - Cuvée Terroirs," Avize, France
Wagyu Steak and Lobster Tartare with Horseradish Crème Fraiche and Caviar. Served with hackleback caviar, the tartare was placed in a piece of bone marrow, and had a slightly bitter disposition, probably due to the caviar. On the right is a quail egg topped with Wagyu sashimi and rock salt; when I pressed on the egg with my fork, it exploded, sending a stream of yellow yolk over the tablecloth. In between are three small, oily medallions of marrow. The Champagne was a blanc de blancs, with strong fruit and apple on the nose. The taste, however, was dry and mineral-y, possibly due to the wine's
terroir
of limestone and chalk.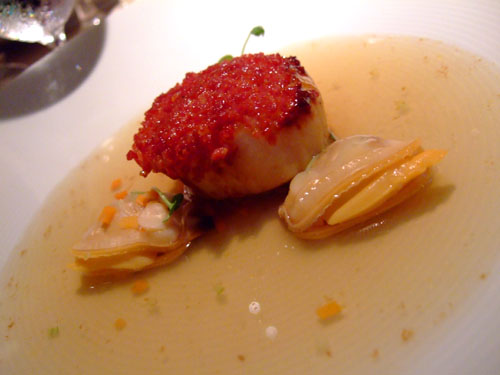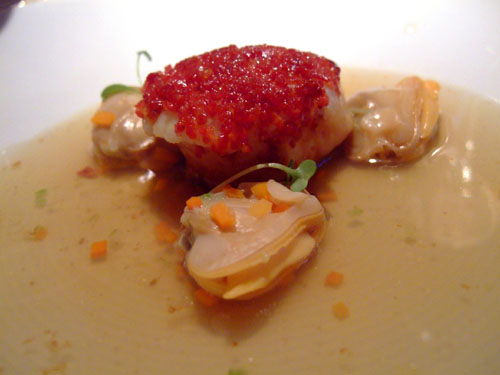 2: Chorizo Crusted Scallop
Manzanilla Sherry "La Guita", Jerez, Spain
With Mirepoix and Manila Clams. Mirepoix is a combination of onions, carrots, and celery used as a base for a soup. The chorizo reminded me of bacon, but was a touch too salty. The "soup" was a consommé containing chorizo, mussel, clam, and sauvignon blanc. I'm not a huge fan of Sherry, but the one paired here was palatable. It had a strong apple fragrance, and was surprisingly smooth for Sherry. However we found that it didn't open up, even when tasted with food.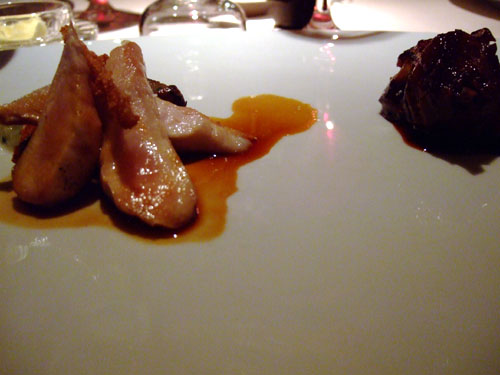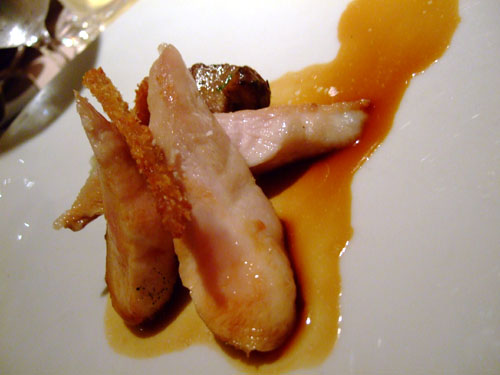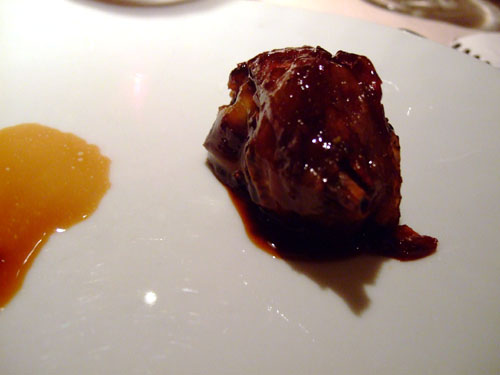 3: Rabbit Loin
Volnay, Domaine de Montille, "1er Cru," France, 2004
With Spring Onions and Porcini Mushrooms, Stuffed Baby Artichoke, Sherry Jus. The rabbit was placed on porcini with marjoram, and complemented with a sauce that had an almost "Asian" flavor. Overall a great preparation of rabbit that ranks among the best I've had. On the right is baby artichoke wrapped in a smoky bacon, with rabbit jus. The wine was very light, with a typical nose, subtle minerals, and flavors that evoke young fruit on the tongue.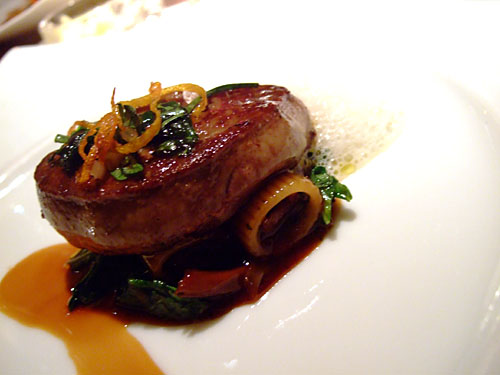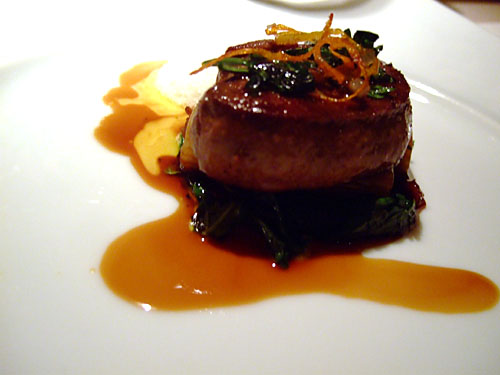 4: Foie Gras
Rioja Crianza, R. Lopez de Heredia "Viña Cubillo", Spain 2001
With Braised Duck Cannelloni and Green Garlic, Moscato Sauce. We also detected wilted wild arugula, foie gras foam, and candied orange zest. The cannelloni was filled with what I believe is duck confit and Seville orange marmalade. Overall a super-rich, heavy dish, which was paired with an extremely easy-drinking wine. The Rioja was aged in American oak and had flavors of orange zest (matching the orange on the foie), with currant on the nose.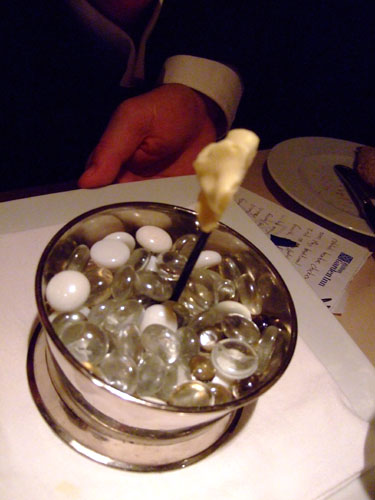 Intermezzo 1: Mango Lychee Puff
Cold and refreshing, with a taste that reminded me of Japanese melon gum (the type that's shaped like a ball, made by Marukawa).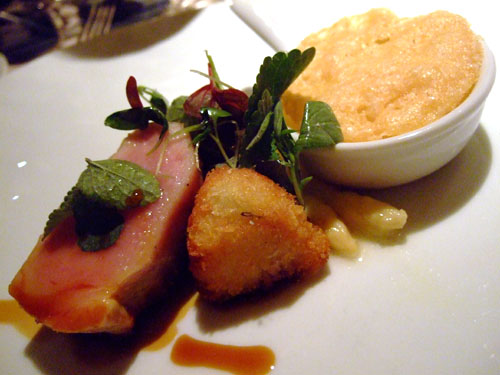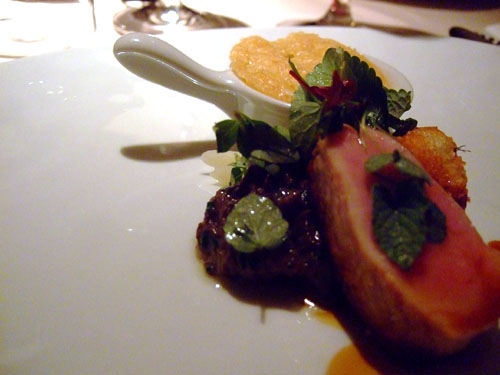 5: Veal
Pinot Noir, Rochioli, Russian River Valley 2005
With Morel Mushrooms, White Asparagus and Crispy Sweetbreads. One of few times I've had milk-fed veal. The sweetbread was crusted in panko and was as good as I thought it'd be. The flan was cheesy and pungent, flavored with morels. The veal paired nicely with the Pinot, which had typical notes of black cherry and smoke and was very jammy in the mouth.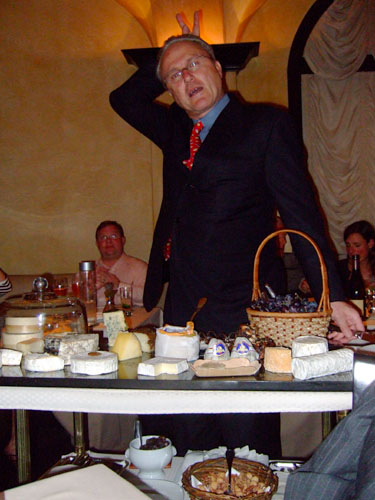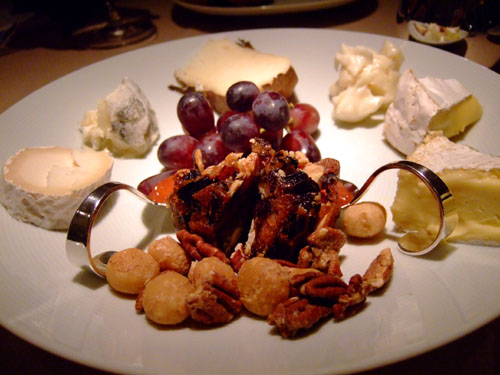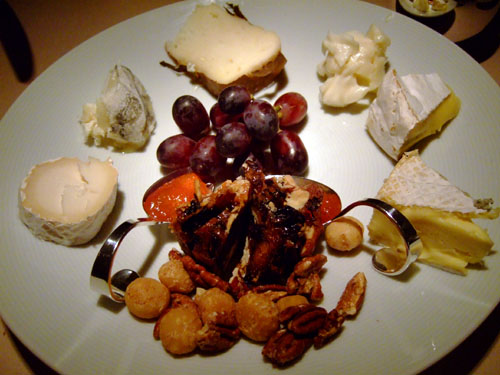 6: A Selection of Artisanal and Farmhouse Cheeses with Complementing Breads and Fruit
Smith Woodhouse Ruby Port, 1994
Overall a superb presentation of cheese, the best I've experienced in a while. I appreciated Nick's knowledge of the cheese and also his sense of humor, as evidenced by the top photo. Clockwise from lower left, if I recall correctly, we have:
Pasteurized goat's milk from Pug's Leap Dairy. Manufacturer's notes: "Pug's Leap Buche is tangier than the Pave with a luxurious runniness under the bloomy rind. It is citrusy with a gentle, almost sweet, finish."
I believe this was a goat's milk cheese from Provence. Unfortunately I don't remember anything else about it.
A sheep's from Portugal called Serra da Estrela. According to the maker, "Queijo Serra da Estrela comes from one of the coldest and highest regions of Portugal. These savory, herbaceous wheels of raw sheep's milk cheese are made with cardoon thistle, raw sheep's milk, and salt and can boast Portugal's DOP name protection. Traditionally scooped out of its leathery cloth-bound rind with pieces of hearty peasant bread, Serra is a a soft, gooey, mildly herbaceous delight. As the wheels age, the paste becomes harder and chewier, but no less delicious."
Sheep's milk from Sally Jackson Cheeses in Oroville, Washington, a dairy that emphasizes low-tech sustainability; "Instead of a rind for her two-pound rounds, Sally uses chestnut and grape leaves as her signature wrapping materials." This was one of my favorites of the bunch.
Truffled soft ripe cow's cheese, from a dairy 75 miles outside of Paris. I found this to be creamy and a bit unctuous.
A creamy cow's milk from Sweet Grass Dairy in Georgia. Green Hill is a semi-ripened, double-cream cheese. Official tasting notes: "This cheese has a buttery taste and soft, creamy texture with a thin to medium rind. Pleasant acidity and very sleek finish."
The paired Port was a quintessential expression of the varietal, one's whose sweetness foiled the creaminess of the cheeses. To quote Robert Parker:
"An impressively saturated dark ruby/purple color. This powerful port is moderately sweet, forward, rich, and full-bodied, with nicely integrated alcohol and tannin. Drink now - 2018."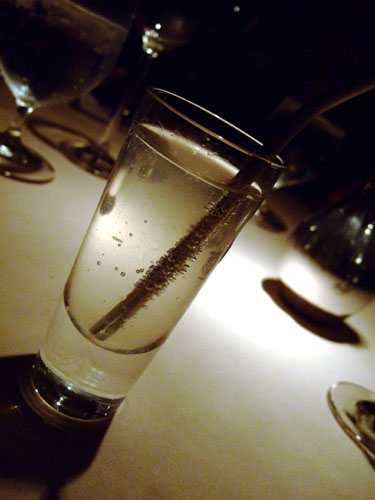 Intermezzo 2: Lemon Lime Seltzer
Reminiscent of a virgin mojito and 7-Up. Note the miniature metal straw. Very refreshing.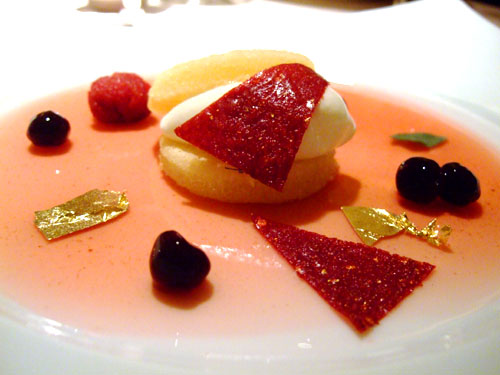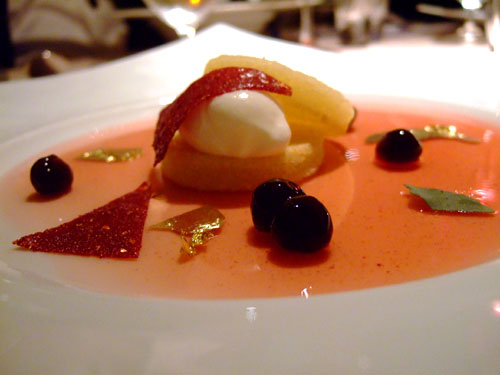 7a: Rice Cream Sandwich
Brachetto d'Acqui, Marenco, Piedmont, Italy 2005
With Yamamomo Gelee, Tapioca, and Hibiscus Chips. This was like a sweet mochi rice cream cake, with boba and gold leaf. The yamamomo, or Chinese bayberry, gelée reminded me of a Fruit Roll-Up.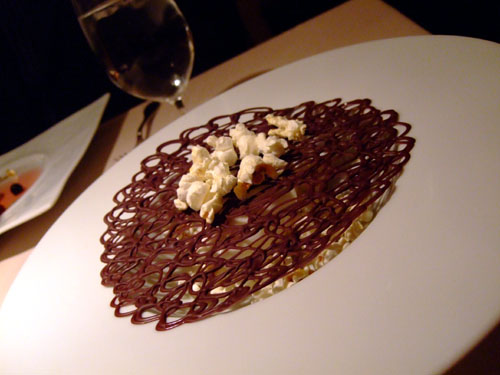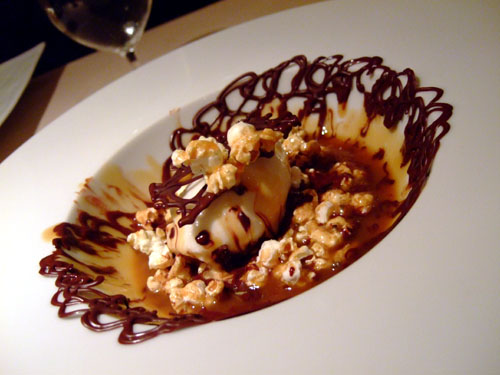 7b: Caramel Soup
1991 Colheita Port, Niepoort
With Kettle Corn Sorbet and Chocolate Filigree. The dessert came as shown in the first photo. Our server then proceeded to pour hot caramel soup over the dish, melting the chocolate filigree and coating the kettle corn. Very cool presentation!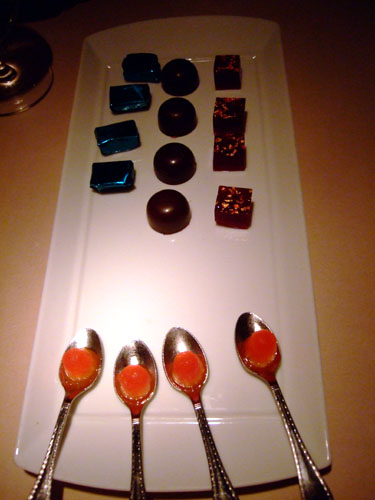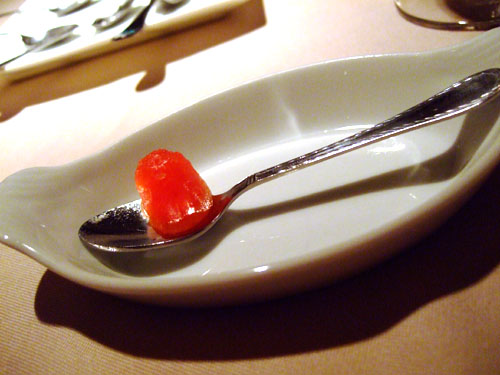 Mignardises
These included caramels, raspberry covered chocolates, hibiscus red gelée, and strawberry lemon ices. I accidentally pushed down on one of the spoons a bit too hard, sending my strawberry lemon ice flying across the table. Our server brought a replacement before I could even pick it up.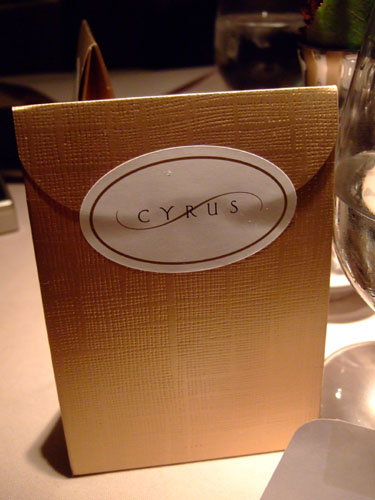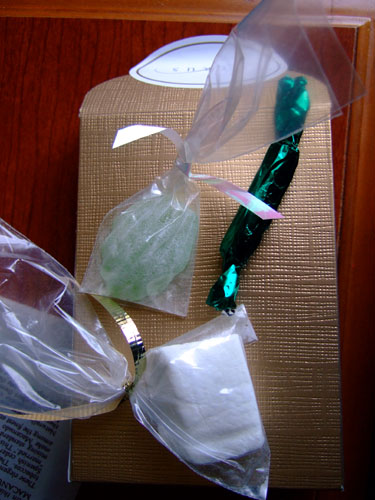 Gift
Takeaways included a hard green candy, a caramel, and a melon "marshmallow." I wasn't a big fan of the hard candy but enjoyed the puff, which tasted a lot like the first intermezzo.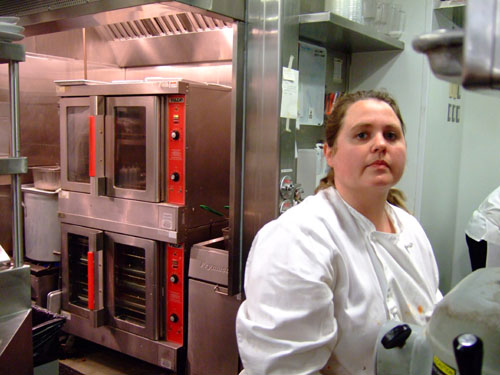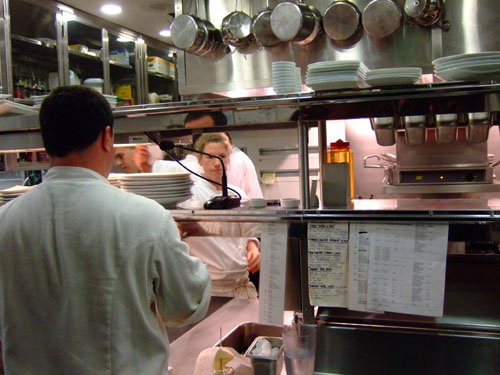 By the time we left to tour the kitchen, the place was still bustling, so we barely got to snap a photo with Chef Keane.
It is clear that Chef Keane and company have a winner on their hands. However, I feel that the restaurant is not quite up to the level of French Laundry, to which it is often compared. Certainly though, there is huge potential here, for Keane to challenge Mr. Keller in the future. But enough comparison, Cyrus is perfectly able to stand on its own, and has become a destination restaurant in its own right. Definitely "worth a detour."