Kevin Taylor (Denver, CO)
Kevin Taylor
1106 14th St, Denver, CO 80202
303.820.2600
www.ktrg.net
Mon 07/09/2007, 08:00p-11:15p
After my first meal in Denver at
Zengo
, it was time to decide on number two. Initially I had looked at Mizuna, but soon found out that it was closed at the time. I was definitely looking for a tasting menu, so Kevin Taylor was the next logical choice.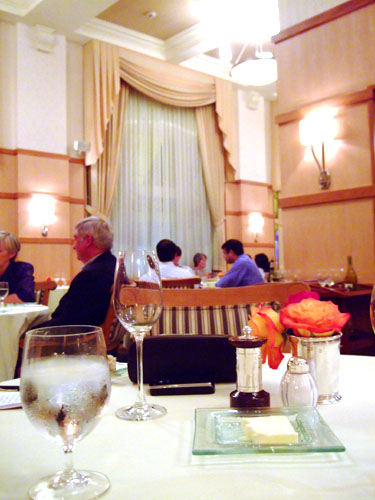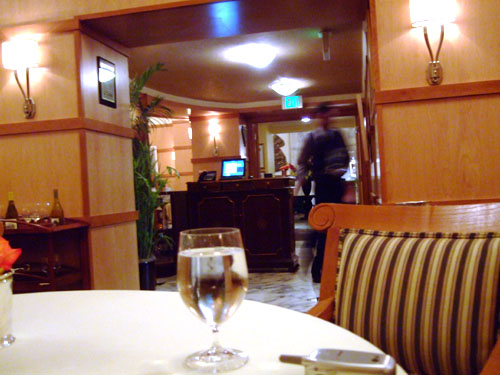 The interior is about what I expected: replete with high ceilings, elegant and formal, if a bit stuffy. The dining room itself is rather small, with room for about ten tables. There is also a semi-private dining room on the second floor.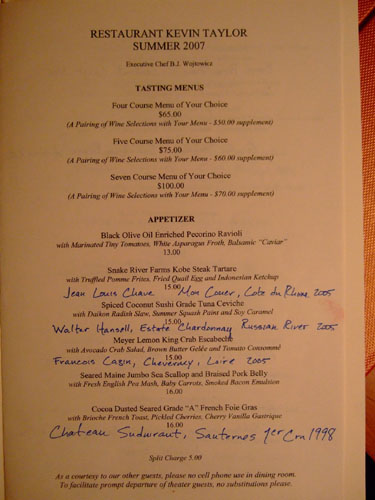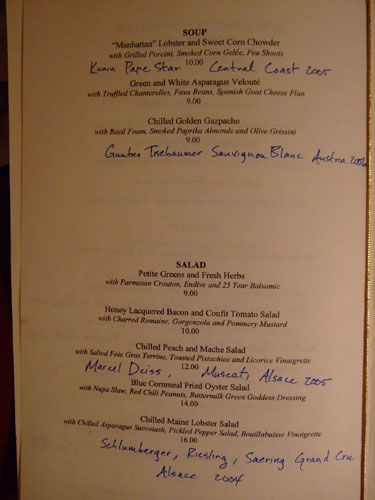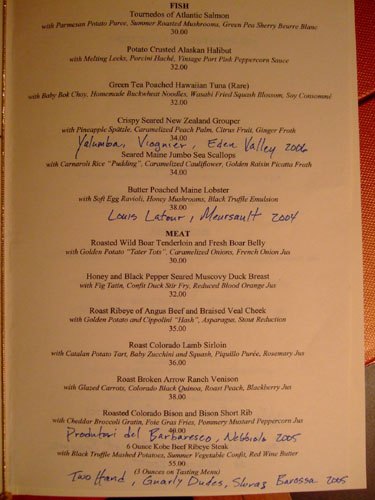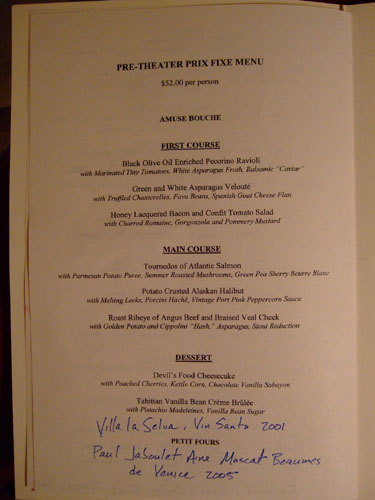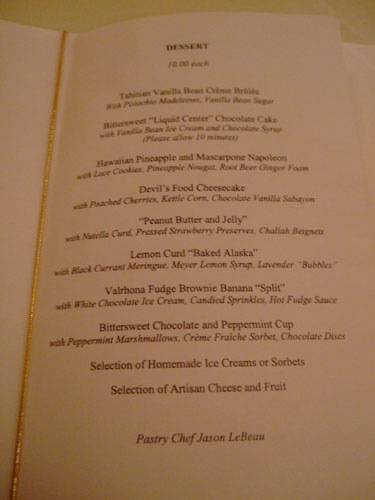 The tasting menus are unique in that the diner chooses the dishes. Obviously, we went for the 7-course degustation, with wine naturally. The sommelier was kind enough to write down each of our wine pairings, lest we forget. The Executive Chef is B.J. Wojtowicz and the Pastry Chef is Jason LeBeau. Click for larger versions.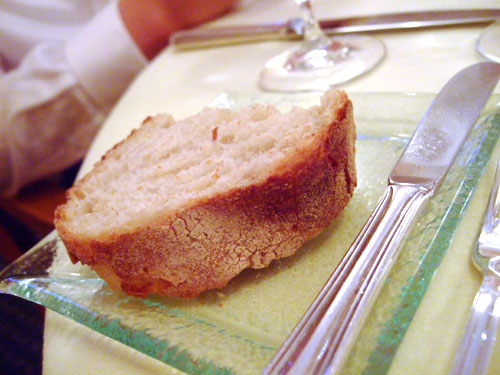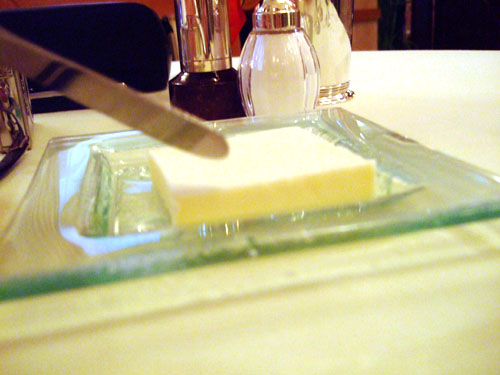 Three varieties of bread were offered: sourdough (mild), olive (with big chunks of olive, very strong flavor), and rustic Italian (my favorite). The butter was a bit hard to start, but quickly warmed up to the perfect consistency.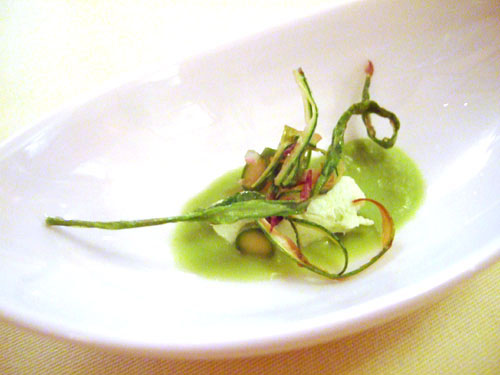 Amuse Bouche: Tasting of Asparagus
Asparagus overload! The amuse consisted of asparagus wasabi purée, asparagus butter cream, asparagus relish, and truffled asparagus chips. We were advised to mash everything together before eating. It was quite nice, and rather complex for an amuse. The taste actually reminded me a bit of guacamole!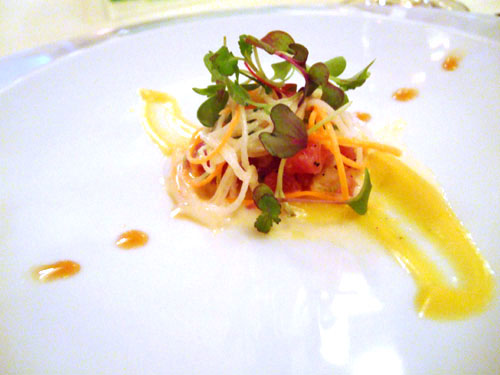 1a: Spiced Coconut Sushi Grade Tuna Ceviche
Walter Hansel, Estate Chardonnay, Russian River Valley, 2005
With Daikon Radish Slaw, Summer Squash Paint and Soy Caramel. Very delicate and light, the garnishes didn't mask the subtlety of the tuna; a completely different (and superior, in my opinion) way of approaching ceviche than what we had at
Zengo
the previous night. The Walter Hansel was a bit atypical compared to the Chards I normally drink. It had a strong bouquet of overripe fruit and flowers, and was sweet, heavy and oaky in the mouth.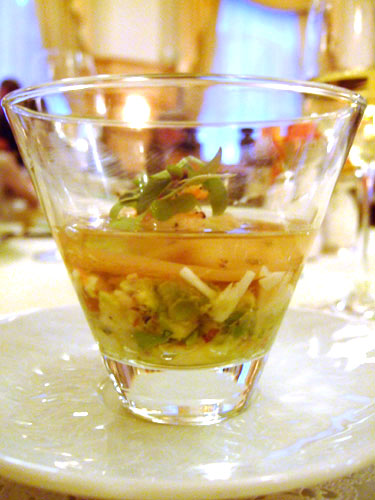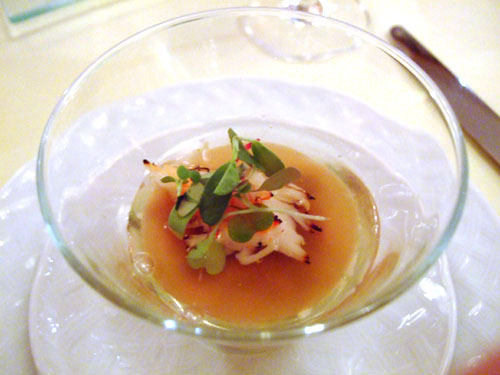 1b: Meyer Lemon King Crab Escabeche
Francois Cazin, Cheverny, Loire, 2005
With Avocado Crab Salad, Brown Butter Gelée and Tomato Consommé. Crisp and clean, this was very fresh, a bit tart, and preferred to ceviche. The paired Sauvignon Blanc showed an acidic, fruity nose and was light and tart on the palate, the polar opposite of the Chardonnay.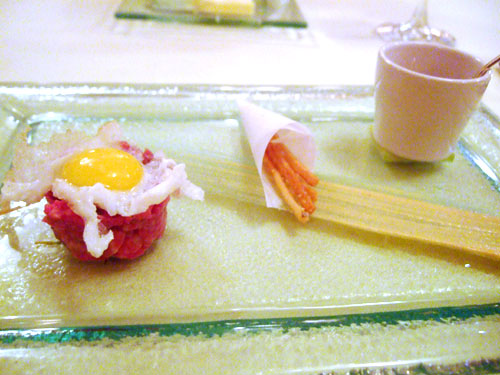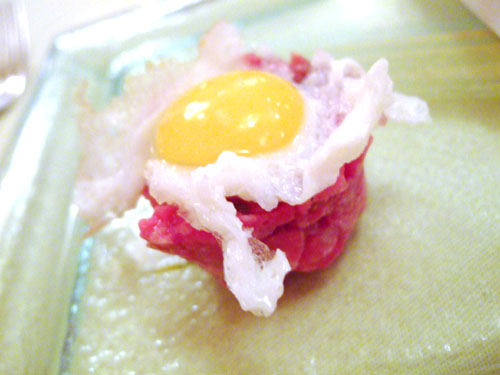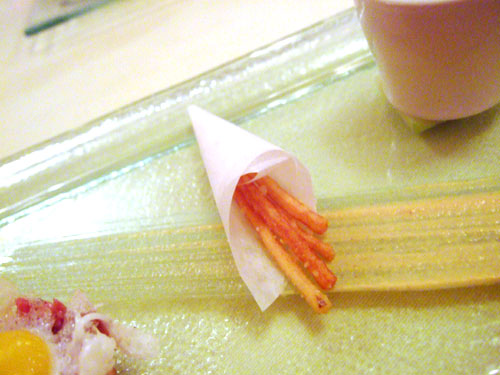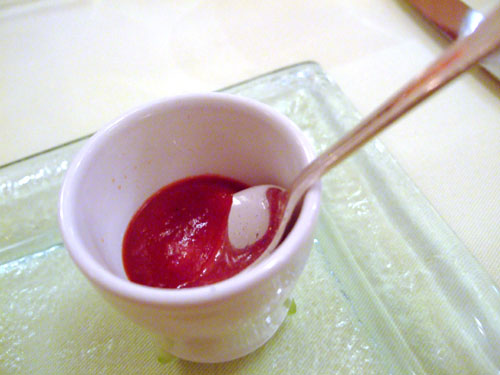 2a: Snake River Farms Kobe Steak Tartare
Jean Louis Chave, Mon Coeur, Côtes du Rhône, 2005
With Truffled Pomme Frites, Fried Quail Egg and Indonesian Ketchup. Seriously the best beef tartare I've ever had. The ketchup was excellent (made sure to scoop up every last drop) and the pommes were delectable but a complete tease, I wanted more! The wine was a Grenache-based blend, with slight chocolate notes. It was surprisingly good.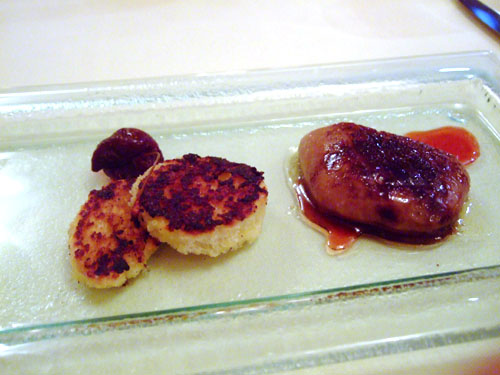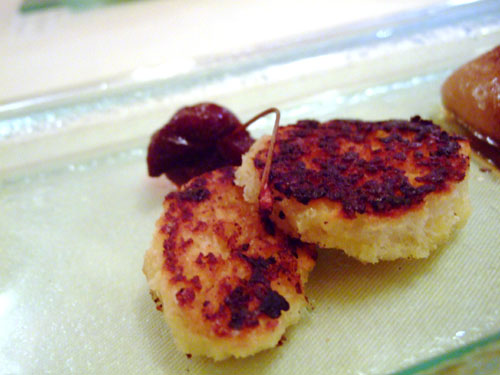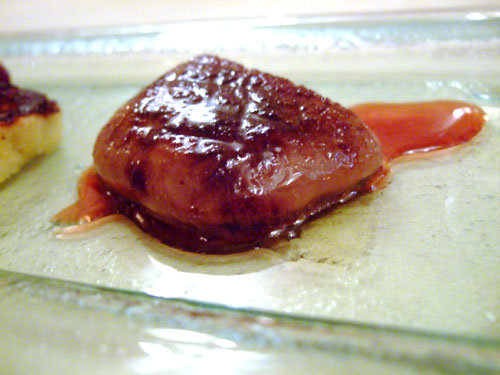 2b: Cocoa Dusted Seared Grade "A" French Foie Gras
Château Suiduiraut, Sauternes, 1er Cru, 1998
With Brioche French Toast, Pickled Cherries, Cherry Vanilla Gastrique. Very sweet and soft, the foie went well with brioche and excellent with the wine. As for the Suiduiraut, it was super thick and rich, even for Sauternes. Flavors of honey, peach, ripe fruit, and even a little leather come to the forefront.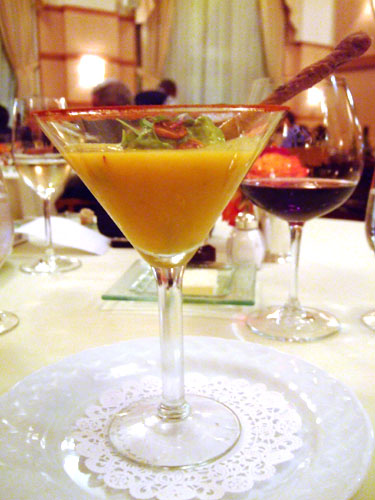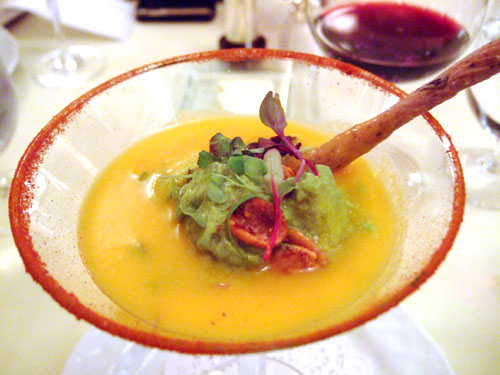 3a: Chilled Golden Gazpacho
Günter Triebaumer, Sauvignon Blanc, Austria, 2006
With Basil Foam, Smoked Paprika Almonds and Olive Grissini. Made with golden tomatoes, the gazpacho was nice and refreshing, especially given the heavy courses preceding it. The paprika on the rim left a slight tingling sensation on the lips, and perhaps also contributed to the sweetening of the wine as the dish was devoured.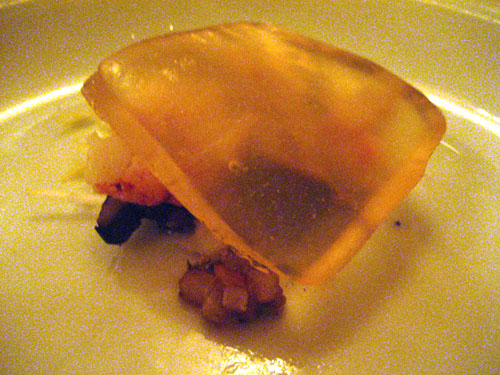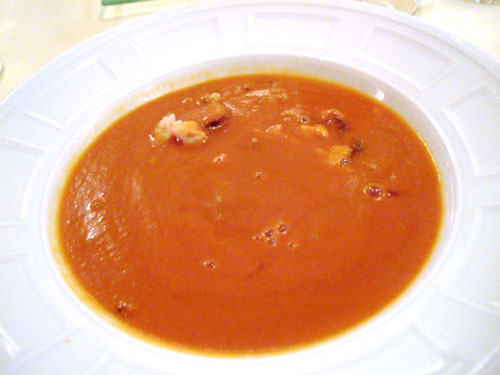 3b: "Manhattan" Lobster and Sweet Corn Chowder
Kunin Pape Star, Central Coast, 2005
With Grilled Porcini, Smoked Corn Gelée, Pea Shoots. Unfortunately I didn't snap a photo until the chowder was poured (thanks to Ryan for the "before" version). Really on the opposite spectrum of soups in relation to the gazpacho above, this was lush and velvety in comparison. Unfortunately the richness made it difficult for me to discern the individual flavors. The accompanying wine was a Rhône blend, with notable aromas of dark berries and a simplicity which continued on to the palate and finish.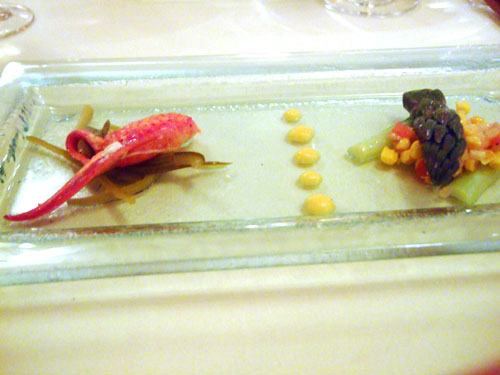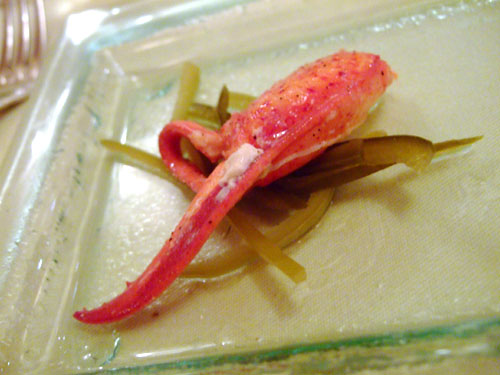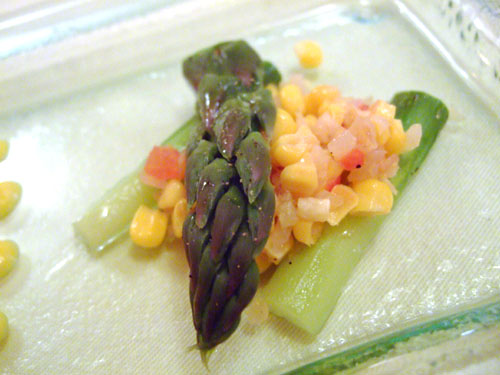 4a: Chilled Maine Lobster Salad
Schlumberger, Riesling, Saering Grand Cru, Alsace, 2004
With Chilled Asparagus Succotash, Pickled Pepper Salad, Bouillabaisse Vinaigrette. Unfortunately the lobster wasn't particularly flavorful (though texture and freshness were good), but I loved the corn succotash. As for the Riesling, it was slightly mineral-y on the nose, leading to a crisp, floral acidity in the mouth and a brief finish.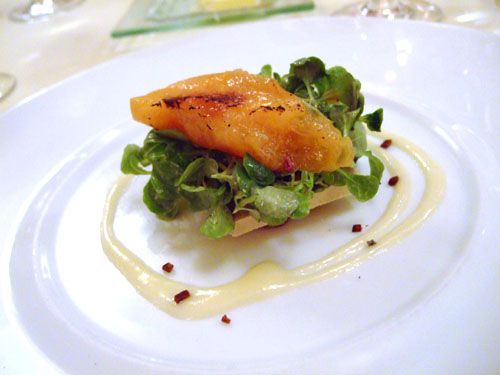 4b: Chilled Peach and Mache Salad
Marcel Deiss, Muscat, Alsace, 2005
With Salted Foie Gras Terrine, Toasted Pistachios and Licorice Vinaigrette. The terrine and pistachio interplay was simply fantastic. The strong licorice flavor lent itself well to the wine, which was semi-sweet to match the foie. This may be the second best foie gras terrine I've had, behind the absolutely phenomenal example at
French Laundry
, of course.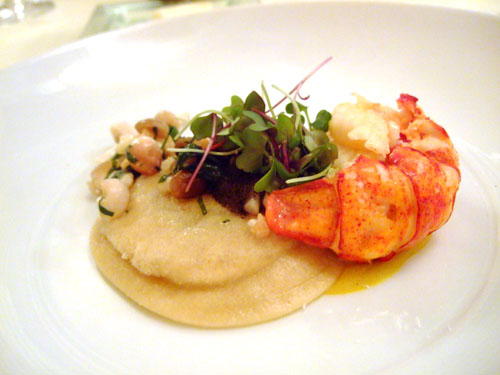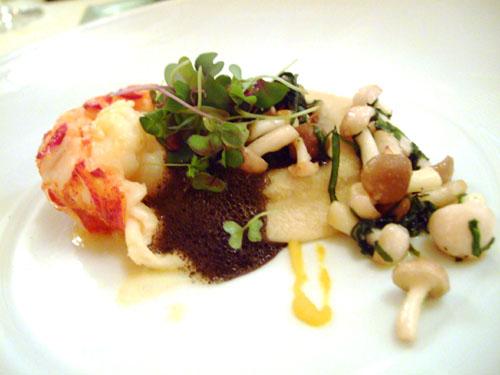 5a: Butter Poached Maine Lobster
Louis Latour, Meursault, 2004
With Soft Egg Ravioli, Honey Mushrooms, Black Truffle Emulsion. The lobster had an almost creamy texture, which I rather liked. The ravioli (filled with runny egg yolk) was tasty, as were the mushrooms. The Meursault was a delicate example of the Chardonnay varietal, with citrus and herbaceous notes and peach flavors in a supple finish.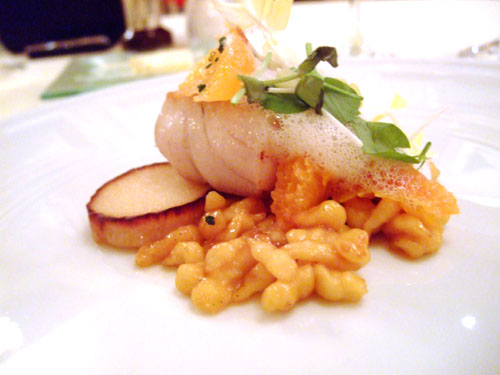 5b: Crispy Seared New Zealand Grouper
Yalumba, Viognier, Eden Valley, 2006
With Pineapple Spätzle, Caramelized Peach Palm, Citrus Fruit, Ginger Froth. This may have been my first experience with grouper, but hopefully not my last! The fish was dense yet crisp, I loved the texture; it was not quite like anything else I've ever had (almost like a firmer, less oily version of sea bass). Very, very good. It went well with the Viognier, with had a spicy, citrus-y nose which continued all the way to the finish.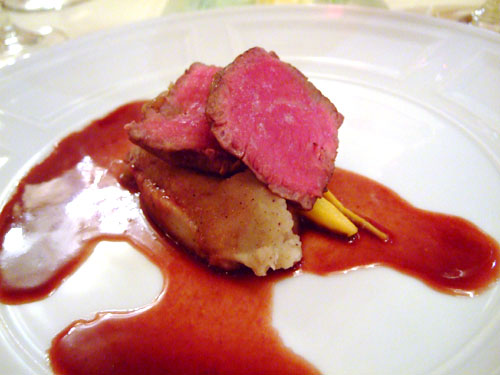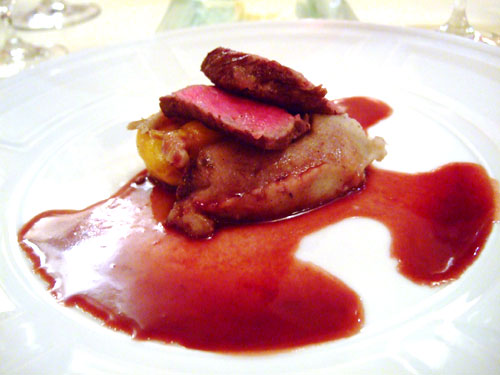 6a: Kobe Beef Ribeye Steak
Two Hand, Gnarly Dudes, Shiraz, Barossa Valley, 2005
With Black Truffle Mashed Potatoes, Summer Vegetable Confit, Red Wine Butter. The beef, from Snake River Farm, had medium fattiness for a Wagyu cut (especially when compared to Japanese versions). The truffled mashed potatoes were extremely rich and stood up to the meat, as did the Shiraz, which exhibited typical spicy notes that complemented the beef's flavors.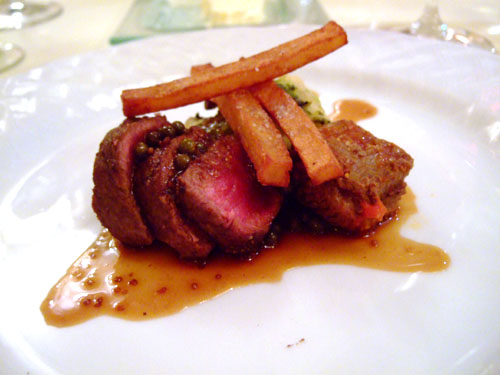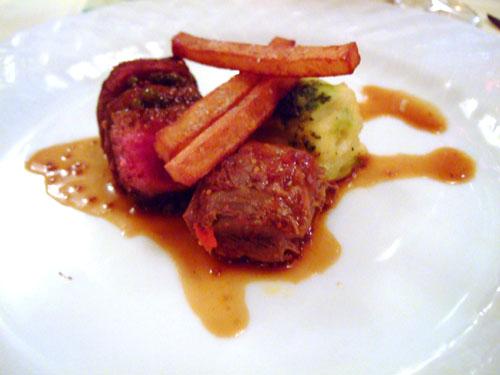 6b: Roasted Colorado Bison and Bison Short Rib
Produttori del Barbaresco, Nebbiolo, Langhe, 2005
With Cheddar Broccoli Gratin, Foie Gras Fries, Pommery Mustard Peppercorn Jus. It wouldn't be a proper Colordoan dinner without bison right? The meat had a slight gaminess and smokiness that went together well, and was significantly more tender than I expected, though the short ribs were a bit too fatty for me. Loved the potato too! The Barbaresco was surprisingly subtle considering the power of the Nebbiolo grape. Very easy drinking actually, a pleasure to sip.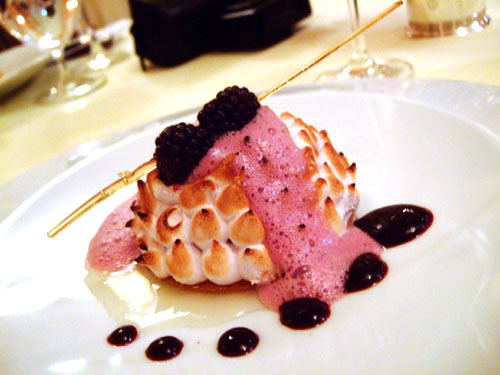 7a: Lemon Curd "Baked Alaska"
Paul Jaboulet Aîné, Muscat, Beames de Venice, 2005
With Black Currant Meringue, Meyer Lemon Syrup, Lavender "Bubbles". For me, the crust, caramelized and crisp, was the best part of the dish. The paired wine showed typical Muscat notes, but did not lose its potency when taken with the dessert.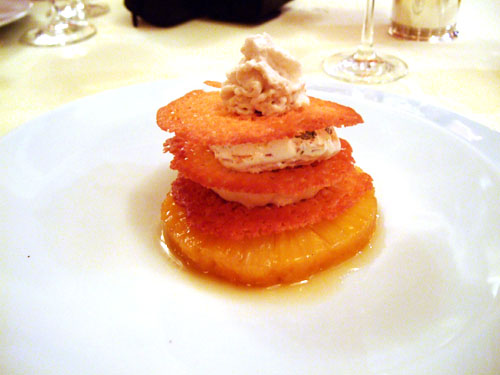 7b: Hawaiian Pineapple and Mascarpone Napoleon
Villa la Selva, Vin Santo, 2001
With Lace Cookies, Pineapple Nougat, Root Beer Ginger Foam. I thought the nougat was the strongest part of the dish, as it balanced the sweet and tart components of the dessert. The paired wine was fairly interesting, made in the Amarone style accoring to our server, and was almost Port-like in nature.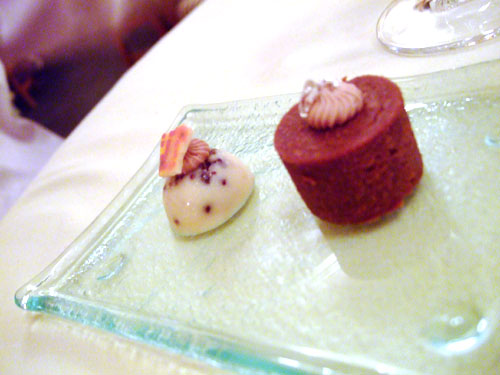 Petit Fours
A piece of white chocolate with chocolate cookies along with a bite of chocolate mousse with crunch layers. Very good, I wish we had gotten more!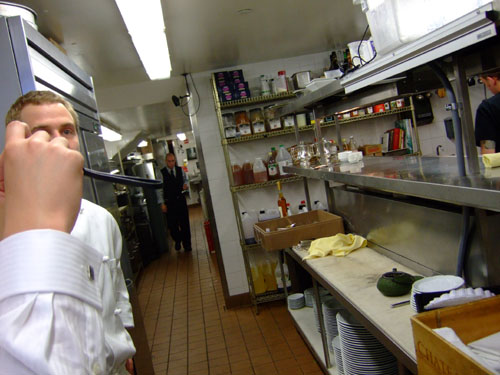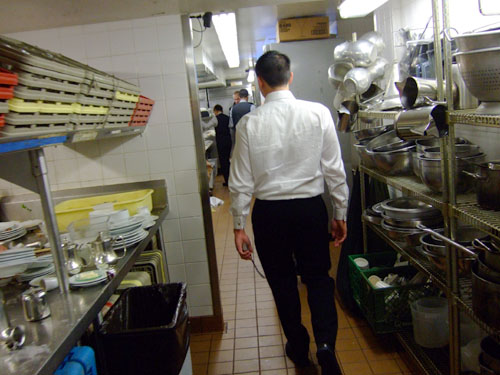 Before dessert, we were given a quick tour of the kitchen (shared with Prima) by Chef Wojtowicz, passing by the various stations for hot appetizers, cold appetizers, dessert, etc. He is a younger chef, whose youthful enthusiasm and flair were evident in his dishes.
I was pleasantly surprised by Kevin Taylor; it was definitely worth the 2+ hour drive from Colorado Springs. Easily my best meal in Denver, I certainly don't regret going in lieu of Mizuna.