Le Bernardin (New York, NY)
Le Bernardin
155 W 51st St, New York, NY 10019
212-554-1515
www.le-bernardin.com
Fri 12/19/2008, 10:00p-12:15a
Le Bernardin (named after a folk song--"Les Moines de St. Bernardin") was first opened in Paris in 1972 by brother and sister team Gilbert and Maguy Le Coze, and has always been unique for its singular focus on seafood. In 1986, the duo moved to New York, establishing Le Bernardin as we know it today. Gilbert, the head chef, passed away in 1994 of a heart attack, and was subsequently replaced by current Executive Chef Eric Ripert.
Ripert was born and trained in France, having worked in such notable establishments as La Tour d'Argent and Jamin, under Joël Robuchon. After coming to the US in 1989, he moved to New York in 1991 to work for David Bouley, before starting at Le Bernardin shortly thereafter. Ripert, for his part, has become somewhat of a celebrity chef in his own right, having authored three books, as well as appearing on a number of television cooking shows (including being a guest judge on
Top Chef
). Ripert has also expanded his culinary empire beyond the walls of Le Bernardin, opening restaurants in Washington DC, Philadelphia, and even on Grand Cayman Island, all in collaboration with the Ritz-Carlton. Unfortunately, during our visit, Ripert had already left for the night.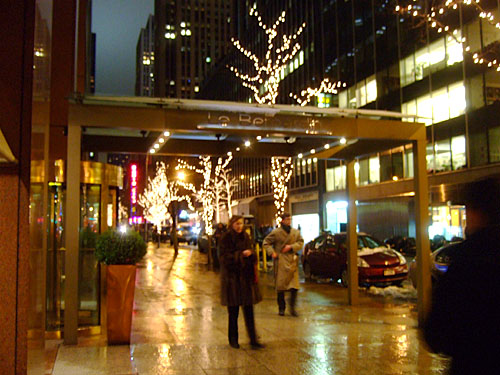 Le Bernardin is located on the ground floor of The Equitable Center building in midtown Manhattan. We actually got a little lost while walking there from Times Square (despite what Google Maps says, turn
right
on 51st, not left!).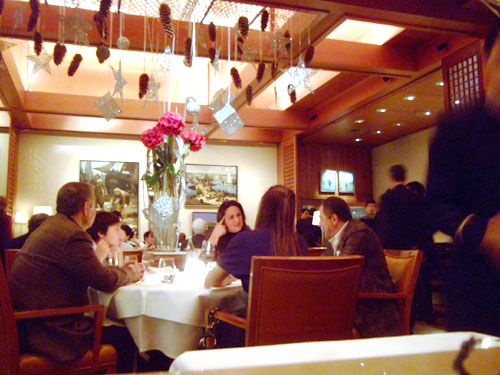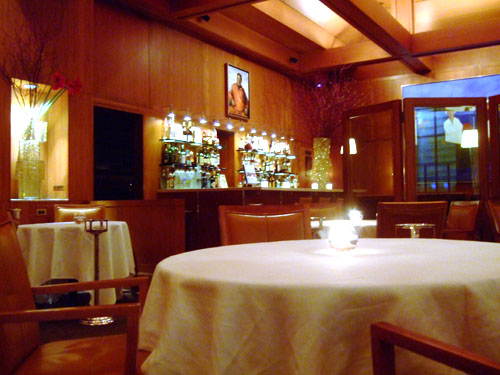 The interior is teeming in light wood, giving the room a somewhat nautical ambiance. It is a single, large room, with private dining rooms off to one side and the bar area on the other.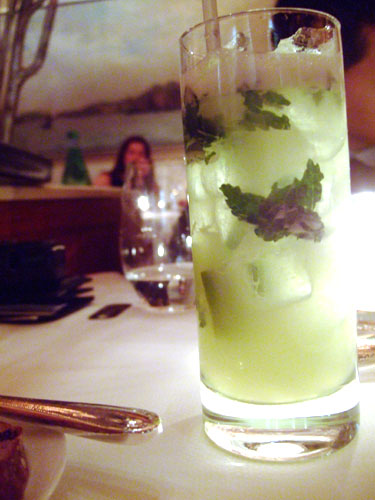 The mojito here was tasty, but not nearly as complex as the one I had at
Adour
. Comparatively, it had a straightforward sweetness, with more citrus and very little alcohol. Interestingly, I wasn't charged for the drink, perhaps because it was brought to the table a bit late.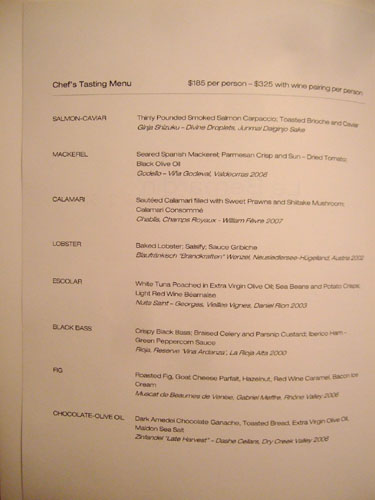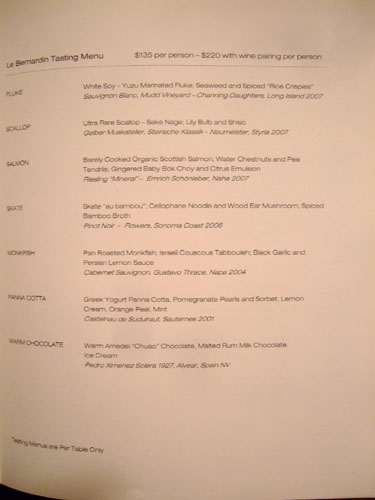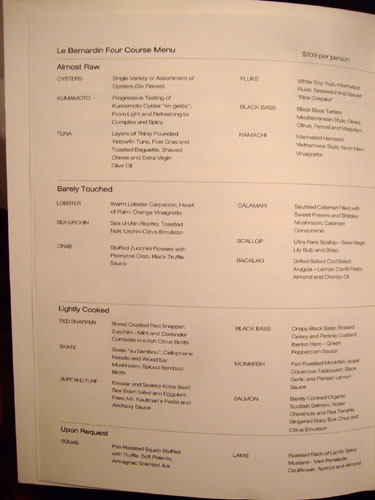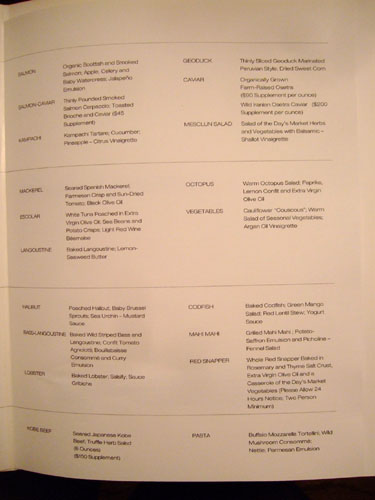 Le Bernardin's menu is shown above; click for larger versions. To sample the most we could, we chose the Chef's Tasting Menu [$185.00] as well as the Le Bernardin Tasting Menu [$135.00]. The Chef's Tasting was an eight-course meal, while the other was a seven-course, so we just inserted one additional course into the mix to balance things out. In addition, there was a four-course prix fix menu option, with choices that comprise the tasting menus.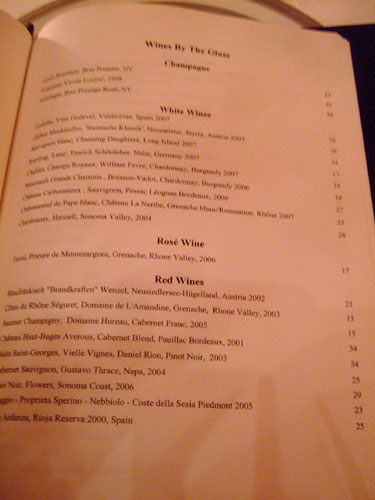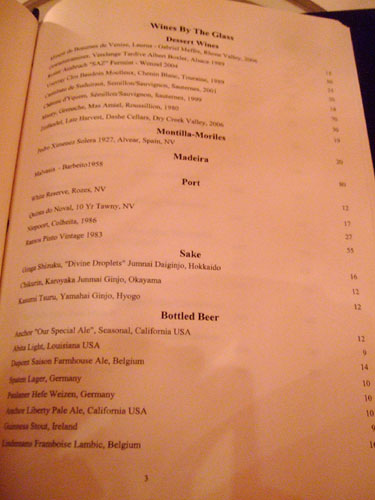 The wines by the glass and other libations are presented above; click for larger versions. I was able to sample three wines:
Riesling, 'Lenz', Emrich Schönleber, Nabe, Germany 2007 [$17.00] - This was not what I was expecting from a Riesling. It had a nose devoid of the typical floral and fruity notes of Riesling, and was almost Burgundian in nature. On the palate, there were far more mineral and vegetal flavors than anticipated. Though not what I was expecting, I did still enjoy the wine.
Blaufränkisch "Brandkraften" Wenzel, Neusiedlersee-Hügelland, Austria 2002 [$23.00] - Blaufränkisch is a varietal I'd never experienced before. It was a spicy, smoky, acidic wine, with notes of cherry--Pinot Noir would probably be the closest thing I can think of.
Chateauneuf du Pape blanc, Château La Nerthe, Grenache blanc/Roussanne, Rhône 2007 [$23.00] - An earthy, weighty wine with hints of grass, stone fruit, and melon leading to a long, juicy finish. It stood up well to the heavier fish courses I had.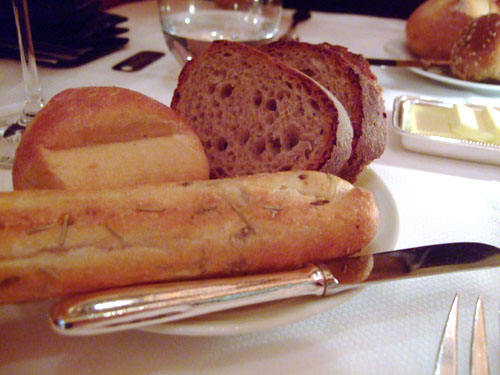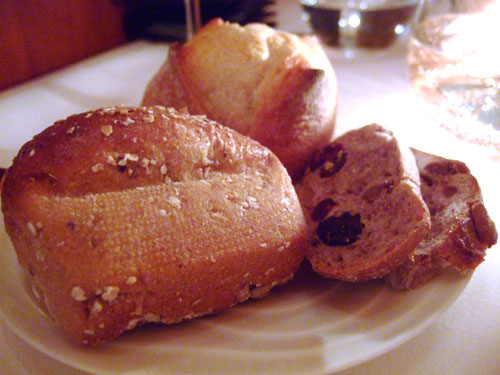 A selection of seven breads was provided, the most since my meal at
Joël Robuchon
. I recall raisin, rosemary, sourdough, and seven grain, among others. The breads weren't served exactly piping hot, but the temperature was an improvement over the cold bread at
Adour
the previous night.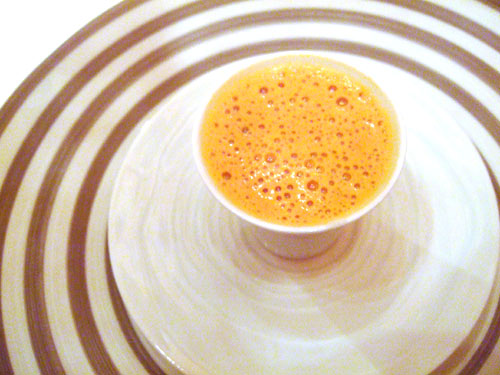 Amuse Bouche: Celery Soup with Lobster and Lobster Cream
This lobster bisque-like soup was a warm, hearty way to start things off. I noted an initial aroma of mostly celery with just a hint of lobster. But after tasting, the lobster really came to the fore, followed by a celery finish with an inkling of pepper.
1a: Salmon-Caviar
Thinly Pounded Smoked Salmon Carpaccio; Toasted Brioche and Caviar. Organic Scottish salmon, crème fraîche, a generous dollop of Osetra from Italy, brioche--all the makings of a classic dish. I enjoyed the salmon by itself, but it was the saltiness of the caviar that really came to my attention here. The toasty brioche, meanwhile, did add a nice textural contrast to the otherwise creamy elements of the dish. Interestingly, my dining companion noted that, intentional or not, the dish resembled a certain part of the female anatomy...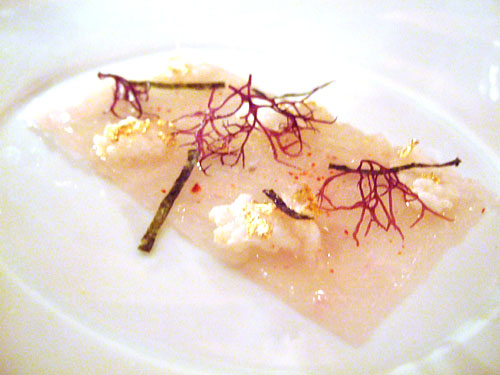 1b: Fluke
White Soy-Yuzu Marinated Fluke; Seaweed and Spice "Rice Crispies." The fluke by itself wasn't particularly exciting, and reminded me a bit of the hamachi at
Adour
. However, the brininess of the seaweed was successful in drawing out the true nature of the fish, and the rice crisps added a fanciful crunchy textural contrast.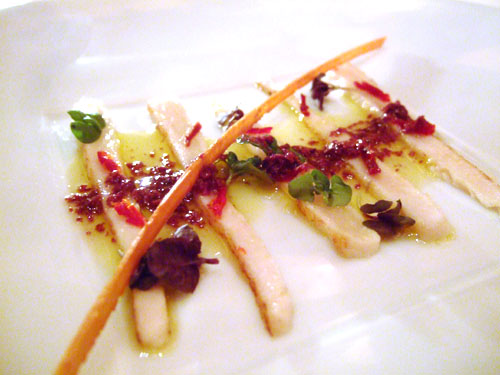 2a: Mackerel
Seared Spanish Mackerel; Parmesan Crisp and Sun-Dried Tomato; Black Olive Oil. This made me think of a crudo; the fish was lightly cooked, and thus still had plenty of that signature mackerel fishiness. This was very apparent, but certainly not overpowering, and was well complemented by the use of olive oil and lemon, two ingredients that stood up admirably to the strength of the mackerel. I actually would've preferred larger pieces of the fish, in order to better experience the consistency and body of the mackerel.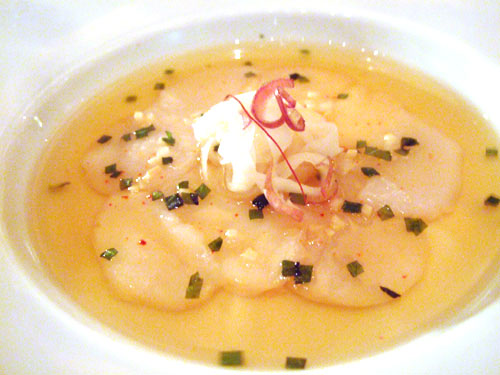 2b: Scallop
Ultra Rare Scallop-Sake Nage; Lily Bulb and Shiso. Barely cooked and ultra tender, the scallop was only one step away from a sashimi preparation. The mollusk itself was rather mild; rather, it was the broth which really formed the main flavor thrust of the dish. Anchored by the use of shiso and sake, the broth had a distinctively sweet-salty Asian twang that was lovely. I really appreciated the lily bulb in the center of the dish, which reminded me of a crisp piece of daikon; it really balanced the softness of the scallop. However, as with the mackerel, I would've liked thicker slices, to better gauge its texture.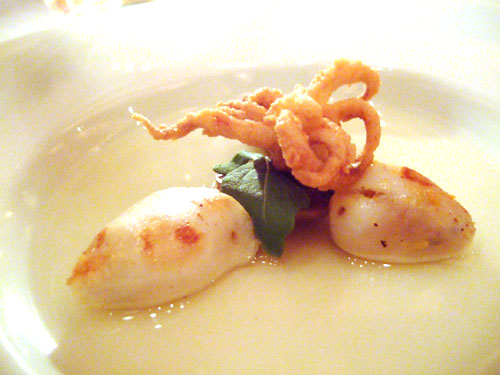 3a: Calamari
Sautéed Calamari filled with Sweet Prawns and Shiitake Mushroom; Calamari Consommé. This was perhaps the tenderest calamari I'd ever experienced. The squid by itself was very mild, and thus the stuffing of prawns and shiitake was what really drove this dish, adding much needed weight and depth. The small piece of calamari in the center of the dish was immensely flavorful on the other hand, and was probably the best deep fried squid I've had.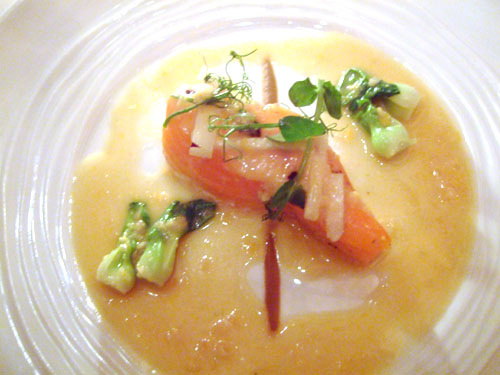 3b: Salmon
Barely Cooked Organic Scottish Salmon; Water Chestnuts and Pea Tendrils; Gingered Baby Bok Choy and Citrus Emulsion. I don't think I've had salmon quite like this before. There was a definite doneness gradient at play here, with the bottom of the fish cooked through, while the top was at a near-sashimi rareness. It was a fascinating way to prepare the salmon, and for me, this progression, the tasting of all different textures and temperatures at once, was key to the dish. Fortunately, the citrus sauce accompanying the fish was just slightly sweet and not too dominant, letting the salmon sing, while I definitely enjoyed the use of bok choy as an accoutrement.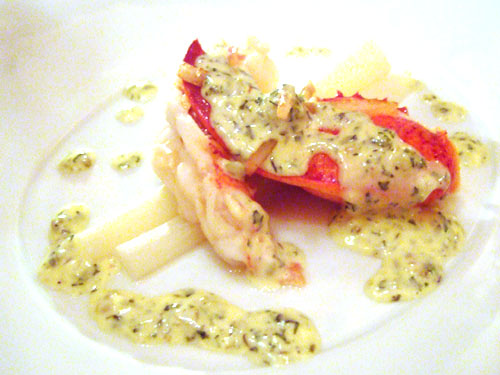 4a: Lobster
Baked Lobster; Salsify; Sauce Gribiche. Gribiche is an egg-based sauce in the same vein as tartare sauce, and can be made with shallots, pickles, parsley, capers, oil, vinegar, chervil, and tarragon. I believe this was only my second time tasting it, the first being at
Joe's
in Venice. The sauce lent a distinct tartness to the dish, which contrasted the natural sweetness of the lobster. The lobster itself was very well-cooked--soft and tender, yet with a delightful bite. Overall, a delicious dish.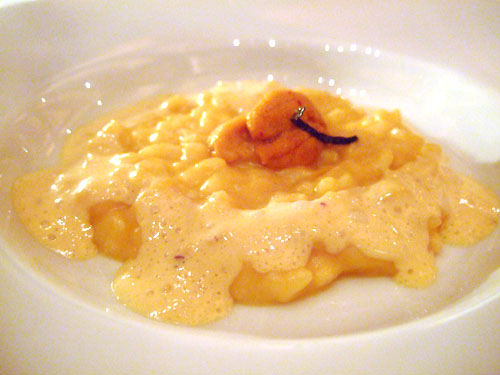 Supplement: Sea Urchin [$24.00]
Sea Urchin Risotto; Toasted Nori; Urchin-Citrus Emulsion. When we saw this dish on the menu, we just knew we had to order it as a supplement. Unfortunately, I didn't feel that the flavor of uni was apparent enough. I only got a hint of that rich, unctuous, sweet, ocean-y flavor that sea urchin roe is known for. Perhaps the citrus was responsible for diminishing the uni's flavor? As for the risotto alone, it was a pleasing al dente preparation--good but not outstanding.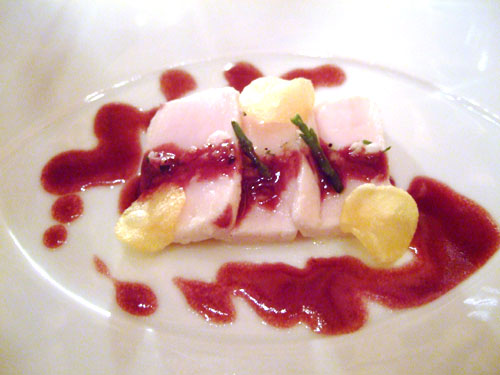 5a: Escolar
White Tuna Poached in Extra Virgin Olive Oil; Sea Beans and Potato Crisps; Light Red Wine Béarnaise. The was one of the oiliest pieces of fish I'd ever eaten, which is to be expected from escolar, also known as "oilfish." As a result, it was extremely tender, rich, and heavy--one of the better preparations of escolar I've had. The weight of the fish necessitated the use of a heavier sauce, and the Béarnaise fit that role well. I understood the attempt at using the potato crisps as a textural contrast, but in this case, the difference was almost too much.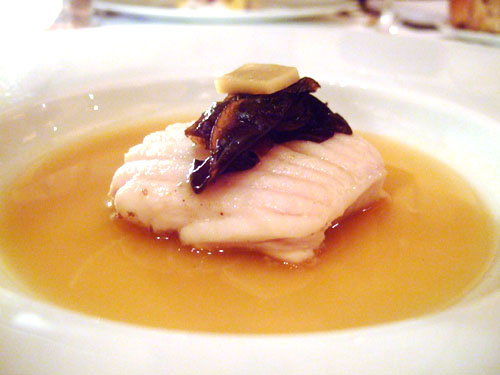 4b: Skate
Skate 'au bambou'; Cellophane Noodle and Wood Ear Mushroom; Spiced Bamboo Broth. I think this was actually my first time having skate. I found the fish enjoyable, soft and mildly flaky, but not particularly distinctive. The bamboo broth was similarly mild in composition, and resulted in a somewhat flat dish. However, the course was saved by the fantastic crunchiness of the wood ear topping.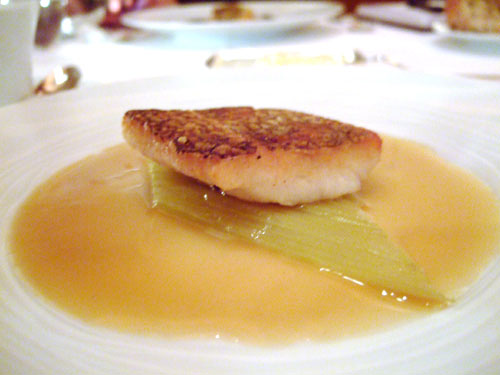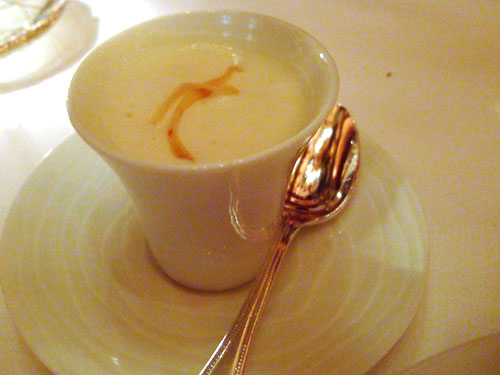 6a: Black Bass
Crispy Black Bass; Braised Celery and Parsnip Custard; Iberico Ham-Green Peppercorn Sauce. A lovely, flaky texture on the bass here, but for me, the crisp, savory skin was the real standout. The only thing wrong was the large piece of celery on the bottom of the dish, which I didn't care for at all and which seemed out of place. As for the parsnip custard, I found it tasty but a bit sweet, and didn't quite get the pairing with the bass.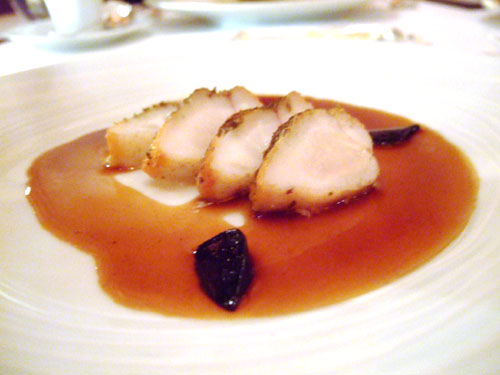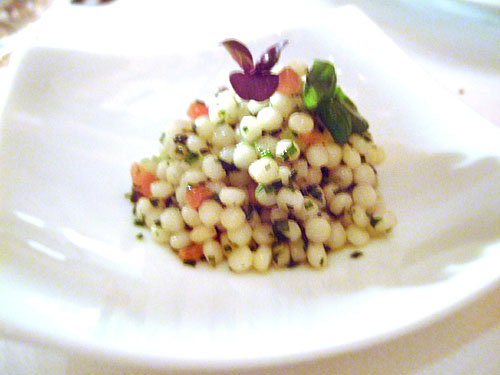 5b: Monkfish
Pan Roasted Monkfish; Israeli Couscous Tabbouleh; Black Garlic and Persian Lemon Sauce. The monkfish proved fairly interesting, as the flesh had a unique, spongy texture that was rather uncommon. The flavor, on the other hand, wasn't as endearing, though I did appreciate the fish's peppery exterior. The tabbouleh, meanwhile, formed a light, refreshing counterweight to the heaviness of the fish.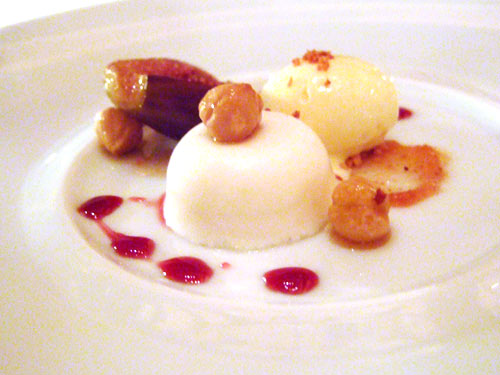 7a: Fig
Roasted Fig, Goat Cheese Parfait, Hazelnut, Red Wine Caramel, Bacon Ice Cream. Though this course was named "Fig," the bacon ice cream really stole the show for me. It tasted better than I thought it would, actually fairly light and reminiscent of Bac-Os. The parfait was also quite tasty, with just a mild tang of goat cheese, and a creamy tart flavor that countered the sweetness of the fig.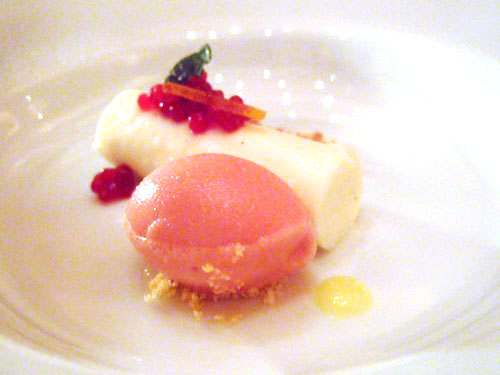 6b: Panna Cotta
Greek Yogurt Panna Cotta, Pomegranate Pearls and Sorbet, Lemon Cream, Orange Peel, Mint. The yogurt panna cotta put forth a relatively heavy, yet mild creaminess that stood in stark contrast to the cold tartness of the pomegranate sorbet, a tartness which was further bolstered by the use of lemon and orange.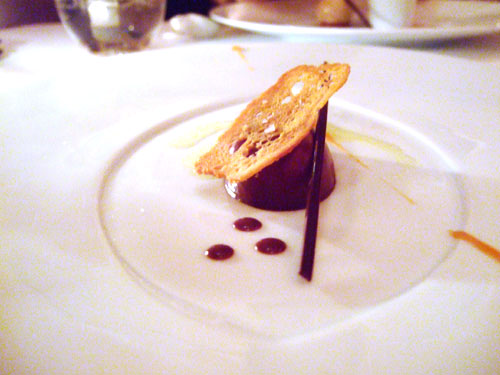 8a: Chocolate-Olive Oil
Dark Amedei Chocolate Ganache, Toasted Bread, Extra Virgin Olive Oil, Maldon Sea Salt. Both chocolate desserts utilized chocolate from Amedei, a high-end manufacturer from Tuscany, Italy. This one had a decidedly fruity flavor initially, which eventually gave way to the more savory components of the dessert--the salt and olive oil. Overall, a masterful interplay of sweet and salty.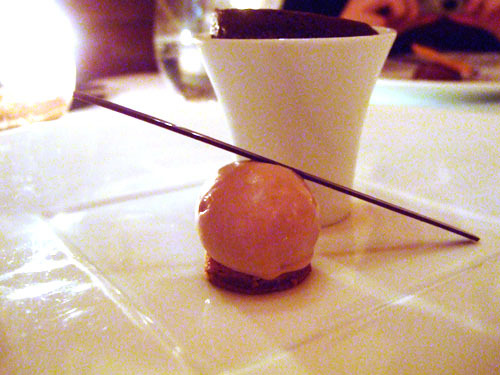 7b: Warm Chocolate
Warm Amedei "Chuao" Chocolate, Malted Rum Milk Chocolate Ice Cream. Chuao is a chocolate from cacao grown in Venezuela. Unfortunately, I felt its distinctiveness was largely lost in this soufflé-like presentation. You can't go wrong with soufflé and ice cream, but I would've liked to have seen more creativity.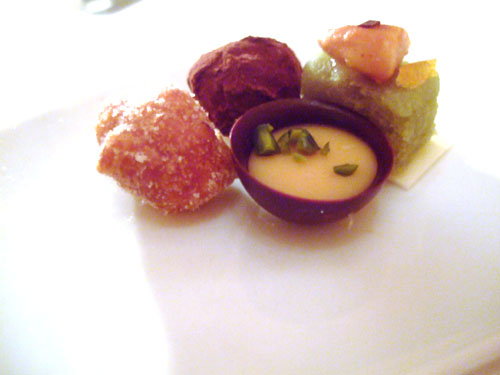 Mignardises
Four bites to end the meal: beignet filled with vanilla cream, "pâte de jei" (it was unclear what our server said with this one) with toasted almond, white chocolate ganache with pistachio in a chocolate cup, and dark chocolate truffle. My favorite was the beignet, which actually reminded me of a cream puff.
In the end, I think Le Bernardin's commitment to seafood has largely paid off. I was able to have some of the most creative seafood-based dishes in a while here, and throughout the dozen savory courses, I kept being surprised, and delighted. Now, that's not to say everything went perfectly; rather, there were indeed a few missteps. There were several components in the dishes that didn't work with me, and the desserts in general could've used a bit more inventiveness. These lapses weren't grave enough to jeopardize the meal by any means, but at the 3-star level, they
are
worth considering.