Papaya King (New York, NY)
Papaya King
179 E 86th St, New York, NY 10028
212-369-0648
www.papayaking.com
Sat 12/20/2008, 01:45p-01:55p
Now with deli and pizza out of the way, it was time for me to experience a true New York hot dog, and Papaya King was the first place that came to mind. The King actually has a number of locations (including three in Manhattan and one in New Jersey), but I wanted to go to the original on 86th St on the Upper East Side. Originally founded in 1931 by Gus Poulos, the restaurant was named Papaya King because it originally sold only tropical fruit drinks, though it quickly expanded to selling hot dogs due to the large German population in the vicinity. Because of its success, the chain has spawned two "Papaya" competitors--Gray's Papaya and Papaya Dog.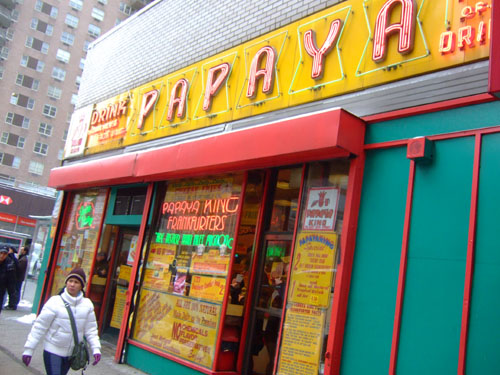 Here we see the exterior of the original building. Interestingly, on March 22, 2007, the location was shut down briefly by the Health Department after the news program
Inside Edition
found rats inside the premises.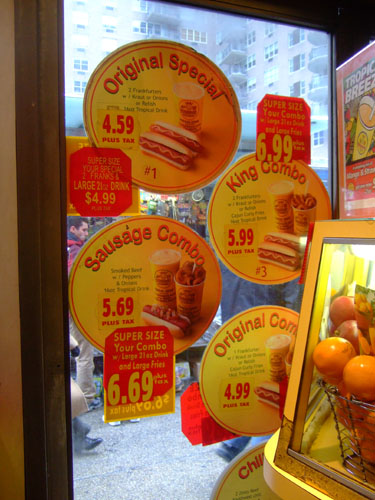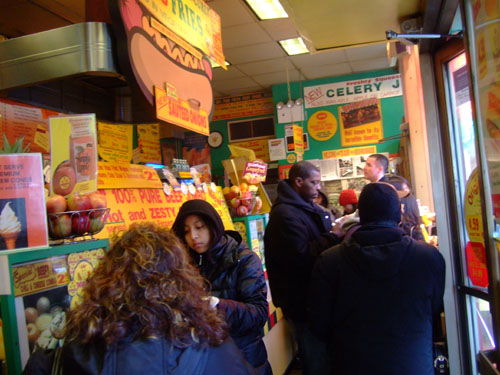 The interior is suitably cramped. There is no seating; rather, patrons can stand next to counters along the windows. Overall, not a comfortable dining experience.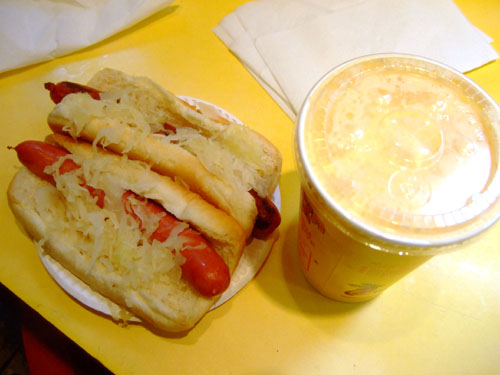 Original Special [$4.59]
The Original Special includes two hot dogs with sauerkraut, onions, or relish and a 16oz Tropical Drink. We chose kraut, the preferred New York topping I'm told. The Sabrett-sourced frankfurter itself was quite tasty, among the best I've had. I really liked the snap of the natural casings, which is heightened by the cooking method of griddling atop a flat-top grill. The kraut, meanwhile, added a nice sourness to contrast the savory flavor of the beef. This sourness was further augmented by the use of mustard, which we added later. The bun, however, would've been better grilled.
As for the drink, there are a number of flavors available, including Mango, Coconut Champagne, Piña Colada, Banana Daquiri, and Strawberry Supreme, but seeing how this was the
Papaya
King, I had to go with the original. Even though I'm not a huge fan of papayas in general, the drink was quite delicious. Its flavor was not distinctly papaya, which was key, and the drink had a rich, smooth creaminess that hinted of dairy; it wasn't merely juice.
The Papaya King has become synonymous with the New York hot dog, and really is a culinary beacon of the city, appealing to people from all walks of life, from locals to tourists, the marginalized to the gentility. It's simple, straightforward, unpretentious food, but at the same time represents a true dining destination, one definitely worth a visit if you're ever in town.