Phuket Thai (Huntington Beach, CA)
Phuket Thai
16612 Beach Blvd, Huntington Beach, CA 92647
714.842.6882 or 714.842.1101
www.yelp.com/biz/phuket-thai-restaurant-huntington-beach (Yelp, restaurant has no web site)
Fri 01/23/2009, 09:10p-09:20p
In my younger days, I used to have Thai all the time, but recently, it seems that it's been ages since I've gotten my fill of
kaphrao
and
panang
. Now, the usual place to go for Thai in Orange County is, of course, the much-lauded Thai Nakorn in Stanton. But on this night, I thought it'd be good to try something different.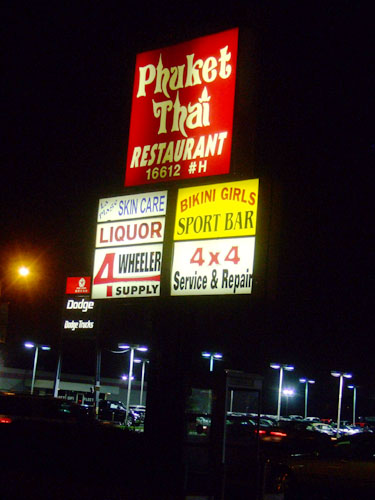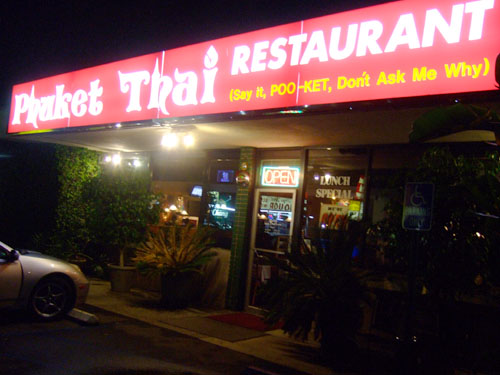 Phuket Thai is located along a busy stretch of Beach Blvd, across from an auto dealership. Note the "Say it, POO-KET" on the restaurant's signage, which may actually be useful to those who aren't familiar with the proper pronunciation--cute. Amazingly, as with Thai Nakorn, Phuket Thai is
also
located next to a bikini sports bar, though I hear that the girls here don't quite compare to those at the Thuy Li-owned "The Lounge"--think more cellulite, more bruises, and more C-section scars.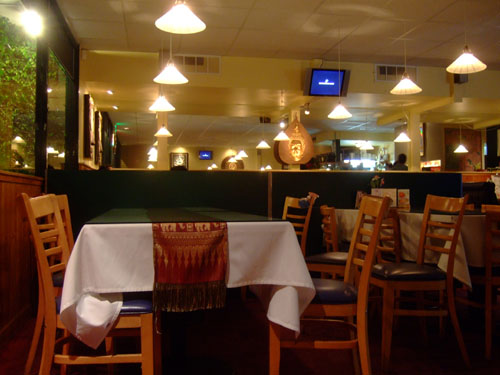 The restaurant's interior is about what you'd expect--clean, comfortable, unassuming, with some traditional Thai flourishes scattered about.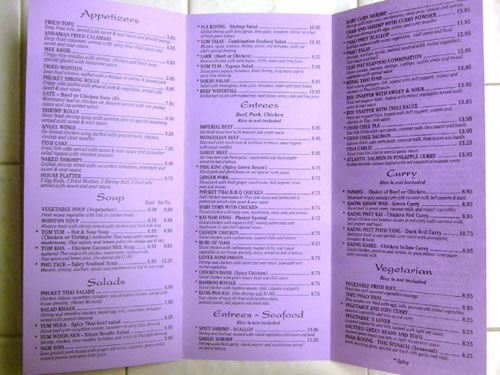 The menu is fairly prototypical of Thai restaurants, though there's certainly nothing wrong with that. Click for larger versions.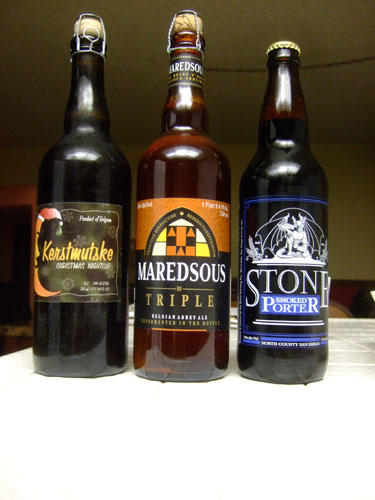 We provided our own beer to go along with the food. In hindsight, things would've probably been better off with some lighter beers to pair with the spicy, highly aromatic food. A Singha or Chang would've worked beautifully, but I think I've been somewhat enamored with Belgians as of late.
First up was the Kerstmutske Christmas Nightcap. This Strong Dark Ale comes from Brouwerij Slaapmutske, but is actually brewed by De Proef ("The Prof") Brouwerij, a Flanders-based brewery founded by renowned brewmaster Dirk Naudts. In any case, the nose of this beer was surprisingly nondescript, while the flavor was faintly metallic, spicy, with just a touch of fruit. Very easy to drink.
Maredsous 10 comes to us from Brouwerij Duvel Moortgat, a Flemish brewery founded in 1871 best known for its Duvel ("devil") line of beers, perhaps the epitome of the Belgian Strong Golden Ale style. The Maredsous 10, meanwhile, is a Tripel, denoting the strongest level of abbey beer. It was the most complex of the trio here, with a sour, yeasty nose, and fruity, tart notes of apple cider on the palate. Quite good.
The final beer in the lineup was the Stone Smoked Porter by Stone Brewing Company in Escondido, California. The "smoking" comes from the use of dried and smoked malted barley, which imparts a unique flavor to the beer. I noted chocolate and coffee initially, followed by dark fruit and a bit of blue cheese. Nice.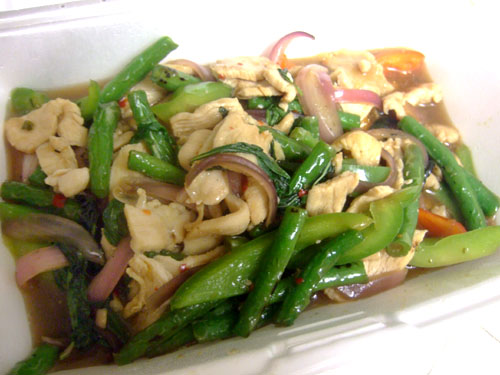 Chicken Basil [$8.75]
Sliced chicken with green beans, basil and chili sauce. It's hard to go wrong with a dish like this. The chicken itself wasn't particularly unique or flavorful on its own, but went superbly with the minty flavor of basil that permeated the entire dish. Loved the crunch provided by the bell pepper and onion, and how that contrasted the green beans. Excellent when eaten with plain white rice.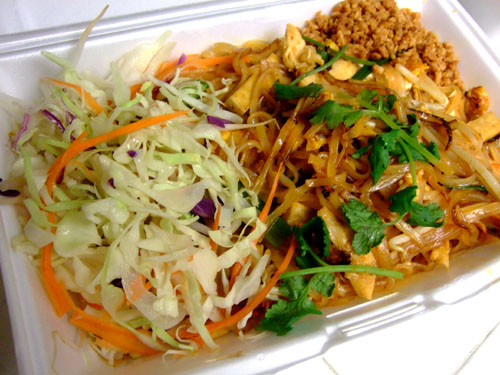 Phad Thai [$8.95]
Thai fried noodles with shrimp, chicken, eggs, tofu, ground peanuts, green onions and bean sprouts. Phad Thai (or more commonly, "Pad Thai") translates to "Thai-style stir fried noodles" and is perhaps the quintessential Thai food. Ironically, the dish's origin isn't Thai, but rather Vietnamese and Chinese, and only became popular in Thailand in the mid 1900's. I'm actually not a huge fan in general; I certainly don't mind it, but Pad Thai wouldn't be my first choice of what to order. That being said, this was one of the better versions I've tried, decently spicy yet sweet, nutty, not too oily, and texturally interesting.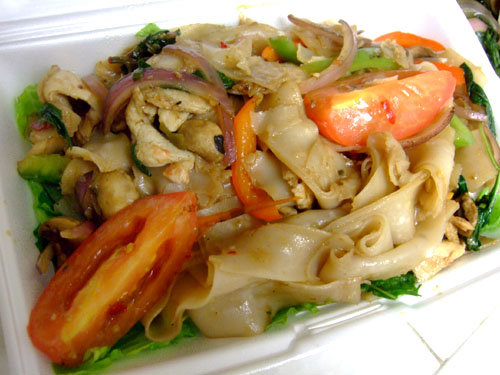 Phad Kee Mao - Drunken Noodles [$8.95]
Sliced chicken stir fried with flat rice noodles, mixed vegetables, basil and chili paste. Since I'm not huge on Pad Thai, Pad Kee Mao is typically what I order when I want Thai noodles. In fact, when I was going to school at Berkeley, I used to get this all the time from a restaurant down the street from my apartment called
Thai Delight
--really my first exposure to Thai food. As for this version, it was markedly spicier than the Pad Thai, and used chicken that was very similar (or the same) to that used in the chicken basil dish. Indeed, a strong basil flavor pervaded the entire dish, which was punctuated by a sharp spiciness and the sweetness of the bell peppers. Meanwhile, the lettuce and tomato added some interesting textural elements, and provided a counterbalance to the heavy flavors of the rest of the ingredients. Quite nice.
All-in-all, Phuket serves up some competent, affordable Thai cuisine. Nothing life-altering, but good enough for me to be coming back.