A Slice of New York Pizza (Seal Beach, CA)
A Slice of New York Pizza
142 Main St, Seal Beach, CA 90740
562.493.4430
www.yelp.com/biz/slice-of-new-york-pizza-seal-beach-2 (Yelp, restaurant has no web site)
Fri 01/09/2009, 06:50p-06:55p
After having some true New York-style pizza at
Lombardi's
(the country's first pizzeria), I was keen on finding a good, somewhat comparable pizza here in Southern California. Now, the usual names that pop up when talking pizza are places like Bollini's, Vito's, Mulberry Street, Joe's, Mozza, Village, etc. So given all these choices, why A Slice of New York? Easy: I was in Seal Beach, I needed something quick, and this place came recommended by a friend.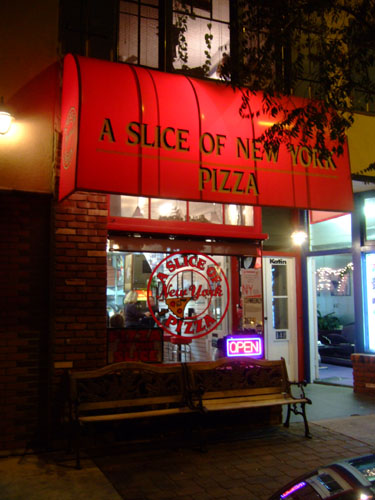 A Slice of New York is located along Main Street in downtown Seal Beach. The area is known for its quaint seaside setting, and was actually featured in the film
American Pie 2
.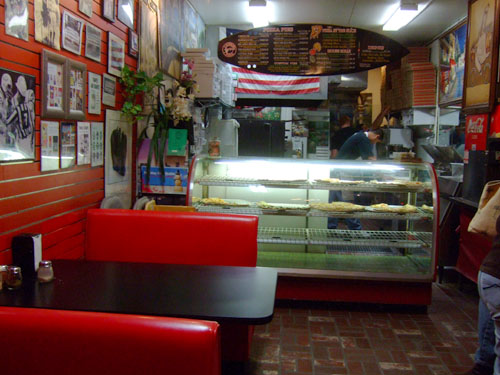 Most of the smallish space is taken up by the kitchen, while the "by the slice" selections are displayed in a glass case. For dining in, there are about five small booths, and this being California, the menu is printed on a surf board.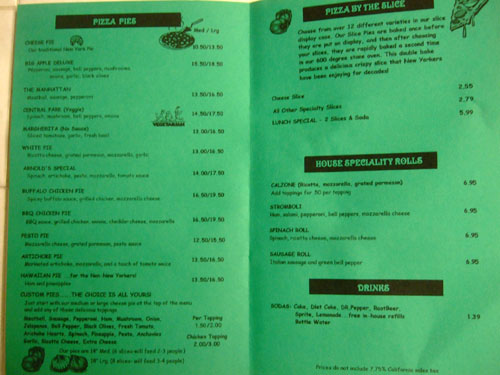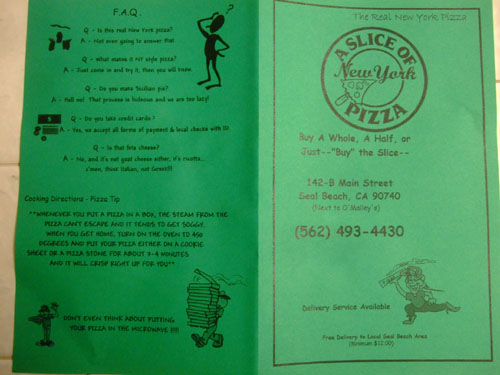 The menu is fairly pedestrian, with a few nice specialty pizzas and a decent selection of toppings, as well as a handful of non-pizza items. Click for larger versions.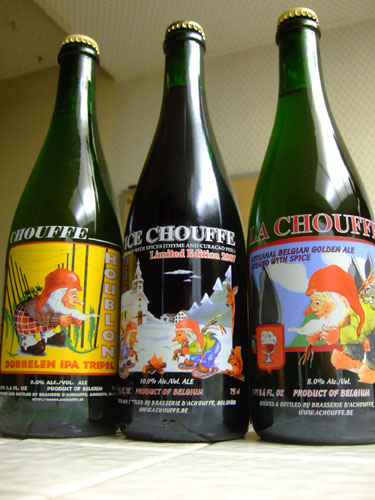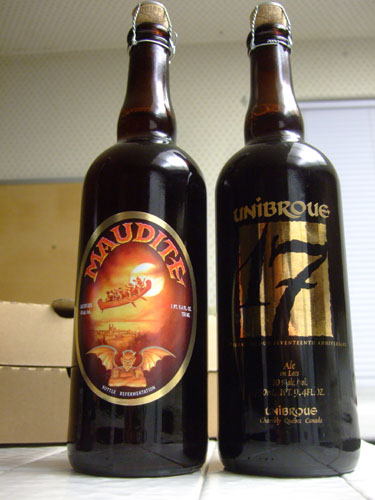 Unfortunately, the restaurant doesn't serve booze, so we had to provide our own. Not a problem. Pizza and beer--a winning combination.
First up was a trio of beers from Brasserie d'Achouffe, a brewery founded in 1982 in the small town of Achouffe, in the Ardennes region of Belgium. I'd had their signature La Chouffe at
Leatherby's Cafe Rouge
and was extremely impressed. La Chouffe is an unfiltered strong pale ale, and once again, it did not disappoint. I noted a distinct, crisp, refreshing fruitiness to the beer, which was backed up by a touch of spiciness and hoppiness, with just a hint of bitterness. Next up was the Houblon Chouffe Dobbelen IPA Tripel. Compared to the La Chouffe, I found this rounder, softer, heavier, and less pronounced. It was also a tad more bitter and viscous--good, but not as strong as La Chouffe in my opinion. Finally, we had N'Ice Chouffe, a strong dark winter ale only available during the winter months. Interestingly, the beer is spiced with thyme and curaçao, and as a result, had a sharp, spicy flavor with notes of toffee, hazelnuts, and chocolate. Very nice.
We then turned our attention to two Belgian-style strong dark ales from Unibroue. Located in Quebec, Canada, Unibroue was founded in 1992, and is now owned by Japanese giant Sapporo. We first tried the Maudite, which was a bit spicy, citrusy, and grassy. It was great on its own, but perhaps not quite as good when drunk with the pizza. Our final beer was the Unibroue 17. This was a darker, heavier beer, with sweet flavors of chocolate and caramel, leading to a spicy and bitter finish--lovely.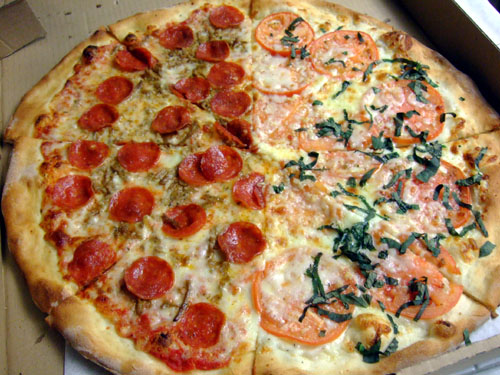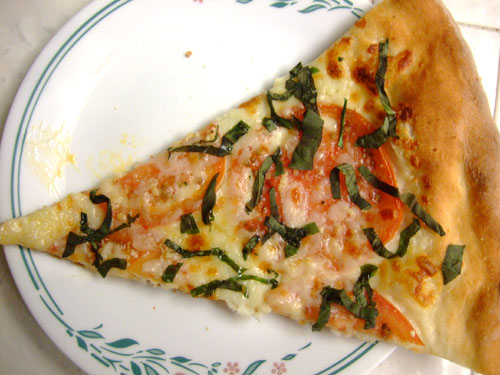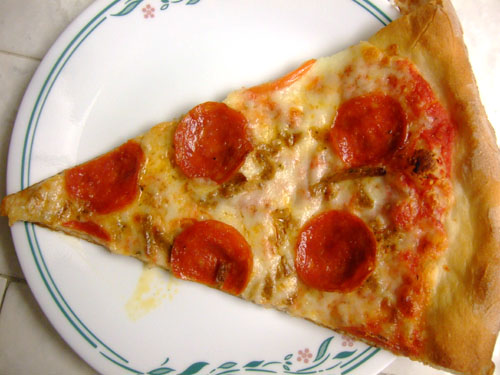 Large 18" Pizza [$17.50]
As with
Lombardi's
, we decided to do half Margherita (No Sauce, Sliced Tomatoes, Garlic, Fresh Basil) and half with Meatballs and Pepperoni. The first thing I noted was that the crust lacked the burnt bitterness of Lombardi's coal-fired version. It was also a bit thicker, and lacked Lombardi's creamy interior, but nevertheless formed a great base for the sparingly applied ricotta and garlicky sauce. As for the meat toppings, the pepperoni was quite nice, but the meatballs were sliced up as to be barely noticeable. I'll stick with the sausage next time. I actually preferred the Margherita half for its juicy, refreshing sliced tomato and strong basil notes. Overall, the pizza was surprisingly good. It certainly wasn't as distinctive as Lombardi's, but had a charm of its own. It was a cut above most, and easily better than the institutional pies at
Famous Original Ray's
. I'll be back.