Per Se (New York, NY)
Per Se
10 Columbus Cir, New York, NY 10019
212.823.9335
www.perseny.com
Sun 12/21/2008, 09:00p-12:15a
Ahh Per Se...for many, the most formidable restaurant in all of Gotham, and the seemingly perfect end to my New York culinary tour--following
Adour
,
Le Bernardin
, and
Jean Georges
. When I was planning my trip to the City, I wasn't even sure if Per Se was going to be on the itinerary. Reservations here were only a slight bit easier to secure than those for Barack Obama's presidential inauguration, so we were put on the waiting list. We had some backup dinners planned (e.g. WD-50 and Momofuku Ko), but as luck would have it, the reservation came through just days before departure.
The story of Per Se started back in 2001, when Thomas Keller began plans for a triumphant return to New York--Keller had actually opened his first restaurant, Rakel, here in 1986. He knew who he wanted to helm the new restaurant early on, and tapped
French Laundry
alum Jonathan Benno for the task. Previously, Benno had worked at Craft, Gramercy Tavern under Tom Colicchio, and
Aqua
under
Michael Mina
. Teams from French Laundry were brought over for training, and the restaurant opened on February 16, 2004, almost exactly a decade after Keller took over French Laundry.
People often ask about where the name "Per Se" comes from. Anecdotally, when Per Se was under development, people would ask Keller if it'd be the same as French Laundry; he'd subsequently respond that it wouldn't be the same
per se
. However, the name actually came from an examination of the ampersand symbol ("&"). The word "ampersand" is a contraction of the words "and per se and;" further research led Keller to discover that the phrase "per se" was Latin for "by itself." It really captured what he wanted the restaurant to be, something that was unique from French Laundry, but that didn't forget where it came from.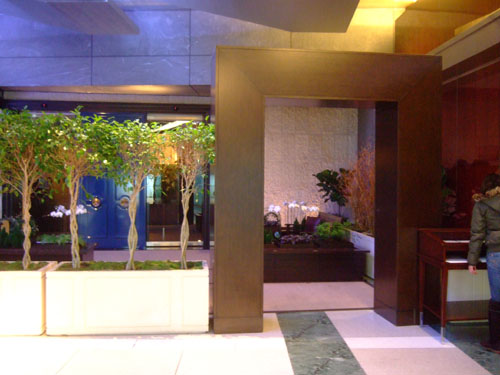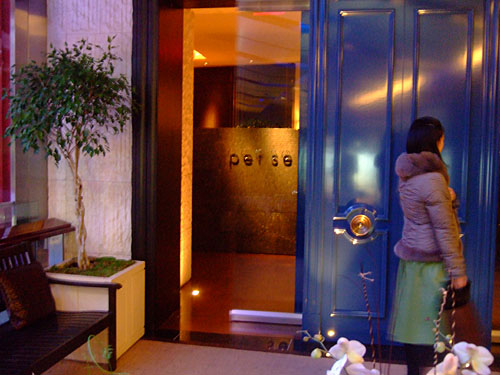 Per Se occupies a relatively secluded space on the fourth floor of Time Warner Center. Immediately north is another Michelin 3-star eatery: Masa. Legend has it that Keller convinced owner Masa Takayama to shutter his Ginza Sushiko (now
Urasawa
) in Beverly Hills in order to move with Keller to New York; the two restaurants opened within weeks of each other in 2004. No matter, upon approaching Per Se, you're unquestionably drawn to the pair of iconic blue doors, seemingly lifted straight from the entrance of French Laundry. But as you approach, you realize that they're just a façade; glass doors to either side swoosh open, beckoning you in. The doors pay homage to the Laundry; but by making them false, the idea was to signal that Per Se was to be its own restaurant.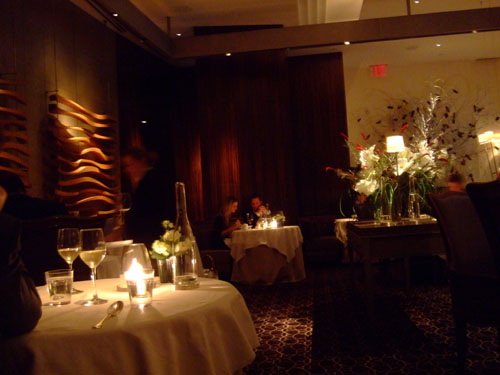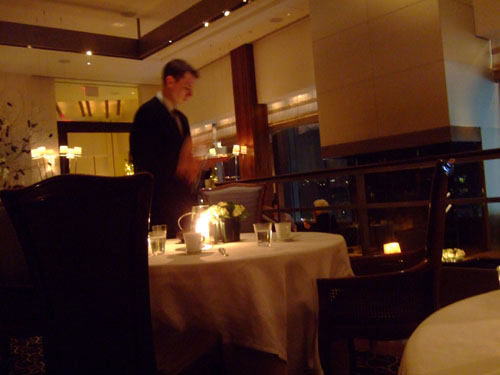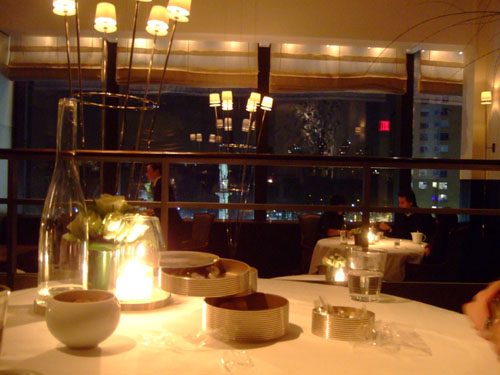 The Adam Tihany-designed space shines in earthen, woody tones of brown. The main dining room (pictured above) seats 75 and is divided into an upper (where we were seated) and a lower portion, with the lower housing the fireplace and possessing a view of bustling Columbus Circle below. In addition, two private dining rooms are available. The East Room also overlooks the Circle and accommodates 10 guests, while the larger West Room handles 60 diners.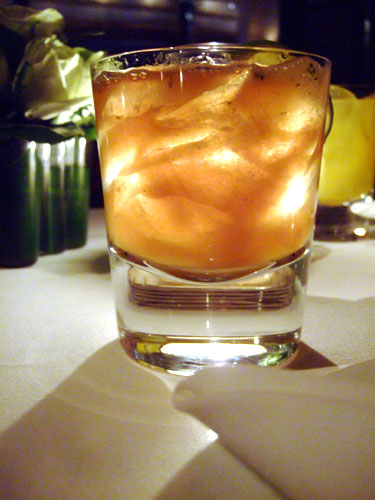 Naturally, I asked for a Mojito to start. Our server suggested a special version [$20.00] made with walnut liqueur. Feeling adventurous, I went for it. The drink was interesting to say the least, and actually not very Mojito-like, with very little mint, and very little citrus. All I could detect was the liqueur, which itself tasted not of walnuts, but plum, specifically, vinegar- and salt-pickled Chinese
suan mei
!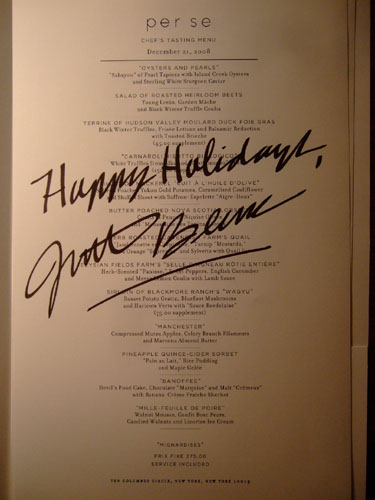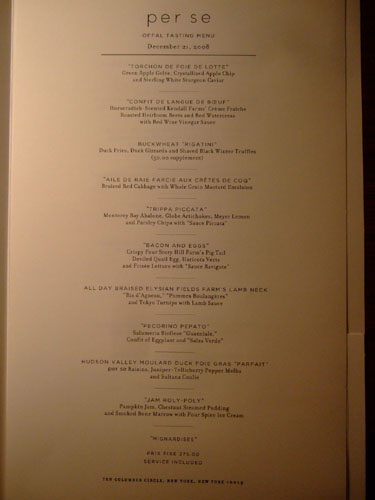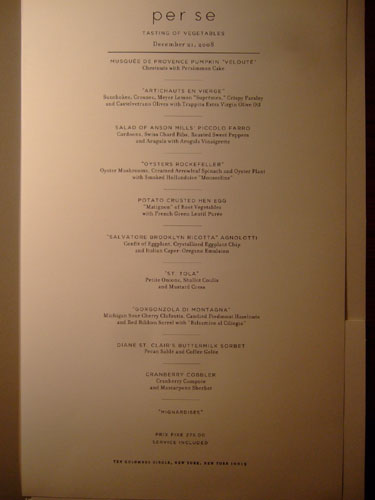 Per Se offers at least two menus of French-influenced contemporary American fare: one Chef's Tasting Menu and a Tasting of Vegetables. On this night, a special Offal Tasting Menu was also available. Click for larger versions. Each is nine-courses, and $275 inclusive of 20% service and non-alcoholic beverages (which was surprising). Dinner is served nightly, with a five-course $175 lunch offered Friday through Sunday. Regarding Per Se's menu philosophy, Keller and company are well aware of the law of diminishing returns, and as a result, portions are purposely small to have maximum impact, to make the diner want just "one more bite." It mostly works.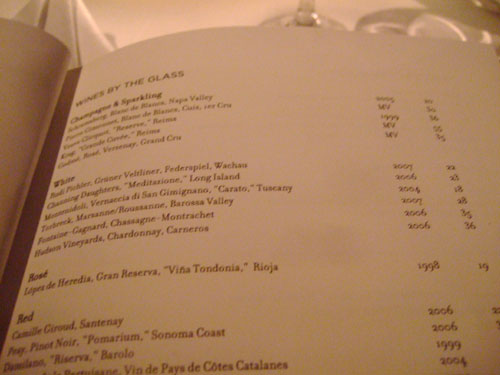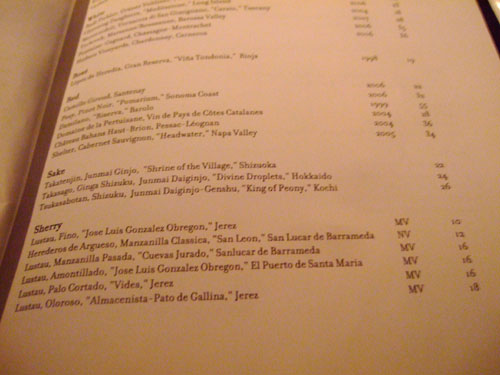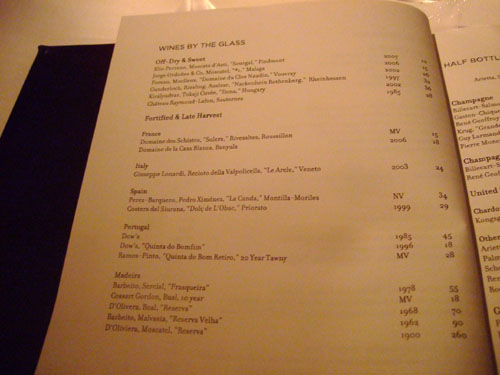 I previously complained about
Adour's
wine by the glass prices, and Per Se's are only a touch more manageable. What was truly shocking here was the corkage, at an incredible $90. And I thought the $50 at French Laundry was steep! In any case:
Rudi Pichler, Grüner Veltliner, Federspiel, Wachau 2007 [$22.00] - I've grown quite fond of Grüners, and this was a nice example of such. Citrus and minerals on the nose lead to dry, crisp flavors on the palate, with a bit of spice and heat on the finish.
Peay, Pinot Noir, "Pomarium," Sonoma Coast 2006 [$32.00] - A good California Pinot, I noted aromas of light red fruit and smoke initially, leading to plenty of herbal, spicy, and berry-like flavors in the mouth. Tangy and nice.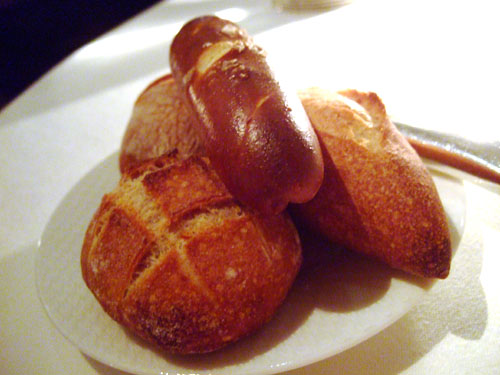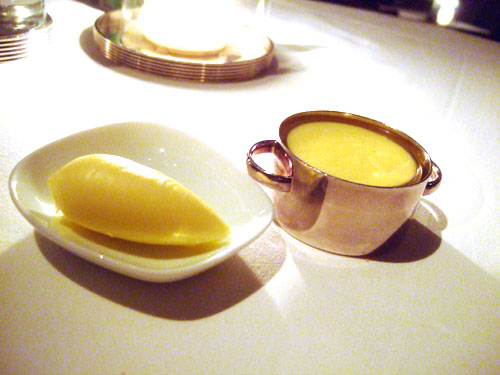 Pretzel, baguette, and semolina breads were paired with two types of butter. On the right was a fleur de sel butter from Vermont (made by Diane Sinclair exclusively for Keller), on the left a butter from Straus Family Creamery in California.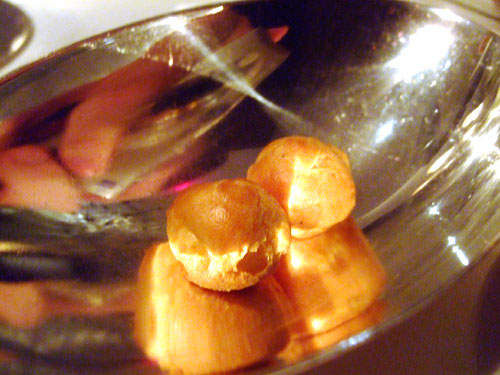 Canapé 1: Gruyère Gougères
The meal started off the exact same way as at
French Laundry
, with some positively addictive gougères, a French choux pastry with Gruyère cheese in the batter. They were delicious, and a touch creamier than I recall at Laundry, though I'd still have to give the edge to
CUT's
version.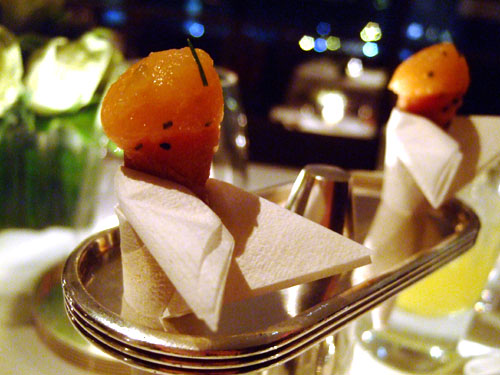 Canapé 2: Salmon Coronets
The smoked salmon coronets ("crowns") are perhaps Keller's most famous dish. At French Laundry, I had them with red onion crème fraîche, but this time, the crème fraîche was flavored with sweetbreads, giving the coronets a somewhat heavier taste. The cone was a black sesame tuile with a peppery bite and crunchy texture that nicely contrasted the salmon.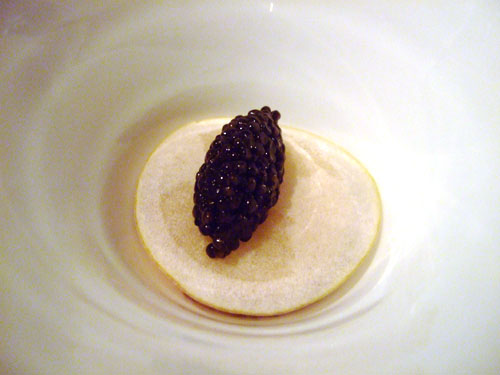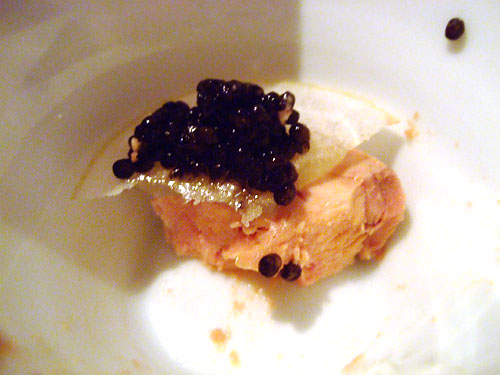 1a: "Torchon de Foie de Lotte"
Green Apple Gelée, Crystallized Apple Chip and Sterling White Sturgeon Caviar. Here, I noted an initial fishiness from the
foie de lotte
, or monkfish liver, which was definitely stronger than most preparations of ankimo I've had. It was a bit off-putting at first, but then the sweetness of the apple became apparent, right before the dish finished with the salty tang of caviar.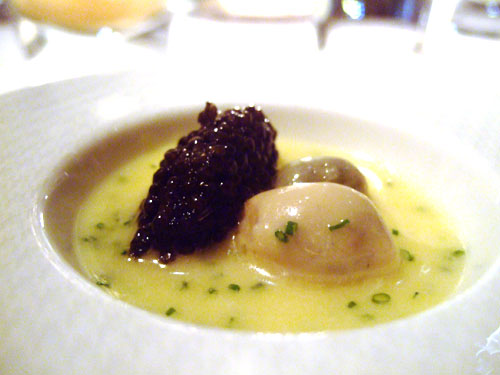 1b: "Oysters and Pearls"
"Sabayon" of Pearl Tapioca with Island Creek Oysters and Sterling White Sturgeon Caviar. Scratch what I said above about the Coronets,
this
is Keller's signature dish. Of course, I had the same dish at French Laundry, but with Beau Soleil instead of Island Creek oysters. In any case, the oyster was actually not the focal point of flavor for me. The key was to eat everything together, to get the oyster as well as the cool brininess of caviar contrasting with the creaminess of tapioca--a magnificent multilayered study in texture and temperature.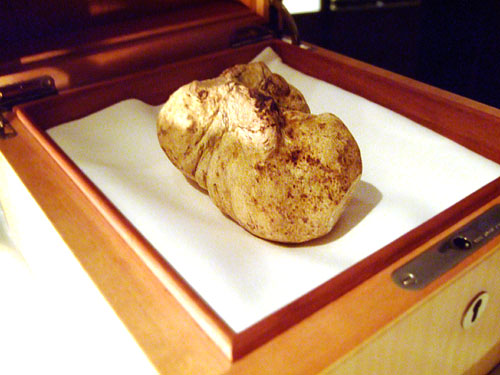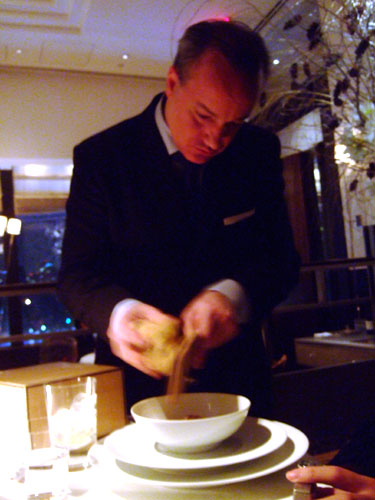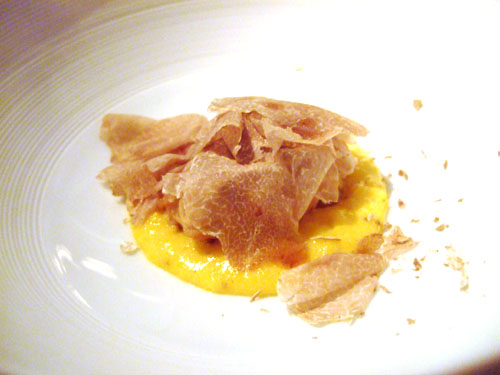 Complementary Course: Calf's Brain and Scrambled Egg with Shaved White Truffles
Now this was a surprise. I initially thought that this was a course from the Offal Tasting Menu, but knew that wasn't the case when my dining companion also received the dish. We were told that this was calf's brain, which, coincidentally, I'd only had once before--at
French Laundry
. I was surprised once more when the truffle box was brought out, containing one of the largest white truffles I'd ever seen (the "smallest one we have" according to our truffle shaver). The consistency of the brain was soft, but not too creamy, actually quite similar to the scrambled egg. Flavor-wise, this was a bit milder and thus more palatable than the one I had earlier--a little like sweetbreads--while the truffles added simply abundant amounts of their signature pungent, earthy aroma. It was a near perfect pairing. I'm still not sure why we received this special gift. Perhaps it was because we talked about our experiences at French Laundry, or perhaps because we mentioned that we had been interested in the recent
series of 20-course dinners
Keller held with his famed protégé Grant Achatz (of
Alinea
fame). A very kind gesture, it shall remain a mystery.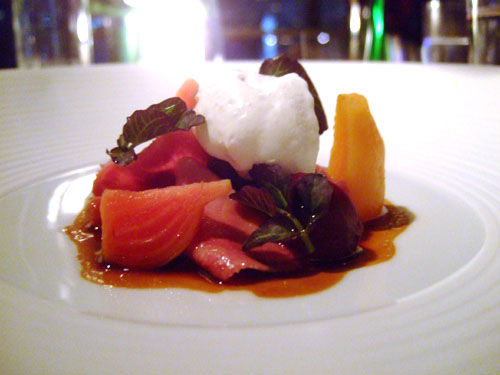 2a: "Confit de Langue de Bœuf"
Horseradish-Scented Kendall Farms' Crème Fraîche, Roasted Heirloom Beets and Red Watercress with Red Wine Vinegar Sauce. This was easily the tenderest beef tongue I've ever had; sliced thin, it was almost like ham in texture. Its flavor was also extremely delicate, and thus really relied on the horseradish, beet, and tangy vinegar for support. About as light and refreshing as offal can get I imagine.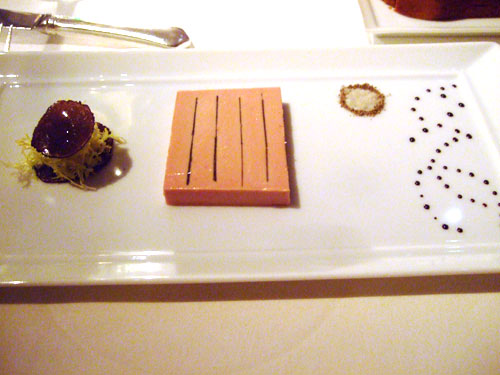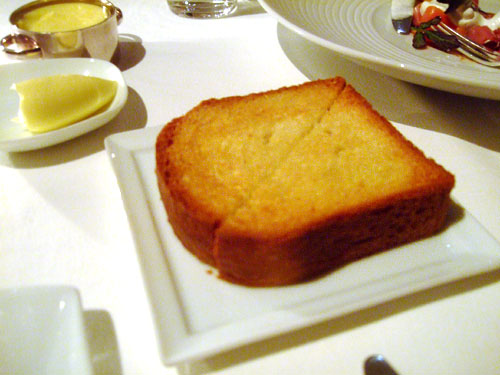 2b: Terrine of Hudson Valley Moulard Duck Foie Gras ($45.00 supplement)
Black Winter Truffles, Frisée Lettuce and Balsamic Reduction with Toasted Brioche. This was one supplement I just
had
to get. I sampled the "Moulard Duck Foie Gras Terrine" on my visit to French Laundry, and it turned out to be the best foie gras I'd ever had; a comparison was absolutely necessary. But alas, there was no comparison--the Laundry's was better, an impossibly high standard. That's not to say that there was anything wrong here. Though it could've be a touch saltier, it was still among the best preparations of foie gras I've tried, and went wonderfully with the frisée, balsamic, and brioche especially.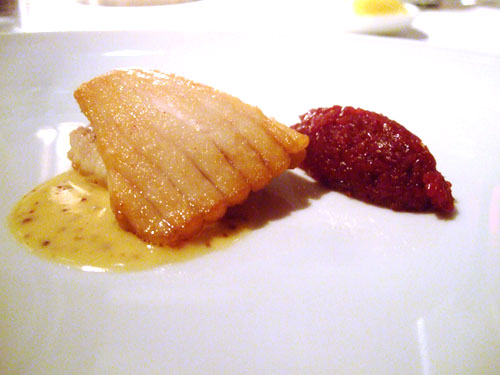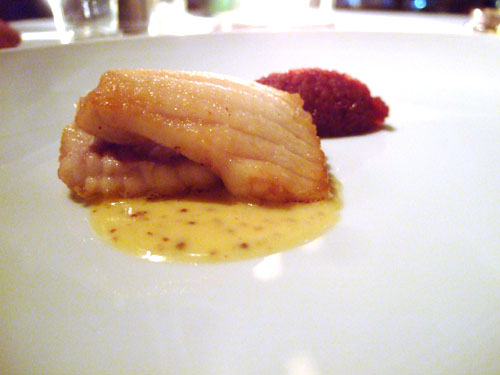 3a: "Aile de Raie Farcie aux Crêtes de Coq"
Braised Red Cabbage with Whole Grain Mustard Emulsion. When this came out, I didn't know what it was; I thought it was just fish. Turns out it was skate stuffed with
cockscombs
, or chicken crests. I had eaten skate a couple nights earlier at
Le Bernardin
, and comparatively, this was a firmer, more savory presentation, which my dining companion likened to a McDonald's Filet-O-Fish! The combs themselves were pretty nondescript, and contributed simple saltiness to the dish, while the cabbage added a bit of tangy sweetness.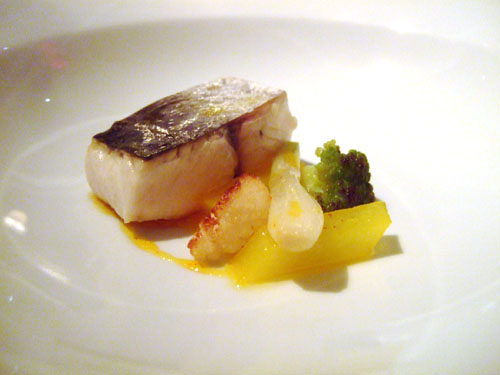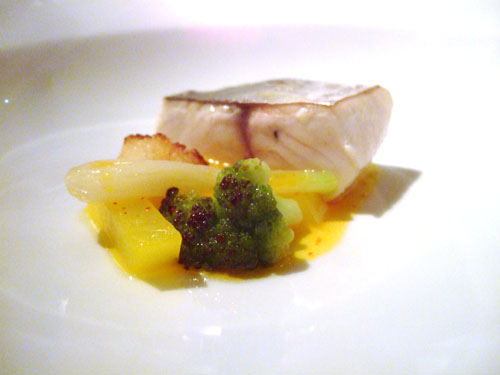 3b: Fillet of Mackerel "Cuit à l'Huile d'Olive"
Saffron Poached Yukon Gold Potatoes, Caramelized Cauliflower and Shallot Shoot with Saffron-Espelette "Aigre-Doux." The mackerel, barely cooked in olive oil, was actually quite fishy, the skin especially, but had a very delicate, silky flesh. It wasn't too far off from what I had at Le Bernardin actually. An
aigre-doux
or
agrodolce
is a sweet and sour sauce, and it really helped temper the strong flavor of the fish, as did the heavy vegetables. The result was a superbly balanced dish.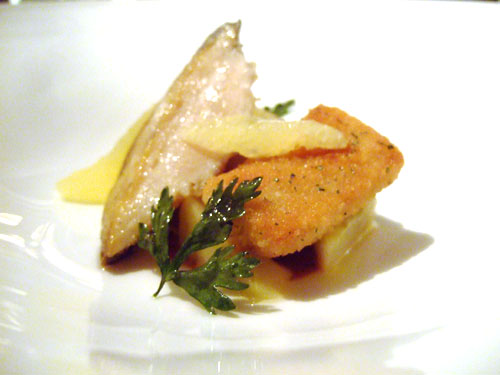 4a: "Trippa Piccata"
Monterey Bay Abalone, Globe Artichokes, Meyer Lemon and Parsley Chips with "Sauce Piccata." This was tripe (cow's stomach lining), done "piccata" style, meaning dredged in flour, sautéed, and served with lemon and spice. The tripe was actually not very distinctive, and could've really been nearly any fried meat. Rather, it was the abalone that stole the show; the two generous portions were extraordinarily tender, almost not like abalone in texture in fact, and marvelously delicious. Both tripe and abalone were complemented by the super-sour suprêmes of Meyer lemon.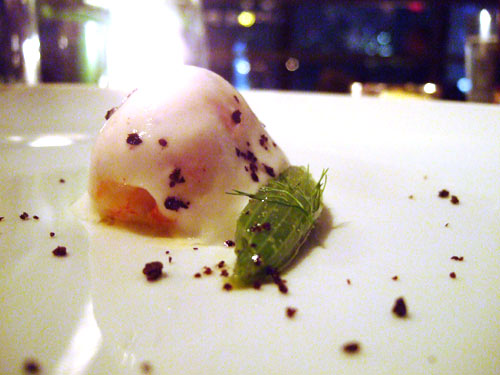 4b: Butter Poached Nova Scotia Lobster
Confit of Fennel, Niçoise Olives and "Mousseline des Topinambours." I'd had a version of butter-poached lobster at
French Laundry
as well, and compared to that, this was a bit tougher and lacking in the former's creamy crispness unfortunately. I liked the tartness of the Jerusalem artichoke mousseline (hollandaise with cream), as well as the slight pungency of the fennel, but the dish was forgettable overall.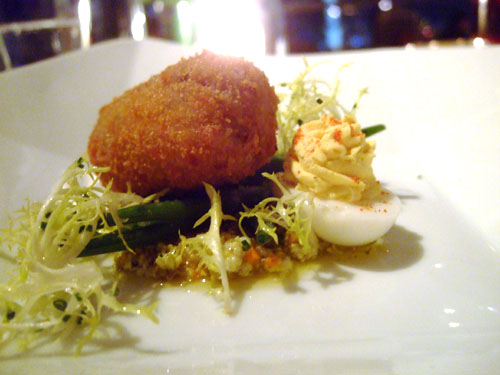 5a: "Bacon and Eggs"
Crispy Four Story Hill Farm's Pig Tail, Deviled Quail Egg, Haricot Verts and Frisée Lettuce with "Sauce Ravigote." I don't think I've had pig's tail before, but it turned out surprisingly lean (I was expecting something really oily for some reason), tender, and almost like pulled pork in consistency. Thus, I liked the contrast between the aforementioned interior and the tail's hard, crispy outside, which reminded me of a croquette. I'm generally a fan of deviled eggs and the version here turned out very well--the first time I've had quail egg done this way. A fairly rich dish, the medley was lightened up by the vegetables as well as the Ravigote--a tart vinegar-based sauce seasoned with onion, capers, and herbs.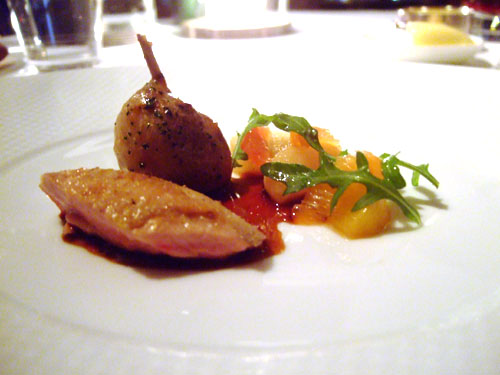 5b: Herb Roasted Cavendish Farm's Quail
"Jambonette en Crépinette," Turnip "Mostarda," Blood Orange "Suprêmes" and Sylvetta with Quail Jus. A
crépinette
is a small sausage, and a
jambonette
is a stuffed poultry leg, so this was a sort of quail sausage made from a quail leg. I had a similar thing, albeit on a much larger scale (with the whole bird involved), at
Leatherby's Cafe Rouge
in Costa Mesa. In any case, it was quite delicious--juicy, tender, and flavorful--while the breast portion was a touch leaner and milder, but still tasty. The
mostarda
was a condiment made from candied turnips, and along with the blood oranges, lent a sweet/sour flavor to the quail that unfortunately didn't quite sit well with me; the bird stood on its own. The sylvetta (a type of arugula), meanwhile, was there pretty much for decoration only.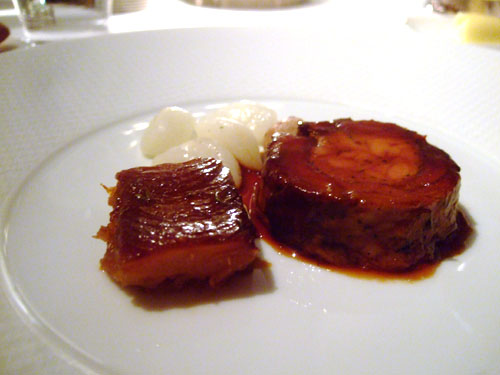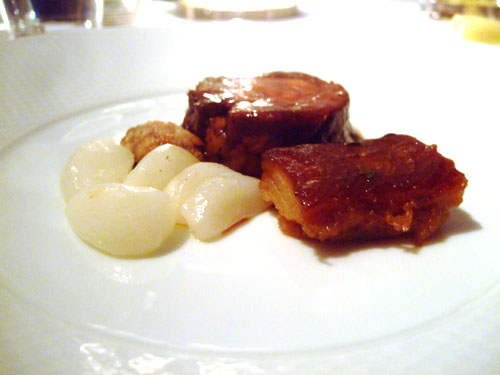 6a: All Day Braised Elysian Fields Farm's Lamb Neck
"Ris d'Agneau," "Pommes Boulangères" and Tokyo Turnips with Lamb Sauce. The lamb and sweetbreads were formed together into one rich, tender, decadent piece. Perhaps even better were the
pommes boulangères
, or "bakery potatoes," basically a gratin of thin-sliced potatoes, named so because traditionally they were given to bakers to cook in a bread oven. I also enjoyed the juicy bitterness of the Tokyo turnips, which did their part in tempering the heaviness of the lamb and potatoes.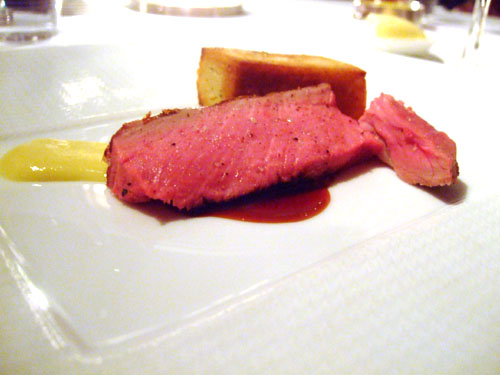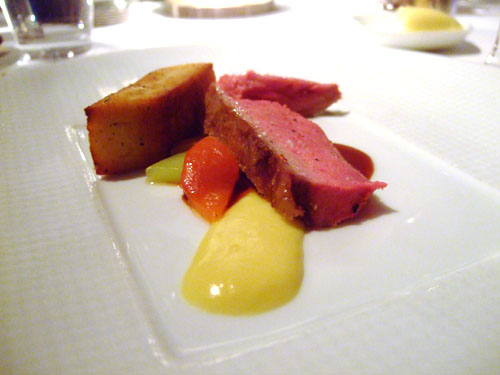 6b: Elysian Fields Farm's "Selle d'Agneau Rôtie Entière"
Herb-Scented "Panisse," Sweet Peppers, English Cucumber and Meyer Lemon Coulis with Lamb Sauce. Compared to the braised lamb, this saddle was much milder and a bit tougher, resulting in a somewhat flat piece of lamb, which was not helped by the overly-tart lemon coulis. The block-like
panisse
, by the way, is a creation from Northern Italy/Southern France made from fried chickpeas. This was my first time having it, and it was absolutely lovely, almost like a potato cake--the best part of the dish.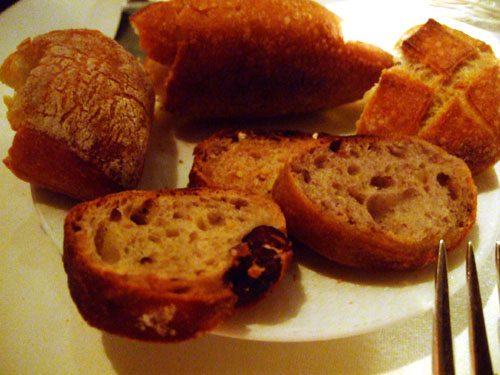 With the cheese courses, we received three new types of bread: mustard, cranberry, and pecan.
7a: "Pecorino Pepato"
Salumeria Biellese "Guanciale," Confit of Eggplant and "Salsa Verde."
Pecorino Pepato
is a type of Italian sheep's milk cheese infused with peppercorns. It had a great texture and was moderately spicy, but was overshadowed by the
guanciale
, a type of bacon made with pork cheeks, sourced from
Salumeria Biellese
in New York. The
guanciale
lent an extremely "porky" flavor to the whole dish, and, along with the eggplant and tart salsa verde, made the course a bit too in-your-face for me.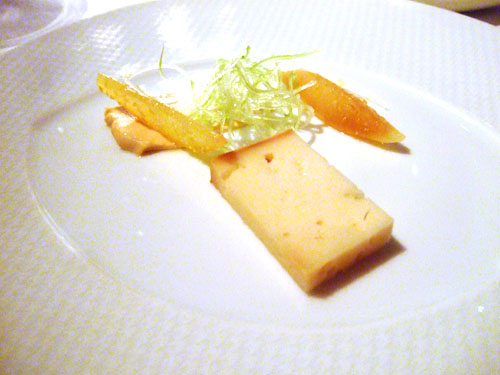 7b: "Manchester"
Compressed Mutsu Apples, Celery Branch Filaments and Marcona Almond Butter. Manchester is a goat's milk cheese produced by Peter Dixon at Consider Bardwell Dairy in Vermont. Milder and nuttier than the Pecorino, it went superbly with the crisp tartness of the Mutsu (a.k.a. Crispin) apples and celery. A simple, light presentation of cheese.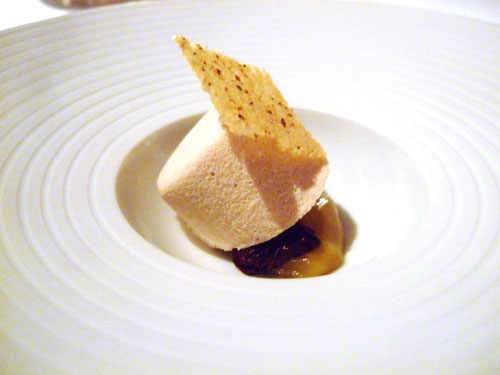 8a: Hudson Valley Moulard Duck Foie Gras "Parfait"
Per Se Raisins, Juniper-Tellicherry Pepper Melba and Sultana Coulis. Due to its high fat content, foie gras can be made into a sort of ice cream, as I found out for the first time here. Eating it was honestly a bit disconcerting, as the flavor of the foie really was apparent, but the texture and temperature just seemed incongruous. I noted strong foie gras flavors initially, which then gave way to the thick sweetness of the melba and sultana (grape) coulis, finally yielding once again to foie gras. A fascinating dessert.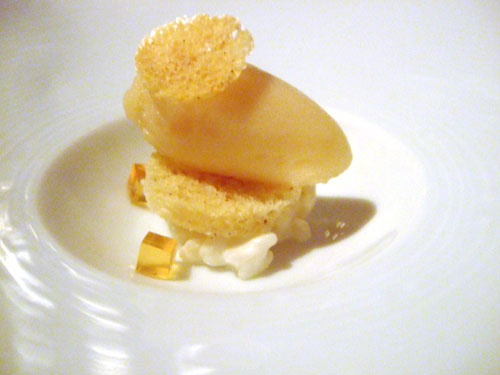 8b: Pineapple Quince-Cider Sorbet
"Pain au Lait," Rice Pudding and Maple Gelée. Humorously, as soon as I took a bite of this, I stated that it was "like eating a scented candle." I noted strong fruit, vanilla, and medicinal notes, and the effect was further heightened by the textural mélange of rice pudding and bread. Interesting, but not entirely pleasant.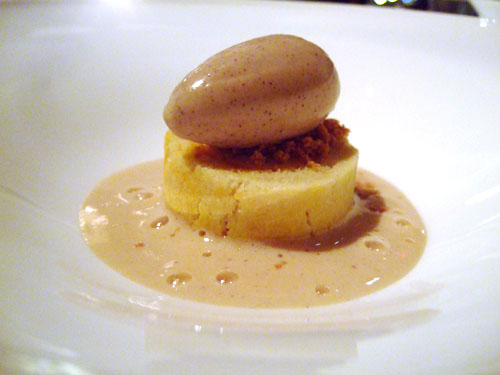 9a: "Jam Roly-Poly"
Pumpkin Jam, Chestnut Steamed Pudding and Smoked Bone Marrow with Four Spice Ice Cream. The name here is not a reference to the
pill bug
, but to the traditional British dessert (rolled suet pudding with jam). The dessert had a great spicy kick to it from the ice cream, and I really appreciated the crunchiness and savoriness of the bone marrow, along with the textural contrast of the whole amalgam. Probably my favorite of the four desserts.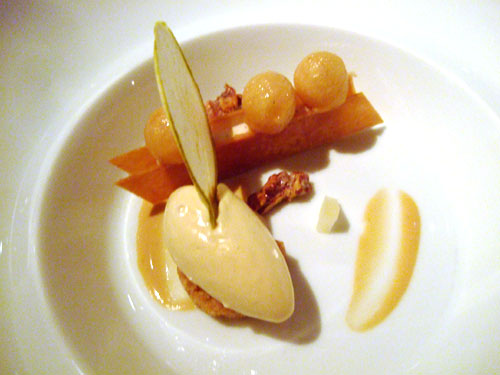 9b: "Mille-Feuille de Poire"
Walnut Mousse, Confit Bosc Pears, Candied Walnuts and Licorice Ice Cream. I didn't get much licorice from the ice cream; rather, it was a cinnamon-y spice that got my attention, along with the crispness of the pear. The "Mille-Feuille" was a bit of a letdown. Tasty, but not nearly as interesting as the other desserts.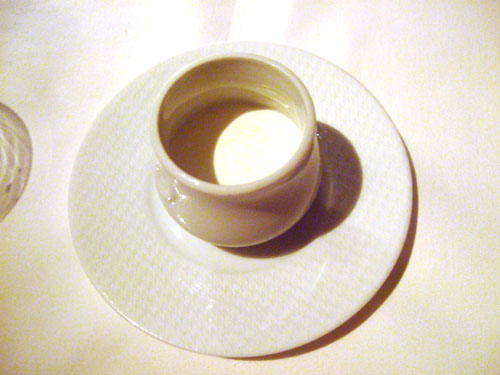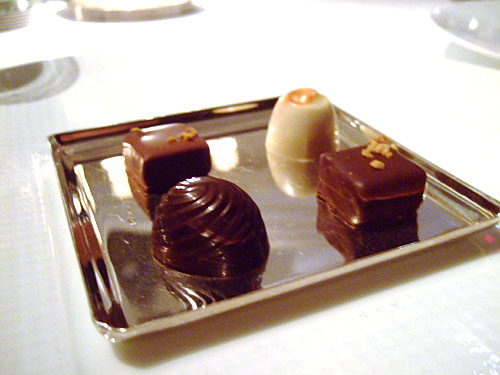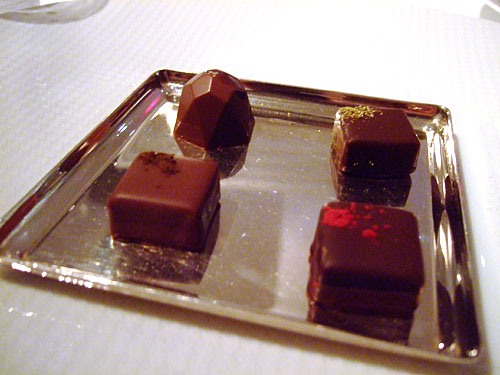 Mignardises 1
The first round of after-dinner goodies began with a Yogurt Pot de Crème with Guava Jam and a selection of chocolates. The yogurt was mild, with a bit of tartness, but was mostly there for body and contrast, as the main flavor came from the guava jam. As with French Laundry, there was also a crème brûlée option, which we were offered upon inquiring. The chocolates were: Chuao (solid dark chocolate from Venezuela), honey-thyme, hazelnut, cherry-vanilla, fennel, maple-pecan, raspberry, and vanilla.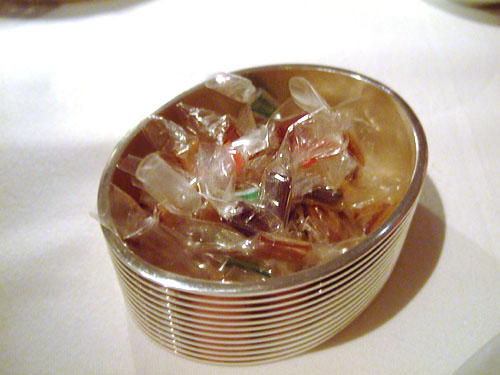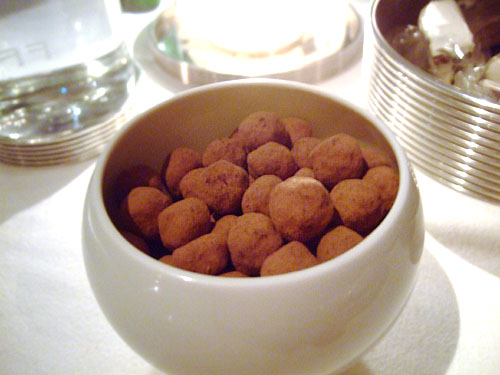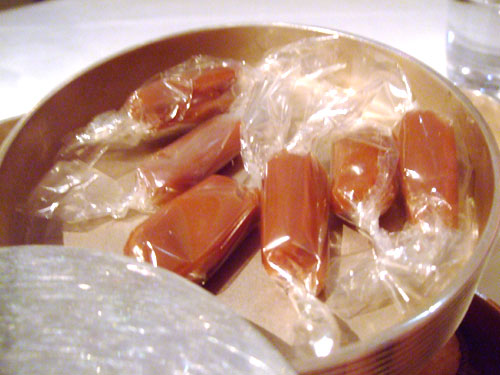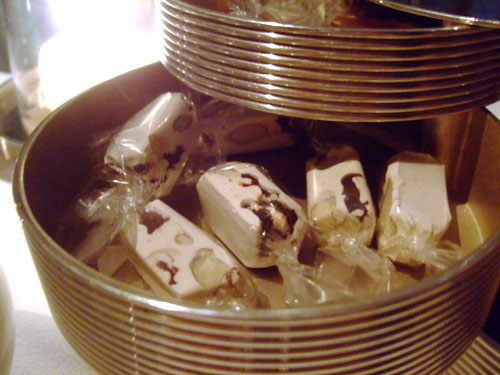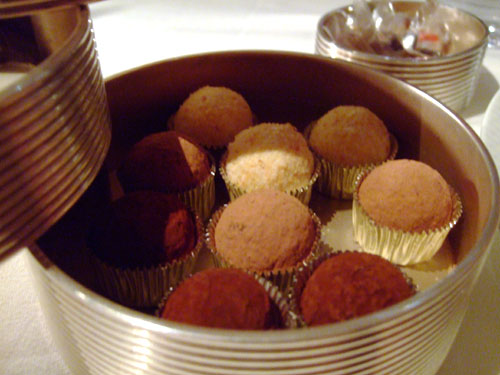 Mignardises 2
Next, we were brought bowls containing Housemade Hard Candies and Chocolate Covered Hazelnuts, which we didn't eat much of, leaving us to wonder if they're reused among diners. Next was the familiar tri-level metal container, filled with Salted Caramels (soft and slightly salty), Walnut and Cherry Nougat, and finally, three types of truffles: White Chocolate with Coconut, Milk Chocolate with Caramel (wonderfully savory), and Amedei Dark Chocolate (my favorite).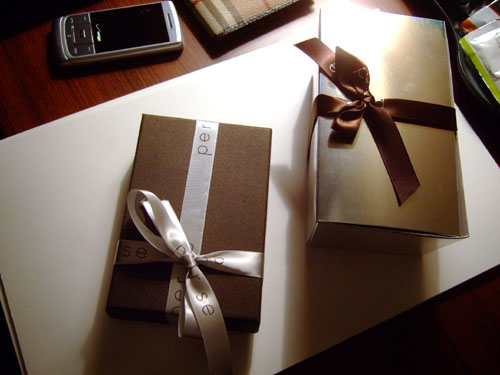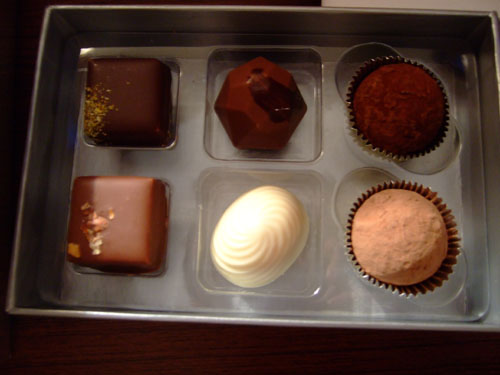 As a parting gift, we were given two boxes of the treats above. This was in place of the normal takeaway, which I believe was some sort of cookie.
As expected, comparisons to French Laundry would be inevitable. Thus, in that vein, my feelings were that Per Se wasn't quite as good. Now, this was a great meal, which I enjoyed dearly, and I'd definitely go back to Per Se; but at the same time, I didn't feel that the flavors or the presentation had the finesse and elegance of French Laundry. It's close, but not quite there. Per Se is supposed to be an urban interpretation of French Laundry, but somehow I get the feeling that it's still reeling in its big brother's shadow. Per Se's setting in Manhattan and its resulting supply of raw materials make it necessarily different than Laundry; it cannot be merely a copy. On the flip side though, Per Se can never forget where it came from. It's a tough balancing act, so maybe it'll just take some time to figure out.
Interestingly, a friend of mine from New York recently dined at French Laundry after experiencing Per Se, and her conclusion was that it was
Laundry
that wasn't up to snuff (although she says that may have been attributable to Corey Lee's absence that night). I strongly suspect that had I eaten there instead of at Per Se, it still wouldn't have lived up to my first experience. That really brings up an issue that I've been struggling with as of late. Perhaps
I'm
the problem, not the restaurant. As you eat more and more, at better and better places, your palate evolves. You become more knowledgeable, more discerning, and more picky. I've certainly noticed that I'm much more critical now than I was when I started this blog, being able to pick up on more nuances, more subtleties, and more flaws. This is troubling to some extent, as it means that it takes more to impress. To really wow me, it seems like something can no longer be just delicious, it has to have novelty, something new, something unique. I've dined at enough of the "best" restaurants that I'm left to wonder: where do I go from here?