Go's Mart (Canoga Park, CA)
Go's Mart
22330 Sherman Way, Canoga Park, CA 91303
818.704.1459
www.yelp.com/biz/N2VCvPki-JN7d5fWxMmXKg (reviews, restaurant has no website)
Sun 05/13/2007, 04:40p-07:30p
LA is definitely a sushi town. When asked, people are often quick to list their favorites, Mori Sushi, Sushi Zo, Sushi Gen, Sasabune, Nozawa, Katsuya, Kiriko, Echigo, and of course,
Urasawa
. But rarely have I heard anyone mentioned Go's Mart (yes, it's a rather odd name for a sushi joint). In fact, it was almost by accident that I stumbled across the place on one of my visits to the Chowhound message boards. My curiosity piqued, I did a bit more research on Google, found a few photo sets, and decided that this was a place I wanted to try. Canoga is a bit of a drive from behind the Orange Curtain, so we decided to stop by coming back from our
French Laundry
/
Cyrus
culinary road trip.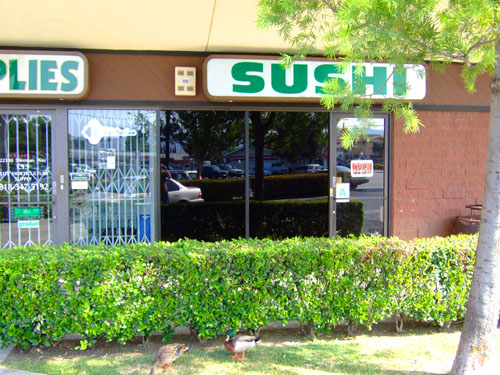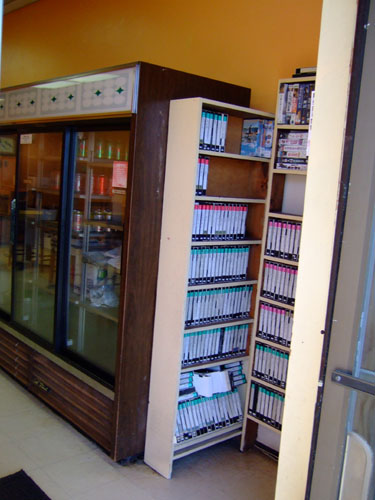 Go's Mart is situated in a nondescript strip mall, nestled in between a hydroponics supply shop and a tanning salon. Upon entering, the first thing you see is a rack full of VHS cassettes and a row of refrigeration units.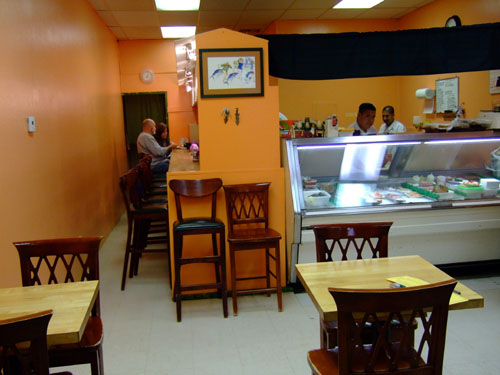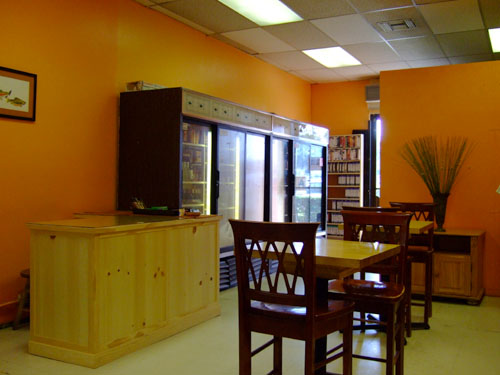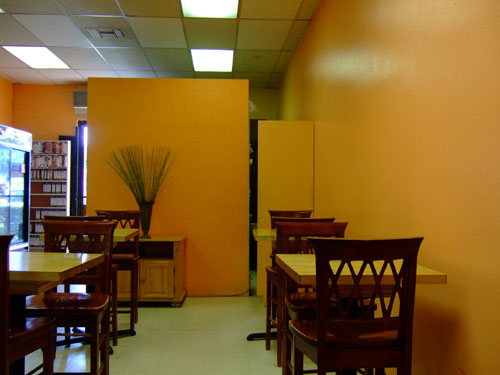 Walk in and you are greeted with rather underwhelming decor, awash in a sickly shade of orange. There are four tables, which I imagine are almost never used, and the bar, which seats about ten. In the little enclosed alcove by the entrance, Go-san's son sits playing computer games. If the decor is this bad, the food
must
be good, right?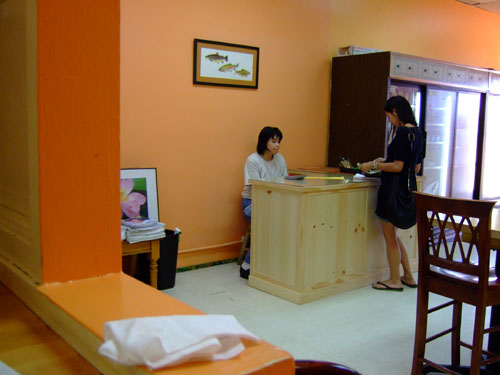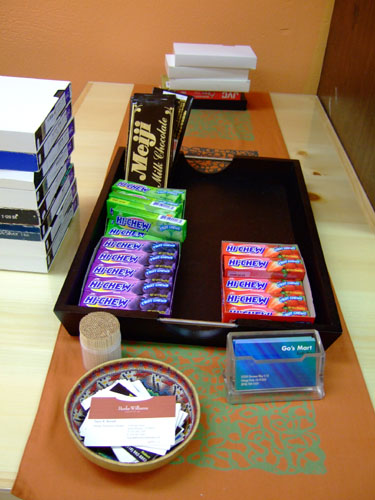 Go-san's wife handles all the monetary transactions from a counter out front.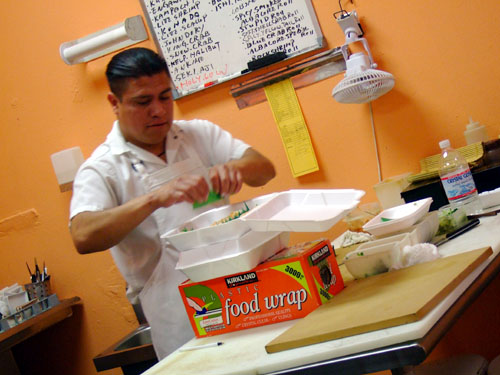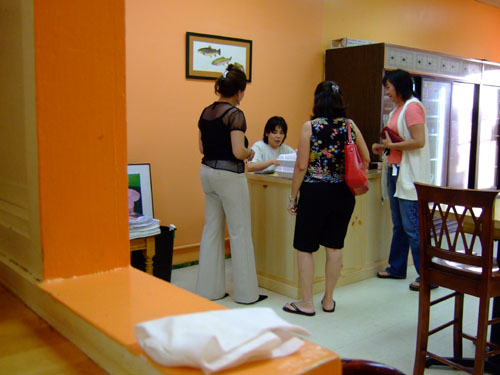 Go's Mart also serves take-out sushi. Here we see Leno preparing some rolls for two ladies in the photo on the right.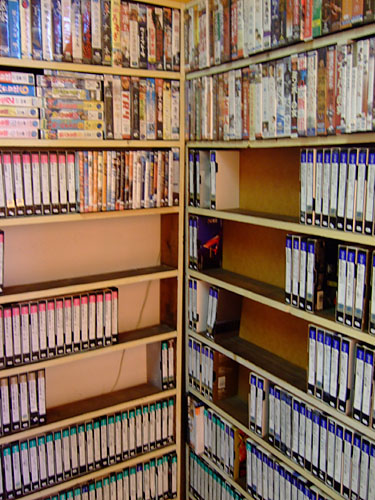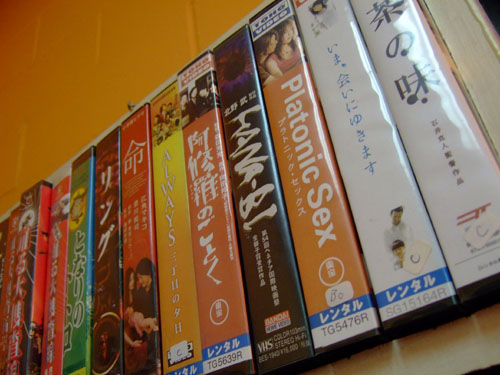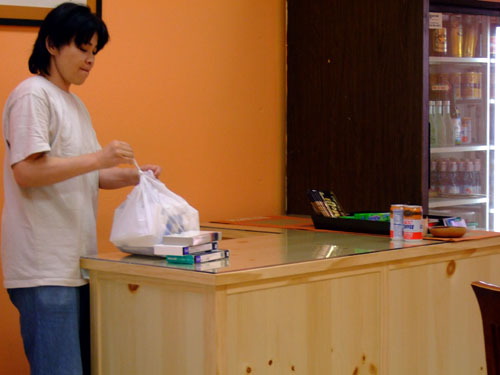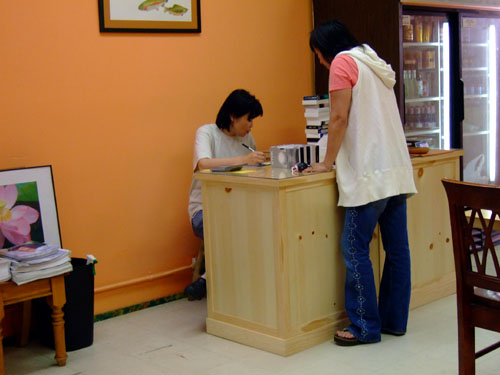 Remember the rack of videos by the door? Go's Mart also functions as a video rental store, and we saw customers borrowing and returning cassettes during our meal. The selection is eclectic, though mostly Japanese.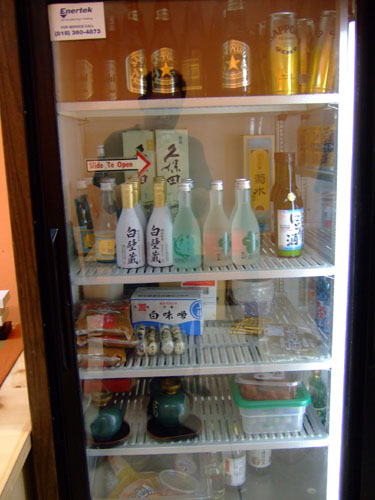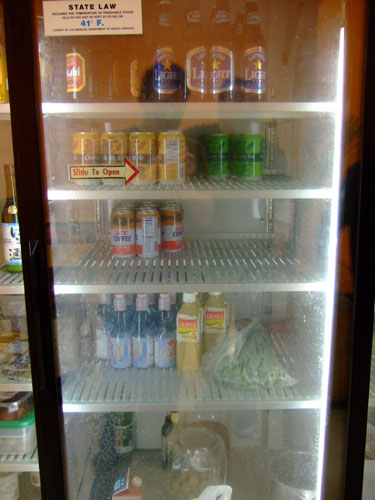 A modest selection of beverages is available.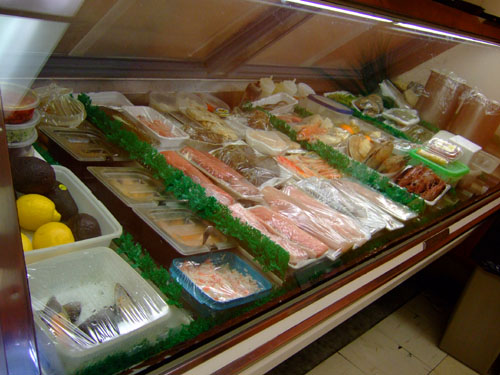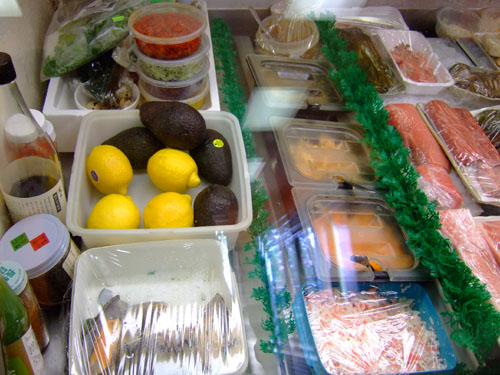 Most of the items we had came from this large fish case. There is also a smaller case by the bar, though I don't recall seeing any of our food coming from there.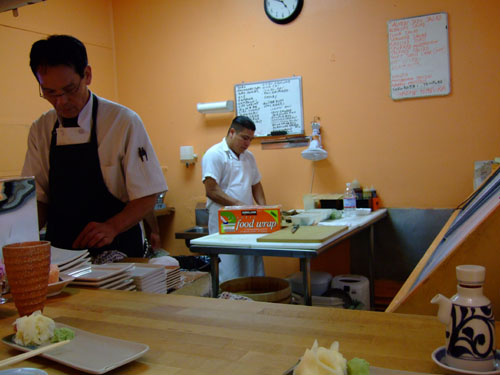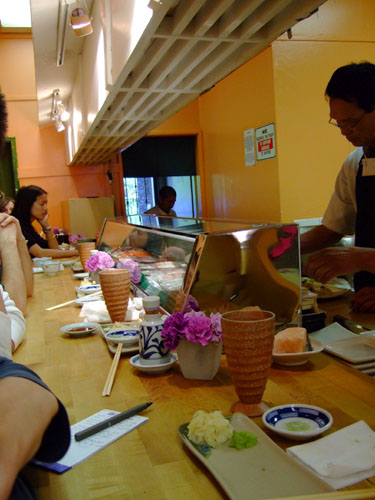 Our whole time there, Go-San never left his space behind the bar. He is assisted by Leno and Oscar, who handle much of the prep work as well as some of the to-go orders.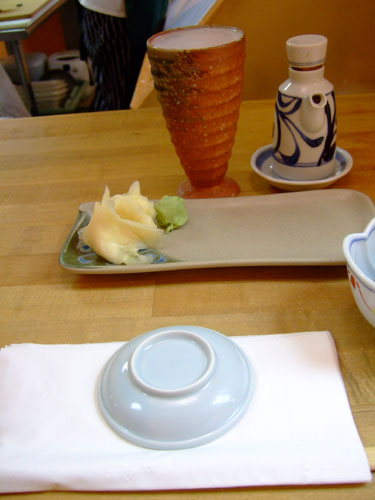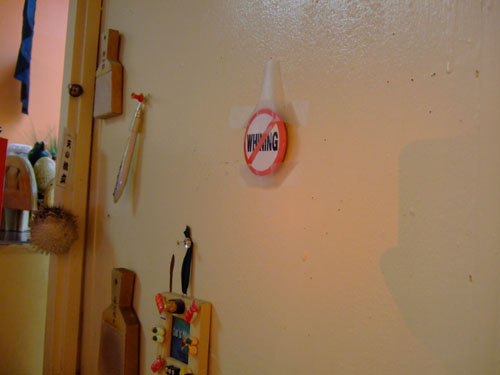 The table setting is nothing special. We were given a blob of imitation wasabi, which I didn't touch, and some ginger, which was quite good. The odd-looking glass holds Sapporo. The "No Whining" bauble gave me a chuckle.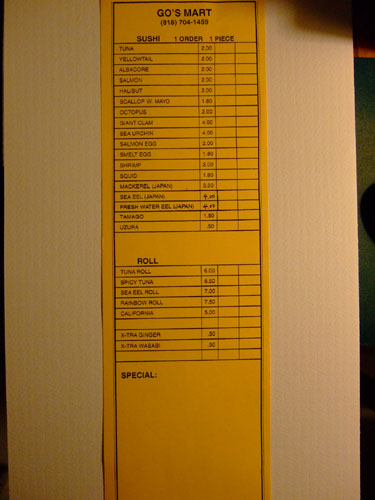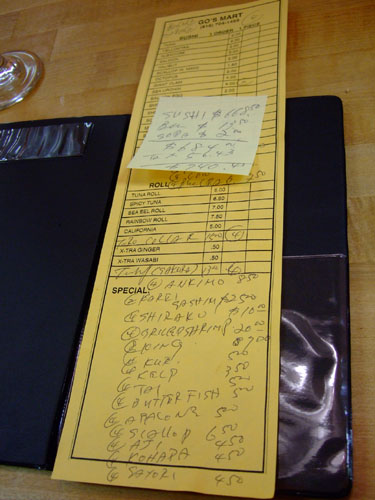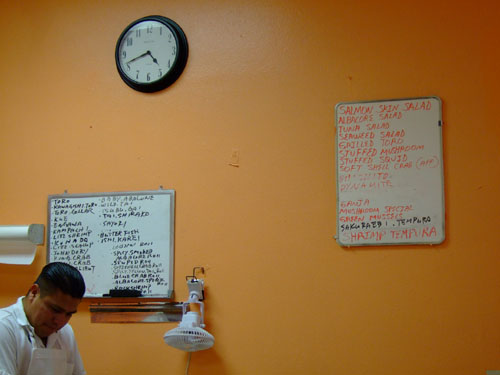 One can order the standard sushi types using the yellow sheet, but it is much more fun to go
omakase
and let Go-san decide what to eat, as in the second photo. Many of the
omakase
dishes come from the specials board. Note the humorously-named "Stupid Roll," which is salmon skin with spicy shrimp. Apparently, fugu is also a special during the winter months. We definitely want to return when it's in season. Click for larger versions.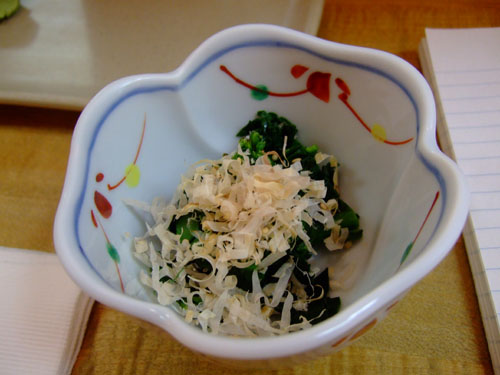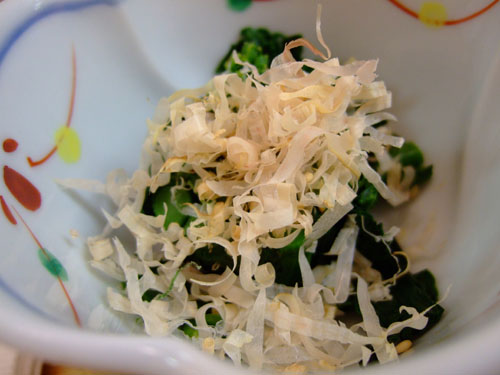 1: Chinese Broccoli
Topped with
katsuobushi
, otherwise known as dried, fermented, and smoked bonito, or katsuo. The broccoli had a strong bitter taste which did well to cleanse the palate. Adding soy sauce tempered the bitterness.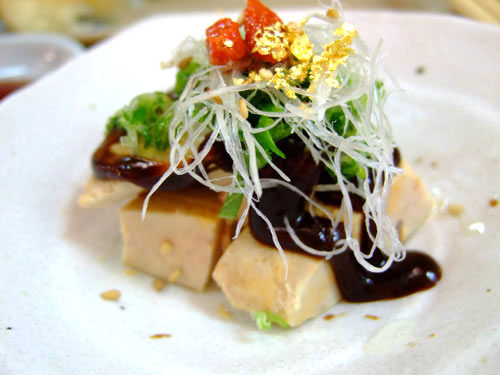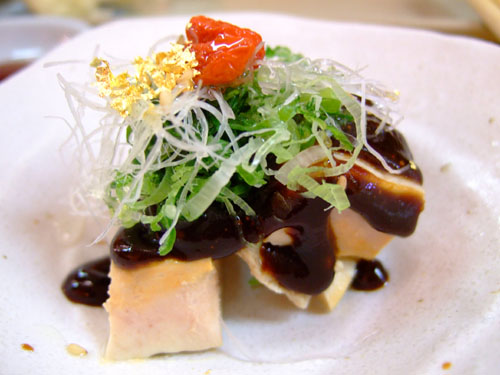 2: Ankimo
Monkfish liver topped with sweet plum sauce, scallion, daikon, gold flake, and goji berry. The ankimo was somewhat firmer than usual, which I appreciated. I'm not normally a fan of ankimo, but this was excellent, easily the best I've ever had.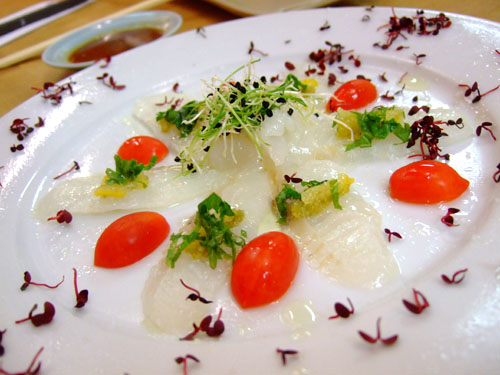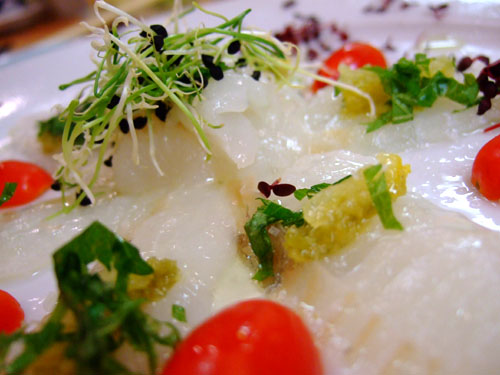 3: Ishi Karei Sashimi
Japanese flounder sashimi with cherry tomato, lemon, rock salt, and truffle oil. Fantastic, with a spicy kick at the end that lingers on and on (though I'm not sure where the spice comes from exactly). This reminds me a lot of the New Style Sashimi at Matsuhisa/Nobu or the Halibut Carpaccio at Abe/
Bluefin
.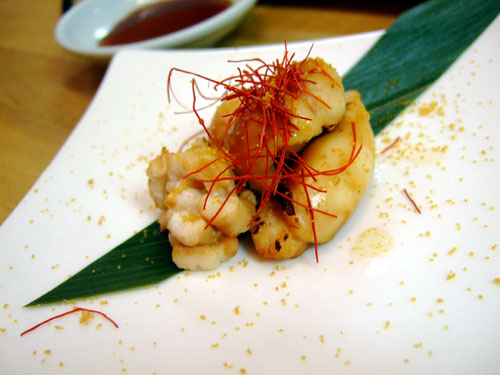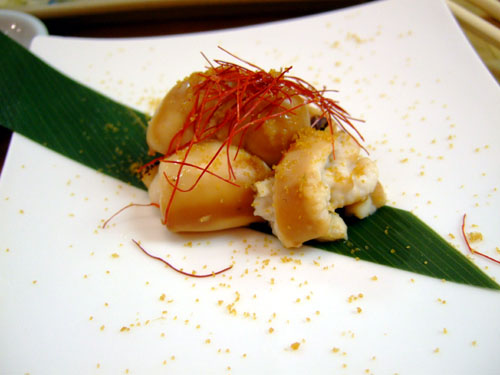 4: Shirako
Shirako means "white children" in Japanese and refers to the milt, or male genetalia, of a fish, in this case snapper. I had heard of this dish before, but this was my first time having it. Overall it was pretty mild with a hint of fishiness, not offensive at all. My dining companions were unaware of what this was, so I told them to eat it before I told them!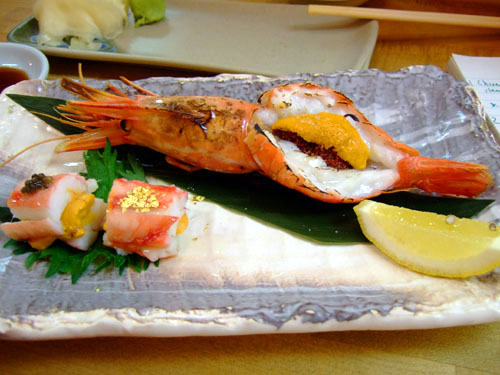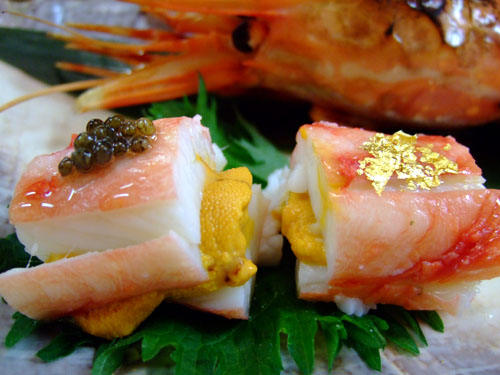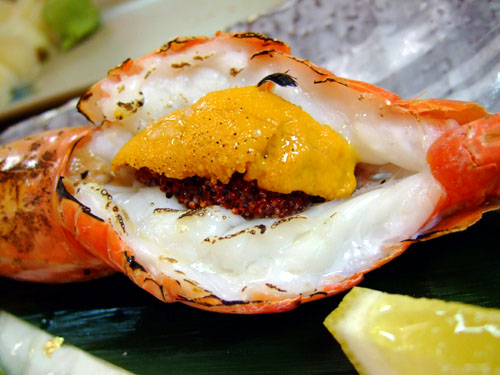 5: Grilled Shrimp
This was one of the most visually impressive and decadent dishes I've seen in a while. What we have is by far the largest live sweet shrimp I've ever laid eyes on, full of roe, and topped with uni. This was definitely a "hands-on" dish, as Go-san passed out wet naps with it. I was a bit intimidated at first, but ended up ripping the shrimp apart, making sure to suck out all the meat in the head. On the side, we have delectable kani and uni "sandwiches," topped with caviar and gold flake. The king crab legs had a subtle sweetness that went perfectly with the uni's mild creaminess. Amazing!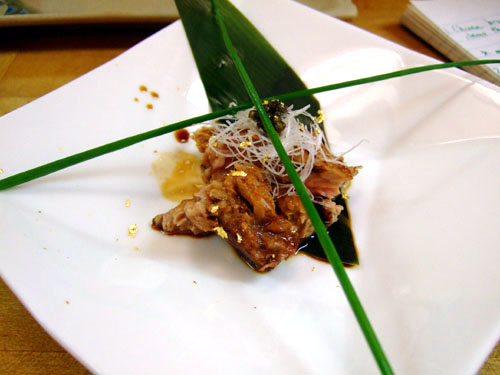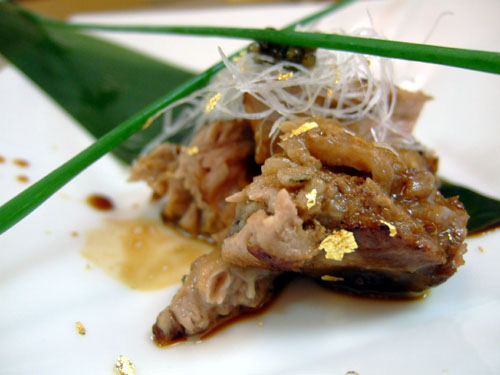 6: Toro Collar
Bluefin toro collar with daikon, gold flake, caviar, and chive cross. The fish was soft, creamy, rich, heavy, and oily. I still prefer toro done raw, but this was very nice.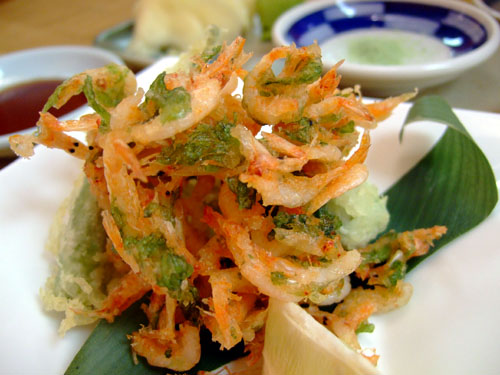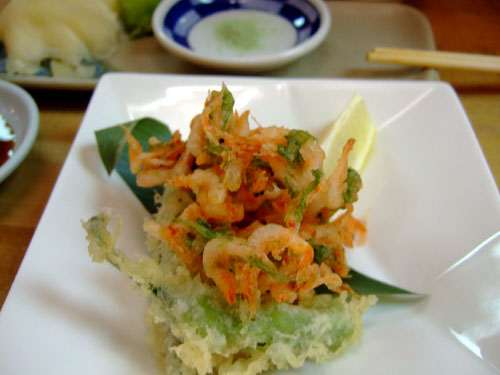 7: Sakura Ebi Tempura
This was my first experience with sakura ebi, small shrimp from Suruga Bay in Shizuoka Prefecture. They were served with green tea salt, and tempura shishito pepper and okra. They had a nice crispy texture and I detected an almost Latin flavor to them.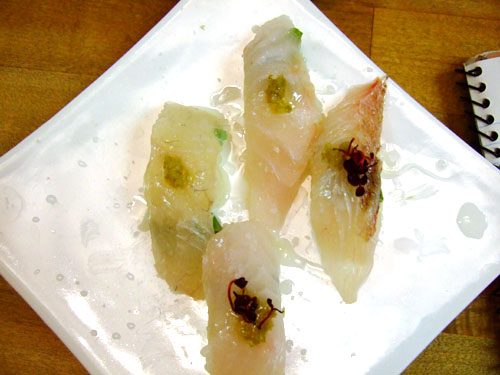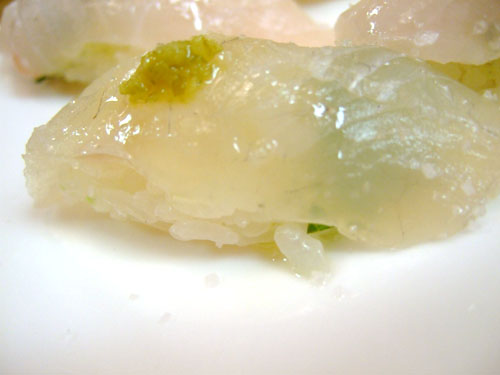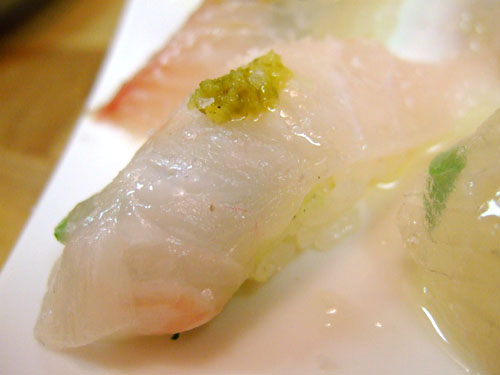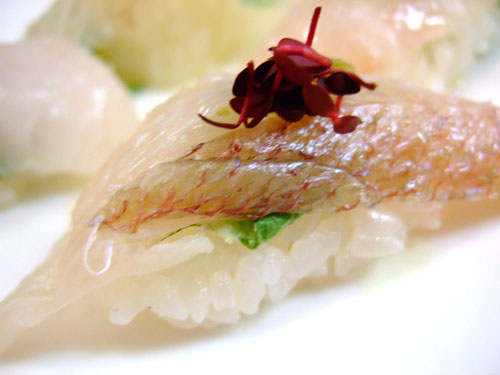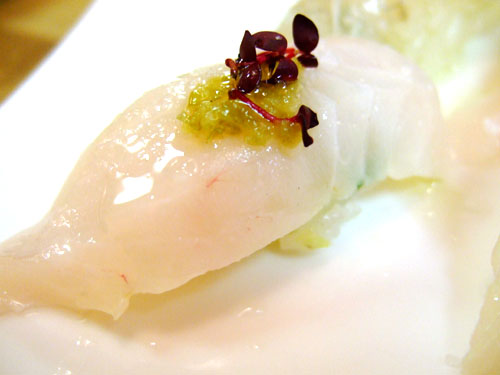 8: Hirame / Kue / Tai / Escolar
Our first sushi course is a quartet of whitefish, all served with shiso, rock salt, and freshly grated wasabi. Clock wise from left, we first have "kelp" halibut; that's what Go-san called it but I couldn't find any confirmation on the name from Google. Next is kue, which I hadn't had before; the English translation I found is kelp bass or kelp grouper (perhaps the fact both fishes have "kelp" in the name is a point of confusion). Next up is snapper, and finally we have escolar (I don't know it's Japanese name), which apparently is often incorrectly called "butterfish" or "white tuna." All the pieces were very tasty and similar in nature, though the halibut and kue were a bit firmer than the other two.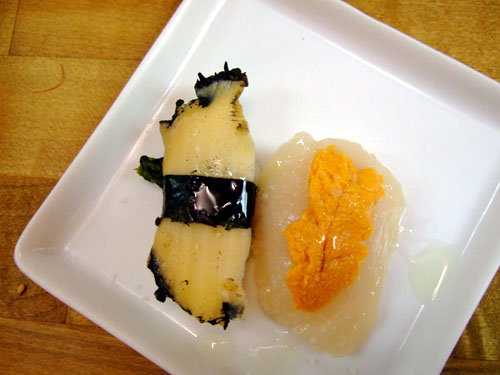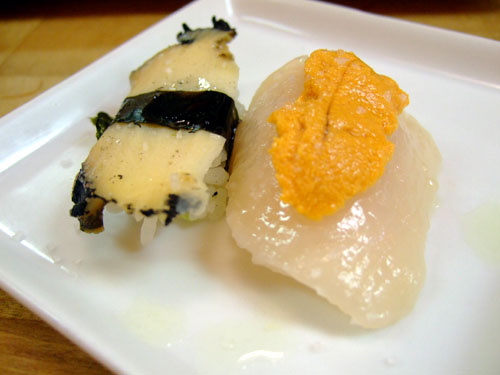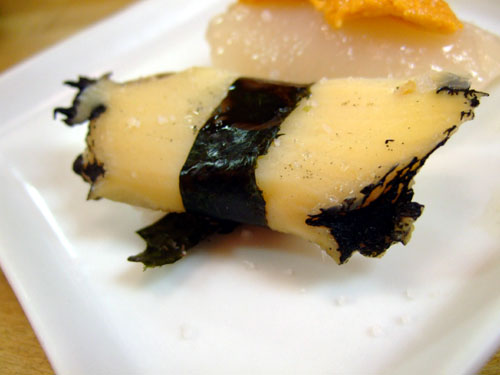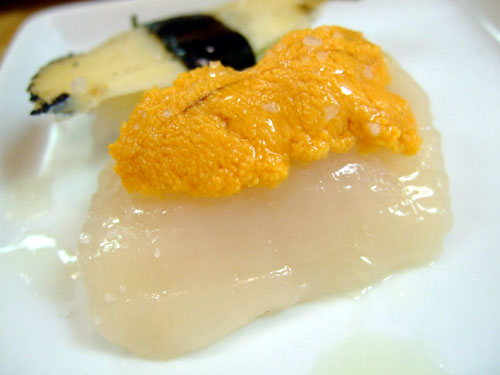 9: Awabi / Hotate & Uni
The abalone was recommended by another customer at the bar, and was fantastic. It had a firm, yet soft crunch and a subtle taste. Easily the best abalone I've ever had. Next we have live scallop topped with uni and rock salt. The scallop tasted very fresh and had an excellent texture. The contrast between the firmness of scallop and creaminess of the uni was superb!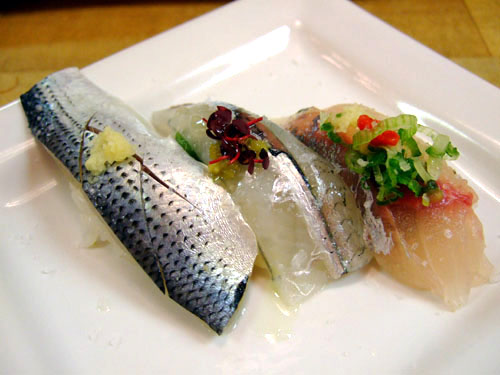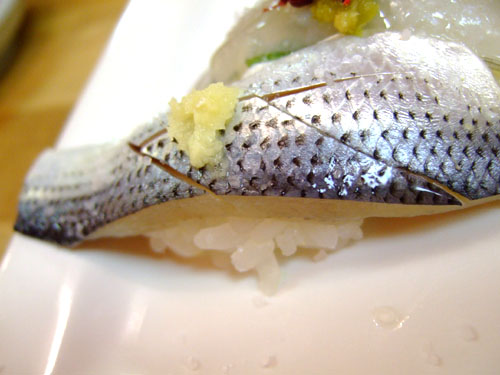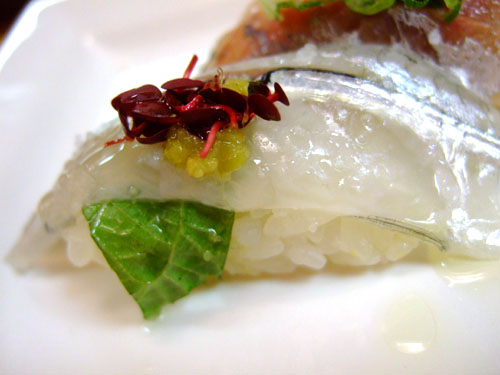 10: Kohada / Sayori / Seki Aji
Going left to right, to we start with the gizzard shad topped with ginger, which had a citrus tang and a mackerel-like fishiness to it. Next is the needlefish, with shiso and fresh wasabi. This was only my second time having the fish; the first was at
Urasawa
(the Urasawa version was about the prettiest piece of sushi I've ever had). I found it to be slick and very mild. Finally we have a special type of Spanish mackerel, topped with scallion, ginger, and goji berry. Seki aji is caught using single hook fishing from the Bungo Strait. It is widely regarded as the best type of Spanish mackerel, with a very mild taste compared to standard varieties. Loved it.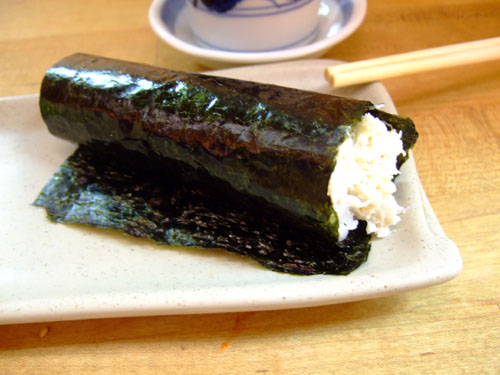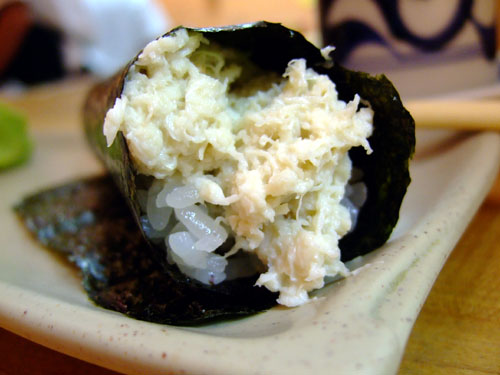 11: Blue Crab Hand Roll
The crab was nicely chilled, with a mild sweetness and great crab flavor. Really tasty. This reminded me a lot of the blue crab roll and
Sushi Wasabi
, though with less mayo. I could eat this all day. An interesting note: I believe this was the only dish not made personally by Go-san; instead it was made by Leno.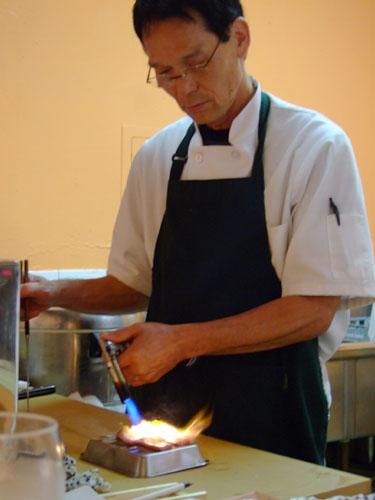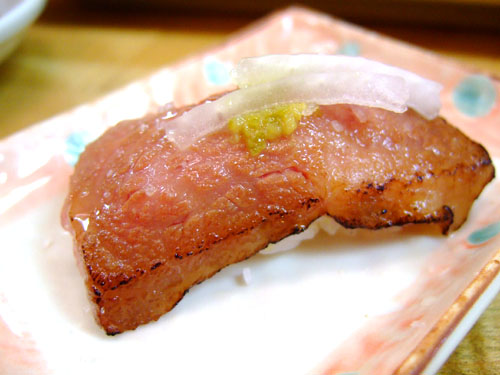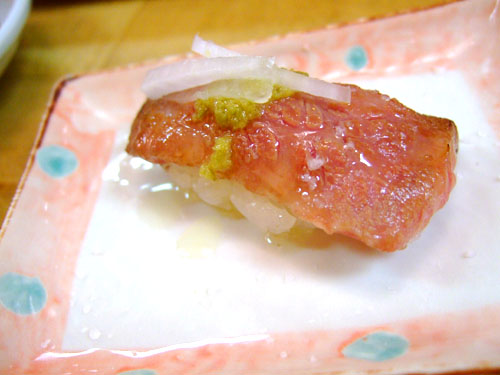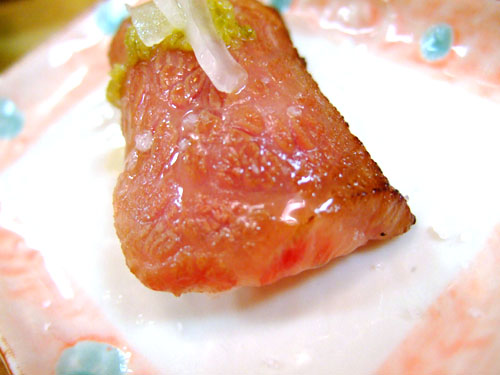 12: "Holy Cow"
Wagyu beef sushi with fresh wasabi, onion, truffle oil, and rock salt. As can be seen in the first photo, this was lightly seared with a blowtorch to bring out the flavor. It is easy to be let down by "Kobe" beef but this did not disappoint. Rich, soft, oily, you can still see the marbling!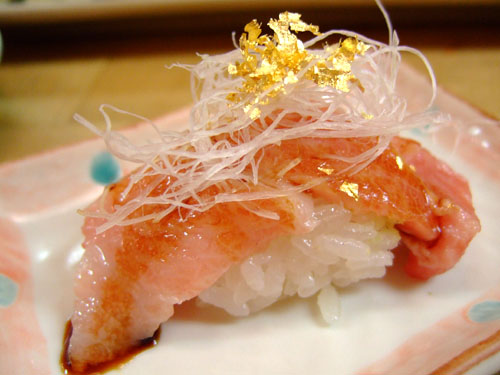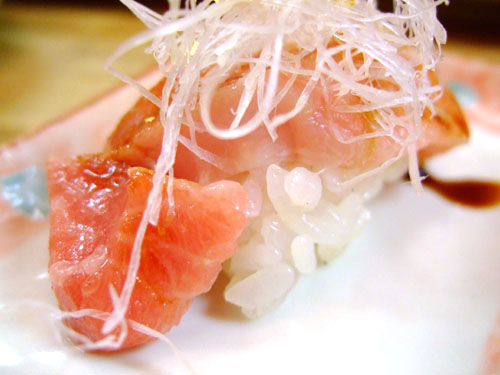 13: Toro
With daikon, gold flake, and soy sauce. Some of the fattiest toro I've had in a while, this was super soft and almost turned to a liquid in my mouth. As one of my dining companions exclaimed: "you don't even have to chew!"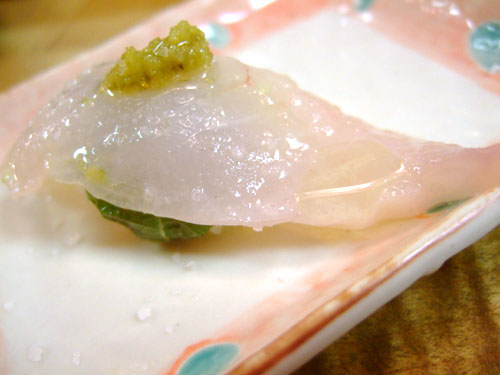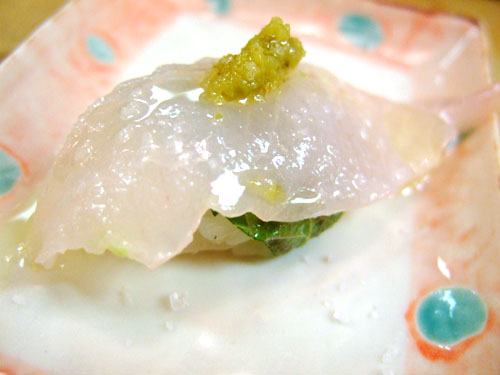 14: Matoudai
This was actually John Dory, garnished with shiso, rock salt, truffle oil, and fresh wasabi. I found it similar to the other whitefish. This was my first time having it, but hopefully not my last!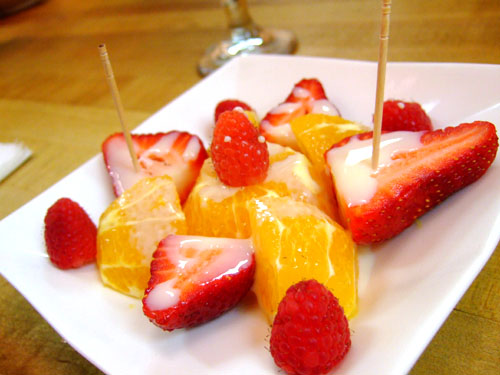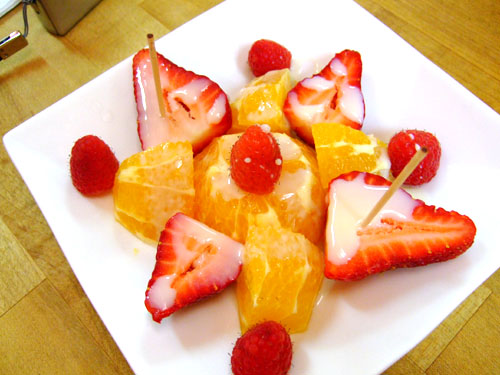 15: Orange, Strawberry, and Raspberry
Drenched in condensed milk. I remember that the fruit was extremely sweet, though I'm sure that's due in part to the condensed milk. Very refreshing, and a nice way to end the meal.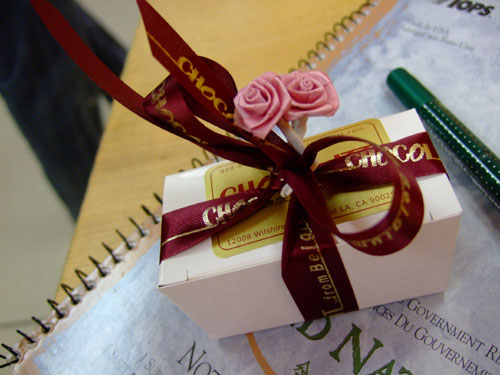 Gift
Given by Go-san's wife after we paid. It was supposed to be a gift for our mothers since it was Mother's Day.
Go did not disappoint. Many of the dishes were Urasawa-level, and indeed, I've never seen anyone use gold flake so liberally, not even Urasawa-san! One interesting thing to note is that Go-san seems to go out of his way
not
to be found. He told us he doesn't advertise at all and was surprised that we were able to find the place on the Internet. This is definitely a place for "regulars." In fact, I'm almost hesitant to post this blog, so I can keep this place all to myself! I guess it's true what they say, don't judge a book by its cover.