Animal (Los Angeles, CA)
Animal
435 N Fairfax Ave, Los Angeles, CA 90048
323.782.9225
www.animalrestaurant.com
Tue 09/29/2009, 08:45p-11:35p
The story of Animal, one of 2008's most highly-lauded restaurant debuts, is the story of 2 Dudes: Vinny Dotolo and Jon Shook. The dynamic duo met on their first day of class at The Art Institute of Fort Lauderdale--a classic case of love at first sight. After graduation, Dotolo and Shook worked on the lines at Michelle Bernstein's The Strand in South Beach, and continued to make their way around top kitchens in Florida: Mark Militello's Mark's, Oliver Saucy's Café Maxx, and Doug Reese's River House. The pair then headed west, stopping at Ray Roach's Wildflower Restaurant in Vail, before landing at the now-defunct Chadwick in 2001. At Chadwick, Dotolo and Shook were able to work with Govind Armstrong and Ben Ford, and it was Ford's celebrity connections that helped the dudes launch their catering company, Caramelized Productions. The success of the company led to a stint on the Food Network (
2 Dudes Catering
), and paved the way for a cookbook deal (the seemingly "Two Girls, One Cup"-inspired
Two Dudes, One Pan
) and the opening of Animal restaurant in June 2008 (apparently, with partner Benedikt Taschen). Animal quickly achieved widespread fame, and Dotolo and Shook were heralded as the Best New Chefs of 2009 from
Food & Wine
magazine, in addition to receiving a Best New Restaurant nomination from the James Beard Foundation.
Given Animal's eminence, I'm surprised that it took me this long to get here. The restaurant had been on my to-eat list for a while, but I finally went thanks to
Selina
, one of my readers. She'd organized this dinner with me, her friend Darryl, her brother
Peter
and two of his friends, as well as Danny of
Kung Food Panda
and Wesley of
Two Hungry Pandas
(with all this panda lovin', perhaps next time we should get
Pandalicious
and
ilikepandas
as well!).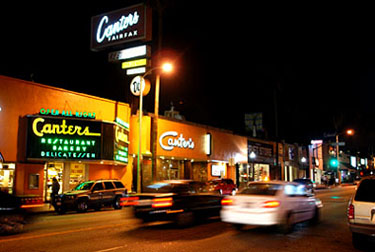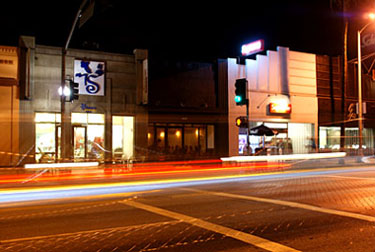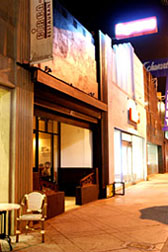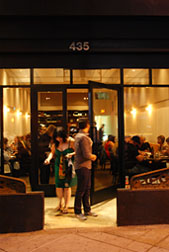 Animal has no exterior signage, with the chefs preferring to spend the $5000 or so it would take to get a suitable sign on food-related wares. Look for Canter's Deli; Animal is four doors up in this largely Jewish neighborhood (all the more ironic given the restaurant's heavily porcine menu). Valet parking is available for $5.50, though nearly-impossible-to-find street parking is gratis after 6:00p.

Inside, Animal is a small restaurant indeed, accommodating under 50 guests. Spots can be hard to come by, so the small 7-seater tea-stained and copper-topped bar is available on a first come-first serve basis (the full menu is served here). The space is minimalist--bare concrete floors, stark off-white walls, uncomplicated beech tables and ash chairs--but yet is strangely warm and comforting. After conversing with Shook after dinner, we found out that nearly every part of the interior was thoughtfully placed, from the hostess stand to the banquets (off a yacht) to the retro light bulbs.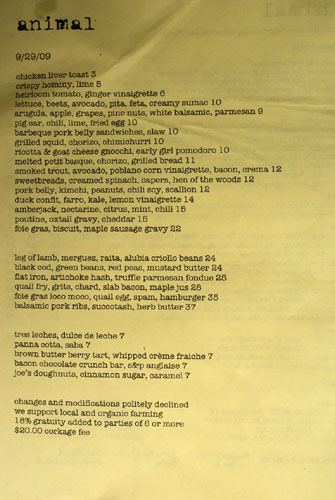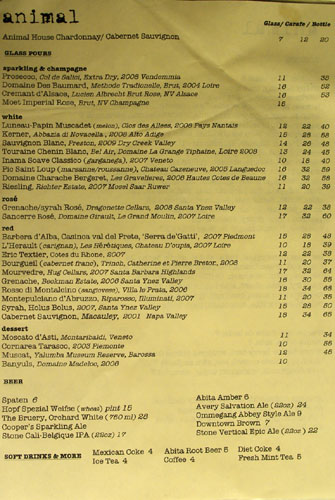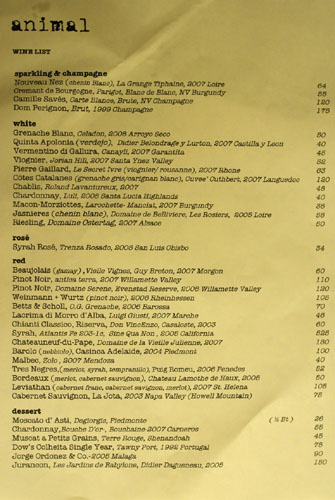 The seasonal menu is fairly large, and changes often, though there are a few mainstays, such as the infamous loco moco and bacon chocolate crunch bar. The result is a fun, interesting, casual comfort food experience. As for wine, Shook is in charge here, rotating the eclectic mix regularly, available by the glass, carafe, or bottle. Click for larger versions.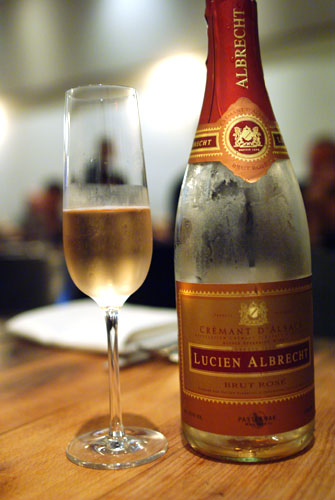 Selina and I are fans of the bubbles, while Darryl desired something "red," so we went with a bottle of the Cremant d'Alsace, Lucien Albrecht Brut Rose, NV Alsace [$53] to start. A fairly standard rosé, it showed fresh berry and apple flavors over a light, fizzy, crisp body--a fitting way to kick things off.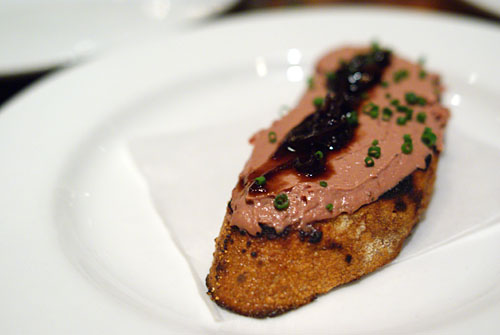 chicken liver toast [$3.00]
When our server brought this dish out to us, he indicated that the liver was topped with saba (grape must syrup). Upon mentioning this to Shook after dinner, the chef told us that the topping was in fact balsamic, and that the server "should've known better!" Getting back to the dish at hand, the essence of liver was strong in this one, but not overwhelming. The balsamic actually provided a sweet temper to the liver, while the bread also added a mitigating element, as well as a nice textural variation. A brazenly simple, yet profound dish.
pig ear, chili, lime, fried egg [$10.00]
Next was one of my favorite dishes--I could've snacked on the crisp, savory, delectable pig ears all night. However, I really appreciated the use of lime to counter the power of the pork, and the application of egg, which provided an overarching, luscious creaminess and richness to the whole dish. Perfectly balanced and superb.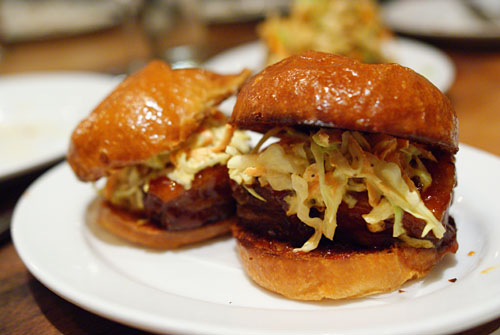 barbeque pork belly sandwiches, slaw [$10.00]
And now, the first of two preparations of pork belly. The belly was exactly what I expected: unctuous, oozing oil, fatty, gelatinous, uncommonly heavy, breaking apart upon mastication. It was everything that pork belly should be, with a great sweetness as well. However, though the coleslaw was instrumental in moderating the gravitas of the meat, I felt that the sandwich needed much more of it.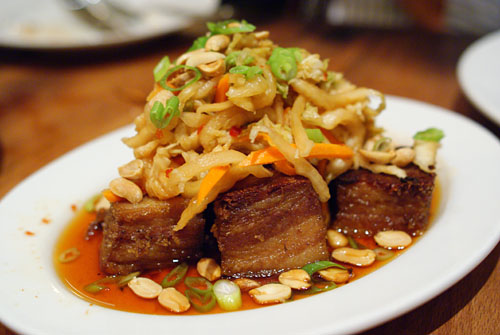 pork belly, kimchi, peanuts, chili soy, scallion [$12.00]
Pork belly. Number two. The belly itself was very similar in consistency and body to that above; however, it's flavor was far more savory than sweet. Here, instead of slaw, the counterweight to the pork was the kimchi, its tart tanginess effectively and vitally cutting the richness of the belly. The peanuts, meanwhile, added a great crunch and nuttiness to the dish. Nice.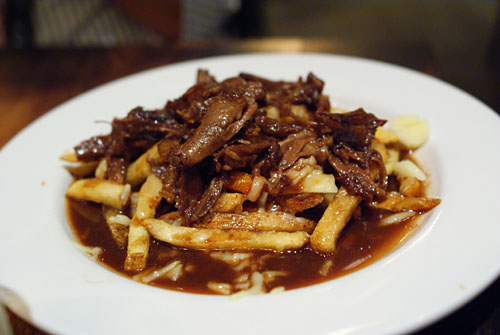 poutine, oxtail gravy, cheddar [$15.00]
The Saturday prior to this meal, at Crazy Hook in K-Town, after we consumed multiple 5-litre cylinders of Bud Light,
Christine
warned us about the poutine at Animal. Undeterred, we went ahead and ordered it anyway. Her main issue with the poutine was that it was overly salty, and indeed, the oxtail was suitably savory, heavy, and luxurious, but not overwhelmingly so in my opinion. Though the cheddar didn't play as much of a role I as I wanted it to, the surprisingly-crisp fries did form a superb complement to the gravy, providing a fitting base on which to consume the oxtail. Think of this as a high-class version of chili-cheese fries!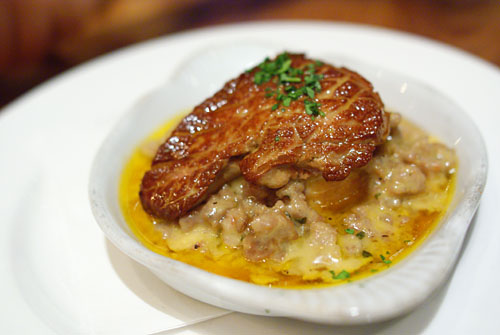 foie gras, biscuit, maple sausage gravy [$22.00]
I was a bit wary of this dish, as in general, sweet foie gras and I do not get along terribly well. Fortunately however, it wasn't nearly as sugary as I thought it'd be. The sapor of foie was strong on the attack, which then gave way to the mild, savory sweetness of the gravy, finally finishing with a strong blueberry note. I felt that this was one of the weaker courses of the meal, and though some swear by it, the dish just didn't work out for me.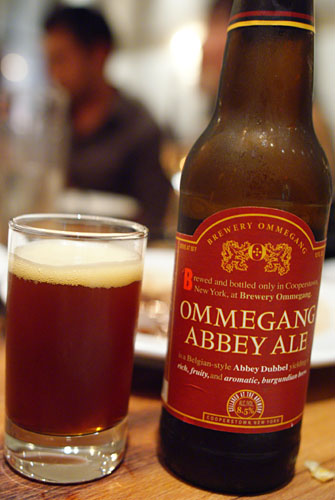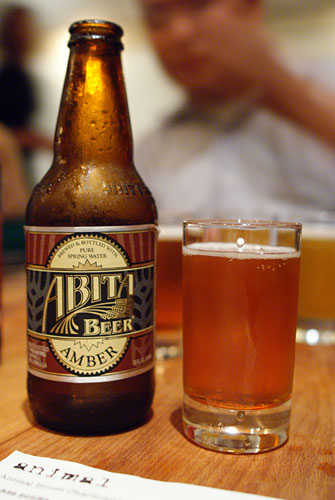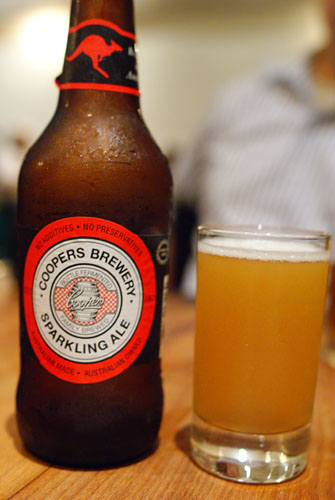 At this point, I was thirsting for some beer, and decided to order up a bottle of the Ommegang Abbey Style Ale [$9], a Belgian Dubbel-style ale out of Cooperstown, NY. It was a tasty brew, with prototypical spicy, malty, slightly caramel-like flavors. After tasting the Ommegang, Danny and Wes were convinced to order their own brewskies: the Abita Amber [$6] from Abita Springs, Louisiana and Cooper's Sparkling Ale from Leabrook, Australia.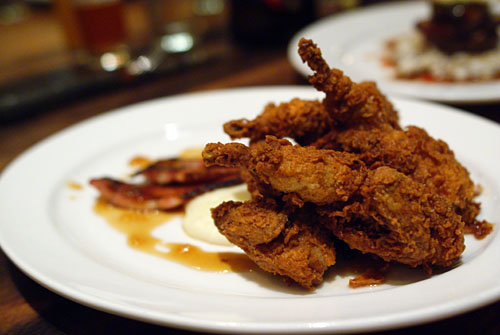 quail fry, grits, chard, slab bacon, maple jus [$28.00]
I could eat a bucket of this! Seriously, the quail was one of the highlights of the meal for me. The bird was suitably juicy and lip-smackingly flavorful, with tender flesh and a lovely layer of crispy fried skin. As good as the quail was on its own, I liked the use of chard, providing a nice bitter vegetal tang to things, as well as the grits, quite possibly the best version I've had anywhere. The only thing that seemed a bit out of place was the sweet and savory bacon, which was superfluous.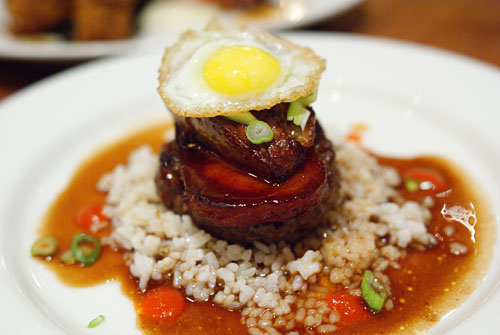 foie gras loco moco, quail egg, spam, hamburger [$35.00]
A uniquely Hawaiian delicacy, a traditional loco moco consists of hamburger (or sometimes Spam), topped with a fried egg and gravy, over rice. Animal's take on it, perhaps the restaurant's signature item, adds foie gras into the fray. Ironically, I liked everything
except
the foie. The burger was cooked rare and delicious, while the Spam proved to be suitably scrumptious as well. The rice, at the same, was somewhat of a mitigating factor. The foie, while deftly prepared, just seemed a bit out of place given the context.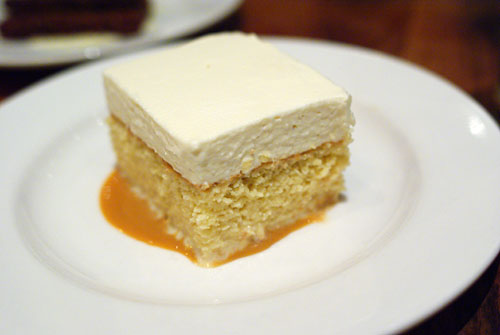 tres leches, dulce de leche [$7.00]
Arguably my favorite type of cake, a tres leches ("three milk") is a sponge cake that's saturated with three kinds of milk. The example here was heightened by a very sweet, very dense frosting, as well as dulce le leche, giving the cake a caramel-tinged finish. Excellent.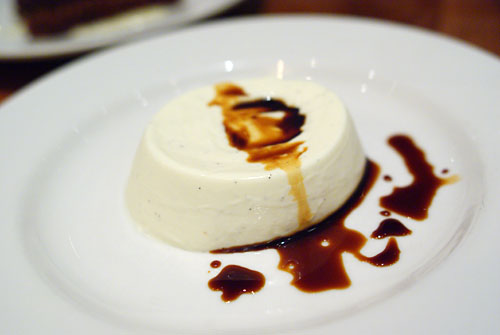 panna cotta, saba [$7.00]
Panna cotta usually has a gelatin-like body, so we were somewhat baffled at this presentation, which was uncommonly creamy. We wondered if the dessert didn't set properly. In any case, despite the custard's unique consistency, the flavor was indeed intact, with mild notes of vanilla, accented by the tart saba syrup.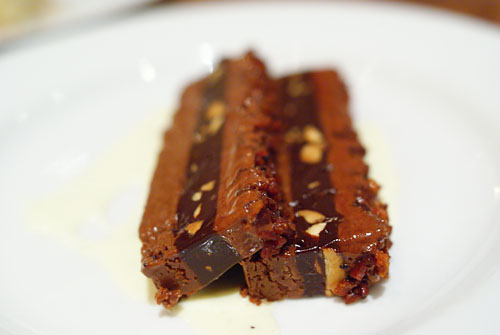 bacon chocolate crunch bar, s&p anglaise [$7.00]
Our final course of the night was the ever-popular bacon chocolate crunch, which Shook admitted was originally inspired by a Kit Kat bar! Despite the allure of bacon, its presence here was actually pretty slight. The tasty chocolate-nut complex was what came out strongest, with the bacon only adding a subtle salty counterpoint. Very good, though the anglaise wasn't particularly apparent.

After dinner, we were invited into the smallish kitchen to chat with chef/owner Jon Shook (Dotolo was in Italy at the time). Shook seemed quite affable, yet very serious and very passionate about his work at Animal, and we were able to garner some insights into his culinary philosophy, the story behind Animal, and his future plans. Interestingly, Shook mentioned that Animal was getting an ice cream machine in the near future. Naturally, I had to inquire about
bacon ice cream
, but Shook indicated that his preference is actually for more traditional flavors--we'll see what they come up with!
Before dining at Animal, I had a discussion about the place with a fellow foodie, who described the eatery as "definitely not fine dining." And indeed, the restaurant in comfy, cozy, casual. But at the same time it's ambitious, daring even. It sort of straddles the line for me. Though some of the flavors were a bit overzealous, a bit over-the-top, the experience overall was quite positive, and I can definitely see why the place is so popular. The Dudes have talked about opening a sandwich shop, a BBQ joint, a seafooder, a breakfast place even. Though Jon wouldn't elaborate, expect "something" by the end of the year--I can't wait.