LudoBites at Breadbar (Los Angeles, CA)
LudoBites at Breadbar
8718 W 3rd St, Los Angeles, CA 90048
310.205.0124
www.ludolefebvre.com/ludo-bites/
Wed 06/24/2009, 07:10p-12:20a
Described by chef/creator Ludovic Lefebvre as a "guerilla style pop-up restaurant," LudoBites is a restaurant-within-a-restaurant concept that pairs Ludo and his team with establishments that offer only breakfast and lunch service (in this case,
Breadbar
), creating a dinnertime event that drives brand awareness for both parties. The end goal of this marriage is to serve haute cuisine at affordable prices by keeping overhead to a minimum, to create a "bistronomy" of sorts that offers Michelin-level food at Claim Jumper costs. LudoBites is designed to move every few months, not unlike an artist's exhibition, and this current engagement, which started on May 19, is slated to end on August 22. Go Tuesdays through Saturdays, and make sure to BYOB.
Certainly then, LudoBites is an intriguing idea if nothing else. Naturally, it thus caught the attention of the staff over at up-and-coming restaurant review site
FoodDigger
. A while back, FoodDigger had hosted a hugely successful event at
Church & State
. The chef at C&S, of course, is none other than Walter Manzke, who previously helmed the kitchen at
Bastide
. Prior to Manzke's tenure, however, it was Ludo who was the top toque there. Thus with that, the idea of sponsoring a LudoBites event came into fruition. Will, head of FoodDigger Business Development, got into contact with Ludo's wife, noted attorney, cervical cancer survivor,
Apprentice
contestant, and yes, even
Playboy
playmate (
Google Images
, my friend)
Kristine Lefebvre
, and this event was born (despite Ludo's initial hesitance).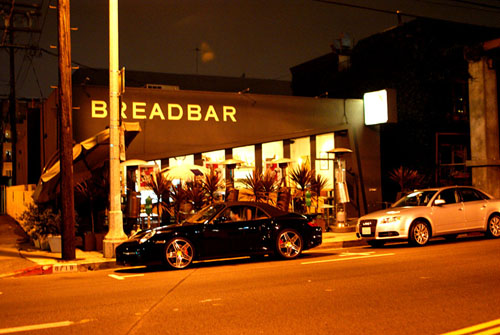 Given the infamy of LudoBites, I knew that this dinner would be a hot ticket, and was pleasantly surprised when I was given the go-ahead to attend. Joining me were Alli of
Alli411
, Cathy of
Gastronomy Blog
, Danny of
Kung Food Panda
, Diana of
Diana Takes a Bite
, Fiona of
Gourmet Pigs
, Javier of
Teenage Glutster
, Pam of
Rants and Craves
, Sook of
Yutjangsah
, Victor (sans Jenny) of
Grubtrotters
, and Wesley (sans Evelina) of
Two Hungry Pandas
. Representing
FoodDigger
were Brian, Marshal, and Will.
A bit of Ludo history: Born in 1971 in Auxerre, Bourgogne, France, Ludo's first inklings of cookery developed with his grandmother in the kitchen, and by age 10, he knew that he wanted to become a chef. Despite being somewhat of a troublemaker (or perhaps, because of it), at age 13, Ludo was sent to work at Maxime, a local restaurant, where, starting at the very bottom washing dishes, he trained arduously in order to get accepted into France's culinary apprenticeship system. A year passed, and Ludo became an apprentice under chef Marc Meneau at L'Espérance in Vezelay, Bourgogne. Later, he worked under French gastronomic legend Pierre Gagnaire, who encouraged him to experiment with unusual flavor combinations, a facet that proved crucial as Ludo continued to develop his own style. After completing his military duty, Ludo spent the next four years cooking with his most influential mentor, culinary giant Alain Passard at the Michelin three-starred L'Arpège in Paris. Ludo then moved to former three-star (it was demoted in 2008) institution Le Grand Véfour, working alongside Guy Martin.
At this point, Ludo wanted to come to the US, which he viewed as a place where he could combine his classical French training with new and exciting techniques and ingredients. Thus, in 1996, at the recommendation of chef Meneau, Ludo moved to Los Angeles, where he was hired as Chef de Partie at the now-shuttered L'Orangerie; promotion to Executive Chef came just five months later, despite Ludo's still-developing English skills. Ludo achieved considerable success at L'Orangerie, winning a Mobil Guide five-star award, but left the restaurant in 2002. After plans to open "Ludo" at the W Hotel Westwood fell through, he would reappear in a big way in 2004, heading up the kitchen at
Bastide
. Despite garnering another Mobil Guide five-star rating, Ludo parted ways with Bastide's notoriously mercurial owner Joe Pytka in 2006 after a series of frustrating delays in the restaurant's redesign. In the fall of 2007, Ludo rolled out LudoBites, a four-month special event that was met with much fanfare and critical applause. Prior the most recent incarnation of LudoBites, Ludo was most recently at Lavo, a restaurant and nightclub concept at The Palazzo in Las Vegas.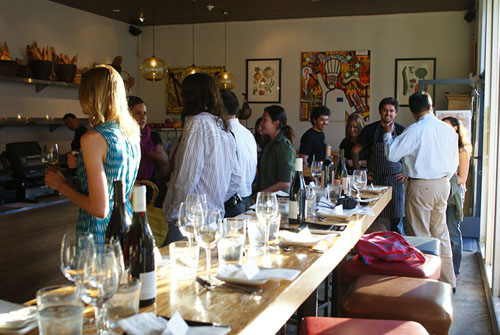 Upon arriving, I was greeted with an apéritif, a glass of the 2007 Bodegas Naia (Viña Sila) Rueda, an easy-drinking, refreshing, effervescent Verdejo that was just what I needed at the moment. I then proceeded to mill around, conversing with the FoodDigger staff and meeting the other bloggers in attendance.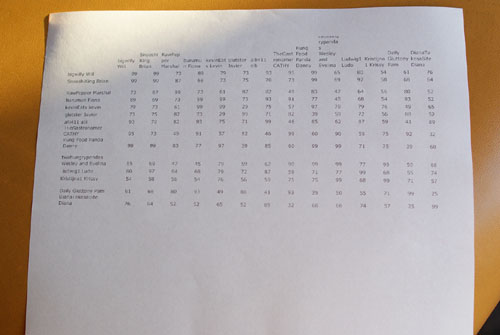 One of
FoodDigger's
draws is its experimental Flavor Match algorithm, which attempts to match the food preference profiles of the site's users, in order to create more meaningful restaurant review results. The cross-matched results between all the bloggers in attendance, the FoodDigger staff, and even Ludo and Krissy are shown above; click for a larger version. It's fascinating to see who matches/clashes with whom, and my results are shown below (on a 100-point scale):
Thus, it appears that I'm pretty much in lockstep with Fiona and Danny, while having pretty strong match with most everyone else, except for Javier. Brian was curious as to whether or not Javier and I were
really
all that different (I suspect not). My question is: does Flavor Match measure what we normally eat, or what we'd
like
to eat if we had no constraints (time, financial, geographic, or otherwise).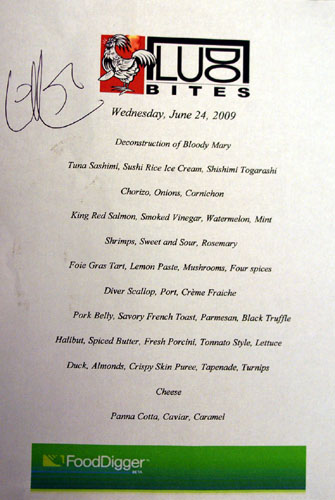 Though LudoBites is normally done à la carte, Ludo and his team agreed to create a one-off tasting menu for
FoodDigger
, shown above; click for a larger version. Since Breadbar doesn't sell booze, wine pairings were expertly provided by the FoodDigger staff.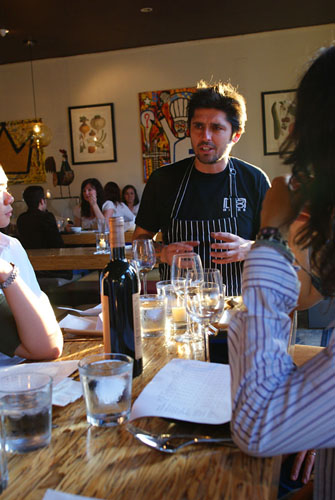 Prior to the start of the meal, Ludo came out and talked briefly about his dynamic, gung-ho culinary philosophy.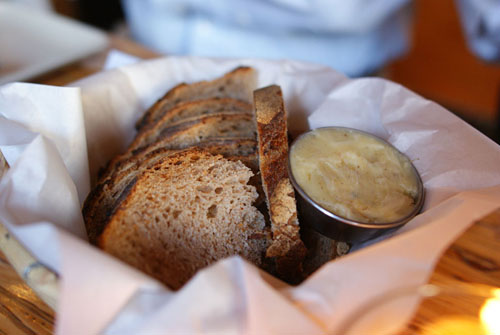 Given that this is Breadbar after all, I expected some damn good bread, and this sourdough wheat bread did not disappoint, with its lovely, crusty exterior, creamy interior, rustic flavor, and signature sourdough tang. The butter was a perfect pair, made by Ludo himself and tarted up with honey and lavender; its sweetness was a fitting foil to the sourdough.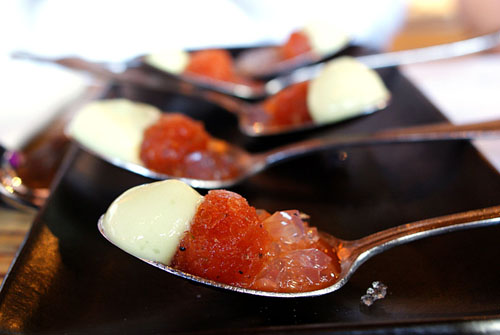 1: Deconstruction of Bloody Mary
2008 Domaine la Rocalière Tavel Rosé
This first course was more of an amuse bouche, one seemingly taken from the pages of the
Moto
playbook. An unabashedly deconstructivist dish, it consisted of spicy tomato sorbet, vodka gelée, and celery mousse. Taken in concert, the three elements effectively mimicked the classic Bloody Mary, with the sorbet taking center stage at first, before handing things over to the gelée, for a lingering alcoholic finish. The gelée, meanwhile, also added some nice textural variation with its Jello-like consistency.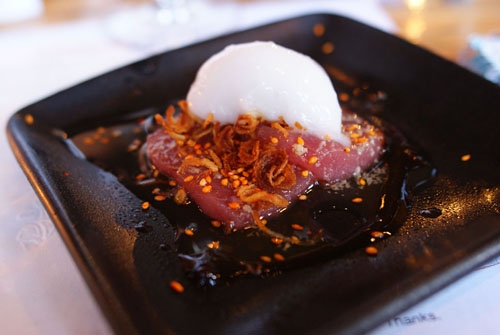 2: Tuna Sashimi, Sushi Rice Ice Cream, Shishimi Togarashi
2007 Dr. Beckermann Piesporter Michelsberg Riesling
My next plate held two slices of tuna sashimi, topped with sushi rice ice cream, sesame oil, sesame, ginger, crispy onion, and soy sauce. I first tried the maguro alone; it was clean, mild, yielding--a good start. I then took everything together, and noted how the various accoutrements, the onion with its crunchy consistency especially, heightened the tuna, while the ice cream took on the role of
shari
in
nigirizushi
, effectively balancing and moderating the other ingredients. An interesting study in disparate tastes, textures, and temperatures: sushi, deconstructed.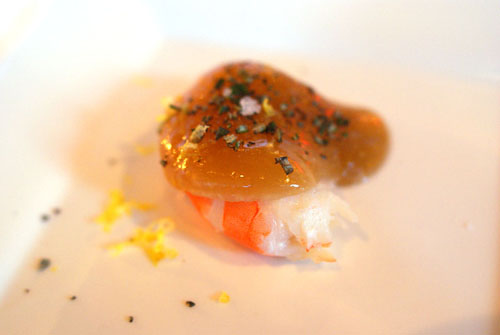 3: Shrimps, Sweet and Sour, Rosemary
2007 Dr. Beckermann Piesporter Michelsberg Riesling
The next course, a one-biter, consisted of a solitary shrimp, covered in a gelatinous sweet & sour blanket, sprinkled with rosemary and lemon zest. The crustacean itself was firm, meaty, snappy--no complaints there. I was afraid that the whole amalgam would turn out a bit blunt, but in fact, the shrimp's natural sweetness was very nicely complemented by its accompaniments. The sugariness of the course linked up nicely with the paired wine, a sweet, simple, easy-drinking Riesling from Mosel-Saar-Ruwer that Marshal picked out.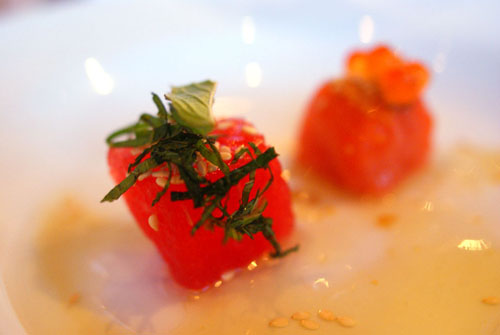 4: King Red Salmon, Smoked Vinegar, Watermelon, Mint
2007 Dr. Beckermann Piesporter Michelsberg Riesling
Here we have a cube of salmon, topped with ikura, and a cube of compressed watermelon, laced with mint and sesame. We were instructed to fare the fish first, followed fastidiously by the melon. The salmon was actually quite mild, but its brininess was elevated considerably by the roe. The watermelon, sweet as expected, was also quite minty, and the whole sweet-salty-minty complex that followed was rather unsettling. Indeed, the melon's sweetness did offset the richness of the salmon, which is what I think Ludo was going for here, but also introduced its own set of problems.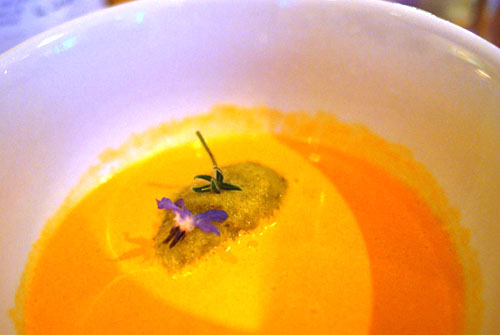 5: Chorizo, Onions, Cornichon
2007 Domaine les Grands Bois Côtes du Rhône Villages Cairanne Cuvée Maximilien
The next course was my favorite of the entire meal: a chilled Spanish chorizo soup with an island of cornichon and onion granité. Tasting the viscous soup was almost disconcerting--it was just so completely saturated with the quintessence of chorizo, its smokiness, savoriness, meatiness, its spicy lingering finish, along with a marked cheesiness that my dining companions likened to Doritos. It was delicious on its own, and I would've been happy drinking the "gazpacho" by itself. However, we mustn't forget about the "sorbet," a tangy amalgamation with a positively bracing flavor that balanced the overt saltiness of the sausage. According to Brian, this dish was "pure Ludo." Brian also picked the wine to pair here, a CdR that was a marvelous pairing, with the wine matching the spiciness of the dish blow for blow.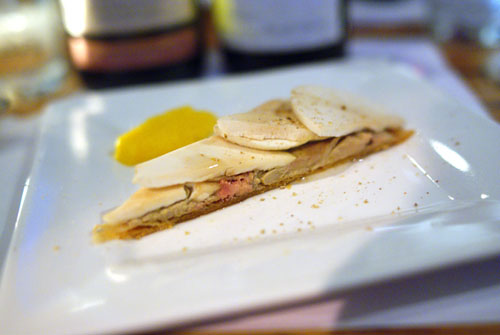 6: Foie Gras Tart, Lemon Paste, Mushrooms, Four Spices
2003 Reignac
Besides the chorizo, the most talked-about dish of the evening was this maple-crusted foie gras tart. There was quite a bit going on here; the first thing I noted was an attack imbued with truffle oil, giving way to the essence of liver, which strengthened as time went by on the finish. The lemon paste did its job in tempering the dish, but the key here for me were the mushrooms. Served uncooked, they had a wondrous raw earthiness to them and were a deft/daft foil to the decadence of foie, in addition to providing a great textural crunch. As for the wine, foie is usually paired with a sweeter wine, but Brian went against convention and instead chose the 2003 Reignac, a Bordeaux. It turned out to be a great pair, with the foie and wine balancing each other out perfectly.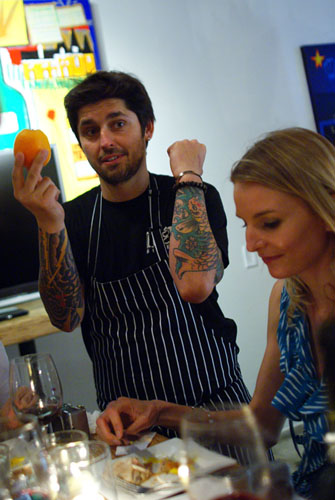 At one point during the meal,
Pam
, who totally wants to jump Ludo's bones, asked him to pose and show off his numerous tattoos.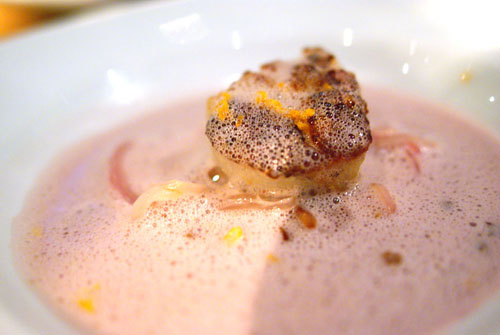 7: Diver Scallop, Port, Crème Fraiche
N.V. Montsarra Cava Brut
Here was a lone scallop, in a sea of crème fraiche-port emulsion, joined by bacon and onion, and just a speckle of orange zest. The sweetness of the mollusk was enhanced by the use of port, while its savory components were brought out by the bacon. The course garnered mixed reviews from my compatriots, as these two countervailing forces either worked for you, or they didn't. Fortunately for me, they did. Brian decided to pair a Cava with the scallop, and although Cava and scallop seems like a safe combination, the result here was actually a bit jarring (not necessarily a bad thing, mind you).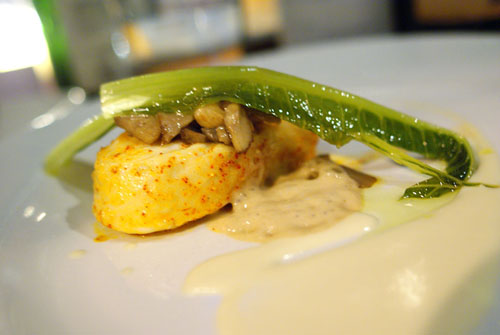 8: Halibut, Spiced Butter, Fresh Porcini, Tonnato Style, Lettuce
2001 Domaine Vincent et Francois Jouard Chassagne-Montrachet 1er Cru Les Chaumées Clos de la Truffière
After a series of rather striking dishes, this halibut seemed so...conventional. Conventional doesn't equal bad though, and the fish turned out to be one of my favorites in fact. The "tonnato" here refers to the sauce, a commixture of tuna and egg. It proved a fitting complement to the halibut, and I absolutely loved the use of lettuce, which gave the dish a vegetal aftertaste and a crisp, light texture contrast. The porcinis, meanwhile, contributed an earthy gravitas to the course. The wine here was notable for its fascinating truffle finish, which was subsequently tempered by the food.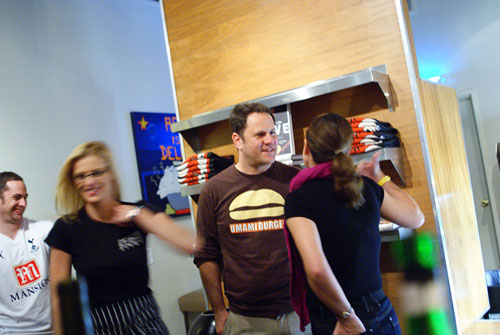 After the halibut,
Umami Burger
owner (and BottleRock and Vinoteque founder) Adam Fleischman decided to turn up; he's seen here chatting up
Alli
. Other notables present included Sam Kim from
LAist
and Joe from
Silver Lake Wine
(whom I met before after a meal at
Canelé
).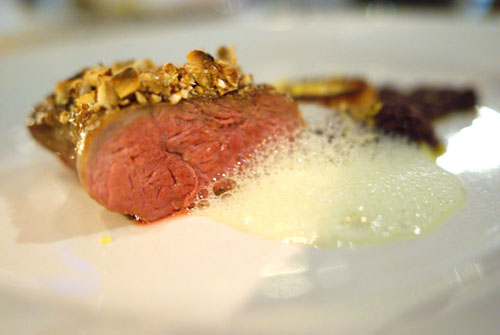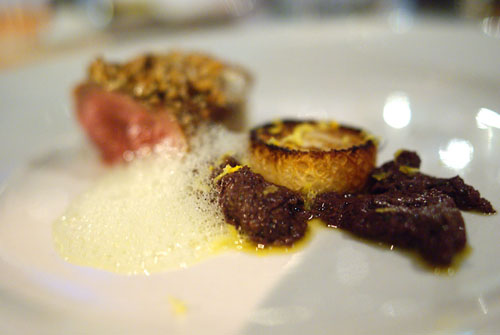 9: Duck, Almonds, Crispy Skin Puree, Tapenade, Turnips
2006 Bodegas Naia (Viña Sila) Rueda Naiades
This duck was the bane of me. I thought that it was absolutely too sweet, on account of the almond, which overpowered the duck's natural flavor. Brian actually compared the dish's taste to that of mole (while Sook thought of Honey Smacks)! In any case, in an effort to neutralize said sweetness, I made a go at the tapenade, which, with its intensely olive-y flavor, sort of swung the pendulum to the other extreme. The best part of the dish was the stout cylinder of turnip, which at least provided some moderation. I did eventually try the duck by itself, and enjoyed it much,
much
more.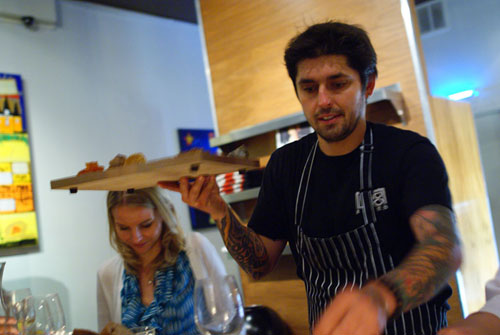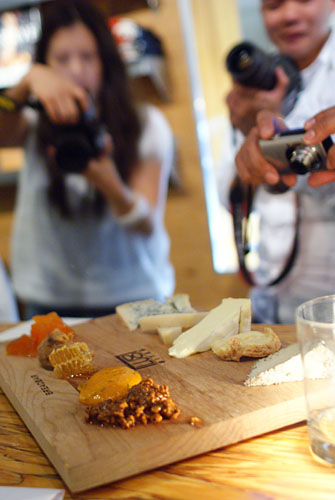 Here, we see Ludo serving up some fromage. After he set the board down, we immediately swooped in to take our photos of the poor cheese, and I think the second photo sort of highlights the apparent "absurdity" of it all, something we food bloggers take a lot of flak for.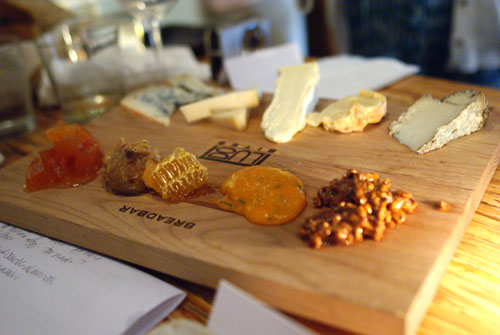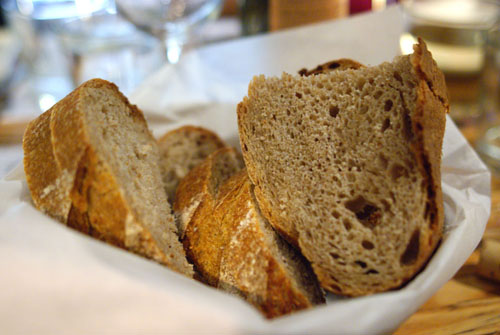 10: Cheese
2007 Maison Leroy Bourgogne
With the savories dispensed with, it was time for a quintet of cheese, sourced, I'm told, from
The Cheese Store of Beverly Hills
:
Brin d'Amour / Toasted Hazelnut with Licorice - From Corsica, France comes this cheese, made from the milk of rosemary-grazing sheep. The result is a creamy, herbaceous cheese that I found quite delicious.
Époisses de Bourgogne / Apricot Paste with Rosemary - This was a cheese that I first tasted at Mélisse. Époisses is a soft, unpasteurized cow's milk cheese made in the Côte-d'Or. Deemed the "king of all cheeses" by Brillat-Savarin (whose eponymous cheese is one of my favorites), Époisses possesses a funky odor that belies its creamy, tangy, decadent flavor. Superb with the herbal apricot paste.
Fromager d'Affinois / Honeycomb - Affinois is a double-cream soft cheese made from cow's milk. It's quite Brie-like, with a great nuttiness complementing its butteriness. Very, very nice.
Etorki / Date Purée - A Basque cheese made in the French Pyrenees, Etorki is created with pasteurized sheep milk. It had a mild, subtly sweet flavor with a slightly acidic tang that was great with the sugary date purée.
Valdeón / Pink Grapefruit Gelée - We finished with the Valdeón, a goat's and cow's milk blue cheese from León, Spain. Coming wrapped in sycamore maple leaves, it was a milder blue, especially compared to the related Cabrales, and had a pleasing saltiness to it behind its signature bleu tang.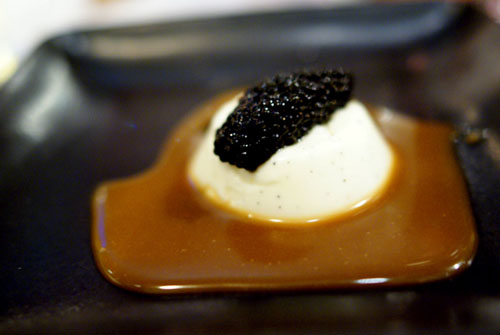 11: Panna Cotta, Caviar, Caramel
We ended the meal with a dish developed by Ludo during his tenure at
Bastide
: a vanilla panna cotta, with caramel sauce, topped with a generous quenelle of caviar. I was a bit concerned about the roe at first, but fortunately things turned out alright. The admixture of caramel and caviar worked surprisingly well, inciting a sensation like that of salted caramel. The panna cotta, thus, took more of a back seat here, and clearly the action was focused on those two contrasting sweet-salty elements. Krissy even likened the dessert to "Milk Duds with popcorn," and this seemingly experimental juxtaposition of completely disparate elements was a fitting end to our LudoBites experience.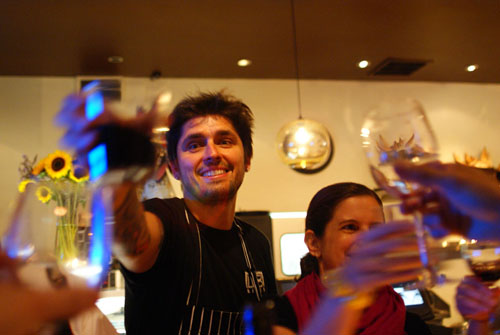 Cheers to another successful event! After dinner, we also tucked into the two remaining bottles of wine: a 2007 Domaine Paul Autard Côtes du Rhône, and the 2007 Domaine Daniel Dampt et Fils Chablis 1er Cru Côte de Léchet.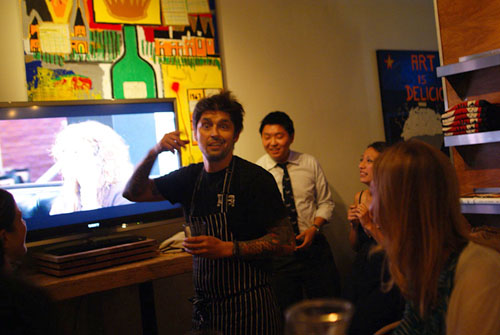 Then, we were treated to a special viewing of Ludo's recent appearance on
Top Chef Masters
, where he was pitted against Cindy Pawlcyn, Rick Bayless, and Wilo Benet. We were also treated to Ludo's live insightful color commentary, digs at chef Bayless, and rather humorous response to his being constantly subtitled (he's working on the accent).
Look who else showed up!
Folie à
Mattatouille
(it's a portmanteau, get it?).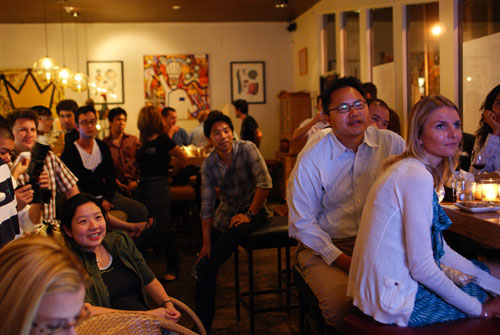 The whole room sat mesmerized by Ludo's pig ear quesadilla.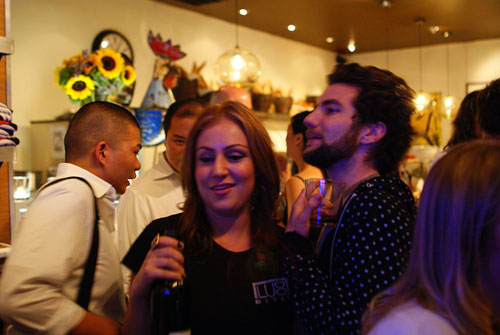 Yes, even former
Top Chef
contestant Marcel Vigneron graced us with his presence. Vigneron, of course, is currently a sous chef at José Andrés'
The Bazaar
, where I met him after an exceptional meal at
Saam
.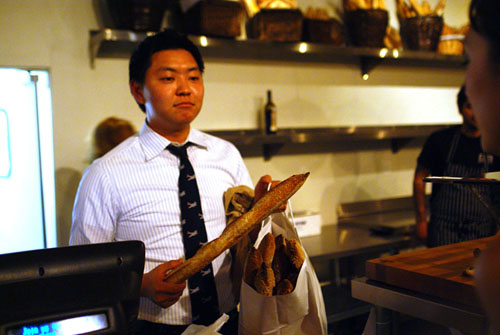 Matthew
, erect-
cum
-baguette.
Ludo wanted to come to the United States in order to expand his traditionally French repertoire, and to that, he has achieved considerable success. At L'Orangerie and later at
Bastide
, Ludo cemented his place in the City's culinary landscape, combining his Old World foundation with exotic new flavors, techniques, and ingredients, even venturing into molecular gastronomy, breaking new ground in the process. He is thus constantly evolving his cuisine, always seeking out what's new and interesting (being particularly fascinated about novel ways to use spices--vadouvan being a favorite), taking risks, learning, respecting the past, all the while living in the present. Though clearly not everything I ate on this night worked (even Ludo admits that he has his share of failures), I appreciated the spark, the international flair, the whimsy and the panache in his cooking that I bore witness to, and will be thoroughly interested as to where Ludo goes from here. Thanks again to
FoodDigger
for putting this wonderful event together.