Joël Robuchon (Las Vegas, NV) [2]
Joël Robuchon
3799 Las Vegas Blvd S, Las Vegas, NV 89109
702-891-7925
www.mgmgrand.com/restaurants/joel-robuchon-french-restaurant.aspx
Tue 06/16/2009, 05:30p-08:00p
The "Chef of the Century" might easily not have been. Joël Robuchon (born April 7, 1945 in Poitiers, France) was slated to become a priest, and spent the beginning of his teenage years training at a seminary. Fortuitously, familial financial woes necessitated that a young Robuchon go to work to support his parents, and at age 15, Robuchon began apprenticing at hotel-
cum
-restaurant Relais de Poitiers; he'd studied cooking at Mauléon-sur-Sèvre's seminary, so the transition made sense. In 1966, Robuchon joined the
Compagnon du Tour de France
, a group of artisans who spent several years traveling around the country, honing their craft. This exposed him to the depth and breadth of French cooking, and gave him a library of techniques and ingredients to call upon throughout his career.
Robuchon thus hung his toque at various establishments throughout France, and in 1974, after completing his apprenticeship, was soon scouted as the Chef de Cuisine at Hôtel Concorde Lafayette in Paris; he was 29. It was during his time here that Robuchon was awarded the
Meilleur Ouvrier de France
, the most vaunted designation possible for chefs. It was also during this time that Robuchon was exposed to the culinary tradition of Japan, a factor that would play a larger and larger role as he continued to develop his own style. In 1978, Robuchon moved to head the kitchens at Les Célébrités, at the Hôtel Nikko in Paris.
At the end of 1981, Robuchon opened his very own restaurant: Jamin. Robuchon captured his first Michelin star three months after opening; the third came in 1984. At Jamin, Robuchon really came into his own, refining and cementing his gastronomic modus operandi. Robuchon closed Jamin in 1993, and in 1994 opened the more luxurious Joël Robuchon in a larger space, where he again garnered three stars. However, the restaurant would only last two years; Robuchon retired in 1996, at the height of his career--he wanted to go out on top.
But yet he could not stay away. Robuchon returned to the restaurant scene with his
L'Atelier
series of restaurants, meant to bring his cuisine into a more informal setting: gourmet counter dining. The concept proved to be a success, and in 2005, Robuchon was lured by MGM Grand head Gamal Aziz to open a restaurant in Las Vegas that would hark back to his glory days of 3-star gastronomy. Robuchon thus had carte blanche to create this new restaurant, and the chef subsequently began to assemble of team of experienced cooks and staff from all around the globe. Helming the kitchen was Jamin-alumnus Claude Le Tohic, who, like Robuchon, was a
Meilleur Ouvrier de France
winner (in 2004). Chef de Cuisine was Tomonori Danzaki, who worked with Robuchon in Tokyo and in Paris, and Executive Pastry Chef was Kamel Guechida, who worked under Fredy Girardet at Restaurant de Crissier in Switzerland. Amazingly, four years later, all three are still manning the kitchens.
My
previous meal
at Joël Robuchon was simply epic, one of my best ever, so it seemed fitting to cap off a Vegas food trip (which saw the likes of
Guy Savoy
,
L'Atelier de Joël Robuchon
, and
Bar Charlie
) with a return visit.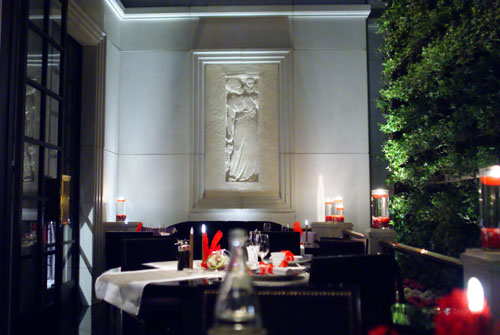 Last time
, we were seated in the main dining room, styled by Pierre-Yves Rochon to evoke a posh upper-class 1930's Parisian salon. So this time, I requested a seat "outdoors," on what is referred to as the Terrace. A note to fellow food bloggers: don't do it! The lighting is conducive to a romantic rendezvous, but not to photo-taking. It's dim--we're talking 1/10s at f/2, running ISO 1600. As a result, the photos here didn't turn out as well as they could have "indoors."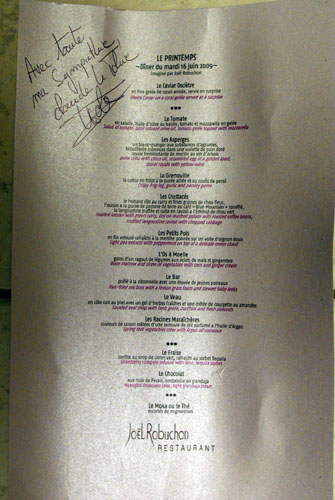 As a result of the economy (and also in response to the summer season, according to Chef Le Tohic), Joël Robuchon now offers prix fix menus starting from a previously unheard of $89 per person, rising to $195. Of course, for hardcore gluttons such as myself, the $385, 16-course degustation is still available. Mine is shown above, printed on Robuchon's signature "sparkly" paper; click for a larger version. Anyone care to translate the Chef's message for me?
I decided to take it easy on the alcohol, and thus ordered only two glasses of wine to complement the meal. Since I'm a big fan of something bubbly to start, the first was the Philipponnat "Réserve Rosé" Mareuil-sur-Aÿ, NV [$39]. It was everything you'd expect and want from a rosé: plenty of strawberry, slightly toasty, crisp acidity, subtly sweet, with fine bubbles--a refreshing way to start off the evening. Since Riesling is my favorite white varietal, my next glass was filled with the Alsace, Riesling "Cuvée Frédéric Emile" Maison F.E. Trimbach, 2001 [$31]. Though I usually go with the fruitier, more floral Germans, I went for an Alsatian Riesling this time, as I was in the mood for something drier. The Trimbach fit the bill nicely--a mineral-dominated wine with hints of apple and lemon, with a great sharpness.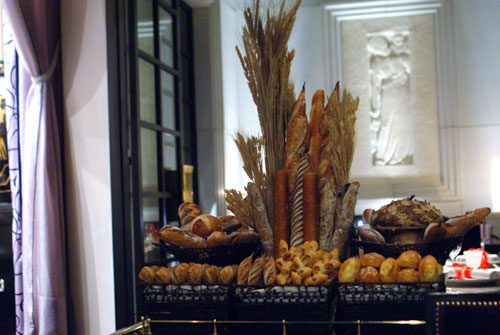 The bread cart was as impressive as ever. Since I'd been offered a bread pairing at
Guy Savoy
just three nights prior, I decided to ask for one here. Though the restaurant usually doesn't do such a thing, they were able to accommodate the request. Interestingly, the bread server was the exact same gentleman from my last visit, and he recognized me!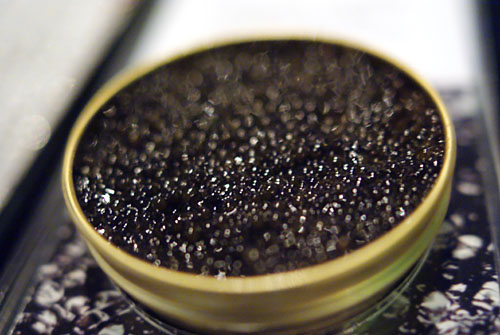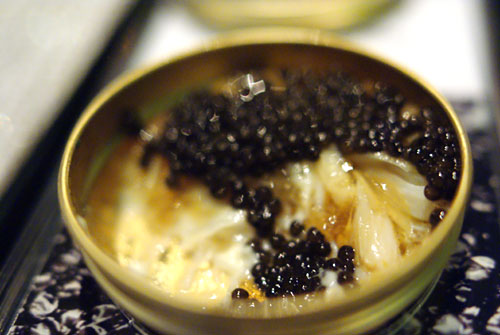 1: Le Caviar Osciètre
| en fine gelée de corail anisée, servie en surprise
Milk bread
Ah Champagne and caviar...could there be a more fitting start to a meal at Robuchon? Presented with a tin filled level with the tiny black pearls, I first tried a few globules alone. Briny, crisp, a bit nutty--they tasted as they should. Breaking through the layer of roe revealed the "surprise:" dungeness crab in a gelée of lobster coral and fennel cream. Coral refers to the richly-flavored eggs of lobster, and here it imbued the dish with the essence of the crustacean, while the crab provided a great sweetness that balanced out the saltiness of the caviar. A great way to kick off the evening.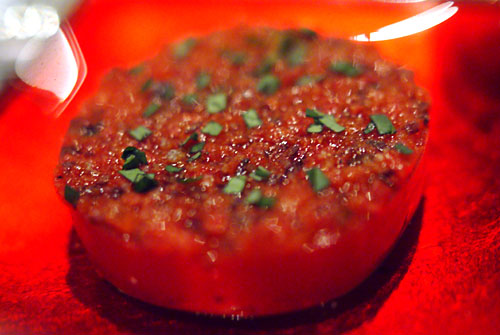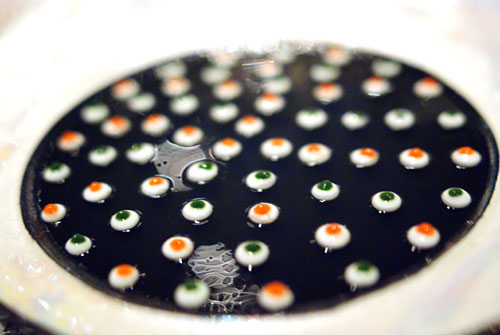 2: La Tomate
| en salade, huile d'olive au basilic, tomate et mozzarella en gelée
Basil focaccia
Initially, I wasn't too excited about this course. Reading the description on the menu, I thought that the dish would be a pretty conventional
insalata Caprese
--I should've given the kitchen more credit! On the left was a thick slice of tomato, marinated in basil-infused olive oil and topped with basil, balsamic, and salt. Next to it was an intriguing-looking plate: a clear tomato gelée speckled with spots of mozzarella, with alternating points of basil and tomato purées; I can just imagine a young chef back in the kitchen charged solely with the onerous task of dotting the gelée! Though I was instructed to eat everything together, I first tried the tomato by itself, which was extraordinarily juicy, with a refreshing tomato flavor leading to hints of basil then olive oil. Now, with everything taken together in one bite, the effect was almost exactly like that of a Caprese, though a bit lighter. The "salad" thus didn't break any barriers with regard to taste, but rather was a reimagination of the classic using different textures, techniques, and presentation (arguably a deconstructivist approach).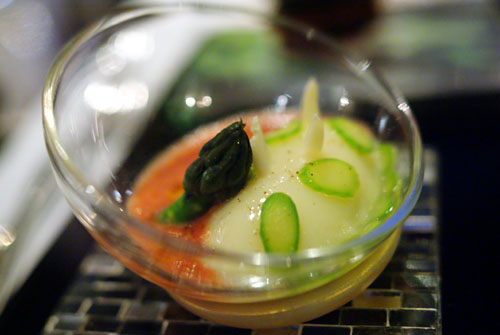 3a: Les Asperges
| un blanc-manger aux substances d'agrumes
Saffron focaccia
The "Les Asperges" course actually comprises three mini-courses. The first was asparagus over a
blancmange
and tomato coulis, with citrus oil. The relish of the asparagus was complemented, emboldened by the coulis, whilst the panna cotta added a heaviness to the dish that tempered the vegetable.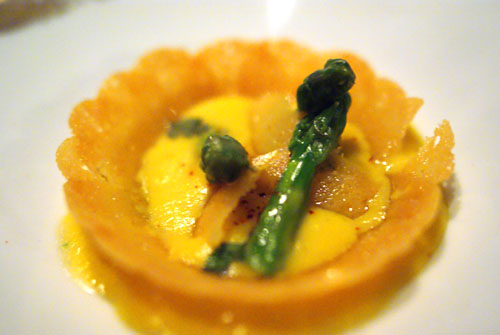 3b: Les Asperges
| brouillarde crémeuse dans une voilette de pain doré
Saffron focaccia
Next was asparagus with scrambled eggs, in a golden French toast crust. Here, the bite of asparagus was apparent at first, but was balanced by the creaminess of the eggs. The crust, meanwhile, added a fantastic texture element.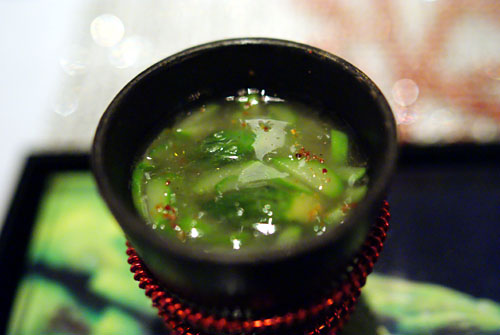 3c: Les Asperges
| royale tremblotante de morille au vin d'Arbois
Saffron focaccia
Clearly, they saved the best for last: asparagus and morel mushrooms royale with
vin jaune
(yellow wine) from Arbois. I knew this was going to be good just from the aroma, a heady bouquet permeated with the earthiness of morel and just a hint of asparagus tang. The wine-morel complex, with its nutty smokiness, was fantastic, and formed the perfect counterpoint to the asparagus, which took on a more supporting role here. Powerful, profound, a standout of the meal--I wanted a bigger bowl!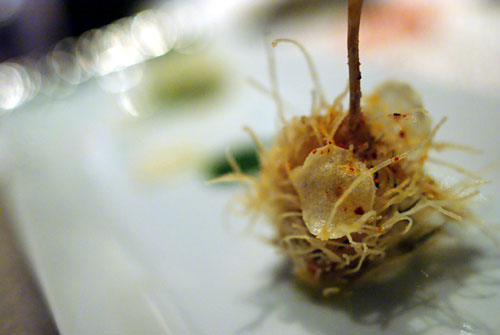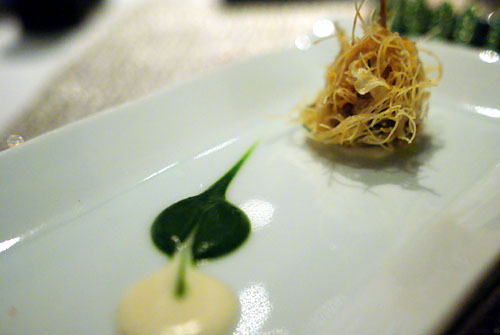 4: La Grenouille
| la cuisse en fritot à la purée aillée et au coulis de persil
Brioche with rosemary and sea salt
This rather gnarly looking thing was a crispy frog leg fritter, accompanied by young garlic shoot purée and parsley coulis, along with tempura'd watercress and soy bean. This is one of Robuchon's signature dishes, and I can see why. The frog leg was simply one of the most flavorful bites I've had in recent memory, and its crispy fried shell provided an absolutely wondrous texture contrast, and also gave the dish a lingering bready finish. The sauces added some further interest, but were unnecessary--the frog was delicious on its own. Give me a whole bucket of these please!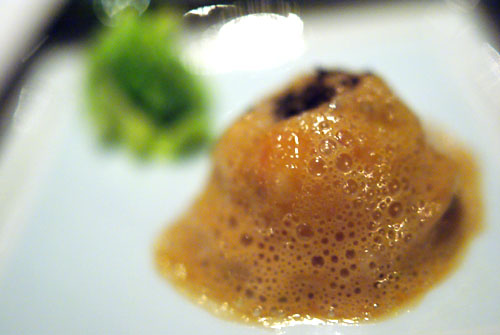 5a: Les Crustacés
| la langoustine truffée et cuite en ravioli a l'émincé de chou vert
Wheat pain epi
Another set of three mini-courses began with a plump raviolo stuffed with langoustine, in a foie gras and truffle sauce, paired with chopped Savoy cabbage in a beurre blanc. The use of truffle and foie gras provided a regal complement to the langoustine, but didn't allow enough of the langoustine's natural flavor to shine through. The cabbage, meanwhile, added a great, crisp textural contrast and lightened the rather rich dish. While tasty, it wasn't as strong as the version I had on my
previous visit
.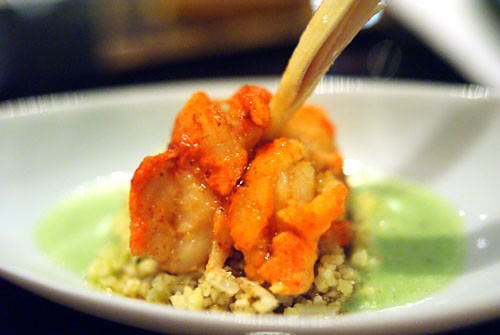 5b: Les Crustacés
| le homard rôti au curry et fines graines de chou fleur
Wheat pain epi
Next was roasted lobster with green curry, over a lemongrass couscous with cauliflower. The use of lemon grass and cauliflower resulted in a pleasing contrast to the lobster, giving it a vegetal and slightly spicy tang. However, the crustacean was overdone for me, lacking in its signature crispness and snap.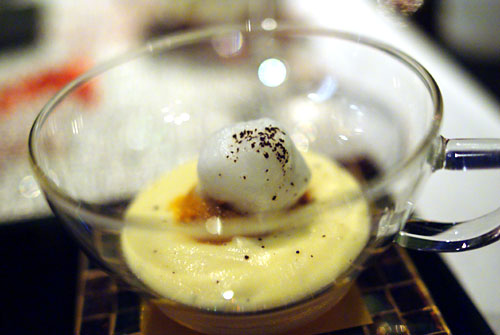 5c: Les Crustacés
| l'oursin a la purée de pomme de terre au café « Blue Mountain » torréfié
Wheat pain epi
Though I have uni often in Japanese cuisine, the uni here was done in a way that I would've never imagined. It was served on a bed of mashed potato with roasted Blue Mountain coffee beans (one of the priciest coffees in the world, from Jamaica). I was afraid that the coffee would simply dominate the sea urchin, but it was surprisingly mild. Rather, the potato was the key here. Its creamy consistency blended seamlessly with the uni, while tempering the urchin's sweet brininess.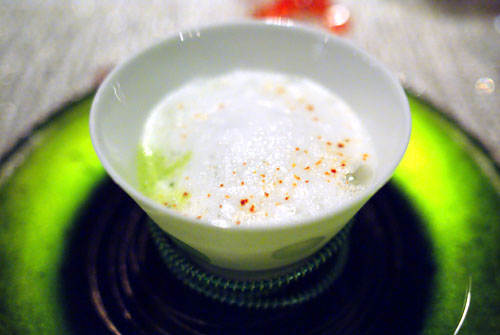 6: Les Petits Pois
| en fin velouté rafraîchi à la menthe poivrée sur un voile d'oignon doux
Here we have a light pea velouté with peppermint, over smoked ham and espelette, topped with a delicate onion foam. Upon tasting this soup, I first noted an intense nose of onion, followed by the clear essence of pea, finishing with a subtle yet lingering hint of mint. The ham, in the meantime, provided a strong savoriness that balanced the refreshing nature of the dish. What was most interesting here though was the interplay between pea and peppermint. Pea has an inherent tanginess to it, and that bracing sensation was handed over seamlessly to the mint; it was a fascinating sensation--simple, yet brilliant. This was easily one of my favorite courses, and the second outstanding pea dish of the trip, along with "Tout Petits Pois" at
Guy Savoy
.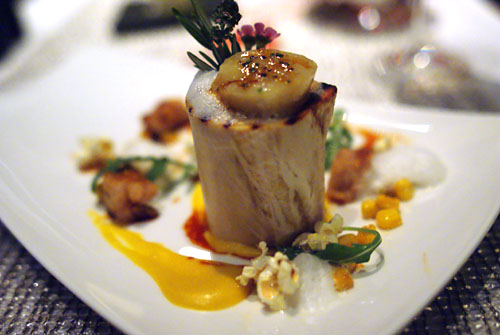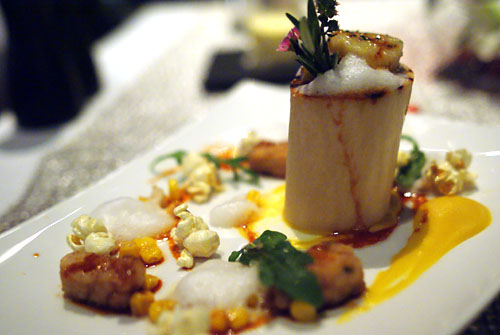 7: L'Os à Moelle
| garni d'un ragout de légumes aux éclats de maïs et gingembre
Bacon mustard epi
We now move to the more substantial courses, with the first being bone marrow and sweetbreads, with vegetable ragout, corn, creamed corn, popcorn, and ginger cream. Upon seeing this dish, I was afraid that it'd be too heavy, too unctuous (as marrow tends to be). As luck would have it, my fears were unfounded. In addition to marrow, the bone was also filled with creamed corn; now, creamed corn is typically a somewhat heavy item, but here, it effectively, and surprisingly, cut the gravitas of the marrow superbly, even adding a bit of sweetness in the process. However, the star of the show was the sweetbreads, which were immensely flavorful and done to a firm, yet not crispy, texture. The popcorn was a fun touch that provided some levity and whimsy, while adding a bit of crunch. Easily the best bone marrow dish I've had yet.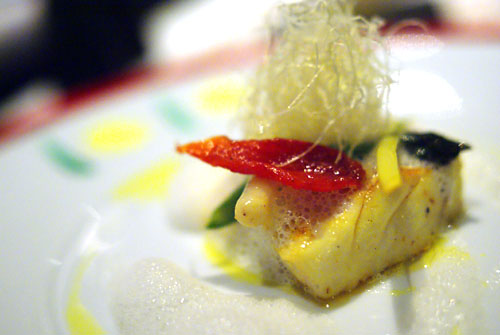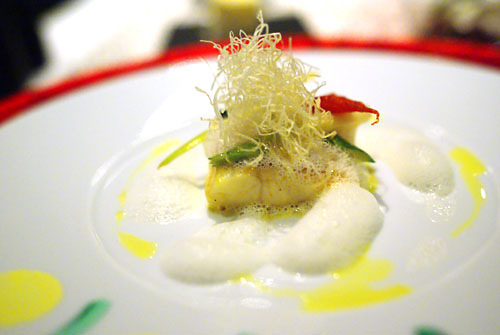 8: Le Bar
| poêlé à la citronnelle avec une étuvée de jeunes poireaux
Olive baguette
The first and only fish dish of the night was this pan-fried sea bass from Brittany with lemon grass foam and stewed baby leeks, tomato, and asparagus. The flesh of the bass was tender, flaky, and mild, about everything I could ask for. The use of lemon grass resulted in a distinctly Thai-tinged flavor, while the veggies made for a light contrast and an overall zesty, piquant dish with an Asian flair.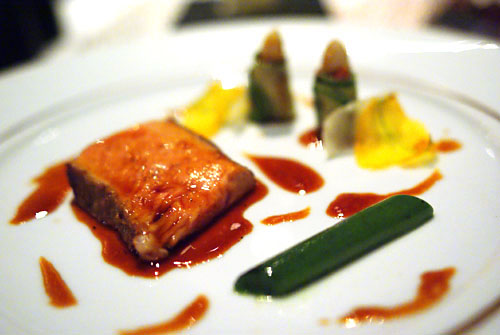 9: Le Veau
| en côte cuit au plat avec un gel d'herbes fraîches et une mêlée de courgette au amandes
Rosemary brioche
Veal has always been somewhat of a bane of mine, as I've consistently found it rather bland and indistinctive. I was thus curious as to what Robuchon would do with it. This was a sautéed veal chop with an herb gelée, zucchini-fresh almond "roulade," and veal reduction. I'm glad to report that this was one of the better veals I've had. The meat itself was quite flavorful indeed, while the gelée provided an herbaceous, mitigating contrast. The best part, though, was the amalgam of zucchini and almond, which simultaneous added a light vegetal flavor, a sharp nuttiness, and a delightful crunch to the dish.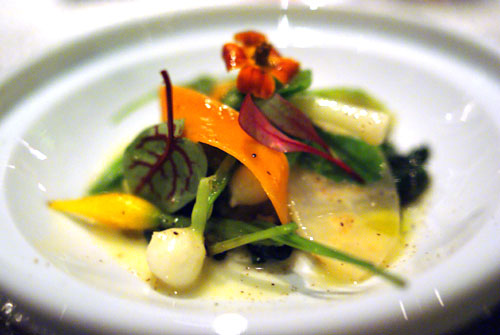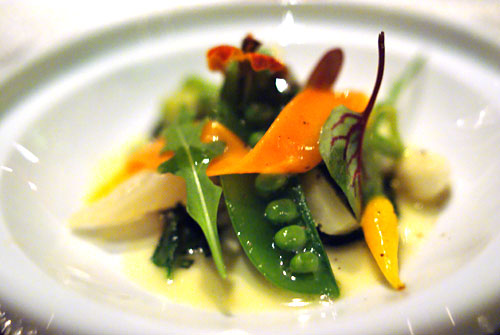 10: Les Racines Maraîchères
| coulerus de saison mêlées d'une semoule de blé parfumé à l'huile d'Argan
Gruyere brioche
After a heavy dish like the veal, I was grateful for a something like this stew of Spring root vegetables with Argan oil couscous. Argan oil is a rare oil made from kernels of the argan, a tree endemic to parts of Morocco and Algeria. It was thus the perfect oil for this North African-inspired dish, cooked and served, of course, in a tagine. The veggies had a great freshness and crispness to them, as well as a bracing bitterness that complemented the mild couscous. Deceptively simple, yet uncommonly intense--very good.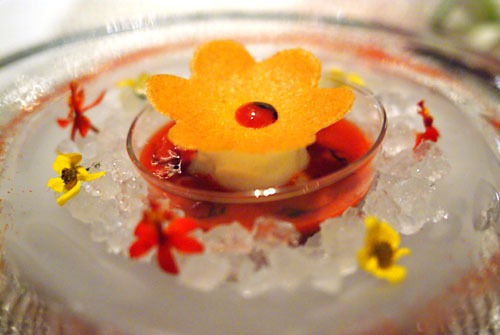 11: La Fraise
| confite au sirop de citron vert, rafraîchi au sorbet Tequila
Moving on to desserts, we begin with a bowl of strawberry confit infused with lime syrup, paired with a tequila sorbet, and topped with a tuile. As you'd expect, the strawberry compote by itself was quite intense indeed, saturated with the cloying sweetness of the berry, yet tempered by the sourness of the lime. The tequila, on the other hand, made for a rather refreshing finish, tinged with an alcoholic tang.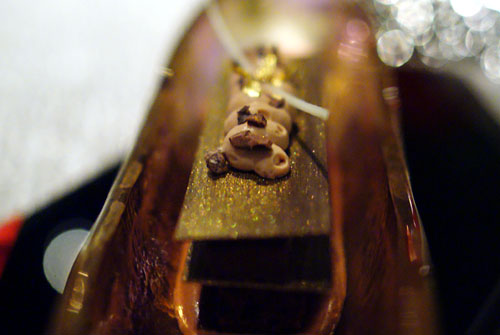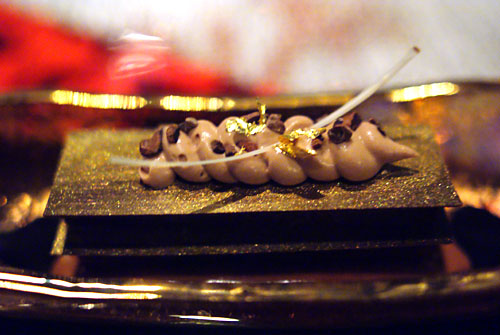 12: Le Chocolat
| aux noix de Pecan, onctuosite au gianduja
With the fruit-based dessert dispensed with, it was time for chocolate: a Nyangbo chocolate cake with pecan and light gianduja cream. Nyangbo is a chocolate from producer Valrhona, made from beans grown in the African country of Ghana. It had a complex bittersweet flavor along with a subtle spiciness that paired very well with the sweet, nutty gianduja. This was a nice combination of creamy and crunchy consistencies, and actually reminded of a similar cake I had at
Fifth Floor
in San Francisco.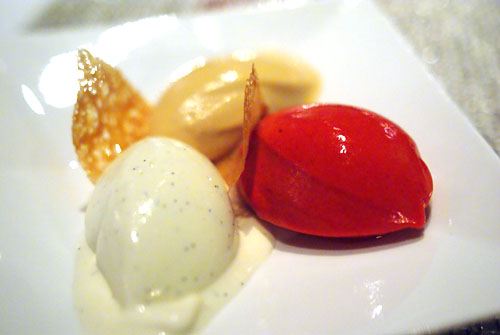 Ice Creams and Sorbet
Following the last course, a cart carrying Tahitian vanilla ice cream, caramel ice cream, and raspberry sorbet arrived, and naturally, I had to try one of each. My favorite was easily the vanilla, which had a flavor that was so pure, so delicate, so intense, and so different from the mass market stuff. Next was the caramel ice cream, which reminded me of the brown butter ice cream I had days earlier at
Guy Savoy
. Finally, the raspberry sorbet was extremely tart, extremely bracing--a refreshing end.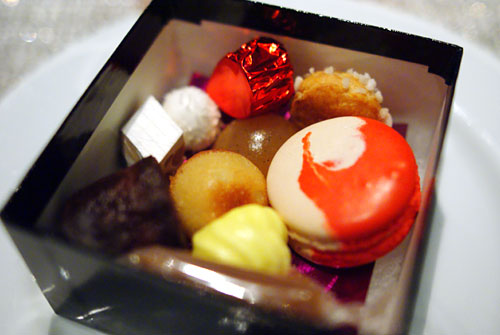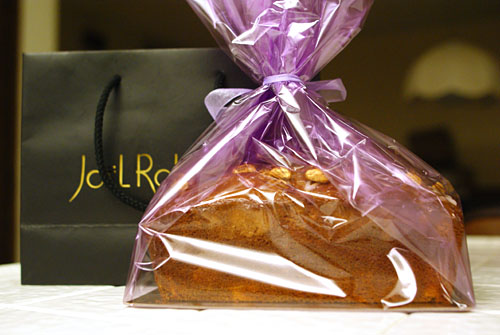 Mignardises
Since time was of the essence, I had to skip the presentation of Robuchon's famous candy cart, and instead requested my mignardises to go; standouts here were the macaron and the canelé. In addition, I also received a rather large pistachio-raspberry cake (which I had a hard time fitting in my luggage!).
Though a superb meal, this experience at Robuchon didn't quite live up to the admittedly lofty standards of my
last visit
. Unfortunately, I was partly to blame for this. You see, I had a 9:30 flight out of McCarran, and thus had to leave the restaurant by 8:00, in order to catch a taxi to the airport. I arrived right at opening, 5:30, to maximize my time, but even that wasn't enough. By the end of it, I was basically eating as fast as I could, not really savoring each bite. I must give credit to the staff--I mentioned my limitation, and they were very accommodating, getting me out almost exactly at 8:00. Chef Le Tohic even came out to chat for a few minutes. Bottom line: don't cram a 4-hour meal into 2.5 hours. That being said, I do want to return to dine here, when I can afford a more leisurely pace. Monsieur Robuchon: just don't retire again before I do!