Totoraku (Los Angeles, CA) [2]
Totoraku
10610 W Pico Blvd, Los Angeles, CA 90064
www.fooddigger.com/RestaurantDetail.aspx?id=20998 (FoodDigger, restaurant has no web site)
Sat 10/03/2009, 07:00p-10:15p
Is Totoraku (a.k.a. Teriyaki House Pico, or simply "secret beef restaurant") LA's toughest reservation? I'd say so. Walk up and try to open the door, and you'll find it locked. Give them a call, and you'll likely only get an answering machine with chef/owner Kaz Oyama's voice. The machine, though, is key. Leave a message with your details, and
maybe
you'll get a call back from Oyama-san's wife Shizumi, if you're deemed to be "in the know," that is.
Officially
, you'll only be granted the ability to make a reservation if you've been to Totoraku prior (though some unscrupulous individuals have scammed their way in), which means initially, you have to get someone with "the card" to bring you. Thus, you understand the dilemma here--the City's best yakiniku remains elusive.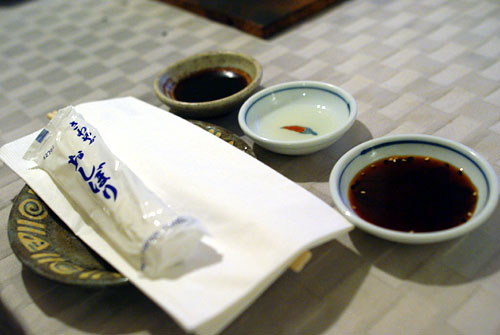 Upon arriving at our table, we were greeted by a trio of dipping sauces: soy, lemon juice, and a sweet
tare
. Our servers would tell us which sauce to use with each course; however, the meats were easily good enough to stand on their own.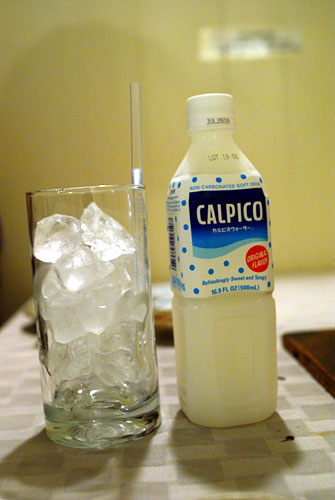 We arrived a bit early, and ordered a bottle Calpico (an uncarbonated drink with a yogurt-esque flavor) to wet our whistles. In addition to the Calpico, Totoraku also offers a selection of your typical soft drinks, but lacks a liquor license, hence...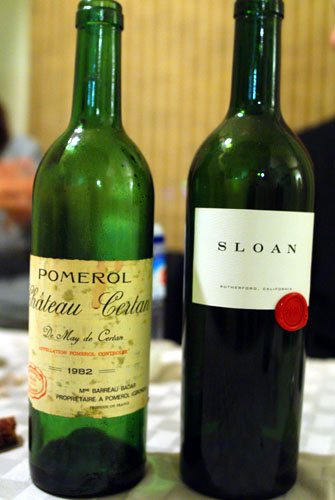 Oyama-san is an avid wineaux (with a particular penchant for great vintage Bordeaux, Burgundy, and Champagne), so I'd advise you to leave your pink Yellow Tail at home. My reader was gracious enough to contribute two top-flight tipples.
First up was the 1982 Château Certan de May, a birth year wine for me from one of the finest houses in Pomerol. Despite an uncooperative cork, I do not hesitate in calling the Certan one of the finest wines I've ever tasted, impressive in its profound depth and clarity, showing beautiful notes of spice, chocolate, dark berry, and coffee over a silky, every-so-slightly tannic backbone. Oyama-san eagerly agreed with this assessment. After sampling the wine, he was positively beaming, gleeful even, and kept raving about the Certan throughout the night--it was glaringly obvious that Oyama-san was truly impressed. With this one bottle, my reader's ability to return was secured.
We decanted the 2001 Sloan for nearly an hour before consuming, and comparing it to the Bordeaux was a night-and-day experience. The Sloan was a much more robust, much bolder, much more in-your-face wine, with an absolutely intoxicating nose of currant and chocolate. These flavors continued onto the palate, joined by subtle hints of meat and tobacco, finishing strong with a tannic bite. A lovely wine, but one that could use a bit more time in the bottle.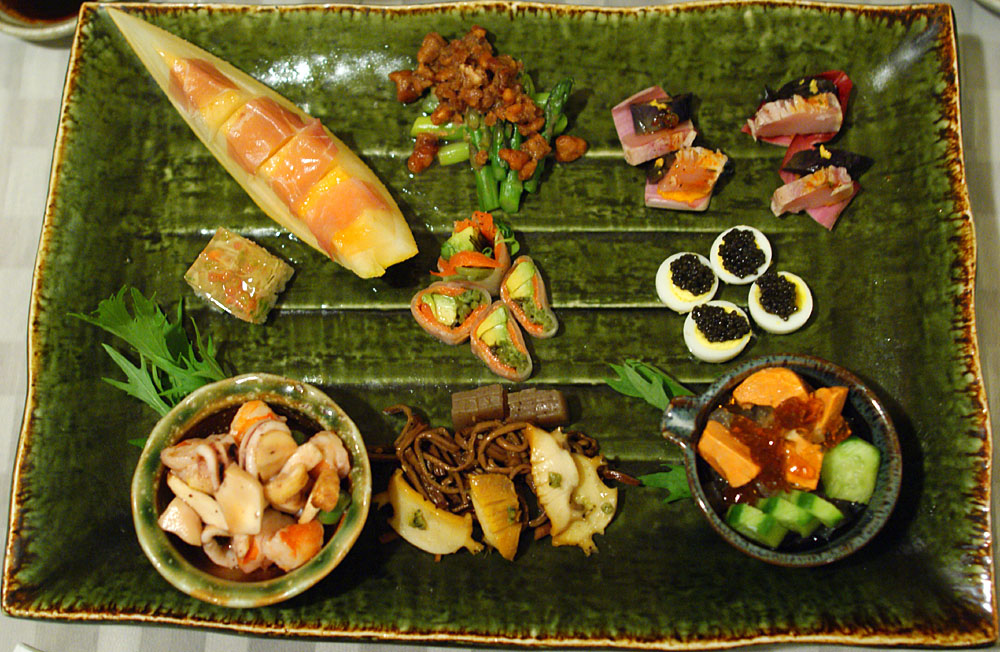 1: Amuse Bouche Assortment
Our meal began with a selection of nine appetizers, to be shared amongst us:
Sockeye Salmon - Salmon stuffed with avocado and sprouts, wrapped in soba. There was a nice interplay going on here between the salmon and the creamy avocado and tangy sprouts, though I would've liked bigger pieces to better explore the flavors.
Alaskan King Crab Gelée - The crab itself was sweet as expected, with the gelatin acting as a sort of glue that bound the pieces together. What was fascinating though was that the gelée had a distinct spicy finish that slowly built up on my palate.
Prosciutto di Parma and Cantaloupe - Lovely. The prosciutto was suitably savory, and was balanced nicely by the sweet, juicy melon.
Asparagus and Sweet Walnuts - An interesting contrast existed here between the bitter, delicate asparagus and sweet, nutty walnuts.
Seared Albacore - Deftly cooked albacore, heightened by a bit of spice and a crisp, vegetal wrapper.
Quail Egg with Caviar - Some egg-on-egg action: always a good decision. I loved how the salty, briny tang of the roe penetrated the subtle gravity of the egg.
Ankimo - A superb presentation of ankimo, with the liver's richness tempered by the crisp cucumber and light, tart gelée.
Steamed Abalone - My favorite of the nonet. The abalone had a wondrous texture, just tough enough, yet yielding. Its flavor, meanwhile, was simultaneously sweet yet smoky. It was served with zenmai (Japanese royal fern), which had a pleasing crunch of its own.
Shrimp and Matsutake - Perfectly cooked shrimp, elevated by the delicate earthiness of matsutake mushrooms.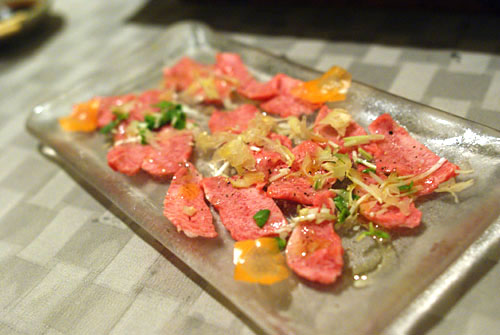 2: Beef Tongue Carpaccio
This was the sole dish that I didn't have on my
last visit
to Totoraku. The tongue was sliced appropriately thin, giving the meat a surprisingly tender consistency that barely required mastication. The carpaccio was livened up by the application of scallion, which deftly complemented the beef with its bitter tang, as well as some sort of tart sauce (ponzu perhaps?). Very nice.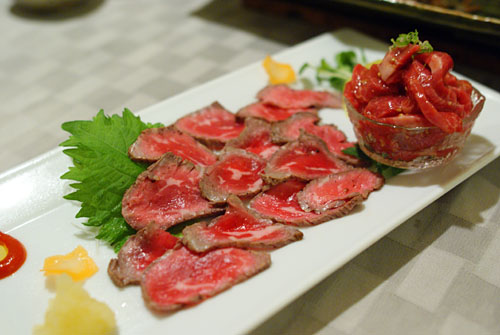 3: Beef Ribeye Tataki & Beef Throat Sashimi
Following came a duet of barely-touched beef. First was the tataki, done up with a lovely char that provided a savory contrast to the meat's mild interior. This was even better when paired with a bit of grated ginger. The throat sashimi (of two cows, apparently) was more interesting, with a great, crunchy texture and a subtle flavor that was superbly accented by soy and scallion.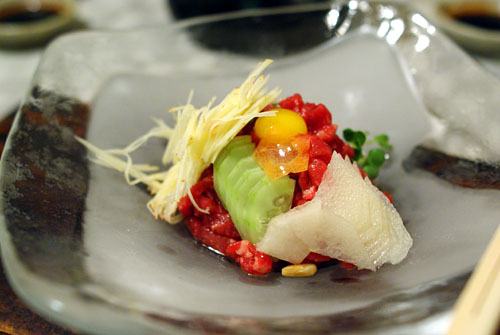 4: Beef Tartare
Our final raw course was Oyama-san's interpretation of
yukhoe
, or Korean beef tartare. Though rump steak is usually used for this dish, I'm not sure what was employed here. Nevertheless, it came with a number of accoutrements, including raw quail egg, daikon, cucumber, pine nuts, and Japanese pear. I proceeded to mix up the various items into one absolutely ambrosial amalgamation, one of the best tartares I've ever had in fact. I loved the multi-faceted interaction between the savory beef, the tang of the veggies, and the overarching sweetness of the pear--superb.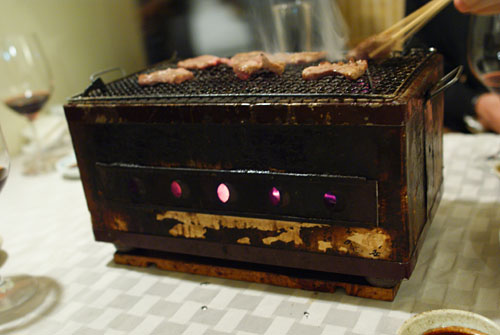 And with that, it was time for the gauntlet of grilled
gyu
to get going. Fired by binchotan charcoal, the grill cooks quickly, so be sure not to overdo your meat, lest you be chided by Shizumi-san!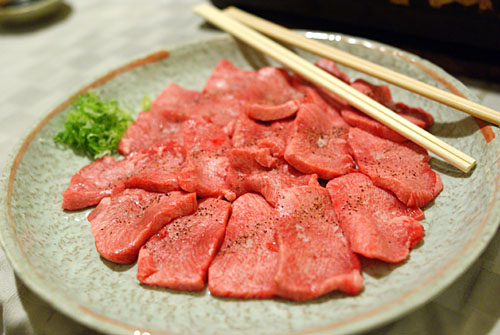 5: Tongue
To the uninitiated, tongue (
tan
) may sound unappetizing, but it was actually one of the highlights of the meal for me. Totoraku's was a quintessential example: topped with scallion and salt & pepper, stupendously saporous with an almost foie gras-esque aftertaste, heightened by a delightfully rubbery yet yielding texture. As good as the tongue was on its own, it was even better when paired with a dash of the included lemon juice.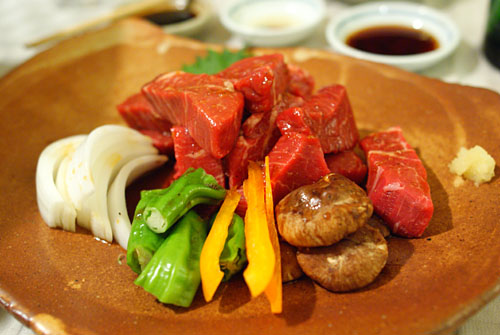 6: Filet Mignon
Here we have some generous chunks of filet mignon, paired with peppers, onions, bell peppers, and mushrooms. Compared to the tongue, the filet was much more subtle in flavor, lean and gossamer in its beefiness, brightened up with a touch of soy. Grilled rare, the meat was nearly melt-in-your-mouth--I wish I would've remembered to try some raw!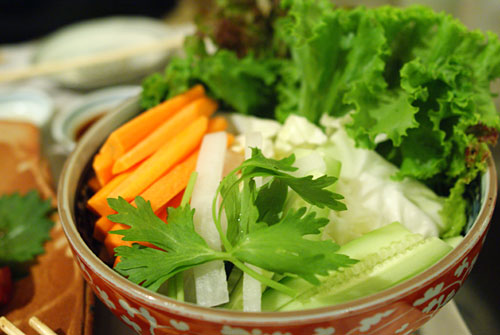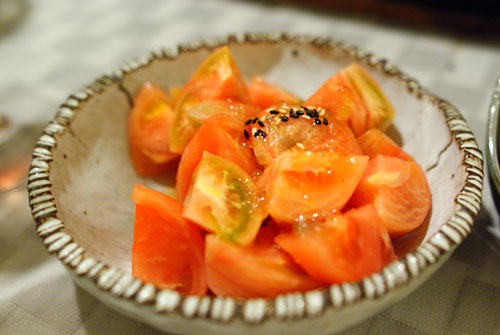 7: Crudités
Along with the filet came an assortment of raw veggies, helpful in tempering the weight of all this meat. First up was a bowl of lettuce, cabbage, carrots, cucumber, and radish, served with a sweet miso dip. Next were Momotaro tomatoes, some of the juiciest, sweetness tomatoes I've had--we asked for seconds.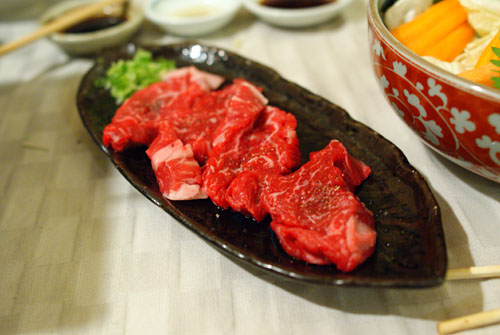 8: Outside Rib Eye
We now move on to the more marbled meats. Outside rib eye is also known as rib eye cap, and vis-à-vis the filet, it was far more luxurious, richer, fattier, oiler, and stronger in savor--an escalation from the tenderloin to the sure. No sauce was necessary here; the included salt & pepper did a great job in elevating the beef's flavor.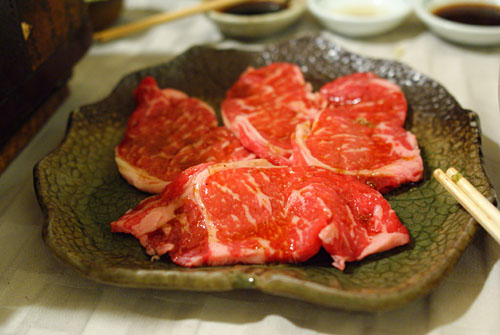 9: Inside Rib Eye
Compared to the outside rib eye, the inside version was slightly chewier and not quite as decadent. Flavor-wise, the beef came with its own marinade, which did an admirable job in complementing the meat's flavor while not overwhelming it. However, I must say that I preferred the outside.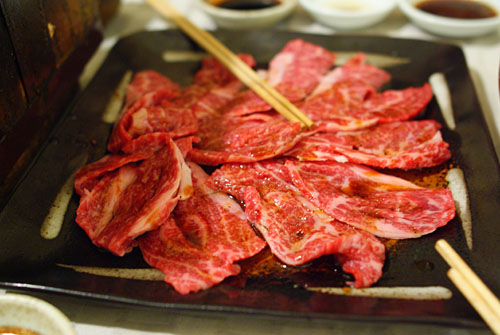 10: Short Rib
Next was
karubi
, Japan's interpretation of the omnipresent Korean kalbi short ribs. This, however, was different in that it was served sans bone, and was far less marinated. The result was a less heavy-handed meat, more refined than galbi with a perfect ratio of lean to fat, blessed with just a touch of sweetness and a supremely tender consistency.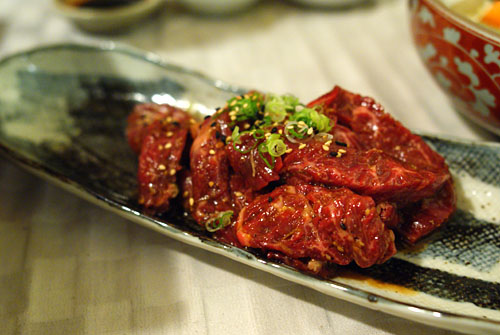 11: Skirt Steak
Our final cut was
harami
, or skirt steak, from the underside of the steer. Though it's often known as a tough but tasty cut of meat, Oyama-san's version was suitable tender, with a enchantingly beefy, yet lean and light flavor.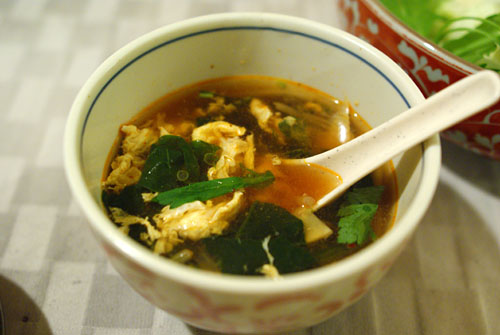 12: Kuppa Soup
Our final savory course of the night was this spicy egg and seaweed soup, a derivative of Korean
gukbap
("rice soup"). It was a heartwarming concoction with a nice bit of spice, thanks to the use of Chinese chilies.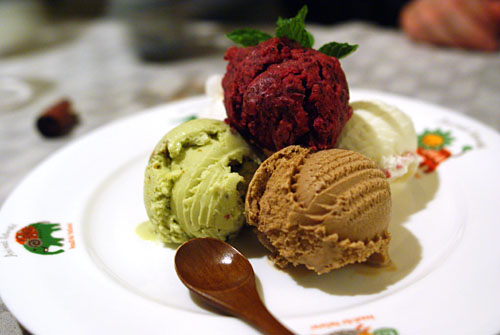 13: Ice Creams and Sorbets
Dessert at Totoraku consists of your choice of ice creams and sorbets, which I suspect are housemade. We had one of each flavor: pistachio ice cream, espresso ice cream, white chocolate/raspberry ice cream, lychee sorbet, blueberry sorbet. My favorites were the pistachio (replete with bits of the nut), white chocolate, and lychee.
The price for this bovine overload? $135 per person, sans tip and tax. You might suspect that some of the cost is associated with the exclusivity of the place, and you'd probably be right. But keep in mind that, in terms of yakiniku or Korean BBQ, I've had no better than at Totoraku (even
Urasawa
-san agrees with me on this point). The fact that the place has been open for 10 years (with no advertising, actively turning away customers in fact) attests to that. I don't know if it's the source of the beef (not wagyu, by the way), or the way Oyama-san prepares it, but the quality of the meat is simply a cut above. This isn't an everyday, everyweek, or even everymonth place; it's an experience, one of the most unique in the City. If you ever have the chance to worship at this temple of beef, jump on it.