La Botte (Santa Monica, CA)
La Botte
620 Santa Monica Blvd, Santa Monica, CA 90401
310.576.3072
www.labottesantamonica.com
Fri 11/20/2009, 08:00p-11:25p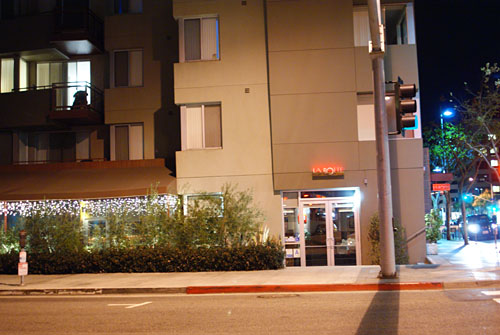 La Botte represents somewhat of a milestone for me: it was the last Michelin-starred restaurant in Southern California that I'd not visited. Though I may not agree entirely with Michelin's dole of
étoiles
, I do recognize its significance, and ever since the first Los Angeles edition came out in November 2007, I've been making a semi-concerted effort to try all the stars (including those that have lost theirs--
Joe's
, Matsuhisa, and
Saddle Peak Lodge
). Somewhat ironically, the conclusion of my Michelin tour comes right after the company announced that it will cease publication of the Los Angeles and Las Vegas guides. Note that Matsuhisa and Mori Sushi are conspicuously absent from the blog. The former was visited in my pre-blogging era, while the latter famously did not allow photos to be taken.
The history of La Botte starts with Stefano De Lorenzo, who's currently the owner as well as General Manager. De Lorenzo hails from Cortina d'Ampezzo, a ski resort town near Italy's northern border with Austria. It was in his hometown where he began his restaurant career, starting at Ristorante Il Meloncino al Lago Ghedina. De Lorenzo visited Los Angeles in 1995, and was instantly captivated by the splendors of Southern California. He ended up staying permanently, and worked his way around various restaurants throughout the City, including Il Moro. It was here where De Lorenzo would meet Sicilian chef and future partner Antonio Muré, who'd previously cooked at Valentino Las Vegas, Locanda Veneta, and Allegria. In April 2004, De Lorenzo and Muré took over the 5 Dudley space in Venice, creating
Piccolo
(or Piccolo Cipriani, as it was originally known before the Cipriani family of Harry's Bar made a stink). Piccolo was a smashing success, allowing De Lorenzo and Muré to open La Botte in November 2005. Then, in June 2006, the duo partnered up with Michael Wilson (the son of Beach Boy Dennis Wilson, who worked at 5 Dudley as well as Piccolo) to open
Wilson
, an upscale wine bar-
cum
-cafe, in Culver City. In April 2009, Wilson transformed into Anejo at Wilson, a "modern Mexican restaurant with European twists," and then closed for good in September.
Splitting his time between three different restaurants took its toll on Muré, and he resigned from the partnership in December 2006, though he would still remain in the kitchen at Piccolo. De Lorenzo and Muré agreed to divide the business, with De Lorenzo retaining La Botte and Muré getting Piccolo. However, in July 2007, Muré would leave Piccolo as well (which is currently owned by Vittorio Viotti, with Roberto "Bobo" Ivan as the chef). Subsequently, Muré opened Il Carpaccio in the Palisades in September of that year. Despite garnering solid reviews and consistent business, the restaurant nevertheless closed in January 2009. Muré's next move would be to open rustic Italian eatery
Ado
in May of that year. The restaurant is located in the former Amuse space in Venice, and is a joint venture with Paolo Cesaro, who previously worked at Fabrizio Bianconi's Via Veneto and the now-shuttered Hidden.
Taking Muré's place at La Botte was Luigi Fineo, who'd previously toqued at Enoteca Drago as well as Drago Ristorante. Things went smoothly for a while, and in June 2008, De Lorenzo debuted La Botte Deli, located in the same building as its mother restaurant. The Deli was designed for the lunch crowd, and was a moderate success; however, it was shuttered by July of this year. In early 2009, there was another chef shake up: Fineo was out, replaced by his Sous Chef Collin Crannell.
Early in his career, Crannell had worked for three years under restaurant mogul Joachim Splichal, as Sous Chef at Patina and Pinot Blanc, as well as Chef du Cuisine of Patina catering. Crannell then moved to a Sous Chef position at the Mondrian's Asia de Cuba, before taking over the kitchens at Jazz Spot in Los Feliz. The chef also worked at
Water Grill
for two-and-a-half years, serving as the Executive Sous Chef to
Michael Cimarusti
. In the middle of 2004, he became the Chef de Cuisine at Casa Del Mar's Oceanfront Restaurant in Santa Monica, replacing
Quinn Hatfield
. Crannell didn't last long at Casa del Mar though, and by September 2004, he was the Chef de Cuisine at Christian Shaffer and Jeff Osaka's now-defunct Chloe in Playa del Rey. In August of 2005, Crannell had moved again, this time to The Tower Bar at the Argyle Hotel (where he worked with pastry chef Miho
Travi
). A couple months later, Crannell would be out again, replaced by Piero Morovich of Ammo fame. After Tower Bar, Crannell's history becomes hazy, and it's unclear what the chef was up to in between his departure from the Argyle and his start at La Botte.
Thus, as we've seen, the road to La Botte has been a long and turbulent one. What does the future hold for De Lorenzo? He mentioned that he was working on a pizza concept, a retooling of his stillborn
Corso Italia Pizza
idea from 2008 I imagine. Time will tell whether or not that comes to fruition, as I'm sure that La Botte is not the last we've heard from De Lorenzo.

"La Botte" translates to "wine cask," and the restaurant certainly takes its name to heart--the 50-seat dining room makes heavy use of wine barrels. The floor is pieced together from old wine staves, as are the walls, and I'm pretty sure that our table was even constructed from a used barrel. The centerpiece of the room is, of course, the wine rack, which wraps itself around two walls, holding hundreds of precious bottles.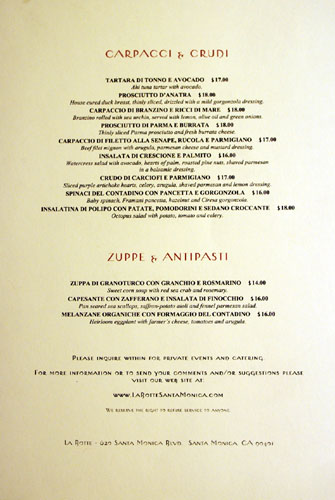 As De Lorenzo comes from Veneto, and Muré from Sicily, La Botte's menu can be described as Northern Italian with a Sicilian flair. Click for larger versions.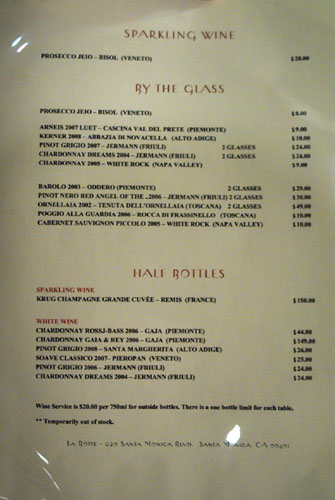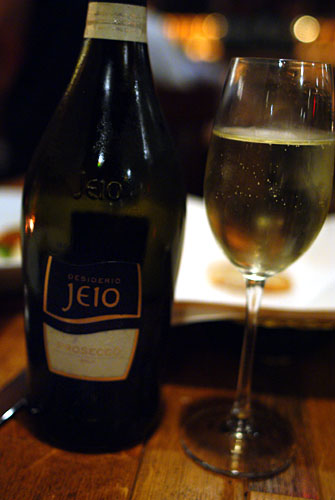 Above, we see the brief wines by the glass list; click for a larger version. Wanting to keep things simple, we ended up going for a bottle of the Bisol Prosecco di Valdobbiadene Brut Desiderio Jeio [$28], a typical example of Prosecco. There are, naturally, much more impressive
vinos
here if you care to peruse the entire list, which is dominated by Italian producers; your Gaja's, your Sassicaia's, your Tignanello's--they're all here. La Botte has been somewhat infamous for not allowing outside wine, but it appears that they've loosened the policy a bit, as corkage is clearly stated as $20 per bottle (however, with a one bottle limit). Note that there is no bar, just beer and wine.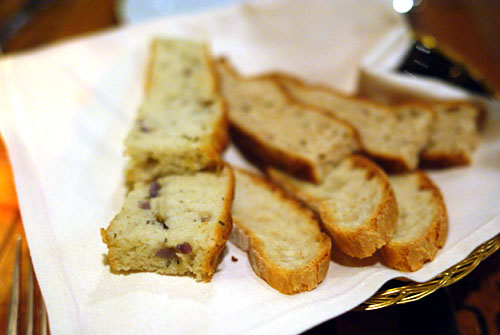 Three types of bread were presented: a fantastic, soft, savory caramelized onion bread, a straightforward ciabatta, and what I believe was an olive focaccia. La Botte's notorious for serving bread
senza
olive oil or butter, but I didn't find that to be a problem.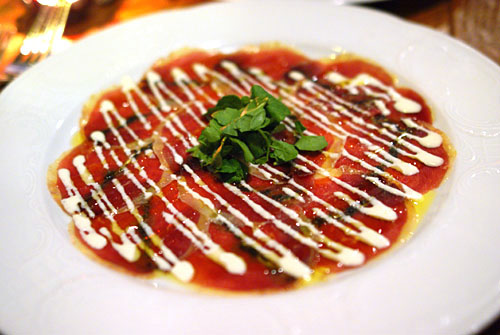 Prosciutto d'Anatra [$18.00]
We started with one of La Botte's best-known dishes: a plate of house-cured duck breast, sliced thin in a carpaccio style, then drizzled with a mild Gorgonzola dressing. The duck prosciutto has an interesting story: northern Italy was home to a large Jewish population; as they shunned pork, a version of the ham was created using duck as the protein. The prosciutto itself was tasty enough, but when paired with the tang of Gorgonzola, the whole amalgam was a bit too aggressive for me. However, throwing the bitter greens into the equation helped greatly in balancing things out, making for an overall enjoyable experience.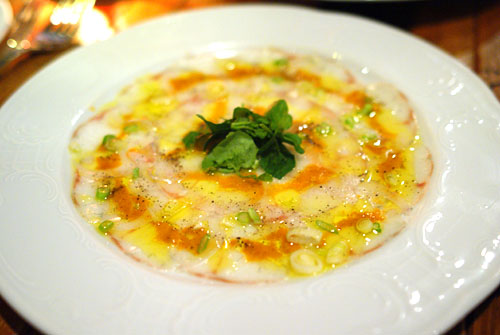 Carpaccio di Branzino e Ricci di Mare [$18.00]
If the Prosciutto d'Anatra is one of the restaurant's more popular dishes, then this next one is perhaps
the
most famous. We're talking about a carpaccio of branzino, topped with sea urchin sauce, lemon, olive oil, and green onions. Taken alone, the fish was delightfully delicate in flavor, with a firm, supple body. The use of uni added a superb sweet brininess into the fold, while the olive oil provided a palpable weightiness. The whole commixture was then set off by the bite of lemon and scallions. Beautiful.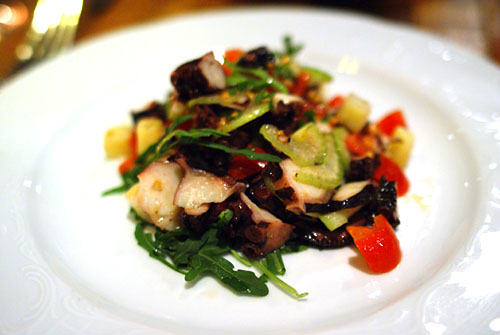 Insalatina di Polipo con Patate, Pomodorini e Sedano Croccante [$18.00]
After having the wonderful octopus salad at
Angelini Osteria
, I just had to order this. La Botte's version tosses the
polipo
with potatoes, tomato, and celery. The octopus itself was suitably tender, as well as subtly sweet, but I would've liked to have seen a more savory component. Nevertheless, I loved the interplay between the octopus and the crispy raw cubes of potatoes, as well as the refreshing sweetness provided by the tomatoes. My only real problem was with the celery, which I found a touch overpowering; I will admit, though, that I'm not a fan of the vegetable in general.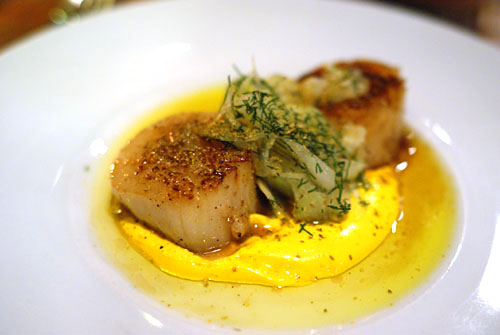 Capesante con Zafferano e Insalata di Finocchio [$16.00]
Next we have a duo of pan-seared sea scallops, in a saffron-potato aioli, with a fennel-parmesan salad. The scallops were aptly cooked, with a nice sear and appropriate flavor. However, the seasoning of the dish was somewhat heavy-handed, masking the bivalve's natural sapor to an extent. The fennel salad provided a bit of a mitigating contrast, but wasn't enough to balance out the overwhelming savor of the scallops. This was in need of a more delicate touch.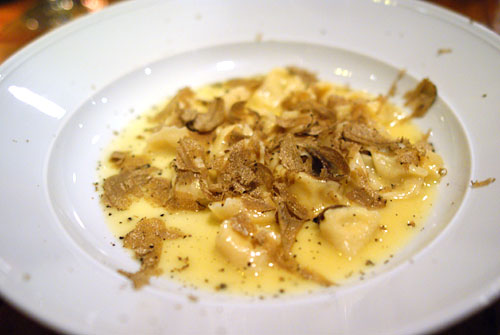 Speciale: Raviolini del Plin al Tartufo Nero [$40.00]
One of the specials of the night was Raviolini del Plin, basically miniature ravioli stuffed with
fonduta
, a mixture of Fontina cheese, egg, and milk. It's a popular dish in the Piedmont region of Italy, where the pasta is covered in shaved white truffle (black truffle was used here). I enjoyed the intense, rich cheesiness of the dish, and how that was deftly countered by the profound bouquet and sapor of the truffles. I only wish there was a larger serving on the plate.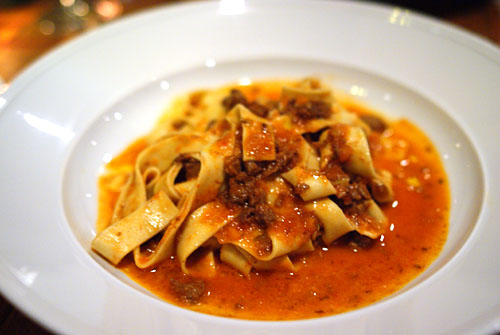 Tagliatelle alla Bolognese [$18.00]
Originating from Bologna, bolognese sauce is a mainstay in popular Italian cuisine and classically consists of beef, pancetta or other forms of pork, tomato, wine, and a
mirepoix
-esque vegetable blend. Traditionally, bolognese is served on top of freshly-made tagliatelle, as it was at La Botte. I felt that the pasta was superbly textured, and nicely accented by the sauce, which was keenly savory, yet possessing of sweet and herbal notes as well. A bit simple in terms of flavor, but effective.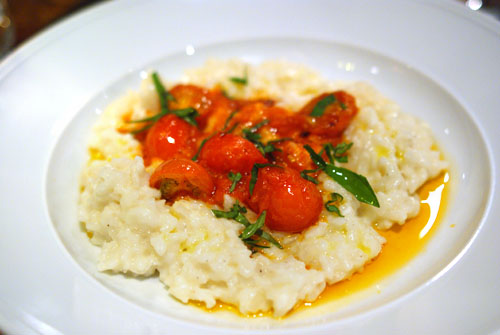 Risotto con Pomodori Organici e Crostini [$22.00]
Regular readers will know that I must order risotto if it's on the menu. Hence, here we have an heirloom tomato risotto made with aged goat cheese. The problem, however, was that it almost appeared as if the goat cheese had been left out, as the rice itself tasted quite underseasoned. I'm not sure if that was intentional or not, but the result was that the rice couldn't really be eaten alone. However, I did enjoy it with the sweet, tangy tomatoes, and even the branzino below.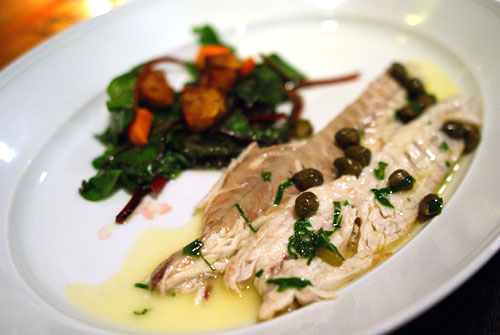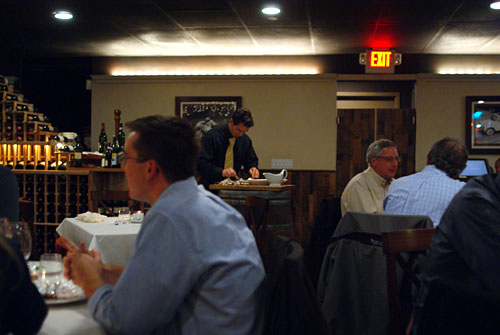 Il Pesce del Mercato: Branzino Mediterraneo con Capperi [$36.00]
The market fish special of the night was that prototypical Italian fish, branzino, a.k.a. Mediterranean sea bass. It was served here with olive oil, lemon, and capers, along with a side of chard and roasted potato. I must say that this was some of the best branzino I've ever had--tender, moist, succulent, and bursting with savory flavor. The bitterness of the accompanying greens was a fantastic foil to the fish as well; you just had to be careful with the capers. Interestingly, though the course was supposed to be served tableside, it was actually prepared on a cart halfway across the room (second photo); I'm not sure why.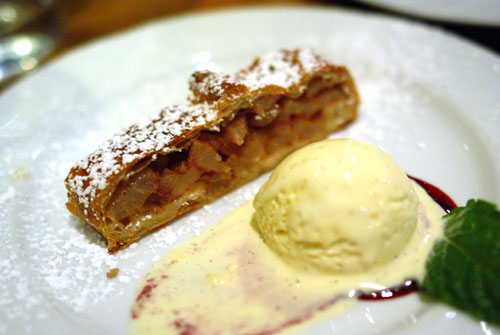 Strudel di Mele con Gelato alla Vaniglia [$10.00]
Our first dessert clearly demonstrated La Botte's northern Italian roots, as strudel is a popular dessert in neighboring Austria.
Apfelstrudel
, or apple strudel, is the best known variant, and our interpretation here was a straightforward one, with the commingled essence of apple and puff pastry adroitly tempered by the cool creaminess of gelato.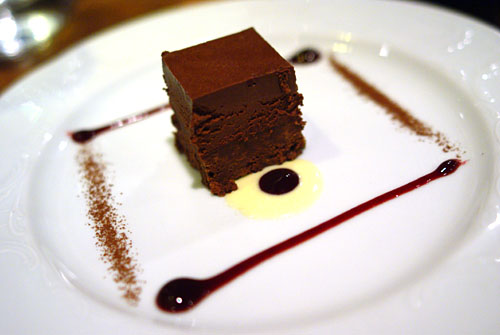 Barretta di Cioccolato [$10.00]
A "chocolate bar," this was two layers of dense, rich, dark chocolate: the first creamy, the second crunchy. The end result was a decadent eating experience, reminding me of a high-class Kit-Kat bar.
There were two items that I took issue with here: the risotto, and to a lesser extent, the scallops--I wouldn't expect such missteps at this level. That being said, everything else was solid, and both preparations of branzino were standouts. In the end, given that La Botte is a northern Italian restaurant with one Michelin star, I would like to see the kitchen take more risks with the menu, perhaps gaining a little inspiration from that other starred northern Italian specialist,
Trattoria Tre Venezie
.