Ad Hoc at Home Book Signing (Costa Mesa, CA)
Ad Hoc at Home Book Signing
Williams-Sonoma
3333 Bristol St, Costa Mesa, CA 92626
714.751.1166
www.williams-sonoma.com/recipe/tip/thomas-keller-book-signing.html
Thu 11/12/2009, 11:00a-02:00p
Of course, by now everyone is pretty much aware that Thomas Keller's long-awaited Bouchon bistro is opening in Beverly Hills next week. From what I hear, the restaurant is already booked solid for the first several days of service, so there's hasn't exactly been a dearth of excitement and anticipation surrounding the place. Adding fuel to the fire is Keller's new cookbook,
Ad Hoc at Home
, which was officially released just last Friday. This new tome takes a simpler, more comfort food-based approach, inspired by the menu of Keller's casual eatery
Ad Hoc
in Yountville. It should be more accessible to the average home cook vis-à-vis Keller's other books:
The French Laundry Cookbook
,
Bouchon
, and
Under Pressure
. Spanning 368 pages, the book details over 200 recipes for family-style dining (including such classics as beef stroganoff, Santa Maria tri-tip, and yes, the heavenly buttermilk fried chicken), and also provides step-by-step lessons in basic kitchen technique (e.g. how to truss a chicken--Keller's unfamiliarity with the technique famously made him a target of a knife throwing incident at Café du Parc).
The South Coast Plaza signing is the second of two in Southern California; the first took place on Monday the 9th at the Williams-Sonoma in Santa Monica. Future dates include:
November 20, 2009 at 12:00pm - King of Prussia, PA
Tuesday, December 1, 2009 at 6:00pm - Oakbrook, IL
Sunday, December 6, 2009 at 11:30am - Palo Alto, CA
f
Thursday, December 10, 2009 at 6:00pm - Houston, TX
Friday, December 11, 2009 at 6:00pm - Dallas, TX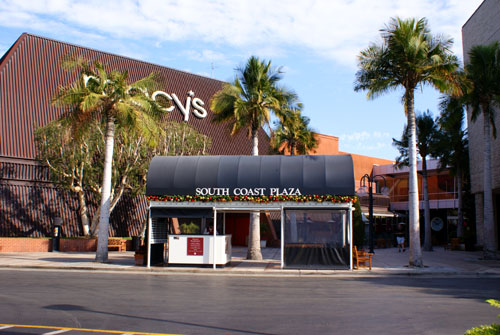 South Coast Plaza is, of course, the nexus of high-end shopping here in Orange County. It's the third largest mall in the country, and home to notable eateries
Marché Moderne
,
Charlie Palmer
, and the soon-to-be Capital Grille, which replaces the ill-fated Clubhouse.
Leatherby's
,
Mastro's
, and
Pizzeria Ortica
are just across the street as well. I wasn't even sure if I could make it, but I ended up arriving about ten minutes after the mall opened, and was able to score parking in the valet area.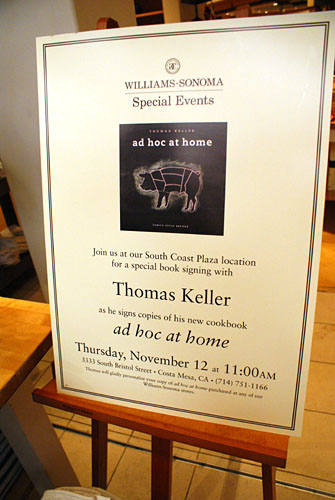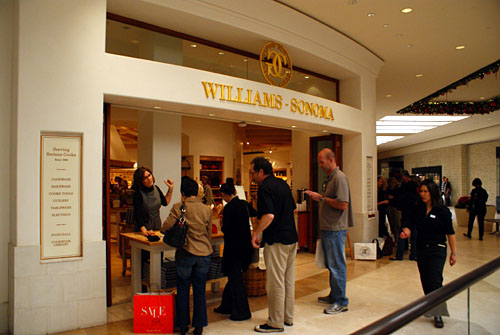 From the parking lot, it was a quick jaunt to Williams-Sonoma, which was already bustling with activity at this hour.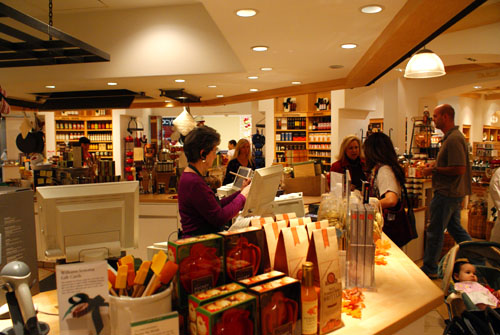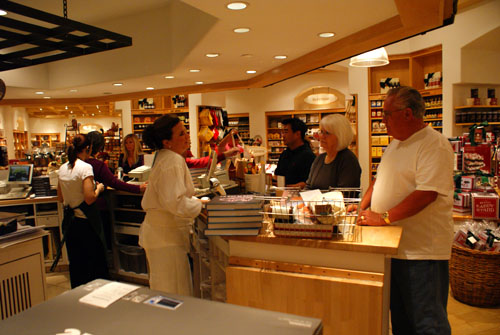 I was told that I had to go inside to purchase the book, at its full $50 retail price no less (it was under $30 at
Amazon
). Pretty much everyone was here for the signing, and piles of the cookbook were stacked haphazardly throughout the store.




After buying the volume, I made my way outside, only to be confronted by a rather long line of motley characters, which started at the Williams-Sonoma entrance, ran along the store, past the mall's secret VIP club, took a U-turn at Sak's Fifth Avenue, circled back and ended at the Macy's Men Store. The queue would eventually span past Lawry's Carvery, going all the way to Tourneau. I'm told that the line for Giada De Laurentiis' book signing here
was even longer
.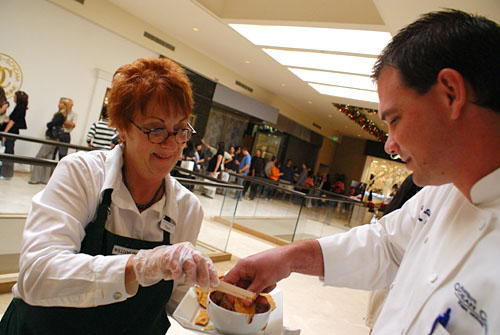 Williams-Sonoma's staff made sporadic rounds armed with food from the cookbook. First was a sugary Fig and Balsamic Jam, served with flatbread.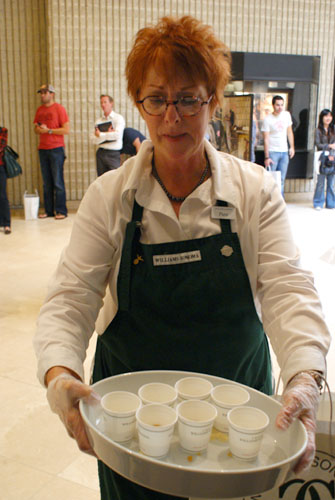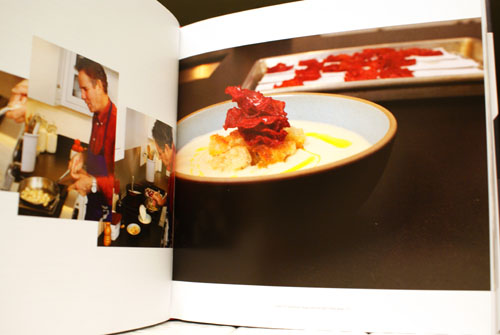 Next was the Cream of Cauliflower Soup, which seemed to lack the red beet chips called for in the actual recipe. Nevertheless, it was a rich, creamy, hearty potage that nicely captured the essence of cauliflower; croutons, meanwhile, mixed things up texturally.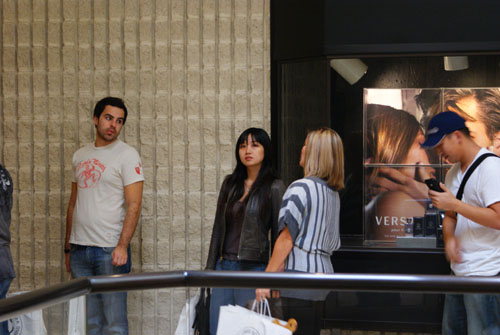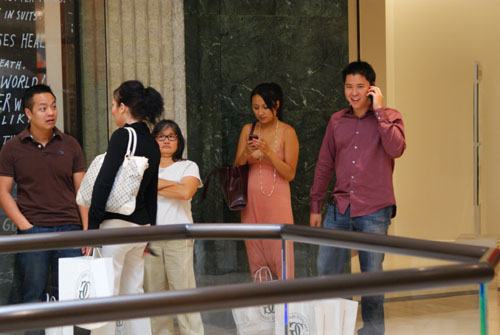 While in line, I spied a few familiar faces. First was Holly of
The Michelin Project
, who we see striking a serious yet sultry pose (the guy beside her seems to be taking notice as well). In the second photo are
Bruce
(a reader whom I went to
Urasawa
with), two unidentified women, Christine of
Folie à Choisauce
, and Ryan of
Only Eat What Feeds Your Soul
.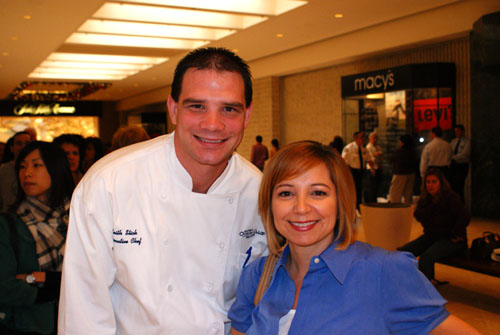 The man in the chef's coat in line next to me was none other than Keith Stich, Executive Chef of
Mastro's Ocean Club
down in Newport Coast. We were joined by Idalia Garcia from
LA Specialty
, a supplier of produce and dairy products to restaurants across the Southland. Also next to me were Executive Chef Geovanny Delgado and Director of Sales & Catering Sarah Tarango from
Minx Restaurant & Lounge
out in Glendale. Having these like-minded people to talk to during the two-hour wait definitely made the time more bearable...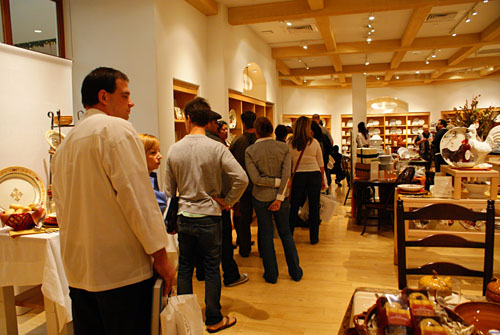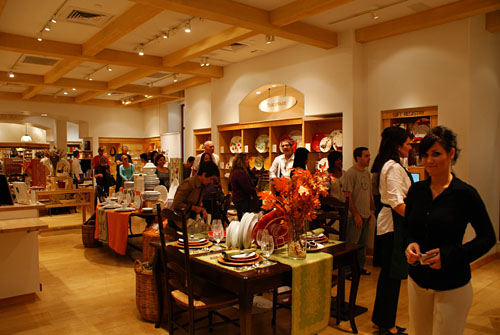 ...And in no time, we were inside Williams-Sonoma's inner sanctum.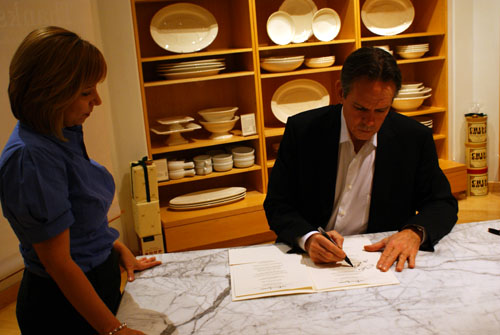 Idalia's turn with the chef--she brought two copies of
Ad Hoc at Home
, as well as a copy of French Laundry's menu from earlier this year.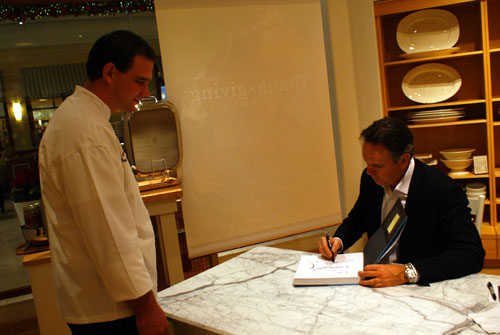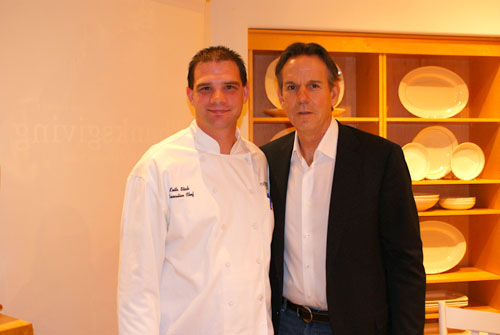 Keith's time to shine.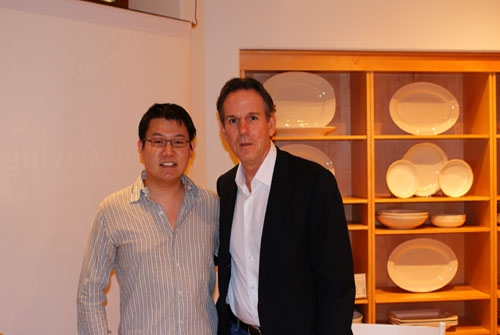 And finally
moi
. We only had a minute or so with Chef Keller--no time to be verbose--but I did manage to speak with him about his father, Ed Keller. Ed, of course, was instrumental in helping me get my first reservation to
French Laundry
back in March 2007. I ended up returning to dine at TFL in May, and my dining companions and I had brought Ed some cigars as a token of our gratitude (Ed loved cigars), a beautiful box of 20 Macanudo Vintage 1997s. Unfortunately, Ed got into a serious auto accident the month prior, and was never able to enjoy the smokes prior to his passing in April 2008.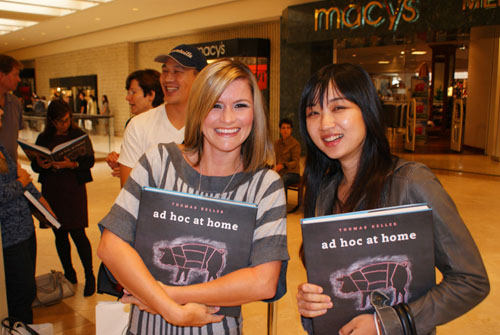 Holly and here new friend Bree, about to enter.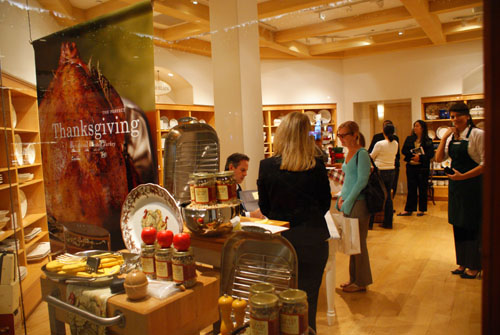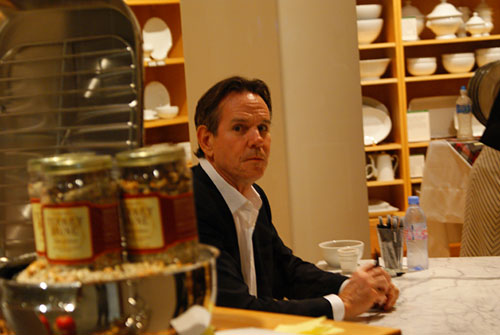 One last look before leaving.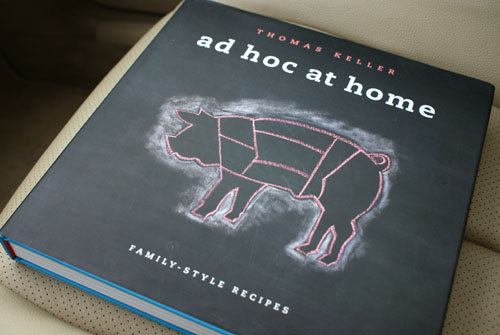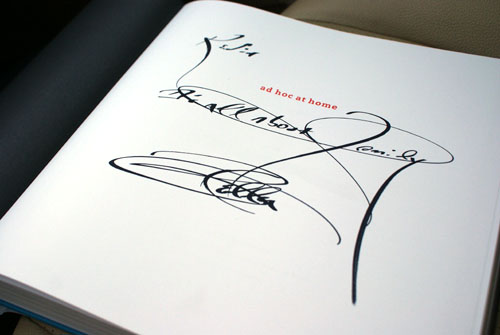 And here's the cookbook, my first
ever
no less. Note Keller's fluid, graceful penmanship. It reads: "It's all about family." Indeed.