Saddle Peak Lodge (Calabasas, CA)
Saddle Peak Lodge
419 Cold Canyon Rd, Calabasas, CA 91302
818.222.3888
www.saddlepeaklodge.com
Sun 10/11/2009, 07:00p-11:00p
The tale of Saddle Peak Lodge begins over 100 years ago, when it was constructed as roadhouse, nestled deep in the hills surrounding Malibu. In the 1920s, the Lodge evolved into a retreat for the Hollywood crowd, a home away from home for the luminaries of Tinseltown. It was only in the post-WWII era that the Lodge began to transform into the fine dining establishment it remains today.
Throughout the years, Saddle Peak has seen a steady progression of chefs. Josie Le Balch of the well-known Josie restaurant in Santa Monica once helmed the kitchens here, brought in by owner Ann Ehringer to clean up the place in 1995. So did Alex Scrimgeour, of the ill-fated Alex on Melrose (at the site of the new
Hatfield's
), who came in 1998 and left in 2001. Next was Warren Schwartz, who eventually moved to Santa Monica's Whist at the Viceroy in September 2004; Schwartz, of course, recently opened up the popular Westside Tavern at the Westside Pavilion. Schwartz's sous chef Mark Murillo (ex-Café Pinot) took over for a while, lasting until fall of 2006. Enter Argentinean and
Patina
and
TRU
alum Steven Rojas, who successfully garnered a Michelin star for the Lodge in the guide's inaugural ranking of Los Angeles restaurants. Rojas, however, left in July 2008 for El Bizcocho at the Rancho Bernardo Inn in San Diego, taking his star with him (he replaced Gavin Kaysen, who moved to Café Boulud in NY). Rojas' "molecular," degustation-only menu failed to catch on with the City's conservative diners though, and was asked to leave in May 2009. As of late June, it appears that Rojas is
still looking for a new gig
.
With Rojas out of the picture, it was time for his sous chef, Adam Horton, to shine. Horton, interestingly, actually started his professional career as a line cook at the Lodge, working under Warren Schwartz while attending Le Cordon Bleu California in Pasadena. Horton graduated in 2004, and then moved to Europe, staging across a constellation of Michelin stars at Gordon Ramsay on Royal Hospital Road, Le Moulin de Mougins, La Palme d'Or, Taillevent, and Troisgros. Horton returned to the States in 2006, landing briefly at Josiah Citrin's
Melisse
before circling back to Saddle Peak.
It is Horton himself who I have to thank for this meal. A reader of this blog, he emailed me a few weeks ago, inquiring if I'd be interested in a complementary tasting of the restaurant's revamped menu. Of course, I was interested,
very interested
in fact, as Saddle Peak Lodge had been on my radar screen for some time. Joining me were Ryan of
Only Eat What Feeds Your Soul
and Will of
FoodDigger
.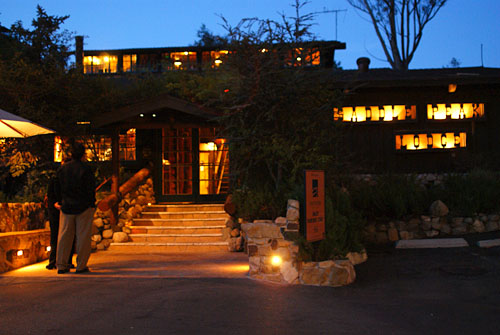 After a long, winding, occasionally scary drive up mountainous two-lane roads, I arrived in front of the Lodge, which looked exactly as I thought it would. The only form of parking is valet, which seems a bit silly given the location of the place (the middle of nowhere). The lone valet, to his credit, performed his duty superbly however, and was quite personable to boot.

Inside, it was also exactly as I'd expected. Above, we see the main dining room, reminiscent of a rustic log cabin, and filled with a variety of trinkets and tchotchkes, baubles and kitsch, the infamous stuffed animals heads, and other "objects d'art." It was dark, but comfortably, cozy even. In addition to this space, there are also several private dining rooms upstairs.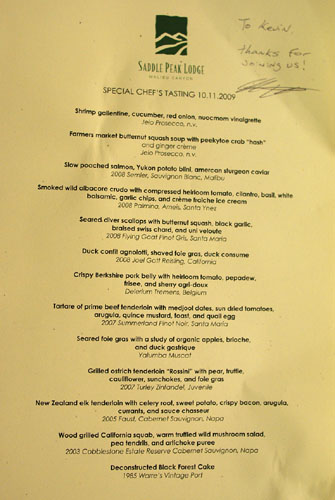 For this very special dinner, Chef de Cuisine Adam Horton and Sous Chef Chris Kufek prepared a 13-course extended tasting menu (replete with a couple experimental dishes thrown in), while beverage pairings for each and every course were provided by Wine Director Joshua Buckner. Click for a larger version.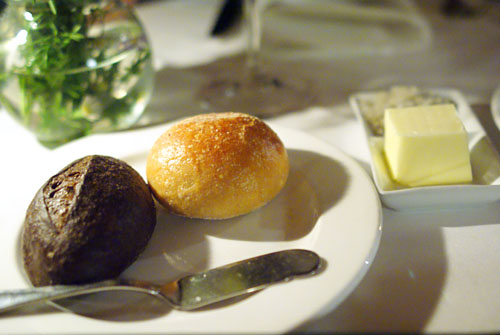 Two breads were provided: a sourdough, and a much more interesting rye bread, which we thought was spiced up with caraway and aniseed. Butter was served in square form--suitably soft, sweet, and scrumptious--while sea salt was also supplied.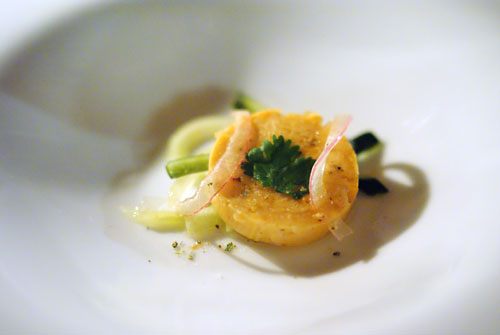 Amuse Bouche 1: Shrimp galantine
| cucumber, red onion, nuocman vinaigrette
Jeio Prosecco, n.v.
Right off the bat, Horton shows that he's not afraid to experiment with Asian flavors. The centerpiece here was the galantine, a type of charcuterie in the form of a disk of minced shrimp. It effectively demonstrated the light, delicate sweetness of the crustacean, reminding me of
chao tom
in fact. The onion and cucumber of course provided a refreshing vegetal accent and crunchy textural element, but the key was the
nuoc man
(fish sauce), which turned the amuse to a perfect combination of sweet, savory, and sour. The
nuoc man
elevated, integrated, and punctuated the shrimp, effectively conveying the quintessence of Vietnam without going overboard. Superb.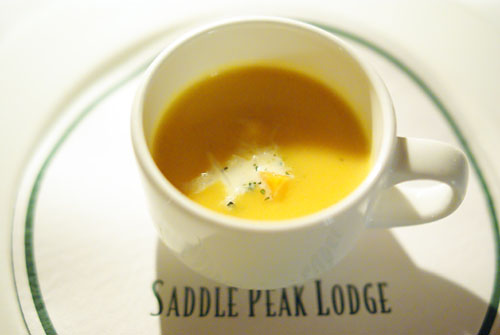 Amuse Bouche 2: Farmers market butternut squash soup
| with peekytoe crab "hash" and ginger crème
Jeio Prosecco, n.v.
For me, butternut squash soup tends to express the season of autumn and the coming of winter. The example here was expectedly sweet, perhaps a touch too much so, though quite rich and heartwarming. I appreciated the application of the crab and the salty potato especially (a superb textural contrast as well), but I would've liked more to offset the monolithicity of the soup.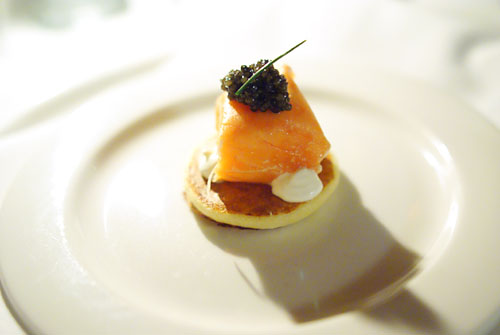 Amuse Bouche 3: Slow poached salmon
| Yukon potato blini, american sturgeon caviar
2008 Semler, Sauvignon Blanc, Malibu
No messing around here: a classic flavor combination to be sure. The poached salmon was creamier than usual, accented by a pinch of smoked Maldon sea salt. The fish's briny essence was further heightened by the smack of the caviar. However, the blini and crème fraîche effectively tempered the combination, forming a well-balanced complex of savory and mild flavors.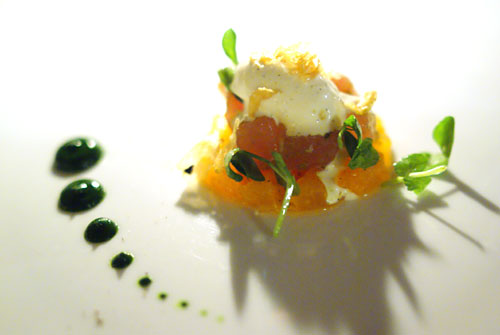 1: Smoked wild albacore crudo
| with compressed heirloom tomato, cilantro, basil, white balsamic, garlic chips, and créme fraiche ice cream
2008 Palmina, Arneis, Santa Ynez
And now, our first "real" course. I enjoy a good albacore, but I felt that there was a bit too much going on here. The main culprit was the tomato, which lent an overarching sweetness to the dish that overwhelmed the fish's intrinsic flavor, as well as most of the smoking imparted. The crème fraîche had a similar effect, in addition to providing a rather jarring temperature contrast. The coriander and basil did help temper things, but overall it seemed like less would be more here.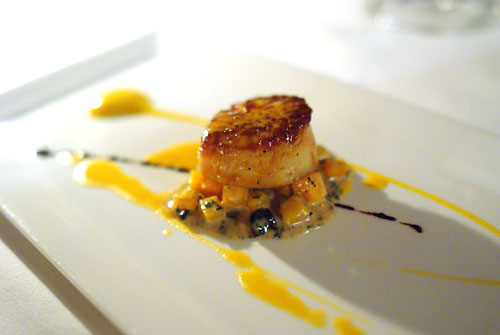 2: Seared diver scallops
| with butternut squash, black garlic, braised swiss chard, and uni veloute
2008 Flying Goat Pinot Gris, Santa Maria
This was a perfectly cooked scallop, superbly firm yet pliant in body, with a flavor simultaneously sweet yet subtly briny, accented by a beautifully caramelized char lending a savory tang--I would've been happy eating the scallop just by itself. I did appreciate the slight sweetness provided by the uni, but found that the squash tended to dominate the bivalve's natural sapor.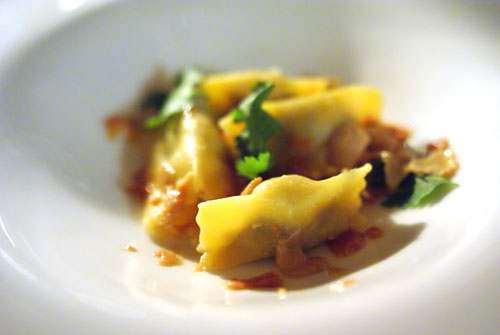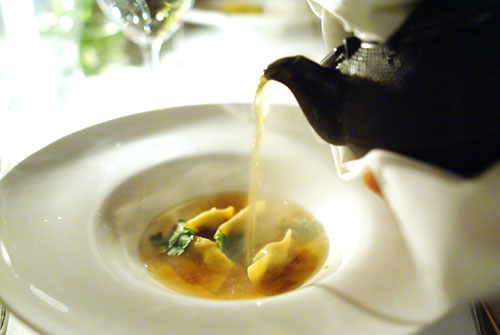 3: Duck confit agnolotti
| shaved foie gras, duck consomme
2008 Joel Gott Riesling, California
Next came one of Horton's experimental dishes, which I'm happy to report was arguably my favorite of the night. The duck agnolotti looked safe enough, but the broth, poured tableside, was the crux here. Immediately, we inhaled its heady, intoxicating aroma, and noted a striking resemblance to pho broth. Indeed, Horton would later reveal that he used coriander, anise, and cardamom in it, thus taking us back to Vietnam for a bit. The confit itself was everything you'd expect: rich, savory, fatty, and absolutely delicious. Its flavor was utterly countered by the cilantro, and the broth tied everything together perfectly. This was something I could just eat a whole big bowl of!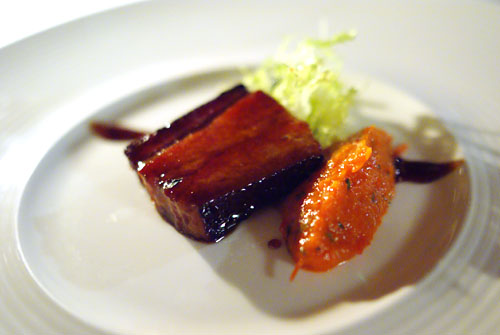 4: Crispy Berkshire pork belly
| heirloom tomato, peppadew, frisee, and sherry aigre-doux
Delerium Tremens, Belgium
Is it just me, or has pork belly been done to death? I suspect that it has, but nevertheless, I rather liked this preparation. Belly can often times be overwhelming in its unctuousness, but here it was quite palatable on its own, possessing a good ratio of lean-to-fat, and a nice crispy char. Its sweet & sour & savory flavor was tempered by the frisée, while the tomato heightened its sweetness.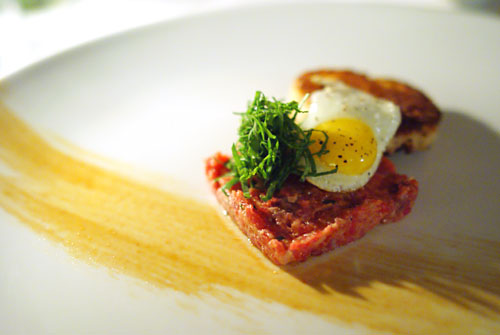 5: Tartare of prime beef tenderloin
| with medjool dates, sun dried tomatoes, arugula, quince mustard, toast, and quail egg
2007 Summerland Pinot Noir, Santa Maria
I can't resist a good steak tartar, so I requested that this dish be added to the menu. The first thing I noted was that the beef was quite sweet from the dates, and spicy from the mustard; I would've preferred a stronger beefy taste, without the accoutrements mixed in. Despite that, I did appreciate the quail egg, which added an enveloping creaminess to the dish, as well as the brioche, acting as a mitigating element.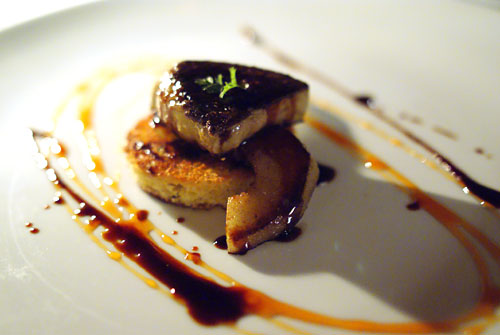 6: Seared foie gras
| with a study of organic apples, brioche, and duck gastrique
Yalumba Muscat
I'm generally wary of seared foie gras these days, but this was alright. The liver alone was very heavy, very rich, very powerful, and was definitely in need of a temper; the brioche fit that bill nicely. But much to my surprise, the apples didn't result in the dish being too sweet; instead, they actually diminished the foie's potency, which I appreciated--they were really the key to this course for me.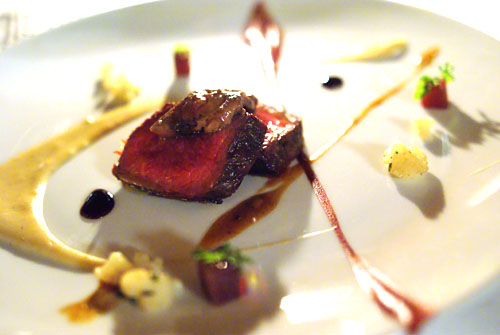 7: Grilled ostrich tenderloin "Rossini"
| with pear, truffle, cauliflower, sunchokes, and foie gras
2007 Turley Zinfandel, Juvenile
This was only my third time having ostrich, and my first in California (both other times were in Colorado, at The Warehouse in Colorado Springs then at
Mizuna
in Denver). The cut this time was the so-called fan filet from the inner thigh, the most tender, choicest cut of the bird. It looked remarkably like beef, and flavor-wise, it wasn't too far off either--a leaner consistency than beef, with a touch of gaminess--some have compared it to bison. In any case, the ostrich was quite delicious on its own, and while the foie wasn't absolutely necessary, it did add some fat to the bird.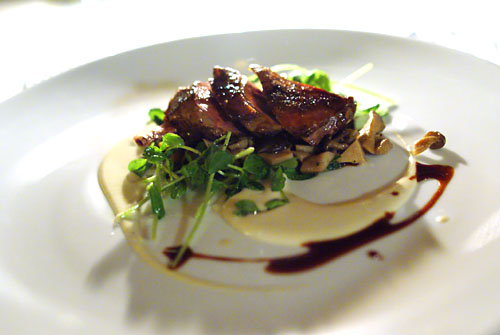 8: Wood grilled California squab
| warm truffled wild mushroom salad, pea tendrils, and artichoke puree
2003 Cobblestone Estate Reserve Cabernet Sauvignon, Napa
Squab generally pleases me, and this was certainly no exception. The wood-grilling gave the bird a delectable smoky, wild flavor that I really enjoyed. The squab's depth was superbly countered by the tangy pea tendrils, while the mushrooms added a great earthiness to the amalgam. Very nice.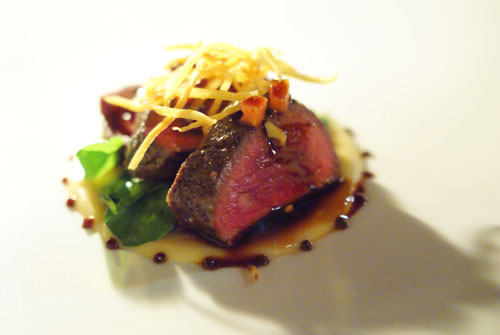 9: New Zealand elk tenderloin
| with celery root, sweet potato, crispy bacon, arugula, currants, and sauce chasseur
2005 Faust, Cabernet Sauvignon, Napa
Elk is definitely not something I nom on regularly; the last time I had it was about a year ago at
Studio
at the Montage. Here, the celery was the ticket, its unique tang appearing on the attack and lingering on the palate, effectively balancing the rustic, toothsome flavor of the meat. I also appreciated the tenderness of the elk, and how the contrasting flavors of the Chasseur and currants worked with it.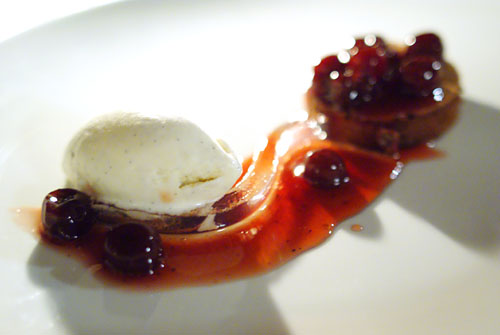 10: Deconstructed Black Forest Cake
1985 Warre's Vintage Port
Seemingly taking a page from the
Michael Voltaggio
playbook, our last dish was a new creation from the chef, his own reimagination of the classic Black Forest cake. Traditionally, the dessert consists of layers of Kirschwasser-kissed chocolate cake, separated with whipped cream and cherries. Horton's deconstruction adds pepper to the black cherries, substitutes vanilla ice cream for the whipped cream, and turns the Kirsch into gelée form. I loved the dense consistency of the cake and its delicately sugary flavor, as well as how it interacted with the cherries, which gave the chocolate a peppery finish. The ice cream, meanwhile, did a great job in tempering the jamminess of the fruit, while adding a cold temperature contrast as well. The final piece of the puzzle was the gelée, which added a fitting textural contrast, and gave the dessert a bit of an alcoholic burn on the finish. Overall, a great dessert that really captured the essence of Black Forest cake.
Coming into Saddle Peak, I'll admit that I was expecting big cuts of game, questionably dressed in heavy, overly-saccharine sauces. However, what I got was so much more than that. The young chef (just 26) has livened up the game-centric menu with all that he's gathered from his experiences and travels. The end result is cuisine that's surprisingly refined--inventive, creative, and adventurous tastes and techniques appear in flashes of brilliance--while still remaining true to the Lodge's rustic roots. It's unfortunate that Michelin chose to leave this year, as I think Horton would've had a good shot at earning that
étoile
back.