Gyenari (Culver City, CA)
Gyenari
9540 Washington Blvd, Culver City, CA 90232
310.838.3131
www.gyenari.com
Wed 10/21/2009, 07:00p-10:45p
Opened in August 2008, Gyenari is the brainchild of two Korean partners, Danny Kim and William Shin, as well as Robert Benson, a veteran Los Angeles restaurateur and owner of Creperie by Jack n' Jill's (Benson was also a general manager at Claim Jumper earlier in his career). The idea for Gyenari came to Shin while he was eating at
Gyu-Kaku
, a higher-end yakiniku (Japanese BBQ) chain, where he noted the similarities between Gyu-Kaku's food and Korean cuisine. The goal of the trio, thus, is to present an authentic Korean dining experience with a fusion twist, all in an upscale setting.
I'd been familiar with Gyenari for a while, but this dinner was a result of the efforts of
Meghan Patke
, an Account Supervisor at PR firm
Wagstaff Worldwide
. Now, as a blogger, I get numerous emails from PR people every day, most of which only receive a cursory glance. Meghan's email, however, caught my attention because it featured Debbie Lee, a caterer turned restaurant consultant who's best known as a finalist on
The Next Food Network Star
. On the show, Lee showcased her signature cuisine, dubbed "Seoul to Soul," a blend of the Korean cookery she learned through her grandmother, and the American Southern style inherited through her mother. Contrary to popular belief, Lee herself was raised in Arizona and later Southern California, not in the American South; her parents, however, did emigrate to Mississippi from the Pyongyang area.
So how did Lee get tied up with Gyenari? Well, it turns out that Lee and co-owner Will Shin were actually cousins who'd lost touch for 20 years! The two met earlier this year at a
Next Food Network Star
viewing party held at Gyenari, and Shin subsequently asked Lee to consult at the restaurant for a few months, adding her own touches and flourishes to the menu. Some may recall that on June 25, Lee kicked off the
Hatchi
series of dinners of Breadbar, wherein a chef would prepare eight courses at $8 each, one night only. I was curious about trying Lee's unique brand of fusion (Mandu Sliders with Sweet Brioche anyone?), but didn't manage to make it out. I was thus hoping that this dinner would represent a chance to experience some of what I'd missed out on.
Meghan had organized a rather large group of bloggers. Joining me were Anjali of
Delicious Coma
, Bill of
Street Gourmet LA
, Cathy of
Gastronomy Blog
, Christine of
Folie à Choisauce
, Danny of
Kung Food Panda
, Diana of
Diana Takes a Bite
, Evelina/Wesley of
Two Hungry Pandas
, Fiona of
Gourmet Pigs
, Ila of
I Nom Things
, Sonja of
The Active Foodie
, Tony of
SinoSoul
, and
Wandering Chopsticks
.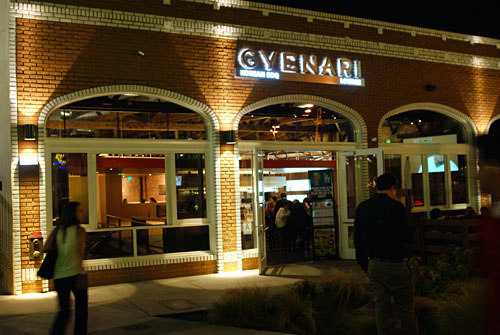 Gyenari is situated in the heart of Downtown Culver City, right next to Rush Street and opposite Akasha,
Ford's Filling Station
, and Tender Greens; meanwhile, Bottle Rock, Fraiche, and K-Zo are a stone throw's away. Cheap and easy parking is available across the street on Cardiff.

A relatively new addition to Gyenari is the outdoor patio, which features its own menu of Korean beer tavern-inspired eats, with Debbie Lee's touches, of course. This is where I met up with Meghan and the rest of the blogger party (we would end up occupying the entire space pictured above).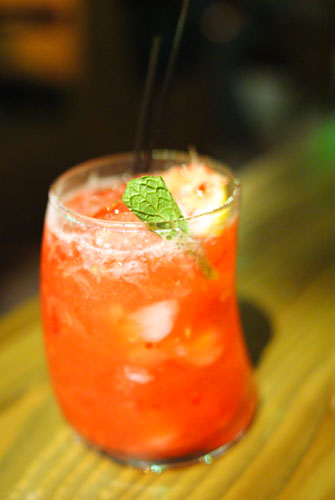 Upon being seated, a Soju Caipirinha (lots of fresh limes, raspberries, muddled lychee, soju, splash of soda) was quickly thrust in front of me. It was a nice way to kick things off--sweet and fruity, with the soju appearing just on the finish.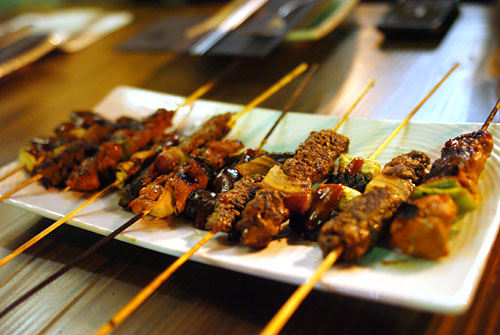 1: Assorted Skewers
Once everyone arrived (surprisingly on-time, according to Meghan), plates of assorted skewers began to come out (tip: labeling a course as "assorted" doesn't bode well with bloggers). Ginger soy beef/onion and eggplant/mushroom skewers were tolerable, with the standout being the spicy pork with bell pepper.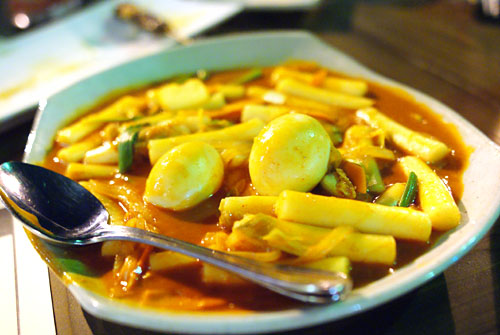 2: Duk Boki
| Pan Fried Rice Cylinders in Onions and Korean Chile Paste
Next was
duk boki
(more usually
tteokbokki
), a common Korean street food. The version here consisted of
garaetteok
(cylinder-shaped glutinous rice flour cake) in a
gochujang
sauce, served with onions and hard-boiled eggs. A very straightforward presentation, I think many of us were surprised by its heat, which was fortunately tempered by the
tteok
and the creaminess of the egg.

At this point, we were ushered out of the patio, through the bar/lounge area...

...Into the main dining room, replete with 32 grill-tables (smokeless, so you don't walk out reeking of
samgyeopsal
). The room is a bright, vibrant space, sort of an industrial-chic, with exposed ductwork and rustic red brick walls, anchored by a yellow, 350 square-foot mural depicting the restaurant's eponymous blossom. A private dining room is also available.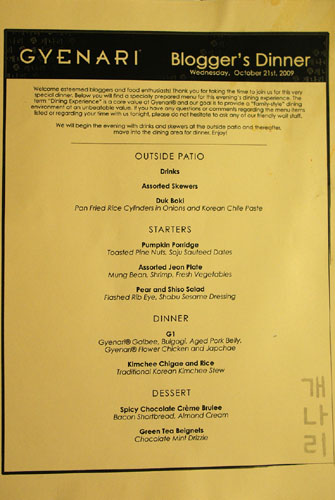 The menu for the night is shown above; click for a larger version. The first thing that we noticed was that it seemed surprisingly traditional. We were all expecting a "
bulgogi
'n' biscuits" experience (the fusion aspect of Gyenari had been highlighted in previous communiqués), so this left us understandably flummoxed.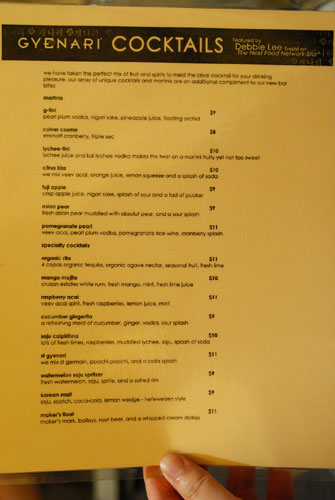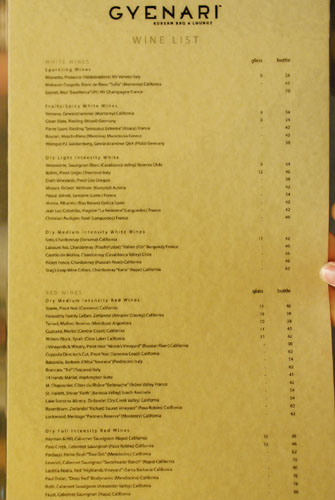 As far as booze goes, Gyenari offers up a selection of wine, beer, soju, and sake, but all of us were far more interested in the appealing-sounding cocktail selection. Click for larger versions.
After a few words, Meghan left us to ourselves, and Gyenari's Event Coordinator Jimmy Jang gave us a quick introduction of the restaurant before the parade of food began to arrive.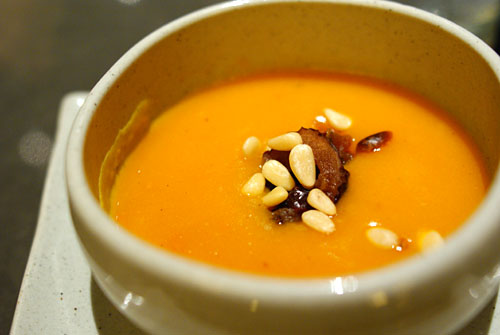 3: Pumpkin Porridge
| Toasted Pine Nuts, Soju Sautéed Dates
I believe the proper name for this is
hobakjuk
, basically a cold porridge (
juk
) made with pumpkin and glutinous rice flour. It was expectedly saccharine, with a sugariness heightened by the application of the dates; however, the savory pine nuts did help temper the dish.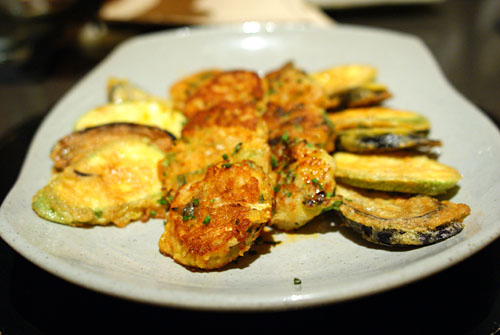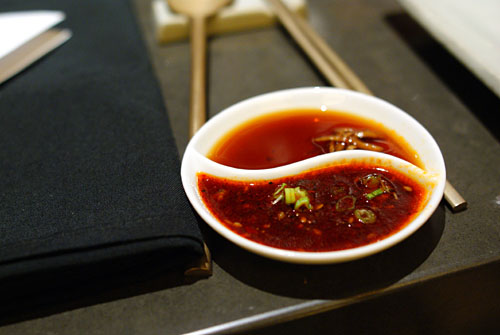 4: Assorted Jeon Plate
| Mung Bean, Shrimp, Fresh Vegetables
One of my favorite Korean foods is
jeon
, a broad category of egg- or flour-coated fried pancake-like items. We had three types here, served with a ginger soy vinegar and a spicy
gochujang
-based dip. The eggplant (
gajijeon
) and squash (
hobakjeon
) versions were passable, while the mung bean variant (
bindaetteok
) was much more interesting. My favorite, however, was the
saewoojeon
, with the scallion deftly accenting the savor of the shrimp.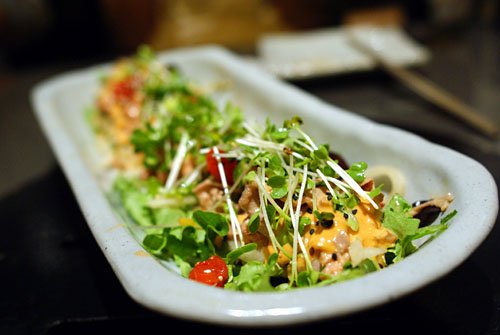 5: Pear and Shiso Salad
| Flashed Rib Eye, Shabu Sesame Dressing
Though the salad was seemingly less traditional than most of the other dishes, I did rather enjoy it. The meat itself was nice enough, thinly sliced and immaculately tender. It was complemented by the sweetness of the pear and the subtly contrasting tang of the "shiso" (
kkaennip
, I imagine), while the dressing did tie everything together (though it was perhaps a bit strong).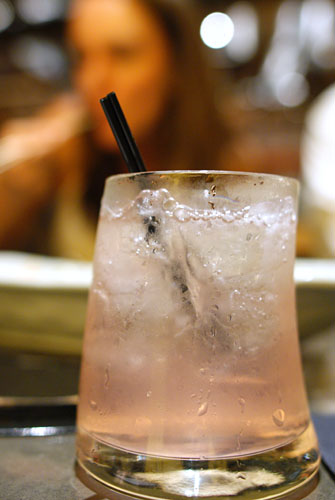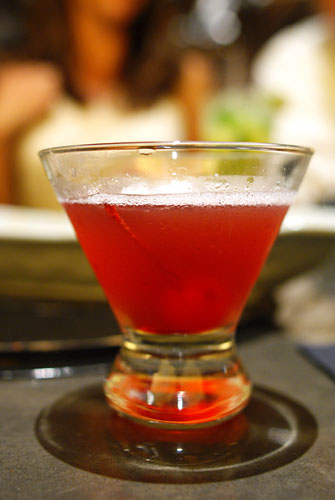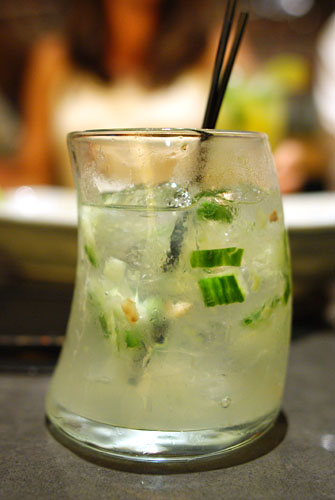 It was time for more cocktails. I went with the Watermelon Soju Spritzer (fresh watermelon, soju, sprite, and a salted rim), which we all agreed tasted exactly like a watermelon Jolly Rancher! Danny, meanwhile, chose the Pomegranate Pearl (veev acai, pearl plum vodka, pomegranate rice wine, cranberry splash); sweet with a ricey tinge, it was my favorite of the group. Christine decided on the Cucumber Gingerita (a refreshing meld of cucumber, ginger, vodka, sour splash), which was quite delish as well, with a cool cucumber attack leading to a subtle ginger finish.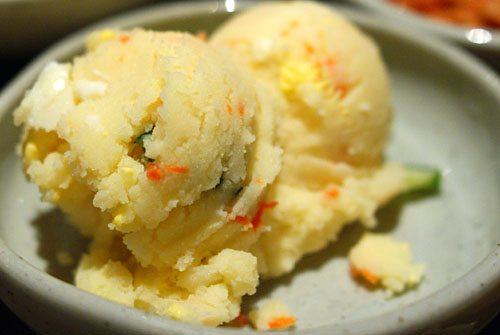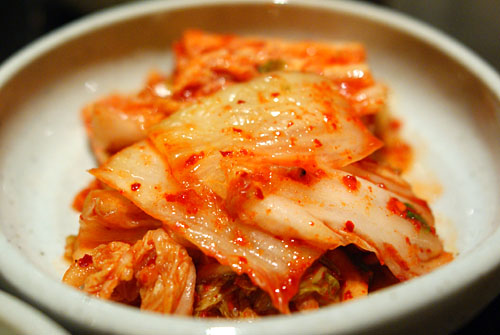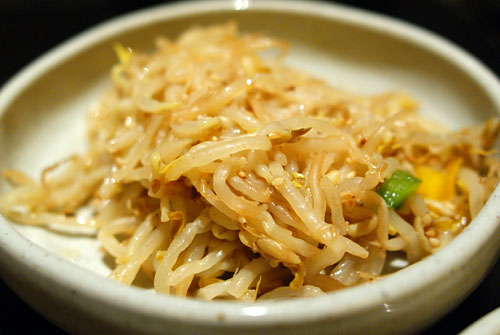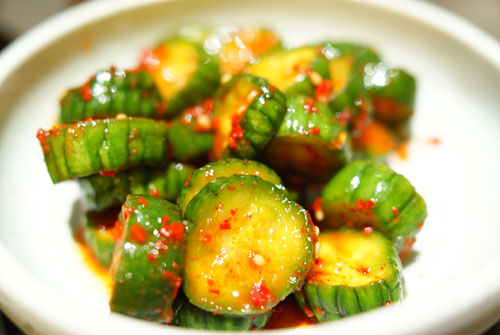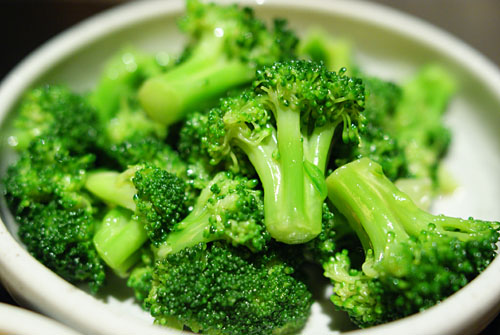 At this point, five plates of
banchan
were brought out, so we knew that the barbequing was about to commence. The
banchan
were: potato salad (would've liked a more substantial texture),
baechu
kimchi (nice),
sukju namul
, cucumber kimchi (good heat, but could've been crisper), and broccoli.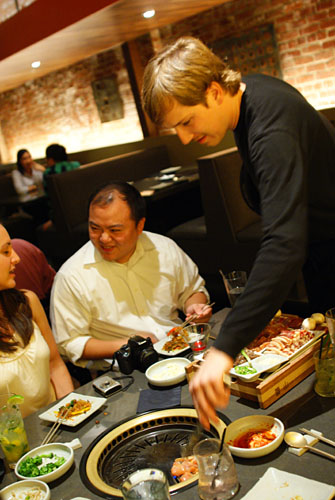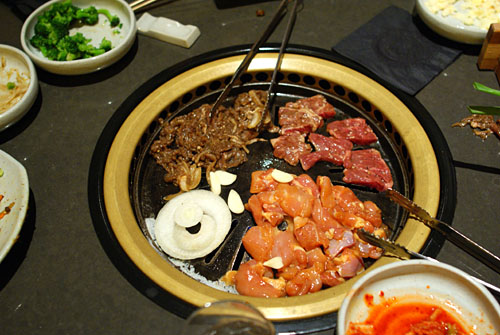 Once the meat came out, our server, with a spring in his step, enthusiastically piled the various cuts atop the grill...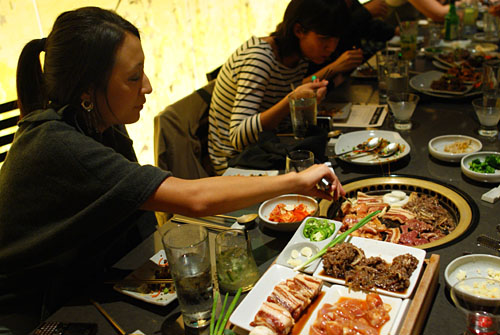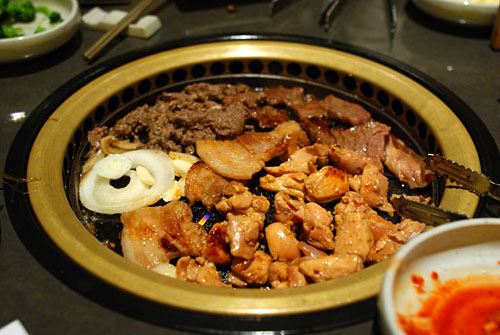 ...However, Christine quickly took charge, asserting her dominance, and I eagerly entrusted my meat to her willing and capable hands.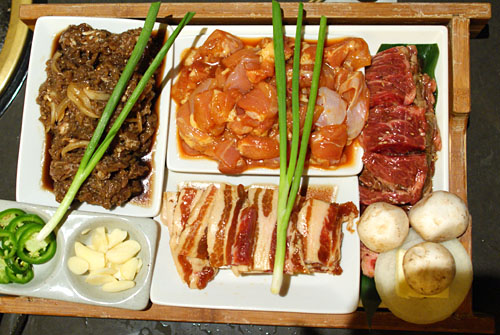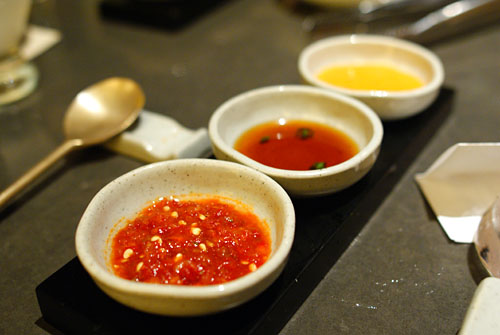 6: G1
| Gyenari Galbee, Bulgogi, Aged Pork Belly, Gyenari Flower Chicken and Japchae
We were given the "G1" combo, which consists of four types of meat--garnished with Japanese eggplant, onion, Korean peppers, mushroom, and garlic--and served with three condiments:
ssamjang
, a "beef dipping sauce" (soy-based I imagine), and a miso aioli. I first tried the
bulgogi
, or thinly-sliced marinated beef prime rib, which I found rather sweet, perhaps due to an overallotment of sugar in the marinade. The
galbi
(
ganjang
-marinated beef short rib) was better--flavorful, with a pleasing, pliant consistency. Next was the
dahk gui
-esque "flower chicken," made from free range chicken with a citrus-soy glaze. It was my favorite of the quartet, suitably tender, with the nice citrus tang, deftly complemented by the aioli dip. We ended with the aged pork belly, basically Kurobuta
samgyeopsal
flash marinated in a soju-infused sauce. It was expectedly fatty, and flavorful, but a tad sweet. It went best with the
ssamjang
, which effectively cut its unctuousness.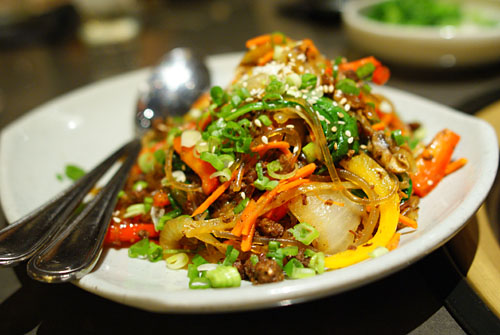 The "G1" includes
japchae
, which is a dish of cold cellophane noodles (
dangmyeon
) with carrots, mushrooms, onions, peppers, and sirloin beef, stir-fried in sesame oil, and finished with sugar and soy. Though some thought the
japchae
too sweet, I rather liked it, finding the dish to be a nice interplay of flavors and textures, with the sweetness proving a fitting contrast to the savory element of the beef.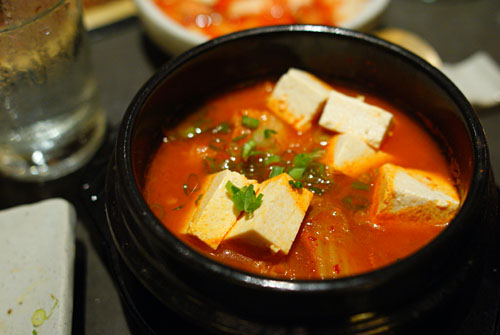 7: Kimchee Chigae
| Traditional Korean Kimchee Stew
Our final savory course was the
kimchi jjigae
, basically a spicy stew of kimchi, tofu, and scallions. It was a hearty, and heartwarming, way to end the meal.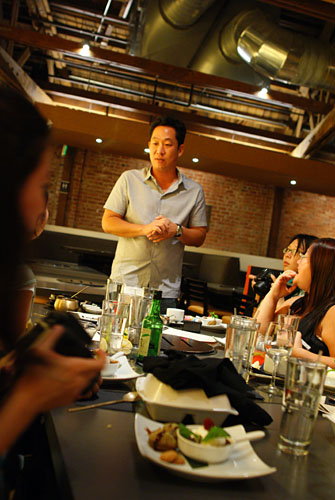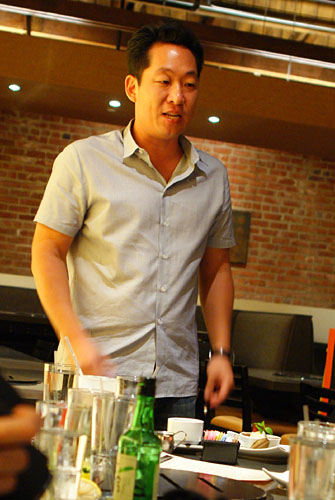 Near the end of the meal, owner Will Shin came out to talk to us about the story, concept, and philosophy behind Gyenari. In case you're wondering, aside from the restaurant, Shin is President of
Crown Edition LLC
, an electronics importer and luggage manufacturer.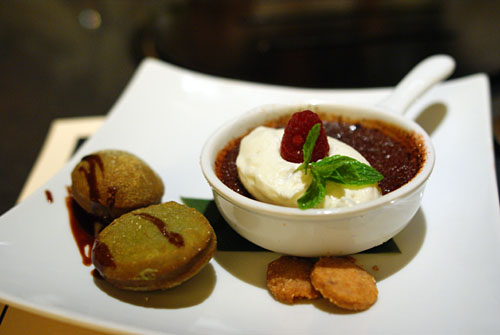 8: Spicy Chocolate Creme Brulee
| Bacon Shortbread, Almond Cream
9: Green Tea Beignets
| Chocolate Mint Drizzle
Finally, we were presented with a duo of dessert. The crème brûlée was nice enough, with the almond cream tempering the sweetness of the custard, and the bacon shortbread adding a tasty savory contrast. The beignets, meanwhile, were quite delectable, and, taken with the mint drizzle, reminded me of eating mint chocolate chip ice cream. They were even better when used to scoop up the remaining bits of crème brûlée.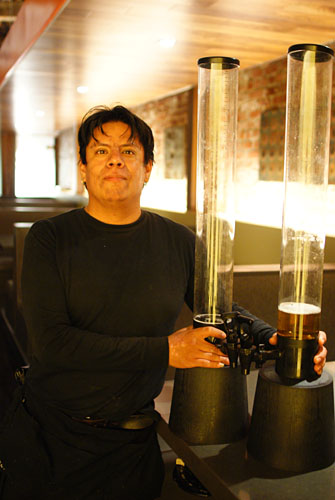 Now this definitely lends authenticity to Gyenari: for only $21, you can get a 100oz Hite Tower, just like at Crazy Hook in K-Town! I believe Crazy Hook charges $35 for 5 liters (169oz), so this is a pretty great deal.
So in the end, what do we have here at Gyenari? Well, the food we had was surprisingly authentic (even by the standards of Christine, our resident Korean food expert), and for the most part pretty good, albeit a bit sweet overall. Certainly, there's more to be had at the top places in Koreatown, but Gyenari does a respectable job, especially considering the location; I don't think that there's anything more compelling in terms of Korean within five miles.
But traditional Korean fare is only half the equation at Gyenari. What about the Korean-American Southern fusion? What about Debbie Lee? What about
Seoulfood
? Will and Meghan have stated that another dinner will be planned in the near future, in order to show off the fusion side of the menu--I want my
galbi
'n' grits.