Rivera (Los Angeles, CA) [3]
Rivera
1050 S Flower St, Los Angeles, CA 90015
213.749.1460
www.riverarestaurant.com
Wed 11/25/2009, 08:00p-11:50p
Regular
kevinEats
readers may recall that my
first visit
to Rivera in April of this year was for lunch. After a promising meal, I vowed to return, and did so in
July
, when I had a fantastic dinner. Despite the splendid eats, I wasn't planning on returning to Rivera in 2009...that is, until I was invited by Wesley of
Two Hungry Pandas
to this special dinner. You see, Chef/Owner John Rivera Sedlar has been hard at work developing a new menu for the coming winter months. The Chef was interested in garnering some feedback for a few of his new dishes, and somehow, Wes was able to finagle his way into securing a preview of the new viands (as a result, some, but not all, of the dishes were comped). Joining us were Wes' partner in crime Evelina, Christine of
Folie à Choisauce
, Danny of
Kung Food Panda
, and Nathan of
Binary Tastebuds
.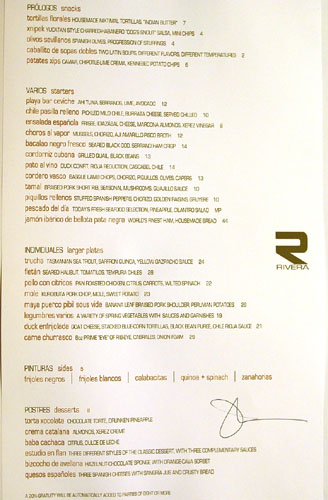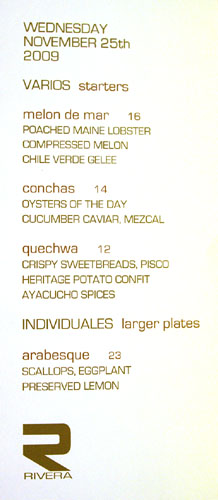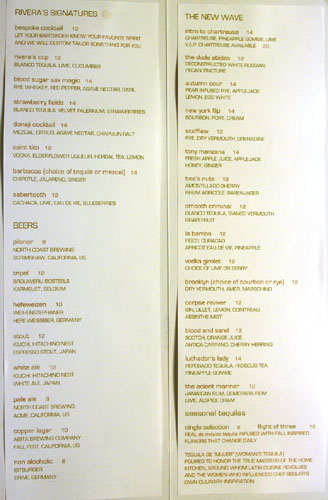 Above, we see Rivera's menu, a list of specials (the new items), and the drink list; click for larger versions. The main
carta
was much the same as before, so we were mainly interested in Sedlar's four new creations, consisting of three starters and one main. Unfortunately, according to Sous Chef Joe Panarello, the sweetbreads dish, "Quechwa," was not quite up to the Sedlar's standards yet during our visit, so we'll have to take a rain check on that one.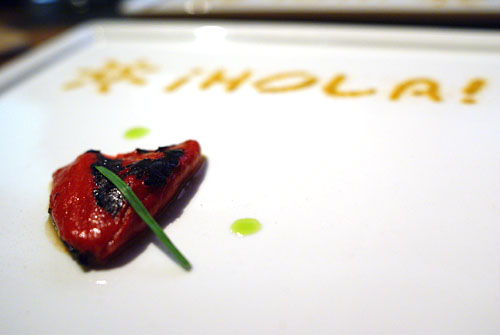 Amuse Bouche: piquillo relleno
| STUFFED SPANISH PEPPER, CHORIZO, GRUYERE, JEREZ, AVOCADO OIL
The amuse bouche consisted of a single piquillo pepper, stuffed with a commixture of Gruyère cheese and chorizo, accompanied by
vino de Jerez
and avocado oil. It didn't look like much, but delivered where it counted: on flavor. I immediately noticed a powerful interplay between the rich, creamy, salty stuffing and the sweet, tangy pepper enrobing it. The bite finished with a savory flair, accented by a slight bitterness from the char.
¡Hola!
indeed.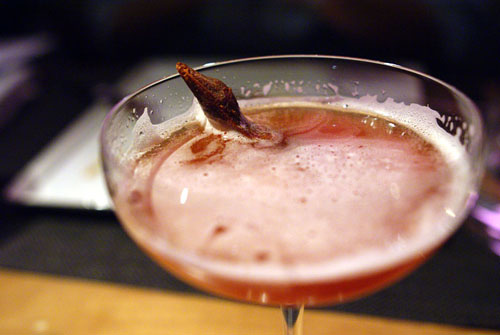 After the amuses were dispensed with, we ordered a round of Tejocotes, a new drink that Chef Sedlar had created with Rivera's bartender extraordinaire Julian Cox (who, by the way, was having dinner with his family at the table next to ours). The drink is basically Rivera's take on
ponche
, a traditional Mexican fruit punch served during the holiday season. It starts with a hot concoction of
tejocote
(Mexican Hawthorn) fruit,
piloncillo
(a.k.a.
panela
, basically unrefined sugar made from evaporated sugarcane juice), prunes, canella (cinnamon bark), and tamarind, among other ingredients. Once the admixture cools, Del Maguey Crema de Mezcal and Fee Brothers West Indian Orange Bitters are added to create the final cocktail. The end result is a delicious, sweet 'n' spicy
ponche
with a hint of smoky mezcal and even a bit of sour Chinese
suan mei
character on the midpalate; it's a medley of flavors that's simultaneously powerful yet mysterious.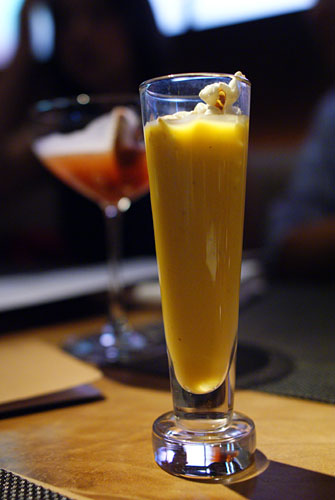 caballito de sopas dobles [$2.00]
| TWO LATIN SOUPS, DIFFERENT FLAVORS, DIFFERENT TEMPERATURES
This course usually consists of two contrasting soups, served at different temperatures (for example,
on my last visit
, warm lobster bisque and chilled fennel-apple soup). This time, obviously, there was only a single potage, the reason being, according to our server, that the Chef was unable to find suitable quality ingredients for the second soup he had in mind. I had no problem with this, as the solitary butternut squash soup presented was easily the best example I've ever tasted. I always tend to find butternut squash soup too sugary, so I really appreciated the wonderful savory character of the version here, superbly set off by the use of cumin, and accented texturally by the popcorn.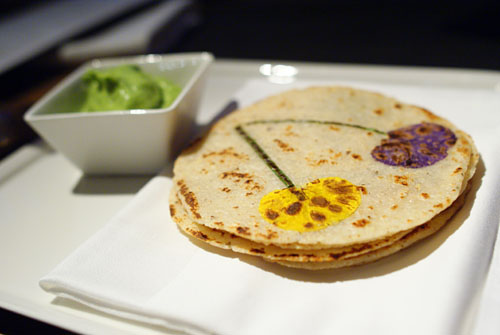 tortillas florales [$7.00]
| HOUSEMADE NIXTIMAL TORTILLAS, "INDIAN BUTTER"
The Tortillas Florales have become one the restaurant's most notorious dishes, and a meal at Rivera almost requires that we start off with an order. The tortillas are, of course, homemade, using ground dried corn. They're then embedded with flowers and herbs, browned on a griddle, and served warm, accompanied by the creamiest "guacamole" you've ever had. The taste is classic, earthy, yet profound; pair a bit of that delightful "Indian butter," and you're set.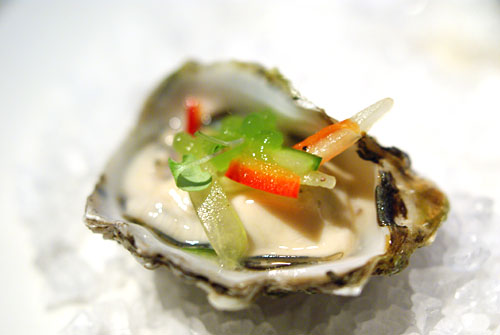 conchas [$14.00]
| OYSTERS OF THE DAY, CUCUMBER CAVIAR, MEZCAL
The first new item that we tried was this presentation of oysters, Kumamotos (my favorite) to be specific. The use of the various vegetables added a wondrous, bright accent to the sweetness of the "conchas," while the mezcal contributed a woody depth to counter the brine--very good. Evelina wanted a second order of these!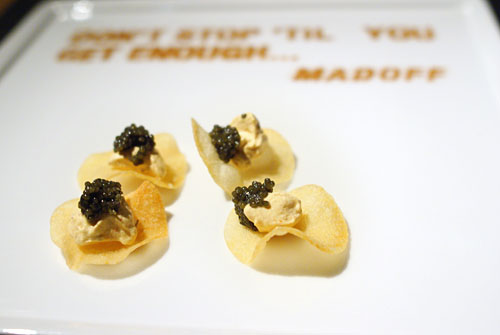 patates xips [$6.00]
| CAVIAR, CHIPOTLE-LIME CREMA, KENNEBEC POTATO CHIPS
And now, a "snack" of Rivera's "potato chips." Popping one into my mouth, I first noted the expected saltiness of the
xips
, which was then followed by the creaminess of the chipotle-lime complex. The most interesting facet here, though, was the finish, which was dominated by the intense, positively lingering brine of the sturgeon caviar. Note the stencil, my favorite of the night:
Don't Stop 'Til You Get Enough...
, attributed to our dear friend Bernie Madoff.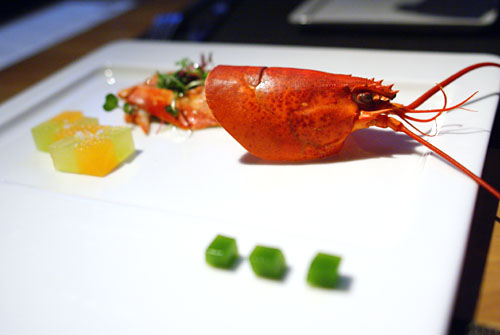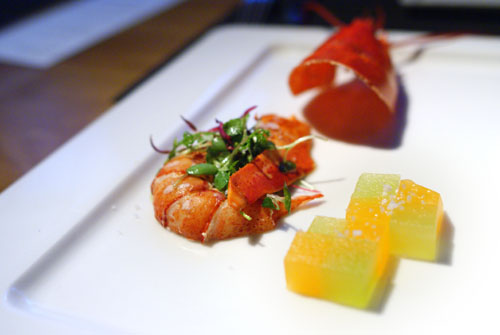 melon de mar [$16.00]
| POACHED MAINE LOBSTER, COMPRESSED MELON, CHILE VERDE GELEE
The second brand new item presented to us was this poached Maine lobster tail. The
langosta
itself possessed a lovely, supple body and a light, bright flavor with just a hint of sweetness. My favorite part of the course, though, was the application of habanero sauce. It gave the crustacean a bit of heat on the finish, which only seemed to intensify as time went by. Further spice was provided by the cuboids of green chili gelée, while salt-topped mosaics of compressed cantaloupe and honeydew contributed a sweet-salty flair.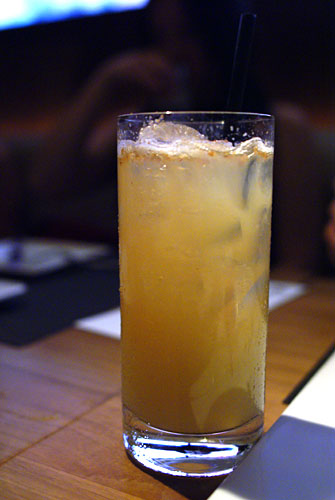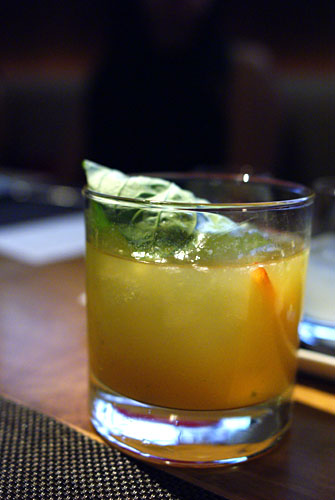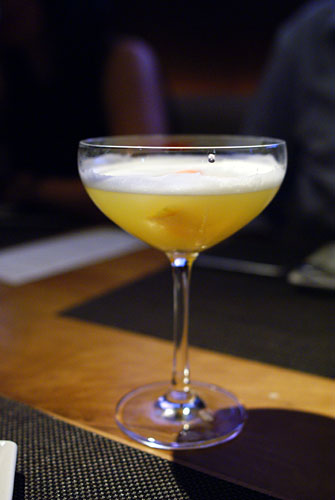 By this time, our Tejocotes had been all tapped out, so another round of cocktails was in order. Danny went with the Tony Manzana [$14], made with apple juice, applejack, honey, and ginger; upon tasting it, I called it "adult apple juice," a sentiment exactly echoed by Christine (great minds think alike?). Wes, meanwhile, ordered one of his favorites, the Blood Sugar Sex Magic [$14]. Comprised of rye whiskey, red pepper, agave nectar, and basil, it had a delightful piquant tang that deftly tempered the power of the whisky. Finally, I had the La Bamba [$12], consisting of pisco, curaçao, apricot eau de vie, and pineapple. It started with an intensely citrus-y nose, followed by a creamy, sugary, aggressive attack, leading to a bit of heat on the finish--quite good.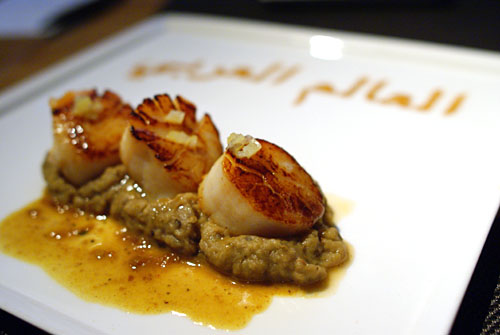 arabesque [$23.00]
| SCALLOPS, EGGPLANT, PRESERVED LEMON
And now, our third and final newbie of the night. We have a triplet of scallops, topped with preserved lemon, atop eggplant purée and vadouvan (Indian spice blend) sauce. The scallops themselves were deftly cooked to a firm yet pliant consistency, and flavor-wise, their sweetness was heightened by the eggplant, while the vadouvan lent a spicy tang to the bivalves. And if you're wondering, the stencil represents the word "arabesque" in Arabic, written in
ras el hanout
(a mixture of herbs and spices found across the Middle East and North Africa). When applied to the scallops, it lent a marked Moroccan tinge to the dish.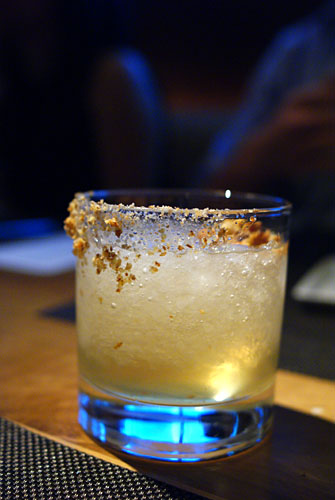 My final cocktail was the Bee's Nuts [$12]. Made with Amontillado sherry, Rhum Agricole, and Bärenjäger (a honey liqueur), it had a initial sweetness, back by a mild sherry finish, with the nuts adding an additional textural element--nice.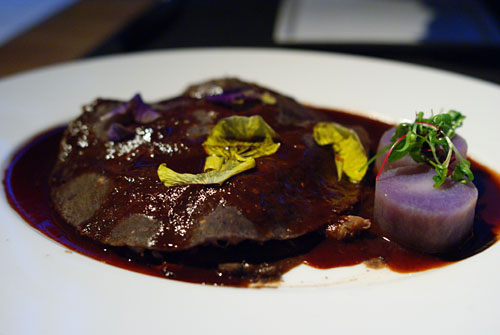 duck enfrijolada [$21.00]
| GOAT CHEESE, STACKED BLUE-CORN TORTILLAS, BLACK BEAN PUREE, CHILE RIOJA SAUCE
With all the new dishes done with, we decided to order some items from Rivera's old menu. First up was the Duck Enfrijolada, an amalgam of shredded duck confit, cheese, and puréed black bean, encased in blue corn tortillas, dressed with a deep aubergine Cabernet-chili sauce and sprinkled with flower petals. I would've been happy just eating the duck by itself, but the spicy-sweet-earthy beans, combined with the tempering effect of the tortillas, clearly took the duck to another level. The purple potatoes were icing on the cake. It's little wonder that Sedlar often refers to this as his signature dish.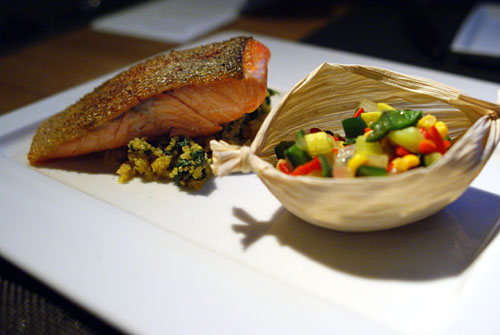 trucha [$24.00]
| TASMANIAN SEA TROUT, SAFFRON QUINOA, YELLOW GAZPACHO SAUCE
We have here a beautifully-cooked filet of sea trout, savory and moist, with a delightfully crisp skin. The fish was delicious on its own, but was even better when paired with the pungent saffron-infused quinoa. Meanwhile, a corn husk basket held a colorful medley of vegetables, which proved to be a great counterbalance to the gravity of the fish.
maya puerco pibil sous vide [$26.00]
| BANANA LEAF BRAISED PORK SHOULDER, PERUVIAN POTATOES
Christine insisted that we try the
puerco pibil
, and having greatly enjoyed the dish on
my last visit
, I did not oppose the request. The dish comes to us from the Mayans, and is traditionally made by slow-roasting pork in a banana leaf. Rivera, though, utilizes a sous vide cooking process, one that elevates pork shoulder to another level of decadence: fantastically tender, stupendous pork-y in sapor, with just the right amount of fat. A masterful mix of sweet and savory flavors, the pork was superbly balanced by the various veggies--purple potato, sweet potato, shallot, radish--linked by
aji amarillo
.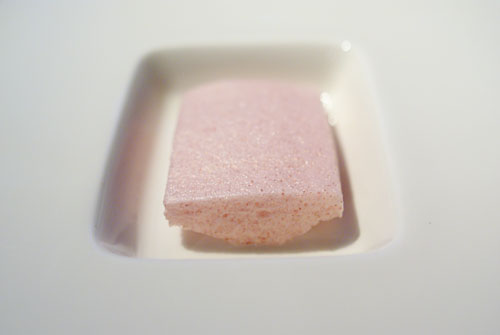 Intermezzo: pomegranate
| CLOUD
Before dessert, a palate cleanser was brought forth. Described as a "pomegranate cloud," it was akin to a fluffy foam, infused with a delicate tanginess.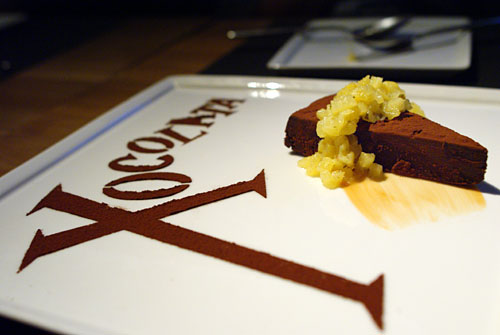 torta xocolata [$8.00]
| CHOCOLATE TORTE, DRUNKEN PINEAPPLE
We began with a chocolate torte, which can be thought of as a sort of flourless chocolate cake. It was incredibly dense, rich, and sugary. Thank goodness for the pineapple (bathed in white rum), which added a much needed counter to the sheer luxuriousness of the
xocolata
.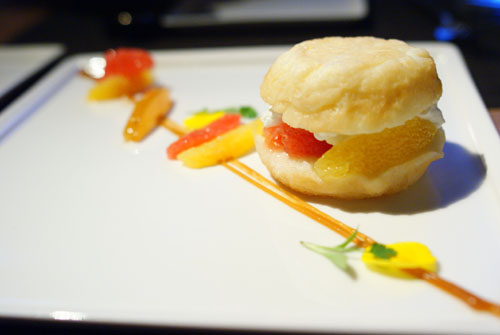 baba cachaca [$8.00]
| CITRUS, DULCE DE LECHE
A repeat from
last time
was the Baba Cachaça, basically a yeast cake saturated with cachaça instead of rum, then filled with crème fraîche and supremes of citrus fruit. The baba cake itself was a bit less decadent this time around, though still marvelously sweet, with just a bit of alcoholic character. It was aptly offset by the tartness of the various cuts of citrus.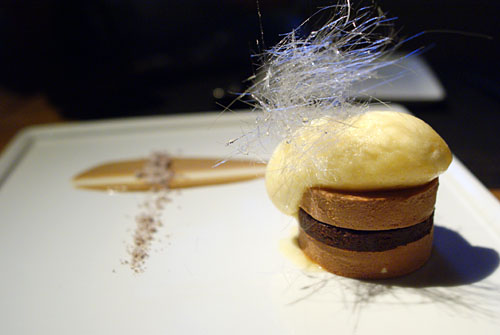 bizcocho de avellana [$8.00]
| HAZELNUT-CHOCOLATE SPONGE WITH ORANGE-CAVA SORBET
Our final course of the evening was a sort of frozen hazelnut-chocolate sponge cake, topped with orange-cava sorbet and ethereal wisps of what I imagine must be sugar. This was my favorite of the trio, and I appreciated how the tartness of the sorbet balanced out the weight of the
bizcocho
. I also enjoyed the various textures at play here.

As mentioned above, Rivera's resident mixologist Julian Cox was seated next to us. Sitting next to him was Eddie Sotto, a Walt Disney Imagineering veteran who's the restaurant's designer as well as part owner (Bill Chait is the remaining principal). Interestingly, Sedlar and Sotto first collaborated at Encounter, the restaurant inside LAX's iconic Theme Building. Working with architect Osvaldo Maiozzi and interior designer Deborah Gregory, Sotto was largely responsible for the various environs inside Rivera. We were able to speak with Sotto and Sedlar about the three distinct areas within the restaurant, and the
three different culinary plans
being developed for each environment.
Above, we see the so-called Samba Lounge, which serves as Rivera's main space. Here, you'll find the restaurant's glass-walled wine cave, the ever-popular mixology bar, a 40-foot row of banquettes (where we were seated) backed by an electronic mural, as well as an octet of Sotto-designed bronze-and-leather Tequila Chairs. Chef Sedlar informed us that, eventually, this area will serve a selection of South American fare, which will include a tasting menu option.

Attached to the Samba room is the Playa Bar and adjacent communal table. Inspired by the Pacific and Caribbean coasts, the idea here is to have a no-reservations-required area where guests can watch food being prepared at the raw bar. By early next year, the hope is to have a menu comprised of Mexican-tinted specialties.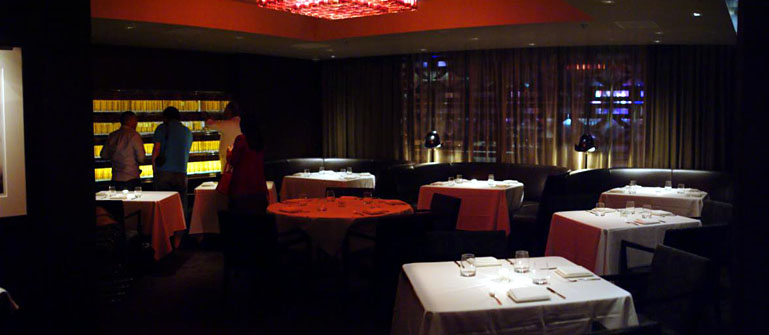 The final environment is the Iberian-inspired Sangre Room, easily the most formal space, with its placid vibe, white tablecloths, conquistador helmet lamps, and striking blood red chandelier. The name, which translates to "blood," is a nod to the Spanish conquest of Latin America. The menu here will expectedly be Spanish in origin, and may even be a tasting menu-only affair.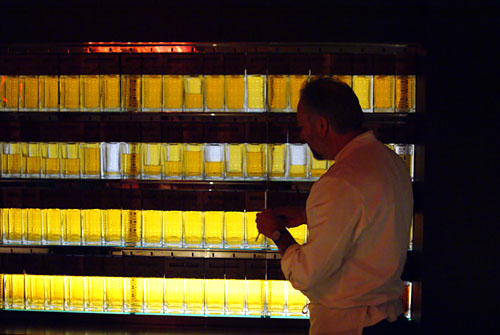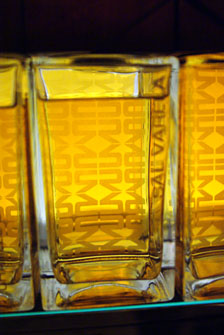 In the Sangre Room, the most obvious design elements are the two golden walls of tequila, described by Sotto as "drinkable architecture." The tequila is Sedlar's own handcrafted super añejo, which is protected under lock and key and only available to members (their names are inscribed on the bottles). Sedlar offered us a whiff from a bottle, and it was heady and intoxicating indeed. He hinted that servings of the extra-aged tequila would be available as part of the tasting menus here.

We were then given a tour of the kitchen. Above, we see the hot station. The cold station sits immediately across from it, which is also where you'll find the immersion circulators.

Wesley was particularly curious about Rivera's infamous use of stencils, so Sedlar obliged with a brief demonstration. I'll note that the stencils are created with a specific plate in mind. Including messages as part of the plating is a somewhat novel concept, one that I don't think I've seen elsewhere. We asked Sedlar about his reasoning behind it, and he responded that the idea is to stimulate conversation at the dinner table. This is why the stencils often refer to controversial topics: Madoff, the Stimulus Package, immigration, etc.
In the end, this was another strong meal at Rivera. Based on the strength of the three new dishes we tried, I'm excited for the rollout of the restaurant's revamped menu. I'm especially curious about the tasting menu options that will eventually be offered here, given my preference for the degustation format. My only concern is that the establishing of three different menus for three different dining areas may overextend the kitchen. Sedlar noted that the full implementation should be complete early next year--we'll be eagerly awaiting.