Rivera (Los Angeles, CA) [2]
Rivera
1050 S Flower St, Los Angeles, CA 90015
213.749.1460
www.riverarestaurant.com
Sat 07/04/2009, 07:40p-10:00p
A few months ago, during a conference at the USC campus, I made my way down to John Rivera Sedlar's new pan-Latin eatery
Rivera for lunch
. I left with a pretty positive impression, but stated that: "before I pass final judgment on the place, I'd really like to return sometime to give the dinner menu a proper work out." Well here I was, back again to give Rivera a fitting go.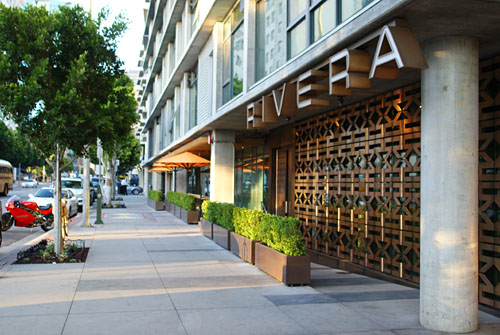 Outside, the restaurant, situated in the Met Lofts structure, is much the same as before. I didn't drive past the valet stand this time, though I did find out that parking's $10 if you stay over two hours ($5 otherwise).

This "panoramic" shot shows the full extent of Rivera's interior, consisting of the bar area, the banquet seating along the back wall (where we were seated this time), the communal table, and the ceviche bar (where I sat last time). Seating is unquestionably cozy along the wall, but did allow us to meet and converse with our fellow diners:
To our right were Elizabeth and Michael. Elizabeth is the sister of former Daniel (New York) Executive Chef Alex Lee, who we were told left the restaurant in 2003 to work at Glen Oaks Club in Old Westbury, in order to spend more time with his family. Lee, apparently, also served as a mentor to LA's own
David Myers
at one point. Michael is the owner of
Zona Rosa Caffe
in Pasadena's Playhouse District, and encouraged us to check out regional Italian eatery
Cube Marketplace
on La Brea and Melrose.
After Elizabeth and Michael left, we also spoke briefly with the couple to their right, Corinne Lander and her husband Alfred. Corinne works as a Foodservice Account Manager at Nancy Silverton's iconic
La Brea Bakery
. The duo recommended
Fig Restaurant
in Santa Monica, as well as Govind Armstrong's
8oz Burger Bar
, which Alfred preferred to Adam Fleischman's
Umami Burger
.
Finally, to our left sat Leslie Patson and Marc Baumann. Leslie runs her own blog,
Cozyland
(her Rivera post is up too), while Marc heads up SEO consulting firm
Max The Web
.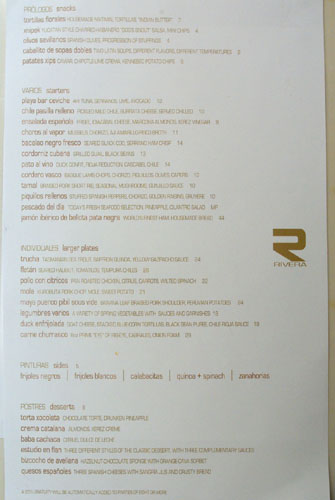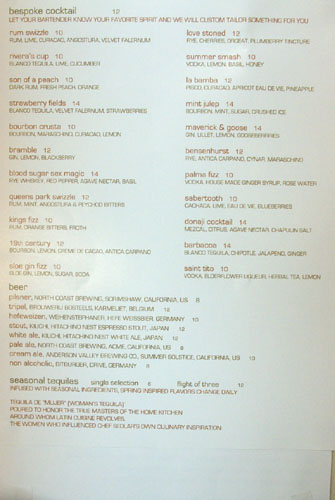 The dinner menu bears close resemblance to the lunch version, albeit it is a bit more adventurous. Just as exciting as the food are the cocktails. Mixologist extraordinaire Julian Cox's drink menu changes with the seasons, and we were lucky enough to catch his latest selection, an intriguing spread of new creations and old classics. Click for larger versions.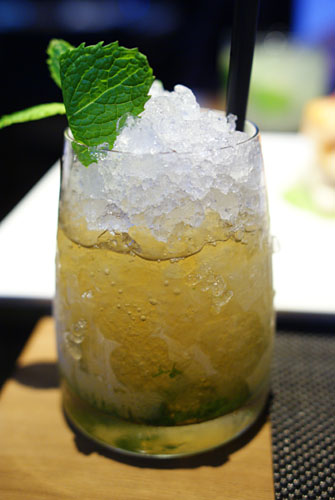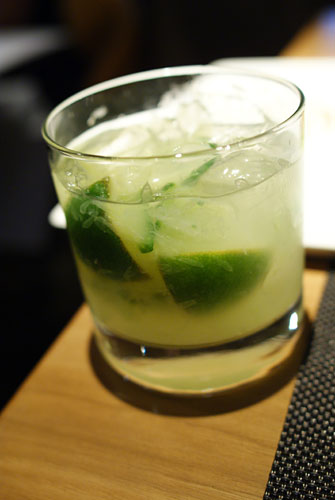 Given the new cocktail list, we decided to forego wine and focus solely on mixed drinks. I opted to go with a Mint Julep (Bourbon, Mint, Sugar, Crushed Ice) [$14], the libation of choice for fine Southern gentlemen everywhere. In my years of drinking, I've actually never had one before, so I wanted to give this drink, which dates from the 1800's, a try. The bourbon was definitely present and apparent, providing bit of bite to the cocktail, but the liquor was softened by the sugar and mint, giving the drink a lively finish. My dining companion went with Rivera's Cup [$10], made from Blanco Tequila, Lime, and Cucumber. A refreshing concoction, the lime tempered the tequila quite nicely with its tartness, while the cucumber added a cool backdrop to the drink.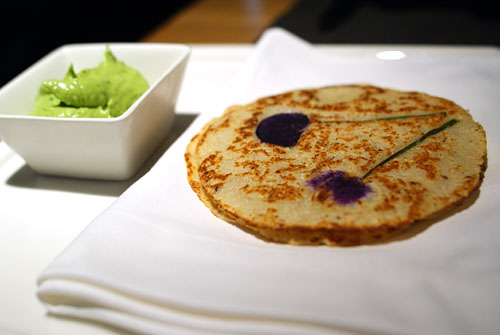 Tortillas Florales [$7.00]
| Housemade Nixtimal Tortillas, "Indian Butter"
We started out with a deceptively simple "snack" of four small housemade nixtamal (dried corn kernels subject to an alkaline treatment) tortillas, tucked in a napkin and still warm, served with "indian butter," basically guacamole. The taste of tortilla was classic, simple, earthy, yet profound, heightened by the bits of flowers and chives pressed into its surface. Together with the silky-smooth, slightly spicy avocado, the duo made for an incredible pairing.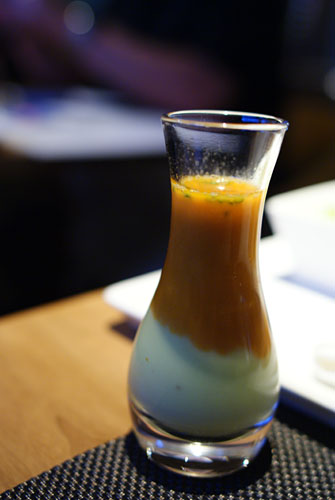 Caballito de Sopas Dobles [$2.00]
| Two Latin Soups, Different Flavors, Different Temperatures
Next was a small vial of soup: a warm lobster bisque on the bottom, a chilled fennel-green apple soup up top. This was a fascinating experiment in disparate tastes and temperatures, resulting in an almost disconcerting sensation in my mouth, in which the alternating flavors and consistencies of the liquids intermixed and traded off with each other, ending with a long, lingering finish of lobster and fennel.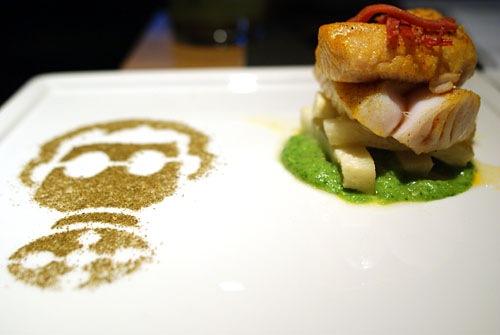 Bacalao Negro Fresco [$14.00]
| Seared Black Cod, Serrano Ham Crisp
I had my infamous experience with bacalao last year at
The Bazaar
, and then a much better time with it this past April at
Church & State
, but this incarnation was different, it was bacalao
fresco
, which means it's unsalted and fresh. Here, the fish was served with salsa verde (puréed tomatillos), jícama, jamón serrano (a dry-cured Spanish ham), and a six-spice blend "gas mask." The fish itself was tender, oily, but mild in flavor. Thus, it was immensely pleasing to try the cod with its various accoutrements: the savory ham, the cool jícama, and my favorite, the robust salsa. Delicious--one of the best preparations of cod I've had yet.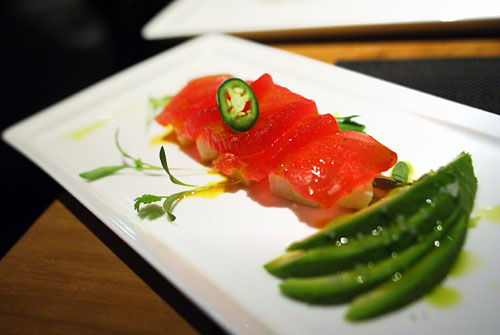 Playa Bar Ceviche [$12.00]
| Ahi Tuna, Serranos, Lime, Avocado
The cuts of tuna, served with jícama, avocado, lime, and serrano pepper, made for a straightforward ceviche. The delicate flavor of the tuna blended nicely with the creamy avocado, while the chili added a touch of heat to the amalgam. However, the jícama, though it added a crunchy element to the dish, was too distracting.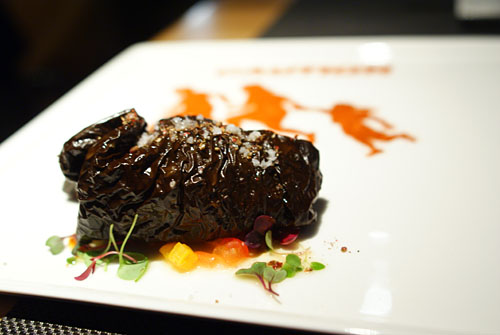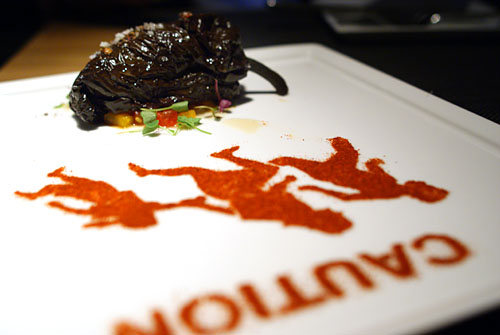 Chile Pasilla Relleno [$10.00]
| Pickled Mild Chile, Burrata Cheese, Served Chilled
I'm pretty sure that the "mild chile" here was an ancho (dried poblano), which would explain the strong smoky-sweet smack of the pepper. Marinated in salt, sugar, and vinegar, the pepper's flavor was the key, as it was countered by the antithetical cool richness of the burrata, resulting in a enticing interplay of flavors. Note the paprika-stenciled version of that infamous sign on the I-5 near the Mexican border. While also making a somewhat political statement, it also added a nice bit of heat to the dish.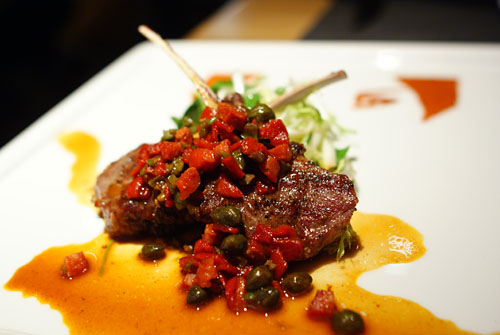 Cordero Vasco [$12.00]
| Basque Lamb Chops, Chorizo, Piquillos, Olives, Capers
Moving on into the heavier dishes, we have next a duet of Basque lamb chops. The meat itself was nicely done: juicy, tender, flavorful. I was concerned that the lamb's powerful accompaniments would overwhelm it, but that simply wasn't the case; the lamb was always at center stage, but elevated by contrasting sweet/smoky flavors. In addition, a salad of frisée and spinach added some well-placed levity into the mix, with their keen bitterness and crisp texture. This was certainly one of the best preparations of lamb I've had in recent memory. Well done.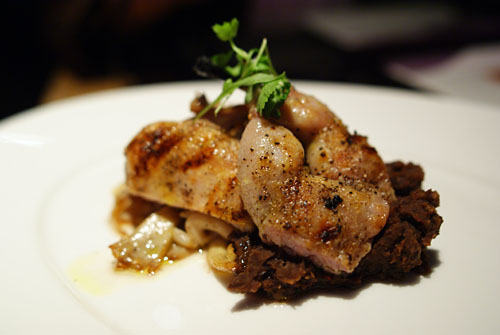 Cordorniz Cubana [$13.00]
| Grilled Quail, Black Beans
Here was quail, done up with black beans and oyster mushrooms. The meat itself was immensely flavorful, rich, imbued with the pure essence of the mushrooms, with a strong lingering relish that just coats the mouth. My only concern were the beans, which possessed a sweet smokiness that was perhaps a bit too strong for the bird. Despite that, this was easily one of the best quails I've had in a while.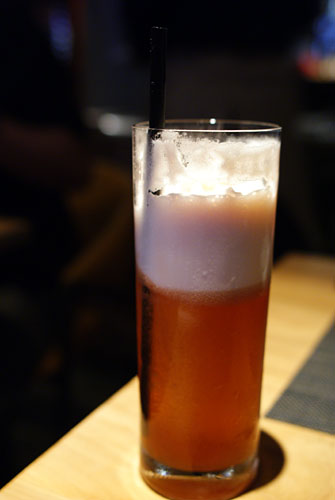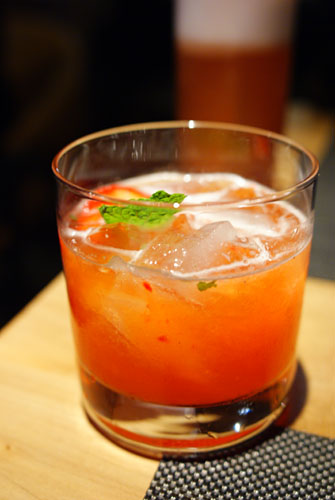 With our drinks drunk, we went for another round of cocktails. I again ordered up a classic, this time a Sloe Gin Fizz [$10], a mix of Sloe Gin (a sloe berry-flavored liqueur), Lemon, Sugar, Soda, and Egg White. It had a sweet, soft, viscous creaminess that I loved, heightened by a bit of egginess on the finish--excellent. My dining companion had a Strawberry Fields [$14], with Blanco Tequila, Velvet Falernum, and Strawberries. Again, as with the Rivera's Cup above, the tequila here was balanced deftly by the other ingredients, this time the obvious sweetness of the strawberry, but also the herbaceous, bracing flavor of the falernum (a type of syrup).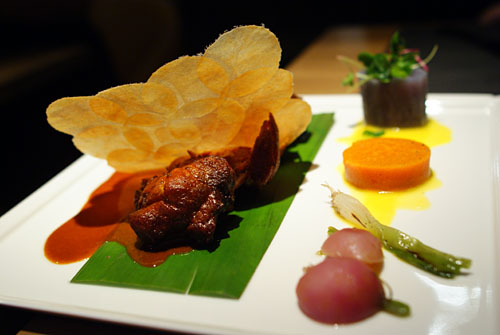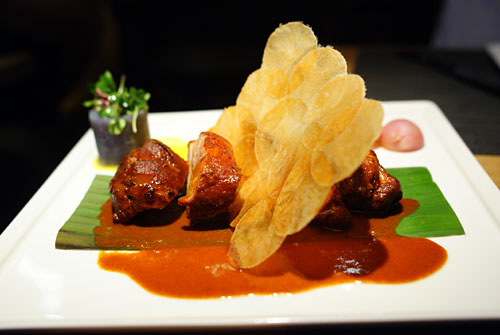 Maya Puerco Pibil Sous Vide [$24.00]
| Banana Leaf Braised Pork Shoulder, Peruvian Potatoes
Also known as cochinita pibil ("buried baby pig"), puerco pibil is a traditional slow-roasted pork dish from the Mayan people of the Yucatán. The dish is typically done by roasting pork wrapped in banana leaf, but Rivera apparently chooses a sous vide method instead. The result is beyond reproach--one of the best preparations of pork I've ever had. The meat was a fantastic interaction of lean and fat, tender, yet with a great crisp exterior. Flavor-wise, the pork represented an expert amalgam of sweet and salty, delicate yet intense. The puerco came with potato (purple and sweet, with aji amarillo sauce), shallot, and radish, all of which provided contrast to the meat. The sheet of potato crisps, though, was a bit superfluous.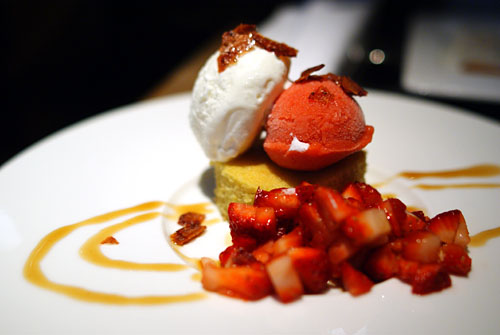 Olive Oil Cake [$8.00]
| Strawberry, Crème Fraîche
Moving onto sweets, this first dessert was advertised as a special. It was an olive oil cake, with crème fraîche ice cream, caramel sauce, and a strawberry
ménage à trois
: sorbet, diced and marinated in balsamic, and candied. The cake itself was merely passable; what made this dessert was the interaction between the tanginess of the crème fraîche and sweetness of the berries, adding richness and excitement to an otherwise pedestrian cake. Much better than the olive oil cake at
Osteria Mozza
.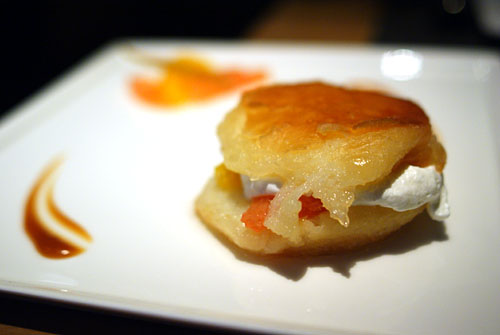 Baba Cachaca [$8.00]
| Citrus, Dulce de Leche
My favorite of the dessert trio, this was sweet bread dipped in cachaça (in place of rum), then stuffed with crème fraîche and cara cara navel oranges. The baba cake itself was pure decadence, imbued with a luscious sweetness and only a hint of alcoholic tang. It was thus nicely balanced by the application of the cara caras, which tempered the baba's overt profuseness.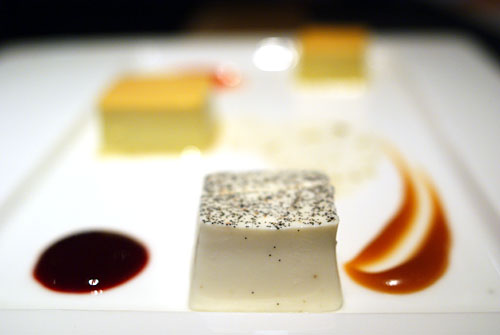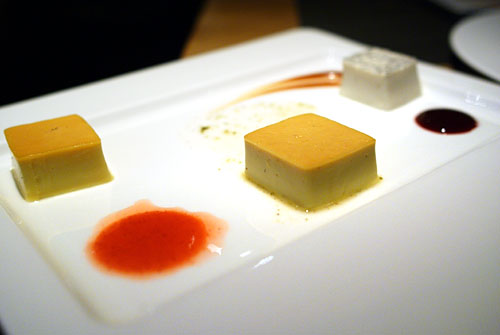 Estudio en Flan [$8.00]
| Three Different Styles of the Classic Dessert, with Three Complementary Sauces
A progression of flans--light, medium, heavy--with three sauces--blackberry curry, lime-mint-pepper, strawberry-anise-orange. The first was very light, with strong hints of vanilla, akin to a panna cotta. It was actually too subtle, and thus the included curry sauce was absolutely crucial. Next was what you'd normally expect in flan, with a strong eggy component and just a hint of caramelized flavor; I was ambivalent about its peppery pairing. Finally, we come to my favorite, a very thickset, dense flan with a marked caramel component; the anise was superb in tempering its heaviness.
At the end of the meal, both my dining companion and I came to the same conclusion: Rivera far exceeded our expectations. Here, Sedlar has successfully married his classical training with his passion for pan-Latin cuisine to create an experience that is both exciting and profound: I can almost see why "The Notorious S.I.V." gave the place 3.5 stars.