Rioja (Denver, CO)
Rioja
1433 Larimer St, Denver, CO 80202
303.820.2282
www.riojadenver.com
Thu 01/28/2010, 09:10p-11:30p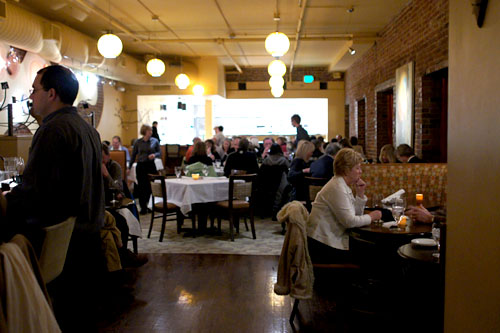 Situated in the chic LoDo neighborhood of Downtown Denver, Rioja is the brainchild of Executive Chef Jennifer Jasinski and General Manager/Sommelier Beth Gruitch. Jasinski, a California native, began cooking at a young age. After working at a Taco Bell(!) and enrolling in the culinary program at Santa Barbara City College, she developed her interest into a tour at the Culinary Institute of America. Upon graduating, Jasinski worked under André Rene at New York's famed Rainbow Room, where she would meet her future mentor, Wolfgang Puck. The Chef eventually moved back to Los Angeles, landing a gig at the Hotel Bel Air; here, Jasinski would again cross paths with Puck, who was consulting for the hotel's restaurant at the time. Puck ended up referring Jasinski to Chef Jody Denton, who recruited her to open his new restaurant, Eureka, in LA.
Over the next 10 years, Puck would move Jasinski around his various restaurants: Postrio San Francisco, Spago Las Vegas, Granita Malibu, and the now-defunct Spago Chicago. He even arranged a stint at the three-star Michelin Ledoyen in Paris. After all this globetrotting, Jasinski decided to settle down in Denver in 2000. She became the Executive Chef at Northern Italian eatery Panzano, where she would meet future business partner Beth Gruitch (then the GM). In 2003, the duo left Panzano (taking along Sous Chef/Co-Owner Dana Rodriguez) to create their own restaurant venture with Jeff Hermanson of Larimer Square Associates; Rioja opened the following year. The restaurant quickly achieved critical acclaim, and its success allowed Jasinski and Gruitch to purchase Bistro Vendôme, a French bistro located across the street, in 2006.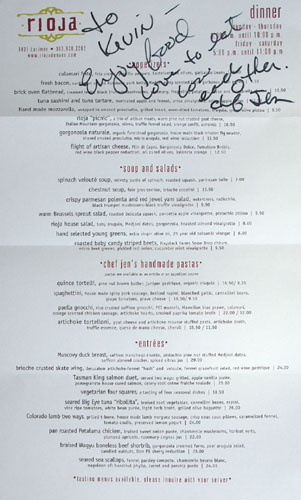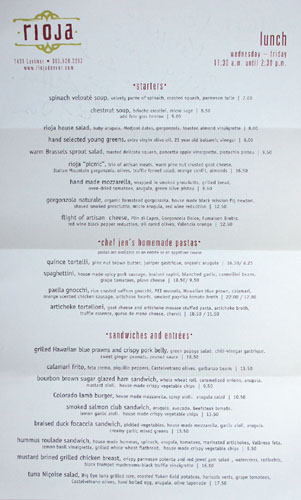 Rioja's menu features a variety of Mediterranean-inspired fare, influenced by the bounty of local and seasonal ingredients. Click for larger versions.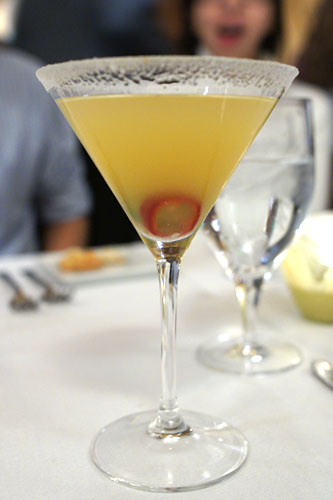 To drink, I started with the Loca Hot [$10], made with Fresno pepper-infused Sauza tequila, Agavero liqueur, house made sour, and a splash of orange and lime. I loved its spicy, sweet, almost
suan mei
-esque sapor, finished with a delightful, lingering heat.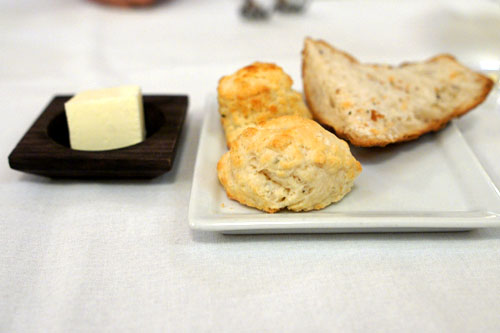 Our first round of bread consisted of a lavender sourdough and goat cheese-rosemary bread. Brioche was later offered.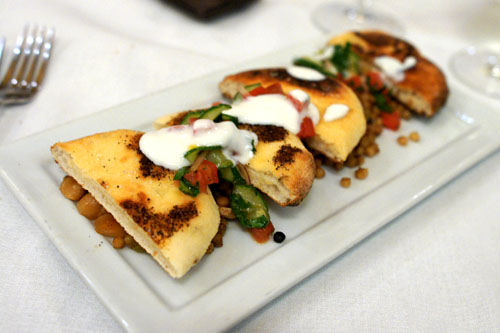 Special: "naan" [$10.50]
| cous cous, dates, cucumber, honey yogurt
I began the meal with a special, described by our server as a naan (Indian flatbread) dish. It was somewhat of a misnomer, as the bread was a bit too thick and lacked the consistency of proper naan. Nevertheless, the flatbread did go quite well with the cool cucumber and yogurt, which reminded me of
raita
. The dates, meanwhile, gave things a marked sweetness, and, along with the cous cous, added an apt Middle Eastern flair to the dish.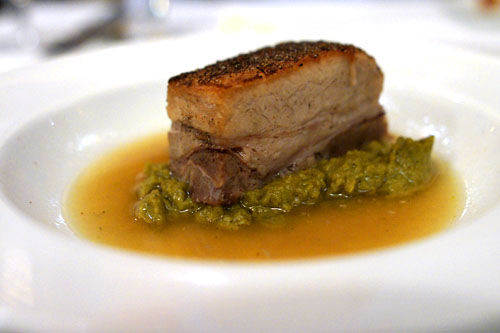 fresh bacon [$9.50]
| cardamom spiced Kurobuta pork belly, Madras curry scented fresh garbanzo bean puree
Next was the belly of Kurobuta pork. Unabashedly fatty, amazingly tender, and brazenly decadent, it was all that you'd expect from a good pork belly, tempered by an accompanying chickpea purée. However, I did feel that the cardamom did render things a touch too sweet.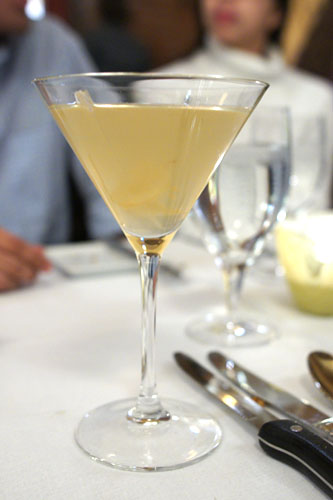 My second cocktail was the Ginger Fizz [$11], comprised of Jim Beam, Canton ginger liqueur, and ginger beer. It had a great, subtle, almost medicinal ginger tinge that reminded me somewhat of Chinese-style ginger tea.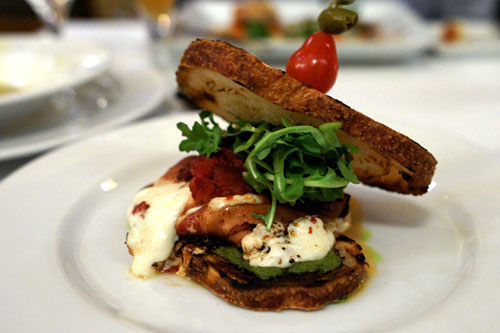 hand made mozzarella [$9.50]
| wrapped in smoked prosciutto, grilled bread, oven-dried tomatoes, arugula, green olive pistou
A classic, but effective interplay of flavors here: the mozzarella itself was very good, with a light, salty creaminess that was superbly balanced by the smoky, savory prosciutto. At the same time, the tomatoes added a distinct sweetness to the dish, while the whole amalgam was perked up by the astringency of arugula.
paella gnocchi [$12.00]
| rice crusted saffron gnocchi, PEI mussels, Hawaiian blue prawn, calamari, orange scented chicken sausage, artichoke hearts, smoked paprika tomato broth
The "paella" aspect of the dish instantly piqued my interest. I loved how the essence of the seafood was preserved here--the prawn, squid, mussels, all were wonderfully distinct, yet well-integrated in a briny mélange. But as good as the seafood was, my favorite item here was actually the delightful chicken sausage.
Desserts come courtesy of Pastry Chef Eric Dale. Click for larger versions.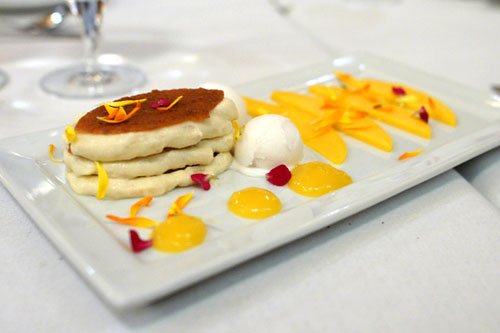 coconut mango risotto "stack" [$7.00]
| Thai sticky rice napoleon, crisp tuiles, fresh mango slices, coconut sorbet
On our first dessert, I really appreciated the subtly saccharine, ricey goodness of the "stack," and how that played with the distinct, juicy sweetness of the fruit. Very nice.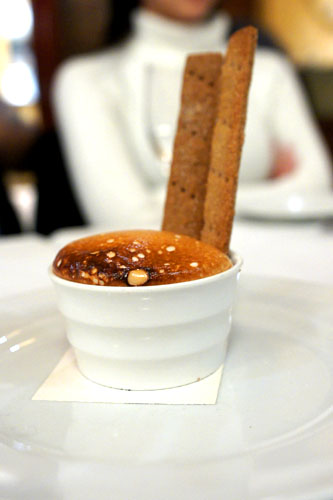 chilled s'mores pot de crème [$7.00]
| chocolate custard, house made graham crackers, brûléed house made marshmallow
Think of your classic campfire treat, but refined. The sugariness of the chocolate was nicely tempered here by the melty marshmallows, and I liked the subtle spice of the crispy graham crackers. The only problem was that the marshmallow could get a bit overwhelming at times.
Though I found the fare here far from perfect, I liked the Mediterranean tinge of the victuals, imbued with simple, but effective flavor combinations. The food is largely vivid, balanced, and interesting--no wonder Rioja is one of Denver's hottest reservations.