Why Are There So Many Asian Food Bloggers?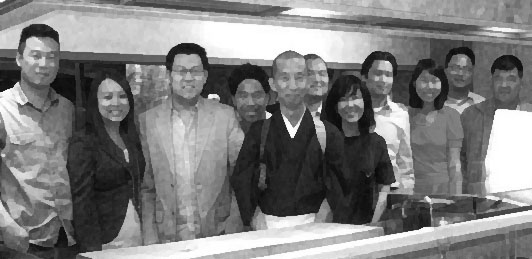 [Edit: Please try to read the comments section, as it's arguably more important than the principal text (which was meant to serve as a jumping off point). Common concerns have been adressed, and plenty of alternative theories have been presented. Eventually, I plan to compile all the alternate explanations and insert them into the main body.]
"Why are so many food bloggers Asian?"
Ah yes,
this
age-old question. As the food blogger community here in Los Angeles continues to blossom, we simply cannot look past the abundance of (East) Asians in the sphere. A few weeks back, I decided to perform a quick Google query, hoping to find a reason for this anomaly. Surprisingly, it turned out to be one of those rare instances where Google failed to turn up any material of satisfactory substance. As such, I decided to expound on the matter myself.
I'm entering into this endeavor with some trepidation, as anything that deals with issues of race tends to be a touchy subject. I realize that the term "race" itself is a loaded word, and I'm somewhat hesitant to pigeonhole people into such simplistic bins. However, for the purposes of this discussion, I will use a classification established by the US Census Bureau: Asian, Black, Hispanic, White. This is a far from a perfect nomenclature (especially concerning "Hispanic," which is more of an ethnicity), but will be used here for economy and consistency to Government data.
With those caveats dispensed with, I propose that the plenitude of Asian food bloggers is a multifaceted phenomenon, the result of a combination of five forces:
The Cultural Significance of Food
Higher Educational Attainment
Higher Median Income
Better Access to Technology
A Propensity for Conspicuous Consumption
I first started noticing the preponderance of Asian bloggers in late 2008. Initially, I thought that it might just be that I tended to gravitate toward other Asian bloggers, a sort of sampling bias, if you will. However, I subsequently had the question of Asian hegemony posed to me on numerous other occasions, from persons
outside the blogging circle
, individuals that should be, in theory, free of the aforementioned bias.
Thus, to quantify the degree of overrepresentation, I set out to create a comprehensive list of food bloggers; the results are shown in the table below. Please note that the list is heavily slanted toward restaurant blogs based in the LA metro, as that's the realm that I'm most intimately familiar with (it also bounds the sample size). I apologize if I've left your blog out, and doubly so if I've misstated your race. Please do let me know of any errors or omissions.
We see that roughly two-thirds of food bloggers in this survey are classified as Asian. According to the US Census Bureau's
American FactFinder
, Asians make up 12.9% of the population in Los Angeles County. Thus, having established that Asians are
over five times overrepresented
in the food blogosphere, we will now turn to more detailed explanations as to
why
:
The Cultural Significance of Food
-
Ni chi fan le ma?
Such is a saying in Mandarin Chinese, which translates more or less to "Have you eaten yet?" When I was growing up, I remember that
this
was how my mother would greet her friends, not with a "hello," "how are you doing?," or even
ni hao
. This little anecdote underscores the notion that Asian cultures tend to be food-centric. In
Food in Chinese Culture
, KC Chang notes that "few other cultures are as food oriented as the Chinese". Food, thus, rises above the role of mere sustenance, becoming a contraption of societal interaction--one just has to note how often Asians tend to share and eat "family style." Dining therefore represents a critical social construct, a key environment for the free exchange of ideas and the establishment of personal relationships in both business and leisure contexts. Given these circumstances, it's not surprising that food blogging tends to be a social as well as culinary experience--one only has to look at how close-knit (some would say incestuous) we LA bloggers tend to be. [Edit: For more on Asian food culture and history and their role in food blogging, please view
Dylan's
post on the matter.]
Higher Educational Attainment
- The image that we all have of overbearing Asian parents pressuring their kids to succeed academically is almost clichéd at this point. However, I reckon that the scenario is often times reality. As much as I was vexed my parents' domineering attitude, their constant harassment seems to have paid off for me--and I'm not the only one. According to the US Census Bureau's
American FactFinder
, for the year 2008 in Los Angeles, 47.6% of Asians aged 25 or over have attained a Bachelor's degree or higher. Whites are next, at 31.6%, followed by Blacks at 21.4% and Hispanics at 9.7%. [Edit: Thanks to
Jocelyn
for pointing me to this updated data.] Blogging, with its emphasis on experimentation, research, and writing, can be considered a somewhat academic pursuit, and thus, we can imagine that those predisposed to academic achievement would have a higher proclivity for blogging as well.
Higher Median Income
-
Urasawa
ain't for the faint of wallet. All these dinners cost money, and though some of the expense may be defrayed by comped meals, I believe that cost is still a limiting factor, especially in the fine dining realm. Quite simply, if your level of income makes it difficult to cover even basic expenses, it's not very likely that you'll want to spend your earnings on "fancy" meals. We again turn to the US Census Bureau's
American FactFinder
. For the year 2008, in Los Angeles County, median household income for Asians is reported as $62,509. $62,045 is the corresponding figure for Whites, while Hispanics report $44,924, and Blacks, $41,925. If we look at per capita income, Whites lead the way at $33,915, with Asians not too far behind at $29,476, Blacks at $23,439, and Hispanics at $15,604. One implication here is that Asians have a higher than average tendency to cohabitate, which may magnify an individual's spending power. [Edit: Again, I want to thank
Jocelyn
for providing this data.] These results, of course, relate the educational attainment figures above--it's no secret that income tends to rise with education.
Better Access to Technology
- It's pretty hard to blog without a computer and Internet access. According to data collected by the
US Census Bureau
, Whites and Asians lead the way when it comes to computer usage. 64.6% of Whites and 62.7% of Asians aged 15 or older use a computer at home, while only 44.8% of Blacks and 39.1% of Hispanics do. Similar patterns can be found when looking at computer usage at work and at school. A computer, though, is only half the equation--we still need to look at Internet usage. Whites lead the way here, at 62.3%, with Asians not too far behind at 58.0%. Blacks ring in at 45.6%, and Hispanics, at 37.6%. Intuitively, the results make sense: access to technology should rise with income and education. The US Census Bureau data strongly supports this notion. Clearly then, the digital divide is well and alive.
A Propensity for Conspicuous Consumption
- This is surely the most controversial of the five factors, but the tendency for Asians to conspicuously consume is legendary. After all, who
hasn't
heard the stereotypes about Asian women's obsession with all things Louboutin and Louis Vuitton, or the penchant of Asian men for Swiss watches, Italian shoes, and German automobiles? We've all seen the anecdotal evidence, but according to an article in
Entrepreneur
magazine, such behavior is endemic: luxury products comprise an $80 billion industry, with
half
of that revenue coming from Asians. For our good friend M. Vuitton, it's been estimated that, at one point, an incredible 88% of the brand's global sales stemmed solely from Japanese consumers. So what's the reasoning behind all the
bling
? Radha Chadha, author of
The Cult of the Luxury Brand
, points to the waves of socioeconomic change that have swept through Asia over the past decades. Historically, Asia had been, for the most part, relatively poor vis-à-vis its "Western" counterparts. With the influx of cash in recent years, combined with the dismantling of old, rigid social structures, spending lavishly becomes the most effective way of denoting your place in society. Furthermore, in their paper
Conspicuous Consumption and Race
, Kerwin Kofi Charles
et al
even argue that conspicuous consumption is a method of signaling to others that you've "escaped" the poverty of your people's past. Blogging, thus, becomes a foodie equivalent of the Patek or Birkin bag.
People blog about food for a variety of reasons. What I've tried to capture here is why Asians have a
much higher tendency
to do so. Thus, to summarize: culture provides the
context
; education/income/access provide the
capacity
; and a proclivity for conspicuous consumption provides the
catalyst
. [Edit: To clarify, the first and last factors
encourage
, while the others
enable
.]
Although this post makes no claim to be an exhaustive treatise on the subject, I do feel that I've touched upon the bulk of the most pertinent factors at play. I very well may have missed a few important points however, so I'd love to hear your thoughts on the matter!