Mario's Peruvian Seafood (La Mirada, CA)
Mario's Peruvian Seafood
15720 Imperial Hwy, La Mirada, CA 90638
562.902.8299
www.yelp.com/biz/marios-peruvian-seafood-restaurant-la-mirada (Yelp, restaurant has no web site)
Sat 01/16/2010, 07:40p-09:00p

Ever since discovering
Mo-Chica
, I've been on the lookout for other Peruvian places, especially those that might be a little more conveniently located. Thus, I was pleasantly surprised when I found out about Mario's in La Mirada, an offshoot of the legendary Mario's Peruvian & Seafood on Melrose. That restaurant, which opened in 1990, is the handiwork of Mario Tamashiro, a Japanese Peruvian originally from Lima (his son, Dennis Tamashiro, is also involved in managing the restaurant). Mario's southern outpost opened in fall of 2007.

As aseptic as the interior is, it's still a step up from the church cafeteria-inspired decor of the original location. One peculiar feature is the large "dance floor" separating the kitchen from the dining area.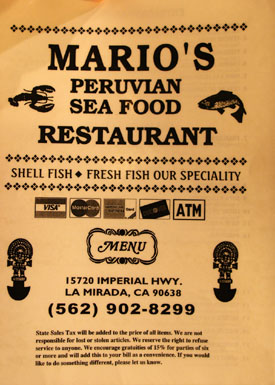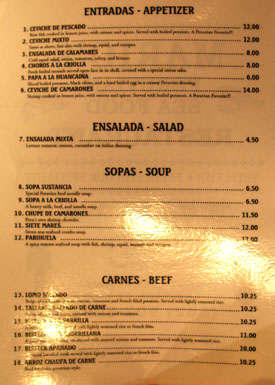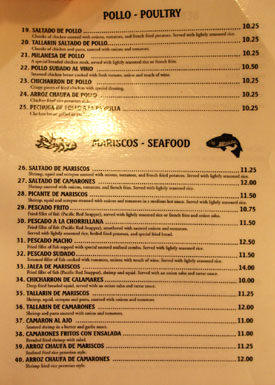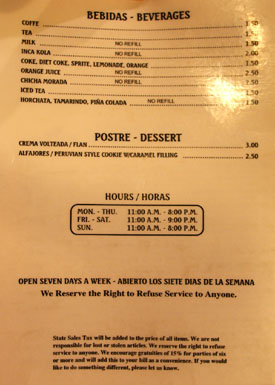 But clearly, we didn't come for the ambiance, but for Mario's menu of Peruvian delights. Though there's "seafood" in the name, methinks that the meat here is
at least
as good. Click for larger versions.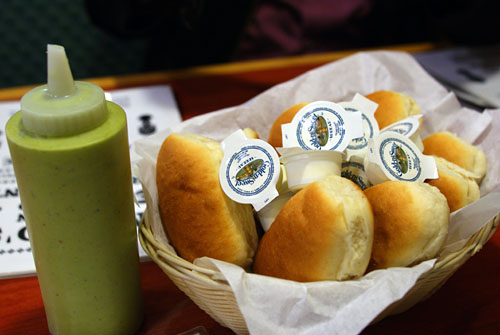 Upon being seated, we were quickly brought a basket of bread, replete with those little cups of butter. Though the loaves were rather institutional-looking, they were also strangely satisfying, especially when eaten warm and with a squirt of that wonderful guac-hued
aji
(a condiment containing cilantro, garlic, and hot peppers, among other ingredients).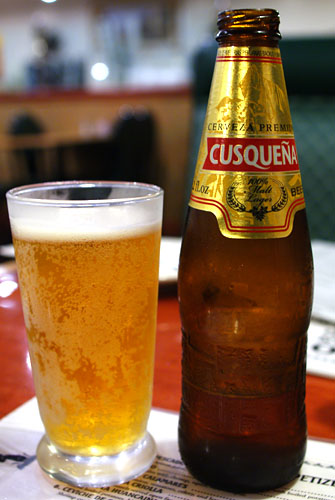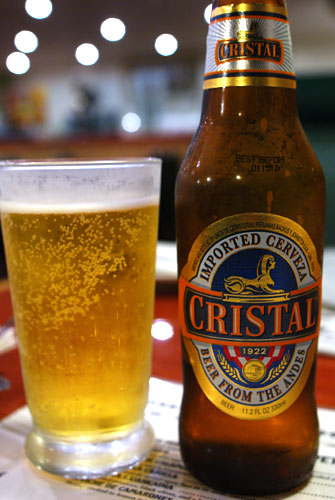 Mario's offers a smattering of beers, the most interesting of which were the two Peruvian selections. According to our server, the "better" one was the Cervesur's Cusqueña [$5]; it was a typical light lager, and one of my dining companions actually compared it to Bud. The other
cerveza
was Cristal [$5], which is brewed by beer monopolist Backus and Johnston (the company also owns Cervesur); this one was also a lager, though more complex, with woody notes over a malty backbone.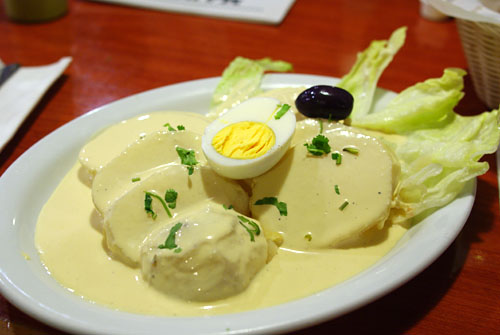 Papas a la Huancaina [$6.00]
We began with this prototypical Peruvian dish of sliced boiled yellow potatoes (the country is known for its large selection of potatoes), enrobed in a creamy Huancaina (cheese and
aji amarillo
pepper) sauce, accompanied by lettuce, black olive, and hard-boiled egg. I loved the consistency of the potato, as well as the weight added by the egg, but felt that the sauce could've been richer and more aggressive. A quick squirt of that fantastic
aji
, however, quickly solved the problem.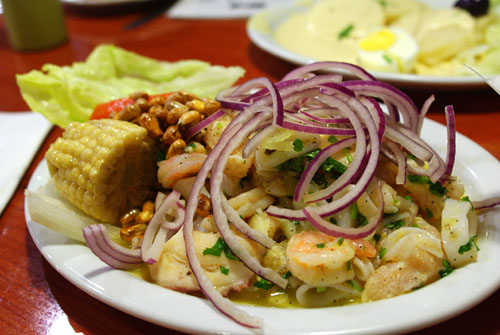 Ceviche Mixto [$12.00]
Of course, we had to try at least one form of ceviche, Peru's national dish of seafood (whitefish, shrimp, squid, octopus), marinated and "cooked" in lemon juice, served here with red onion, lettuce, corn, toasted corn (
cancha
), and sweet potato (
camote
). Though the fish was a bit tough, the other ingredients were delectable, and I really appreciated the role of the onions and
cancha
in particular. This was a light, bright, unabashedly acidic jolt to the palate--quite nice.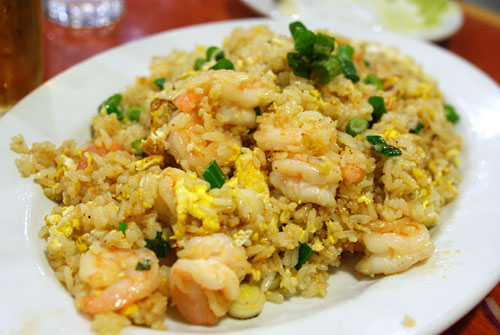 Arroz Chaufa de Camarones [$12.00]
Here, with this shrimp fried rice, we clearly get to see the influence that Asia has had on Peru's cuisine. Upon tasting the dish, we all noted its not-so-subtle Chinese tinge, and appreciated the generous portions of the still subtly briny shrimp mixed in. I actually preferred this to the bulk of fried rices that I've had over the years.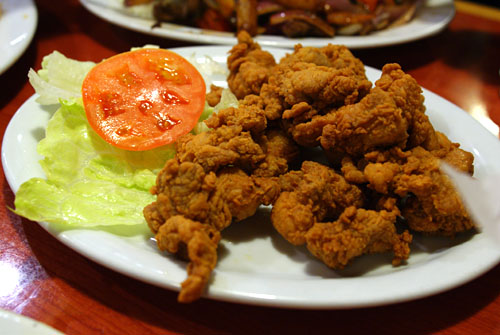 Chicharron de Pollo [$10.25]
In Latin America,
chicharron
typically refers to fried pork rinds, though the dish can also be made with chicken meat, as was the case here. It reminded me somewhat of American-style fried chicken, suitably tender and succulent, but with a somewhat darker flavor, and more substantial batter. The chicken was nicely perked up by its bracingly citric dipping sauce, but I preferred to eat it, once again, with that wonderful
aji
.
Lomo Saltado [$10.25]
The Lomo Saltado is a must try at Mario's. It's another Chinese-influenced dish, a stir-fry of marinated beef tenderloin, tomatoes, red onions, and French fried potatoes, all served with a side of rice. I loved the tender, flavorful bits of beef, paired with the vegetables and immensely satisfying slices of potato, all tempered by the mound of fluffy white rice--I even preferred it to
Mo-Chica's
version. Furthermore, according to
Inuyaki
, there exists a variation topped with egg called Lomo
Montado
; I'll have to remember to get that next time.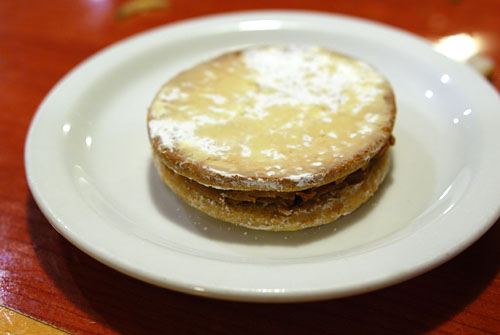 Alfajores [$2.50]
An
alfajor
is a type of confection made by joining two cookies together with some sort of sweet filling, in this case, a caramel-like dulce de leche. The biscuits themselves, coated with powdered sugar, were appropriately crisp, and went nicely with the subtle, not-too-sugary center.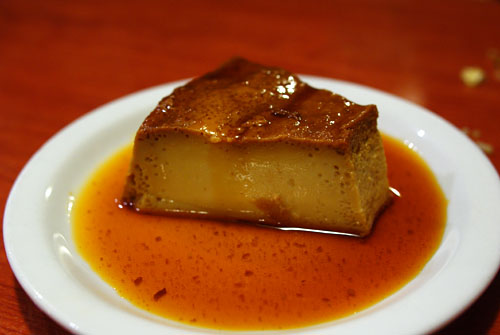 Crema Volteada [$3.00]
We closed with
crema volteada
, a flan-esque caramel custard dessert. This version was heavier and denser than usual, with an almost alcoholic tinge, along with a liberal application of dulce de leche. Quite good.
Though Mario's may not be the most refined when it comes to Peruvian, I found the food hearty, satisfying, and a great value to boot--it's the type of place that I could see myself coming back to, again and again. Mario's convenient location and easy access truly make it a great place to get your Peruvian fix, without the need to make the trek up North.