Lazy Ox Canteen (Los Angeles, CA)
Lazy Ox Canteen
241 S San Pedro St, Los Angeles, CA 90012
213.626.5299
www.lazyoxcanteen.com
Wed 01/13/2010, 07:20p-09:45p

You could say that Josef Centeno has worked at a lot of restaurants. The Texas native first discovered his love of cooking while attending UT Austin. After enrolling in the CIA, he
staged
at Daniel Boulud's eponymous Daniel and Jean Georges Vongerichten's semi-eponymous Vong, and also toqued at the French bastions of La Côte Basque and Les Celebrites. Afterwards, Centeno relocated to California, landing at Charles Nob Hill in San Francisco before heading south to
Manresa
, where he cooked under David Kinch. Centeno then moved even further south, all the way down to Newport Beach in fact, to work as a Sous Chef at Tim and Liza Goodell's Aubergine. When Aubergine temporary (permanently) closed in February 2005 for "renovations," Centeno was made Executive Chef of small plates concept Meson G (located at the same spot where the new
Hatfield's
is slated to open), another one of the Goodell's restaurants. He replaced opening Executive Chef Eric Greenspan, who's currently in charge of The Foundry on Melrose.
In 2006, Centeno made the switch over to
Opus
, and it was here where he first started to make his mark on LA's culinary scene. The Chef was well-known, and well-liked, for his spontaneous tasting menus at Opus, but Centeno announced his decision to leave in September of 2007. He ended up departing in January 2008, and the restaurant rapidly began to falter afterwards, before finally closing in January of this year. The reason for the departure was that Centeno, like many chefs, wanted his own place. He even had a name picked out: "Volver," which means "return." The restaurant was supposed to open in Silver Lake, and was to feature Centeno's famous degustations. Volver never did
comenzar
, however, and the Chef ended up opening Lot 1 Cafe with Miles and Eileen Leslie in neighboring Echo Park. Though Lot 1 debuted on Cinco de Mayo 2008, Centeno would end up leaving by the end of July. The split was not amicable, and the Chef was slapped with a
$400,000 lawsuit
. Centeno kept a low profile for a year or so, cooking here and there, but also consulting at tapas joint Bar Celona in Pasadena.
In 2009 (the year of the ox--clever), Centeno met Michael Hide Cardenas, former Matsuhisa GM and current principal of Innovative Dining Group (which brings us the trendy spots Sushi Roku, BOA, Robata Bar, and Katana). The duo decided to work on a concept together, and Lazy Ox Canteen was born out of that collaboration. The restaurant opened on December 17, 2009 to considerable anticipation. Situated in Little Tokyo's Sakura Crossing building, Lazy Ox is meant to be a casual, convivial place, featuring seasonal, global fare paired with interesting beers and wines, all with an eye on value.

Things are casual, and cozy, inside. Amidst the swaths of wood, exposed ductwork, and mesmerizing lighting, you'll find and open, tiny kitchen, and immediately next to it, an even tinier bar (it seats about eight).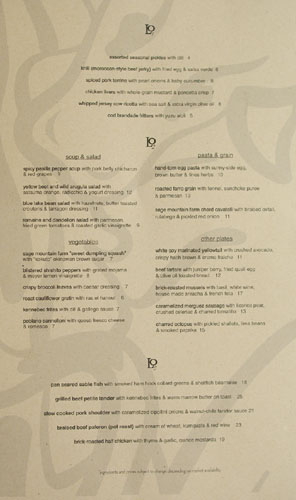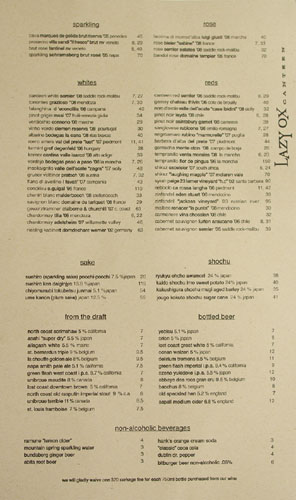 Centeno's small plates-focused menu at Lazy Ox attempts to fuse his Franco-centric training with the culinary traditions of Japan, Mexico, and Spain. Perhaps just as appealing is the selection of tipple, chosen by General Manager Kevin Travis. Click for larger versions.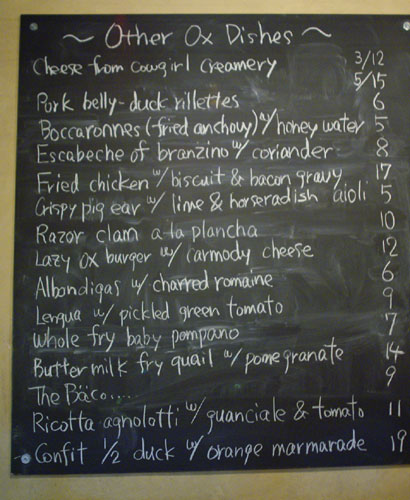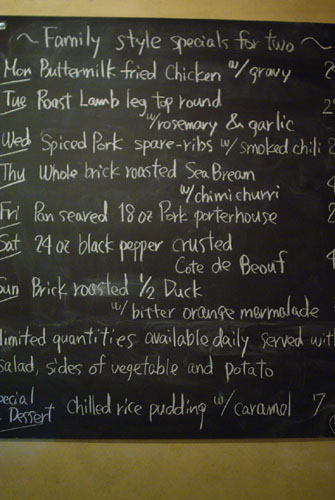 As good as the regular menu looks, it would behoove you to choose mainly from Centeno's chalkboard specials, an ever-changing
carte
that even features a different family-style meal for each day of the week. Click for larger versions.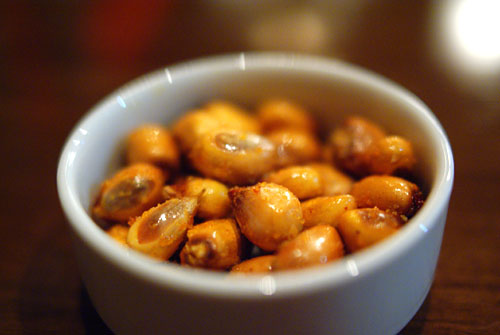 Upon being seated, we were quickly brought a dish of
cancha
, a type of toasted Peruvian corn, dressed here with lime and salt. Made from a special type of corn called
maíz chulpe
, the kernels were positively addictive--delightfully crunchy, yet with starchy, savory centers.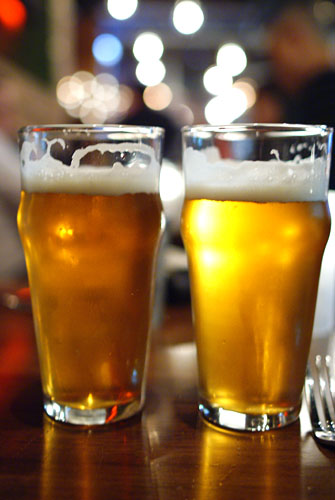 To drink, we began with two of the brews on draught: North Coast Brewing's Scrimshaw Pilsner out of Fort Bragg, California [$8], and Napa Smith's Pale Ale from Napa, California [$7.50].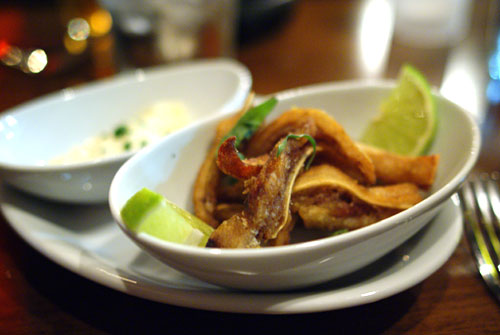 Crispy Pig Ear with Lime & Horseradish Aioli [$5.00]
Upon biting in, the first thought that came to mind was "savory churro," thanks to the crunchy, yet yielding consistency of the ears. They were delightfully salty on their own, but were nicely perked up by a bit of lime juice, as well as the wonderfully tangy horseradish aioli. This was easily some of the best pig ear I've had, and was right up there with
Animal's
version.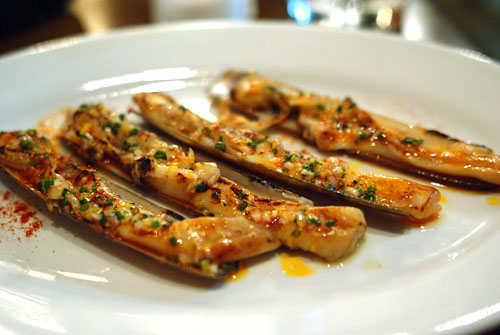 Razor Clams a la Plancha [$10.00]
Another highlight was this dish of razor clams, done a la plancha, or cooked on a flattop grill. The heat from the spices used and the subtly bitter char were fantastic complements to the slight brine of the clams.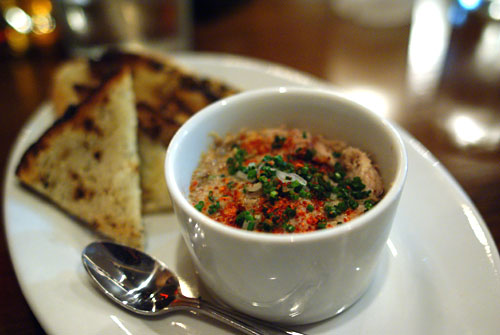 Pork Belly-Duck Rillettes [$6.00]
Rillettes, of course, refers to a preparation wherein meat is spiced, slow-cooked with fat, shredded, then mixed with more fat to form a paste-like pâté. Pork is the most popular meat, while duck is also common, but the version here is the first I've had that claims to use both pork
and
duck. The flavor was definitely more porcine, at least at first, with the duck perhaps adding a bit of color on the finish.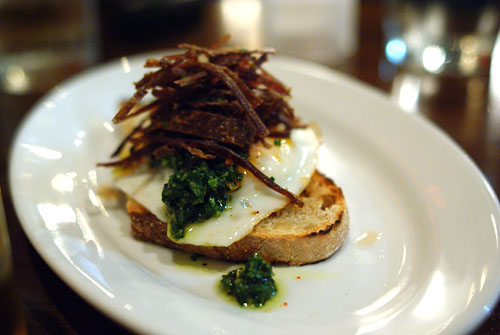 Khlii (Moroccan-Style Beef Jerky) with Fried Egg & Salsa Verde [$6.00]
Next up was Centeno's version of
khlii
, a Moroccan-inspired preparation of dehydrated beef strips, served here piled high atop a fried egg and toast. It was one of my favorite courses of the meal, with the spicy, savory jerky interacting beautifully with the creaminess of the egg, while the zesty salsa made for a piquant temper.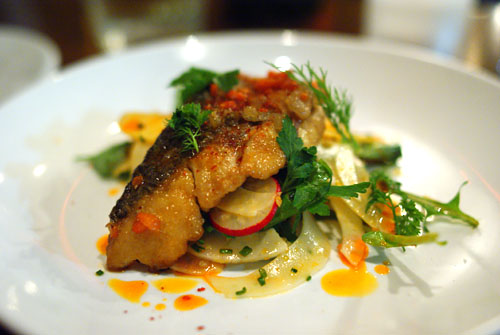 Escabeche of Branzino with Coriander [$8.00]
Escabeche refers to a preparation of fish that's been treated with an acidic marinade. The version here, utilizing the ever-popular branzino, did a nice job in preserving and accenting the seabass' natural fishiness. Its pungency was definitely present, but was deftly cut by the sweetness of the citrus fruit and bitterness of accompanying arugula.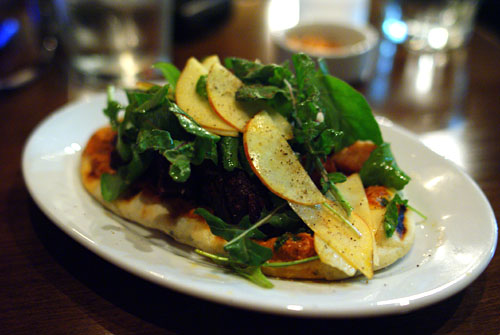 The Bäco [$9.00]
Ah yes, and here we have the bäco (rhymes with taco), Centeno's signature dish. This taco-flatbread-gyro-pizza hybrid was created by accident while the Chef was working at Meson G: when cooking the staff's family meal, he threw together this amalgam of pork belly, braised beef, sauce, greens, and flatbread. Everyone loved it, and the Bäco was born. I was a bit wary of the dish, but it really works. The belly and the beef bring strong, but distinct flavors to the fore, while the smoky, spicy-sweet aioli gives the dish a bit of a kick. The veggies and fruit lighten things up, and the whole shebang just works. I can certainly see why this international mash-up is Centeno's pride and joy.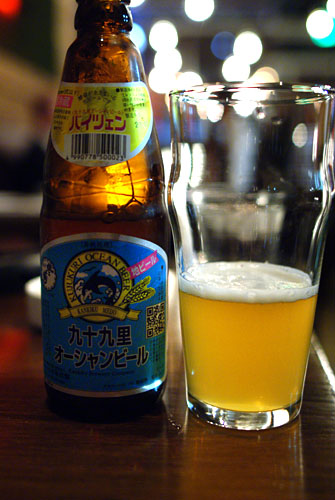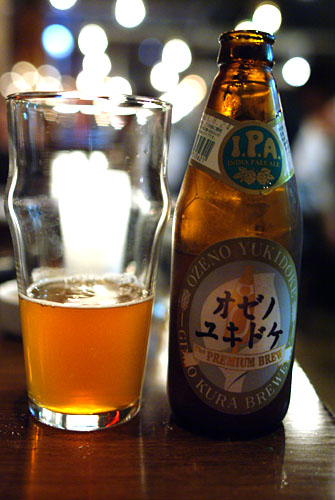 With our beers dispensed with, we ordered up another round, this time consisting of two rather obscure Japanese brews: Kankiku Brewery's Kujukuri Ocean Beer from Chiba [$12], and the elusive Ozeno Yukidoke IPA, produced by Ryujin Shuzo in Gunma [$12].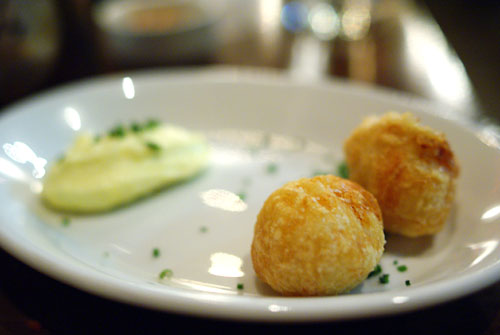 Cod Brandade Fritters with Yuzu Aioli [$5.00]
Brandade refers to puréed salt cold, a French specialty. Here, it's done up in fried fritter form, with the fishiness of the cod beautifully accentuated. I rather enjoyed the brandade's strong, yet subtle flavor, countervailed by the acerbic tang of the yuzu. Quite nice.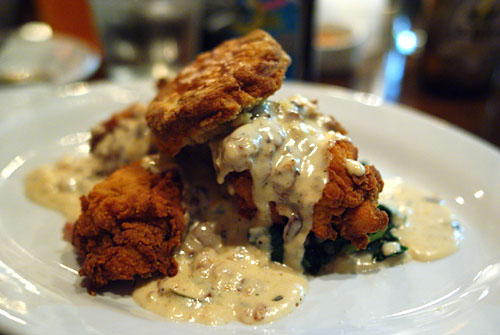 Fried Chicken with Biscuit & Bacon Gravy [$17.00]
And of course, I had to try the fried chicken. I found the "CFC" very tender, and rather succulent to boot. Delicious on its own, the chicken was further heightened by the gravy, which actually contained chunks of bacon. This made for a rather salty, heavy eating experience, so the use of the bitter (collard?) greens really helped in balancing things out. The only real problem was that some parts of the chicken were overly battered, and thus too tough and dry.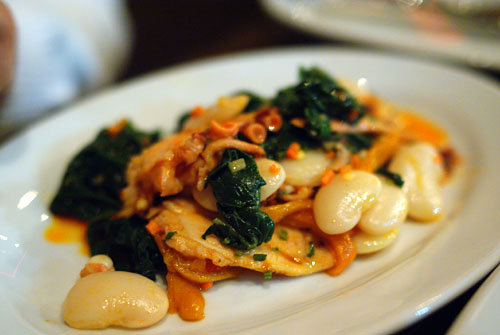 Charred Octopus with Pickled Shallots, Lima Beans & Smoked Paprika [$15.00]
Seeing as how this was "charred octopus," I would've liked to have seen some char. Nevertheless, the octopus was still quite delectable, pleasantly chewy, yet tender, with a subtle sweetness. My favorite part of this dish, though, were the lima beans, which added swaths of earthiness, effectively moderating the interaction between the octopus, spicy paprika, and bitter greens.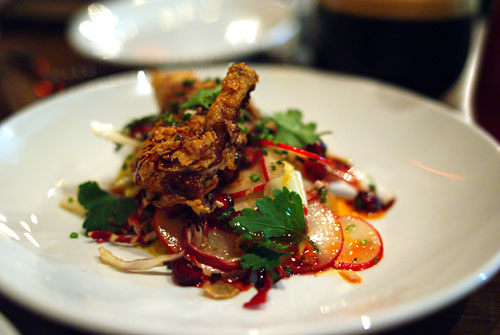 Buttermilk Fry Quail with Pomegranate [$14.00]
Given how much I enjoyed the "Quail Fry" at
Animal
, this was a must order item. The bird, as expected, was bountiful in flavor, with a delightfully crisp consistency. Adding in the sweetness of the accompanying fruit was a bit disconcerting at first, but in the end, everything really did meld together into a sort of unified whole. The problem here, I thought, was that there wasn't enough quail (only one piece) given the amount of accoutrement present.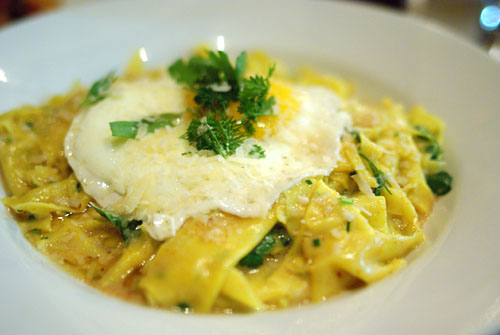 Hand-Torn Egg Pasta with Sunny-Side Egg, Brown Butter & Fines Herbs [$10.00]
Next we have easily one of the best pasta dishes I've eaten in a while. I quite enjoyed the light, wispy body of the pasta, and how the fines herbes served as an absolutely perfect counter to the noodles. Those herbs, combined with the luscious, creamy egg--simply superb.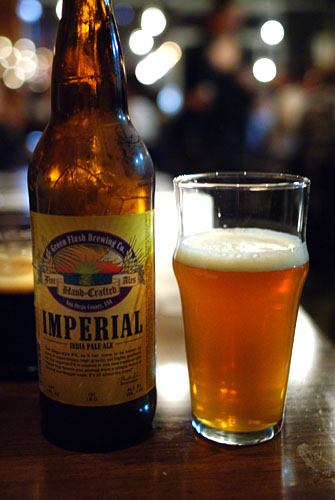 Our next beer was a large bottle of Green Flash Imperial IPA [$9], from Vista, California. Think tons of bitter, but not overwhelming, hoppiness--exactly what I'd expect from an Imperial IPA.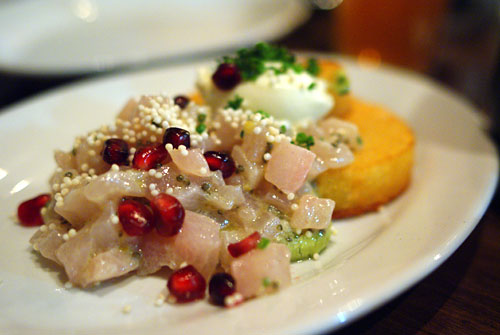 White Soy Marinated Yellowtail with Crushed Avocado, Crispy Hash Brown & Creme Fraiche [$11.00]
The yellowtail itself was textbook. What set this dish apart for me, thus, was the hash brown, which served as a great temperature contrast and acted as a base on top of which the other ingredients could really sing. The crème fraiche and "guacamole" contributed loads of silkiness to the fish, while the pomegranate seeds pushed back with a tart sweetness. I loved the bits of puffed rice sprinkled on top as well.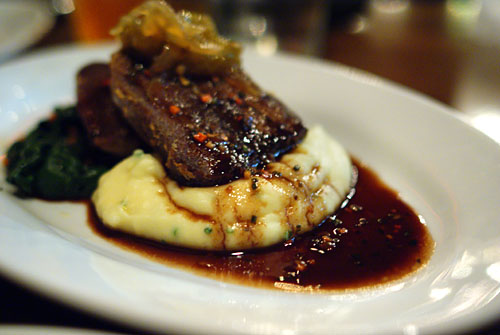 Lengua with Pickled Green Tomato [$9.00]
And now, for our final savory course of the night, we had lengua, or beef tongue. I usually have my lengua in taco form, so this was a bit of a change for me. Think braised beef, with loads of dark flavor and a firm, yet "flaky" texture. The pickled tomato did do wonders in cutting the weight of the tongue, and the bitter vegetables provided a very fitting counterbalance as well.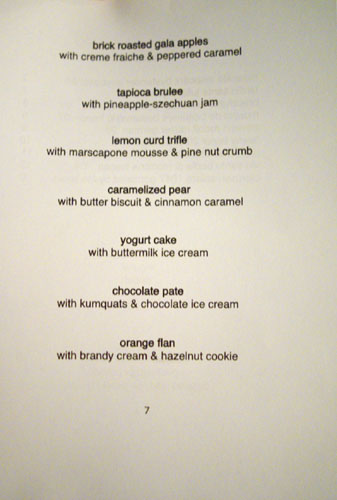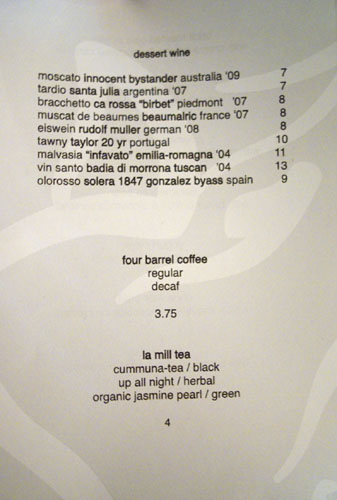 I was so full by this point that I almost considered passing on dessert.
Almost
. Click for larger versions.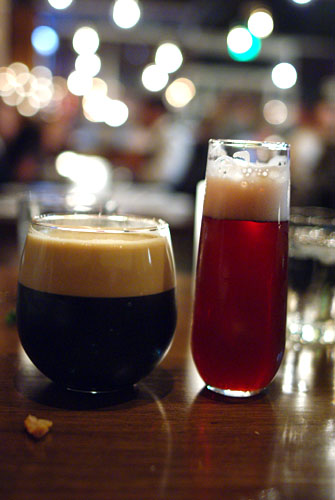 To pair with the sweets, we went with some "dessert beer." First up was the Old Rasputin Russian Imperial Stout [$8], from the aforementioned North Coast Brewing. Thick and viscous, it was like drinking chocolate and malt. We also had Brouwerij Van Honsebrouck's St. Louis Framboise [$8], out of Belgium. It was your prototypical fruit lambic, loaded with plenty of raspberry punch.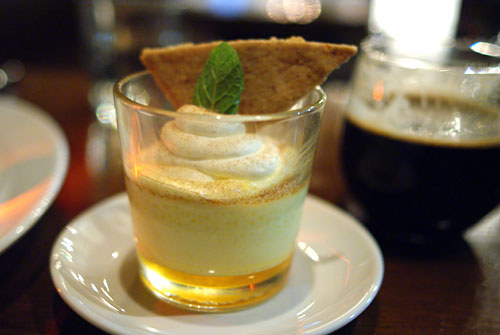 Orange Flan with Brandy Cream & Hazelnut Cookie [$7.00]
Wanting to go with something lighter for dessert, we started with flan--always a safe bet. What set this one apart was the interaction between the brandy and orange, resulting in a lovely sweet, creamy, spicy interplay, with a bit of heat from the booze.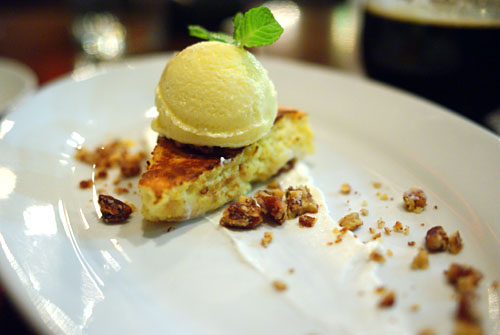 Yogurt Cake with Buttermilk Ice Cream [$7.00]
And last but not least, a soft, creamy,
tangy
yogurt cake. The weight of the ice cream made things interesting enough, while the bits of nut sprinkled about mixed things up texturally.
I walked out of Lazy Ox, button-burstingly full, first of all, but also quite impressed. I think Centeno's found a nice niche here, where he can blend the rigors of his formal training with his trademark inventiveness and flair, bringing together seemingly disparate styles into one cohesive concept--we even drew comparisons to
Animal
. Lazy Ox is a welcomed addition to Downtown, and I think that Centeno's got a winner on his hands. Let's just hope that he manages to stick around a bit longer this time.