Central Michel Richard (Washington, DC)
Central Michel Richard
1001 Pennsylvania Ave NW, Washington, DC 20004
202.626.0015
www.centralmichelrichard.com
Sat 01/23/2010, 05:10p-06:40p

Originally, dinner was supposed to be at Bryan Voltaggio's
Volt
, up in Frederick, Maryland. Plans fell through, however, and I was left wondering where to go. The previous night, I'd had a positive experience at
Citronelle
, and based off the strength of that dinner, Michel Richard's other restaurant, Central, was the answer.
Opened in early 2007, Central is Chef Richard's casual dining concept, an ode to classic American cuisine, intermixed with a dash of French bistro panache. Since debuting, Central has firmly established itself as a force in the DC culinary scene, even winning the James Beard Award for Best New Restaurant in 2008. Initially, Richard had tapped Cedric Maupillier to fill the Chef de Cuisine post, a role that he performed admirably. However, earlier this year, Maupillier announced that he was leaving on amicable terms, ostensibly to start his own restaurant. Filling Maupillier's shoes is the 29-year-old Arthur Cavaliere, former Executive Chef at Stephen Starr's Parc brasserie in Philadelphia.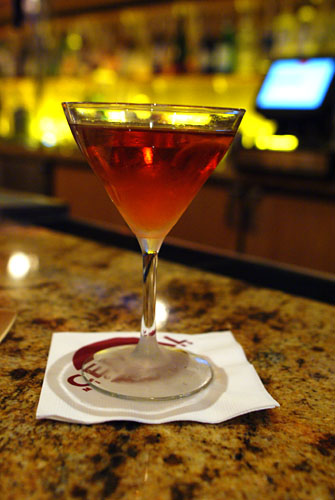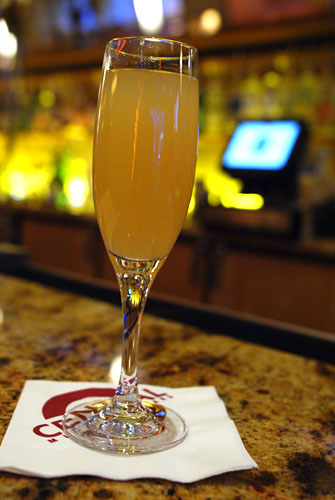 Prior to dinner, we enjoyed some cocktails in Central's lounge. I had The Social [$11], comprised of Old Overhold Rye, Carpano Sweet Vermouth, Aperol, Cointreau, and Orange Bitters; think of your classic Manhattan, but made even better by delectable, complex citrus flavors. My dining companion went with the Pear 20 [$11], made with Gosset Champagne, Belle De Brillet, and Pear Nectar; sweet, fruity, and refreshing, I likened it to a pear Bellini.

Central's dining room is clean, comfortable, awash in earthy tones and light wood, and anchored by a see-through glass wine cellar.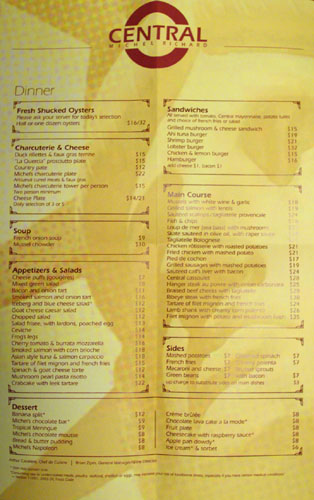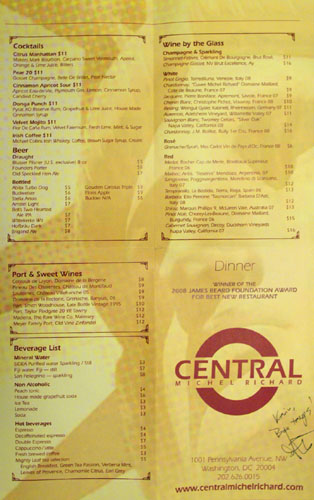 The carte here is a blend of French and American classics, imbued with Richard's signature touch. Click for larger versions.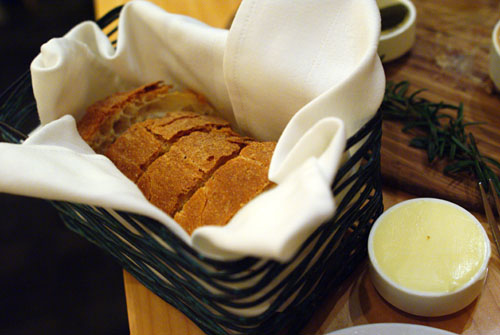 The bread here, a crusty, flaky sourdough, was very similar (perhaps identical?) to that at
Citronelle
.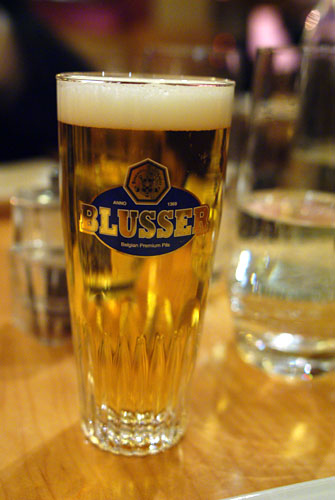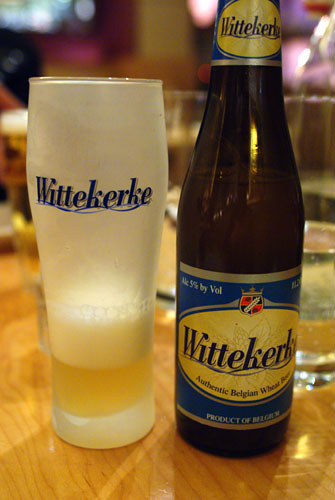 With our cocktails dispensed with, we decided upon some beer. I went with the fizzy, malty, Blusser Pilsner [$5 for 8oz] from Belgium's Brouwerij Het Anker. Meanwhile, my dining companion had Brouwerij Bavik's Wittekerke Wit [$7], a delightfully tangy white beer.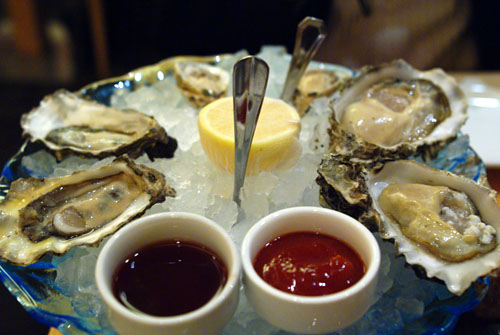 Half Dozen Fresh Shucked Oysters [$16.00]
We began with some oysters, served with lemon, mignonette, and cocktail sauce. From smallest to biggest: first up were the Kusshis, characteristically clean, sharp, and briny, excellent with a touch of citrus. Next we had the Hama Hamas, which were milder, but meatier in complexion. Last up were with Penn Coves, with were quite soft, with a lovely, sweet savor. Overall, a very strong presentation of oysters.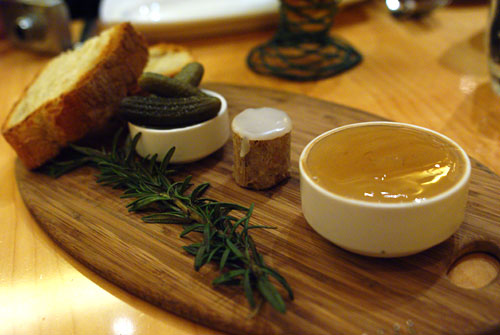 Duck Rillettes & Faux Gras Terrine [$15.00]
Rillettes refers to a dish of slow-cooked, shredded meat, blended with fat to form a paste-like pâté. The version here utilized duck, and was wonderfully salty and full of flavor, with a fantastically fibrous texture. As good as that was, the so-called "faux gras" was even better. Made with chicken liver, it had a superbly subtle, yet profound sapor, finished with a perfect peppery tang. In fact, I actually preferred it to most real foie gras terrines I've had!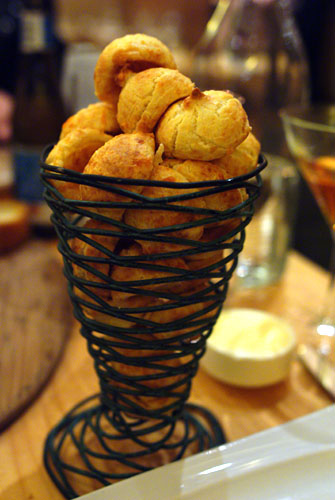 Cheese Puffs (Gougères) [$7.00]
Every
time
I
have
gougères at a restaurant, I'm left wanting more--well here I finally got to have my fill! They were delicious, as expected, a great mix of a flaky pastry crust and a filling of creamy, luscious cheese.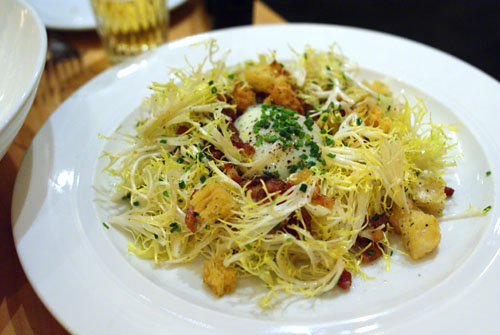 Salad Frisee, with Lardons, Poached Egg [$13.00]
I'm not a huge salad eater, but this classic frisée salad is one that I always like to make room for. The amalgam of creamy egg, salty lardons, and airy frisée was suitably scrumptious, a great commixture of disparate flavors and fibers. This compared quite favorably to versions that I'd had recently at
Bouchon
and
The Tasting Kitchen
.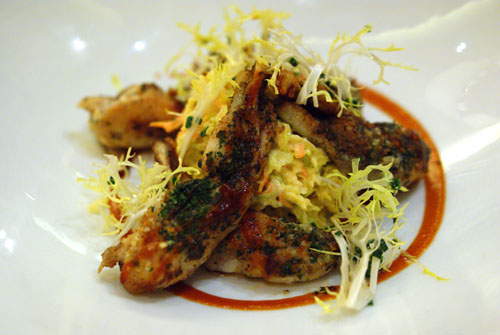 Frog's Legs [$14.00]
Cooked with garlic and herbs, the frog legs really did "taste like chicken," (not necessarily a bad thing, mind you). I quite enjoyed the interplay of the savory frog with the frisée and tangy "coleslaw," but I did find the BBQ sauce a tad too sugary.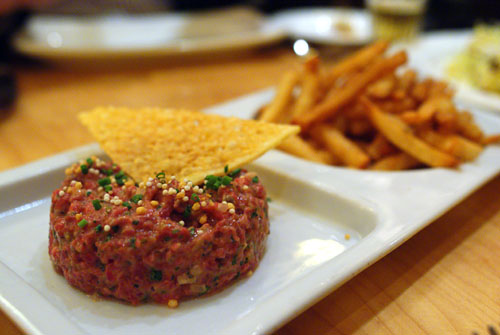 Tartare of Filet Mignon and French Fries [$15.00]
Steak tartars often let me down, but I'm happy to report that Central's version was easily one of the best preparations I've ever had. I loved its soft, savory consistency, and its delicate, yet focused flavor, tinged with a bit of spicy goodness. And the herb and garlic
frites
? Perfection.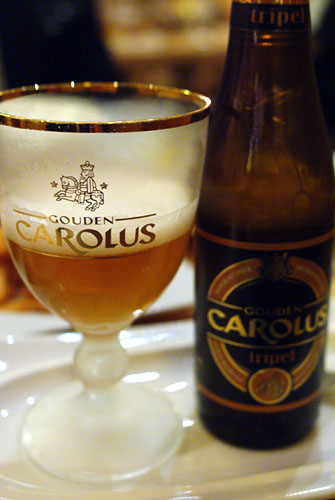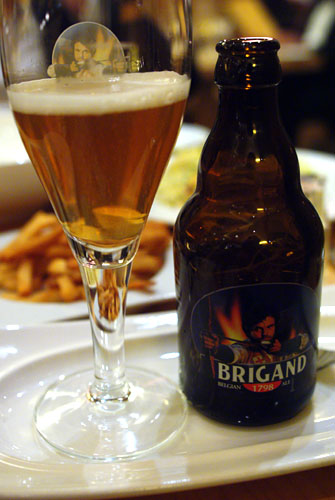 For our second round of beers, I went with the marvelously fruity-spicy Gouden Carolus Triple [$9], also from Het Anker (the maker of the Blusser above). My dining companion chose a Belgian as well: Brouwerij Van Honsebrouck's excellent Brigand Ale [$8].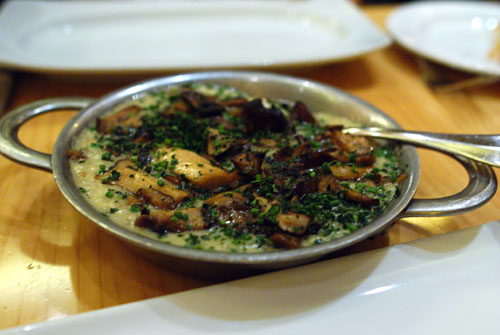 Mushroom Pearl Pasta Risotto [$14.00]
Regular readers will know that I'm somewhat of a risotto slut, and I have a hard time
not
ordering the rice dish if it's on the menu. The version here was suitably creamy and cheesy, rich with dark, heavy, earthy flavors of mushroom. The only real problem was that the pasta globules were a bit too dense and chewy for me (with an almost a tapioca-esque body).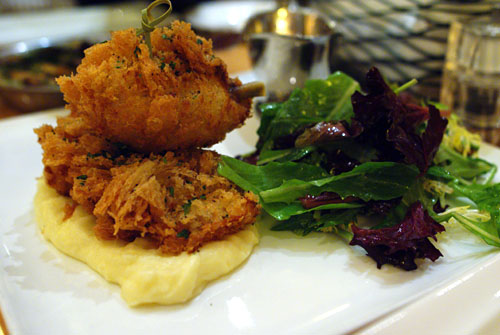 Fried Chicken with Mashed Potato [$21.00]
Our final savory course was Richard's take on the comfort food classic, fried chicken. It was definitely one of the tenderest, juiciest versions I've had, with a great, light herbal tang. I quite liked the
pommes purée
as an accompaniment, while the greens added a nice vegetal component. Unfortunately, some parts of the bird were over-battered, rendering those areas a touch tough.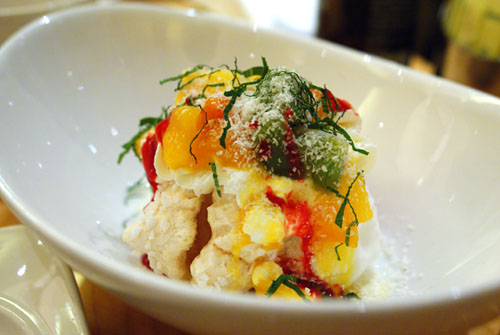 Tropical Meringue [$9.00]
Despite being rather full at this point, we soldiered on with dessert. The first was a fruity meringue, with flavors of mango, kiwi, and coconut. I appreciated the contrast between the soft and crisp portions of meringue, as well as the refreshing relish of the mint.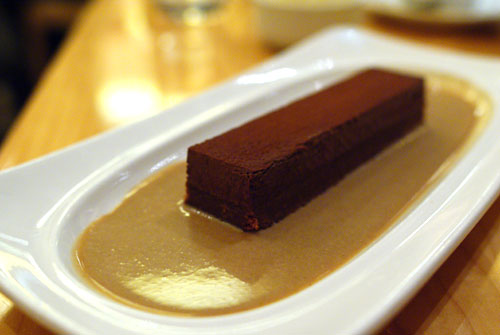 Michel's Chocolate Bar [$9.00]
Next up was Michel Richard's signature sweet, his oft-lauded, oft-imitated "Kit Kat Bar." Composed of layers of chocolate crème, crushed hazelnut, and crisp wafer, the dessert was a simple, but masterful presentation of tastes and textures, one with a flavor reminiscent of Ferrero Rocher!
I walked out of Central immensely sated, and immensely satisfied. Michel Richard has done a near-perfect job of joining classic American cuisine with the verve of French tradition. In the process, he's made the experience here familiar, comfortable, yet modern, refreshing, and remarkably delicious.