Citronelle (Washington, DC)
Citronelle
3000 M St NW, Washington, DC 20007
202.625.2150
www.citronelledc.com
Fri 01/22/2010, 06:05p-09:40p

Years ago, when I was just starting to get interested in food, I happened to be in Washington DC for business, and had the opportunity to dine at Michel Richard's Citronelle. That dinner was, at the time, arguably the best meal I'd ever eaten. But since those
were
my pre-blogging days, the details of what I ate have been lost to time. As such, I was eager to return, and another work-related trip to DC provided the perfect opportunity.
Michel Richard's culinary journey began when he was only a child, after catching a glimpse of the magic and mystery of a restaurant kitchen. He began his formal training at age fourteen, when he apprenticed as a pâtissier at a restaurant in Reims, Champagne. Three years later, the Chef moved to Paris, where he established his reputation working under the legendary pastry chef Gaston Lenôtre. In 1975, Richard relocated to the US, first helming Lenôtre's short-lived Chateau France in New York before landing in Santa Fe, New Mexico. Although he achieved some success there, operating a small restaurant called The French Pastry Shop at La Fonda Hotel, he eventually found the city stifling, and moved to Los Angeles in 1977. In LA, Richard opened his eponymous pâtisserie--Michel Richard--to resounding success. This allowed him to perfect the savory side of things over the next ten years, and the Chef eventually partnered with Marvin Zeidler to debut Citrus (at the location of the new
Hatfield's
) in 1987. Citrus blended traditional French methods with California flair, and achieved near-instant acclaim.
Then, in 1991, Richard opened the first Citronelle at the Santa Barbara Inn Hotel. Empire building continued, and the Chef went on to open Bistro M in San Francisco, Citronelle in Baltimore, Citronelle in Philadelphia, and, in 1994, Citronelle in Washington DC at The Latham Hotel; he even owned a stake in Santa Monica's Broadway Deli (in a partnership with Zeidler and restaurateur Bruce Marder of
Capo
fame). At this point, he was stretched too thin, and thus, in 1997, Richard decided to focus solely on the DC restaurant, divesting his stake in his other eateries. However, the desire to expand would rise once again, and in early 2007, Richard opened Central, a bistro concept, also in DC. The same year, he would debut Citronelle at Carmel Valley Ranch (shuttered after the hotel was sold in 2009), and revive the Citrus name at the ill-fated Citrus at Social in LA.
Richard, of course, doesn't do much cooking these days. For that, he leaves it up to his Executive Chef, David Deshaies, who toqued at Hotel Pralong in Courchevel, France, Restaurant Ses Rotges in Mallorca, Spain, and La Cote Saint Jacques in Joigny, France before starting at Citronelle in 2005. Rounding out the team are Pastry Chef Mark Courseille (Le Paradou, Hôtel Le Saint-James in Bouliac, La Buvette in Bordeaux), Sommelier Kathryn Morgan (2941 Restaurant, Ristorante Tosca, Occidental Grill), and affable Maître D' Jean-Jacques Retourné (the former head of l'Ermitage and Citrus in LA, who's been with Chef Richard for over 30 years).

Inside, things are tame, perhaps a touch tedious, but refined, draped in shades of maize. One side of the room is dominated by the luminance of the exhibition kitchen; a giant mirror covers another. Private rooms are also available.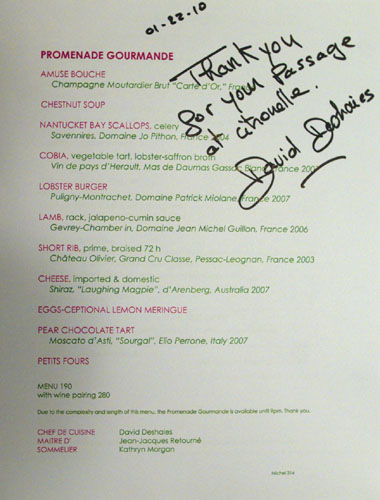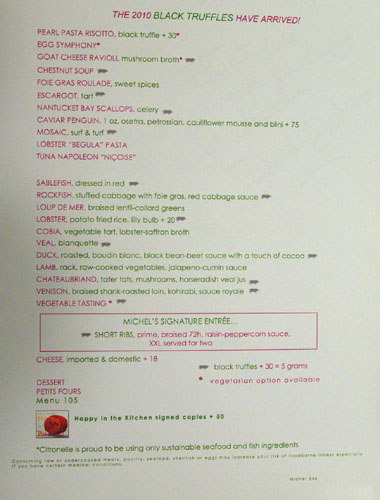 Menu options include a three-course prix fix at $105, or the nine-course Promenade Gourmande at $190 (plus $90 for wine). Click for larger versions. At one time, an even grander degustation was available, but apparently, it was removed because it was simply too much food.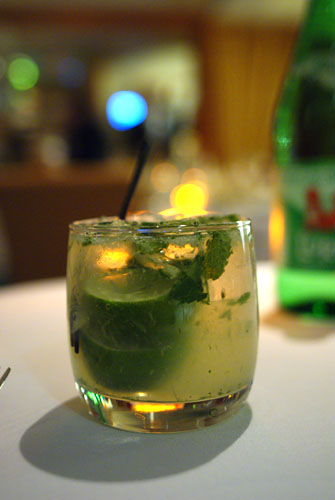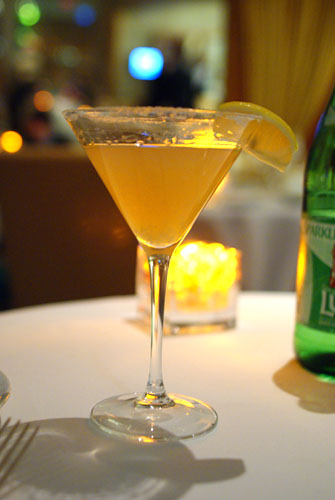 To start, I reverted back to my old ways and ordered up a Bubbly Mojito [$13], with Rum, Champagne, Mint, and Lime; it was basically your typical mojito, but with the addition of carbonation. My dining companion's drink, the Parisian Sidecar [$18], was much more interesting. Composed of Hennessy Cognac, Cointreau, and Lemon Juice, I described it as "adult orange juice," noting its strong body of citrus, back by just a hint of brandy.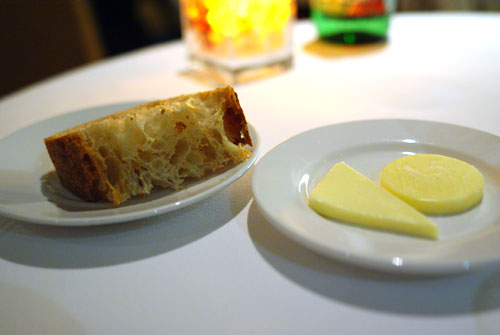 Bread service consisted of a solitary sourdough, served with salted (circle) and unsalted (triangle) butters.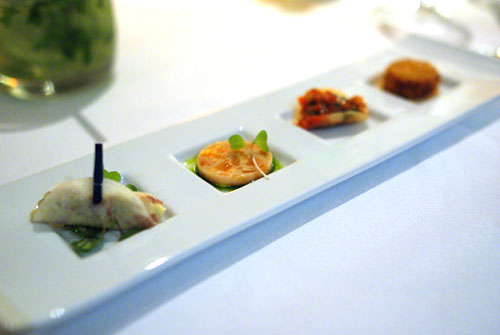 1: AMUSE BOUCHE
Champagne Moutardier Brut "Carte d'Or," France
To start, four beguiling bites were brought about. Right to left, we have:
Mini Crab Cake - A classic interplay between the salty, savory crab and its sweet aioli condiment.
Ratatouille Taco - A tangy, refreshing, almost salsa-like amalgam of various veggies, wrapped in a "taco shell."
Smoked Salmon with Basil Oil - The intense, almost "hammy" savor of the salmon was lightened nicely by the application of basil.
Jicama Crepe with Potato and Prosciutto - I loved how I was hit first by the cool crispness of the jicama, with the fantastic weight of "potato salad" coming in later.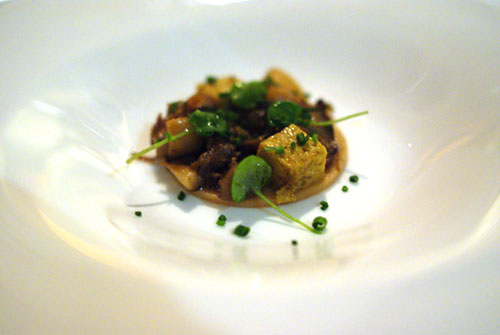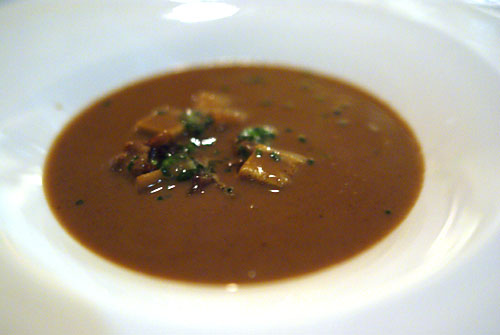 2: CHESTNUT SOUP
Next up was an admixture of mushroom, shallot, dried foie gras, and peanut butter-foie gras flan, to which a chestnut soup with foie gras and duck jus was added. Flavors here were hearty, dark, with strong earthy and nutty notes--"tastes like winter."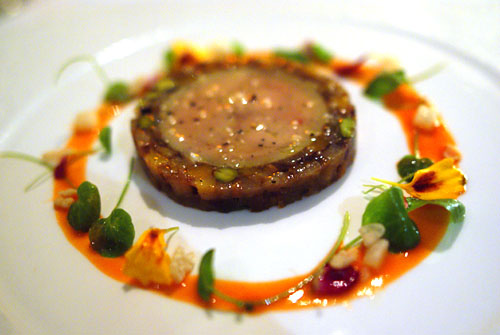 Supplement: FOIE GRAS ROULADE
| sweet spices
Our first of two supplemental courses was this disk of foie gras pâté, encircled by a layer of fruit chutney, then circumscribed by a ring of carrot-ginger emulsion. As expected, the foie itself showed off its characteristic tastes and textures in droves. The chutney, meanwhile, acted as an almost too sweet counterpoint to the liver, while the emulsion added a piquant temper.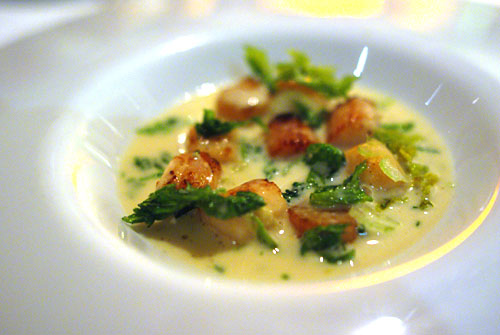 3: NANTUCKET BAY SCALLOPS
| celery
Savennires, Domaine Jo Pithon, France 2004
Scallops were up next. Buttery, savory, and naturally sweet on the finish, the bivalves were nicely balanced by the celeriac reduction and the greens. However, I really would've liked to have seen large scallops here, so I could better appreciate their texture.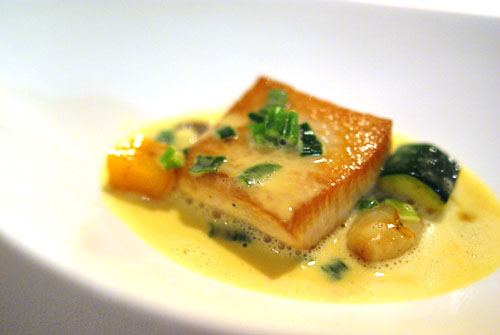 4: COBIA
| vegetable tart, lobster-saffron broth
Vin de pays d'Herault, Mas de Daumas Gassac Blanc, France 2007
Cobia is a relatively uncommon fish on menus, and the last time that I had it was at
Sage
in Las Vegas. As usual, the fish was firm, flaky, and stupendously savory, with a delightfully crisp skin. I loved how the cobia's brininess was preserved here, and how the various veggies--zucchini, carrot, pearl onion--helped in moderating its power. The broth, meanwhile, with its almost buttery lobster bisque-like sapor, was delicious on its own, and I eagerly mopped up the excess with bits of sourdough.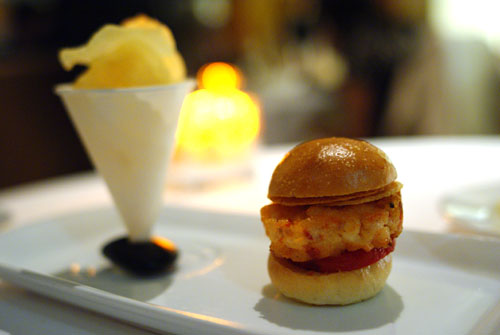 5: LOBSTER BURGER
Puligny-Montrachet, Domaine Patrick Miolane, France 2007
Upstairs, in the Lounge, diners have a choice of a variety of burgers, the most luxurious of which is the lobster burger seen here. Constructed with scallop and tomato confit, it was very, very good. I really appreciated how the sweet-briny essence of the crustacean was highlighted, and how its texture was soft, snappy, spot-on. I wanted a full size version! Meanwhile, the accompanying potato chips, fried in clarified butter, were easily the most decadent example I'd ever had.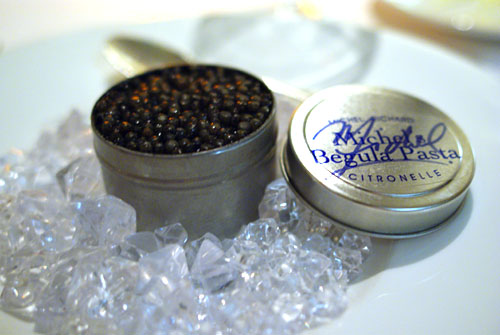 Supplement: LOBSTER "BEGULA" PASTA
Our second add-on was Michel's famous faux caviar. The "Begula," an accidental misspelling of "Beluga" that the Chef found amusing, consists of squid ink pearl pasta over a layer of lobster and egg. The "roe" was nicely firm, with a mild flavor that did a fantastic job in countering the luxuriousness of the lobster. And what a lobster! Incredibly buttery and rich, the crustacean was elevated even further by the use of runny egg yolk, while bits of toast added some textural play. Classic flavors, but superbly done.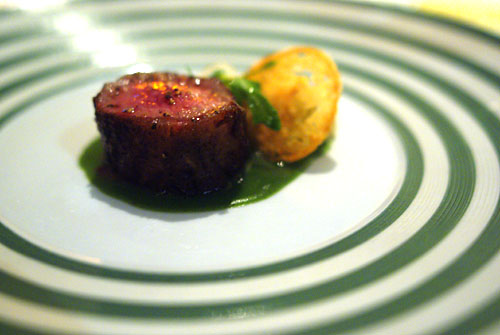 6: LAMB
| rack, raw-cooked vegetables, jalapeno-cumin sauce
Gevrey-Chambertin, Domaine Jean Michel Guillon, France 2006
Sure, the lamb was perfectly done, wondrously toothsome with that signature "lamby" flavor. And the potato, sunchoke, and zucchini were also great garnishes to the dish. It was, however, the jalapeño-cumin condiment that made this one of the best lamb dishes I'd ever had. The sauce, quite simply, with its simultaneously spicy and earthy savor, was the
perfect
complement to the gaminess of the lamb. Astounding.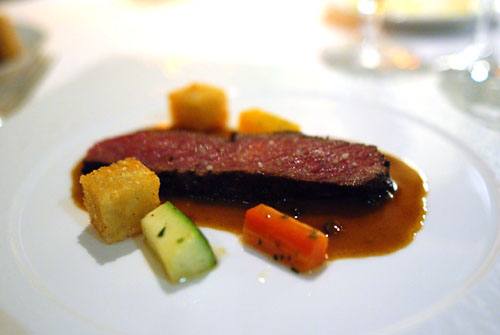 7: SHORT RIB
| prime, braised 72h, raisin-peppercorn sauce
Château Olivier, Grand Cru Classe, Pessac-Leognan, France 2003
Our final savory was Michel's signature dish, a slab of sous vide beef short rib, drizzled with an Armagnac-raisin-peppercorn sauce, with sides of tater tots, rutabaga, carrot, and zucchini. It was
amazing
, one of the best pieces of beef to ever touch my palate, in fact. Texturally, the short rib was fantastically tender, but still had a bit of fibrousness to it. In terms of taste, the meat was positively teeming in bovine sapor, while the peppercorn really made its mark on the close, imbuing the dish with an almost beef jerky-like finish!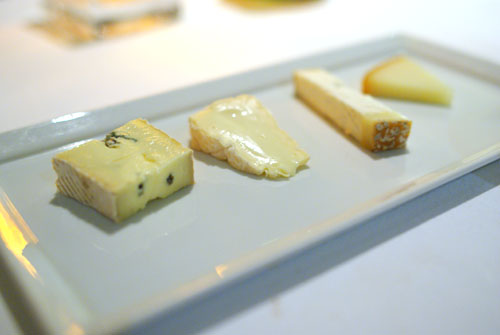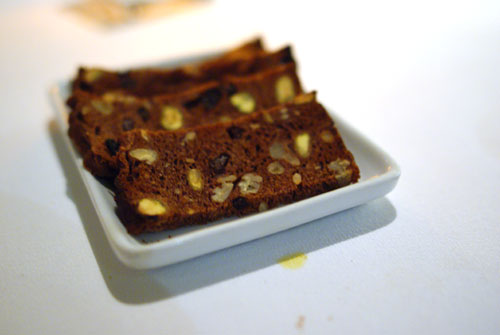 8: CHEESE
| imported & domestic
Shiraz, "Laughing Magpie", d'Arenberg, Australia 2007
As for fromage, four types of cheese were presented, served with raisin-pistachio bread. Left to right:
Gorgonzola - The famous Italian bleu cheese. Soft, creamy, and salty, with that prototypical blue tang.
Camembert - From Normandy, this cheese was delightfully soft, with a rich, nutty, grassy flavor that I rather liked.
Leonara - From Spain, this was a tangy tasting goat cheese with a soft, creamy, mouth-filling consistency.
Petit Basque - A semi-firm, relatively mild sheep's milk cheese from the Basque region of France.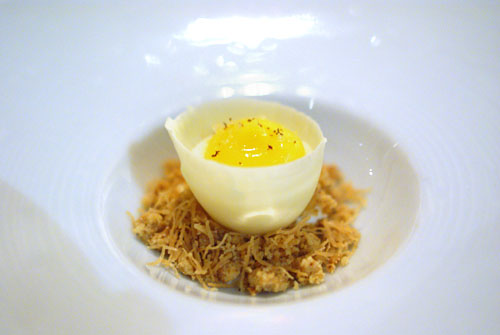 9: EGGS-CEPTIONAL LEMON MERINGUE
A pre-dessert course consisted of a faux egg, replete with "nest." In reality, what we had was a "yolk" of lemon meringue, with a white chocolate shell and cookie crumbles. Eaten together, the whole thing tasted like a lemon tart.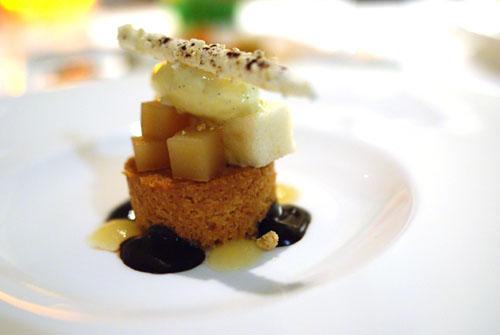 10: PEAR CHOCOLATE TART
Moscato d'Asti, "Sourgal", Elio Perrone, Italy 2007
We closed with a sort of cookie cake, served with pear and pear meringue, topped with vanilla ice cream. The interplay of the chocolate and the fruit was surprisingly good, with the pear tempering some of the chocolate's sweetness, while the tart contributed a fabulously crunchy texture.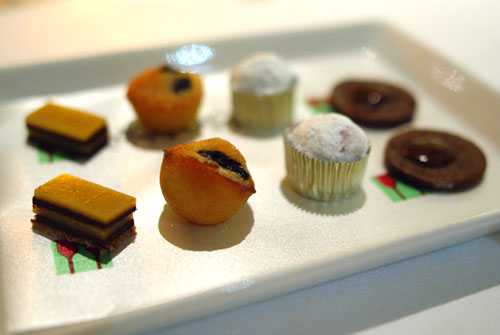 11: PETITS FOURS
A plate of petit fours: chocolate-hazelnut bar, raisin madeleine, chocolate covered grape, chocolate cookie. All quite delicious.

Following our meal, we were brought into the kitchen. Above, we see the pass, as well as the Chef's Table. Initially, we'd wanted this vantage point, but the Chef's Table at Citronelle requires at least six people, and starts at $350 per person for a 10-course meal matched with wine.
My return to Citronelle, thankfully, was nearly flawless. The magic, the mystery, the playful whimsy, all of that was on the plate, combined with Richard's brilliant take on contemporary French cuisine. Though Citronelle may not be the best meal I've ever had at this point, it's not too far off.