Jar (Los Angeles, CA)
Jar
8225 Beverly Blvd, Los Angeles, CA 90048
323.655.6566
www.thejar.com
Mon 01/04/2010, 07:00p-10:35p

Jar, Suzanne Tracht's vision of the modern American chophouse, had been on my culinary radar screen for years now. I'd always been somewhat intrigued by Jar's cuisine, which presents itself as a sort of contemporary interpretation of familiar "retro" fare, juiced up by a touch of pan-Asian influence. However, other restaurants got in the way, as tends to happen with me. Thus, I needed a push, and that push came in the form of
Jai
, a reader whom I'd met previously at
The Tasting Kitchen
and at
Annapurna
. Joining us were Jai's friends Brian and Doreen.
About the Chef: A native of Phoenix, Tracht entered the field of cooking as a teenager, when she apprenticed as an
entremetier
(soup, vegetable, egg cook) and
garde manger
(pantry cook) at the Arizona Biltmore, under Chef Siegbert Wendler. After three years, Tracht relocated to Los Angeles, working at the Century Plaza Hotel and the Hotel Bel-Air (under George Morrone, opening chef at
Aqua
and
Fifth Floor
) before taking on a Sous Chef role at Noa Noa in Beverly Hills in 1991. It was at Noa Noa where Tracht would garner her first significant exposure to the philosophy of Asian fusion cooking. The next year, Tracht joined the team at Campanile, working under the husband-and-wife team of Mark Peel and Nancy Silverton. She would later achieve the rank of Chef de Cuisine there, a crucial step in establishing and growing her standing in the LA restaurant scene.
However, in 1996, Tracht left Campanile, recruited by Andy Nakano to start Jozu (located at the site of the legendary Ma Maison, then Tulipe, Ita Meshi Ya, Jozu, Citrine, Kumo, and now Hamasaku), a well-received Cal-Asian eatery that further cemented her reputation. Tracht, however, left in October 1999, replaced by Hisashi Yoshiara--the restaurant lasted only a couple more years after that. The best thing to come out of Jozu, perhaps, was Preech Narkthong, Jar's current Chef de Cuisine. While at Jozu, Tracht met the chef, and the two instantly connected. Perhaps it was destined: a native of Thailand, Narkthong moved to the States in 1966, taking his first culinary position at the Century Plaza Hotel,
the very same hotel
where Tracht would begin her career in California some years later.
With the dynamic duo of Tracht and Narkthong established, the stage was set for Jar. Partnering with former boss Mark Peel and general manager Jason Lapin, along with attorney Bob Silverstein, Tracht debuted Jar in September 2001. In spite of the inauspicious opening date, Jar quickly gained its share of fame and acclaim, firmly entrenching itself in the LA culinary landscape. Despite success in the kitchen, there were some still shake ups in ownership. In 2002, Lapin, who opened Spago Las Vegas, would leave the partnership and return to Sin City to work at Tom Colicchio's Craftsteak. In 2004, Peel divested his stake in Jar to focus on Campanile, and Silverstein would also sell that year (though he would remain on as wine director). Their void was filled by new investors: television writer and producer Philip Rosenthal and his wife Monica (the two also have a stake in
Pizzeria Mozza
).
The success of Jar paved the way for further opportunities, and in 2007, Tracht opened the eponymous Tracht's at the Renaissance Long Beach Hotel. Led by Executive Chef Randy Montoya, Tracht's was a virtual clone of Jar. However, the restaurant failed to catch on, and was shuttered by July 2009, further cementing the notion that Long Beach is
not
a foodie city. Tracht's latest restaurant venture, first developed in 2008, is Suzpree, a sort of "modern oyster bar and noodle house" rooted in pan-Asian cookery. Though originally slated for a summer 2009 debut, Suzpree has been pushed back to 2010. And if that wasn't enough, according to a
recent LA Weekly article
, the Chef is working on a "comfort food concept" called
Tracht House
at LAX! Finally, Tracht was recently a contestant on the first season of
Top Chef: Masters
, where she successfully defeated Graham Elliot Bowles, Wylie Dufresne, and Elizabeth Falkner to secure a spot in the Champions Round, winning $10,000 for local food bank
SOVA
.

Dressed in dark, rich hues of brown, Jar's 90-seat room recalls that of a 1950's supper club. However, those of you who've visited Jar in its early days will know that the space didn't always look as it does now. The restaurant began life with a light, airy, retro Space Age meets
The Jetsons
meets Mid-Century modern design that eventually outlived its welcome. When the Rosenthals invested in 2004, Jar closed for three months, during which the interior was transformed to what we see today. Unfortunately, the current lighting is horrendously dim (though not quite as bad as at
Mastro's
or
Tagine
); at ISO800, I went all the way down to 1/5s wide open at f/1.8. As a result, I apologize in advance for the subpar photos.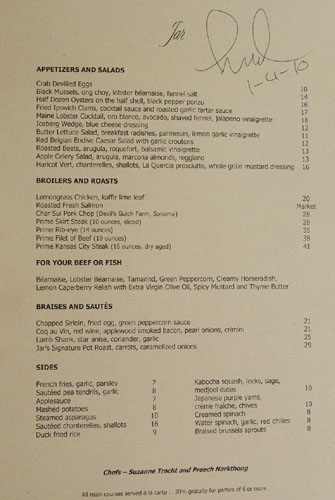 Jar's various
cartes
are shown above; click for larger versions. Split simply between starters and mains, the seasonally-adjusted menu reflects the combined efforts of Tracht and Narkthong in an attempt to reinvent chophouse classics to reflect their own techniques and personalities. That is not all there is to Jar, though. Remember the aforementioned restaurant concept Suzpree? Well, Tuesdays through Thursdays at the bar, you can get a taste of Suzpree's Cal-Asian cuisine via a menu of six small plates, which change weekly.
Suzpree will have to wait, however, as we were here for Mozzarella Mondays, a one-day-a-week special event that began way back in September 2004. At the time, Nancy Silverton, having sold her stake in Campanile and La Brea Bakery, was still planning the debut of
Mozza
. With some free time on her hands, she started Mozzarella Mondays at Jar, partly because her ex-husband Mark Peel was a co-owner. Silverton eventually left, but the concept remained. Jar currently sources its mozzarella from famed producer
Gioia Cheese
in South El Monte.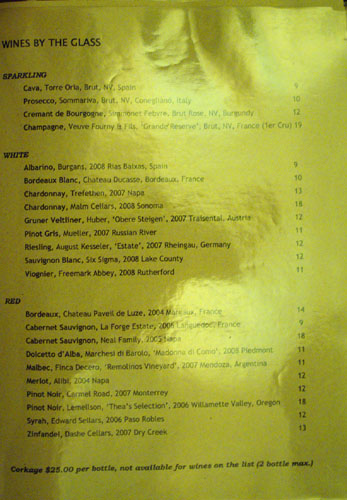 And now, the libations: a straightforward selection of cocktails, beers, and wines by the glass. Of course, a much more complete, reasonably priced wine list is also available. Click for larger versions.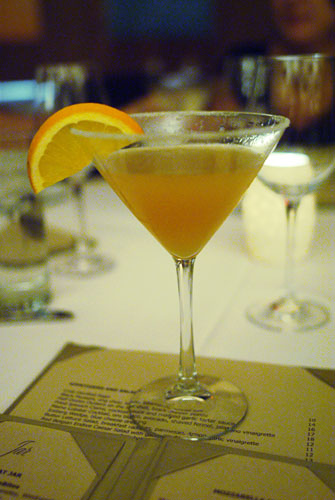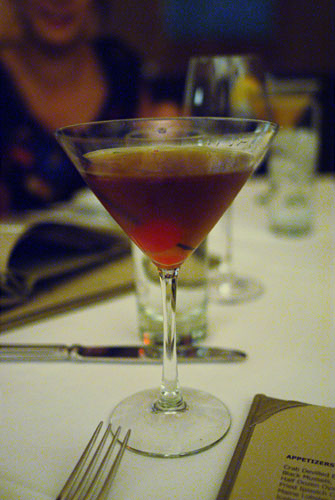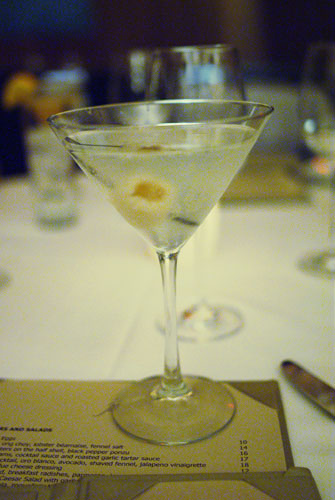 We decided upon cocktails to start. Doreen, the Cognac fiend that she is, ordered a Sidecar [$14]: Hennessey VS Cognac, Cointreau, Fresh Sweet & Sour Mix, a Splash of Orange Juice with a Sugar Rim. I quite liked it, with the citrus playing a great foil to the Cognac. Jai went even more old-school, with Jar's Premium Manhattan (Blanton's Bourbon, Vya Sweet Vermouth, Angostura Bitters) [$18], a stiff, straightforward, textbook version of the drink. I, on the other hand, asked our server to "surprise me," and she chose the Koh Samui [$14], made from Ketel One and Lychee Juice. Named after an island off the coast of Thailand, the cocktail was pleasantly sweet, absolutely imbued with lychee flavor, but with just a hint of heat--quite nice.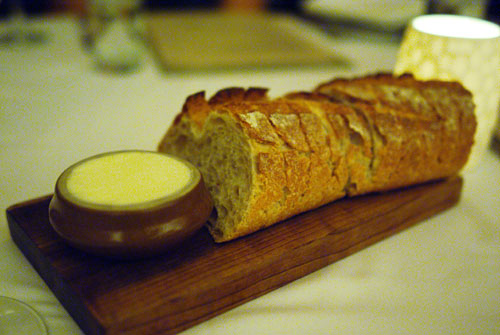 Not surprisingly, given Jar's relationship with Mark Peel and Nancy Silverton, the bread, a prototypical sourdough, comes from La Brea Bakery.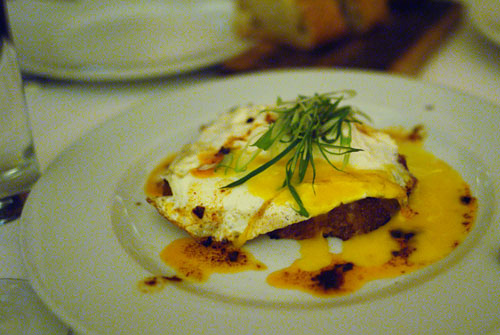 Spicy Fried Egg [$9.00]
| melted mozzarella, harissa
Upon seeing the words "Spicy Fried Egg" on the menu, I knew that I had to make this our first mozzarella selection. Combined with the heft of the egg, the rich creaminess of the mozzarella was a great counter to the piquancy of the harissa, while the bits of scallion up top contributed a nice vegetal tang.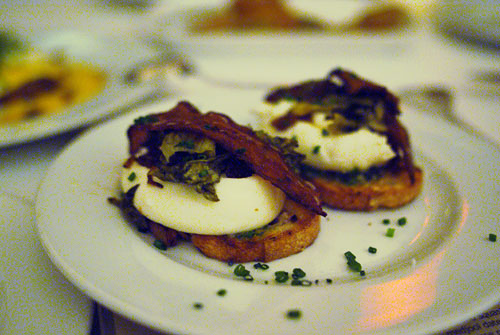 Burrata [$11.00]
| shallot confit, bacon, charred marinated escarole
As good as the above dish was, Brian's mozzarella pick was even better. I loved the interaction here between the gooey burrata and the crisp, salty bacon, while the bitterness of the escarole added a further, wondrous accent.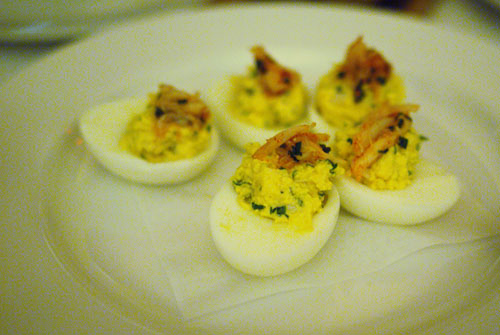 Crab Deviled Eggs [$10.00]
I've never met a deviled egg that I didn't like--I guess you could call me a
deviled egg slut
(that's an Anthony Bourdain reference, by the way). There's something very appealing to me about the weight of the yolk, perked up by various spices, interacting with the cool gentleness of the hard-boiled egg. This was pretty much a textbook preparation of
œufs mimosa
, just with a touch of sweet brine, courtesy of the crab.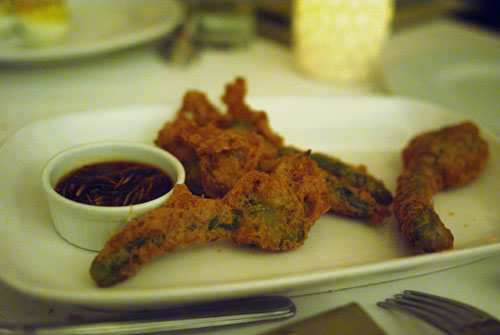 Fried Squash Blossoms [$16.00]
| tempura, ponzu
Next we have an off-the-menu special: deep-fried, tempura-battered zucchini flowers. I really appreciated the blossoms' firm, almost "meaty" consistency, as well as their subtle, yet succulent squash sapor. The tangy ponzu dip, meanwhile, effectively offset some of the heaviness of the dish.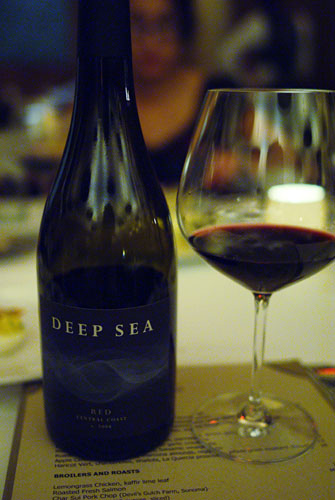 With our cocktails dispensed with, it was time to move on to some wine. Jai chose a Rhône-inspired Syrah/Mourvèdre blend: the 2008 Rancho Arroyo Grande Deep Sea Red [$46], from California's Central Coast. This was a powerful, yet easy-drinking wine, with alluring flavors of dark berry intertwined with herbal and slightly astringent notes. I rather liked it.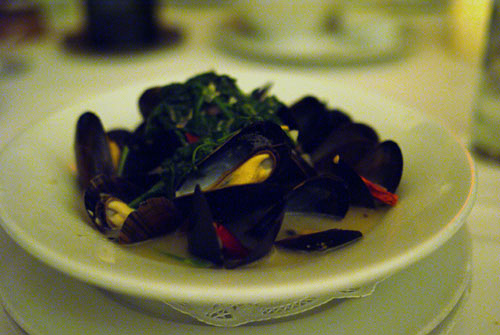 Black Mussels [$14.00]
| ong choy, lobster béarnaise, fennel salt
Our last appetizer was one of Tracht's best. The mussels were perfectly cooked to a firm, yet yielding body, but the key here was how the briny mollusks played off of the delightful bits of water spinach. The effect was stupendous, rendering the accompanying fennel salt and béarnaise superfluous. And let's not forget the superb chili-tinged broth; once the mussels were gone, we eager soaked up the remaining pool with pieces of our La Brea bread! This may have very well been the strongest presentation of mussels I've ever eaten.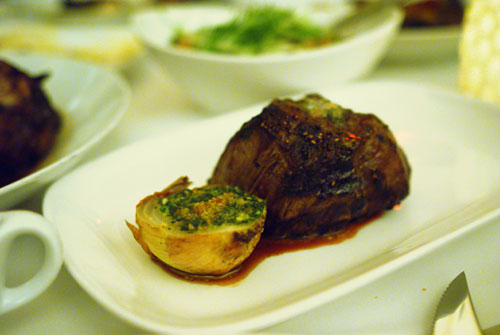 Prime Filet of Beef [$38.00]
| (10 ounces)
And with that, we were off to our first main course of the night: a classic beef tenderloin.
Some
have complained that Jar's steaks tend to be slightly underseasoned, and I can see where they're coming from. The filet here was cooked to a tender consistency, with a proper juiciness and char. However, at the same time, it didn't have that in-your-face, "steak-y" savor that I expected--it was much more understated. Perhaps this intentional, to let the sauces (we had a Lobster Béarnaise) sing?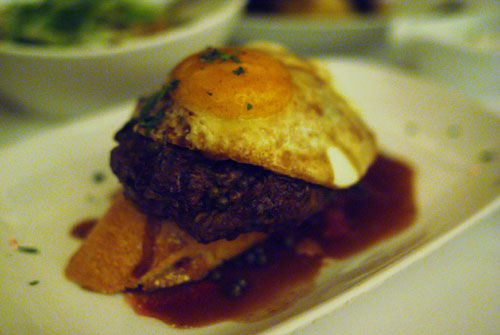 Chopped Sirloin [$21.00]
| fried egg, green peppercorn sauce
On the other hand, there was no paucity of flavor here. The sirloin itself was appropriately succulent, with a lovely herbal component counterbalancing the sheer heft of the meat. The egg, meanwhile, served to add an overarching creaminess to the dish. Think of this as a ridiculously tasty hamburger patty.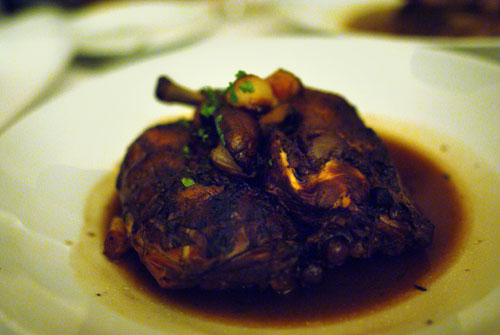 Coq au Vin [$21.00]
| red wine, applewood smoked bacon, pearl onions, crimini
Here was Tracht's version of the oh-so-classic French dish of braised, falling-off-the-bone tender chicken. This was a heavy, yet heavenly dish, with hearty and heartwarming flavors that were straightforward in appeal, yet suitably complex.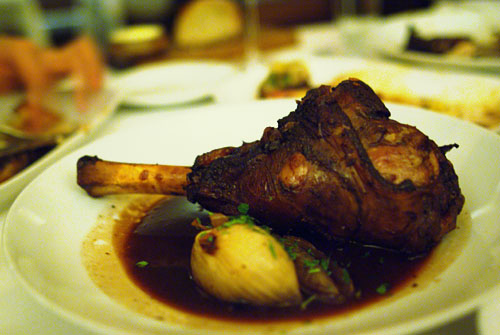 Lamb Shank [$25.00]
| star anise, coriander, garlic
Following was another braised dish, this time a leg of lamb. Looking at it, Brian resisted the urge to simply grab the bone and start gnawing,
Flintstones
style (and I thank him for that). I was a bit concerned that this would be overly tough, but it wasn't. Instead, it was cooked to a pleasing, "toothsome" tenderness. Flavor-wise, it successfully preserved the essence of lamb while presenting lovely notes of anise.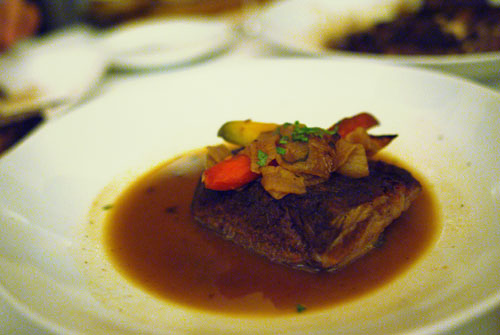 Jar's Signature Pot Roast [$29.00]
| carrots, caramelized onions
And here we have our final main, the infamous short rib pot roast, served with a side of Creamy Horseradish. As expected, this was a rustic, homey eating experience of stupendously tender, hearty beef. Simple, yet oh-so-satisfying, I can see why this is the restaurant's signature dish.
Duck Fried Rice [$9.00]
To accompanying our main courses, we chose the Duck Fried Rice. The heft of the duck confit utilized was deftly complemented by the pungency of the mounds of onion sprinkled on top. Very good.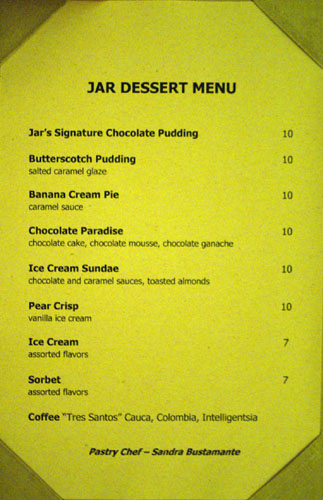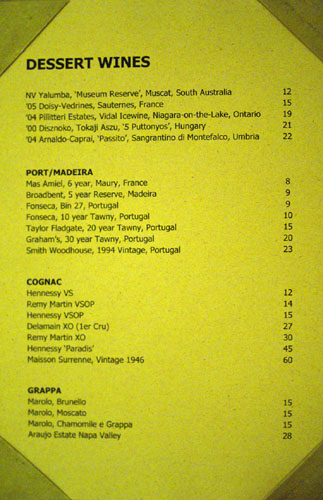 To finish off the meal, a look through the dessert menu was certainly in order; click for larger versions. Interestingly, at one point, desserts were brought in from La Brea Bakery. Now however, they are prepared in-house by Pastry Chef Sandra Bustamante.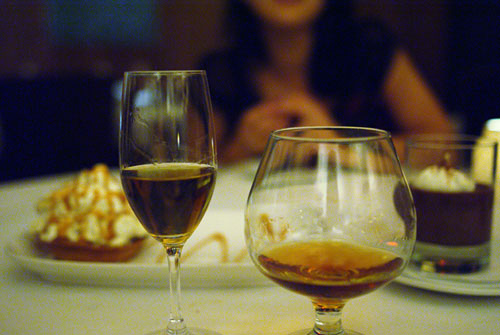 For after dinner drinks, Jai chose the Marolo Chamomile Grappa [$15], while Cognac-fanatic Doreen ordered some Hennessey VS Cognac [$12].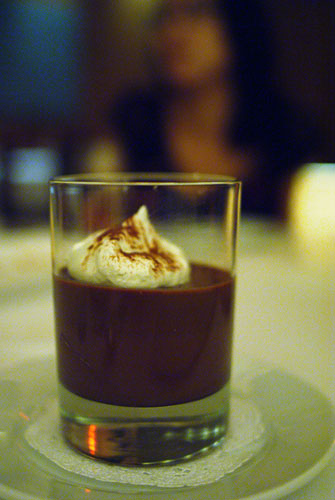 Jar's Signature Chocolate Pudding [$10.00]
Think smooth, luscious, velvety chocolate--rich and sugary, but not overwhelmingly so. This really reminded me of an adult version of the chocolate pudding snacks I used to eat as a child!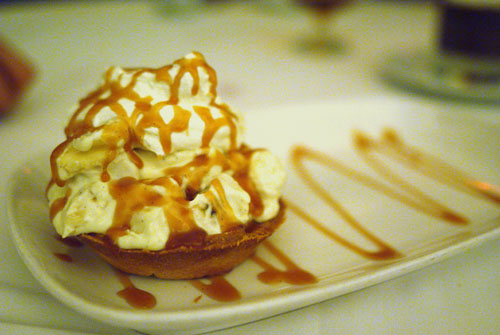 Banana Cream Pie [$10.00]
| caramel sauce
We closed with a individually-portioned pie, filled with a banana-laced custard, topped with whipped cream, and drizzled with caramel. The small slices of banana were nicely moderated by the cream, but the best part of this was the crisp, buttery, shortbread-esque crust.
If Tracht's goal is to serve "upscale" comfort food with a twist, then Jar is spot on. For the most part, retro classics are presented here with considerable gusto, faithful to the original, but somehow a step above. As you might suspect, Tracht is a big proponent of braising, and her fondness for the technique shows through in the rustic appeal of the food--those braises are definitely the stars of the show here. Pair them up with some of the starters (which can veer more toward the creative side), and you'll do just fine. It's clear to me that Jar is more than "Just Another Restaurant."