Sage (Las Vegas, NV)
Sage
3730 Las Vegas Blvd S, Las Vegas, NV 89109
877.230.2742
www.arialasvegas.com/dining/fine-dining.aspx
Fri 12/18/2009, 06:30p-10:00p
After a somewhat tepid experience the previous night at the brand spanking new
Bar Masa
, I was looking to Sage to kick things up a notch.
Sage is the creation of a Shawn McClain, chef and owner of the Chicago eateries Spring, Green Zebra, and Custom House (he has however, relinquished his stake in Custom House--Aaron Deal is now Executive Chef there). The San Diego native started his culinary career after high school, taking a dishwasher position at a restaurant in order to meet a girl that he was interested in! In 1990, after transferring from Miami University, McClain graduated from Kendall College's School of Culinary Arts in Evanston, Illinois. Following, he spent two years at The Boulevard at the InterContinental Chicago with Chef Stephen Junta. In 1992, McClain opened Bêtise in the city of Wilmette, but left after two years to serve on the opening team at Trio, under
Rick Tramonto and Gale Gand
. McClain was promoted to Sous Chef in January 1994, with the moniker of Chef de Cuisine coming the following year, and Executive Chef soon after that. In the span of seven years, McClain was able to establish a strong reputation for himself, both locally and at a nationwide level.
However, in 2001, wanting to start his own place, McClain left Trio, and was subsequently replaced by none other than
Grant Achatz
. Taking a cue from Paul Kahan's Blackbird, he partnered with Sue Kim-Drohomyrecky and Peter Drohomyrecky to open Spring in Chicago, an Asian-tinged modern American seafooder. Spring was met with considerable success--it was nominated for James Beard's "Best New Restaurant" award, and McClain was deemed
Esquire's
"Chef of the Year"--which allowed McClain to start Green Zebra, a vegetarian restaurant, in 2004. The next year, McClain did a 180 and opened Custom House, a New American eatery with a focus on artisanal meat products. 2006 saw McClain win the "Best Chef Midwest" title from the James Beard Foundation, and in late 2007, McClain began consulting on the menu for The Drawing Room at Le Passage (which is run by McClain's protégé Nick Lacasse). In 2008, McClain was able to begin work on Sage at Aria CityCenter, his globally-influenced contemporary American concept and the subject of this post.
Aria's top three restaurants--Sage,
Bar Masa
/Shaboo, Julian Serrano (which we'd be visiting the next day)--are all clustered together near the hotel's registration desk.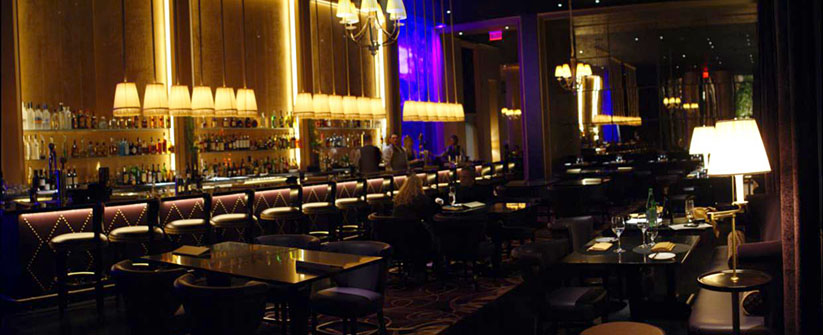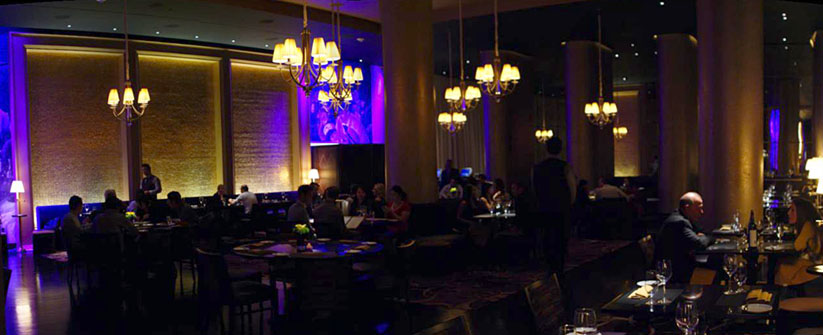 Inside, we get some reprieve from the hustle and bustle of the hotel lobby. Sage is divided into two sections, the bar/lounge space out front (where we were seated), and the main dining room in the back. Both areas are similarly-styled, sensuous and subtle, with shades of indigo abound.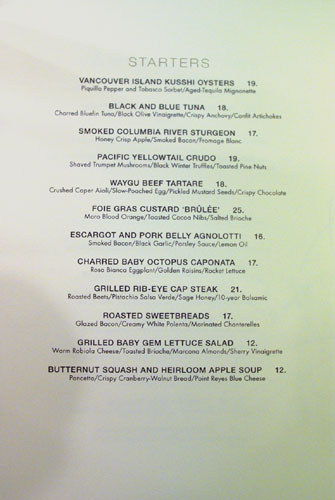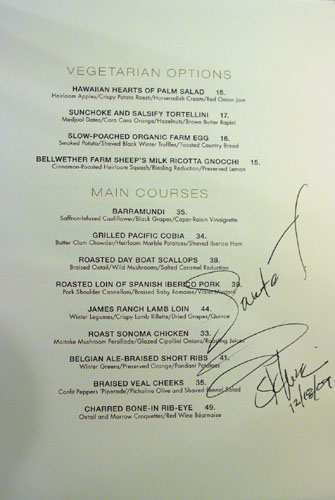 Above, we see Sage's straightforward
carte
, divided simply into starters and mains; click for larger versions. There is no degustation option, so we opted to build our own by sampling half the menu!



Here we have Sage's selection of wines by the glass, cocktails, and beers; click for larger versions. To mix things up, we requested a beer pairing with the meal, and the sommelier Mike Shelter was more than happy to oblige.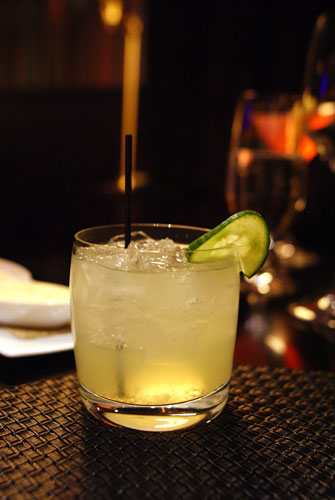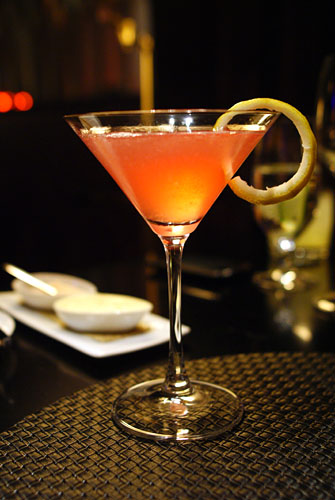 But before the brewskies, cocktails. My dining companion wanted something with cucumber, so the bar came up with a refreshing Cucumber Collins. I, on the other hand, requested that the mixologist "surprise me;" a Ginger-Infused Cosmopolitan was the result. It was definitely one of the better Cosmos I've had, a light, subtly fruity libation with an intriguing hint of ginger--I likened it to ginger ale.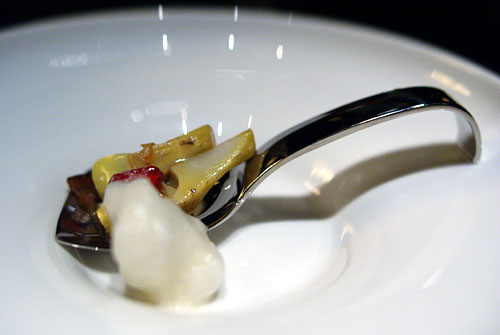 The amuse bouche consisted of a salad of artichoke, bacon, and date, garnished with a grape foam. The base of the amuse was definitely dominated by the vegetal tanginess of the artichoke, while the date added a touch of sweetness. The bacon, meanwhile, served as more of a crunchy textural element, as its saltiness was muted.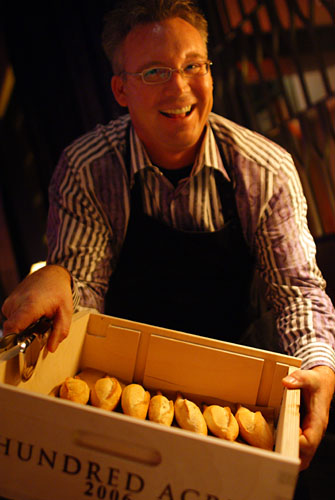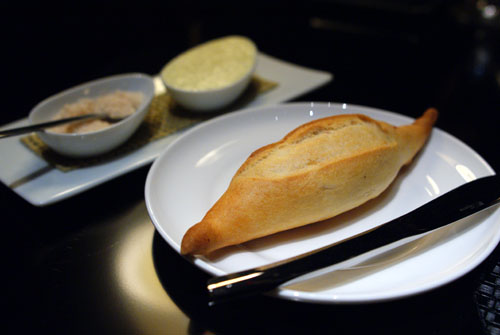 The sole bread on offer was a delightfully delicate bacon baguette, served with puce-hued Murray River (Australia) sea salt and house-whipped butter.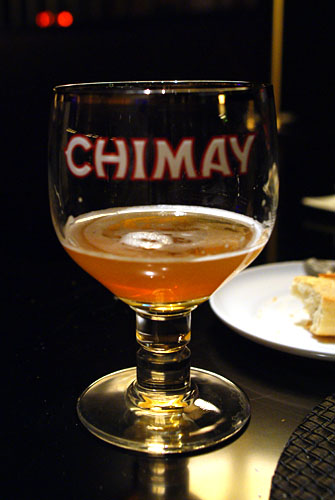 Our first beer of the night was the Chimay "Cinq Cents" Trappist Ale, Belgium [$12], which is served on draught. Also known as Chimay Blanche (White), it's done in the tripel style, and showed characteristic hoppy, sour, and spicy notes to match with the lighter seafood starters.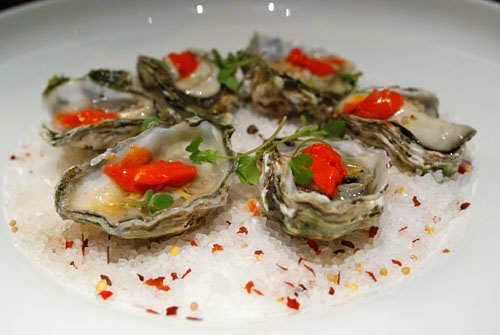 Kumamoto Oysters [$19.00]
| Piquillo Pepper and Tabasco Sorbet / Aged-Tequila Mignonette
I love to begin with oysters, and just my luck, they happened to have Kumamotos, my favorite, in stock. The light brine of the oysters was apparent on the attack, while the Tabasco added a bit of heat in the middle, with the tequila providing an earthy weight. The best part, though, was the finish, imbued with the vegetal tang of pepper. Excellent. These reminded me of the "conchas" I had recently at
Rivera
in DTLA.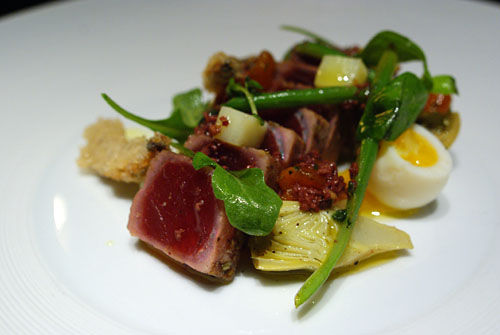 Black and Blue Tuna [$16.00]
| Charred Bluefin Tuna / Black Olive Vinaigrette / Crispy Anchovy / Confit Artichokes
Taken alone, the black pepper- and fennel-crusted tuna was tasty, but unexciting. This was a case where the fish really served as a blank canvas for its accoutrements. First and more important was the quail egg, which contributed an overarching creaminess to the mildly-flavored fish. The olive vinaigrette, meanwhile, added heft, and the artichokes, a distinct tanginess. I really appreciated the anchovy, which accentuated the tuna's natural fishiness.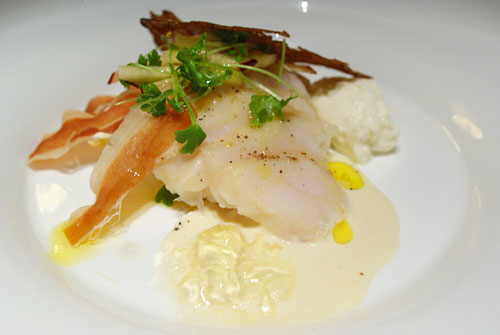 Smoked Columbia River Sturgeon [$17.00]
| Honey Crisp Apple / Smoked Bacon / Fromage Blanc
Here, the interaction between the sturgeon and fromage was instrumental, with the cheese providing a certain richness and weight to the fish that really allowed the other ingredients to sing. I liked the crunch, and more importantly, the salt imparted by the bacon, while the sweet crispness of apple was also very welcomed.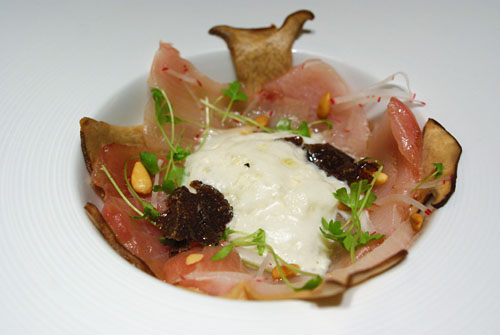 Pacific Yellowtail Crudo [$19.00]
| Shaved Trumpet Mushrooms / Black Winter Truffles / Toasted Pine Nuts
Next, we have one of my favorites of the night. The yellowtail itself was expectedly clean and mild in savor--it'd make for a fine sashimi. The truffle added a touch of earthiness into the fray, but the trumpet mushrooms were simply superb, adding a profound, and delicious, gravity to the hamachi. Rounding things out was the pine nut espuma, which contributed a lovely nuttiness to complete the dish.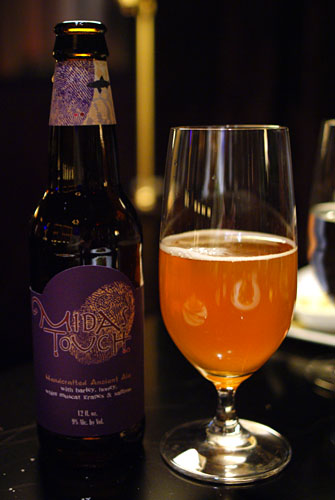 For the more substantial courses of beef and foie gras to follow, we were given the Dogfish Head Midas Touch, Delaware [$8]. Fascinatingly, the brew is based off of a chemical analysis of residues found in clay vessels buried in King Midas' tomb. Thus, it makes use of barley, Muscat grapes, honey, and saffron, resulting in a very "grape-y" aroma. The essence of Muscat continued onto the palate, where it was joined by spicy citrus flavors and honey, making for an overall heavy, heady concoction.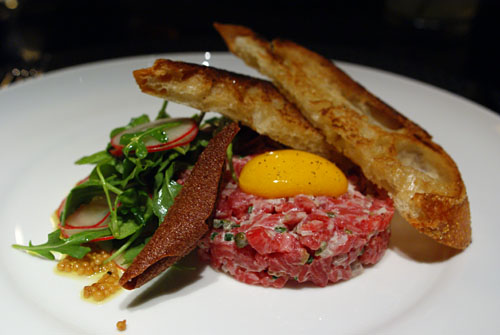 Wagyu Beef Tartare [$16.00]
| Crushed Caper Aioli / Slow-Poached Egg / Pickled Mustards Seeds / Crispy Chocolate
The tartare in and of itself was fairly traditional: tarted up by the capers, with the egg adding a permeating weightiness. Certainly, the arugula and radish salad tossed some levity into the mix, but the best part of this was the chocolate, which contributed a delightful bittersweet element that really did a great job offsetting the tartare. My dining companion, however, felt that the beef could've used more salt.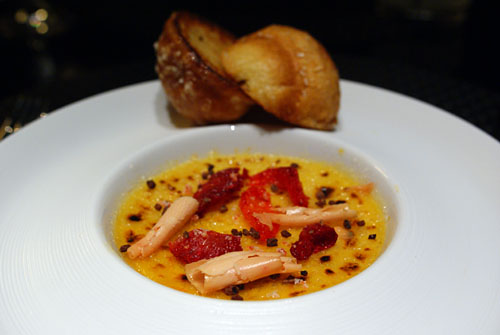 Foie Gras Custard 'Brûlée' [$25.00]
| Moro Blood Orange / Toasted Cocoa Nibs / Salted Brioche
As regular readers will know, I don't like my foie gras too sweet, so I was a bit wary of this dish. Fortunately, my fears turned out to be unfounded. Light and ethereal in body, the custard--with Grand Marnier, brandy, orange, and cocoa--was wonderfully imbued with the delicate quintessence of the liver, with only a touch of "eggy" sweetness. It was like eating a savory crème brûlée. Very good.
Our next beer was the Dogfish Head Raison d'Etre, Delaware [$10], which, unfortunately, I forgot to photograph. Brewed with molasses and green raisins, it offered up delicious dark fruit notes that would pair well with the hefty dishes coming up.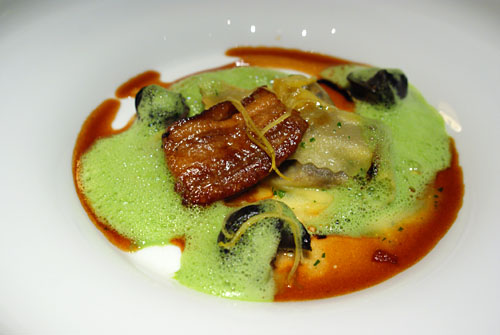 Escargot and Pork Belly Agnolotti [$16.00]
| Smoked Bacon / Black Garlic / Parsley Sauce / Lemon Oil
Set in a red wine sauce, the agnolotti were tasty enough, but I would've liked a bolder, more aggressive sapor--pork belly should've been more assertive. I felt that the pasta really took a back seat to the rest of the plate, the bacon in particular. At the same time, the snails were a nice touch, and the citrus did an admirable in counterbalancing all the heavy elements at play.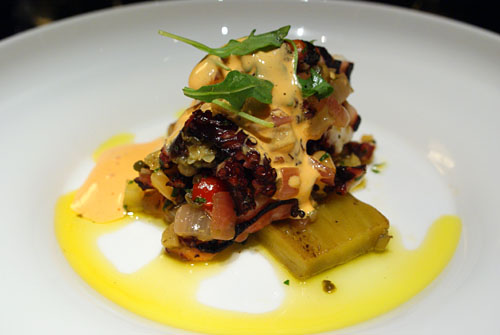 Charred Baby Octopus Caponata [$17.00]
| Rosa Bianca Eggplant / Golden Raisins / Rocket Lettuce
The term
caponata
refers to a Sicilian eggplant salad dressed with a tangy sauce. Sage's version adds some superbly done octopus--beautifully charred, with a wondrous bitterness offsetting the cephalopod's natural sweetness. I really enjoyed eating the supple bits of octopus alone, though the smack of its sweet and sour accompaniments was enjoyable as well. Ironically, the eggplant was the
least
successful part of the dish for me.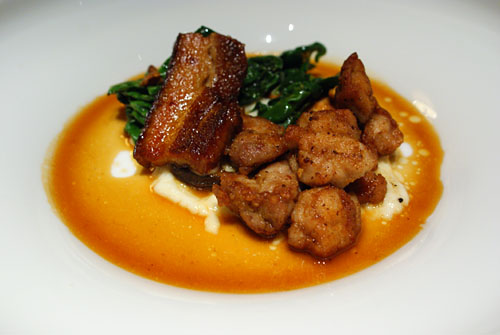 Roasted Sweetbreads [$17.00]
| Glazed Bacon / Creamy White Polenta / Chanterelles
Sweetbreads can be hit or miss--this was definitely a hit. I loved how the chanterelles added a another level of earthy richness to the already saporous sweetbreads, while the greens (spinach?) provided a wonderful countervailing bitterness. My favorite part here, though, was the polenta; mild and creamy, it did a great job tempering the other elements at play. The bacon, however, was a bit superfluous.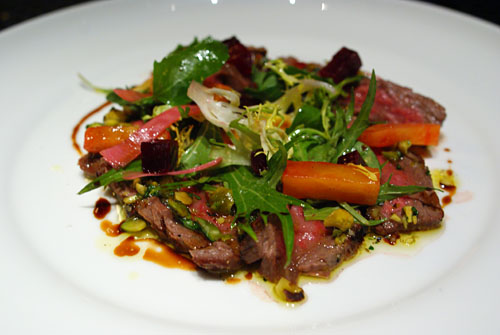 Grilled Rib-Eye Cap Steak [$21.00]
| Roasted Beets / Pistachio Salsa Verde / Sage Honey / 10-year Balsamic
Our last item from the list of starters was this sort of "beef salad." Served cool, the ribeye itself was nicely done, not too heavy, deftly balanced by the tangy salsa and bitter greens. Though I'm not a huge fan of beets, they worked well enough here; I did feel, however, that the honey was a touch strong.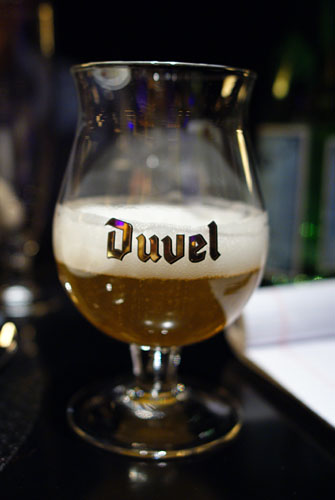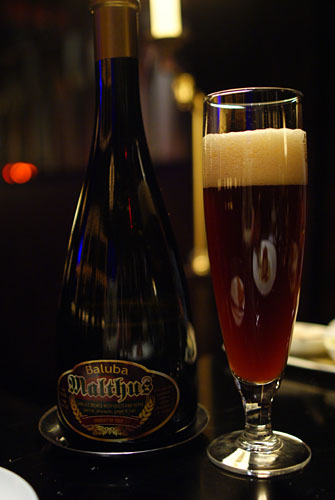 For our mains, we were given a goblet of Duvel,
the
definitive Belgian Strong Pale Ale, and one of my favorite beers overall. Far more interesting, though, was the second selection, Birrificio Di Como's Baluba Malthus from Italy. This is one that isn't on the menu, but instead came from the sommelier's private stash. It was an absolutely fascinating brew, showing a tart yet sugary maltiness along with an almost Port-like character and flashes of balsamic vinegar--brilliant!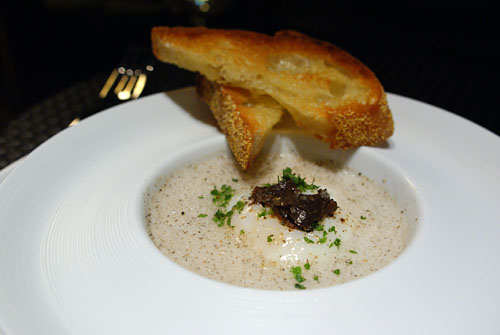 Slow-Poached Organic Farm Egg [$16.00]
| Smoked Potato / Shaved Black Winter Truffles / Toasted Country Bread
Here was our sole selection from the "Vegetarian" section of the menu. Pairing egg and truffle isn't novel, but when it works, the results can be profound. Such was the case here. The heady, lingering perfume of the truffle was a flawless complement to the gently creamy egg. Meanwhile, the toast, with its
you tiao
-esque sweetness, provided a perfect moderating element.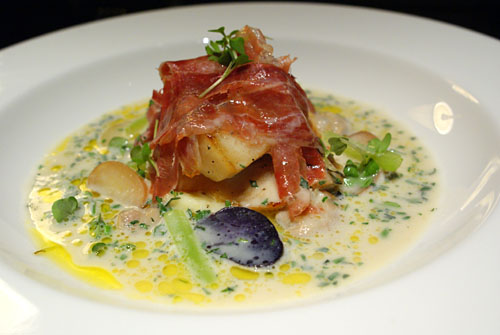 Grilled Pacific Cobia [$34.00]
| Butter Clam Chowder / Heirloom Marble Potatoes | Shaved Iberico Ham
For our solitary main course, we chose the cobia, which is not often seen on menus. The fish demonstrated its characteristically firm, strongly savory flesh--it made me think of a more intense version of John Dory. The ham further accentuated the fish's saltiness, while the potatoes acted as a mitigating factor. My favorite accompaniment, though, was the clam chowder, which provided a lovely brininess to go along with the cobia, as well as a chewy textural contrast.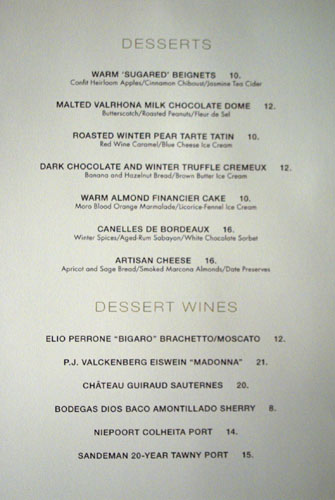 And now, it was time for the sweet stuff. Sage's dessert menu (click for a larger version) is crafted by Pastry Chef Lura Poland. A New Hampshire native, Poland worked at numerous restaurants on the East Coast (including Italian Farmhouse in Plymouth, NH) before relocating to Las Vegas, where she was most recently the assistant pastry chef at Charlie Trotter's Restaurant Charlie. In fact, she may have even had a hand in the desserts that I enjoyed earlier this year at
Bar Charlie
!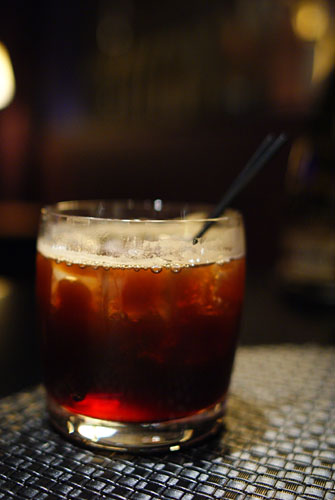 To go along with dessert, the sommelier paired one of Sage's specialty cocktails: the European Union [$14], made from Reserva Spanish Brandy, Young's Double Chocolate Stout, and Lindemans Framboise Lambic. The result was expectedly sweet, with the raspberry notes of the Lindemans taking center stage--think Raisinets.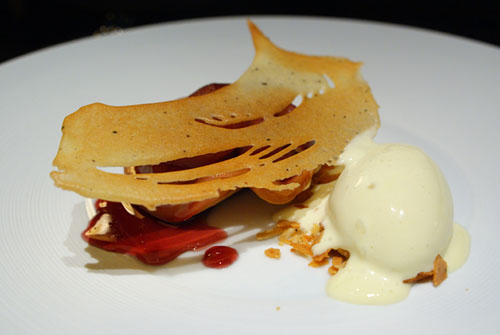 Roasted Winter Pear Tarte Tatin [$10.00]
| Red Wine Caramel / Blue Cheese Ice Cream
Our first dessert was like a deconstructed and reimagined iteration of
LudoBites'
Fourme d'Ambert Tourte! The sweetness of the pear was tempered by its pastry container, while the ice cream really captured the spirit of blue cheese, creating a sharp, countervailing component. Quite nice.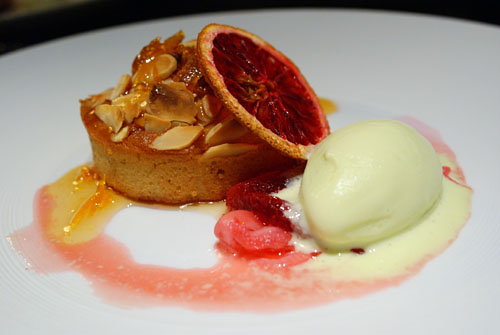 Warm Almond Financier Cake [$10.00]
| Moro Blood Orange Marmalade / Licorice-Fennel Ice Cream
A financier is a small, spongy cake, typically flavored with almond, originating in France. Here, the cake's light body and subtle sweetness were heightened by the blood orange (resulting in an almost fruitcake-esque flair), with the almond slivers contributing a marked nuttiness. The ice cream, meanwhile, served as a pungent, spicy contrast.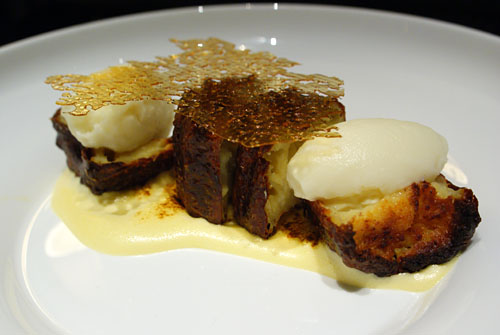 Canelles de Bordeaux [$10.00]
| Winter Spices / Aged-Rum Sabayon / White Chocolate Sorbet
Lastly, we have some
canelés
, small French pastries originating in Bordeaux. Traditionally flavored with rum and vanilla, they're known for their tough, caramelized crusts and soft, spongy, custard-like interiors. The canelés' heavy, eggy sweetness was further heightened by the sabayon, and went beautifully with the comparatively light sorbet.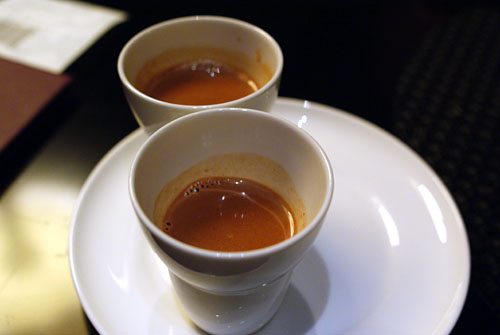 To close the meal, we were provided cups of citrus-infused chocolate syrup. Drinking the syrup was just like sipping hot chocolate initially, with a light but lingering citrus flavor coming in only on the finish.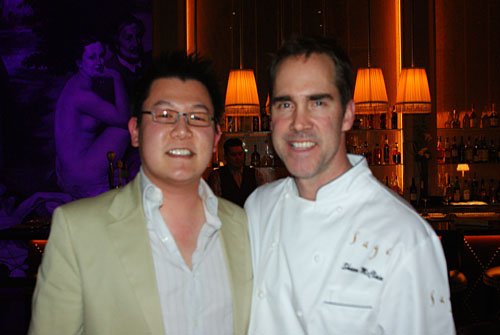 Chef McClain came out to meet us at the end of meal, and we were able to chat with him for a few minutes regarding the food, plans for Sage, as well as the state of gastronomy in Chicago.
Overall, I left Sage very satisfied. Service was pretty much spot-on, and though I could certainly identify nits with what I ate, the food was largely on point, and tasty--pretty impressive for only the second night of service. From what I gathered, McClain's cuisine at Sage effectively balances complexity with approachability and sensibility--my dining companion even made a comparison to
Pierre Gagnaire
--and I have high hopes for the restaurant in the future.