Bashan (Glendale, CA)
Bashan
3459 N Verdugo Rd, Glendale, CA 91208
818.541.1532
www.bashanrestaurant.com
Wed 12/16/2009, 08:00p-11:20p

Bashan restaurant is the brainchild of chef/owner Nadav Bashan, an Israeli native who, while in college, decided to act on his longstanding interest in cooking and pursue a culinary career. After graduating from Pasadena's California School of Culinary Arts, Bashan worked under Allyson Thurber (opening chef at
The Water Grill
) at The Lobster, her new restaurant situated on the Santa Monica waterfront. Bashan spent just under two years with Thurber before taking a Sous Chef position at Michael McCarty's eponymous Michael's, also in Santa Monica. He spent three years there, and was promoted to Executive Chef by the end of his tenure. Later, Bashan moved to
Providence
, where he sous'd for none other than Michael Cimarusti (who, like Thurber, also headed the kitchens at Water Grill previously).
After his experience at Providence, Bashan felt ready to open his own restaurant, and did exactly that in September of 2007, partnering with his father Ram, brother Yaniv (who designed the interior), and wife Romy (who also runs the front of the house). They purchased the space that used to house Michael Ruiz's Bistro Verdu, which shuttered at the end of June that year (Ruiz, meanwhile, recently opened and closed--
after two weeks
--
Fork
). As Bashan is situated in a locale where higher-end eateries are somewhat rare, the restaurant brings a welcomed addition to the dining scene--a casual neighborhood eatery that just happens to be fine dining. The food is market driven and seasonal, based in classic French technique with healthy doses of Californian, Mediterranean, and Asian influences. The "Asian," by the way, is largely due to the handiwork of Bashan's Sous Chef Jonathan Kim, who started in August 2008. A graduate of CSCA's Le Cordon Bleu program, Kim previously worked at Providence, Taste on Melrose, and Water Grill (where he met his future employer).
This dinner was organized by
Jane
and
Selina
, both readers of
kevinEats
. Jane, it turns out,
staged
at Bashan at one point, and still kept in touch with Chef Kim, who served as our point of contact at the restaurant.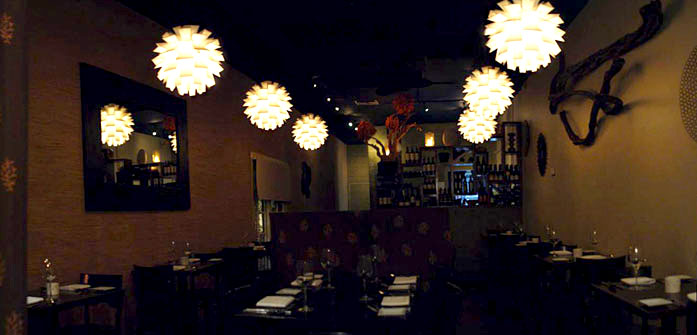 Inside the smallish (less than 1000sqft) 40-seat dining room, designed by co-owner Yaniv Bashan, things are awash in tones of beige and brown. Meandering staves of driftwood adorn one wall, while the other is enrobed in a sort of grassy cloth, and boasts a large mirror. A custom walnut wood wine rack shields the dining room from the kitchen. Meanwhile, up above, starbursts double as chandeliers. The whole mélange is a bit stark, minimalist, bare even, but the overall effect is comfortable enough, and focuses your attention on what's on the plate.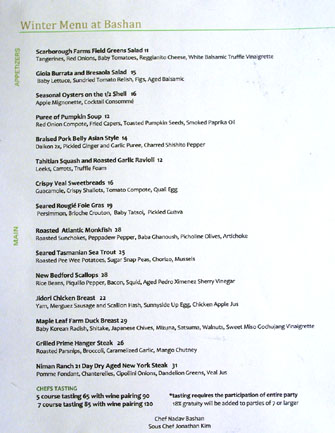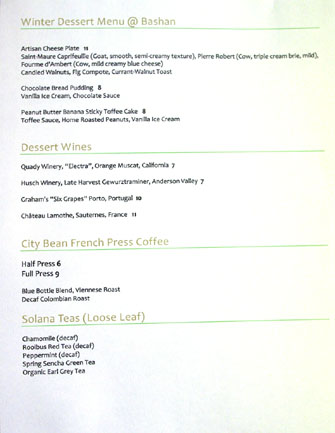 Above, we have Bashan's dinner and dessert menus; click for larger versions. Due to the limited space in the Lilliputian kitchen, Bashan's
carte
is tight, focused, comprised of about a dozen savory courses and a smattering of desserts (there's no pastry chef, so Bashan himself must handle the sweets as well). Going à la carte is of course a possibility, but you might want to step up to a tasting menu. We did the seven-course at $85, augmented by two extra courses for $10 each. Wine pairings were an additional $40.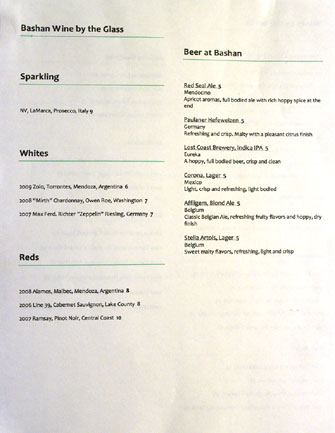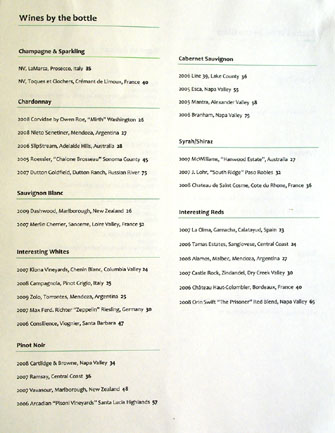 As for the tipple, you'll find a reasonably-priced wine list and a handful of beers; click for larger versions.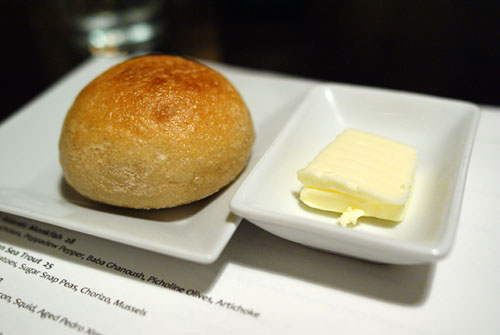 One of the few items that isn't made in-house, sourdough bread comes courtesy of La Brea Bakery.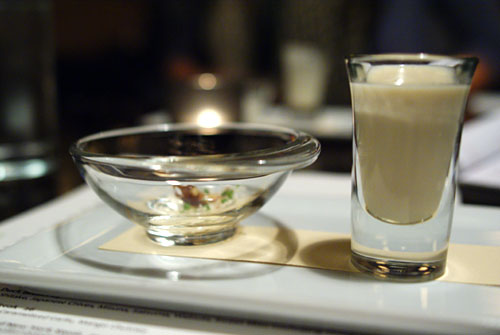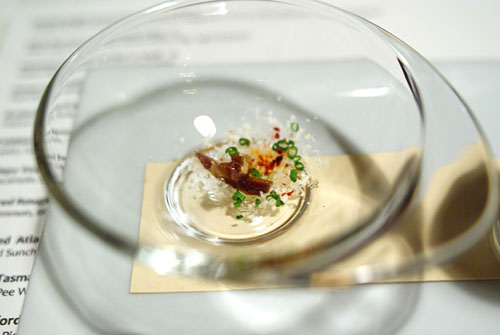 Amuse Bouche 1: Cauliflower Soup
| Marcona Almonds, Dates, Olive Oil
An amuse bouche was quickly brought before us, and we were instructed to pour the shot glass of soup into the small bowl of accompaniments. Before I did so, I first tasted the potage, and found it rich, creamy, hearty, and heartwarming, imbued with a subtle essence of cauliflower. After mixing the two elements, I found the resultant commixture lighter, brighter, with contrasting sweet and nutty notes coming into play.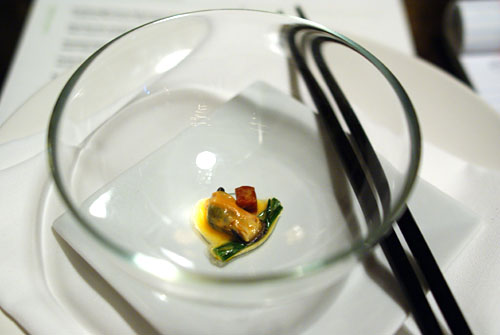 Amuse Bouche 2: Prince Edward Island Mussel
| Chorizo, Smoked Paprika, Japanese Chive
NV, LaMarca, Prosecco, Italy
Our second amuse was just about the smallest PEI mussel I'd ever seen. Though it was decidedly diminutive, it was big on flavor, with the brininess of the mollusc coming in strong on the attack--tinged with the heat of paprika--while the finish was all about the salty chorizo.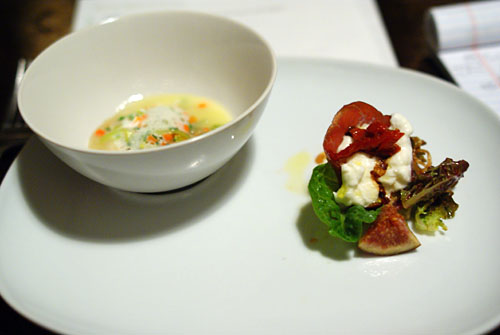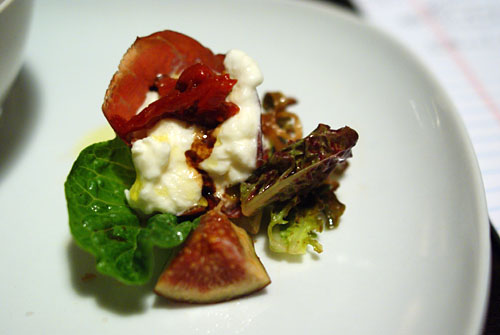 1a: Gioia Burrata and Bresaola Salad
| Baby Lettuce, Sundried Tomato Relish, Figs, Aged Balsamic
2007 Max Ferd. Richter "Zeppelin" Riesling, Germany
Burrata (a cheese made from mozzarella and cream) has almost become clichéd on menus these days--how many times have I seen burrata and heirloom tomatoes?--but Bashan manages to breathe new life into the ingredient. The key was the bresaola, a type of Italian air-dried, salted and spiced beef. It contributed a delightful savory tang to counter the creaminess of the cheese, while the use of tomato relish and fig added the requisite saccharine notes. A beautiful composition of tastes and textures.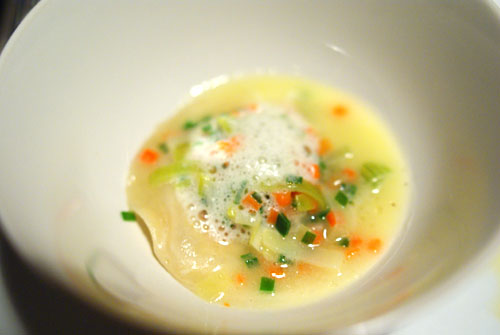 1b: Tahitian Squash and Roasted Garlic Ravioli
| Leeks, Carrots, Truffle Foam
2007 Max Ferd. Richter "Zeppelin" Riesling, Germany
Regular readers will know that I often find squash overly sweet, a fact that did not bode well for this course. Indeed, taken alone, the raviolo was a bit sugary; however, its sweetness was nicely countered by the vegetal smack of the leeks and carrot. Overall, they made it work--nice texture too.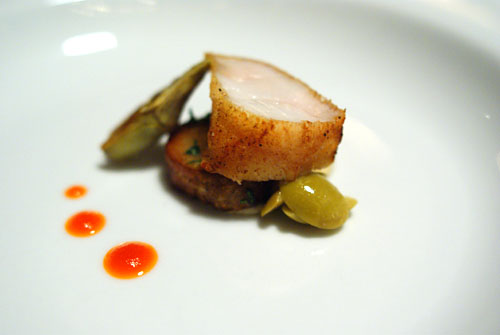 2: Roasted Atlantic Monkfish
| Roasted Sunchokes, Peppadew Pepper, Baba Ghanoush, Picholine Olives, Artichoke
2009 Zolo, Torrontes, Mendoza, Argentina
Next we have an appealing preparation of monkfish. By itself, the fish demonstrated its signature soft, spongy body and fabulously savory flesh. That wouldn't be enough on its own, however, so the various accoutrements were absolutely key. The dots of spicy pepper sauce provided a deft accent to the weight of the fish, while the piquant olives and artichoke also served as effective foils to the heft of the monkfish. The sunchoke, meanwhile, acted as a mitigating element. I wasn't as sold on the smoky baba ghanoush, however.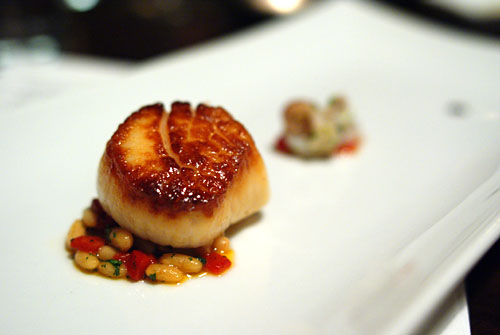 3: New Bedford Scallop
| Rice Beans, Piquillo Pepper, Bacon, Squid, Aged Pedro Ximenez Sherry Vinegar
2008 "Mirth" Chardonnay, Owen Roe, Washington
Sitting atop a stack of rice beans, the sole, singular scallop, masterfully cooked, showed characteristic sweet flavors, leading to a splendidly briny close. It was beautifully accented by the earthiness of the beans, as well as the tang of the piquillos. My favorite part of this course, though, was the squid, which did an absolutely fantastic job of highlighting the natural brininess of the bivalve. I did find the PX a bit superfluous, however.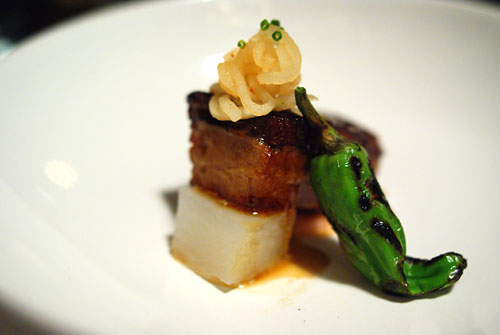 4: Braised Pork Belly Asian Style
| Daikon 2x, Pickled Ginger and Garlic Puree, Charred Shishito Pepper
2007 Ramsay, Pinot Noir, Central Coast
Bashan's Asian tangent, courtesy of Mr. Kim, is clearly evident in this next dish. It was an almost
kakuni
-esque preparation, falling-apart tender, imbued with a fatty, permeating, sweet yet savory flavor, with a hint of spice. The daikon, then, was absolutely crucial in moderating the meat. First, we have the braised version, expectedly mild, which acted as a mitigating element, lessening the decadence of the pork. The pickled variant, on the other hand, balances the belly's power with a piquant zest. This was definitely one of the better pork bellys I've had in a while, and Selina seemed to agree--she took an order of it to go!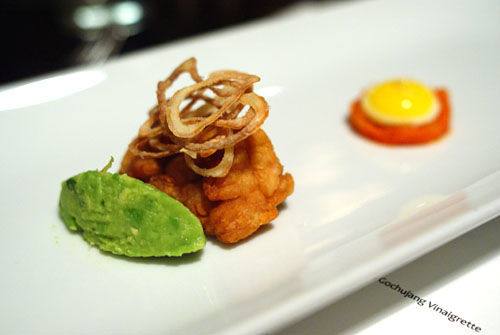 5: Crispy Veal Sweetbreads
| Guacamole, Crispy Shallots, Tomato Compote, Quail Egg
2006 Line 39, Cabernet Sauvignon, Lake County
Next we have my favorite course of the degustation. If done right, sweetbreads can be positively heavenly--these were. Texturally, a succulent, moist interior was enveloped by the wonderfully crispy outside, while the taste was an amalgam of varying savory notes, with a very subtle sweet flair to boot. The creamy yet tangy guacamole lightened the dish, while the tomato added a marked sugary character. After Selina tasted the sweetbreads, she added it to her to-go order!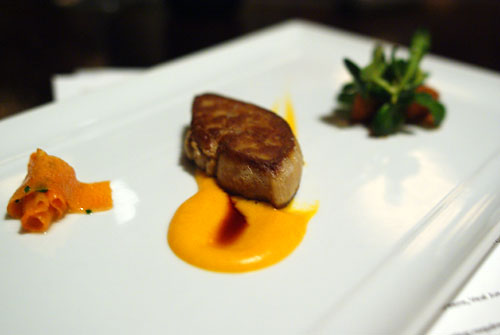 6: Seared Rougié Foie Gras
| Persimmon, Brioche Crouton, Baby Tatsoi, Pickled Guava
Château Lamothe, Sauternes, France
Knowing my entrenched disrelish for sweet preparations of seared foie gras, I was very wary of this dish. I first sampled the liver by itself, and found it actually quite good, nicely seared, appropriately savory, imbued with that signature foie gras verve. When I added the persimmon purée, the admixture was, as expected, too sugary for my tastes. To counter this, I made use of the tatsoi (spoon mustard), which provided a great pungent, bitter balance to the dish.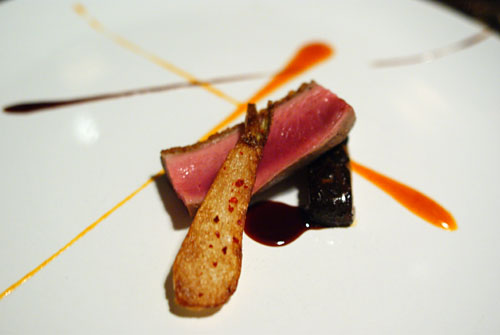 7: Maple Leaf Farm Duck Breast
| Baby Korean Radish, Shitake, Japanese Chives, Mizuna, Satsuma, Walnuts, Sweet Miso Gochujang Vinaigrette
2007 Vavasour, Pinot Noir, Marlborough, New Zealand
Another very Asian-inspired dish, we have here a beautiful rectangle of seared duck breast, just bursting with "ducky" savor. It was almost
too
flavorful on its own, if such a thing is possible. I loved the shiitake here, as the mushroom added a world of depth and earthiness to the bird. I also appreciated the radish, which contributed an offsetting bitter, vegetal element (though Jane found it a bit overwhelming). To finish, we had a delightfully piquant
gochujang
(a spicy Korean condiment) sauce, adding a bit of heat into the fray.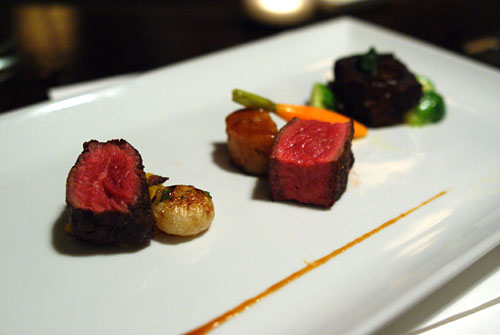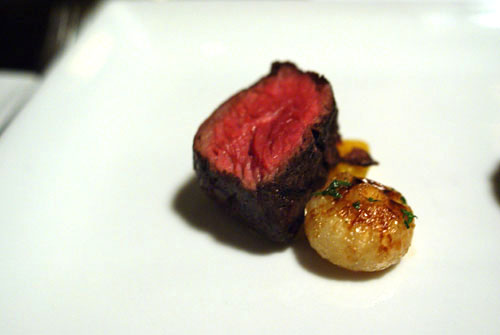 8a: Grilled Prime Hanger Steak
| Cipollini Onion, Roasted Parsnips, Mango Chutney
2008 Alamos, Malbec, Mendoza, Argentina
Our final savory course was a triplet of beef, presented à la
Michael Mina
. First up: though hanger steak isn't known for its tenderness, it
is
known for its "beefy" flavor, which was present here in spades. A juicy, succulent, salty cut of beef, I loved eating it just by itself. It was also quite tasty paired with the roasted cipollini, but the mango made the dish a touch sugary for me.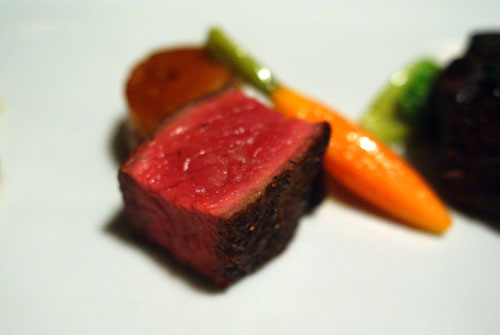 8b: Niman Ranch 21 Day Dry Aged New York Steak
| Pomme Fondant, Carrot, Veal Jus
2008 Alamos, Malbec, Mendoza, Argentina
Vis-à-vis the preceding skirt steak, the sirloin was noticeably subtler in flavor, with a more refined body as well--it was great to compare the two. What was interesting was that the New York almost had a nutty flavor on the midpalate, an unexpected, but not unwelcomed sensation. Further weight was added by the pomme fondant (sort of a potato cake), while the carrot provided a lighter touch.
8c: Braised Prime Short Ribs
| Okinawa Yam Mash, Brussels Sprouts, Chimichurri
2008 Alamos, Malbec, Mendoza, Argentina
The last of the trio was also my favorite. It's hard to go too wrong with braised beef, and certainly this was no exception. According to our server, the short ribs were braised in veal jus for eight hours, resulting in a stupendously tender consistency, but one with just enough bite to make it interesting. As expected, the flavor was dark, heavy, but the use of Brussels sprouts really brightened things up. Very good.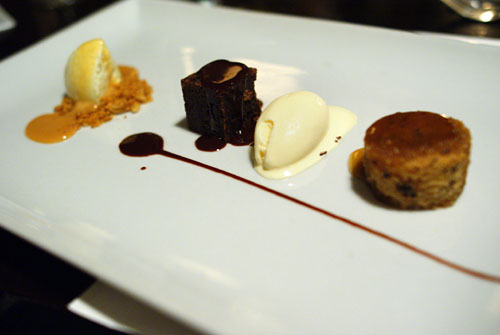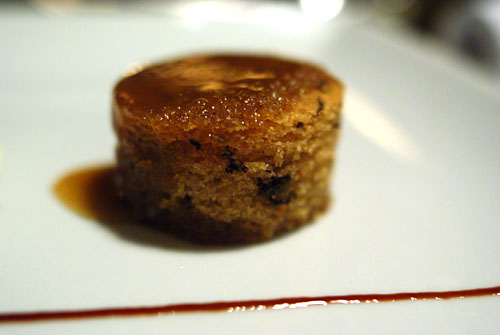 9a: Peanut Butter Banana Sticky Toffee Cake
| Toffee Sauce, Home Roasted Peanuts
Quady Winery, "Electra", Orange Muscat, California
Since I'm not a fan of peanut butter, I wasn't exactly looking forward to this dessert, but lo and behold, it turned out to be my favorite of the troika. The key was that the PB was subtle, and it was really the sweetness of the toffee that took center stage, balanced by just a hint of nuttiness. I also appreciated the cake's light, fluffy consistency--very nice.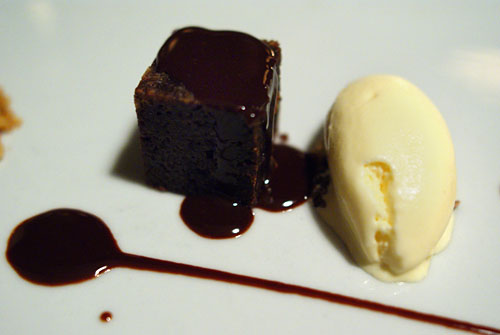 9b: Chocolate Bread Pudding
| Vanilla Ice Cream, Chocolate Sauce
Quady Winery, "Electra", Orange Muscat, California
Though this looked positively decadent, it was actually a fair bit lighter than I expected, with the bread providing a sort of a tempering element. The pairing of vanilla ice cream with chocolate is a classic one, and worked well enough here.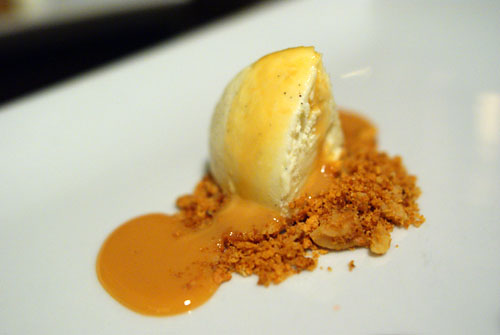 9c: Crème Fraîche Cheesecake
| Dulce de Leche, Graham Cracker, Walnut Streusel
Quady Winery, "Electra", Orange Muscat, California
Finally, we have Bashan's cheesecake, which makes heavy use of crème fraîche, resulting in a characteristically rich flavor, but with a touch of levity. The dulce de leche added a marked sugary component to the dessert, while the graham cracker crumbles mixed things up texturally.

After dinner, we were invited back into the kitchen. At around 200sqft, it's positively tiny, and may give
LudoBites
a run for its money for the title of smallest kitchen in the Southland. It's hard to imagine more than four or five cooks in here.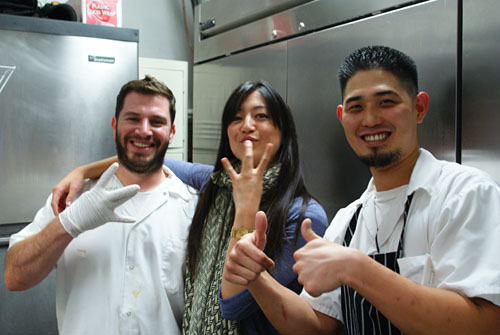 Executive Chef Nadav Bashan, ex-
stagiaire
Jane Kim
, Sous Chef Jonathan Kim.
I had high hopes going in to Bashan, and I'm happy to report that I wasn't let down. It's sort of the perfect neighborhood eatery--ambitious, but not pretentious, sophisticated, yet approachable. High quality, seasonal ingredients are combined with honest, unfussy, confident technique to create a refined, understated, yet truly enjoyable dining experience. If only Bashan weren't so far away!