Julian Serrano (Las Vegas, NV)
Julian Serrano
3730 Las Vegas Blvd S, Las Vegas, NV 89109
877.230.2742
www.arialasvegas.com/dining/fine-dining.aspx
Sat 12/19/2009, 11:20a-12:50p

After dining at
Bar Masa
and
Sage
the previous two nights, it was time to end my tour of Aria's new restaurants with Julian Serrano. Serrano, of course, is best known for revolutionizing high-end dining in Vegas with his restaurant Picasso at Bellagio. Unfortunately, my last visit to
Picasso
fell short, so I was excited to give Serrano a chance to redeem himself with his new eponymous eatery.
Born in Madrid, Serrano graduated from the Escuela Gastronomie P.P.O. hotel management school in the city of Marbella, on Spain's picturesque Costa del Sol. Following, he worked at some of Europe's most vaunted establishments: Lucas-Carton in Paris, Hôtel de France in Auch, Chez Max in Zurich, and L'Aubergine in Munich; he even had a brief stint with Alain Ducasse. Serrano then relocated to the United States, and after a couple years, the Chef moved to San Francisco, where he began cooking at
Masa's
in May of 1983. After being personally groomed by owner and Executive Chef Masataka Kobayashi, he took over the kitchens in 1984, following Masa's untimely death. Based on the strength of his contemporary French cuisine, Serrano quickly established a name for himself, garnering numerous awards in the process. Serrano even captured James Beard's "Best Chef of California" trophy in 1998, but it was in that year that the Chef would leave Masa's to open Picasso in Las Vegas. The debut of Picasso heralded in a new era in Las Vegas dining, opening the doors for the likes of
Joël Robuchon
and
Guy Savoy
. In 2002, Serrano received his second James Beard award, for "Best Chef in the Southwest."
At Picasso, Serrano put forth a menu of French fare, accented with Spanish touches. Here, however, Serrano is able to, for the very first time, explore the essence of his native Spanish cuisine: the food of his childhood. Specifically, Julian Serrano focuses on tapas, mostly traditional, but with a few "molecular" flourishes and a touch of international flair thrown in as well. For his Chef de Cuisine, Serrano has tapped Madrid native Jose Picazo, a protégé of
José Andrés
(he worked with Andrés at Jaleo for six years). Prior to landing in Las Vegas, Picazo was Executive Chef at tapas-sushi hybrid Perrys in DC, and before that, headed the kitchens over at Kyma in Annapolis (early on, he also worked at Kyma's sister restaurant Mie N Yu in Georgetown).

Julian Serrano was penned by famed Spanish design group Gente de Valor, and is the company's first project in the US. The bold, splashy, convivial look complements the vivacity and energy of the food served, with brash colors, beguiling avant garde touches, and an inviting, exciting, 45-seater bar. According to Serrano, the space is designed to make you feel "happy." With a capacity of 196, the restaurant is segmented into a bar/lounge section, a main dining area, and a private dining room.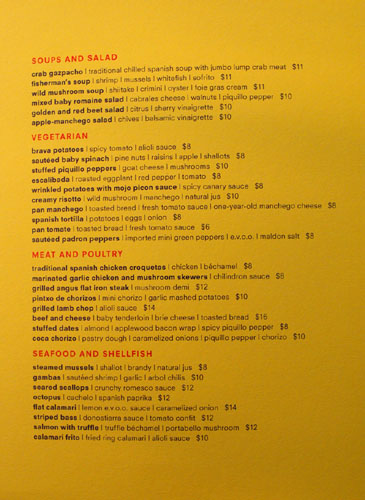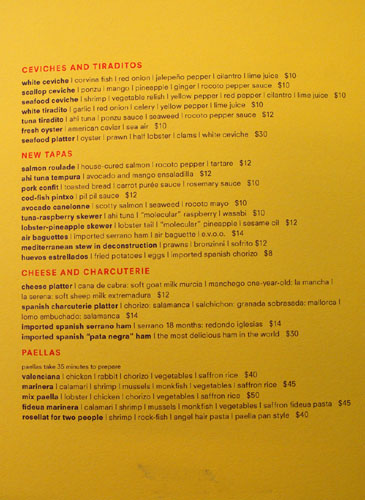 Above, we see Julian Serrano's menu; click for larger versions. Expectedly, it's vast, consisting of about 50 to 60 items, mostly small plates, great for sharing. Upon reviewing the
carta
, I immediately noticed its similarity to that of José Andrés'
The Bazaar
, even down to the "Air Baguettes."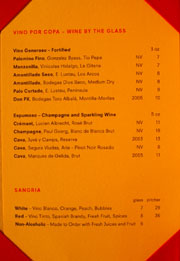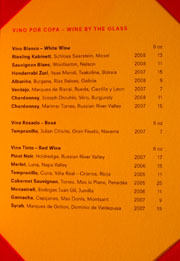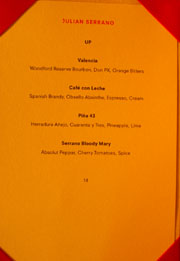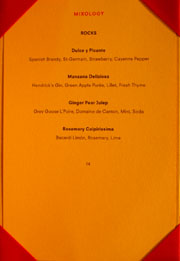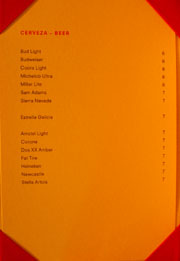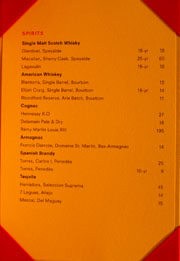 Here, we have Julian Serrano's drink menu, consisting of wines by the glass, specialty cocktails, beers, and spirits; click for larger versions. In addition, there's also a 500-bottle wine list, focused, naturally, on Spanish varietals.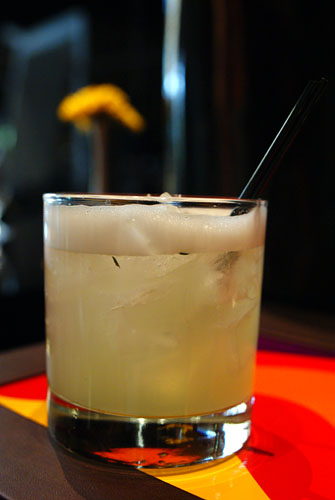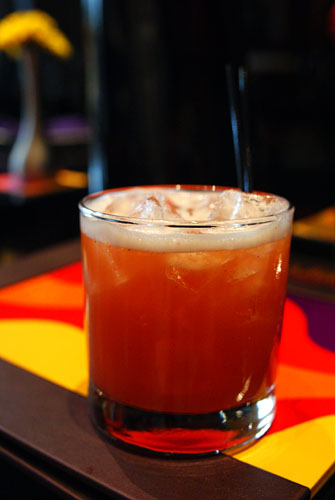 To begin, we decided to go with some cocktails. My dining companion chose the Manzana Deliziosa [$14], with Hendrick's Gin, Green Apple Purée, Lillet, and Fresh Thyme. I quite liked the interplay between the citrus-y Lillet and the gin, as well as the hint of apple on the finish. Meanwhile, I went for the Dulce y Picante [$14], comprised of Spanish Brandy, St-Germain, Strawberry, and Cayenne Pepper. This one was slightly bitter on the attack, transitioning to marked strawberry notes on the midpalate, and finishing strong with a lingering heat from the pepper.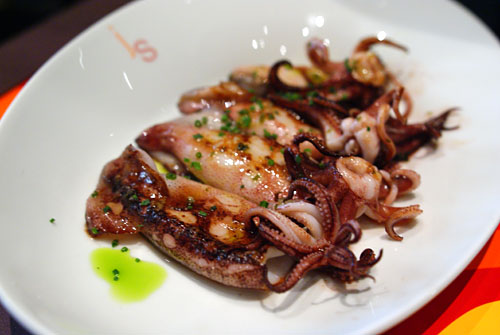 Flat Calamari [$14.00]
| Lemon E.V.O.O. Sauce, Caramelized Onion
We started with my favorite dish of the meal. At first, the presentation surprised me a bit; I was expecting the calamari to be cut up, but instead, these small spear squid were served nearly whole. They had a wonderful aroma of the sea, and biting in, I loved how the squid's inherent brininess was preserved, while at the same time, the char and the olive oil added a certain depth of flavor.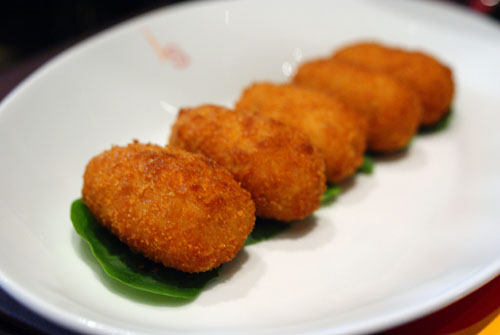 Traditional Spanish Chicken Croquetas [$8.00]
| Chicken, Béchamel
It's hard to go wrong with these tasty chicken and béchamel fritters. I appreciated the crisp golden brown exteriors, yielding to warm, oozing, creamy centers, imbued with the quintessence of chicken. Very nice.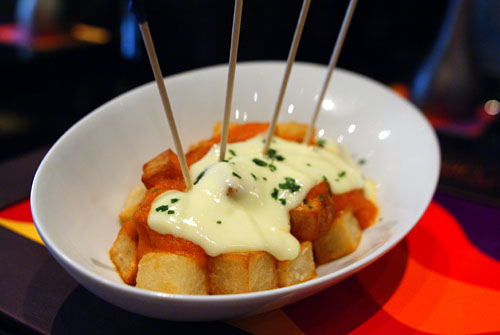 Brava Potatoes [$8.00]
| Spicy Tomato, Alioli Sauce
Patatas bravas
is a traditional Spanish dish consisting of fried potatoes, topped with tomato sauce, and sometimes
alioli
(garlic and olive oil). At
The Bazaar
, I felt that the tomato sauce overpowered the potato, but here, the
patatas
stood their ground. Nicely fried to a crisp yet creamy consistency, the potatoes formed a base on which the tomato and
alioli
could really sing.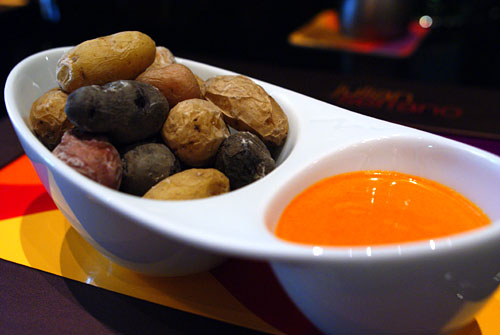 Wrinkled Potatoes with Mojo Picon Sauce [$8.00]
| Spicy Canary Sauce
Next up were
papas arrugadas
("wrinkled potatoes"), basically potatoes cooked in salt water and served with their skins intact. The potatoes were delightful on their own, with a gorgeously supple texture, though they could've been a touch saltier. They were served with a
mojo picón
sauce, which is a spicy condiment originating from the Canary Islands. The interplay between the mild potato and piquant
mojo
was immensely enjoyable. It would've been nice, however, to have the other famous
mojo
, the cilantro-based
mojo verde
, to accompany the
papas
as well.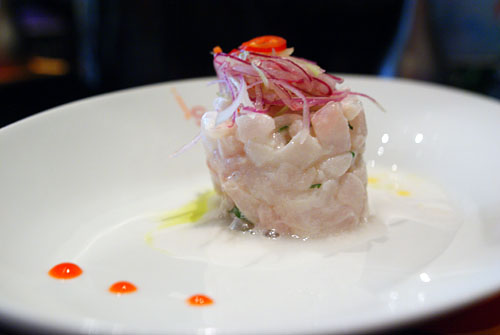 White Ceviche [$10.00]
| Corvina Fish, Red Onion, Jalepeño Pepper, Cilantro, Lime Juice
Here was a nearly textbook ceviche, which, unlike most of the menu items, is actually not Spanish in origin (being from Peru)--remember, Serrano fully intends to incorporate global influences here. In any case, the fish itself was dense, heavy, with just a touch of ocean. It was deftly countered by the punch of the citrus as well as the bitter, vegetal tang of the onion, leading to an amalgam of light, bright flavors with a great acidity.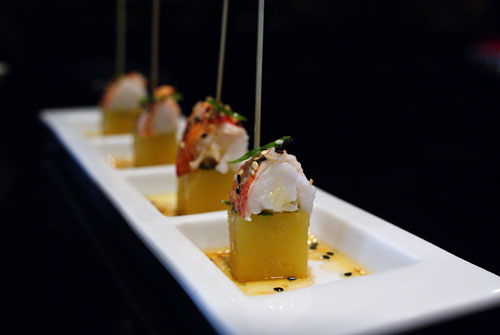 Lobster-Pineapple Skewer [$12.00]
| Lobster Tail, "Molecular" Pineapple, Sesame Oil
This was one of the "new style" tapas on the menu, and just by looking at the photo, it's not hard to see the influence of José Andrés. The cubes of pineapple made their sugariness very apparent at first, but this then led to the more delicate sweetness of the lobster, while the finish turned distinctly salty. Texturally, it was great compare the almost jelly-like consistency of the "molecular" pineapple with the firm, dense, snappy body of the crustacean.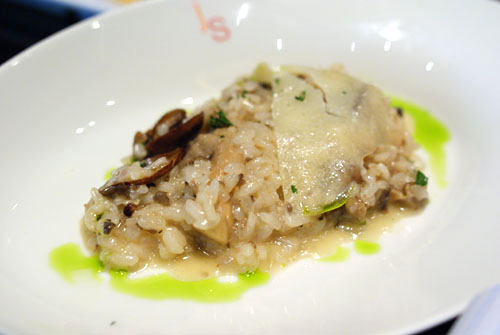 Creamy Risotto [$10.00]
| Wild Mushroom, Manchego, Natural Jus
Though my dining companion thought that the rice was a bit tough, I appreciated its firm, "al dente" texture. Pairing mushroom and cheese in a risotto is nothing new, but nevertheless, I enjoyed the hearty interplay between the luscious, creamy Manchego and earthy mushroom, all over a backdrop of rice. This was so much better than the sea urchin risotto I had days earlier at
Bar Masa
!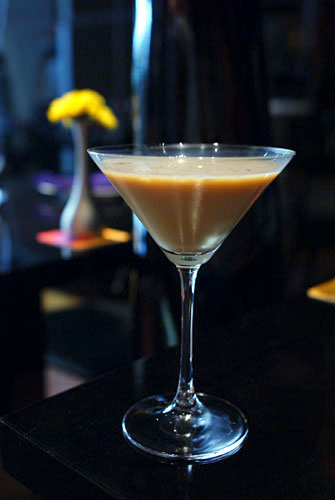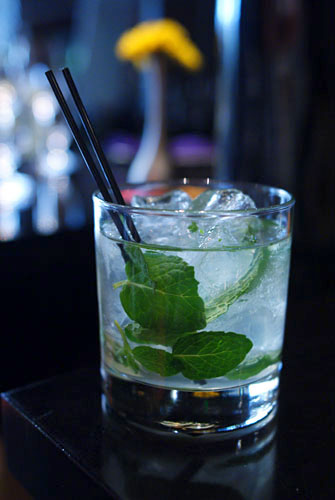 Time for our second round of cocktails. I went for the Café con Leche [$14], made from Spanish Brandy, Obsello Absinthe, Espresso, and Cream; it had a lovely herbal, absinthe-tinged attack leading to a lingering coffee-hued finish. The Ginger Pear Julep [$14], with Grey Goose L'Poire, Domaine de Canton, Mint, and Soda, was my dining companion's pick; it had great notes of ginger and mint over a strong background of pear--quite nice.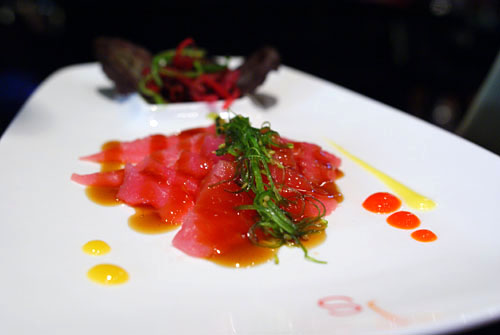 Tuna Tiradito [$12.00]
| Ahi Tuna, Ponzu Sauce, Seaweed, Rocoto Pepper Sauce
Like the ceviche above, tiradito also originates from Peru, and bears a strong semblance to Japanese sashimi. The tuna itself was as it should be: clean, mild, supple. I did feel that the ponzu was a bit too domineering here, drowning out some of the fish's inherent character. However, the sauce was countered nicely by the brine of the seaweed (which also added a great crunch to the dish), as well as the sharp heat from the pepper.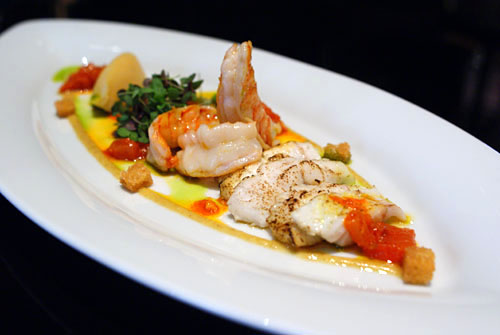 Mediterranean Stew in Deconstruction [$12.00]
| Prawns, Bronzinni, Sofrito
What we have here are the individual components of a Mediterranean-style seafood stew. The fish used was bronzinni, better known as branzino, or European seabass. It had a subtly sweet taste along with a supple texture--good, but unexceptional on its own. The prawn was a similar story. The key here, thus, was to eat everything together in one big bite, experiencing the seafood, puréed potato (which I mistook for sorbet!), and sofrito (an olive oil, tomato, onion, and garlic sauce) all at once--now it makes sense!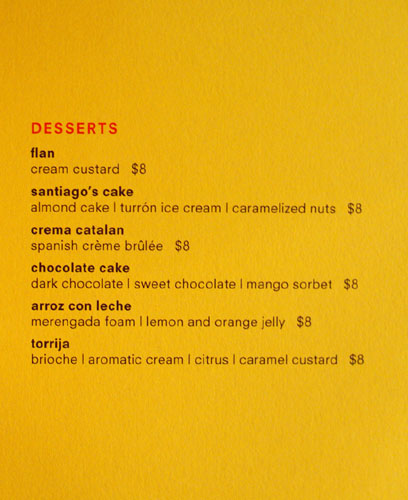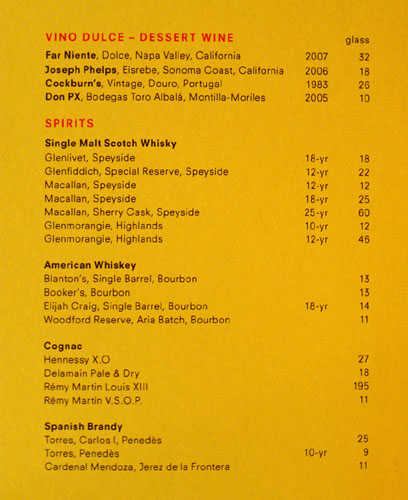 And of course, a meal just wouldn't be complete without dessert. Click for larger versions.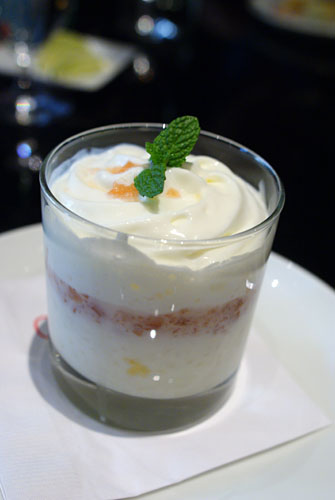 Arroz con Leche [$8.00]
| Merengada Foam, Lemon and Orange Jelly
First up was a sort of rice pudding, tarted up with
merengada
(meringue) foam and citrus gelée, topped with a sprig of mint. The flavor of the rice was predominant, as expected, but it was aptly set off by the sweetness of the citrus fruit and the slight spiciness from the meringue. It reminded us a bit of horchata!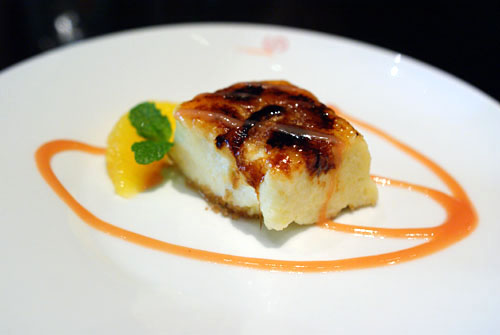 Torrija [$8.00]
| Brioche, Aromatic Cream, Citrus, Caramel Custard
We ended with a
torrija
, basically a sort of fried cream-soaked bread, typically consumed during Lent. Julian Serrano's version had an eggy sweetness to it, with almost a cheese-like flair. This was accented by the pronounced sugariness of the caramel, and moderated by the tangy citrus.
The meal was a resounding success. Serrano seems to have a good grasp of traditional Spanish tapas, but just as importantly, I really appreciated some of the more global, contemporary touches that he's incorporated into the menu. Though I could identify minor issues with some of the food, I must say that he appears to be doing great, especially considering that the restaurant had only been open for two days. Given more time, as well as more stomach capacity, I'd love to return and give the menu an even more thorough workout. In the meantime, think of this place as a less douchey, more down-to-earth version of
The Bazaar
.