Torihei (Torrance, CA)
Torihei
1757 W Carson St, Torrance, CA 90501
310.781.9407
www.fooddigger.com/25527/restaurant/ca/los-angeles/torrance/torihei (FoodDigger, restaurant has no web site)
Sun 12/20/2009, 07:00p-08:35p

The South Bay has firmly established itself as a bastion for Japanese cuisine in Southern California, and over the past year, perhaps no other eatery in the area has garnered as much fame and acclaim as Torihei. I was long overdue for a visit, so I jumped on the chance to go with Christine of the now-inactive blog
Folie à Choisauce
, Danny of
Kung Food Panda
, Nathan of
Binary Taste Buds
, and Christine's friend-slash-Elite Yelper
Liz
. Interestingly, this was their last stop on a mini South Bay marathon, which also saw the likes of Izakaya Bincho and Bludso's BBQ in Compton.
The tale of Torihei begins with chef/owner Masataka Hirai, who previously ran his family's yakitori joint, also called Torihei, in Yokohama, Japan; in fact, Hirai's parents still operate Torihei, as well as the restaurants Tsuki No Ne in Yokohama and Hirai in Ginza, Tokyo. In the spring of 2009, Hirai and his partner, oden master Masakazu Sasaki, opened Torihei in the heart of Torrance, a stone's throw away from old standby Musha. Torihei quickly gained in popularity for the quality of its food, as well as for its unique dual-faceted yakitori-
cum
-oden focus.

Torihei's 30-seat space is small, centered around the open kitchen, and often jammed to capacity. Long waits are not uncommon unfortunately--get reservations if possible.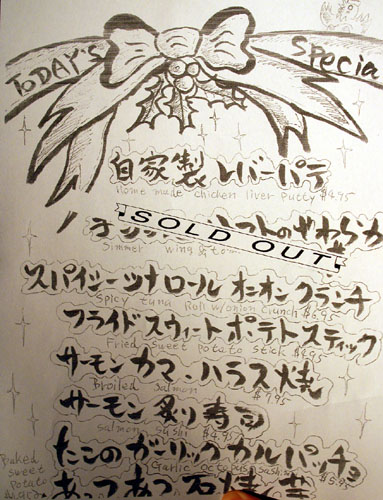 Above, we see Torihei's menu; click for larger versions. Though the restaurant began with only grilled items and oden, it has since expanded the menu to include sashimi selections and some izakaya-type fare. It is interesting to note that, although oden is typically a one-pot dish with multiple ingredients, here at Torihei each item is served individually.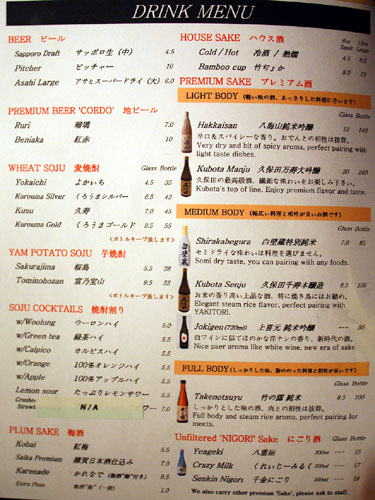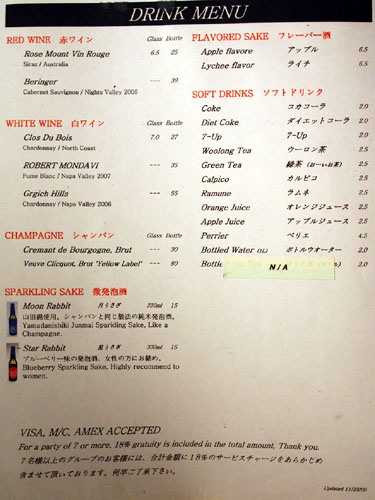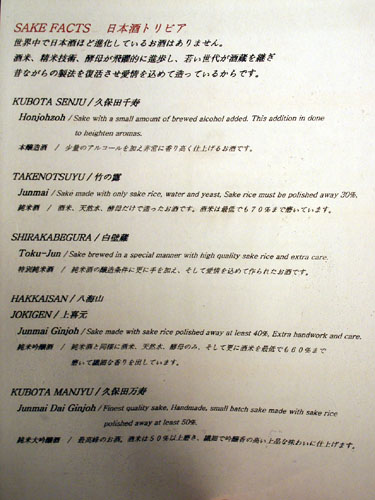 As for the tipple, Torihei offers up a small selection of beer, wine, sake, and soju; click for larger versions. Unfortunately, sake prices can border on ridiculous. Take for example, the high-end Kubota Manju, which sells for an astounding $240 here. At
Sushi Wasabi
in Tustin, I paid $75. Hell, even
Urasawa
only charges $160 for the privilege!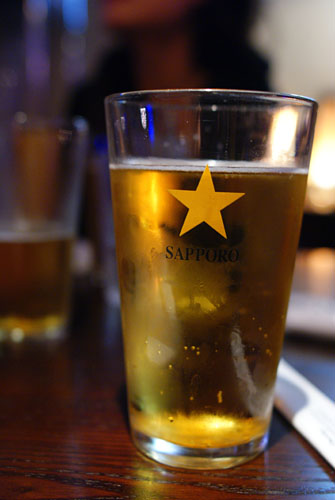 We skipped all that sake nonsense and made do with
biru
, ordering up a pitcher of Sapporo Draft for $10.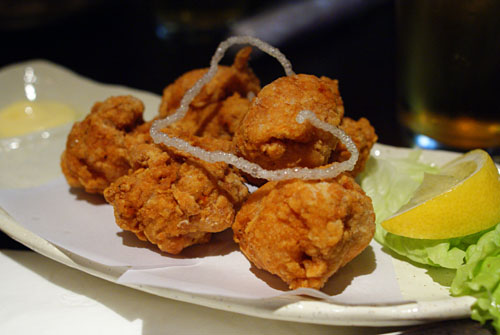 Fried "Jidori" Chicken [$6.95]
We began, simply, with
karaage
, deep-fried soy-marinated chicken, served with mayonnaise and lemon. Made from "jidori" (free range) chicken, the
karaage
was profoundly flavorful, imbued with the inherent savor of chicken, but with darker and sweeter flavors thrown in as well. I'd wager that this would compare favorably to just about any other fried chicken out there (yes, even
LFC
).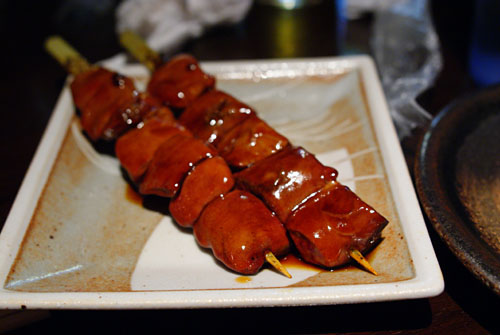 Liver [$1.80]
Our first yakitori item of the night was liver, or
reba
, which I'm generally not a huge fan of. As expected, it was somewhat dry, gritty, with a chalky texture and a very pure, "livery," slightly metallic sapor.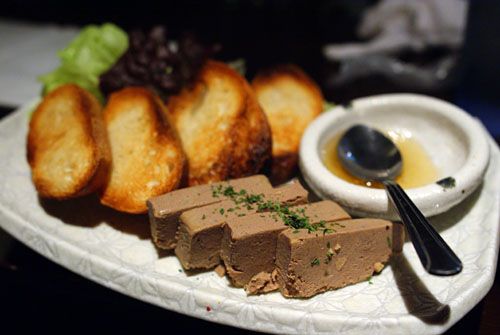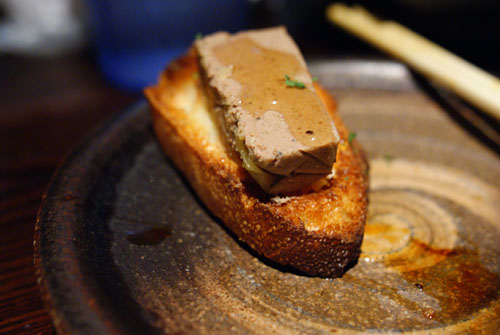 Home-Made Chicken Liver Putty [$4.95]
Though I wasn't enthralled with the liver above, I absolutely adored this version, basically a chicken liver pate, served with honey and toast. The liver here was so much more delicate, refined, with an almost foie gras-esque luxuriousness. I was afraid that the honey would render the
reba
overly sweet, but instead, it was a perfect complement, highlighting the liver's essence with its sugariness.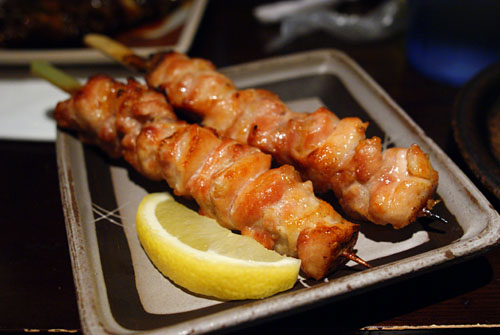 Chicken Thigh [$1.80]
Perhaps the "safest" skewer of the night, here was thigh, or
momo
. Tender, tasty, and succulent, it was something that everyone could appreciate, and something that I could munch on all day!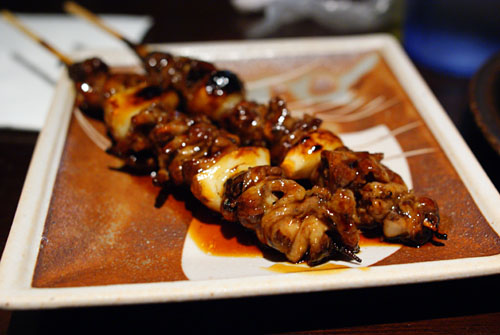 Limited Special Heart [$2.30]
As was the case with
Kokekokko
, Torihei also offers up its "special" preparation of chicken heart, or
hatsu
. Normally, I believe that the heart here is grilled simply with salt (
shio
). This version, however, uses a special marinade and augments the skewer with garlic, adding layers of complexity to the dish while preserving the heart's delightfully chewy texture. I would've liked to have had the "regular" heart for comparison, though.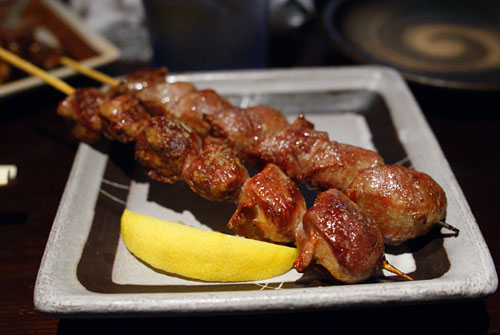 Gizzard [$1.80]
Next up was gizzard, or
sunagimo
, a special muscular "stomach" in the chicken that's used for grinding up food. As suspected, the
sunagimo
possessed a subtle sapor but a gritty, crunchy consistency. A bit of lemon was used to drawn out the gizzard's flavor, but this one's more for the texture than the taste.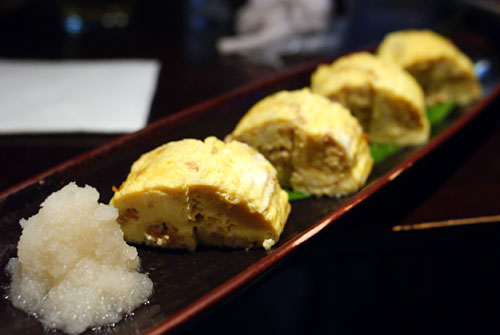 Seasoned Omelet with Grounded Chicken [$5.95]
What we have here is akin to a
tamagoyaki
, or Japanese omelette. The chicken contributed a weight and depth to the otherwise mild, tender egg, while the grated daikon added a pleasing vegetal contrast.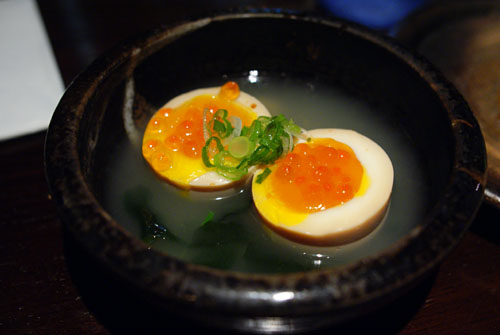 Half Raw Egg with Salmon Roe [$1.95]
Here was our first oden item of the night: hemispheres of runny egg, filled with ikura and topped with scallion, all in a seaweed-dashi broth. This is
Danny's
favorite dish, and I can certainly see why. The interplay between the silky, creamy egg and the briny roe was fantastic, while the tinge of seaweed in the broth took things to an even higher level.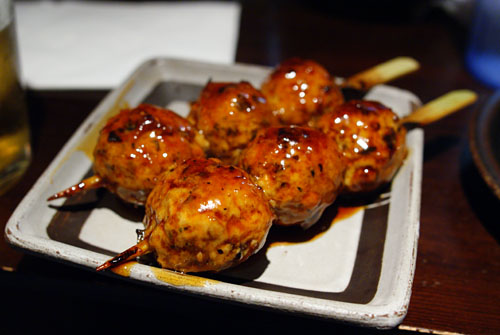 "Torihei" Meat Ball [$1.80]
Another highlight for me was Torihei's version of the venerable chicken meatball, or
tsukune
. Juicy and succulent, they were immensely flavorful, full of chicken sapor yet accented by the tang of shiso leaf. I believe there was some mushroom in there as well, which gave the
tsukune
a delightful crunchiness.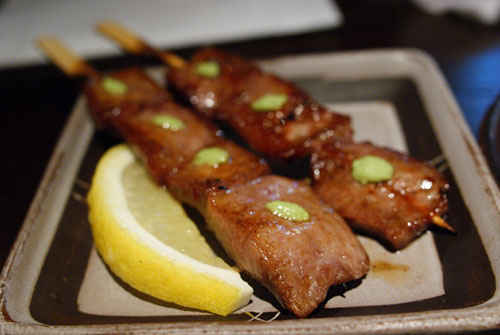 Beef Tongue [$2.30]
Moving away from chicken, we have here grilled beef tongue, or
gyu tan
, paired with dollops of wasabi. Nicely fatty, with a distinct "beefy" savor and a firm, but supple consistency, the
gyu tan
was absolutely lovely, and even more so when paired with the wasabi, which functioned to cut the richness of the tongue.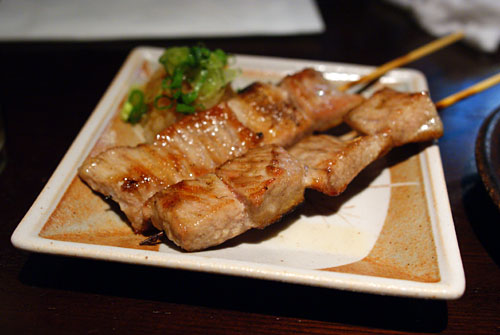 Fatty Pork [$2.30]
Our second kushiyaki selection was the fatty pork. Though it didn't possess the sheer decadence of pork belly, the cheek was still considerably unctuous and oily, bursting with porcine sapor. And because it was leaner than belly, it had a distinctly firm, satisfying texture that I appreciated.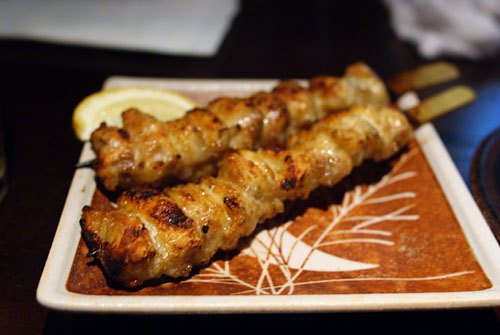 Chicken Tail [$2.30]
And now, my favorite skewer of the night: chicken tail, or
bonjiri
, the bits of meat around the chicken's tail bone. We're talking a lipsmackingly delectable flavor, fatty but not overwhelmingly so, paired with a tender, succulent consistency, perked up by a great char component. We should've ordered more of this!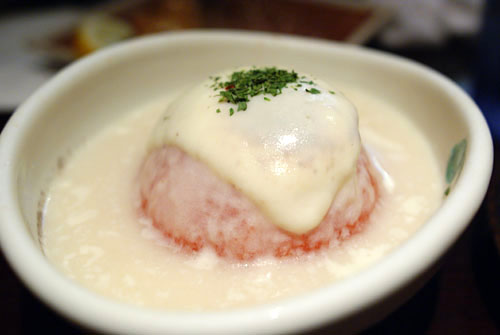 Whole Tomato [$2.80]
Our second oden item, and our last savory, was the whole tomato, stewed in dashi broth, enveloped in a commixture of potato and soy milk. The sauce really reminded me of mozzarella cheese, and combined with the sweetness of the tomato, the amalgam was slightly reminiscent of pizza topping!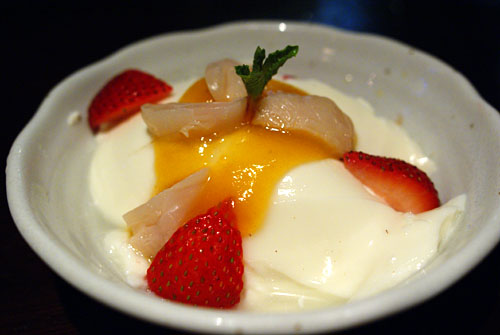 Blanc Manger aux Amandes "Annin-Tofu" [$4.50]
Torihei offers up a quartet of desserts, so naturally, we had to get one of each. First up was this blancmange, a type of pudding that really was like an almond-flavored jelly. Mildly sweet on its own, it was nicely tarted up by the saccharine bits of fruit.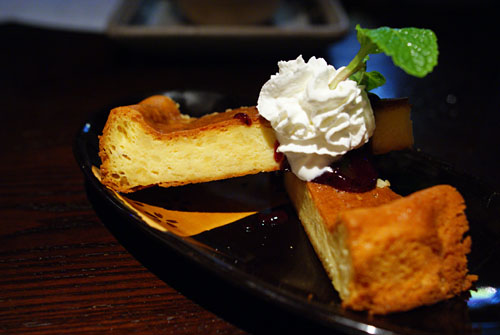 Baked Cheese Cake with Blueberry Sauce [$4.50]
The cheesecake was actually quite austere, and a bit dry, on its own. Thus, its accompaniments were absolutely key: the whipped cream added a palpable weightiness, while the blueberry sauce contributed a much-needed sweetness.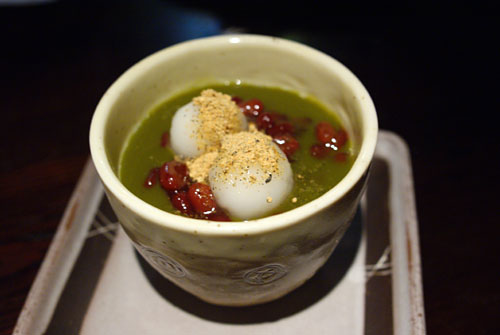 Green Tea Mousse [$4.50]
The mousse really did possess an intense, in-your-face matcha flavor--it was a bit much for me. However, the green tea was tempered somewhat by the sweet earthiness of the red (
azuki
) bean and mild mochi globules.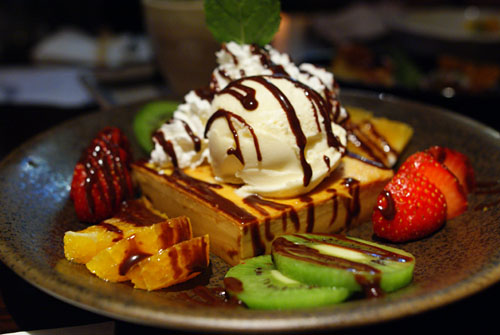 Pudding Alamode [$7.95]
Finally, this was basically a block of flan, done à la mode, or topped with vanilla ice cream and whipped cream. It was about what you'd expect: a sweet custard, with the fruit adding a nice touch of tart sweetness.
Torihei's eminence seems to be well-deserved. Though I felt that the yakitori at
Kokekokko
was a bit stronger in general, Torihei is much more approachable, a place where you don't have to be a VIP to get the goods. And let's not forget the great selection of oden here, which further sets Torihei apart. I'd love to come back and give the menu a more thorough work out.